If you find yourself with leftover cornbread, you might be curious about how to freeze it! Read on for all the information you'll need about how to freeze cornbread.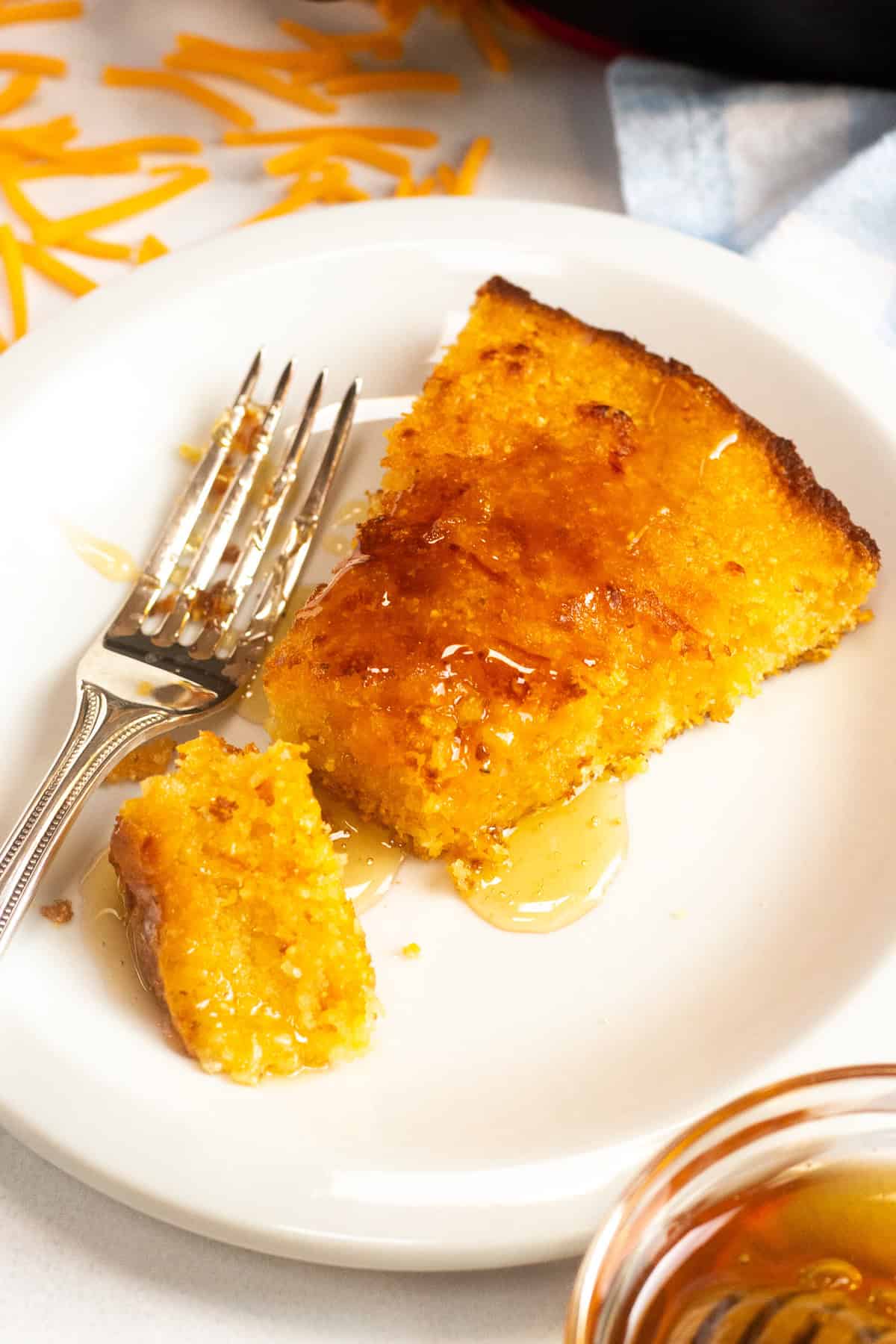 No matter which type of bread I have in my kitchen, it either gets devoured within minutes (it seems) or it sits around and collects mold. Why is there no middle ground in this realm?
The same applies to the oh-so delicious cornbread and it seems like such a delicacy that I never want a single crumb of it to go to waste. To prevent this delicious bread from going to waste, I always freeze a portion of it after baking and once dinner is done.
You have questions about how to freeze cornbread and we have answers! Read on for our best tips.
How To Make Homemade Cornbread
This easy cornbread recipe (made without buttermilk!) is the perfect side for any meal. Omit the jalapeño and cheese for the perfect cornbread recipe that everyone will love.
How Long Does Cornbread Last In The Fridge
When stored in an airtight container in the fridge, cornbread will stay fresh for up to 5 days.
Can You Freeze Cornbread Batter
Corn bread batter can be frozen in a heavy-duty freezer bag or freezer-safe container for up to 3 months. Thaw in the fridge overnight when ready to use and bake as directed or whatever your preferred method might be.
Can You Freeze Cooked Cornbread
You may definitely freeze freshly baked cornbread (or cornbread muffins) once cooked and cooled. Be sure to follow the best practices for freezing cornbread below to achieve the best quality.
How To Freeze Cornbread
Good news! Fresh cornbread freezes well! You can freeze both an entire loaf and smaller portions. Follow the directions below to keep it fresh for future use, extend the shelf life and avoid food waste.
Allow the bread to cool to room temperature.
Wrap cornbread tightly, either in individual pieces or as a whole loaf, in plastic wrap or aluminum foil. Double wrap to ensure it will be safe from freezer burn.
Place the wrapped cornbread in sealed, large freezer bag or in an air-tight container.
Freeze for up to 3 months for best results and to avoid freezer burn.
How To Thaw and Reheat Frozen Cornbread
Place the plastic bag holding the frozen bread in the fridge and allow it to thaw overnight.
The next day, remove it from the bags and wrapping and reheat cornbread as desired, either in a baking dish in the oven or in the microwave.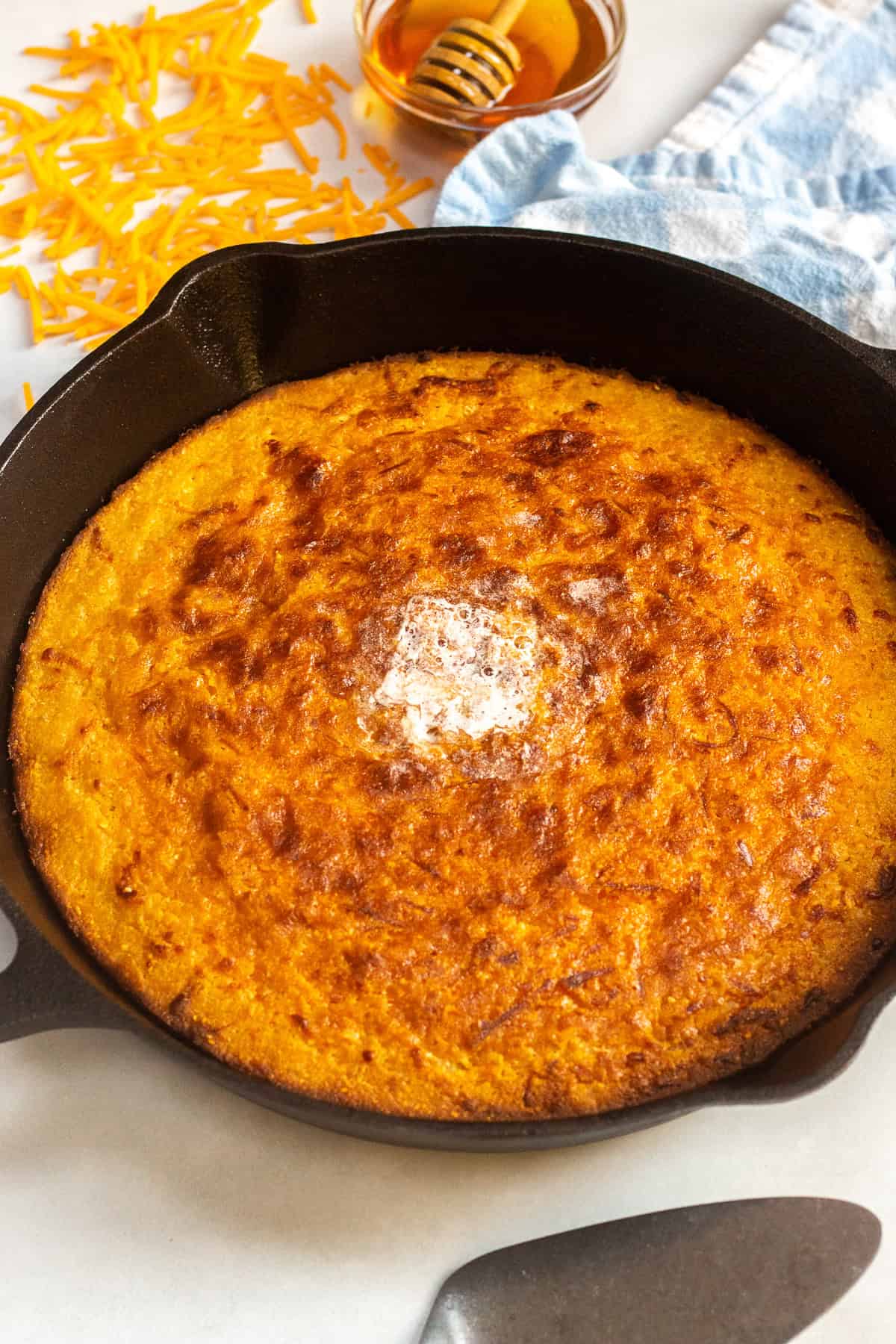 What To Serve With Cornbread
Literally any meal with be tastier with a side of corn bread. If you want specific ideas, check out this list of foods to eat with cornbread.
What To Do With Leftover Cornbread
There are a variety of ways to use up this bread if you find yourself with leftovers!
The best way to enjoy leftovers is to heat up a slice and top with melted butter and honey for the perfect snack.
Throw extra cornbread into your next casserole in place of bread crumbs for a delicious twist.
Create a sandwich out of slices of cornbread.
Crumble pieces onto the top of a large bowl of chili.
Make a yummy batch of hush puppies.
Dice it and turn the mixture into croutons.
Replace biscuits with pieces of cornbread in any meal.
It'll go great in your next breakfast casserole.
Create a delicious and unique batch of French toast.
Crumble and use as a breading for chicken, steak or pork.
Create either a cornbread stuffing or a traditional southern cornbread dressing for your next holiday dinner.