Cornbread is an easy side dish staple at many holiday meals. But what do you do with leftovers for this quick bread? Reheat them the next day! Read on to learn how to reheat cornbread so it can be enjoyed again later.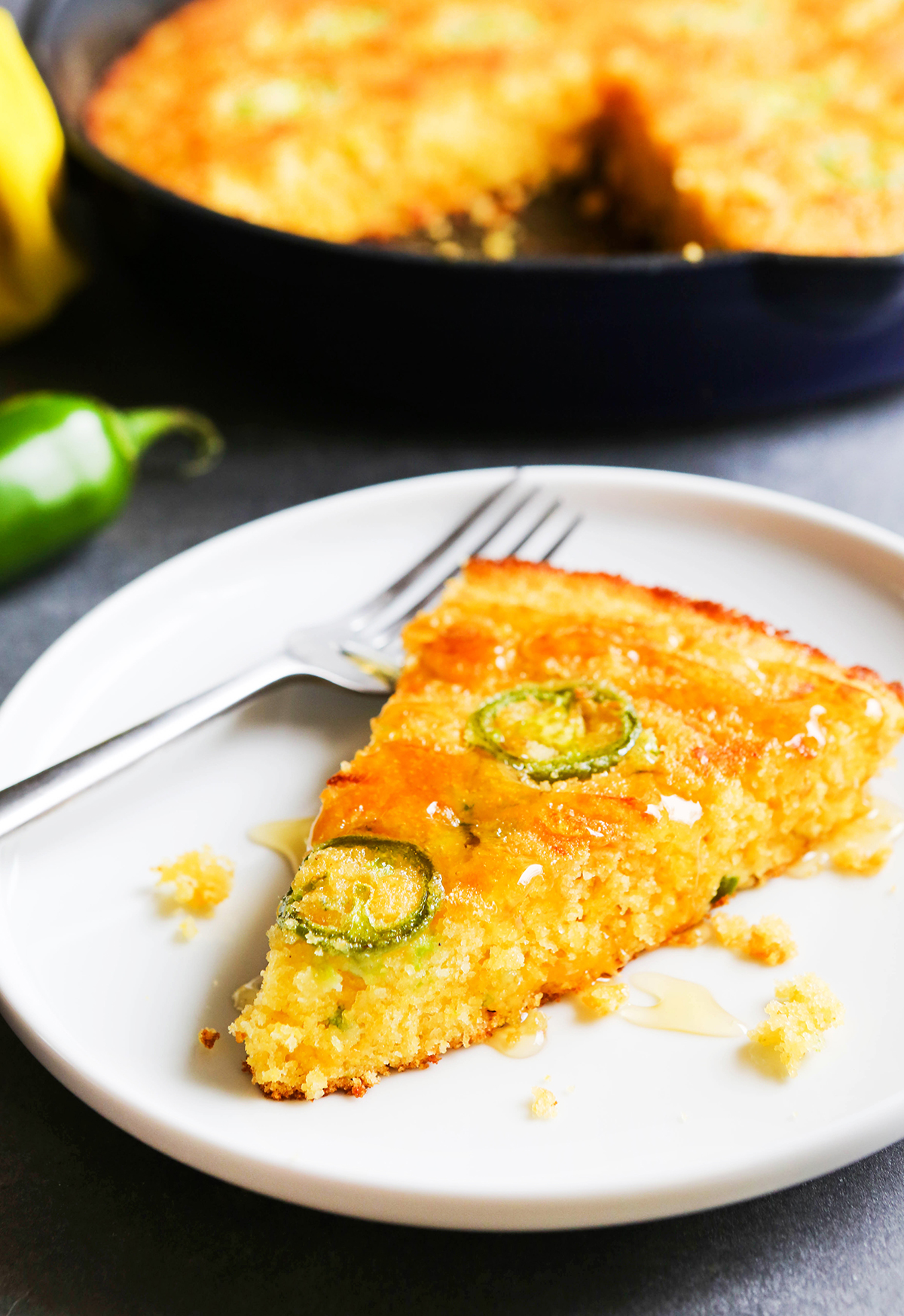 There is nothing like cornbread that has just been taken out of the oven. It is so perfectly moist, crispy, chewy and delicious! I am familiar with the internal battle that ensues when noticing there are leftovers of this yummy bread after a meal is over.
Should I toss it? Will it still taste good the next day? Will it be too dry? Too crumbly? These are all valid concerns, but if you take a few precautions you can figure out how to reheat leftover cornbread so it is not just edible but out-of-this-world delicious.
But first thing's first. Let's make sure you are starting with a great cornbread recipe to begin with and serving it alongside the perfect dishes!
Watch The Web Story
Learn all about cornbread, reheating instructions and FAQs regarding cornbread in this short web story.
Cornbread Recipe
This cornbread recipe is the perfect side for any meal. Omit the jalapeño and cheese for a perfect go-to cornbread recipe.
What To Eat With Cornbread – 15 delicious ideas!
If you are searching for specific foods that pair well with this yummy bread, read on for 15 delicious ideas about what to eat with cornbread. This compilation includes some of the following:
How To Freeze Cornbread
If you find yourself with leftovers, you might be curious about how to freeze it! Read on for all the information you'll need about how to freeze cornbread.
How To Reheat Cornbread – 5 Different Ways
Avoid soggy and stale cornbread by following one of the below methods for reheating. The reheating process does not need to be overwhelming and can yield great results if you follow one of the methods below.
Read on to discover the best choice for reheating day-old cornbread, given your needs and time constraints.
Oven
Reheating cornbread in the oven is the best option for reviving it after the day it was initially served. Cut the leftover bread into serving-size pieces and place on a baking sheet or other oven-safe dish in a single layer. Cover with aluminum foil to avoid burning and to keep the bread from getting too dry.
Bake in a 350-degree F oven for 10 minutes, or until bread is warmed through. For best results, do not exceed 15 minutes of oven time.
Once out of the oven, spread a small amount of butter over the tops of the pieces for extra flavor and extra moistness.
Microwave
If you are short on time and need to get a piece of cornbread in your belly asap, I totally understand! It's hard to resist. In this situation, the best way to reheat it is in your microwave oven. Place cornbread one piece at a time on a microwave-safe dish or glass plate and cover tightly with either a microwaveable lid or paper towel.
Whichever route you go, ensure that the bread is completely covered on all sides. This will keep the bread from drying out.
Microwave at full power for no more than 30 seconds total. Preferably, heat for 15 seconds to start and for an additional 15 seconds, only if needed.
Tip: Place a little butter on top of the piece of bread before reheating to allow the moisture from the butter to seep down inside.
Stove Top
To achieve an extra buttery, crispy leftover piece of corn bread, cooking it on your stove top will yield excellent results!
Heat a tablespoon or two of butter over medium-low heat in a medium skillet. Add the slices to the warm skillet and let them sizzle in the butter for just a couple minutes, or until slightly crispy and warmed through. Flip once or twice, as needed.
Make sure the heat on the burner does not exceed medium heat, as the bread can burn quickly if the heat is too high. Low and slow is best!
Instant Pot
I stick to these words that I have been saying for a few years now: The Instant Pot is the greatest invention of all time when it comes to cooking appliances. Reheating any type of bread in your Instant Pot is a super convenient option when you are short on time and it is one of the best methods for achieving a moist bread.
Simply wrap individual cornbread pieces in foil and place inside the inner pot. Press the "keep warm" button and within minutes, your slices of bread will be warmed through while retaining all of the delicious moisture.
Air Fryer/Toaster Oven
Reheating corn bread in an air fryer is such an easy way to reheat bread.
Pressure or Basket Air Fryer
Place slices of cornbread inside basket or pot of your pressure air fryer and top each with a small pat of butter. Air fry at 400 degrees F for 3 minutes.
Power Air Fryer
Place slices on a center rack of your power air fryer and top each with a small pat of butter. Air fry at 400 degrees F for 3 minutes.
Toaster Oven
Place slices in your toaster oven and brush butter over the tops. Toast for 90 seconds per slice.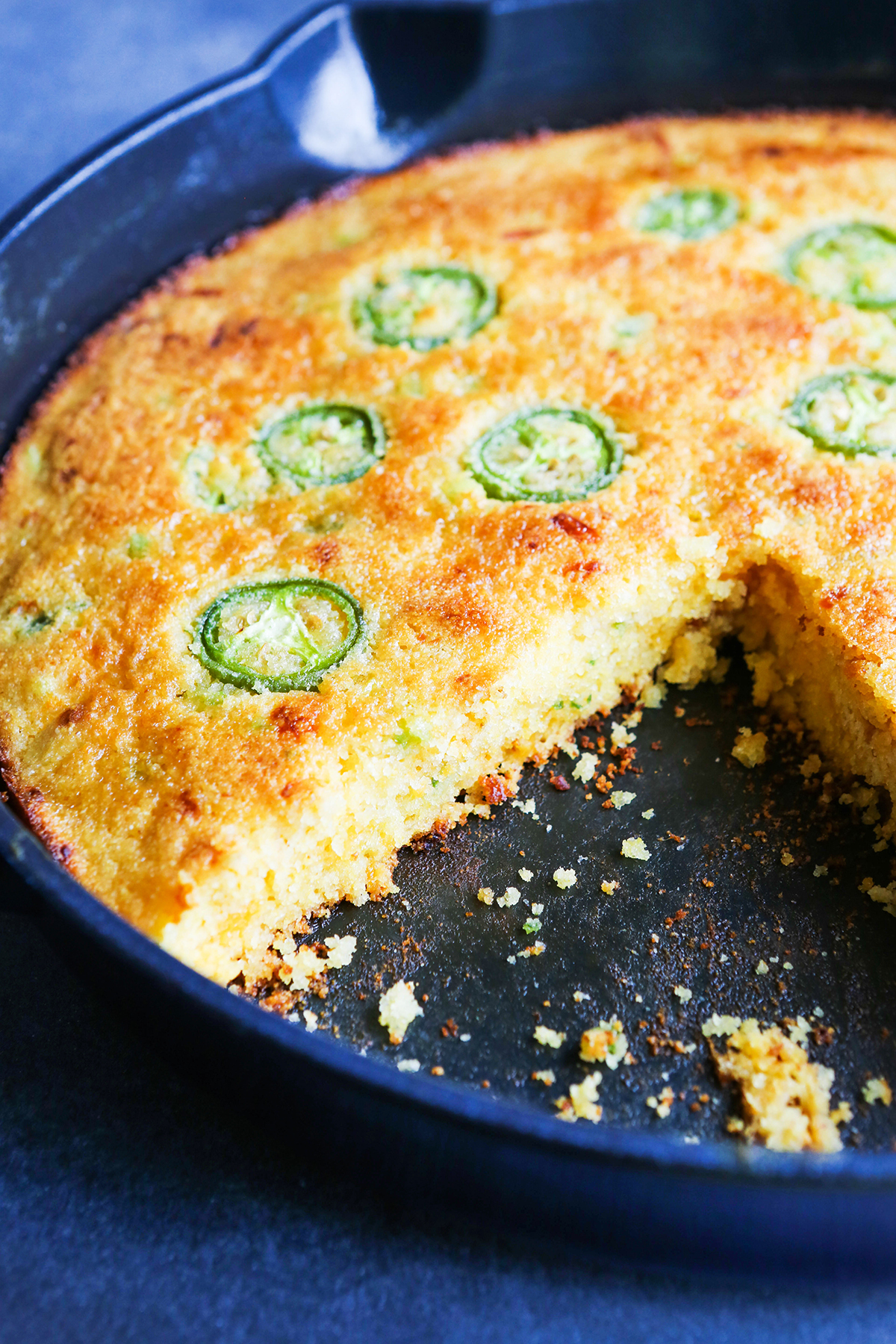 FAQ About Cornbread
Can cornbread be frozen?
For best results, allow cornbread to cool completely before freezing. Place in a resealable bag or wrap tightly with plastic wrap and aluminum foil. Freeze for up to 3 months.
How to make cornbread?
Cornbread is easy to make, typically using a combination of corn meal, flour, sugar, butter, a leavening agent such as baking powder and milk or buttermilk. Other ingredients can be added, including cheese, peppers and honey. The batter is then baked in a 400-degree oven for approximately 20 minutes until cooked through.
When is cornbread done?
You will know cornbread is done baking when a toothpick inserted into the center of the bread comes out clean (no crumbs or batter!). Also, the top of the cornbread will be crispy and light golden brown.
How to store cornbread?
Wait for cornbread to come to room temperature, then store in an airtight container. It has a fairly long shelf life for bread, staying fresh for up to a week in the fridge or 5 days at room temperature.