Whether you are pulling a casserole out of the fridge or freezer, you are going to want to know how to warm it back up without drying it out. Read on for our best tips about how to reheat a casserole in the oven!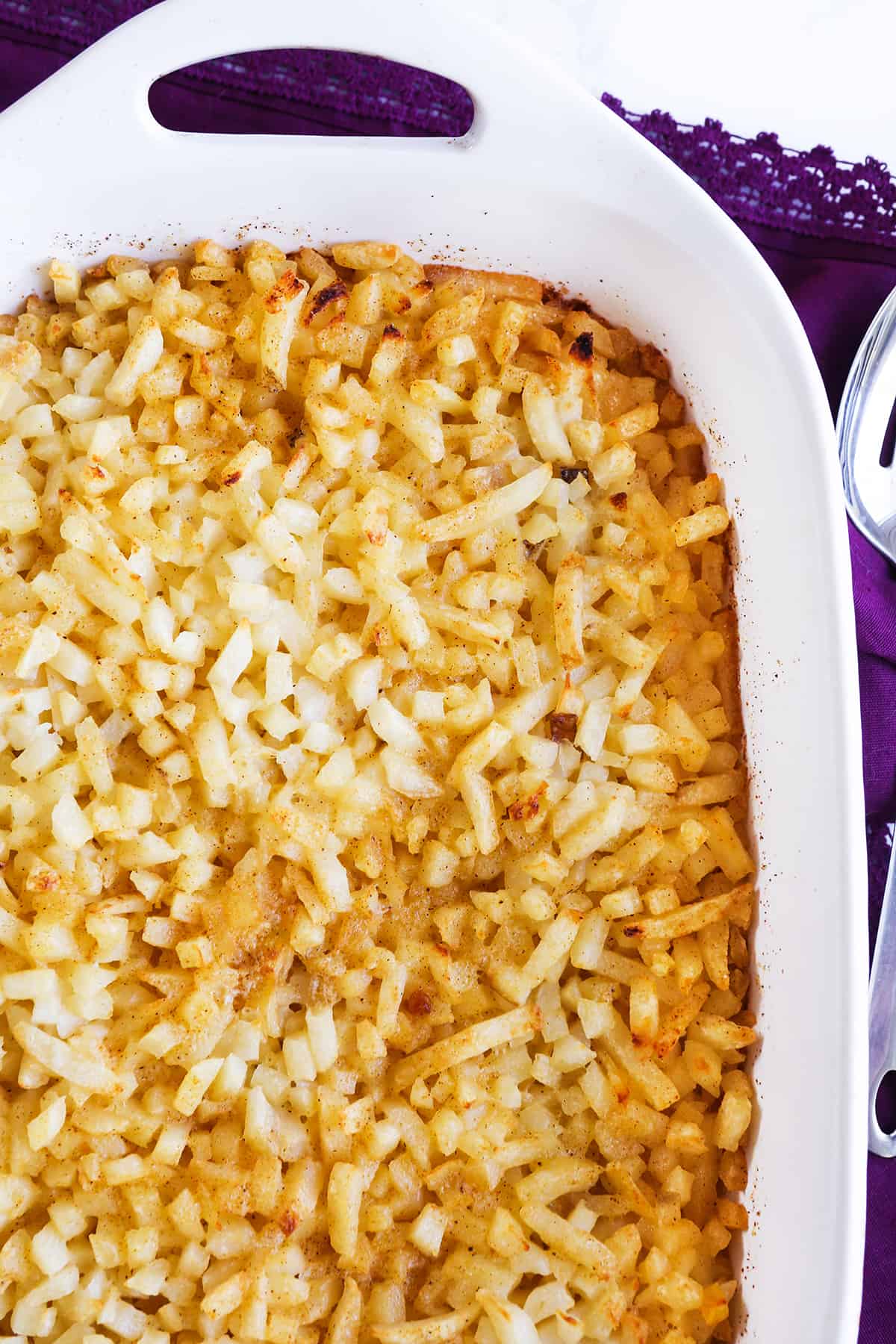 This might just be a midwest thing, but casseroles are a staple in my life. They always have been. They're just so easy and delicious! You can't beat 'em.
My family lived on them growing up and still today, they are my go-to type of dish when I'm wanting something super comforting and super easy to throw together.
So whether you have recently made a casserole and now have a leftover casserole starting back at you from inside the fridge or if you've frozen one, let's talk through best practices for how to reheat a casserole in the oven.
How To Reheat A Casserole In The Oven
Help breathe life into your delicious hot dish by following these easy tips for reheating below. This reheating method does not need to be overwhelming and can yield great results.
Enjoy your dish the second time around by using the oven method to uniformly warm your meal.
Remove the pan from the fridge at least 30 minutes prior to baking so it can be close to room temperature when it bakes.
If there are noodles, pieces of bread, rice or meat that appear dry, add a small amount of water or other liquid do the pan (no more than 1/4 cup), drizzling over the top and around the edges of the casserole. Chicken broth, vegetable broth, water, tomato sauce, a drizzle of olive oil or another liquid ingredient already present in the dish will work.
If the dish contains cheese, you might want to sprinkle a thin layer of fresh shredded cheese on top of your casserole before baking.
Since the dish has already been baked once, it will need to be covered with foil.
Bake for approximately 20-30 minutes in a 350 degree F oven. When it is warmed all the way through and bubbling at the top, it is done baking. The amount of time it takes to reheat will vary depending on the ingredients in the dish and how dense it is.
Remove from the oven and serve immediately!
Note: The best way to reheat individual pieces of the dish is to place a slice of your casserole on a microwave-safe dish and heat in the microwave in 1-minute intervals until heated through.
Popular Casserole Recipes
If you are on the lookout for some seriously delicious, savory dishes to make for your loved ones, read on for some great options!
How To Store A Casserole In The Fridge
I love that with these types of dishes, many of them can be prepped ahead of time and baked later. Prep ingredients as directed in recipe, but do not bake.
Instead, cover tightly with aluminum foil or plastic wrap and store in the refrigerator for up to 36 hours. Another option is to transfer it to an airtight container first, but must be transferred back to an oven-safe dish prior to baking. Place it in the hot oven the next day to bake, as directed on the recipe card.
After the whole casserole has baked, it will stay fresh in the fridge for up to 4 days.
Do I Cover My Casserole Before Baking
There is no hard and fast rule for whether or not a casserole should be covered with foil during baking. All recipes differ, but here are some things to consider when deciding whether or not to cover the baking dish with foil before putting it in the oven.
When you are reheating frozen casserole leftovers or a precooked casserole, it should definitely be covered during baking.
Covering a dish during the baking process is a great way to trap in moisture and keep ingredients from getting crispy or burnt. If the dish contains exposed noodles, bread or something that may burn or dry out easily, then it should be covered for a majority of the cooking time.
If the recipe contains uncooked rice, pasta or grains, it is important to cover the pan in order to trap steam inside helping it to cook more quickly and evenly.
The top layer will get browned and liquids will be reduced inside the pan when you leave it uncovered during baking.
How To Freeze A Casserole
There are a couple options for freezing a casserole for later use.
Freeze Unbaked
Assemble the layers as directed in an aluminum pan and wrap tightly in foil. Place into resealable freezer bags and freeze for up to 4 months.
When you are ready to enjoy it, allow it to thaw completely overnight in the fridge. Cook as directed once thawed.
Freeze Baked
Assemble the layers and bake as directed in a baking dish. Allow the casserole to cool to room temperature and wrap tightly in foil. Place into resealable freezer bags and freeze for up to 4 months.
When you are ready to eat, let it thaw completely in the fridge overnight. Reheat in a 350 degree F oven, uncovered, for 15 minutes or until heated through.