Butternut squash is a hearty soup that transforms so perfectly into soup! But what pairs well with it? Read on for 23 delicious ideas about what to serve with butternut squash soup!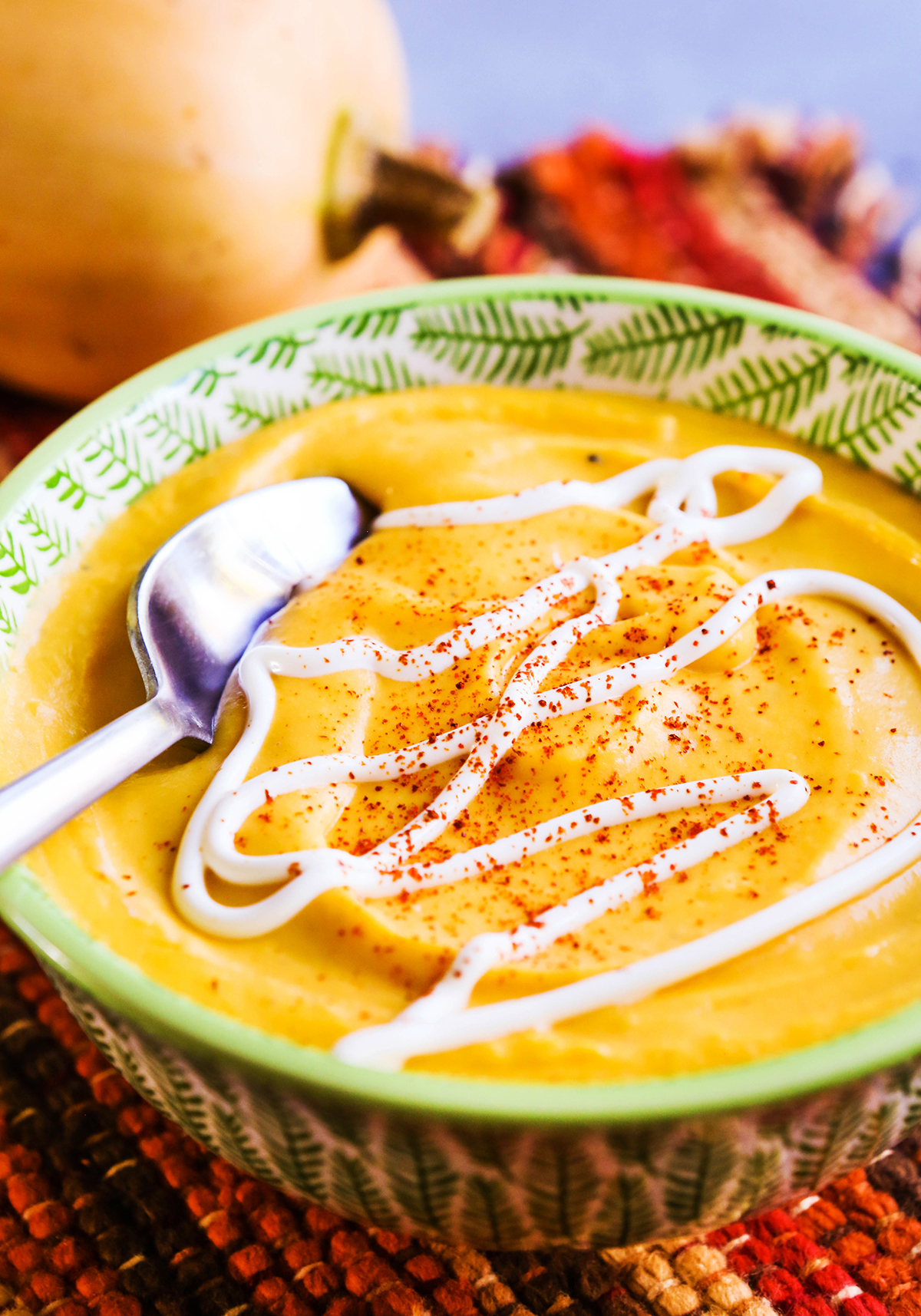 Butternut squash is one of those odd-looking produce items (like artichokes!) that people tend to shy away from because they seem too intimidating to eat. I ignored it for many years before throwing one into my cart.
I'm so glad I caved because oh-my-goodness I am 100% in love with this goofy looking, delicious squash. It is versatile and far more delicious than I'd ever dreamed. Roasting it is one of my all-time favorite side dishes to prepare but I also love making soup out of it! It has such a rich flavor and perfect texture every time.
For the longest time, when I'd make it I wouldn't know what I should be serving along with it. I've since done much experimenting on the subject and have put together a yummy little roundup of ideas for you!
Keep reading for 23 delish ideas about what to serve with butternut squash soup so you can serve a complete meal.
FAQ About Butternut Squash
What does butternut squash soup taste like?
Butternut squash soup is a thick soup often enjoyed in the winter months that tastes very similar to pumpkin, except sweeter. It contains a nutty flavor with a smooth, creamy texture. A variety of herbs and flavors accompany it well, with its sweet yet rich flavor.
When is butternut squash in season?
You can purchase butternut squash year round typically at most grocers. However, the main season you'll find it taste best is early fall through winter.
What is the difference between butternut squash and sweet potatoes?
Sweet potatoes, different from other potatoes, are labeled a root vegetable so they are similar to butternut squash in that way. Butternut squash is not in the same family as a sweet potato and are slightly healthier for you. They have less calories, sugar and have a lower glycemic index.
Is butternut squash a healthy carb?
This winter squash is a good vegetable to enjoy and should not be avoided because of carbs. One half cup of butternut squash has 11 calories and should be enjoyed in moderation.
What do you eat butternut squash with?
A butternut squash can be the main ingredient or it's a wonderful side dish as well. It pairs well with a variety of soups, casseroles, lasagna, pasta and whole foods.
Can you swap a sweet potato for a butternut squash?
Yes, the similarities in the way you prepare these two foods make them easy to exchange into a recipe if you have one on hand and not the other. The additional ingredients used in a recipe would flavor them well.
Best Ways To Prepare Butternut Squash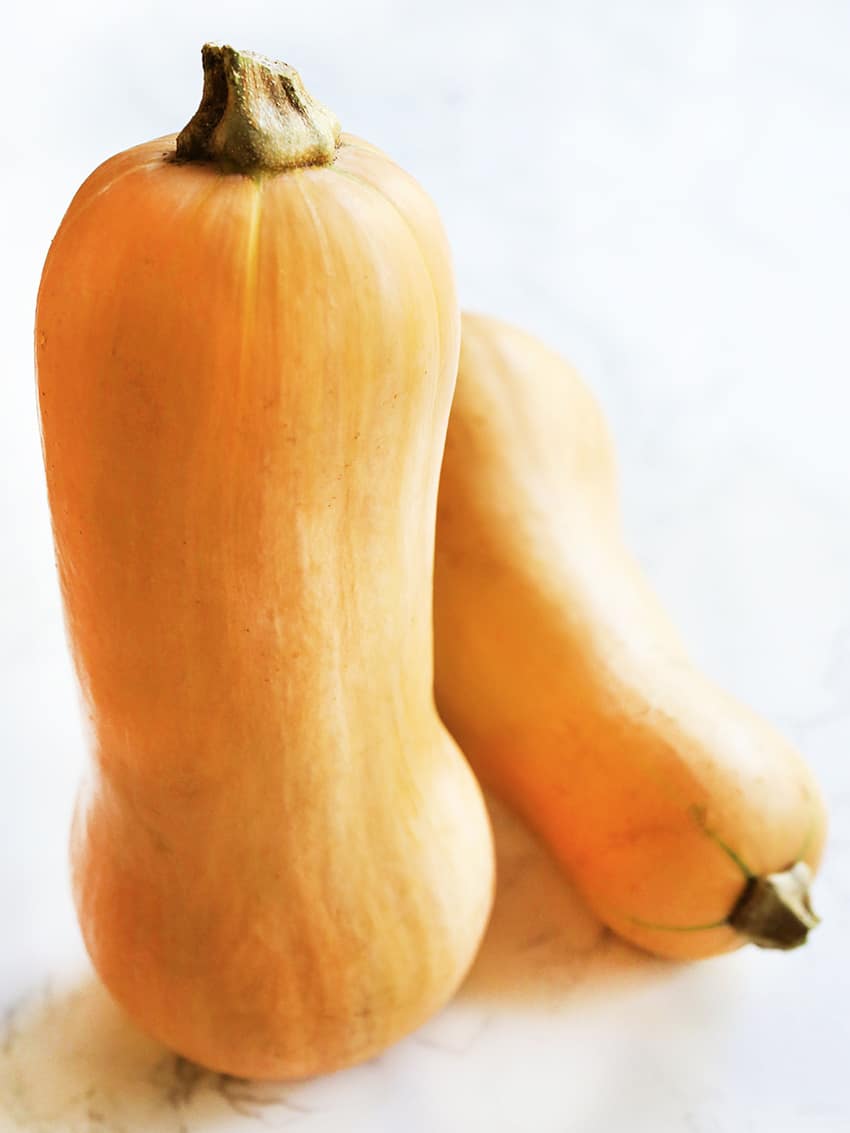 Recipe Notes for Butternut Squash Soup
Try adding an extra 1/4 teaspoon cayenne pepper and a few cloves of garlic to this delicious soup. It's tasty and the perfect kick to a favorite meal!
Different versions of the soup call for different spices, including a combination of some of the following: cayenne pepper, salt, black pepper, marjoram, allspice, paprika, nutmeg and ginger.
Replace the water and bouillon cubes with 3 cups of chicken stock or chicken broth, if desired.
Replace the butter with 1/4 cup olive oil, if desired.
Use an immersion blender to create a super smooth velvety soup.
Replace the water and chicken bouillon with equal parts chicken broth, chicken stock, vegetable stock or vegetable broth.
Store leftovers in an airtight container in the fridge for up to 5 days. To extend the shelf life, let the soup cool first, then pour into doubled freezer bags and freeze for up to 4 months.
To bulk up the soup, throw a can or two of beans into the mix! Great options include black beans or white beans.
Drizzle maple syrup into the mixture just before serving to boost the sweetness.
Top with any of the following just before serving: Parmesan cheese, brown sugar, lemon juice, a dollop of sour cream, sliced green onion, fresh herbs, ground cinnamon, thyme sprigs, goat cheese crumbles or a drizzle of heavy cream.

How To Cut a Squash
Don't let this daunting orange vegetable intimidate you! It is far easier to cut than you might think! Follow these super easy step-by-step instructions to get into the flesh easily. You'll have gobs of delicious squash flesh on your hands to cook with!
What To Serve With Butternut Squash Soup – Delicious Side Dishes
A chopped, leafy green or Italian salad.
Roasted veggies such as carrots, bell pepper, broccoli or onions.
Kale chips or potato chips.
Green vegetables such as asparagus, Brussels sprouts or green beans.
Bread such as dinner rolls, bread sticks or a French baguette.
Panini, grilled cheese or Reuben sandwiches.
Baked potatoes or roasted potatoes.
White rice, brown rice or wild rice.
Pork chops or pork tenderloin.
Kale Salad with Chickpeas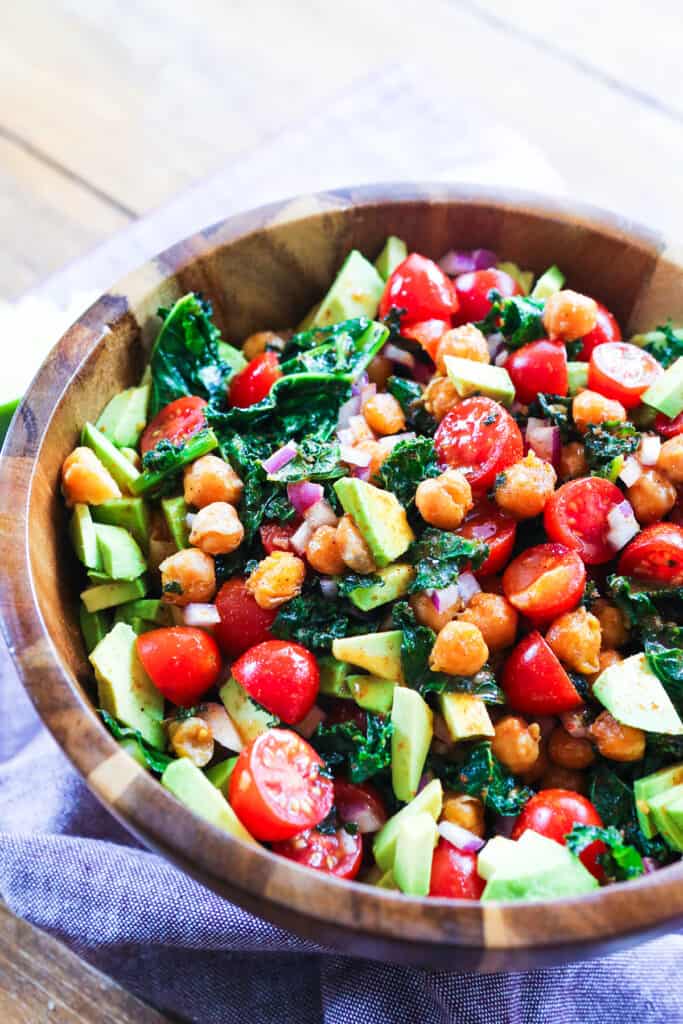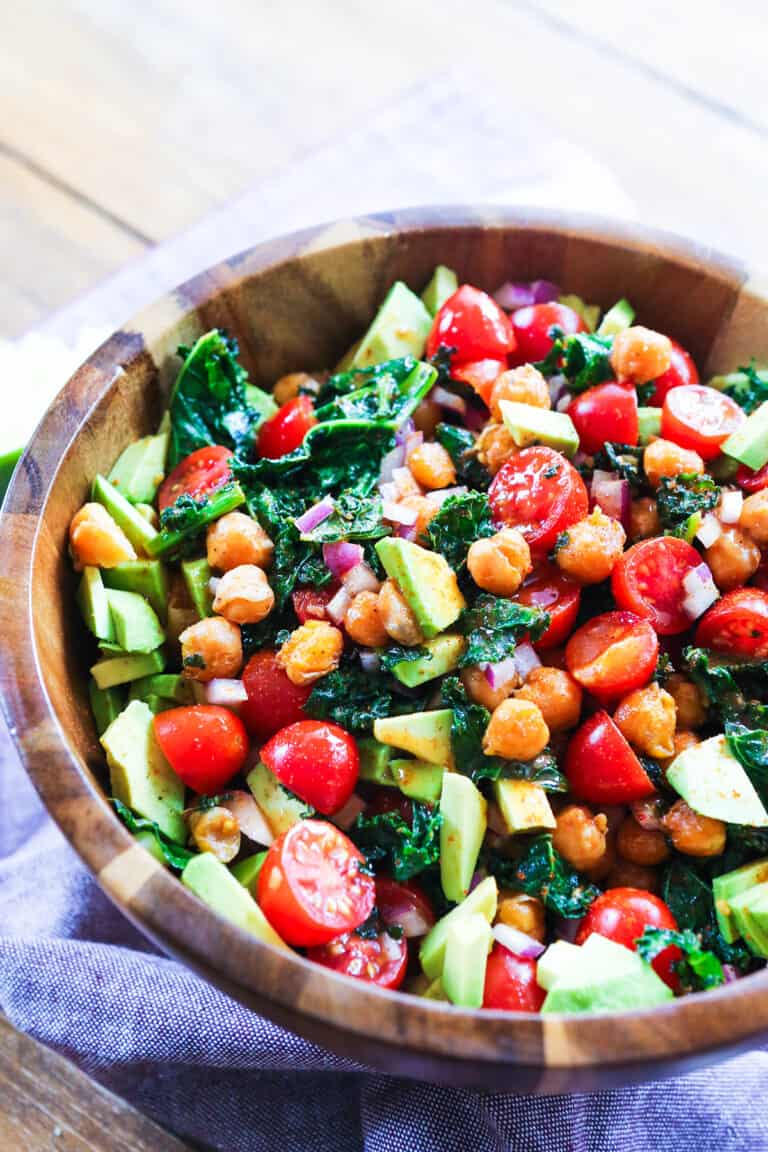 This kale salad with chickpeas recipe is a great lunch any day of the week. Or double the recipe and serve it at your next gathering. The different textures and bold flavors make this salad a keeper!
How To Make Crispy Fried Shallots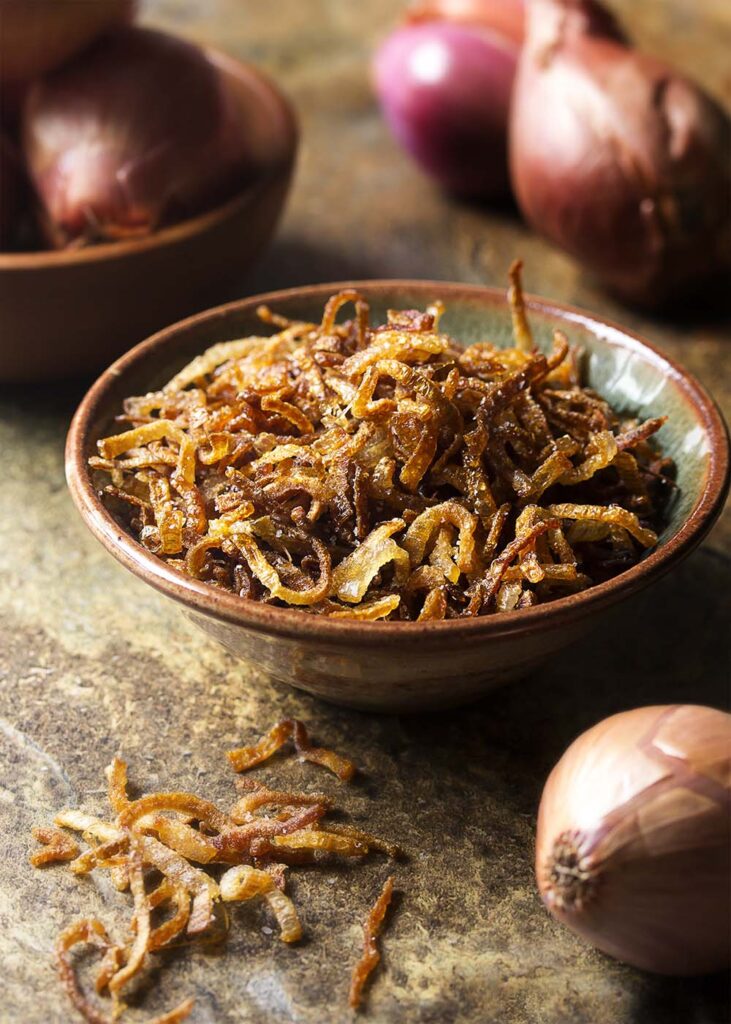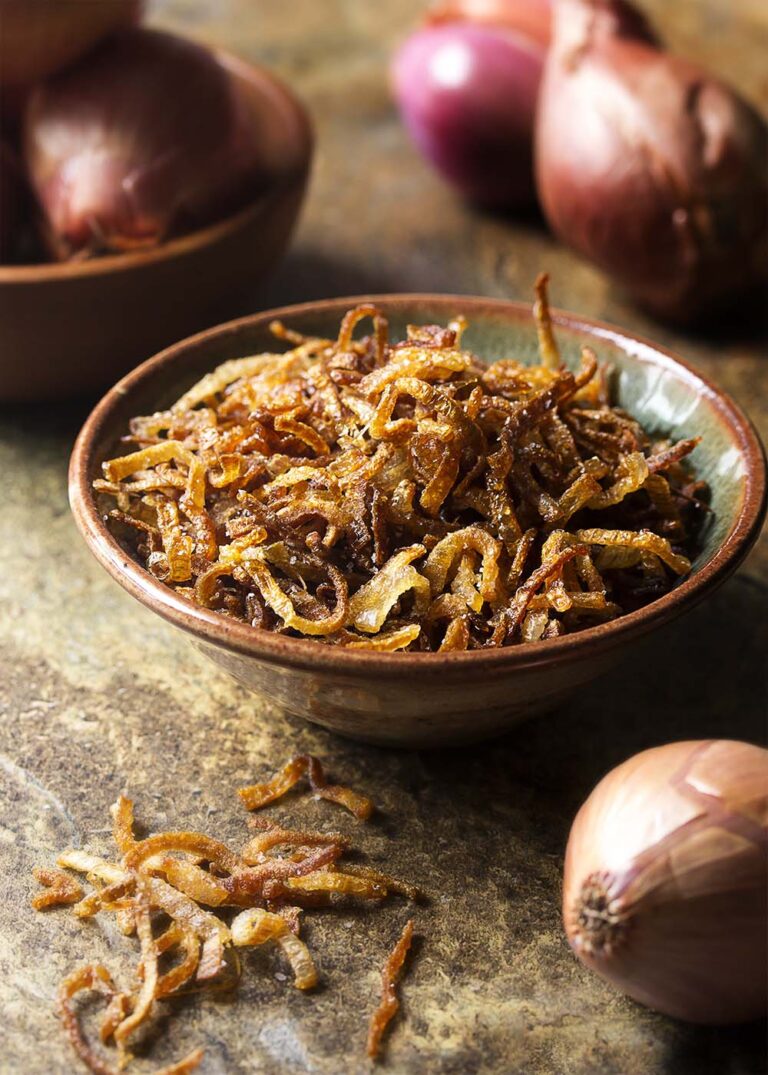 Want to take your salads, casseroles, and soups to a whole new level? Crispy fried shallots (from Just A Little Bit of Bacon) will give them crunch, onion flavor, and interest! All you need are three ingredients and a little time.
Quinoa Edamame Salad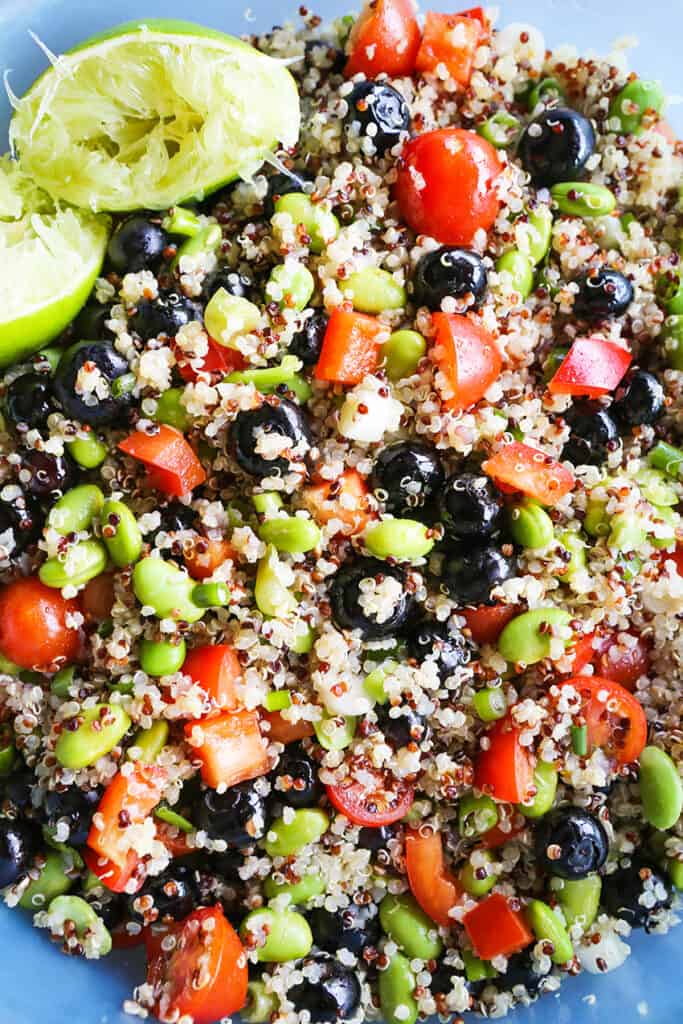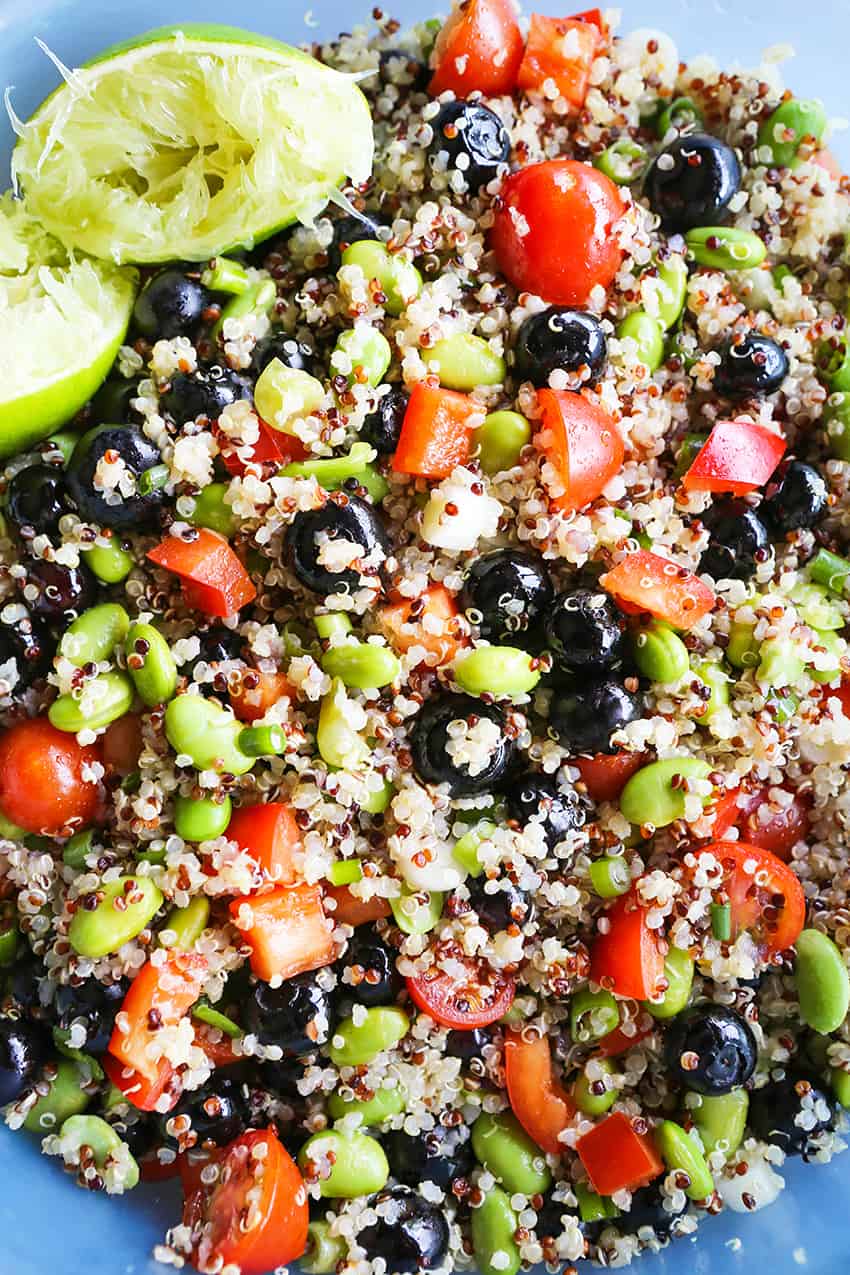 Quinoa Edamame Salad is great for parties and can be served in throw-away cups for serving ease. Also great as a salad to have in the fridge all week! Packed with fresh fruit and veggies and it is so healthy and delicious.
Salmon in Lemon Butter Caper Sauce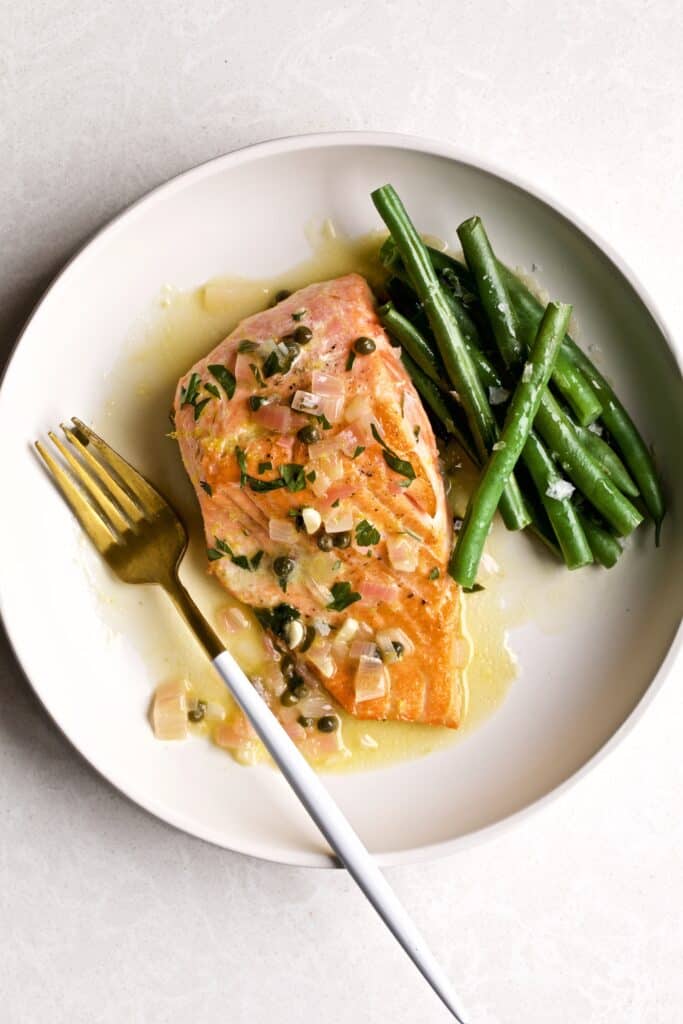 Delicious Salmon in Lemon Butter Caper Sauce (Salmon Piccata) (from Cucina by Elena)- Easy, light, and fresh, and it is a 20 minute meal! The Ultimate Lemon Salmon Dinner Recipe!
Oven Roasted Brussels Sprouts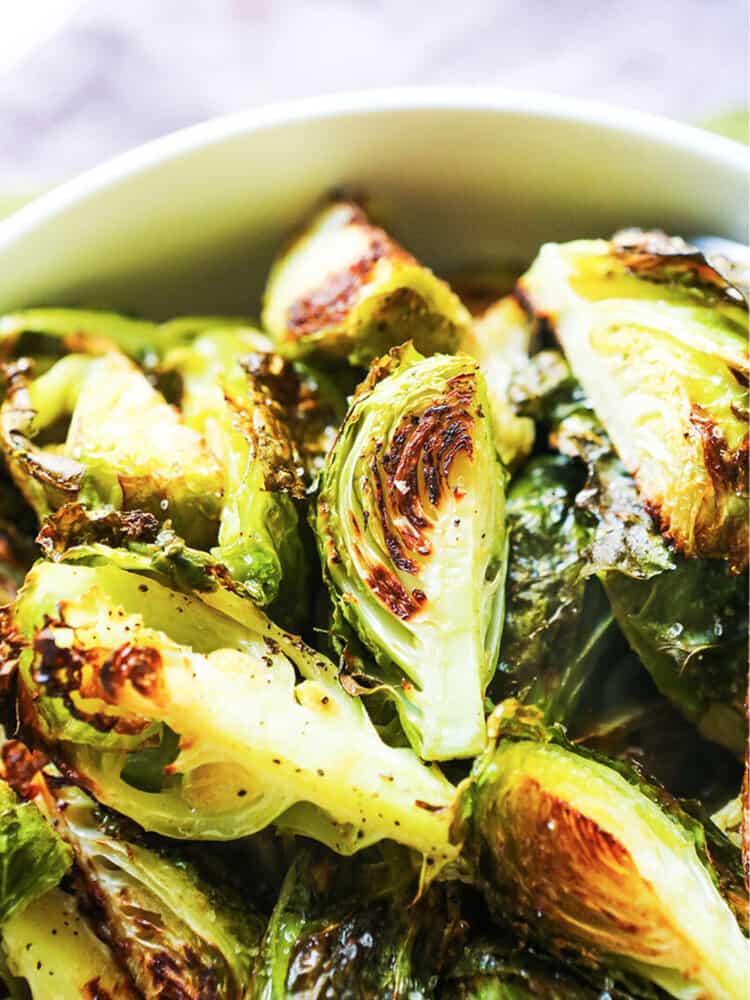 Make delicious, perfectly crispy Roasted Brussels Sprouts easily and in under 30 minutes. This is a great side dish that pairs perfectly with any meal, whether big or small. Perfect part of a holiday spread and also a great part of any simple weeknight dinner.
Homemade Soft Pretzels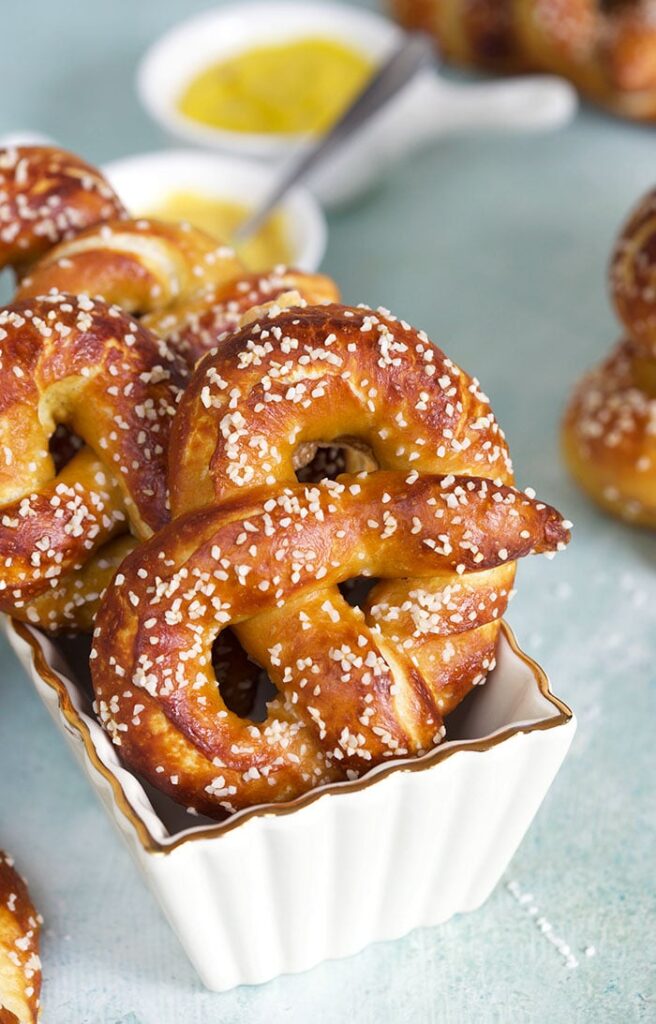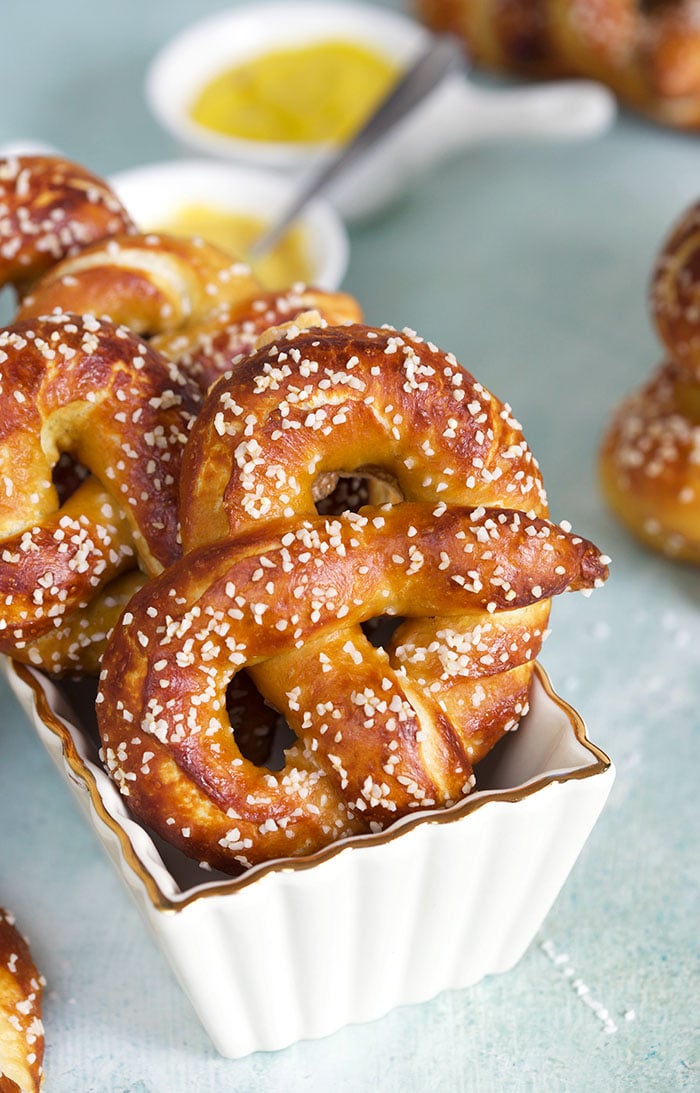 The BEST Homemade Soft Pretzels (from The Suburban Soapbox) are easier to make than you think. Soft, chewy inside with a salty, crispy outside. They're made with just a few ingredients you already have in your kitchen. Kids LOVE to help make them, too!
Kale Chips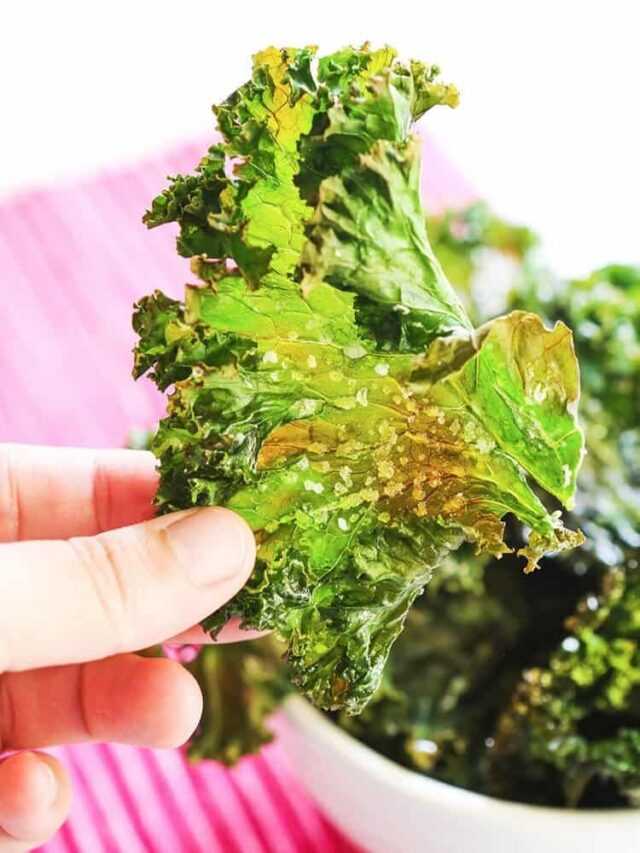 Crispy kale chips oven recipe transforms this vegetable from a healthy superfood that you might add to a salad or casserole into a delicious snack! All you need is a few simple ingredients and 10 minutes until you these tasty chips in your fingertips. Perfect for kids and adults and everyone will be wanting more!
Crab Rangoons with Cream Cheese Filling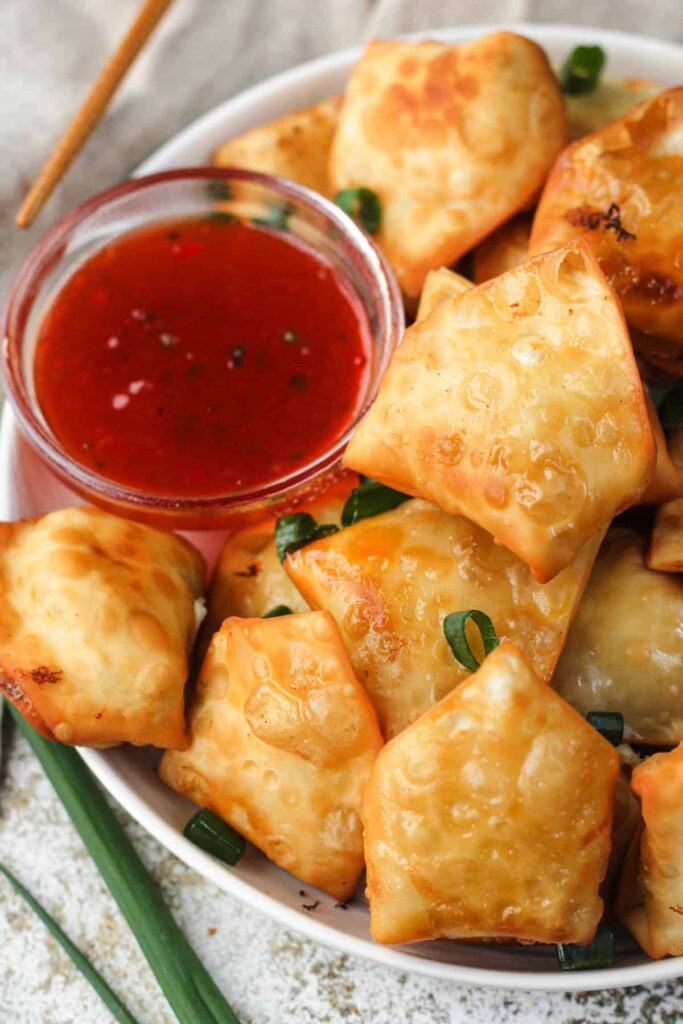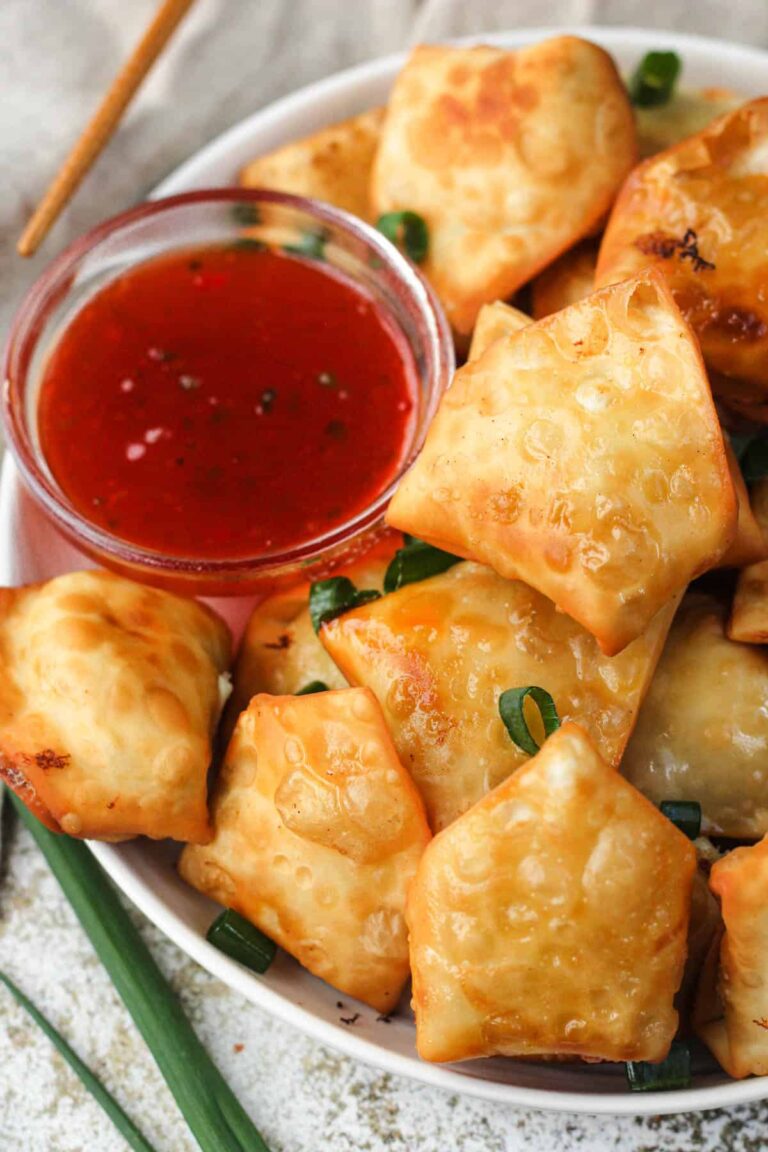 These Crab Rangoons (from Foreign Fork) are a Chinese American speciality that are filled with cream cheese, crab meat, and scallions.
Cornbread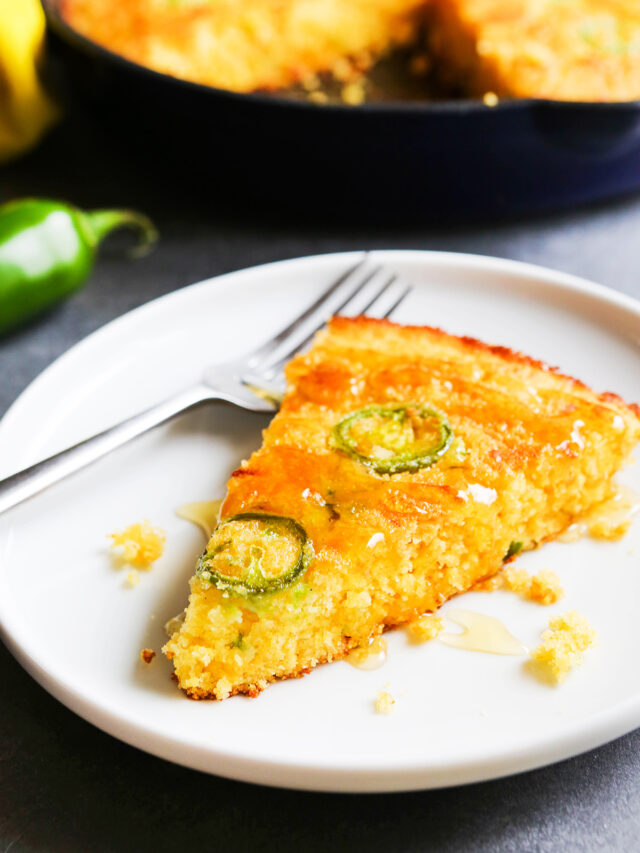 This cornbread recipe without buttermilk is the perfect side for any meal. Omit the jalapeño and cheese for a perfect go-to cornbread recipe.
French Dip Sandwiches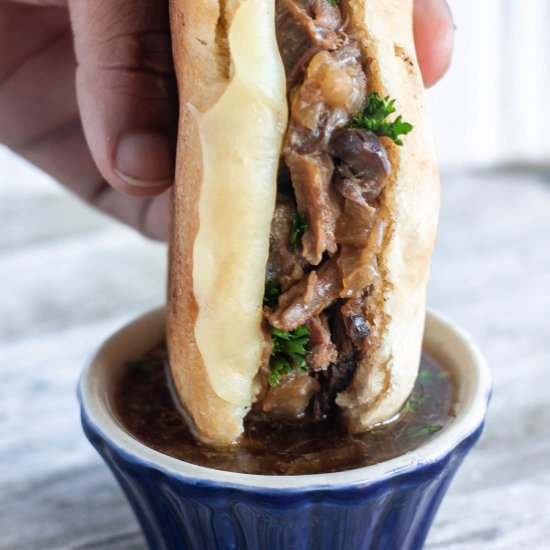 Deliciously drippy French dip sandwiches (from Sweet Tea and Thyme) will be a new favorite in your meal plans. Roast beef sandwiches topped with melty cheese and golden onions dipped in flavorful au jus, it's the best thing to happen to chuck since the pot roast.
Loaded Baked Potato Rounds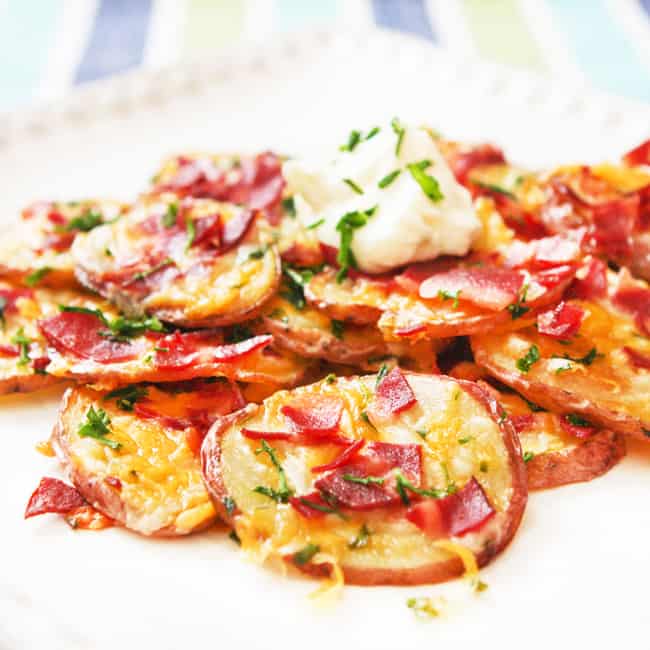 It's a dream come true! A mini baked potato in your fingertips! Loaded Baked Potato Rounds are perfect for dinner or served as a party food.
Air Fryer French Bread Pizza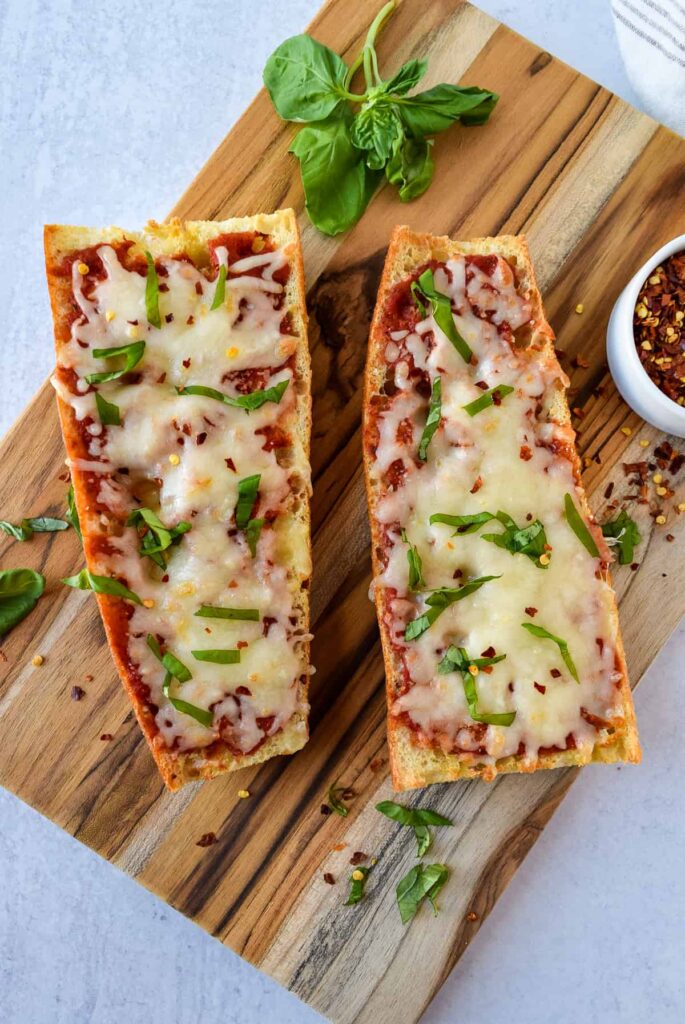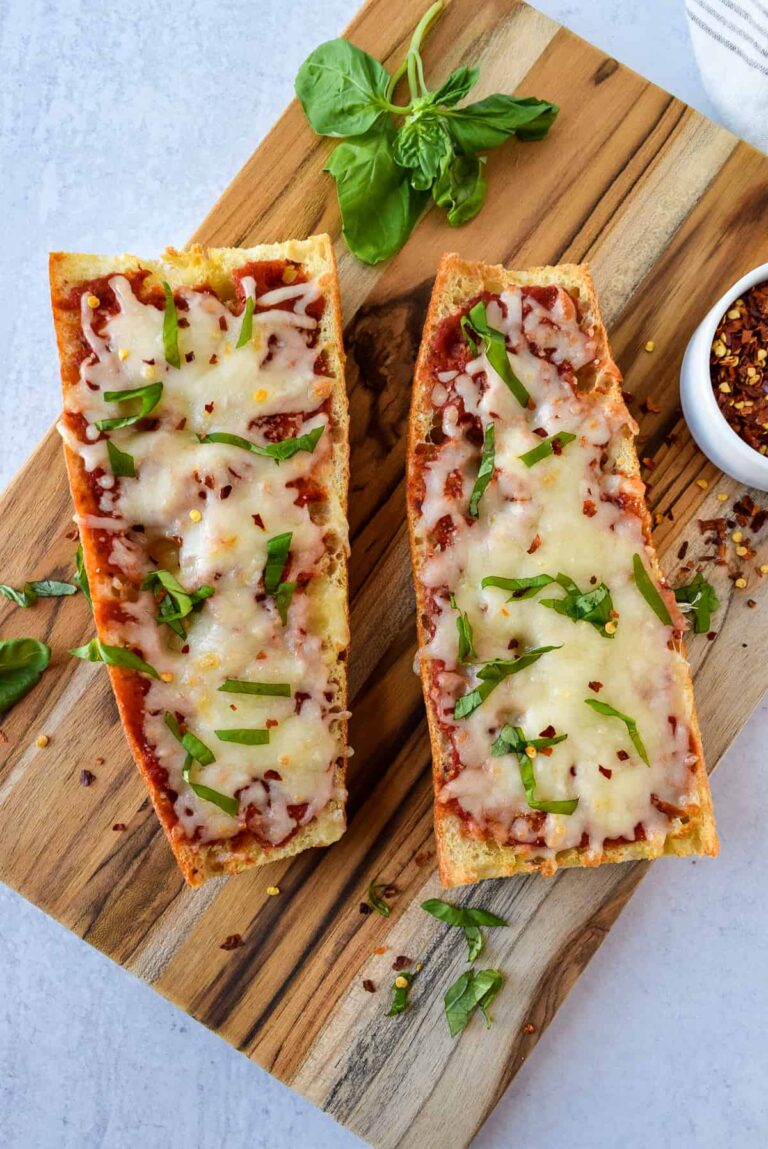 This Air Fryer French Bread Pizza (from Fresh Apron) is great for both kids and adults. It's a simple way to make pizza at home and it's ready in no time! Crispy, cheesy, and made with your favorite toppings.
Buttermilk Biscuits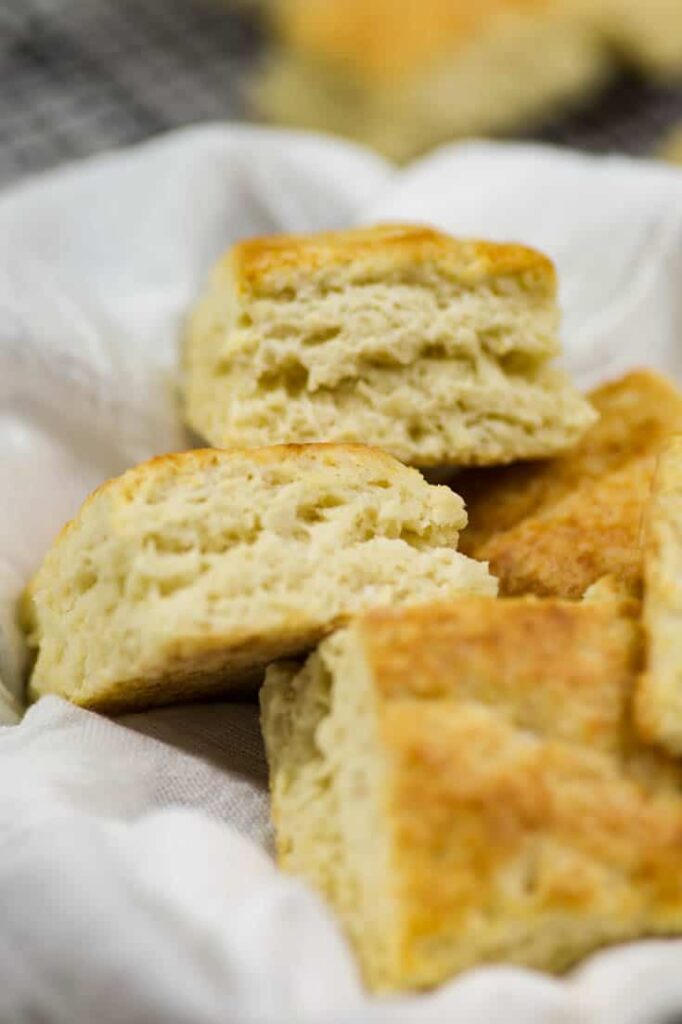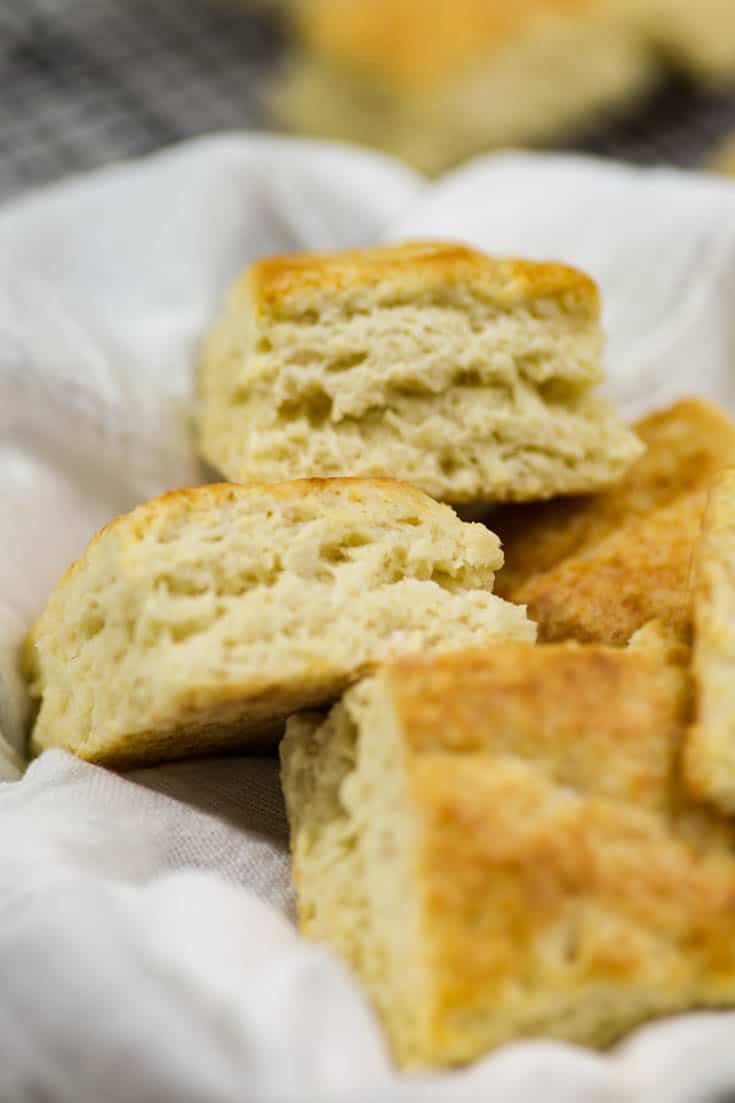 Buttermilk Biscuits (from Butter and Baggage) are tall and flaky with lots of layers thanks to an easy technique.  Square or round, these Southern homemade biscuits are delicious.
Apple Pie Monkey Bread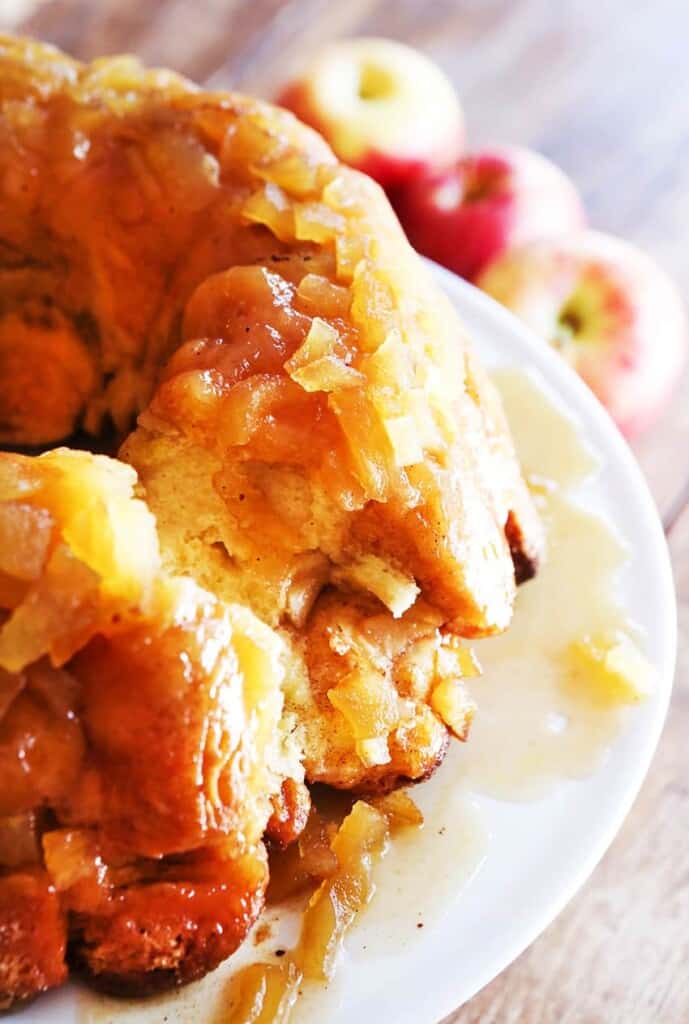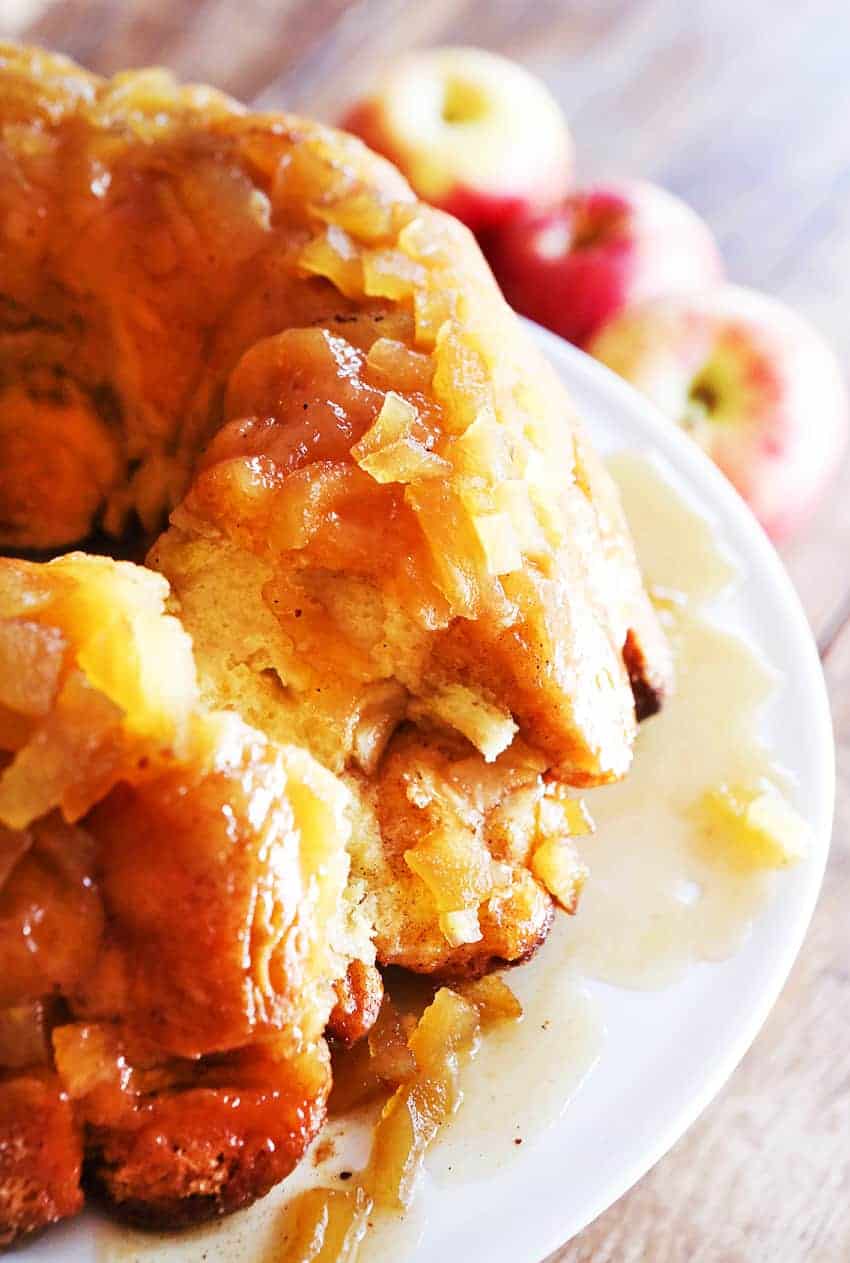 Transform apple pie into a delicious monkey bread that you can eat with your fingers! Apple Pie Monkey Bread is great for breakfast OR dessert!
Spicy Roasted Mexican Pepitas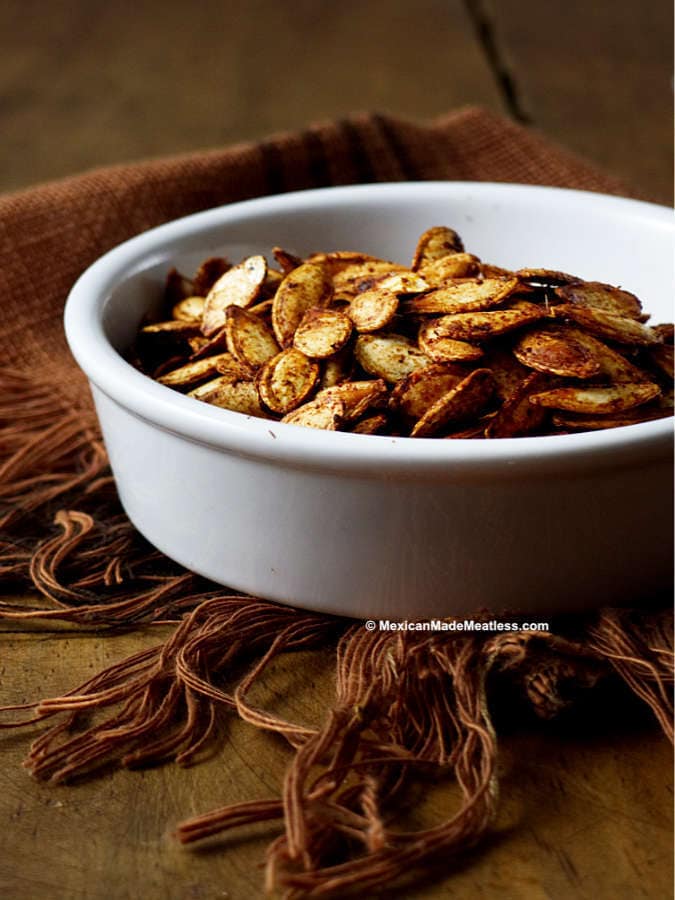 You've got to try this super easy recipe for spicy Mexican roasted pepitas (from Mexican Made Meatless), you'll love them!
Ham and Cheese Sliders on Hawaiian Buns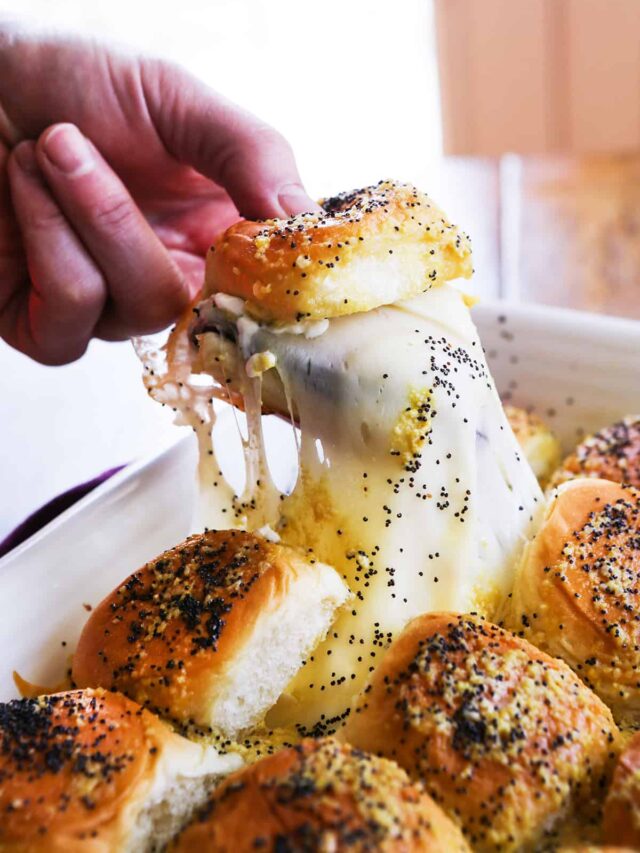 These delicious, baked Hot Ham and Cheese Sliders on Hawaiian Rolls are also known as Tailgate Sandwiches because they are the perfect game-day party fare. They are bursting with flavor and gooey cheese!
Jerusalem Bagels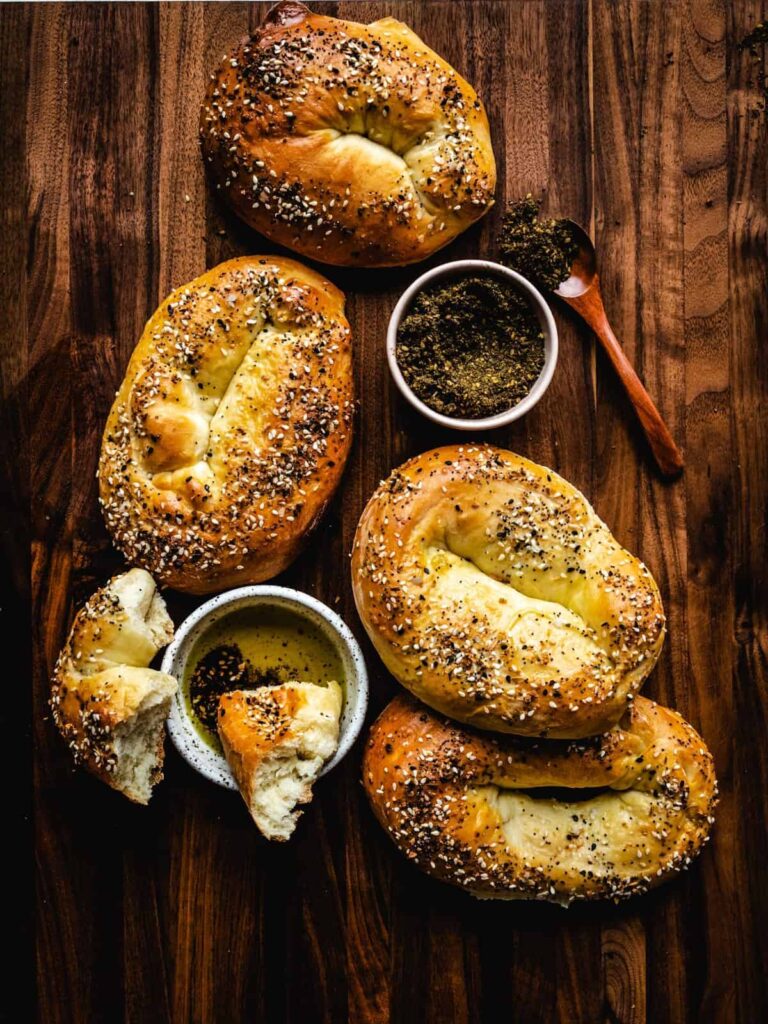 There's nothing quite like a fresh bagel to start your day! I recently learned about Jerusalem Bagels (from Kickass Baker), the lighter, airier, more bread-like cousin of the NY-style bagel, and just had to share them with you.
Best Chicken Salad Sandwich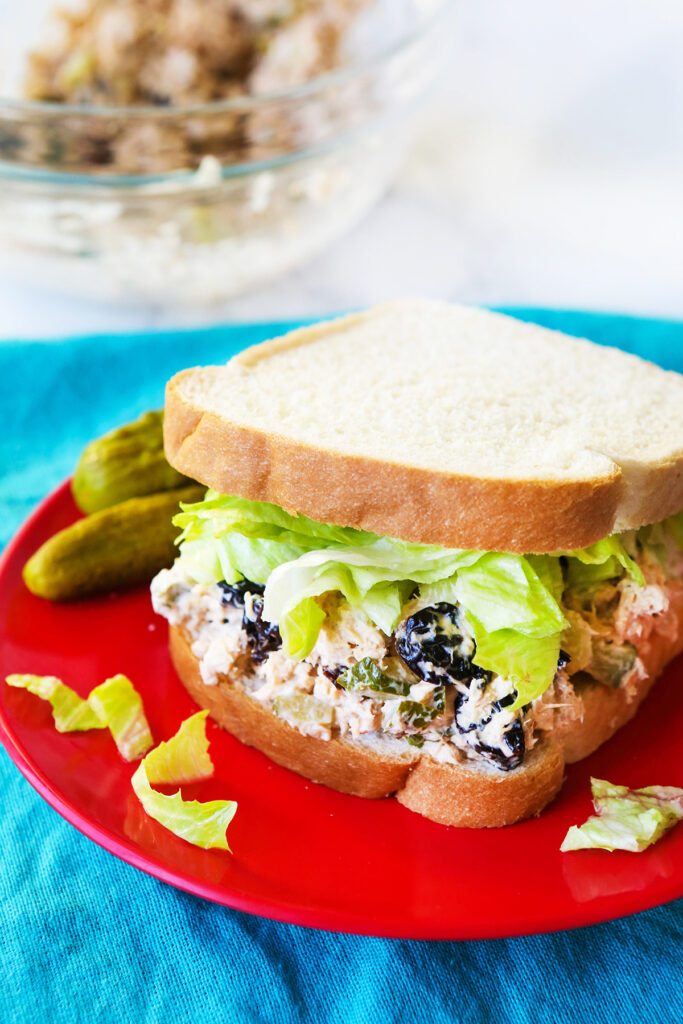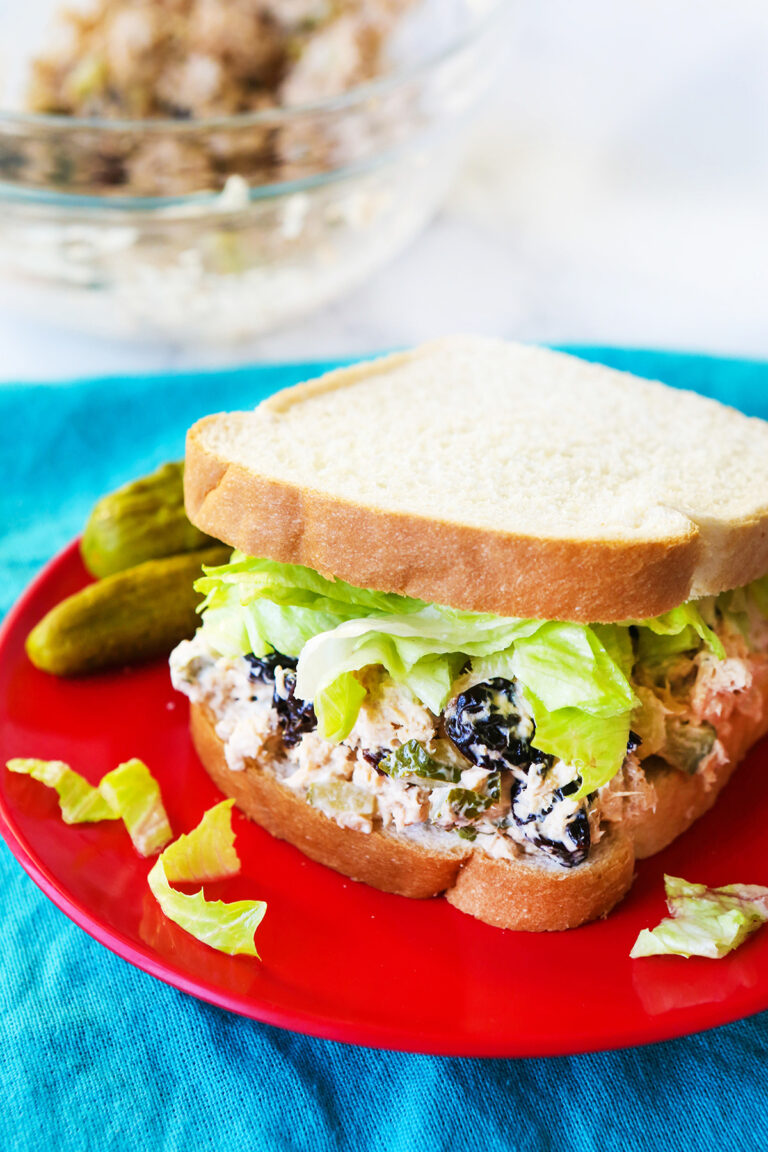 Packed with so many great ingredients, this chicken salad sandwich could easily be called Pantry Sandwich! Delicious dinner or lunch option for any day of the week, your next easy meal will be ready in less than 15 minutes.
Halloumi and Smashed Avocado Sandwich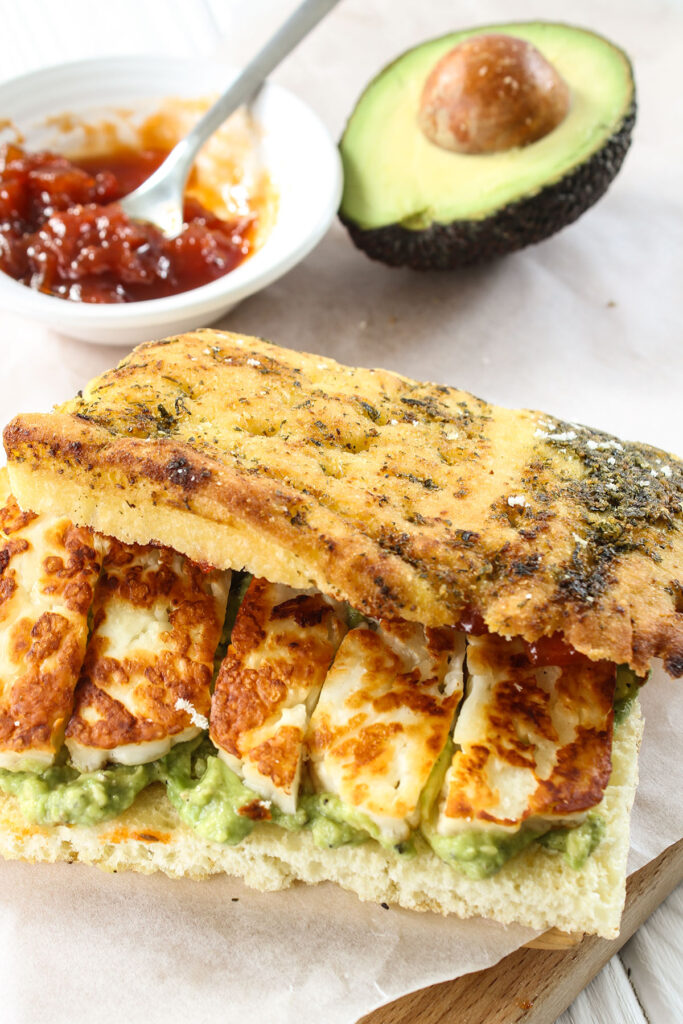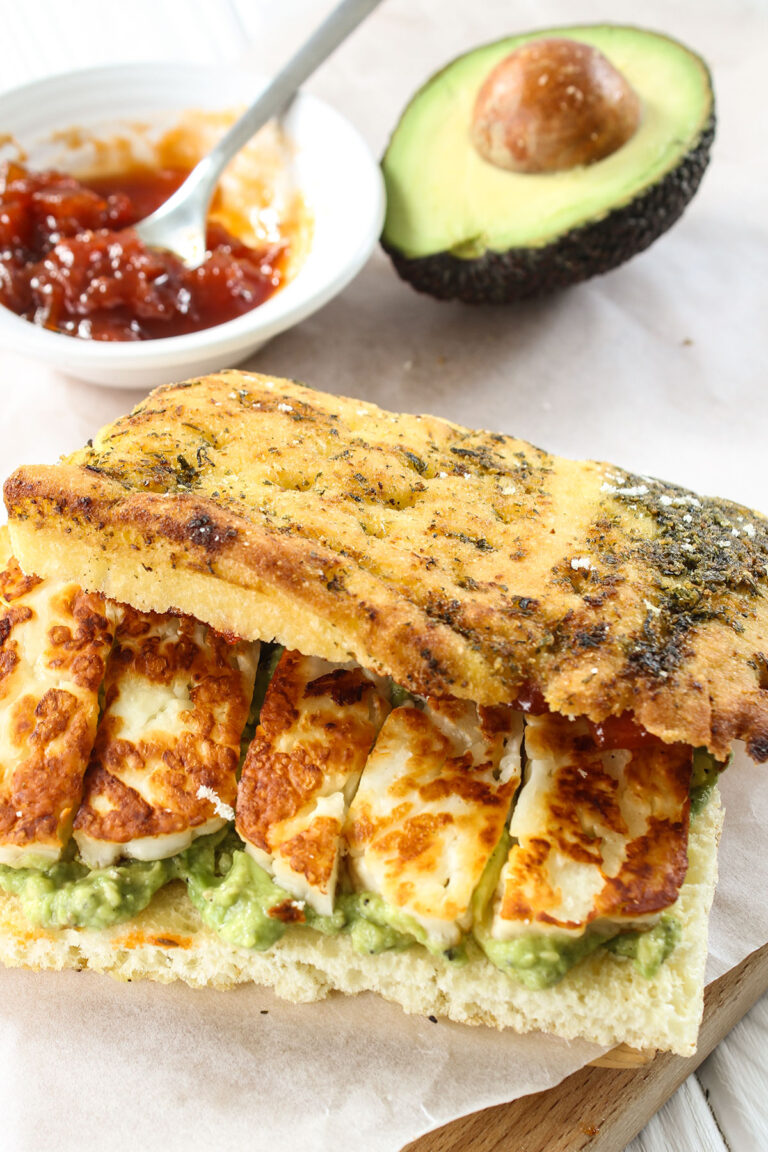 A flavour-packed halloumi sandwich (from Knife and Soul) that you can prepare in just 15 minutes. Here we have warm perfectly cooked halloumi slices, with creamy and zesty smashed avocado and tangy tomato chutney on toasted focaccia (or another bread of your choosing).
Sure to be a go-to option when you need to fit a quick lunch/brunch into a busy day. It's an easy, versatile sandwich that oozes deliciousness that you will be sure to make again and again.
Baked Mac and Cheese Bites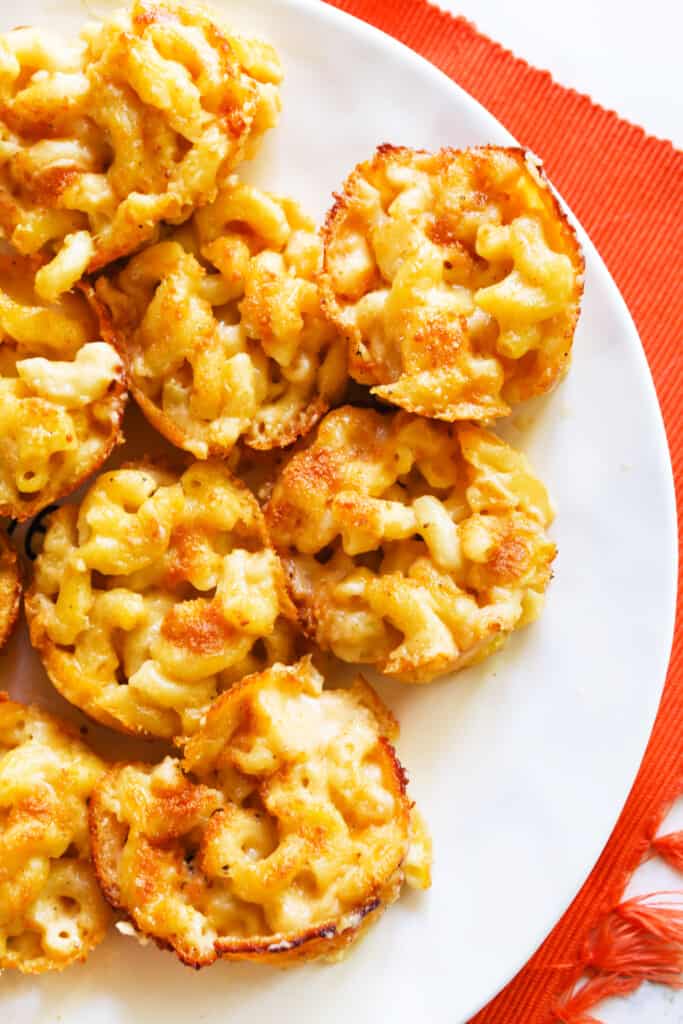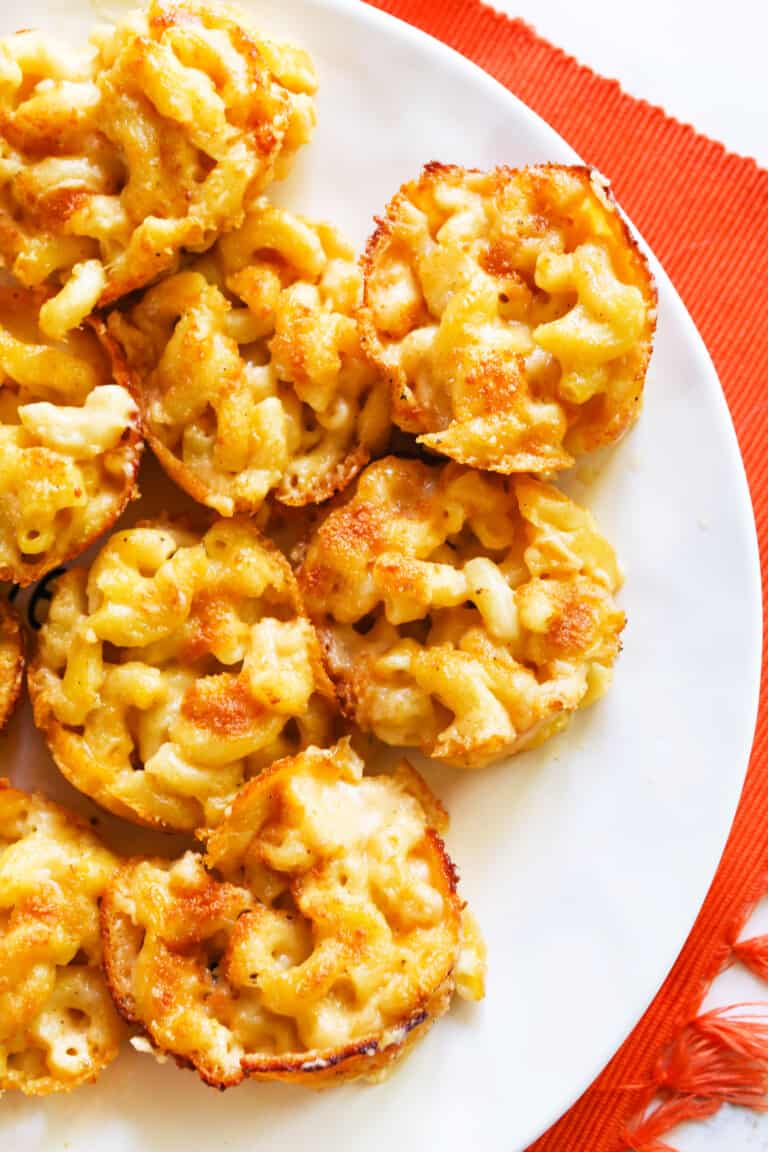 Looking for a new way to enjoy comforting mac and cheese? Make this baked mac and cheese bites recipe for a fun and perfect finger food to serve to kids and adults.
Vegan Hummus Wrap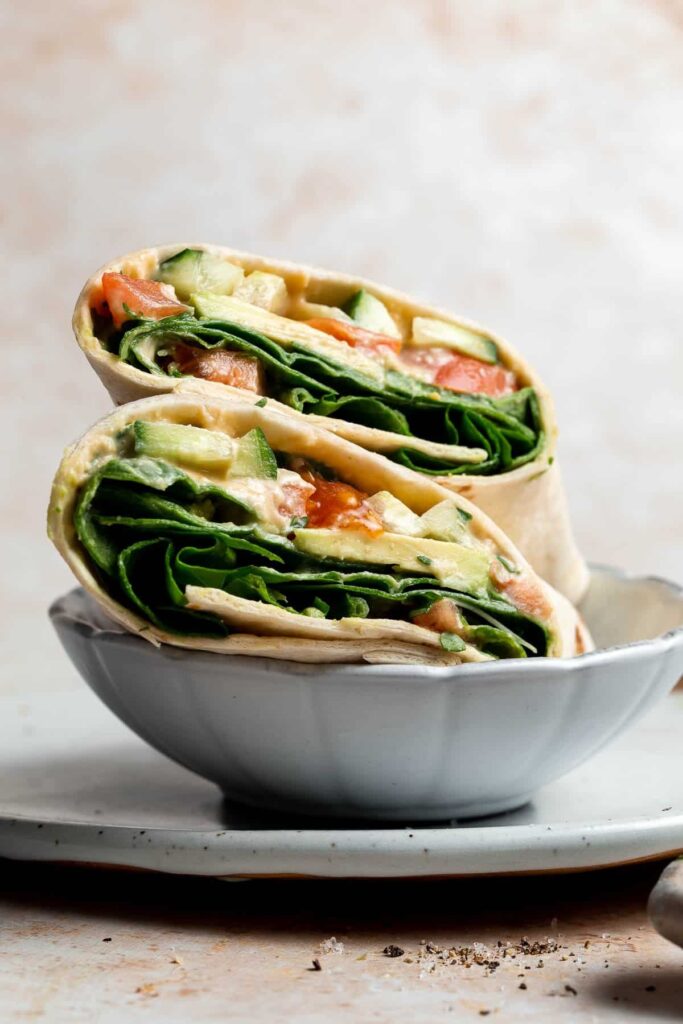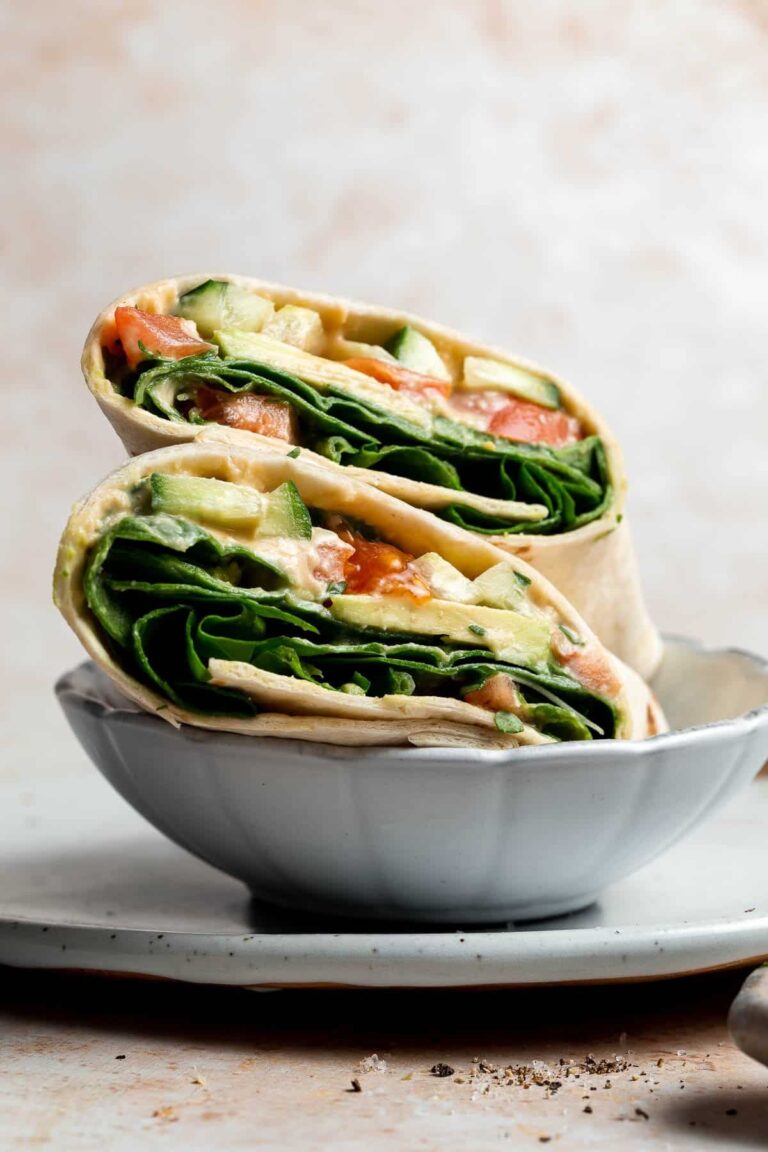 Vegan hummus wrap (from Ahead of Thyme) is a quick and easy lunch that you can literally whip up at the last minute. Made in minutes with just a handful of fresh ingredients, this delicious veggie wrap is perfect when you are craving something healthy, fresh, and nutritious.
Southern Cheese Straws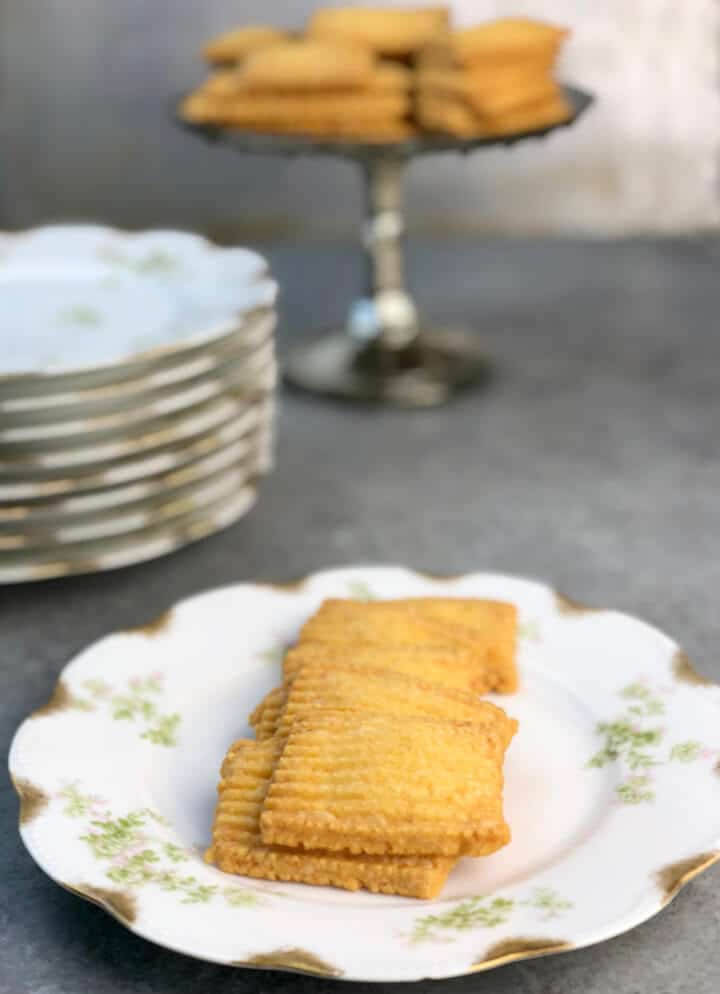 Cheese Straws (from Southern Food and Fun) — crispy, buttery, homemade crackers that are easy to make and a great appetizer! Southerners love cheese straws and serve them at bridal showers, baby showers, and anything in between.
Serrano Ham Panini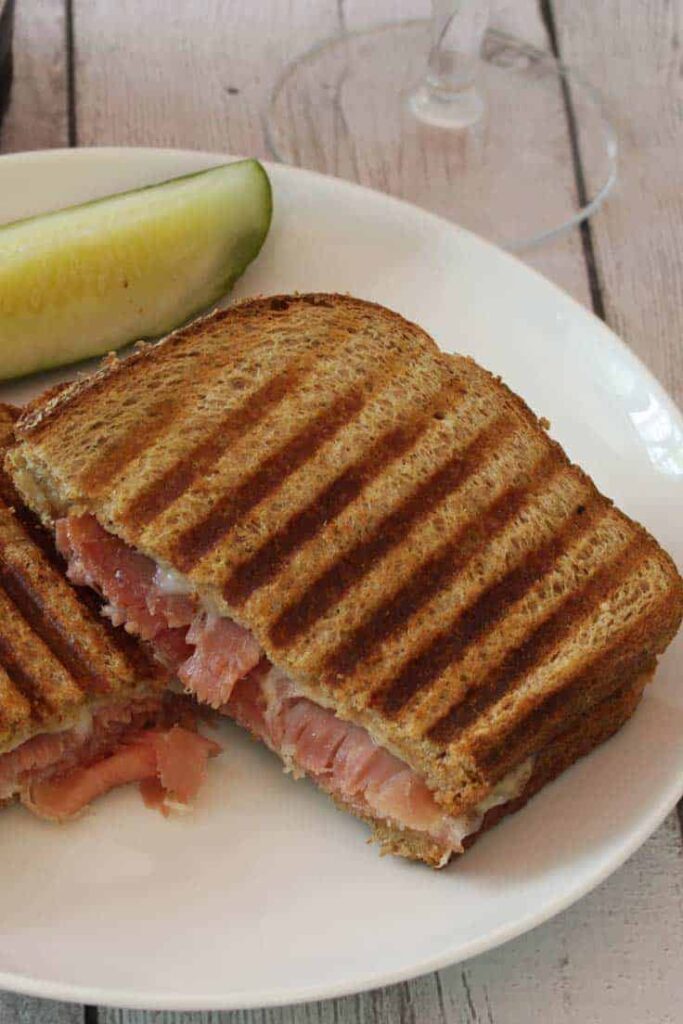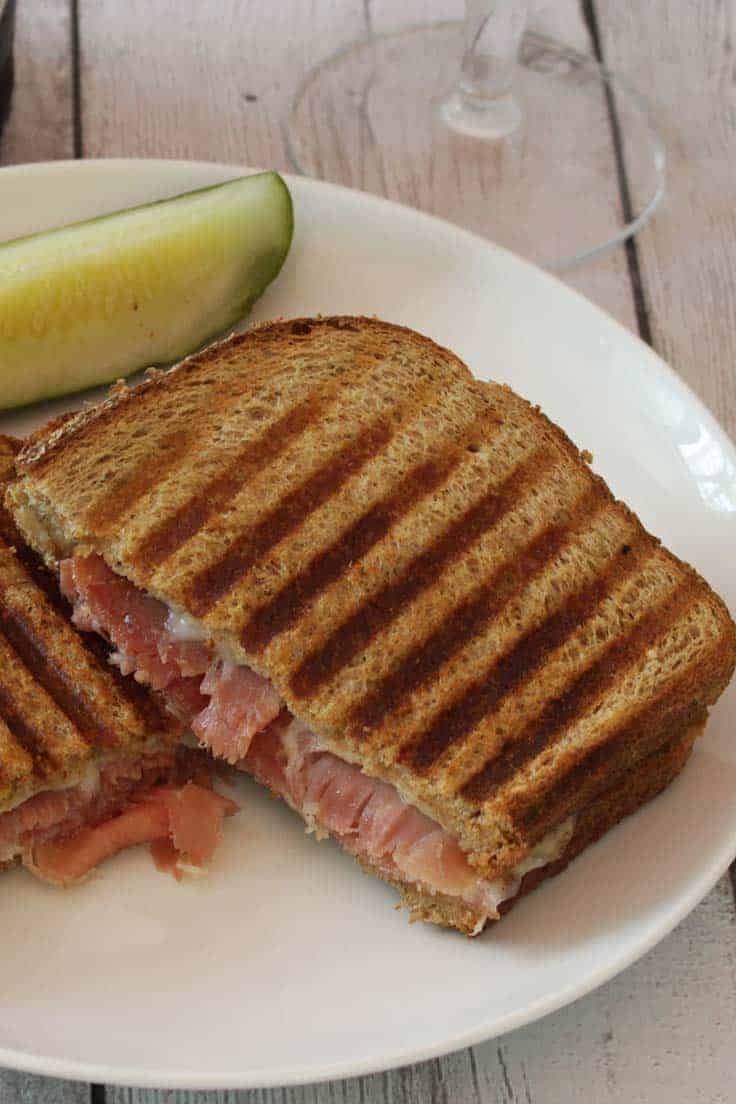 Serrano Ham Panini (from Cooking Chat) is a delicious sandwich recipe that makes good use of special Spanish ham. We enjoyed it served with an IPA style beer.