How long does asparagus last? If you have some green stalks staring at you from inside your refrigerator and you don't know whether to toss or eat this delicious vegetable.. read on!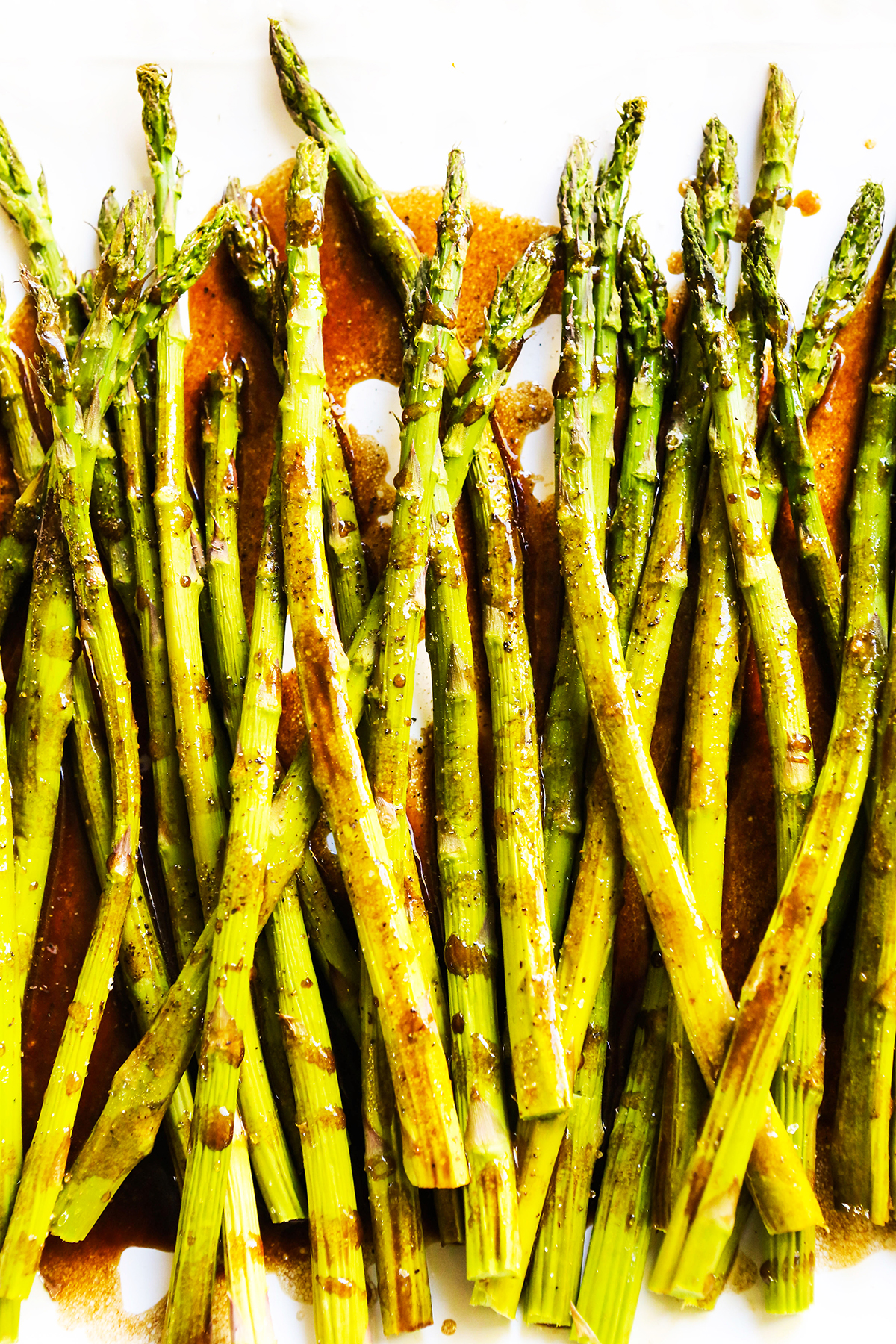 I always tell my mom that she is the luckiest mom ever. Ha! For real, though, I was a dream child in so many ways. One of the many reasons for that was my love for vegetables. I adored green veggies as a kid just as much as I do today.
This astounds me because now as a grown adult I have two boys who hate vegetables. Crazed words and expressions lash out at me any time they are present. It's insane! They are so missing out.
One of my faves has always been the delicious green asparagus. I love it when it is prepared in literally any way but I don't love it when I open the fridge to find wilted, gooey, yellow stalks staring sadly in my direction.
If you find yourself in this predicament where you are wondering, "How long does asparagus last?" and whether this yummy veggie is safe to eat, read on for all the information you'll ever need!
How To Clean Asparagus
Start by cutting off the light-colored parts of the stems that are tough (approximately 1.5 to 2 inches from the bottoms) using a sharp knife.
Run the trimmed stalks under cold water, removing any dirt using your fingers. Pat dry using a clean kitchen towel or paper towels.
How Long Does Asparagus Last
A bunch of fresh asparagus has a typical shelf life of around five days when stored in the refrigerator.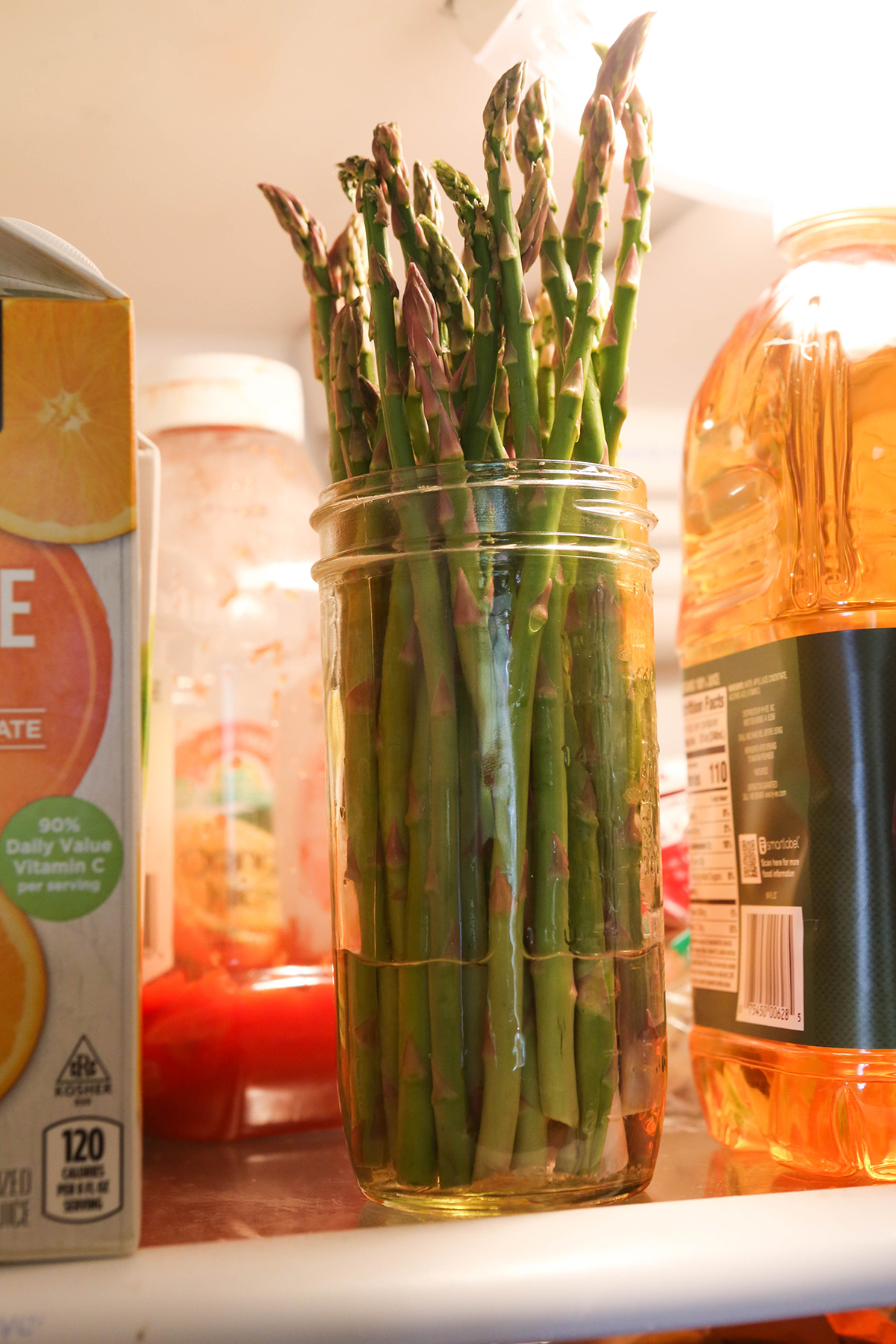 How to Extend the Shelf Life
Refrigerate it! Raw asparagus should be stored in the fridge, preferably inside a ziploc or sealed plastic bag that is stored in a crisper drawer.
Store in water! Place a bunch of asparagus upright in a glass jar. Add 1 to 2 inches of water to the jar with the base of the stalks immersed in water. Loosely cover the tops with a plastic bag and store in the fridge. This is the best way to extend the shelf life of asparagus, as it can stay fresh up to 10 days.
Paper towel method! Wrap wet paper towels around the bottoms of the stalks and cinch with a rubber band. Place in a plastic bag (or wrapped in plastic wrap and store in the fridge. This will extend the shelf life by a couple of days.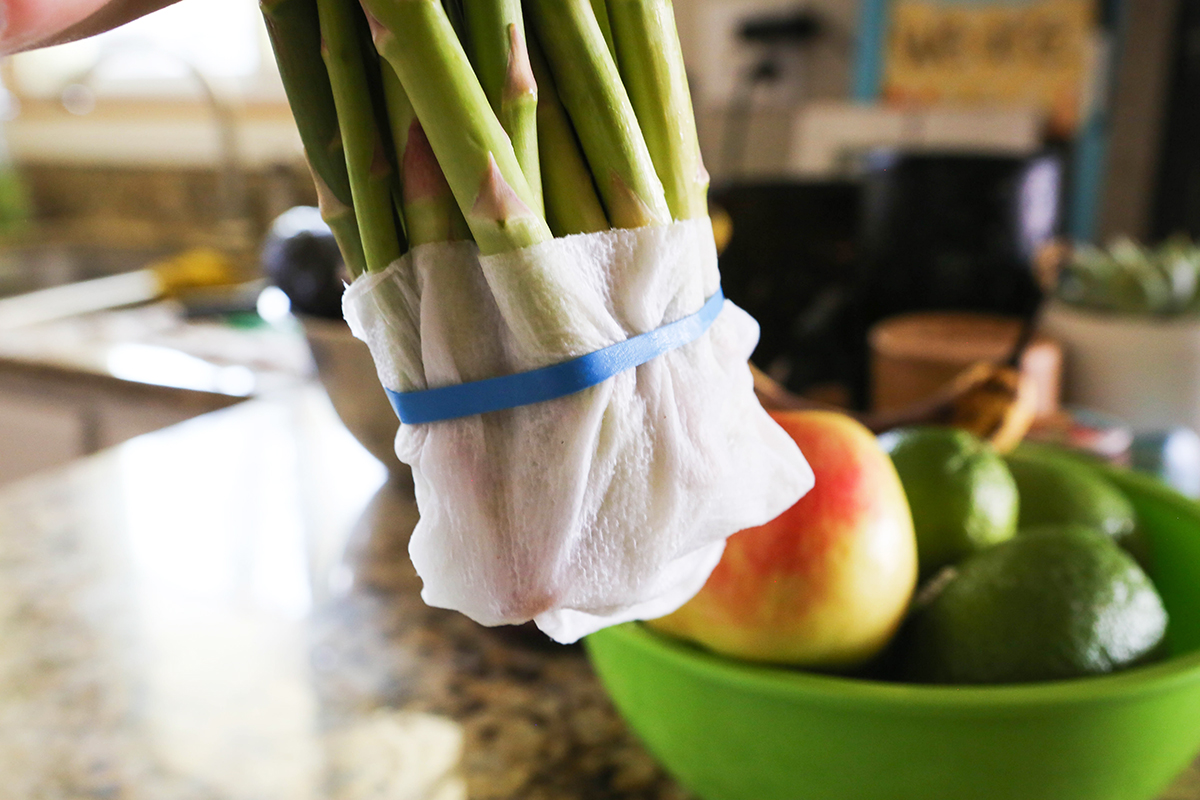 How Do You Know If Asparagus Has Gone Bad
If you find yourself inspecting this lanky green vegetable, trying to figure out whether or not it has been sitting in the fridge for too long, there are a few ways to determine whether you should use it or toss it!
Discoloration. If the ends of the asparagus stalks are discolored, dark green or have black spots, it should be tossed. If there are obvious signs of spoilage such as mold, it can be harmful to consume so toss it immediately.
Mushiness. Any soft or mushy spots can indicate that it is past its prime. The ends of the stalks typically go bad first.
Smell test. If steps one and two have passed the test, put it up to your nose and give it a good whiff. If anything smells amiss, toss it pronto.
Ways To Prepare Asparagus
Roast it in the oven on a baking sheet in a single layer at 400 degrees F for 10 minutes. Toss with butter or olive oil first!
Cook in a large pot of boiling water for 8 minutes or until it turns a bright green color.
Cook it in an air fryer.
Make Instant Pot asparagus.
Microwave it on high heat for 2 minutes in a bowl containing 1 inch of water. Heat in 30-second intervals afterward until bright green in color. Don't forget the lemon juice!
Grill it in aluminum foil or directly on grill grates. Marinate first in oil and fresh herbs and sprinkle Parmesan cheese over the top before grilling.
Things To Keep in Mind
Thin spears will cook more quickly than thicker spears, so alter cooking times accordingly.
After cooking, store leftover asparagus in an airtight container in the fridge for up to 3 days. Or place in a freezer bag or freezer safe containers and freeze for up to 3 months for best quality.
What to Serve With Asparagus
Salmon, seafood or fish of any kind such as crab legs or crab cakes
Ham, pork chops or pork loin
Pot roast
Egg bakes or quiche
Fresh fruits
Pasta dishes
Potatoes or hash brown casserole
Chicken
FAQ About Asparagus
Can dogs eat asparagus?
Dogs can definitely eat the green vegetable, but when uncooked it can cause gas or bloating. Consider steaming it first before feeding it to your pooch.
Can cooked asparagus be frozen?
Place cooked asparagus in an airtight container or Ziploc freezer bags and freeze for up to 3 months.
What goes with sauteed asparagus?
Sauteed asparagus goes great with many kinds of dinner, large or small. Serve with turkey, ham or beef dishes. It also tastes great alongside starchy sides such as mashed potatoes, rice and pasta.
When is sauteed asparagus done?
It should be cooked for 3 to 5 minutes, or until the asparagus is tender yet still crisp and bright green in color.
How to reheat asparagus?
Asparagus can be reheated in the microwave in 30-second bursts or in the oven at 300 degrees for approximately 7 minutes.
When is asparagus season?
Peak asparagus season occurs in April and May. Asparagus season typically begins in very late February and extends through the end of June.