Do you have sauerkraut staring at you from inside your fridge? If so, you might be wondering if this versatile side dish is still safe to eat. Read on if you need to know: How long does sauerkraut last in the fridge?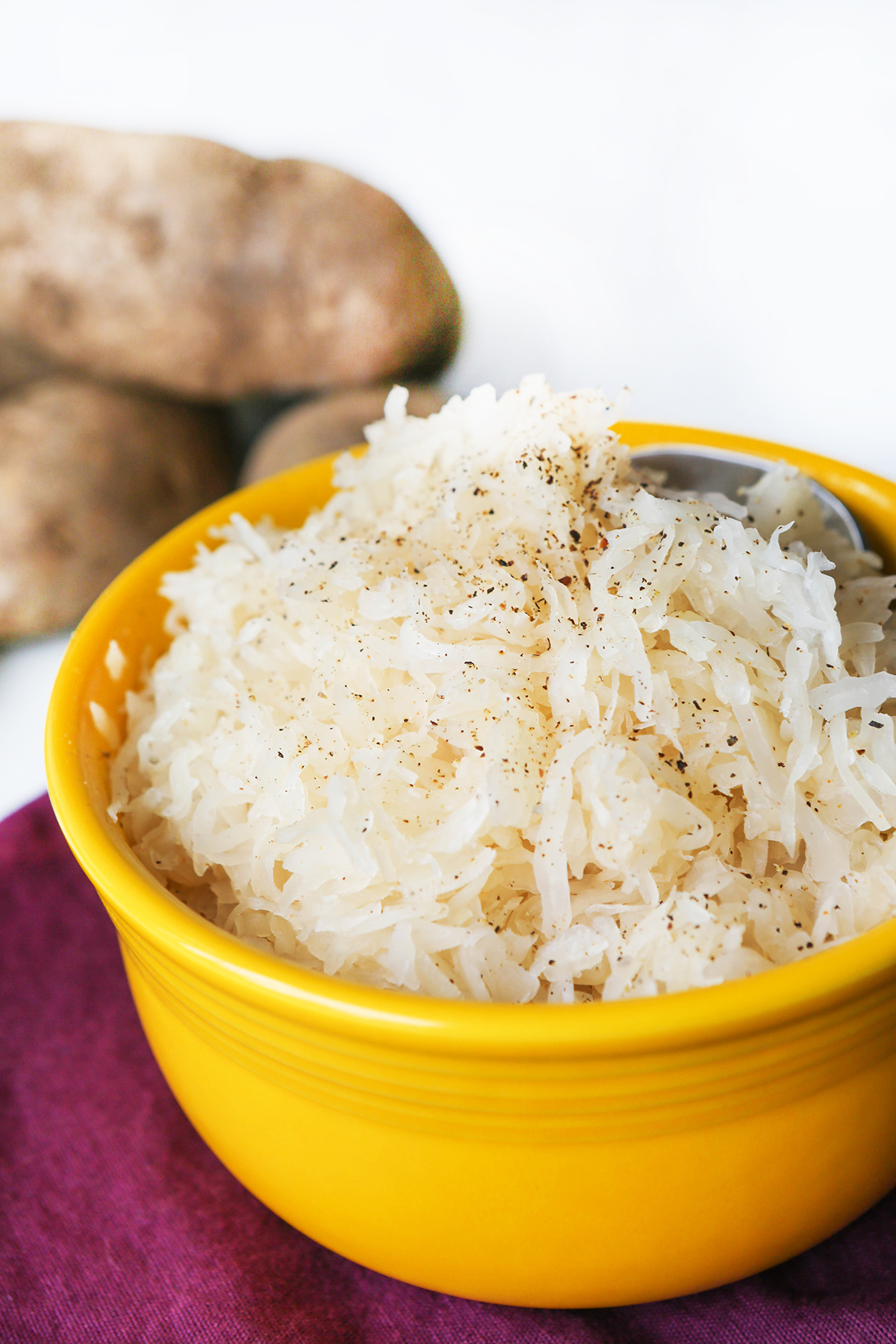 Sauerkraut is one of those ingredients that you either love or don't love. You either use it a ton or you use it very seldom. Either you have an acquired taste for it or you don't yet. No matter which camp you fall into, you likely have wondered about whether the container or package of kraut staring back of you is safe to eat.
Read on for my best advice about whether or toss that container or eat it up! The good news is that this fermented food can last a long time. Also included: delicious recipes including this strong-flavored ingredient and what to serve alongside it!
What is Sauerkraut
Sauerkraut is thinly sliced raw cabbage that gets fermented. It contains a distinctive sour cabbage taste and can be made in a variety of ways, but is most well known in the form of German sauerkraut.
Through the fermentation process, the cabbage acquires a sour taste, a distinctively bold flavor, a long shelf life and health benefits that come in the form of good bacteria and probiotic-richness that improves gut health.
Kraut can be made with either green cabbage or red cabbage, although the green variety is most commonly used.
How Long Does Sauerkraut Last in the Fridge
If you have a store-bought jar of sauerkraut on your hands and you're curious about the expiration date, follow the "best by" date printed on the package.
When it comes to homemade sauerkraut that is canned properly, it can be left at room temperature for up to 6 months in a dark place such as a cupboard or pantry. Humid environments are not ideal for storage.
Once the jar has been opened, store sauerkraut in the refrigerator to prevent bacteria growth and to retain the best quality. Kraut is easily prone to drying up when not stored properly.
Refrigerated sauerkraut will stay fresh for approximately six months.
Extend the Shelf Life of Sauerkraut
Refrigerate it! Secure the lid on the jar or transfer to an airtight container and store in the fridge at all times when not using it for a longer shelf life.
Keep it out of the door! Food items stored in the refrigerator door are subjected to warmer temps, especially with frequent openings. Instead, store on a shelf and push it toward the back of the fridge for best results.
Go glass! Kraut stored in glass jars will retain the best quality. If you have a bag of sauerkraut, transfer it to a glass jar, mason jar or another glass container before placing it in the fridge. A plastic container is a better option than a bag, but glass is the preferred storage method.
Avoid cross contamination! Always be sure to use clean utensils when scooping the mixture into other containers in order to avoid cross-contamination. A clean spoon should be used every time you dip into the jar.
Does Sauerkraut Go Bad
If you find yourself inspecting a jar of this fermented cabbage in an attempt to figure out whether or not it has been sitting in the fridge for too long, there are a few ways to determine whether you should eat it or toss it!
Smell test. Unscrew the lid and give it a good smell. Fresh kraut has a very distinct scent. If the sauerkraut smells extra sour, this is the best way to determine that it is no longer fresh. It's a little bit tricky because the baseline smell for this ingredient is sour. If you are familiar with the baseline smell, you will recognize if something smells off or if it is extra sour.
Note appearance. If the color of this ingredient seems unusual (either very dark or light), that is a good sign of bacterial growth and should be tossed. At the first signs of bad bacteria growth such as mold, it can be harmful to consume so toss immediately.
Taste test. If steps one and two have passed the test, grab a forkful from the container and give it a taste test. You probably know its familiar taste, so use common sense to determine if the taste is off. If you detect a sour taste or unusual flavor, throw the entire jar.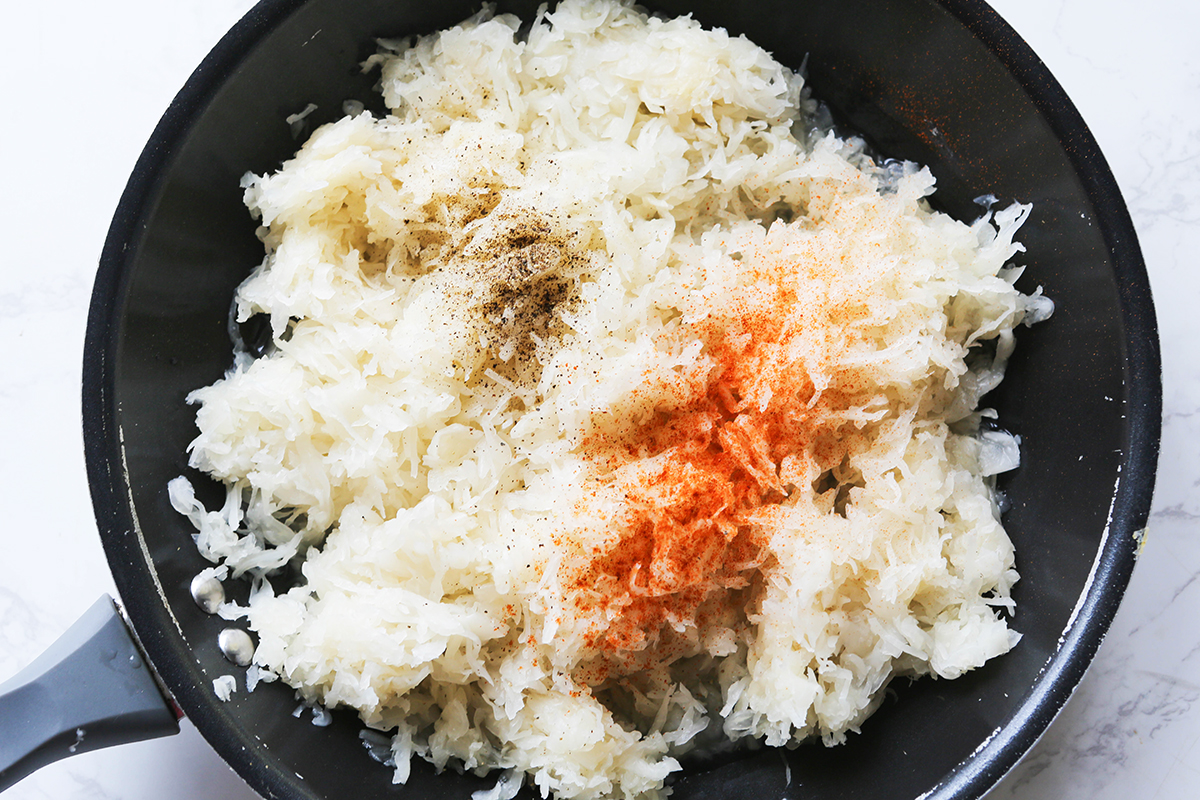 How To Cook Sauerkraut From a Bag
Empty the contents of a container of sauerkraut into a large skillet (include sauerkraut juice). Add spices or seasonings, as desired.
Cook over medium heat for 10-15 minutes or until heated through. Serve immediately!
How To Make Homemade Sauerkraut
To make your very own sauerkraut recipe, combine 3 cups of cold water and 2 tablespoons of salt in a large glass jar or mason jar (32-50 oz). Stir until salt dissolves.
Note: If using tap water, filter it first.
Press half of a head of shredded fresh cabbage down into the water until it is fully immersed. Use a ziploc bag with water in it to act as a weight. Press the bag into the jar, pressing the cabbage down so all of it falls below the water line.
In order for the fermenting process to begin, nothing can peek up above the water level. Seal the jar tightly, pushing the metal lid down into the top bag of water. Let the jar sit at room temperature for 7 days.
What To Eat With Sauerkraut
With its distinctively strong flavor, it may be hard to know what to eat alongside kraut. Read on for 17 delicious ideas about what to eat with sauerkraut.
FAQ About Sauerkraut
Can dogs eat sauerkraut?
Sauerkraut is safe for dogs to consume. Since it is packed with probiotics, it is even beneficial to eat as it aids the digestive process (for dogs and humans alike).
Is sauerkraut gluten free?
Sauerkraut is naturally gluten free, as it is typically only made from fermented cabbage and salt.
How to make sauerkraut less sour?
Sauerkraut that is too sour can be tamed with the addition of fatty ingredients such as olive oil or avocado oil, or even mashed avocado.
What is the difference between kimchi and sauerkraut?
Kimchi and sauerkraut are very similar and are both made from fermented cabbage. Kimchi typically contains a wider range of ingredients and flavors and originates from Korea.
Can you freeze sauerkraut?
Sauerkraut can be frozen and stored in a freezer bag or freezer-safe container, but a few things should be noted. When you freeze it, you will kill the good bacteria that is known for being inside it. Also, the texture will be altered after thawing.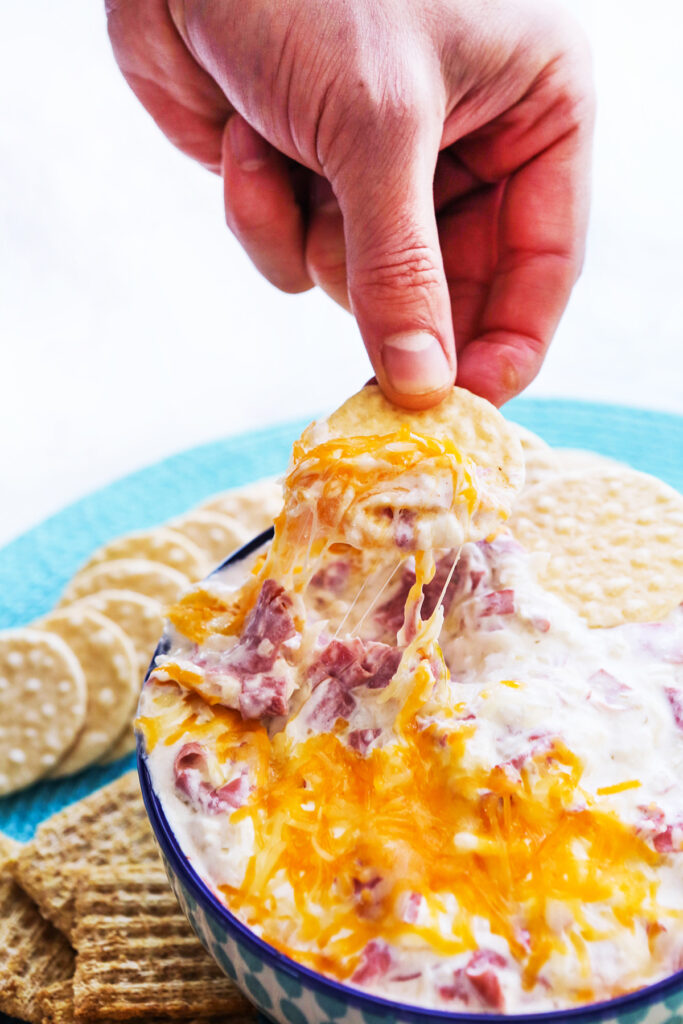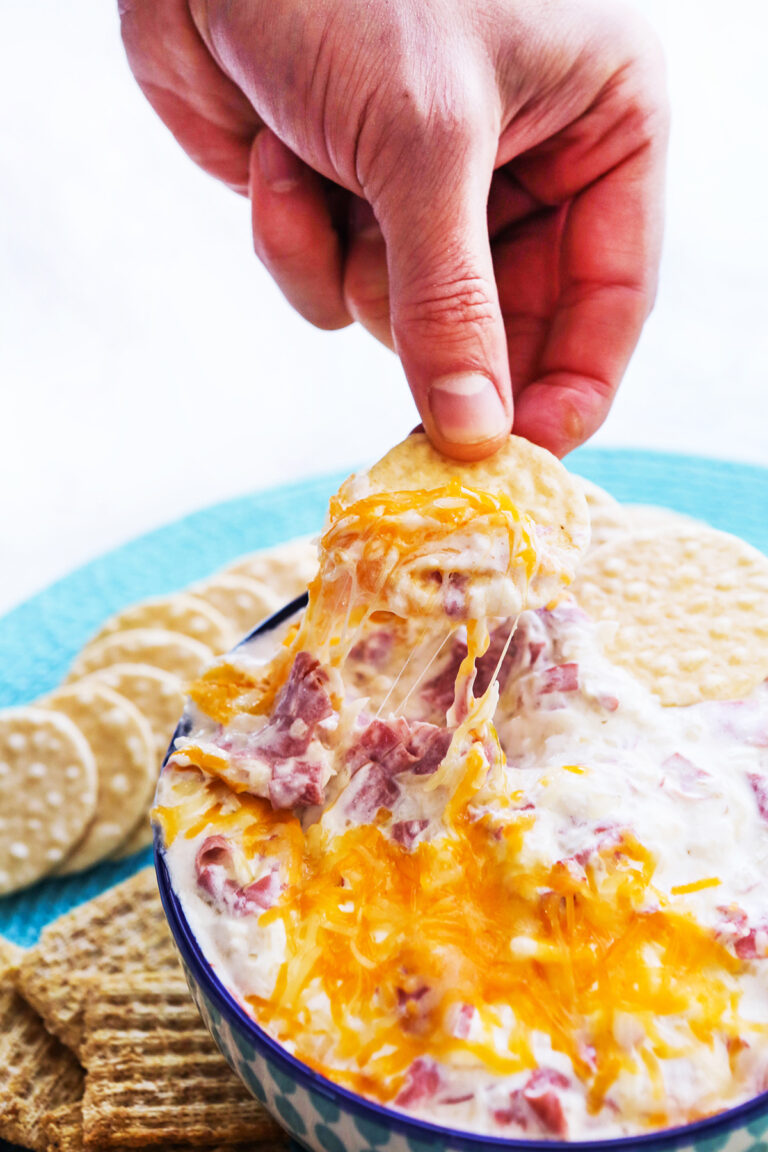 Ways To Use Sauerkraut
Serve over baked potatoes or cooked sweet potatoes of any kind.
Run it through a food processor and it becomes a nice addition to any veggie or leafy salad.
Add it as a topping on hot dogs or Chili Dogs.
Throw it into the mix when you make your next Grilled Cheese Sandwich.
If You Have Extra Cabbage
Reuben Grilled Cheese or any variety of a reuben sandwich on rye bread
Cabbage salsa or salads with collard greens or any variety of lettuce
Cabbage rolls