This decadent Chocolate Espresso Cake defines rich chocolate indulgence! Three layers of espresso-infused chocolate cake are sealed together with creamy Chocolate Ganache Frosting and drizzled with a smooth, drippy ganache for good measure.
A very special niece celebrated her sixteenth birthday recently. I offered to make her a dessert and she requested a Chocolate Espresso Cake. YUM! I was on it like a creamy layer of ganache. Making this cake was so much fun! After I took pictures I went in for a bite, thinking I'd be able to stop after one. Ten seconds later Elijah walked in and said, "MOM! What happened to that piece of cake?!" In my tummy, cute boy. IN. MY. TUMMY.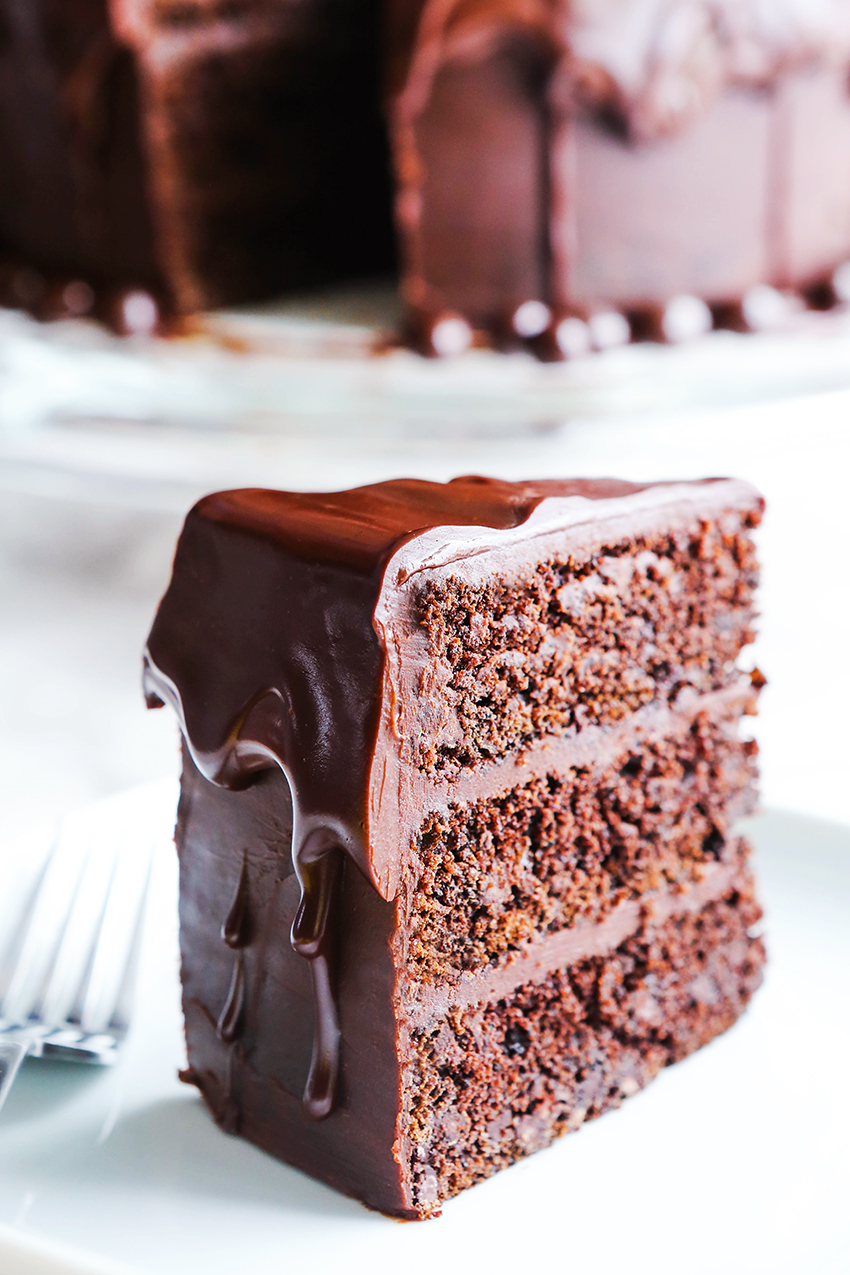 What is the difference between Ganache and Ganache frosting?
Ganache and Ganache Frosting are made with the same ingredients, but using different ratios of cream to chocolate. Ganache usually refers to a glaze that is drizzled over baked goods and ganache frosting refers to a spreadable frosting or filling for baking goods. Allowing ganache to cool in the fridge will make it thicker (much like the frosting), but it also causes it to lose its "drippy" quality that ganache is known for.
I knew I wanted Chocolate Ganache Frosting to be involved in this cake because it's the world's most delicious chocolate frosting. It was a last-minute call to add another drippier Chocolate Ganache over the top because why not?! Oh my goodness this cake is rich and delectable and totally irresistible.
This is a fool-proof cake recipe and although it might look complicated…it's not. It's a show-stopper and it'll wow guests every single time. I hope you enjoy this Chocolate Espresso Layer Cake as much as we all did!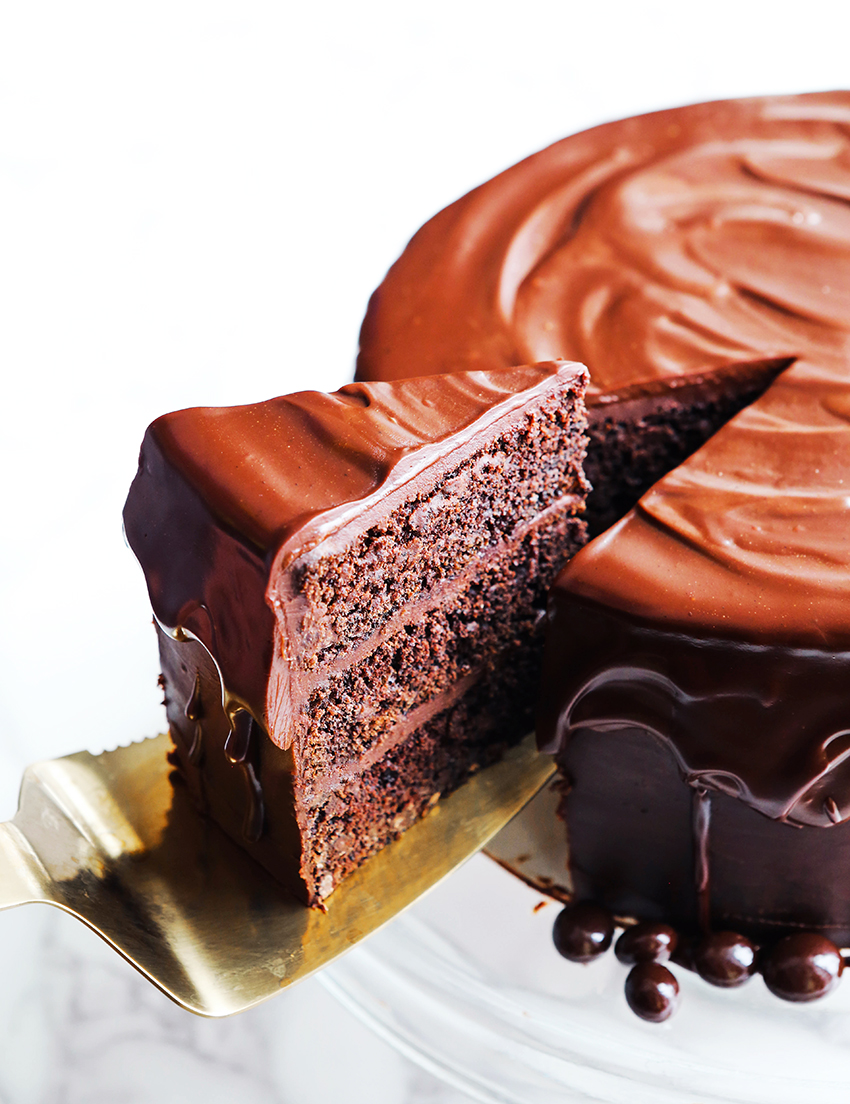 If you can't get enough chocolate cake, check out this Chocolate Raspberry Bundt Cake and this Chocolate Crunch Layer Cake!
Have a great week, you guys! ENJOY!

Chocolate Espresso Layer Cake
This Chocolate Espresso Cake takes chocolatey richness to a whole new level.
Print
Pin
Rate
Cook Time:
1
hour
30
minutes
Ingredients
1/2

cup

salted butter

softened (1 stick)

1 1/2

cups

granulated sugar

1/2

cup

dark brown sugar

3

eggs

2

tsp.

vanilla extract

1/2

cup

sour cream

2

cups

all-purpose flour

1/2

cup

cocoa powder

1

tsp.

baking powder

2

tsp.

baking soda

1

tsp.

salt

2

tbsp.

espresso powder

3

shots

espresso

1/3 cup

1

cup

buttermilk

shaken

10

oz.

package mini semi-sweet chocolate chips

1

tbsp.

flour

1

batch

Chocolate Ganache Frosting

1

batch

Chocolate Ganache

1/2

cup

chocolate-covered espresso beans
Instructions
MAKE THE CAKE
Preheat the oven to 350°F and generously spray three 8- or 9-inch round cake pans (or you can do this with one cake pan, baking one at a time) with cooking spray. Using a stand mixer fitted with the paddle attachment (or a large mixing bowl with a hand mixer), combine the butter, sugars, eggs, vanilla and sour cream and beat on medium speed until creamy and free of lumps.

In a separate bowl, combine the flour, cocoa powder, baking powder, baking soda, salt and espresso powder. Mix well. Gradually add to the butter mixture and beat on medium speed until just combined. Pour the espresso shots into a liquid measuring cup. Add water to make 1 cup total. Add the espresso-water mixture to the mixing bowl, along with the buttermilk, and mix on medium speed for 90 seconds. In a small bowl, combine the chocolate chips and 1 tablespoon flour and stir until the chip are well-coated. Add to the mixing bowl and stir until just combined.

Divide the batter between the prepared cake pans and bake in the preheated oven for 25-35 minutes, or until a toothpick inserted into the center comes out clean. Let cool in pan for 10 minutes, remove from pan and let cool completely on a wire rack. Using a serrated bread knife, cut the rounded tops off each cooled cake.
ASSEMBLE THE CAKE
Place one cooled cake in the center of a cake or serving plate. Spread Chocolate Ganache Frosting over the top in an even layer. Top with another cake and another layer of frosting. Top with the remaining cake.

Using an offset or icing spatula (or icing smoother), apply the remaining frosting to the top and sides of the cake in a smooth, even layer. Refrigerate while you prepare the ganache. Pour the ganache over the top of the cake, allowing it to drip over the edges. Decorate cake with chocolate-covered espresso beans. Refrigerate cake until ready to cut and serve!