How long does homemade bbq sauce last? If you have a bottle of homemade sauce and you are unsure about whether or not it is still fresh.. read on!
How Long Does Homemade BBQ Sauce Last In The Fridge
Homemade bbq sauce lasts in the fridge for up to two weeks with proper storage and refrigeration.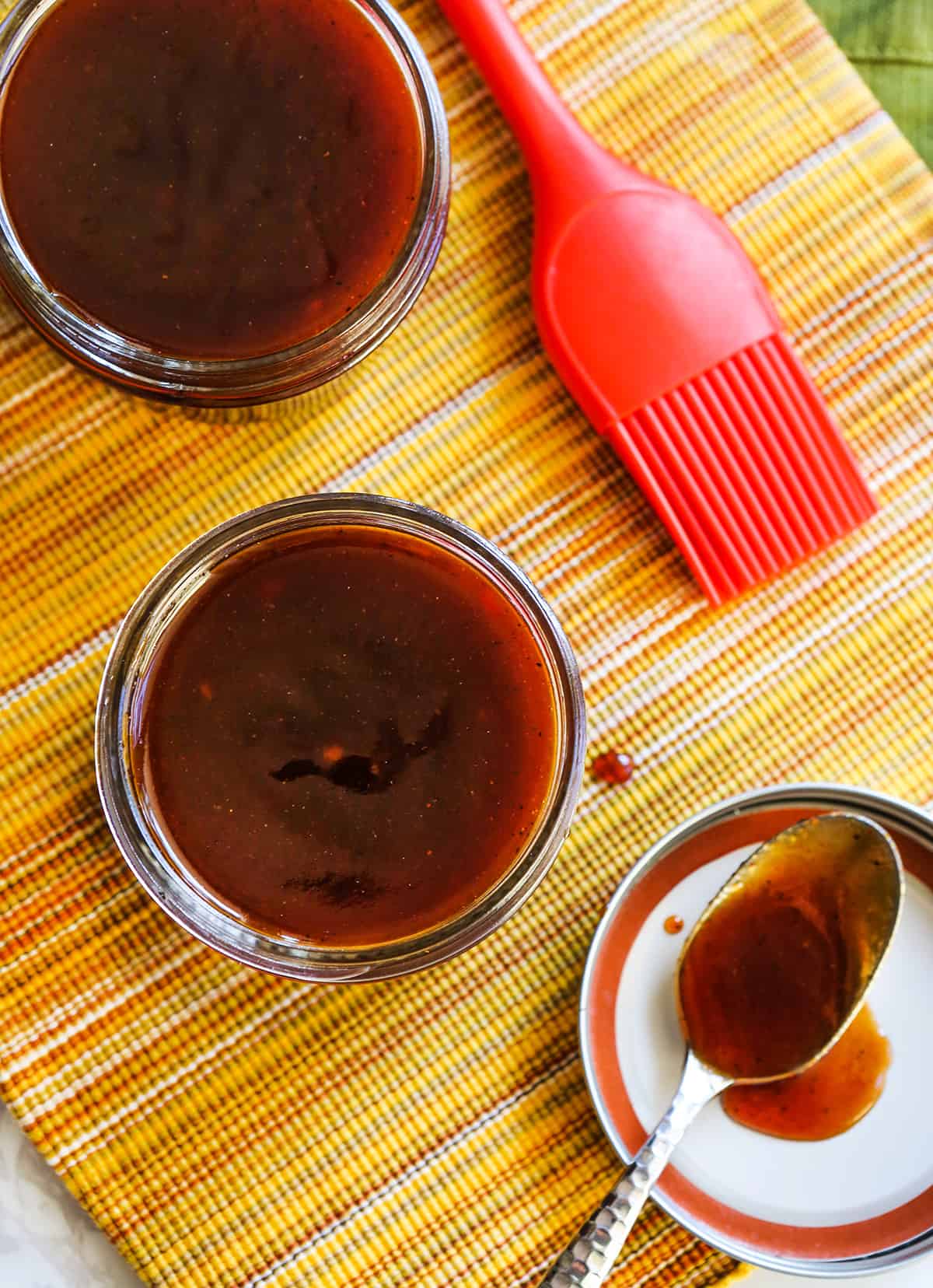 Can You Freeze BBQ Sauce
Homemade or store-bought sauce can be frozen, used at a later date and not lose quality or flavor. Follow these best practices for best results.
Cool to room temperature if it has been heated.
Transfer to a freezer-safe container or plastic freezer bags. Use double bags in order to avoid leakage. Consider freezing small portions in small mason jars, an ice cube tray or a small air-tight container so you can thaw a little bit at a time, if desired.
Place in the freezer for up to three months for best results and to avoid freezer burn.
How To Store Homemade BBQ Sauce
After making and cooling your homemade barbecue sauce, there are a few storage tips that will help to extend the shelf life of bbq sauce to help it last longer.
Refrigerate it! The first step is to secure the lid tightly on the jar or transfer it to an airtight container and store it in the fridge at all times.
Keep it out of the door! Food items stored in the refrigerator door are subjected to warmer temps, especially with frequent openings. This can decrease the shelf life. Instead, store on a shelf and push it toward the back of the fridge so it stays fresh for a few extra days.
Keep at the same temp! Moisture can collect inside the sealed container when temperature change occurs. Keep the temp of the entire jar as consistent as possible to avoid early spoilage and always keep out of direct sunlight.
Go glass! Transfer the mixture from the original container (if plastic) to a glass jar (glass mason jars work well) for the best quality and to add a little bit of time to its life.
Avoid cross contamination! Always be sure to use clean spoons when scooping this sauce into other containers in order to avoid cross-contamination. A clean spoon should be used every time you dip into the jar.
How Can You Tell If BBQ Sauce Is Bad
There are a few ways to tell if your sauce is no longer edible.
Smell test. Give it a good smell. Fresh barbecue sauce has a pleasant aroma. An off odor is the best way to determine if it has gone bad.
Note appearance. If you notice a color change or if mold is present on the top of the sauce, these can be signs of spoilage. Consuming any bacterial growth can cause food poisoning, so toss immediately.
Taste test. If steps one and two have passed the test, it's a good idea to pour a bit into a spoon and put it in your mouth for a quick taste test. You probably know its familiar taste, so use common sense to determine if the taste is off. If you detect a sour taste or unusual flavor, throw the whole batch!
How Long Does BBQ Sauce Last After Opening
An opened bottle of store-bought barbecue sauce will stay fresh when stored in a pantry for 1-2 months. When stored in the fridge, opened bbq sauce will last for six months.
Store-bought bbq sauce comes packed with preservatives to help it last over time, so its shelf life is much different than the homemade variety.
FAQ About BBQ Sauce
How to thicken bbq sauce?
Adding a cornstarch slurry is an easy way to thicken bbq sauce quickly. Pour the sauce into a saucepan and set to medium heat. Combine equal parts water and cornstarch (start with 2 tablespoons each). Whisk until smooth, then stir into the sauce. Stir until thickened. Repeat as needed.
How to thin bbq sauce?
You can thin barbecue sauce by adding a thin liquid in small increments. Start by pouring the sauce into a saucepan and set over medium heat. Add 1/4 cup at a time of either tomato sauce, beef broth, chicken broth or vegetable broth. Apple cider vinegar can be used as a thinning agent, as well, but do taste tests after each 1-tablespoon addition. Stir until smooth and add more liquid as needed.
Can dogs eat bbq sauce?
If bbq sauce contains onion, garlic, excess salt or artificial sugar, it can be harmful or fatal for dogs when ingested. Err on the safe side and avoid feeding barbecue sauce to your pooch.
Easy Recipe For Barbecue Sauce
This recipe the easiest homemade bbq sauce recipe you will ever make! It is sweet, spicy, packed with bold, delicious flavors and made without high-fructose corn syrup.
Uses for BBQ Sauce
If you have extra barbeque sauce on your hands, think outside the scope of grilled meat! Here are some other great ideas for ways to use it up:
Brush it over chicken wings before cooking.
BBQ chicken is my favorite thing to make with this sauce. The chicken is grilled to tender perfection, with the best flavor you'll ever imagine.
This bbq sauce also acts as a great dipping sauce for any meat!
Use it as a topping for your next batch of meatloaf!
Drizzle it over your next salad.
Slather this sauce ALL over any meat of your choice before cooking. Here are a few ideas to get you started: beef or pork ribs, pulled pork, burgers, chicken breasts or brats.
Throw some into your slow cooker along with meatballs.
Use it as a dipping sauce for French fries.
Replace pizza sauce with it to create a delicious bbq chicken pizza.
Make Barbecue Sauce Tastier
Add 1 teaspoon of chili powder for a bold flavor.
Create a spicy bbq sauce by adding a few splashes of hot sauce, red pepper flakes or a bit of cayenne pepper.
Replace the garlic powder with onion powder, if desired.
Spruce up any sauce by adding 1/2 teaspoon each of salt and freshly ground black pepper.
Puree chili peppers or bell peppers and add them to the mix for extra spice and flavor.
A squirt or two of lemon juice adds a touch of tartness that you'll love!
A spoonful or two of tomato paste send the flavor over the edge.
Apple cider vinegar adds a tangy flavor you won't be able to resist, but add in small amounts and taste test after each addition.
For a smoky flavor, add a few drops of liquid smoke to the mixture.
Adding up to 1 tablespoon of brown sugar will result in a sweeter sauce.
My personal favorite secret ingredient to improve a barbecue sauce recipe is Worcestershire sauce!