Are you wondering, Can you freeze spaghetti and meatballs? Good news! You can! Read on for our best tips about how to freeze this classic comfort food so you can enjoy it later.
Can You Freeze Spaghetti and Meatballs
Hold onto those spaghetti leftovers! You can easily freeze leftover spaghetti and meatballs and reheat it later to be enjoyed a second time.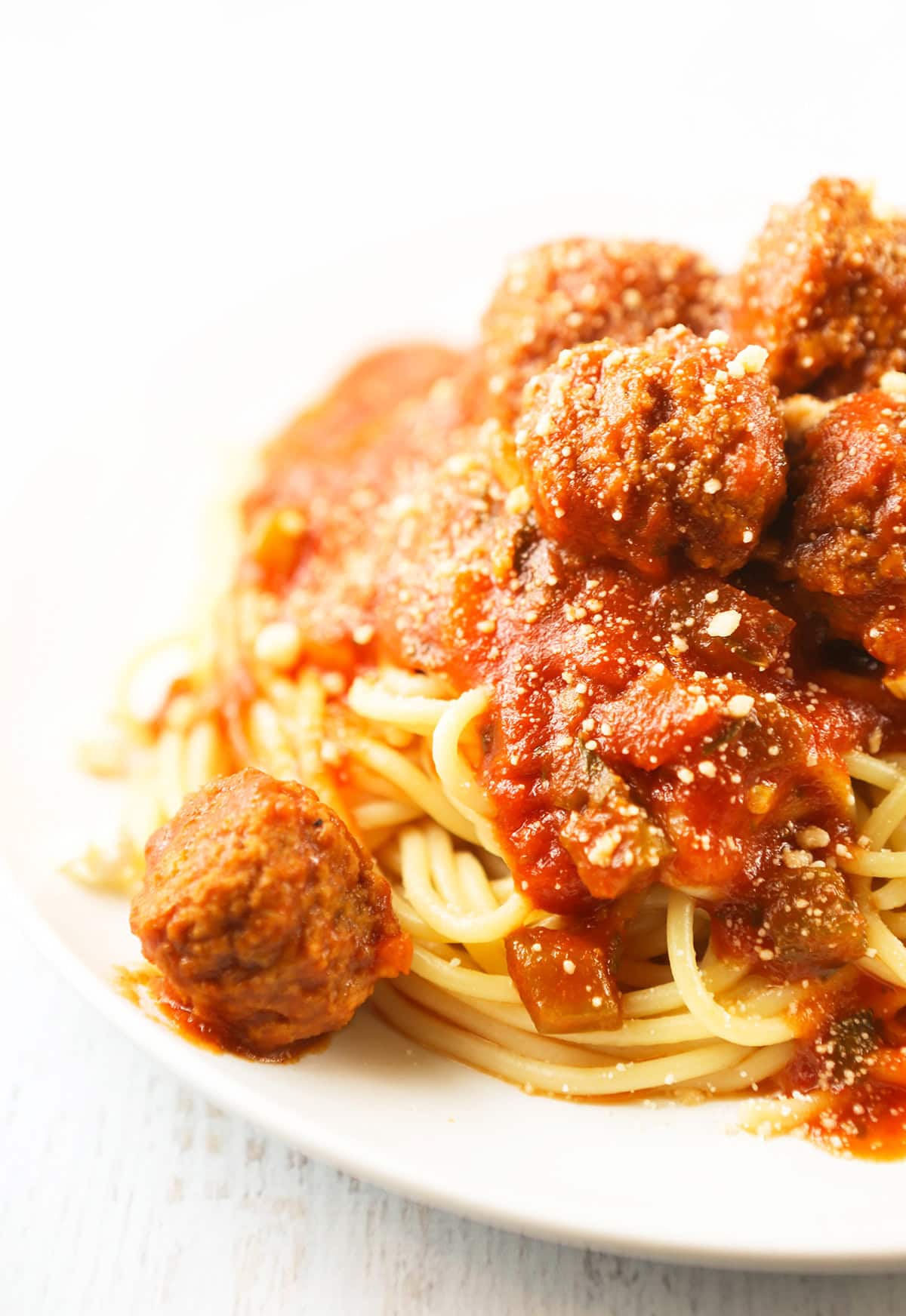 How To Freeze Spaghetti and Meatballs
There are a couple options for freezing spaghetti for later enjoyment. Either way, allow both the pasta and the sauce to cool to room temperature first.
Freeze Cooked Spaghetti and Meatballs Together
The easiest way to freeze this dish is to transfer the cooked pasta, meatballs and sauce as a combined mixture to a freezer-safe container or storage bag, glass jars or an airtight container. Freeze for up to six months for best results.
This is the best way to freeze the mixture if you know you will be reheating the dish as an entire meal later.
Freeze Pasta, Meat and Sauce Separately
If you would like to keep the ingredients separate and you haven't combined them while serving, this works great, too! You can easily freeze spaghetti noodles, sauce and meat separately.
Store everything in separate freezer-safe bags, making sure to double-bag the sauce to avoid leakage.
Freeze for up to six months for best quality and to avoid freezer burn.
Pro tip: If you freeze the components separately, consider freezing the sauce in small mason jars or ice cube trays so you can thaw individual servings as needed. Pasta sauce freezes exceptionally well!
How To Reheat Frozen Leftover Pasta
Enjoy this classic pasta dish a second time by following these easy tips for reheating frozen spaghetti with meatballs!
Remove leftovers inside the resealable freezer bags from the freezer and allow them to thaw overnight in the refrigerator.
Remove the thawed leftovers from the fridge at least 30 minutes prior to reheating so they will be as close to room temperature as possible.
Either toss all of the ingredients you want to reheat together in a skillet or in an oven-safe baking dish.
If using the stove top: Cook over medium heat, stirring often, until heated through.
If using the oven: Place in a single layer on a rimmed baking sheet or a baking dish. Bake for approximately 20 minutes at 350 degrees F. The reheating process is done when it is warmed all the way through. Toss with a little olive oil before baking if the mixture appears dry.
Serve immediately!
Note: Reheat individual servings by heating small portions in the microwave oven for 1-minute intervals or until heated through.
What To Do With Leftover Spaghetti
Delivering you an extensive roundup of ideas about what to do with leftover spaghetti! Hoping these creative ideas will inspire you to use up last night's dinner.
How To Thicken Pasta Sauce
If your pasta sauce is thinner than you'd like for it to be, there are ways to fix it! Read on for tips about how to thicken spaghetti sauce.
Best Spaghetti Recipes
Best Pasta Sauce Recipes
Meatball Recipes
Baked homemade meatballs are super easy to make and extremely delicious. Serve them as a main dish or set them atop a heaping plate of spaghetti!
Instant Pot meatballs are the easiest, quickest, most delicious way to cook meatballs! Done in 30 minutes, your whole family will enjoy having this delicious ground beef dinner placed before them on those busy weeknights.
Crockpot meatballs require only a few ingredients with only a few minutes of prep. They are super easu to make, totally packed with delicious flavor and great for game-day parties or holidays. Let your slow cooker do all of the work for you!