Delivering you an extensive roundup of ideas about what to do with leftover spaghetti! Hoping these creative ideas will inspire you to use up last night's dinner.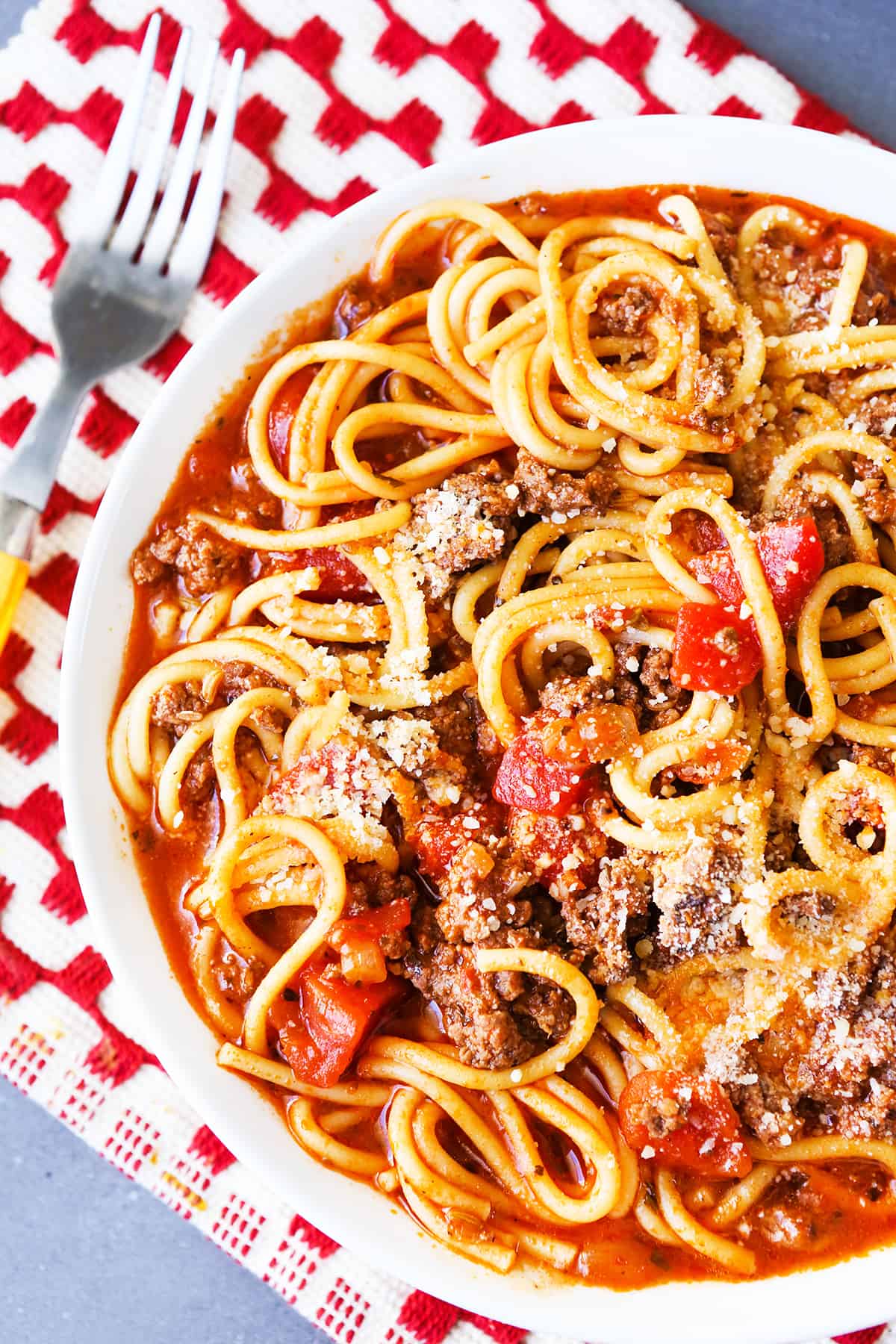 What To Do With Leftover Spaghetti
Leftover spaghetti noodles can be reheated on the stove top with a bit of olive oil. Many different savory sauces can breathe life into them including alfredo sauce, marinara sauce, chipotle sauce, teriyaki sauce or garlic parmesan sauce.
Tuck spaghetti leftovers into party sliders to create a delicious spaghetti sandwich.
Toss leftovers with veggies (bell peppers or mushrooms), meat and cheese and bake in the oven to create a delicious baked spaghetti dinner.
Turn leftovers into a spaghetti salad. Add meat, olives, cherry tomatoes, cheese and dressing of your choice!
Replace egg noodles in this ground beef casserole with spaghetti noodles.
Top spaghetti squash with a layer of spaghetti and cheese and bake in the oven.
Another spaghetti boat option is to add leftovers to the top of halved zucchini and bake until warm.
Cut a loaf of French bread in half lengthwise. Top with garlic powder, butter and an even layer of prepared spaghetti. Sprinkle with Parmesan cheese and bake until bread is golden brown around the edges and pasta is warmed through.
Leftover noodles can also be added to the top of garlic bread slices and toasted in the oven until warm.
Use spaghetti noodles in place of any variety of pasta to create a spin on other types of Italian food.
Add leftovers to a skillet along with peppers, diced tomatoes and olive oil. Cook over medium heat until warmed through.
Spray a muffin tin with cooking spray and press leftovers firmly into each cup. Top with a layer of cheese and bake for about 15 minutes, or until edges are crispy and cheese is melty.
Another good option is to turn leftover spaghetti into a spaghetti bake.
Beef up a sandwich with spaghetti grilled cheese sandwich.
Add extra pasta to your next egg bake.
Use as a delicious baked potato topping.
Turn last night's pasta into spaghetti pie! Transfer cooked pasta to a pie plate and bake at 350 degrees F for 30 minutes.
Prepare fried leftover spaghetti by adding leftovers to a frying pan and tossing with oil of choice, such as olive oil or sesame oil.
Enjoy turning a classic pasta dish into a finger food with spaghetti cakes.
Use as a taco filling. Top with melted cheese and hot sauce!
Pile it on top of nachos for a yummy twist! Don't forget the mozzarella cheese or cheddar cheese and taco sauce!
Spaghetti boats are such a great way to to ensure both adults and kids will love coming to the dinner table.
Enjoy brunch with a hearty leftover spaghetti frittata that's sure to fill you up.
Turn your leftover spaghetti into million dollar spaghetti for layered deliciousness.
Transform this traditional meal into spaghetti pizza! Use traditional pizza sauce or garlic and oil as a base.
Best Pasta Recipes
Homemade Pasta Sauce Recipes
Let's dig into some homemade sauce recipes. Here are a few delicious options to choose from!
Add Flavor To Pasta Recipes
Add up to 1/2 cup sour cream or cream cheese for an extra creamy dish.
Add cooked ham, Italian sausage or bacon crumbles to add flavor and when serving as a main dish.
Sprinkle with salt and black pepper just before serving!
Spice up your batch by adding any of the following ingredients: chili powder, hot sauce, cayenne pepper, red pepper flakes or diced jalapenos!
1 teaspoon of garlic powder would be a great addition to the cheese sauce for extra flavor.
How Long Does Pasta Sauce Last
Check out this article for all the information you need to know about storing spaghetti sauce in the fridge and how long you can expect it to stay fresh.