A pizza, pasta dish and casserole all in one! This is such a popular meal in our family and is loved by ALL. Satisfy your pizza craving by including all the pizza topping favorites you love. You can't go wrong with this delicious dinner!
I'm coming down off my morning coffee high. Yowza! I am not a frequent coffee drinker, so when I do have a cup I get a little nutty! Instead of walking to the bathroom like a normal person, I found myself RUNNING to the bathroom a few times this morning. I caught myself in the act and wondered what the heck my husband had put in my coffee! I'm feeling much more normal now. Time for another cup! Kidding.
I'm not kidding when I say I'm in love with this Pizza Pasta Bake. You get a little taste of each, and it's ridiculously easy to make. You can make it more complicated, if you'd like, and add some peppers or corn or another type of cheese.
And by the way, this isn't the only dual-purpose meal on my blog. What about this Spaghetti Bake that can't decide where it fits in? Or this Pull Apart Pizza Ring that can't decide if it is pizza or bread?
HOW TO PREPARE PIZZA PASTA BAKE
Making a delicious pizza flavored casserole is easy! Follow the instructions below.
STEP 1
Cook the ground beef and onion in a large skillet.
STEP 2
Throw in some spaghetti sauce (Homemade Pasta Sauce is best!) and cooked pasta. Mix it all together and scoop the pasta mixture into a baking dish. Top with mozzarella cheese and pepperoni, shake some italian seasoning over it and pop that baby in the oven.
STEP 3
Thirty minutes later, you'll have a happy belly and a happy family!
OTHER FAVORITE PIZZA TOPPINGS TO ADD TO YOUR PIZZA BAKE
Red, Orange or Green Bell Peppers

Mushrooms

Black or Green Olives

Canadian Bacon and Pineapple

Ground Sausage

Extra Cheese – Colby, Monterrey Jack, Cheddar, Parmesan!
ADD A KICK TO YOUR PIZZA SAUCE
If you like a little kick to your pizza, a simple way to spice it up would be to mix some pasta sauce and the pizza sauce with a half teaspoon of red pepper flakes!
NOT READY TO SERVE? FREEZE IT!
Once you've assembled your Pizza Pasta Bake, but before you've baked it, it's time to put an airtight lid on it or cover it with saran wrap. Place it in the freezer. Once you're ready to serve it, remove the pan from the freezer, bring it to room temperature and then bake it!
BIG FAN OF PIZZA? HERE'S MORE OPTIONS!
If you're looking to feed a crowd, this Pizza Pasta Bake is great. It's affordable and flavorful and can easily feed many hungry mouths! Need another recipe or two that also can feed a crowd without all kinds of effort? Try Instant Pot Goulash, Easy Cheesy Tortellini Bake or Chicken Broccoli Rice Casserole.
HOW TO MAKE YOUR OWN PIZZA FROM SCRATCH
Ordering pizza is easy but so it making your own! Have fun with the family making your own and coming up with fun combinations. Start with this Easy No Yeast Pizza Dough to get your crust started. Then prepare your Easy Homemade Pizza Sauce to cover the crust. Select what kind of pizza you're wanting to make so you can then cover your pizza with a healthy covering of mozzarella and Monterrey jack cheeses. Voila, dinner is served!
PIZZA COMBINATIONS TO TRY
Canadian Bacon and Pineapple with a BBQ sauce base

BBQ Chicken and diced red onion

Sausage, Bacon, Pepperoni and Canadian Bacon

BLT – Crispy Bacon, sliced spinach and diced tomatoes with mozzarella cheese

Veggie – Spinach, mushrooms, green peppers, diced onions

Chicken Bacon Artichoke

Pepperoni, fresh spinach, black olives, roma tomatoes
Enjoy! Check out some of my other dinner favorites! Lemon Shrimp Pasta Skillet, One-Pan Taco Skillet, Chicken Artichoke Pasta Skillet
PIZZA PASTA BAKE
Pizza, Casserole, Pepperoni, Cheese,
Main Dish
American
Yield: 8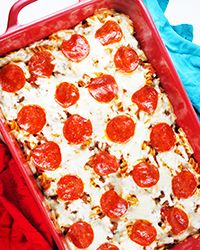 Pizza Pasta Bake Recipe
A pizza, pasta dish and casserole all in one! This is such a popular meal in our family and is loved by ALL. Includes all the pizza toppings favorites you love. Can't go wrong with this delicious dinner!
prep time: 15 mins
cook time: 30 mins
total time: 45 mins
ingredients:
1 pound ground beef
1 yellow onion, chopped
Salt and pepper, to taste
24-oz. jar spaghetti sauce
16-oz. package any variety of pasta, cooked to al dente
2 cups shredded mozzarella cheese
20 pepperoni slices
instructions
Preheat oven to 350 degrees F. Coat a 9×13 baking dish with cooking spray and set aside.
Cook ground beef in a large skillet over medium-high heat until meat is no longer pink. Drain excess grease and add onion to skillet. Cook over medium heat for an additional 3 to 5 minutes, or until onion is soft and fragrant. Add salt and pepper, along with the spaghetti sauce and cooked pasta. Cook until sauce is warm, about 5 additional minutes.
Add contents of skillet to prepared baking dish. Top with mozzarella cheese and pepperoni slices. Bake in preheated oven for 30 minutes.