If you find yourself with leftover pulled pork, you might want to know the best ways to preserve it. Read on for all the information you'll need about how to freeze pulled pork. The good news is that this food freezes very well so you can enjoy it at a later date.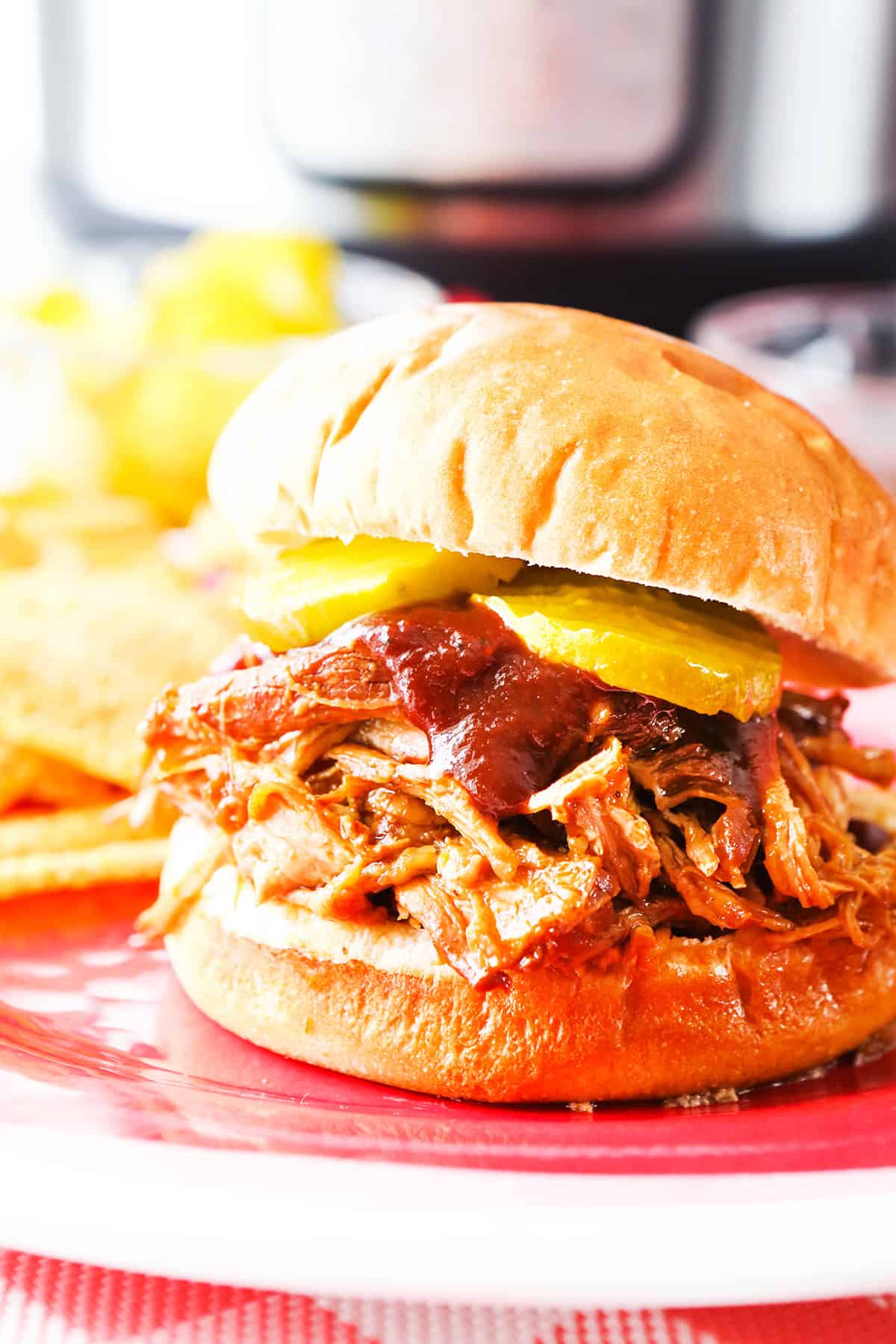 How To Freeze Pulled Pork
Great news! Freezing prepared pulled pork is super easy! Follow the instructions below to keep it fresh for future use, extend the shelf life and avoid food waste. Follow these step-by-step instructions to store leftover pork in the freezer for later enjoyment.
The first step is to allow the cooked pulled pork to cool to room temperature after shredding.
The next step is to transfer desired portion sizes to an airtight container or heavy duty freezer bags (remove as much air as possible first). Consider double bagging freezer bags or wrapping them in aluminum foil to avoid freezer burn.
Freeze for up to six months for best results and to avoid freezer burn.
How To Thaw and Reheat Frozen Pulled Pork
Reheating pulled pork is super easy! Follow these steps:
Place the container with the frozen pork in the fridge and allow it to thaw overnight.
The next day, remove from the container and place in an oven-save baking dish in a single layer. You can easily reheat pulled pork in large batches. To do this, add a bit of sauce (or another liquid such as chicken broth, chicken stock, apple juice or a splash of water) if the mixture seems dry and for best quality. Cover and bake at 350 degrees F for 20 minutes or until uniformly heated through.
Alternatively, you can reheat a small portion of the dish by transferring it to a microwave-safe container and heating in 1-minute increments in the microwave.
How Long Does Pulled Pork Last In The Fridge
If you are unsure about how to store leftover meat or if you are wondering if your pork leftovers are still fresh, read this informative article about how long pulled pork lasts in the fridge!
Best Pulled Pork Recipes
This delicious slow cooker pulled pork recipe requires only 4 ingredients and very little effort. Spoon the prepared mixture into hamburger buns and serve at your next gathering or for dinner this week. Cooking the meat in your crock pot is the best method for creating this recipe.
Instant Pot pulled pork makes the best savory sandwiches and such a delicious meal. The pork comes out tender and it is packed with flavor! It is one of my favorite ways to enjoy this succulent meat.
What To Serve With Pulled Pork
I love making this savory recipe for both dinners and parties. If it is on your menu for the week, but you don't have side dish options lined up read on for 20 side dish ideas to serve with pulled pork. Don't forget the barbecue sauce!
How Many Sandwiches Per Pound of Pulled Pork
One pound of pulled pork will make 3-4 sandwiches, depending on how full they are stuffed and how many toppings are added.
Which Type of Meat For Pulled Pork
The most common cut of meat used for pulled pork is the pork shoulder, also known as a Boston butt or pork butt. This cut of meat comes from the upper part of the shoulder and contains a good amount of fat, which keeps the meat moist and flavorful during the cooking process.
Best Buns For Pulled Pork
Brioche bun
Hamburger bun
Kaiser roll
Kings Hawaiian roll
Potato roll
Sourdough bread
Ciabatta bread
What To Do With Pulled Pork Leftovers
There are a variety of ways to enjoy this type of meat:
The obvious choice is to sandwich it between buns to create the perfect pork sandwiches.
Leftover pulled pork tacos are a delicious way to use up this meat.
Make a Chipotle style burrito bowl.
Add it to your next hearty bowl of soup.
Create enchiladas, fajitas, burritos or pork tacos with it.
Layer it over tortilla chips to create a delicious heaping tray of nachos.
Spoon it into romaine lettuce leaves and enjoy lettuce wraps.
Add it as a layer in your next gooey grilled cheese sandwich.
Toss some into a bowl of ramen noodles for a great way to enjoy lunch of dinner
It's the most delicious pizza topping, along with extra bbq sauce.
Pulled Pork vs Brisket
Pulled pork and brisket are both popular bbq dishes, but they do have a few differences:
Cut of meat. Pulled pork is made from a pig shoulder, while brisket comes from the breast area of a cow.
Cooking method. Pulled pork is typically slow-cooked over low heat, resulting in tender, shreddable meat. Brisket, on the other hand, is typically smoked for several hours at a low temperature, which results in a more robust and flavorful meat.
Flavor. The addition of sauces, seasonings and marinade gives pulled pork its trademark sweet and tangy flavor. Brisket has more of a bold, smoky flavor, focusing more on the beef as flavoring.
Fat content. Brisket has a higher fat content, typically giving it better flavor.