How long does pulled pork last in the fridge? If you are unsure about how to store leftover meat or if you are wondering if your pork leftovers are still fresh, read on!
How Long Does Pulled Pork Last In The Fridge
With proper storage, pulled pork will stay fresh in the fridge for up to four days after it has been cooked.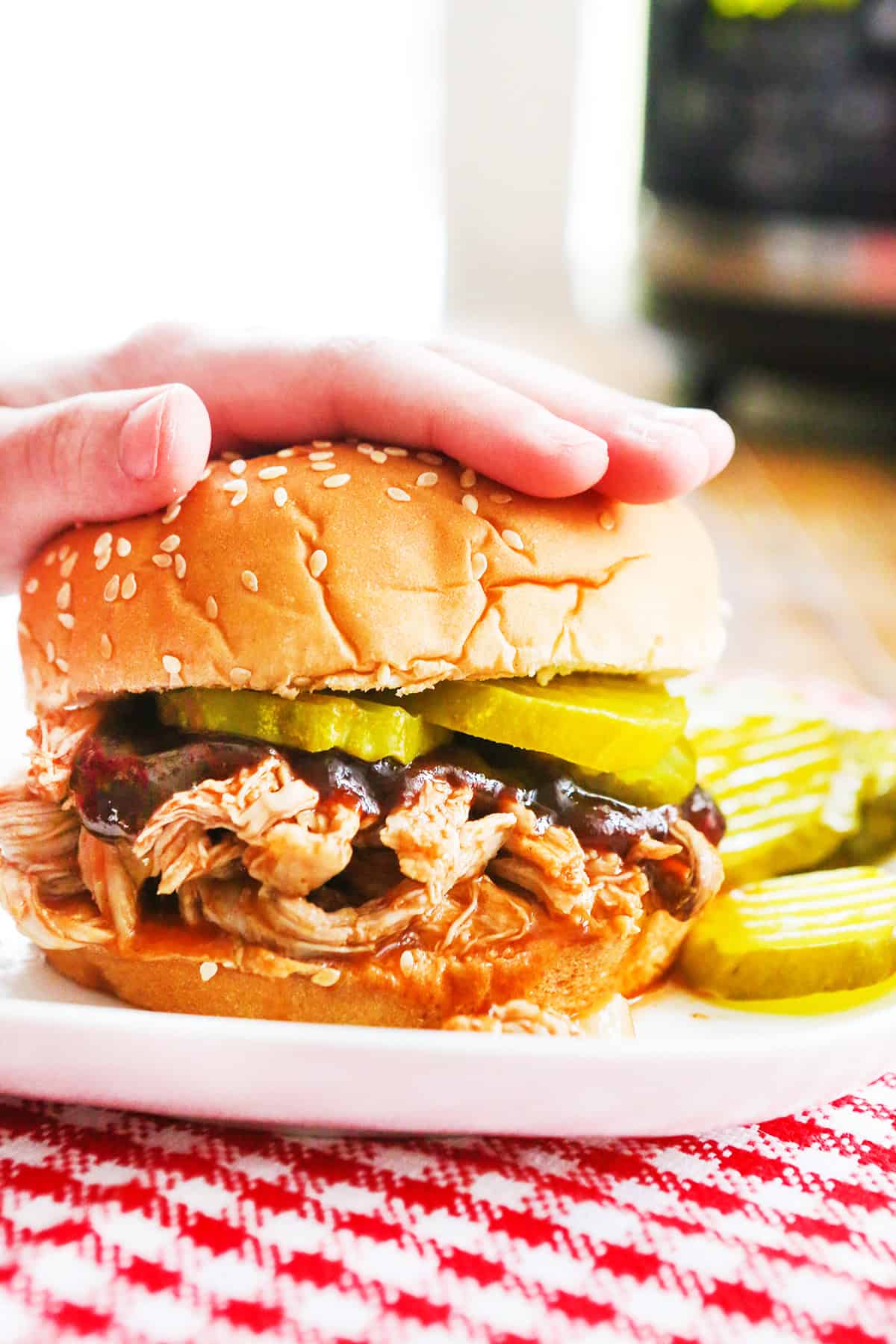 How To Store Pulled Pork
After making and cooling the pork to room temperature, there are a few storage tips that will help to extend the shelf life to help it last as long as possible.
Freeze it. To extend the shelf life, place cooked pulled pork in heavy-duty freezer bags or in shallow airtight containers. Freeze pulled pork for up to three months to prevent freezer burn. Remove frozen pulled pork from the freezer and let thaw in the fridge overnight when ready to enjoy.
Refrigerate it. The first step is to store cooked pork in an airtight container or a glass dish tightly covered with heavy-duty aluminum foil or plastic wrap. Store pulled pork leftovers in the fridge at all times.
Keep at the same temp. Moisture can collect inside the sealed container when temperature change occurs. Keep the temp of the container as consistent as possible to avoid early spoilage. Consider storing pulled pork in individual portions to avoid opening the same container repeatedly.
Go glass. Store in a glass container for the best quality and to add a little bit of time to its life.
Avoid cross contamination. Always be sure to use clean utensils when transferring meat into other containers in order to avoid cross-contamination.
How To Tell If Pork Is Spoiled
There are a few ways to tell if the pork is destined for the trash. Consuming spoiled pulled pork can cause food poisoning, so if you detect any signs of spoilage it is a good idea to toss the meat immediately.
Smell test. Give it a good smell. Fresh pork has a meaty aroma. If you detect an acidic or sour smell, you'll know the meat has entered the danger zone.
Note appearance. If you notice a slimy or gooey substance on the outside of the meat or if mold is present, this is a sign that it has developed bacteria growth. Also note any discoloration such as a grey, green or yellow tint. Pork that is fresh will have pink and white coloring.
How To Freeze Pulled Pork
f you find yourself with leftover pulled pork, you might want to know the best ways to preserve it. Read on for all the information you'll need about how to freeze pulled pork. The good news is that this food freezes very well so you can enjoy it at a later date.
Which Type of Meat For Pulled Pork
The most common cut of meat used for pulled pork is the pork shoulder, also known as a Boston butt or pork butt. This cut of meat comes from the upper part of the shoulder and contains a good amount of fat, which keeps the meat moist and flavorful during the cooking process.
Below are a few other cuts of meat that can be used to create pulled pork:
Pork picnic shoulder
Pork loin
Pork chops
Pork belly
Beef brisket
How Much Pulled Pork Per Person
A good rule of thumb is to plan for one third to one half pound of pulled pork per person.
How To Shred Pulled Pork
Place the cooked (and at least slightly cooled) meat on a cutting board. Cut into chunks using a sharp knife.
Insert two forks, one in each hand, into each chunk of meat. Drag the forks through the meat in opposite directions to shred. Repeat with remaining chunks of meat.
How To Moisten Dried Pulled Pork
You have a few for moistening dried pulled pork that has experienced moisture loss:
Add moisture. Add a liquid such as apple juice, chicken broth, chicken stock, beef broth or barbecue sauce to the mixture. Stir and heat until the liquid has been absorbed.
Steam it. Steam the meat by placing it in a covered microwave-safe dish with a splash of water. and heating it in the microwave for 1-2 minutes. Alternatively, you can steam the meat in a covered grill pan over medium heat.
Braise it. Place the meat in an oven-safe baking dish, along with any cooking juices. Add a small amount of liquid (water or broth) and oil (olive oil or vegetable oil) to the mixture, cover and bake at 275 degrees fahrenheit, checking the meat after 1 hour. Cooking for a longer period of time and on low heat will ensure you enjoy moist, tender meat.
Best Bread For Pulled Pork Sandwich
Brioche bun
Hamburger bun
Kaiser roll
Kings Hawaiian roll
Potato roll
Sourdough bread
Ciabatta bread
Best Way To Make Pulled Pork
Introducing a delicious slow cooker pulled pork recipe requiring only 4 ingredients and minimal effort. This is one of my favorite ways to enjoy this delicious meal! Spoon into hamburger buns and serve at your next gathering or for family dinner this week.
This is the most perfect savory sandwich recipe! Instant Pot pulled pork made with coke makes delicious sandwiches. The pork comes out perfectly tender, packed with flavor every time and tastes like it has been slow cooking all day long.
Adding a can of soda (Coke or Dr. Pepper) to the mix when cooking pulled pork is a great way to add moisture and flavor.
Cut the pork into chunks before cooking it in order for it to cook more thoroughly.
Drop a spoonful of delicious homemade pickle relish over the top just before serving.
If you have leftover pulled pork that has been in the fridge overnight, you may encounter a layer of fat on the top when you remove the cover. Pork is a fattier meat, so this is expected. You can either remove it and reheat pulled pork it OR leave it and allow the fat to melt back into the meat mixture.
What To Make Using Pulled Pork
The obvious choice is to sandwich it between buns to create the perfect pork sandwiches.
Make a Chipotle style burrito bowl.
Add it to your next hearty bowl of soup.
Create enchiladas, fajitas, burritos or pork tacos with it.
Layer it over tortilla chips to create a delicious heaping tray of nachos.
Spoon it into romaine lettuce leaves and enjoy lettuce wraps.
Add it as a layer in your next gooey grilled cheese sandwich.
Toss some into a bowl of ramen noodles.
It's the most delicious pizza topping, along with extra bbq sauce.
What To Serve With Pulled Pork
This is such a great main course or party food option, requiring only a few ingredients and minimal effort. But what do you serve alongside this savory sandwich? Here are 20 recipes to serve with pulled pork!