Caramel sauce is so delicious! It is dreamy when drizzled over ice cream or pretty much any dessert. If you find that it isn't as smooth and lustrous as you'd like, read on for tips about how to fix grainy caramel sauce!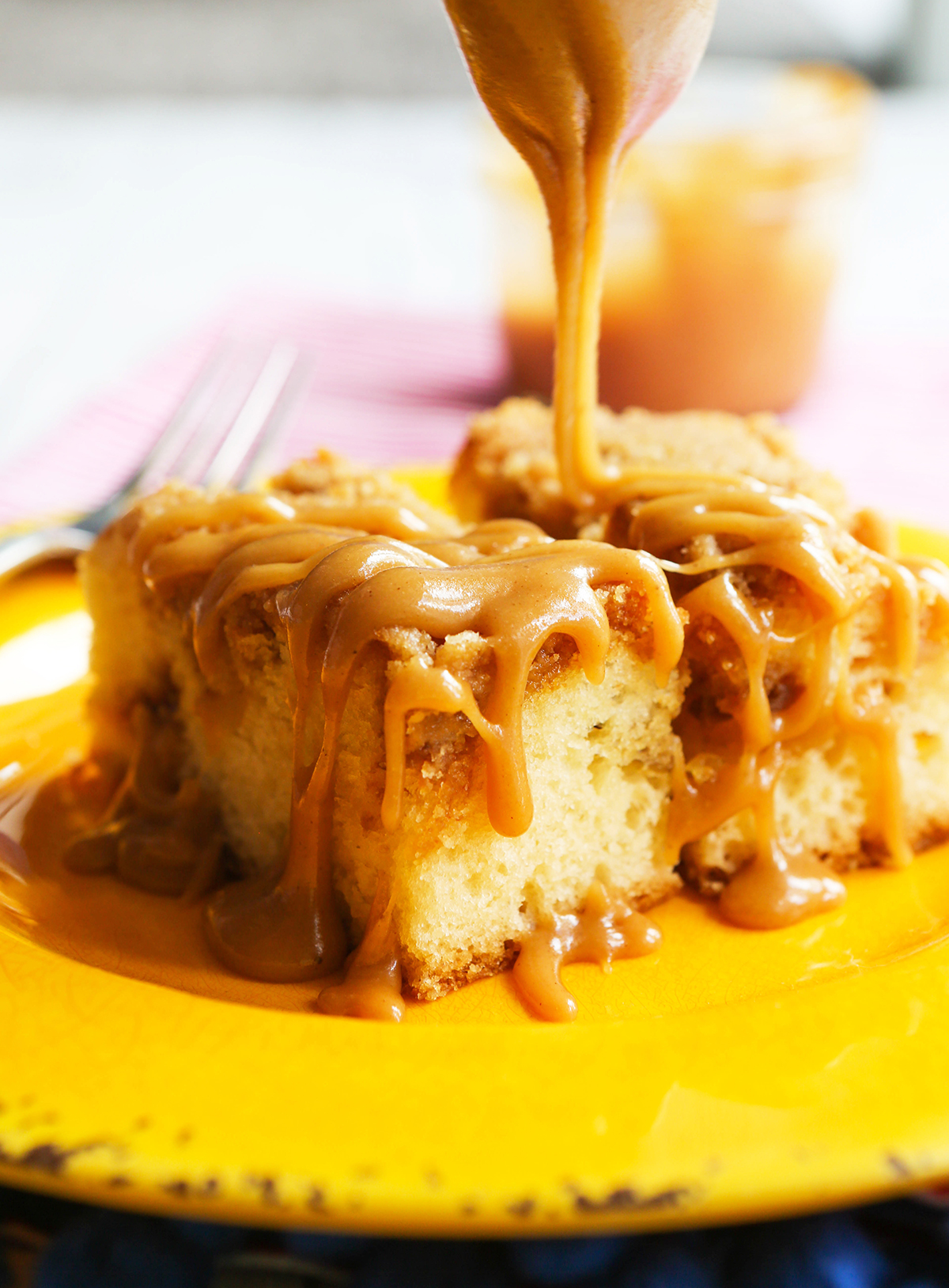 I have to be careful with having certain food items in my house because I will literally eat them until they are gone (and quickly). Caramel sauce is one of those ingredients. I will drizzle it over just about anything because it makes everything better.
The best kind of sweet sauce, in my opinion, is one that is smooth, creamy and dreamy. Keep reading for tips about how to fix grainy caramel sauce so it's irresistible!
What Is Caramel Sauce Made Of
My homemade caramel sauce recipe is made using 3 simple ingredients (plus water!)—sugar, heavy cream and butter. That's it! Such a simple trio of ingredients. For an extra boost in flavor, vanilla extract can be stirred into the mix immediately after it is finished cooking.
Check out this salted version of the sweet sauce that does not require a candy thermometer! This particular recipe calls for salt, but you can omit, if desired.
Why Is My Caramel Sauce Grainy
Caramel sauce that has an unpleasant grainy texture is caused by the sugars crystallizing. There are a few reasons this could happen..
The Cooking Temp Is Too High or Too Low
Caramel can definitely be temperamental when making it from scratch! Proper temps are required when aiming for that perfectly smooth caramel sauce. So how do you know when it's done?
The caramelization process happens very quickly, so don't walk too far away! Once the color changes to a deep golden amber, remove it from the stove and give it a good stir to ensure it is nice and smooth.
If you allow it to cook too long, it may become crystallized and if you don't cook it long enough you may find yourself with the same problem.
The Sauce Was Left at Room Temp Too Long
When not using the sauce, be sure to store it properly in the refrigerator to avoid crystallization happening. This can happen quickly when it sits at room temperature, so be vigilant about storage.
How To Fix Grainy Caramel Sauce
Before we get to the fixes, let's chat about how to avoid a grainy sauce first! Use a heavy duty pan when making a homemade version. All utensils should be thoroughly cleaned. In my experience, using a silicone spoon vs a wooden spoon helps the mixture to cook more evenly because it allows you to dig into every nook and cranny of the pan.
Also, try to avoid scraping the sides of the saucepan while stirring, as crystallized sugar can form and stick there. Ensuring that you cook the sugar and water together before adding the remaining ingredients will also help to make sure the sugar dissolves easily and does not scorch. This is sometimes referred to as the wet method. The dry method is more prone to burning because it allows the sugar melt without any moisture content.
If you notice the mixture beginning to look grainy during cooking, remove it from the heat source immediately. Use one of the following techniques to fix it.
Add Water or Other Liquid
Adding a couple tablespoons of water to grainy caramel sauce is the easiest way to make it smooth! Start by adding up to 1/4 cup in a sauce pan along with the sauce and bring to medium-low heat. Stir constantly using a silicone or rubber spoon until the crystals have dissolved and the mixture is smooth.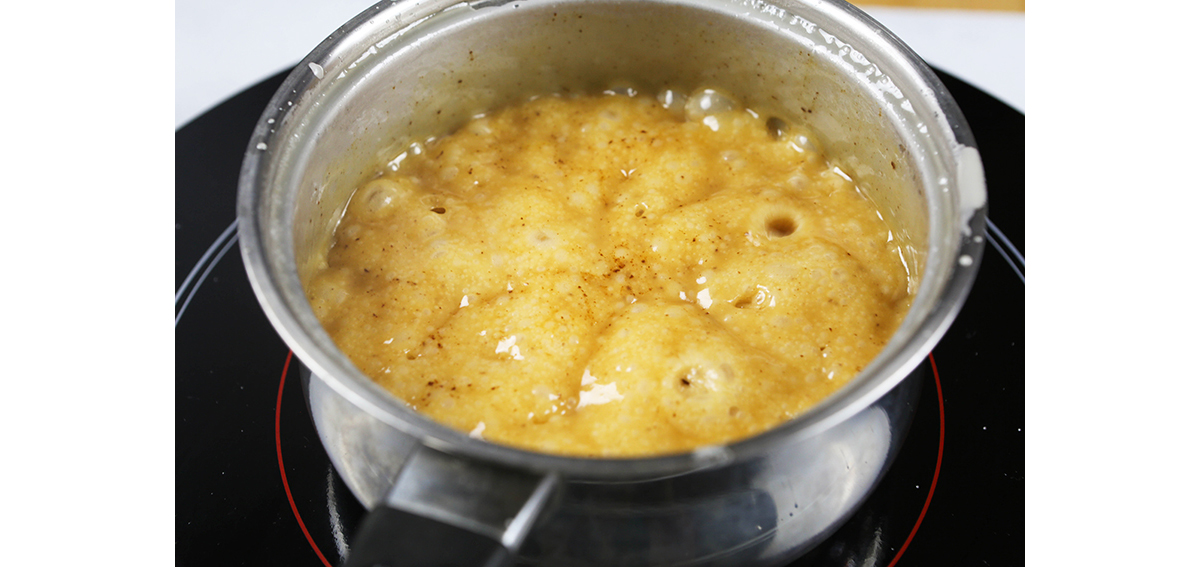 Another option is to add a little lemon juice, although this will potentially alter the flavor. Up to a quarter cup of lemon juice can be added at the very most, but start with 1 Tbsp.
Add water 1 tablespoon at a time on top of that if needed.
Add Corn Syrup
Pour 1 tablespoon into the mixture and give it a good stir. Adding a little corn syrup may be a quick solution that solves your problem instantly.
If it still appears grainy, place the saucepan back on the heat and stir over medium-low until it is smooth.
Add Butter
Add 1 tablespoon of unsalted butter to the mix and allow it to melt while stirring.
Blend or Process
Pour the cooled mixture into a blender or food processor and puree until smooth. Transfer to a saucepan and heat over medium-low heat until smooth (stir often).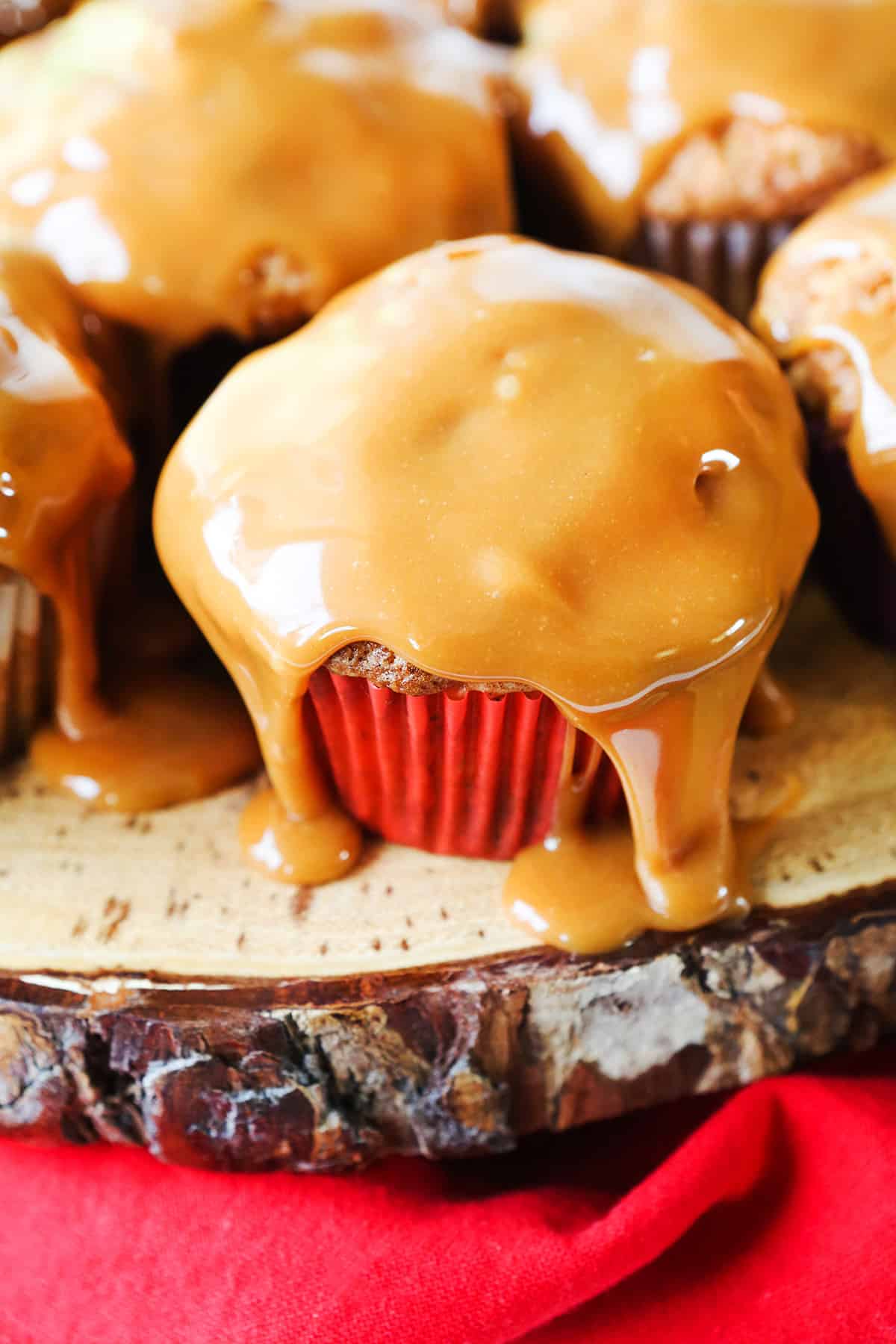 Recipes Using Caramel Sauce
Homemade Caramel Recipes
If you want to take it beyond sauces and create caramels, follow one of these delicious recipes:
These homemade caramels are chewy and gooey and sooo delicious. You won't want to eat just one! Perfect treat for holiday parties and holiday gifts!
Maple bourbon caramels are great for holiday parties or a simple candy jar that sits atop your counter. This is the best caramel recipe you will find! If you have a sweet tooth, you will not be able to resist these.
FAQ About Caramel Sauce
How to thicken caramel sauce?
Toward the end of cooking caramel sauce, decrease heat to medium-low and allow the caramel to simmer for a few additional minutes (stir frequently to avoid burning). Remember that the caramel sauce will thicken once it cools, but if you want it even thicker dissolve 1 teaspoon of cornstarch in 1 tablespoon of water. Stir the mixture into the caramel.
How do you fix caramel sauce if you added too much butter?
If you have added too much butter to your caramel sauce, you may find that it is too oily or it might even begin to separate. To fix this, add 1 tablespoon of either water or milk and stir while cooking over medium heat. Adding 1-2 Tbsp of a simple cornstarch slurry may fix the problem, as well.
Are you always supposed to make caramel sauce with brown sugar?
Caramel sauce can be made using granulated white sugar instead of brown sugar. The end result will have a lighter shade of brown and will have a flavor without as much depth. Keep an eye on the mixture while cooking to ensure it does not burn. Stir often!
How to make caramel sauce without cream?
For every 1 cup of heavy cream in your caramel sauce, add a milk-cornstarch slurry (1 cup milk:2 tbsp cornstarch).
How to freeze caramel sauce?
Transfer caramel sauce to an airtight container (not glass) and freeze for up to 3 months. When you are ready to use the sauce, allow it to thaw completely in the fridge first. Pour it into a skillet and heat, stirring, until smooth.
How long does caramel sauce last?
Store caramel sauce in an airtight container in the fridge for up to 1 month.