These Homemade Caramels are my FAVORITE. They are chewy and gooey and sooo delicious. You won't want to eat just one but they make a perfect treat for holiday parties OR holiday gifts!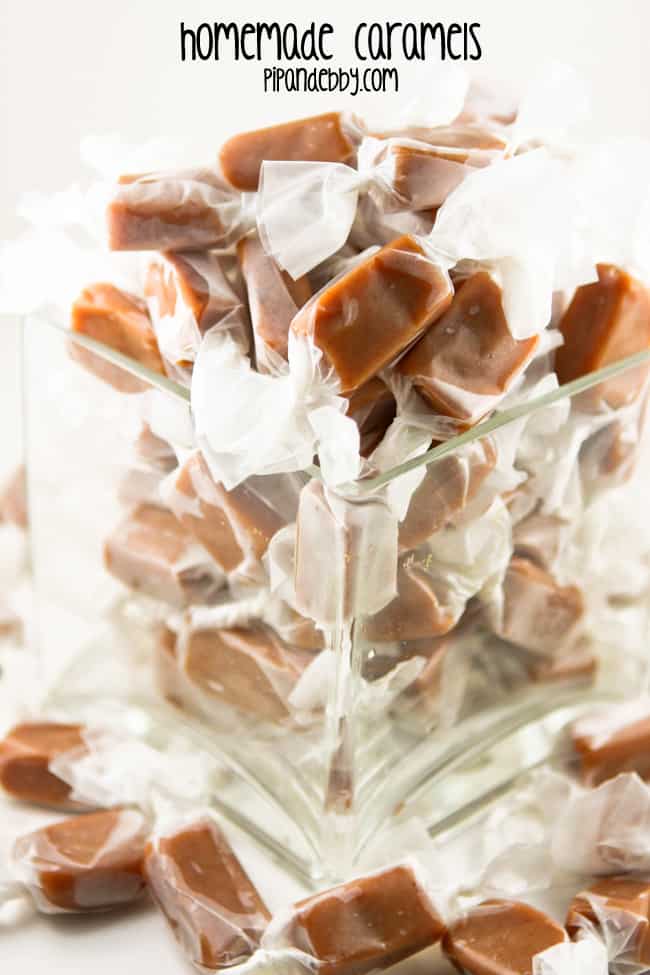 This is the first of twelve Christmas treats I will post about in the next twelve days! Exciting! Or maybe it's just me. Part of the reason I love this season so much is because of the baking and stirring and cutting and wrapping and eating and delivering. This caramel recipe is possibly my favorite of all Christmas treats. I remember the first time I made these, back when I was the only one who lived in my then clean but very boring home. I stood over my stove stirring for what seemed like forever, thinking, THESE BETTER BE GOOD. When they were finished, I vowed to never complain about the cooking and stirring again because they are chewy, buttery, sugary deliciousness at its very best. So here you go, friends..
Day One of Twelve Days of Christmas Treats!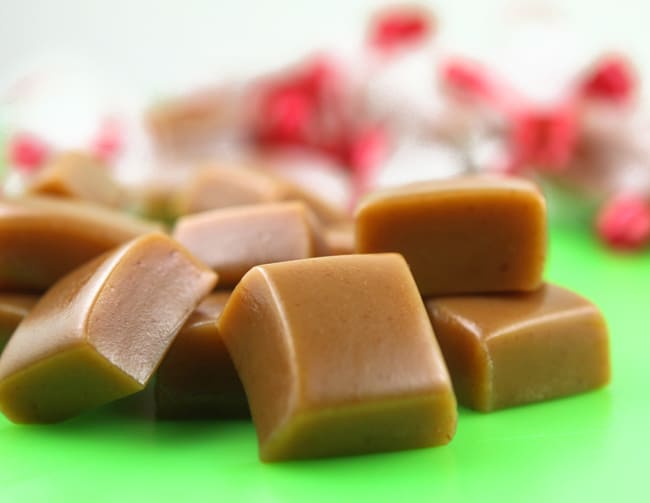 Coat a 9×13 baking dish generously with cooking spray and set aside. You will be needing a candy thermometer for this recipe. Candy thermometers aren't as intimidating as they may seem. You can purchase a decent one for ~$10, and they are easy to use.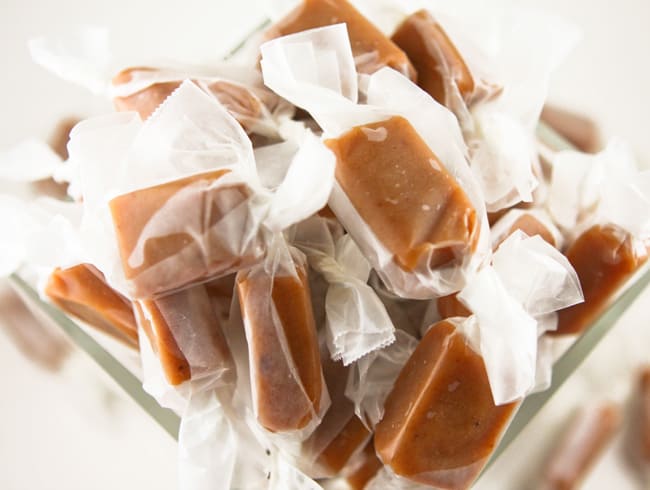 In a large, heavy-duty saucepan, combine:
1 cup (2 sticks) butter
2 cups granulated sugar
1 cup light brown sugar
1 cup light corn syrup
1 cup evaporated milk
1 pint heavy whipping cream
Cook over medium heat, stirring constantly, until a candy thermometer reads 243 degrees F.
At first the stirring speed can be fairly slow. You can, say, stir with one hand while perusing Pinterest with your other, if that is your thing. The entire cooking process takes me somewhere around 45-50 minutes. A little over halfway through, the stirring must become a little more vigorous, as you must make sure the mixture does not burn.
Occasionally dip the candy thermometer into the middle, being careful not to touch the bottom of the pan, until you get a reading. 243 degrees is my magic number. Any less and the caramels are too gooey. Any more, and they are too chewy.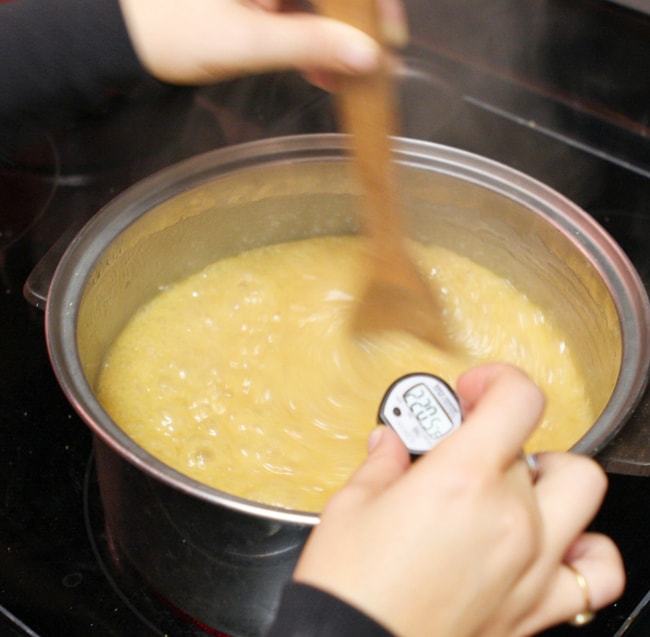 When you reach the magic number, immediately remove the pan from the heat and add 1 1/2 teaspoons of vanilla extract. Stir until combined, then pour the mixture into the prepared 9×13 pan. Allow the caramel to cool completely.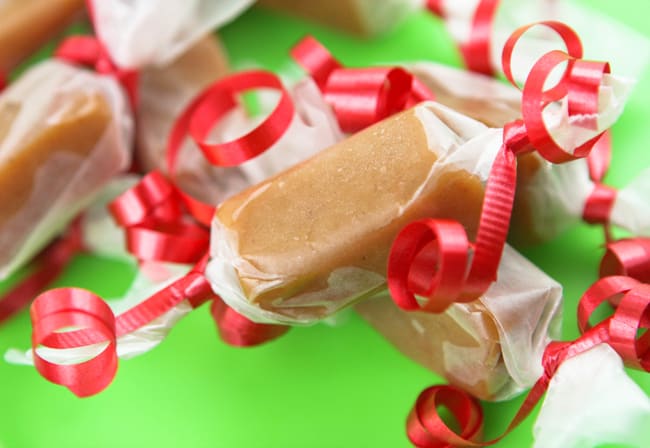 Cut into 1/2-inch x 1-inch pieces and wrap individually in wax paper.
You will love these! So will your neighbors, friends, children, you get the idea. ENJOY!
Here are a few other great ideas for holiday candy-making! Cookies and Cream Fudge, Peppermint Bark, Homemade Gumdrops and Tootsie Roll Fudge!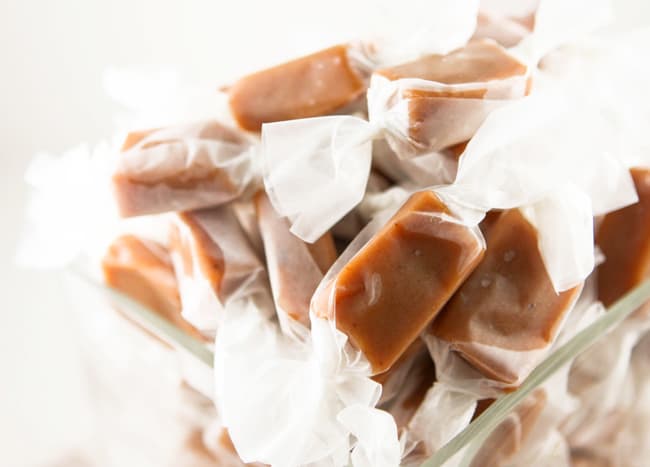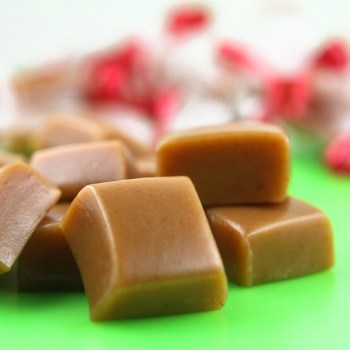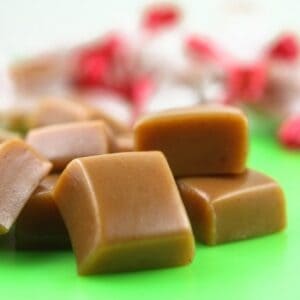 Homemade Caramels
My FAVORITE holiday recipe. These are chewy and caramel-y and sooooooooo good.
Print
Pin
Rate
Ingredients
1

cup

butter

2 sticks

2

cups

granulated sugar

1

cup

light brown sugar

1

cup

light corn syrup

1

cup

evaporated milk

1

pint

heavy whipping cream

1 1/2

tsp.

vanilla extract
Instructions
Coat a 9×13 dish generously with cooking spray and set aside. Combine the butter, sugars, corn syrup, evaporated milk and heavy whipping cream in a large saucepan. Cook over medium heat, stirring constantly, until candy thermometer reads 243 degrees F.
Nutrition
Calories:
109
kcal
|
Carbohydrates:
14
g
|
Protein:
1
g
|
Fat:
6
g
|
Saturated Fat:
4
g
|
Cholesterol:
19
mg
|
Sodium:
37
mg
|
Potassium:
23
mg
|
Sugar:
14
g
|
Vitamin A:
207
IU
|
Vitamin C:
1
mg
|
Calcium:
20
mg
|
Iron:
1
mg