This simple yet delicious classic Italian dish is a quick and easy favorite dinner! If you need ideas about what to serve with chicken piccata, read on for 17 delicious ideas so you can serve a complete meal.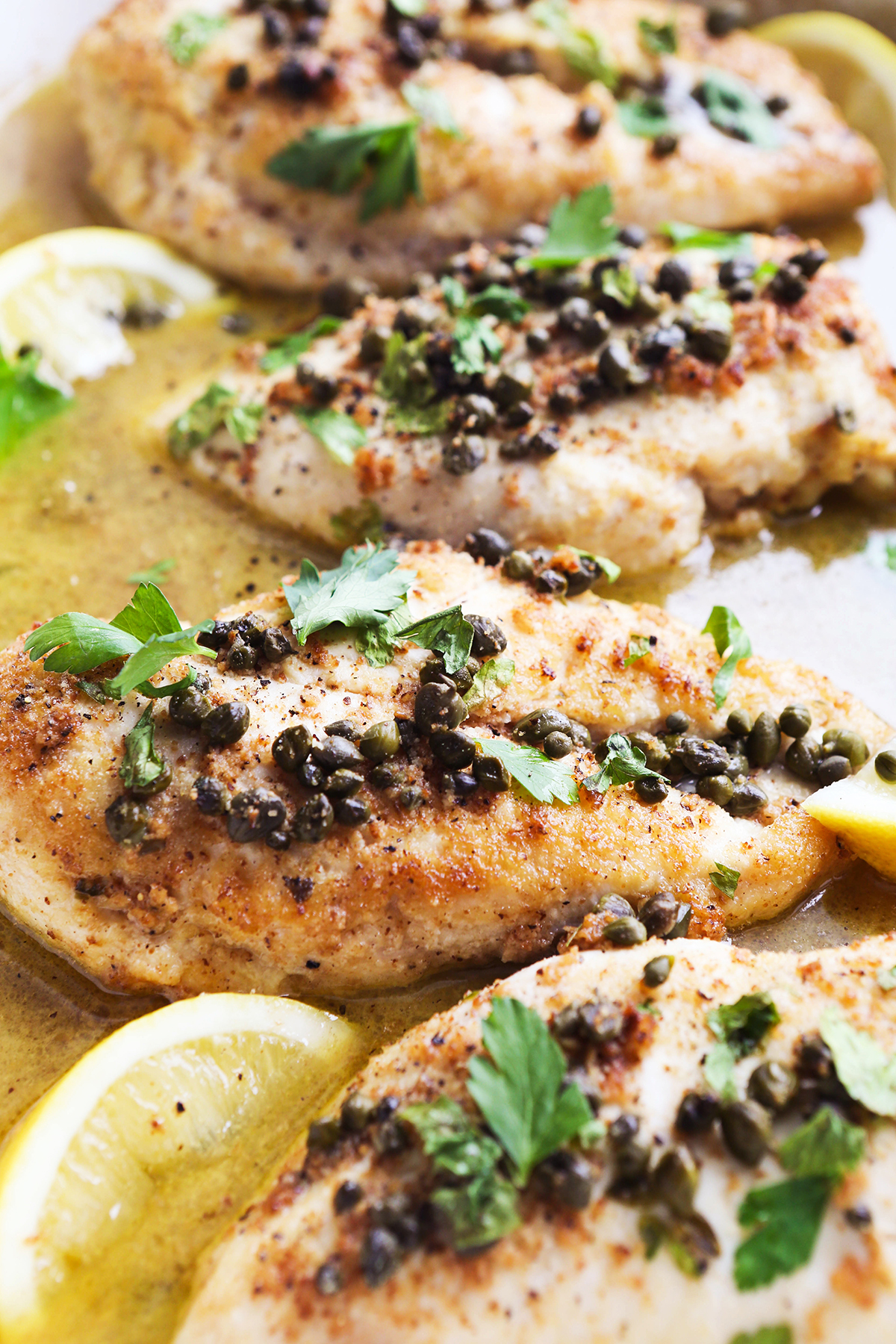 The first time I made chicken piccata myself was a few years ago when I experimented with the Whole30 eating program. I am a food lover in the truest sense of the term, so I felt massively deprived for most of that stretch.
One of the dinner recipes I discovered during that time that gave me a ton of satisfaction and fulfillment was this perfect chicken dinner. I fell in love and have made it many times since.
If I don't plan ahead when the pan comes out of the oven, I'm left wondering what to serve with chicken piccata. With a tiny bit of forethought, you can pair it with another recipe to create a comforting, delicious, irresistible complete meal! Read on for a ton of delicious ideas.
Check out our web stories to see Pip and Ebby "recipes in action!"
FAQ About Chicken Piccata
What is the difference between Chicken Piccata and Chicken Francese?
The main difference between these two popular dishes is that chicken francese gets dipped into flour and egg wash before frying, while chicken piccata gets dipped and dredged in flour (as well as adding capers!).
What does piccata mean?
It refers to the thinly sliced meat that then is combined with capers and lemon sauce.
Is chicken piccata with lemon sauce healthy?
Yes, chicken piccata with lemon sauce is a healthy dish that incorporates a lot of protein and capers are high in antioxidants and nutrients like vitamin K.
What are capers made from?
Capers grow on a prickly bush that grows in the Mediterranean and they are harvested un-ripened flower buds from the plant. Once picked, they are dried and preserved.
What is the best white wine to use for chicken piccata?
White wines that pair well with chicken piccata include sauvignon blanc and chardonnay. A dry Rosé comes in at a close second to the previous options!
How To Make The Best Chicken Piccata Recipe
Lemon Chicken Piccata is fresh, lemony, savory, succulent, tender, satisfying, juicy and it is such a great recipe. It requires very few ingredients and it is ridiculously easy to make. The capers, lemon juice and chicken are the perfect trio.
We adore this meal in our family. Its easy prep makes it the perfect week-night meal. It is also a great option when hosting guests.
Recipe Notes
Serve over roasted sweet potatoes for an even healthier dish, but Chicken Piccata is typically served over cooked pasta or mashed potatoes. Either way, you will love this meal.
As the recipe is written, it is 100% Whole30 compliant. If you are not aiming to adhere to this diet, replace the almond flour with any other type of flour, if desired.
Replace olive oil with another type of oil or butter in equal amounts, if desired.
Chicken broth and chicken stock can be used interchangeably to create the piccata sauce.
Adorn the tops of the cooked chicken breasts with lemon slices or lemon zest before serving.
Sprinkle black pepper and fresh parsley over the top of the meal just before serving, after drizzling with extra sauce from the pan.
Grated or shaved Parmesan cheese makes an excellent topping.
For a creamy flavor boost, consider adding up to 1/2 cup of sour cream or cream cheese to the buttery lemon caper sauce.
Create a white wine sauce by adding 1/2 cup of a dry white wine to the broth mixture in the skillet.
Other Uses For Lemons
Lemons are such a magical and versatile citrus fruit. If you are wondering what to do with lemons that might be sitting in your kitchen, read on for a variety of delicious ideas!
What To Serve With Chicken Piccata – Find the perfect side dish!
Mashed potatoes or smashed potatoes
White rice, brown rice, fried rice or rice pilaf
Cooked pasta of any variety such as egg noodles, spaghetti pasta or angel hair pasta
Pasta dishes such as baked ziti, macaroni and cheese or penne pasta with vodka sauce
Crostini bread, cornbread or dinner rolls
Corn on the cob
Roasted or steamed broccoli, bell peppers, asparagus, green beans, carrots, Brussels sprouts or cauliflower
Caramelized or sauteed cabbage
Fresh or sauteed spinach
Steamed artichokes with butter for dipping
Roasted or baked potatoes
Soup containing pasta
Cheese or spinach tortellini
Scalloped or au gratin potatoes
Pasta salad
Baked Mac and Cheese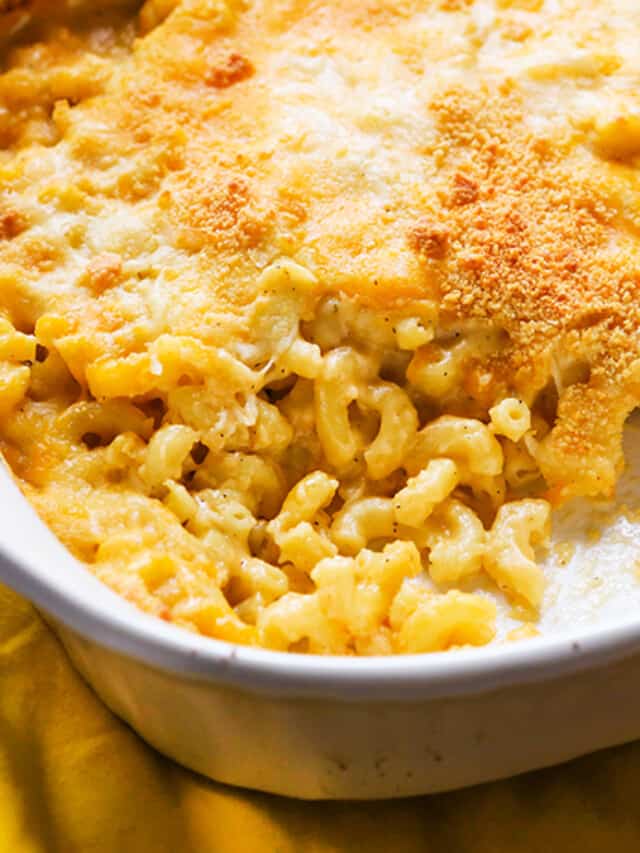 This best baked mac and cheese recipe cooks perfectly every time with the perfect amount of creamy cheese. Great as a holiday side or weekday main dish. Kids and adults alike will devour it!
Corn on the Cob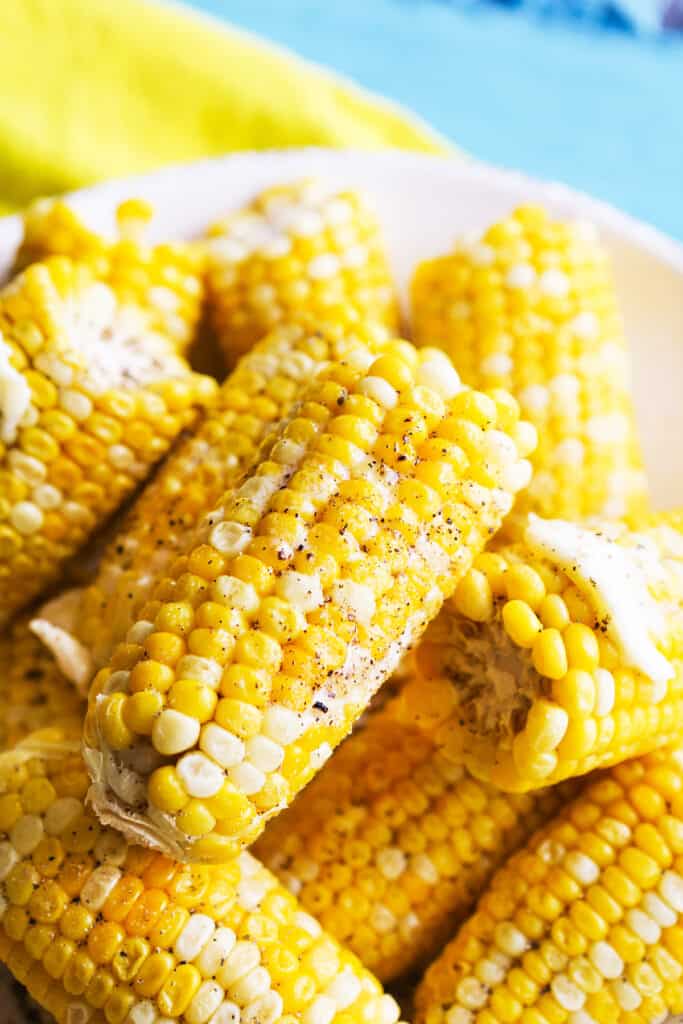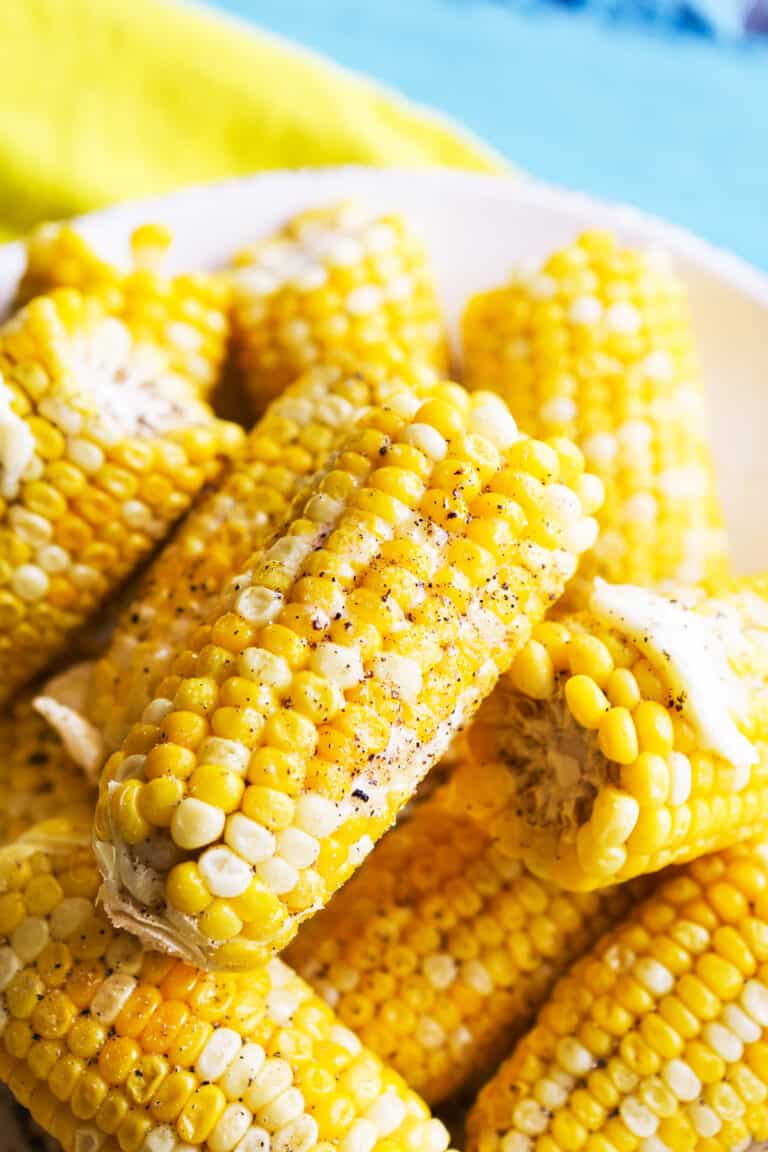 Instant Pot corn on the cob allows you to simplify meal-time so you can enjoy every morsel of summer.
Sauteed Cabbage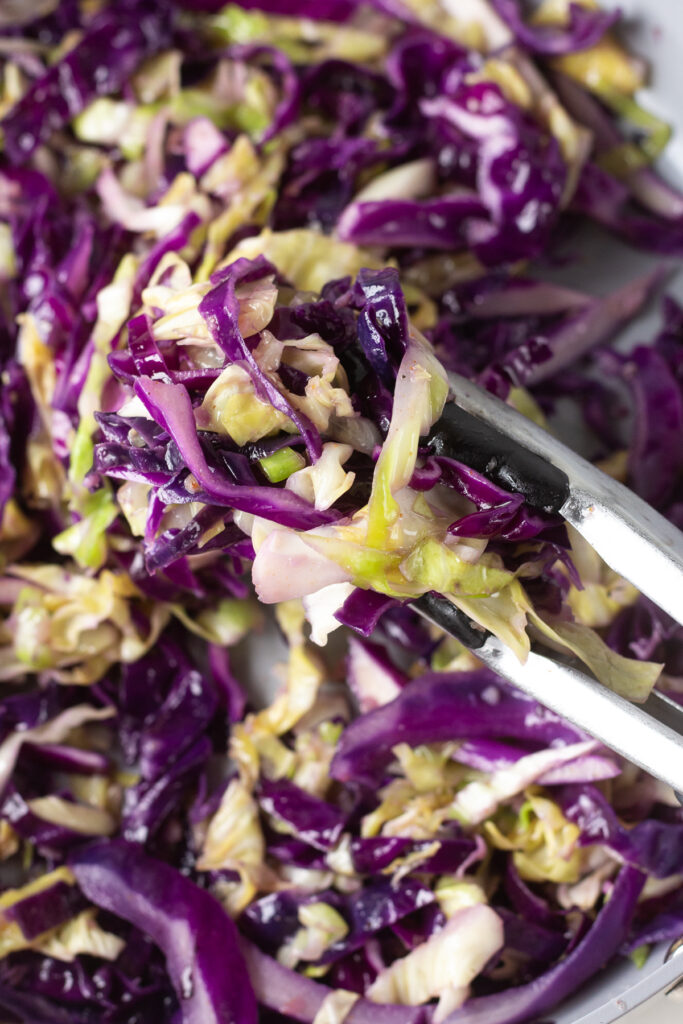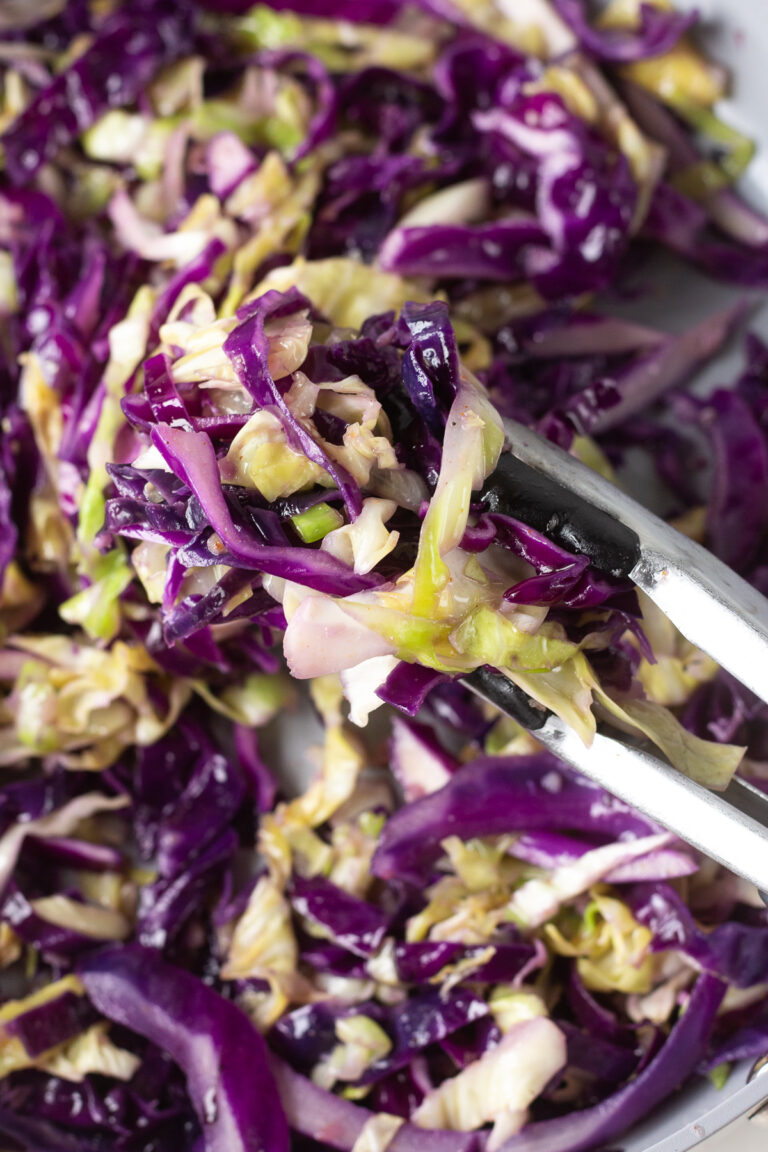 This easy sauteed cabbage recipe is the perfect quick and delicious simple side dish for any meal. Using only a few ingredients and taking 10 minutes of your time, you can't go wrong with this super flavorful and affordable recipe!
Steamed Artichokes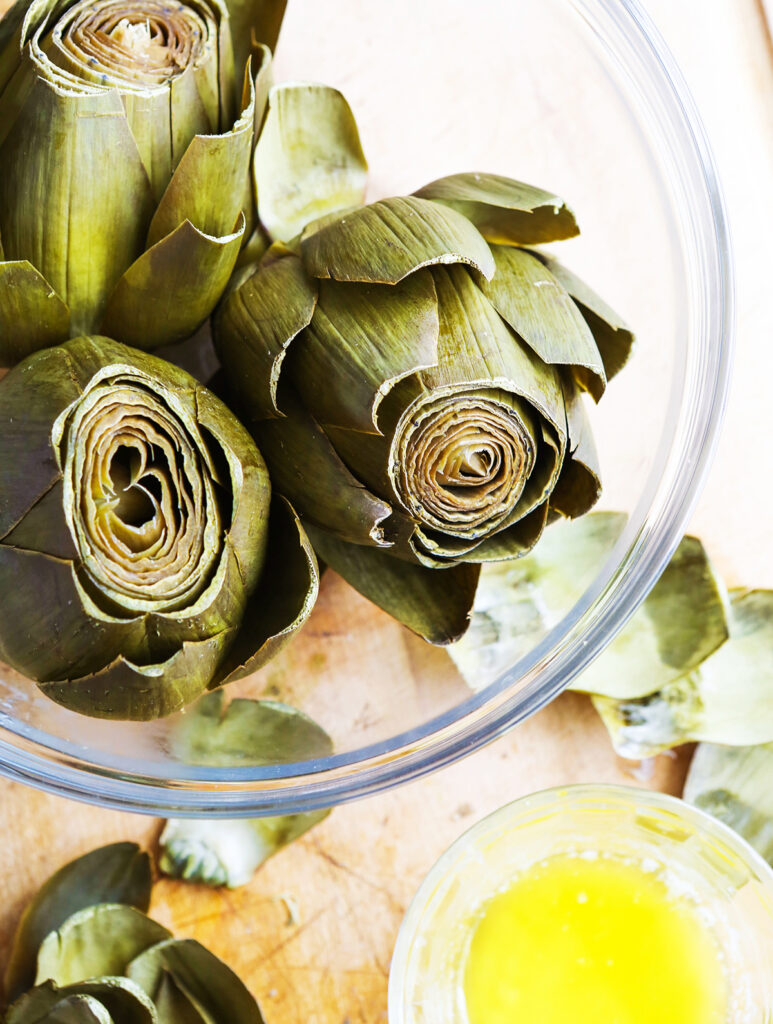 Learn how to cook artichokes (and eat them, too!). Don't let this green veggie intimidate you! Artichokes are easy to prepare and they're the perfect choice to accompany this meal.
Feta Mashed Potatoes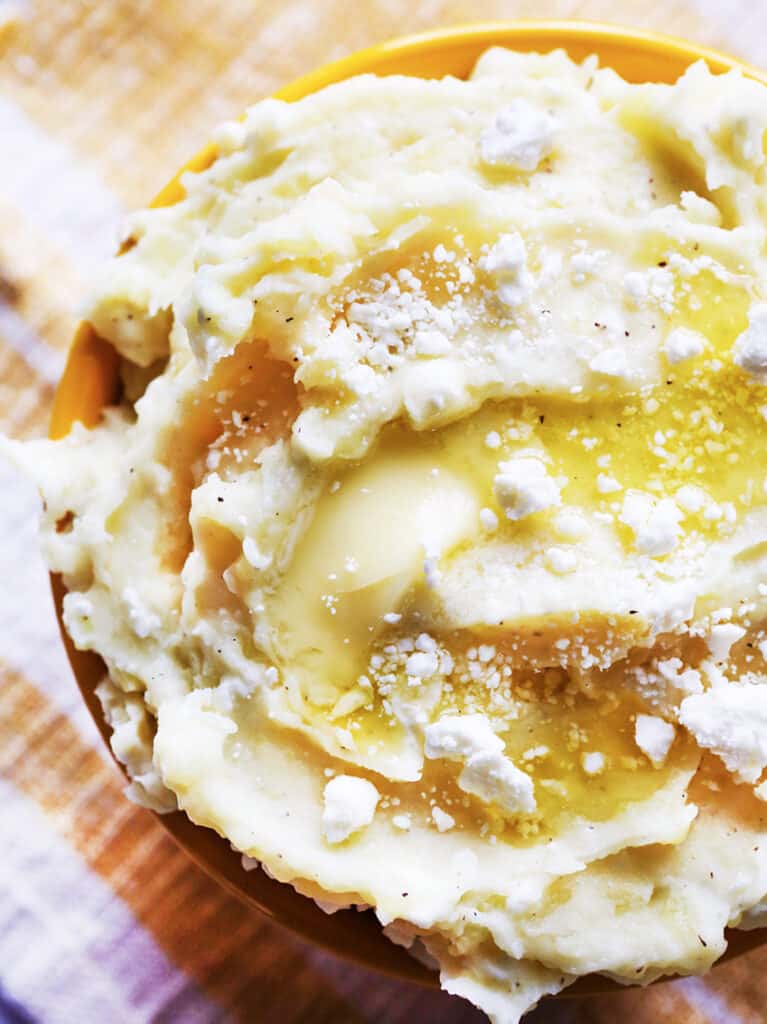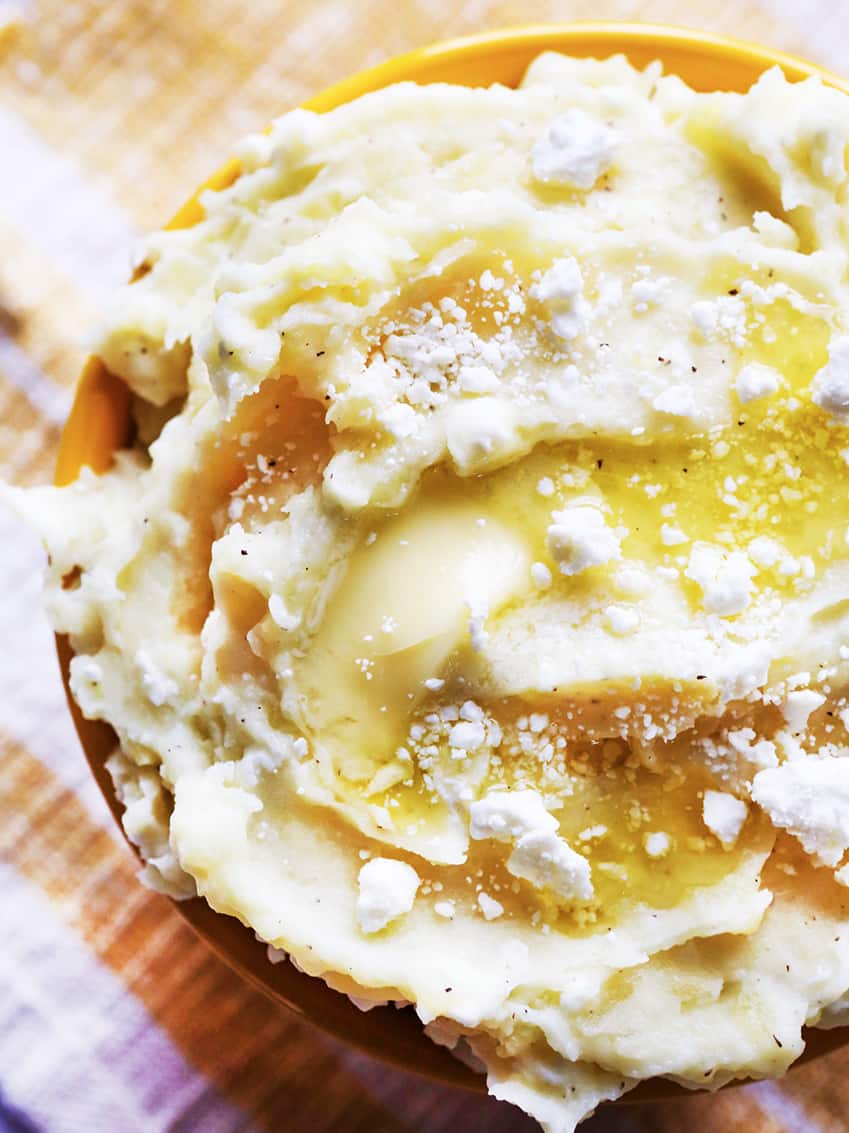 Mashed potatoes are a holiday staple, but also a delicious, comforting side dish option for any meal any time of the year. I love a good standard mashed potato recipe, but adding feta cheese allows you to change up the flavors of this comforting side dish.
Scalloped Potatoes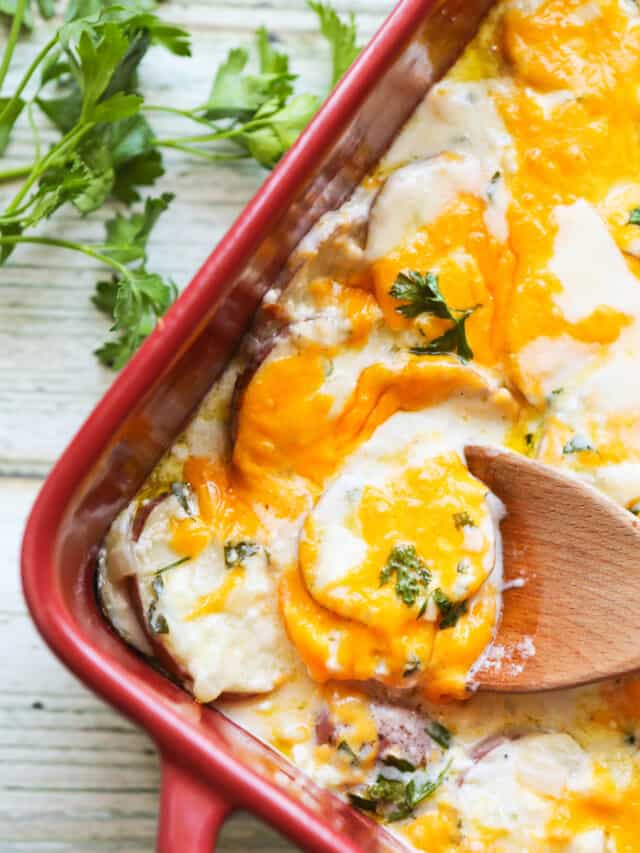 This scalloped potatoes recipe with cheese is the perfect side for any meal. Make it for your next holiday table or family dinner!
Vegetable Rice Salad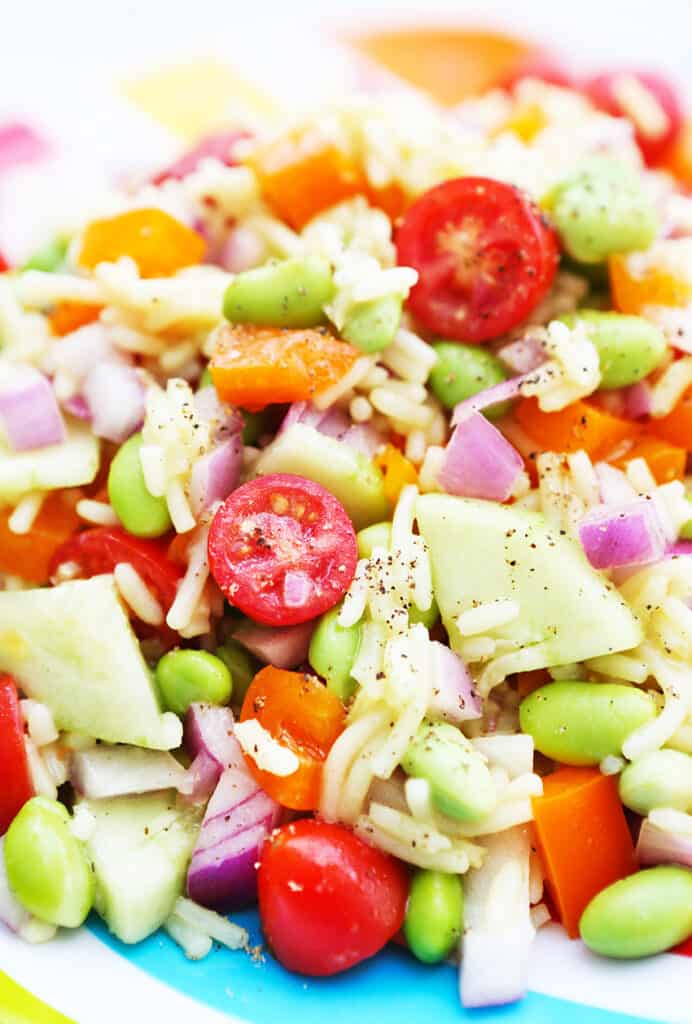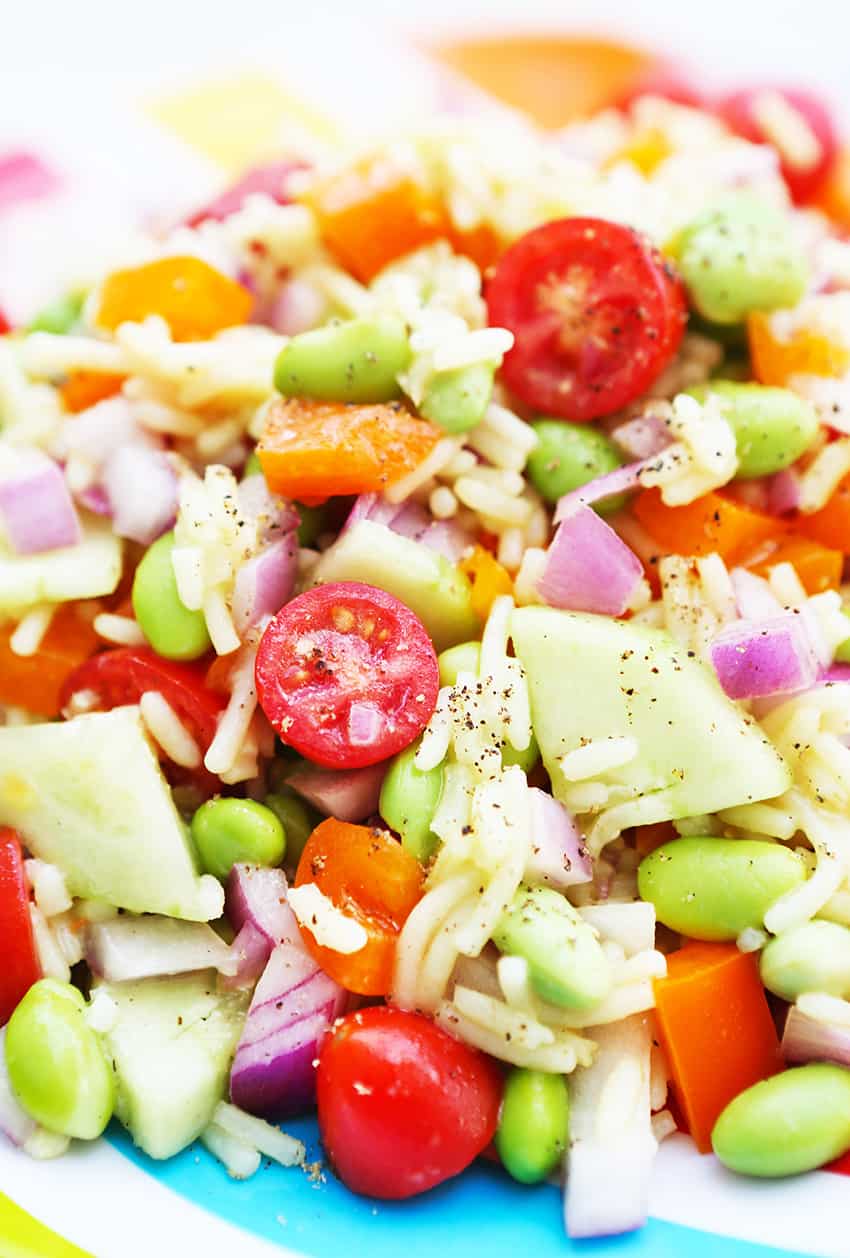 Vegetable Rice Salad is absolutely perfect for small or large gatherings. Great as lunch, a party food or a side to dinner. It is colorful and packed with delicious flavor and textures and perfect for any occasion, summer or otherwise!
Minestrone Soup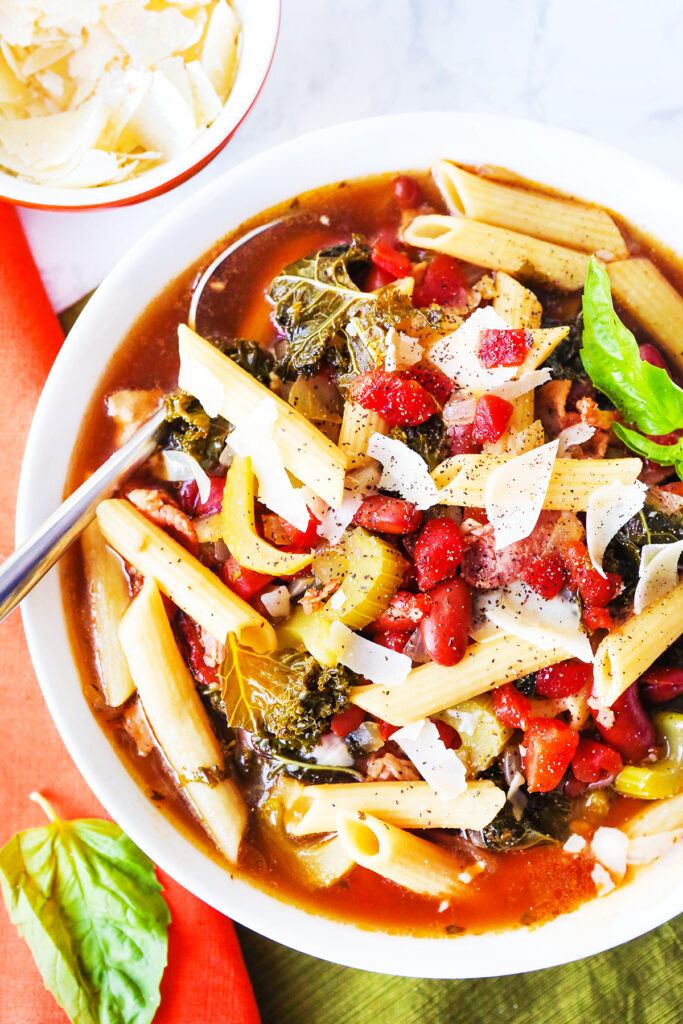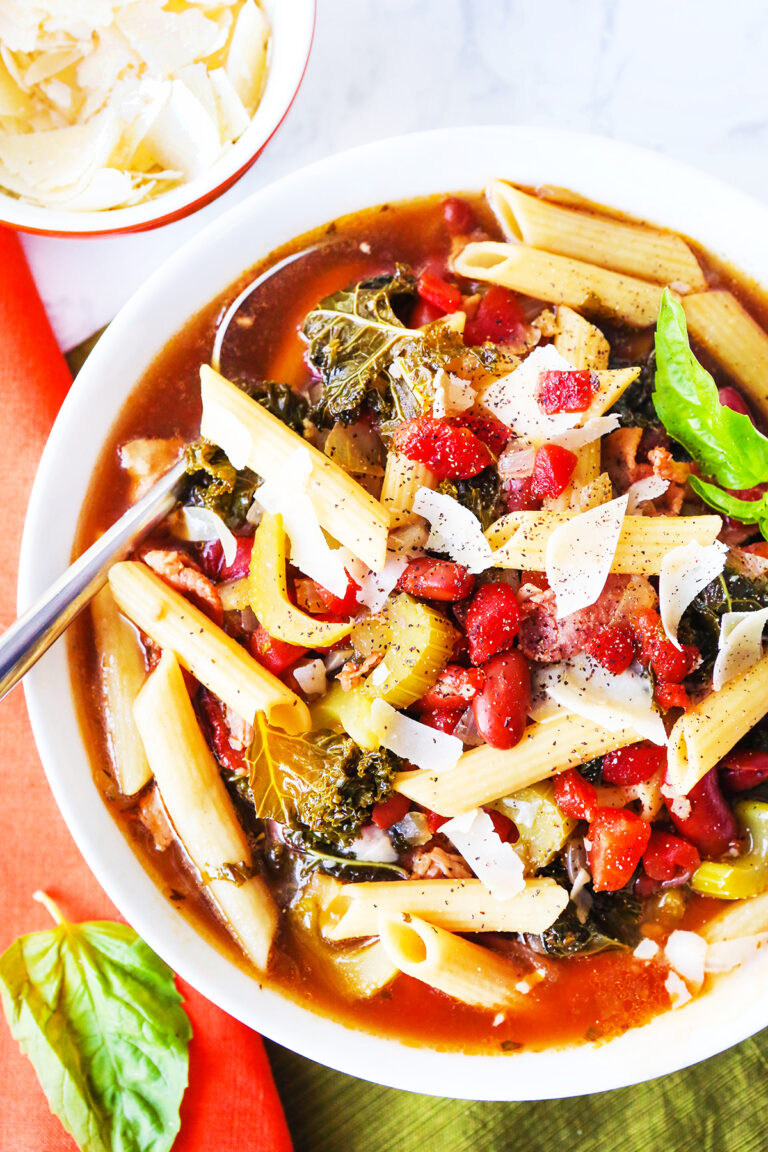 This classic minestrone with pasta recipe is hearty and jam-packed with vegetables and pasta. Use the veggies you have on hand for this super easy dinner. Great as a weeknight meal and also perfect for larger gatherings!
Baked Asparagus with Balsamic Vinegar and Butter
Baked Asparagus is topped with a delicious, savory balsamic butter sauce. It cooks to perfection every time and makes the perfect side to any meal!
Garlic Bread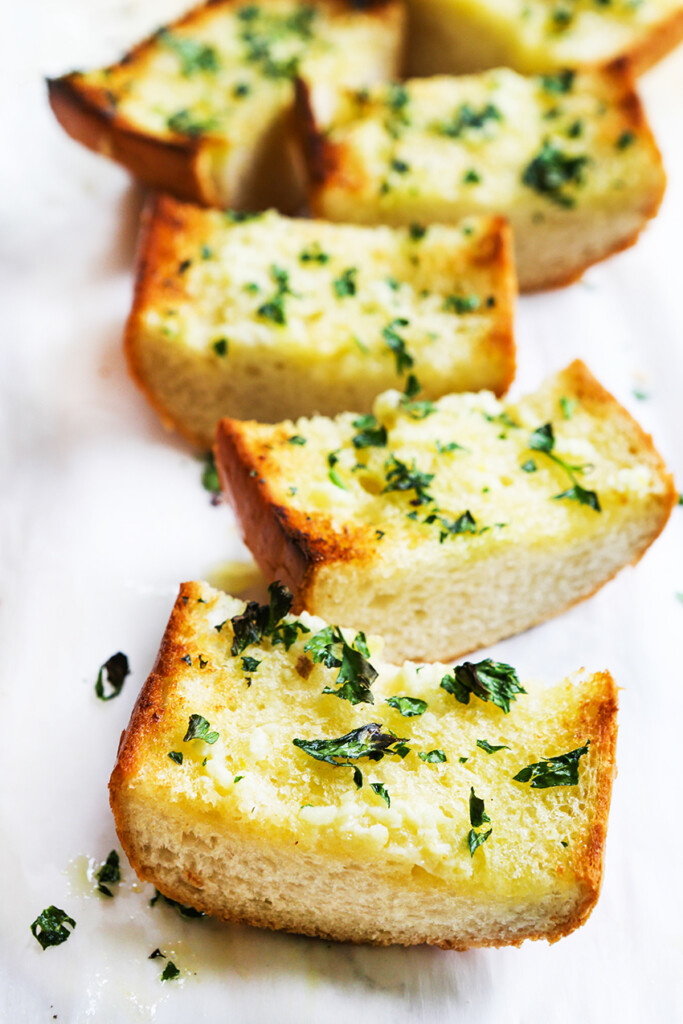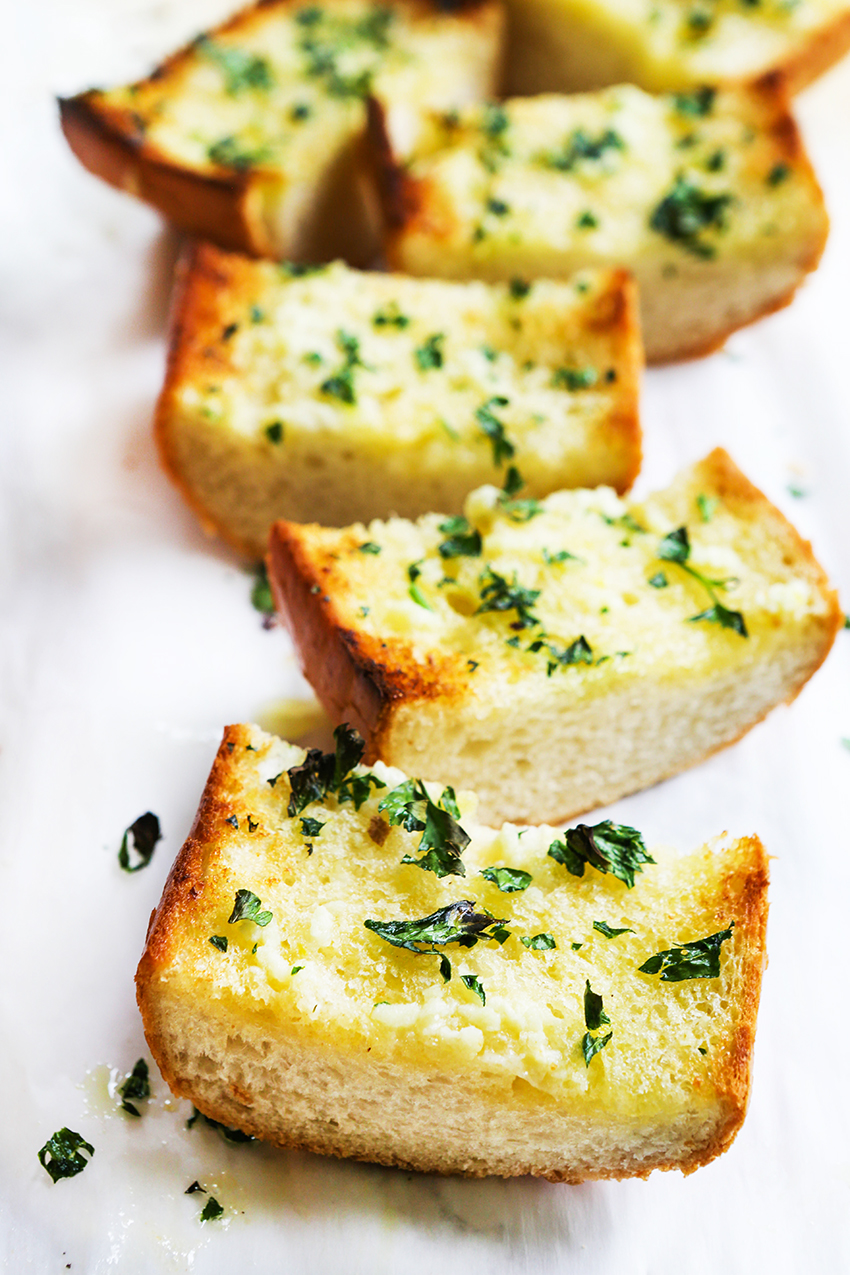 Garlic bread is super easy to make, requiring only a few simple ingredients and 10 minutes of your time! It is a great side dish for a variety of chicken recipes.
Oven Roasted Brussels Sprouts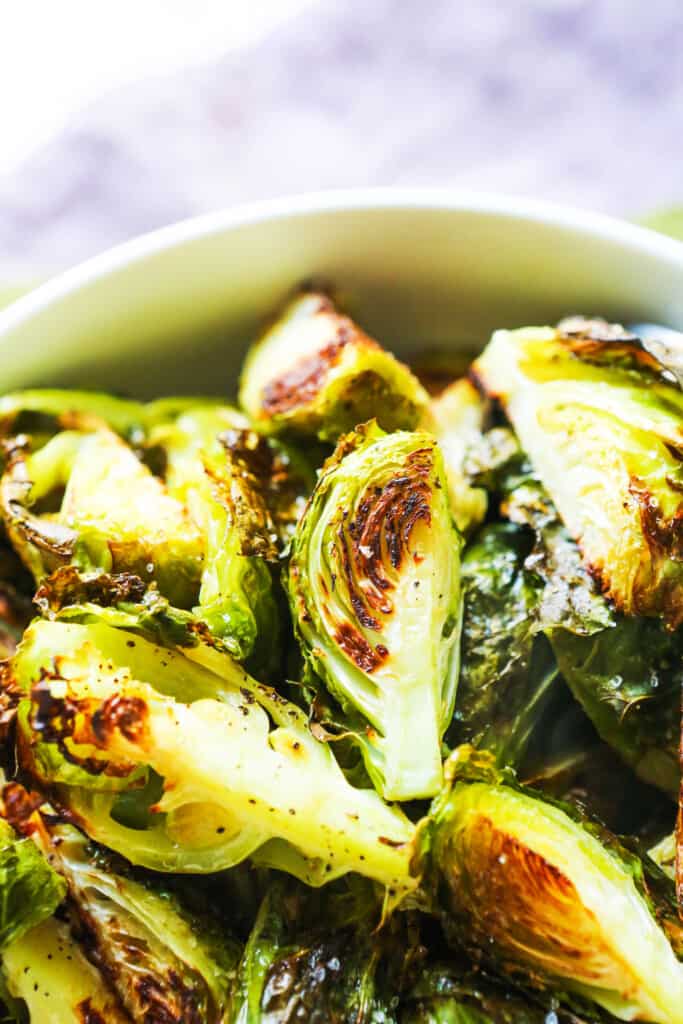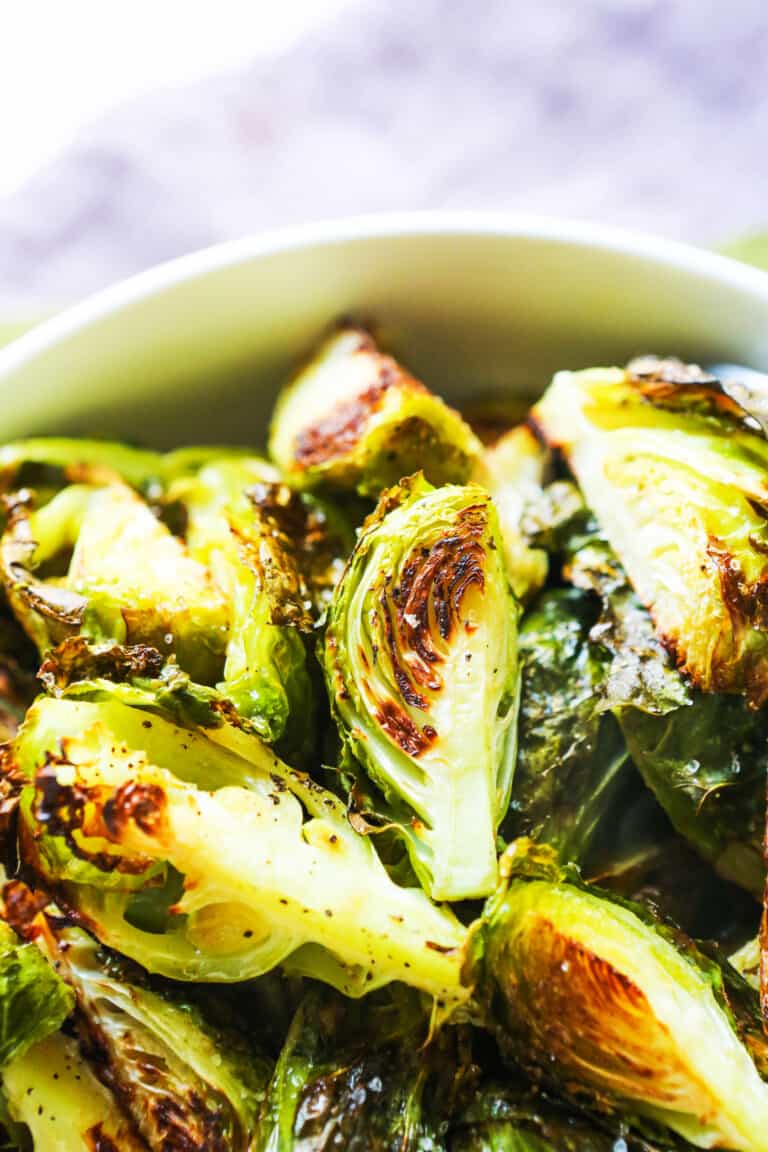 Make delicious, perfectly crispy Roasted Brussels Sprouts easily and in under 30 minutes. This side dish pairs perfectly with any meal, whether big or small. Perfect part of a holiday spread and also a great part of any simple weeknight dinner.
Instant Pot Mashed Potatoes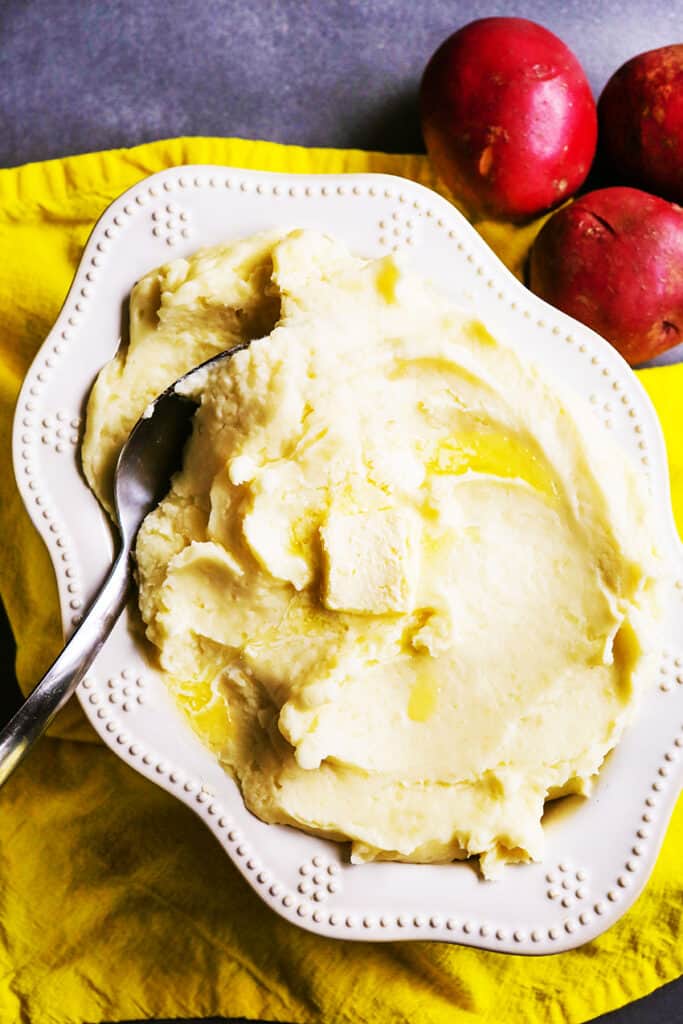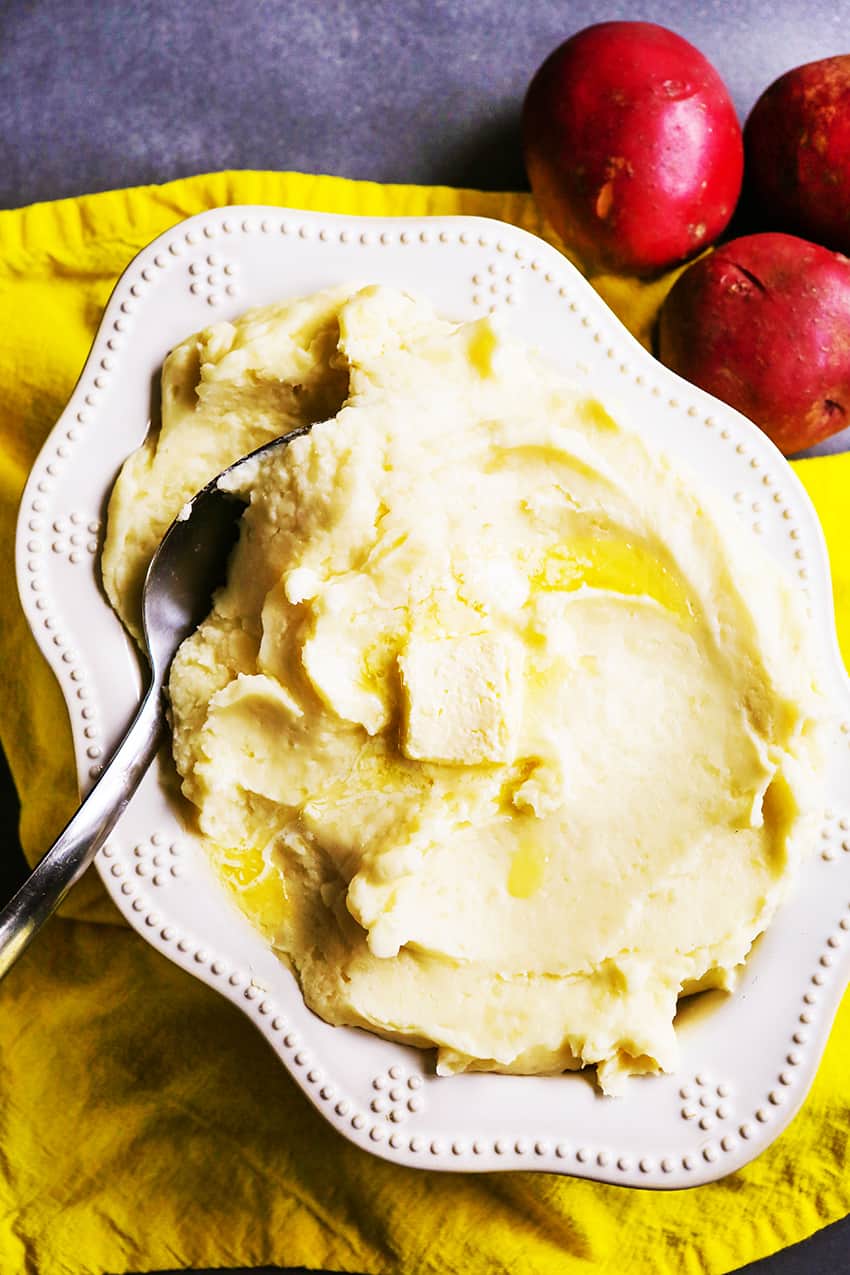 Instant Pot Mashed Potato recipe is creamy, smooth, delicious and easy to prepare. No boiling or saucepan/stovetop cleaning required with this side dish. The Instant Pot gets this easy mashed potato recipe done in 30 minutes!
Vegetables in the Crockpot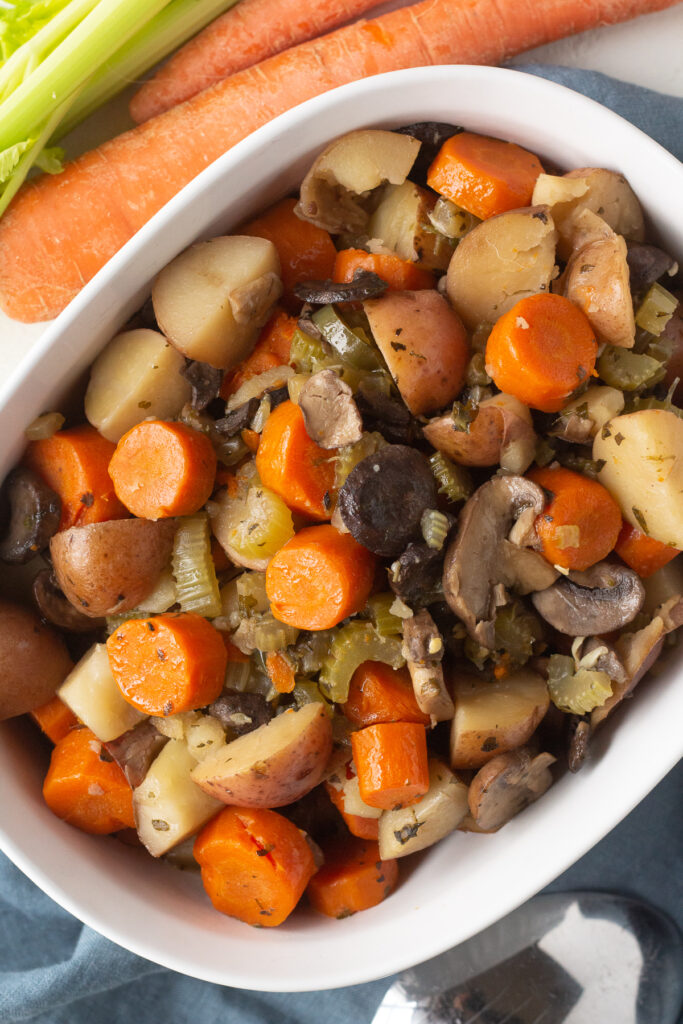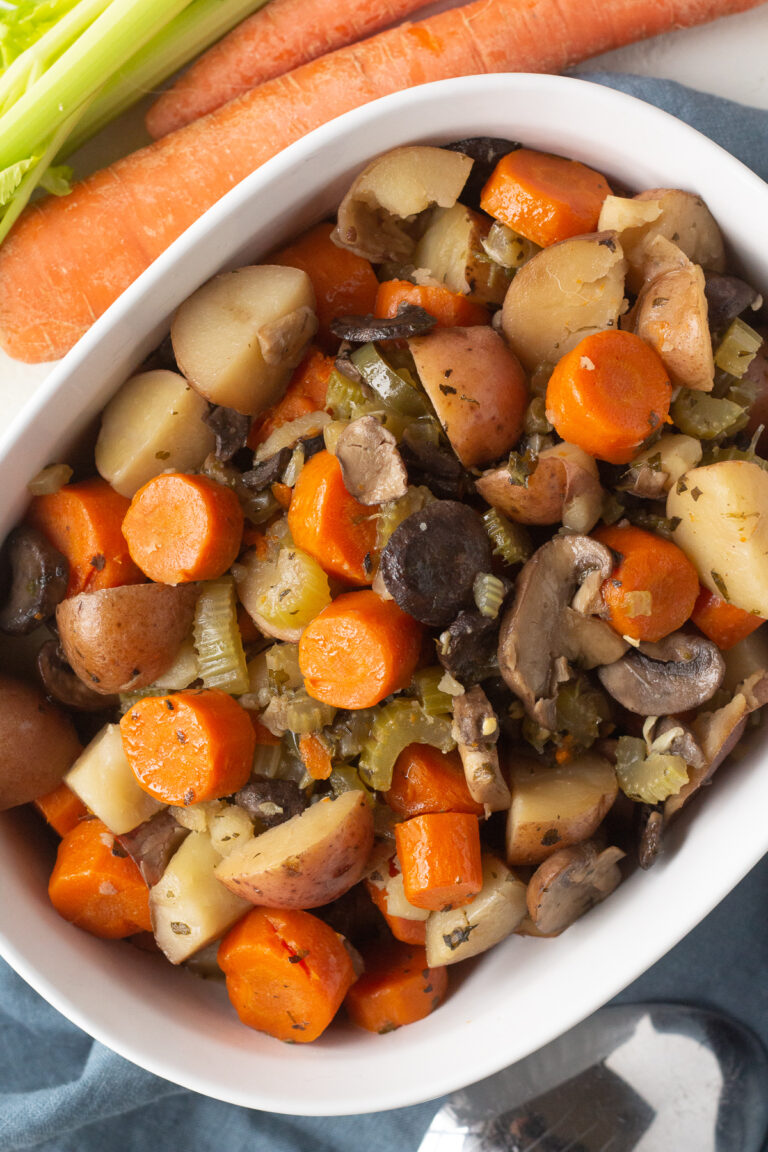 Making vegetables in the crock pot is a great way to use up extra veggies! Enjoy them now or freeze for another time. Feel free to swap out veggies from the recipe with whatever you have on hand.
Caprese Pasta Salad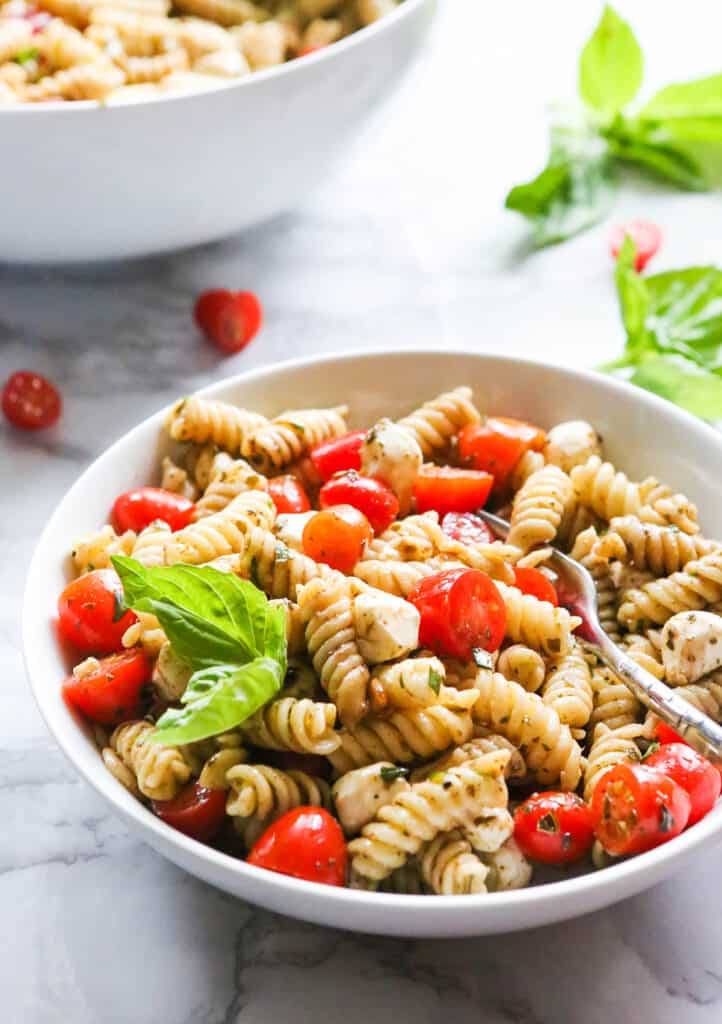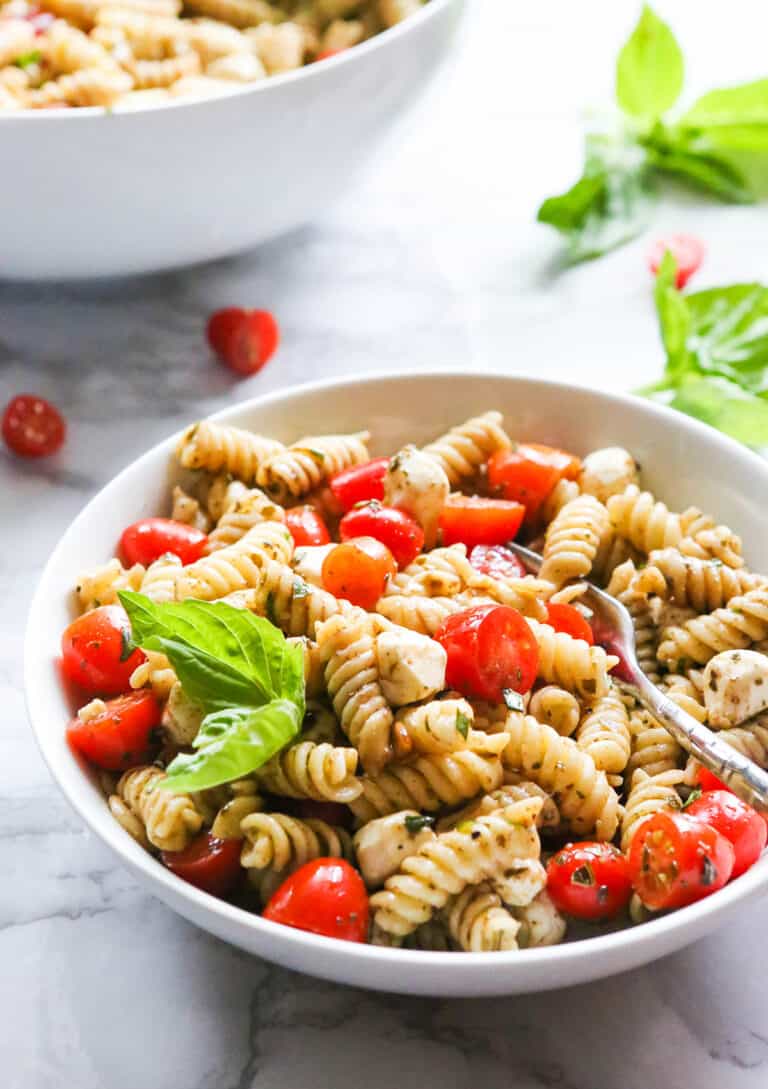 This Caprese Pasta Salad recipe is a huge hit at parties! Serve this delicious dish as a side, salad or appetizer. The combination of Mozzarella cheese, tomatoes and basil is absolute perfection!
Creamy Tortellini Soup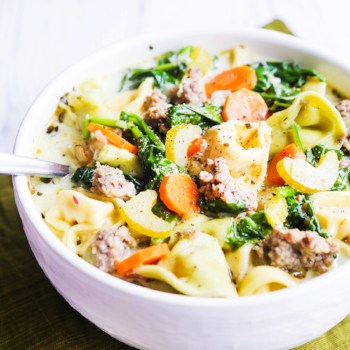 Make this Creamy Tortellini Soup in your slow cooker for a super easy, comforting meal. Eliminate the sausage to make it vegetarian, if you so desire!
Oven Roasted Sweet Potatoes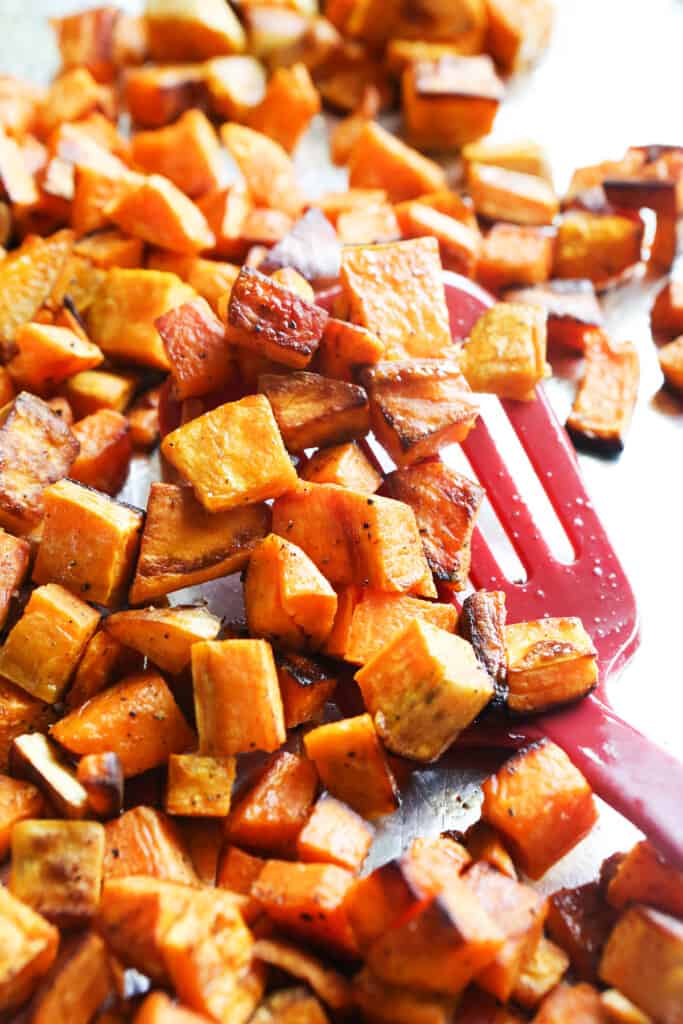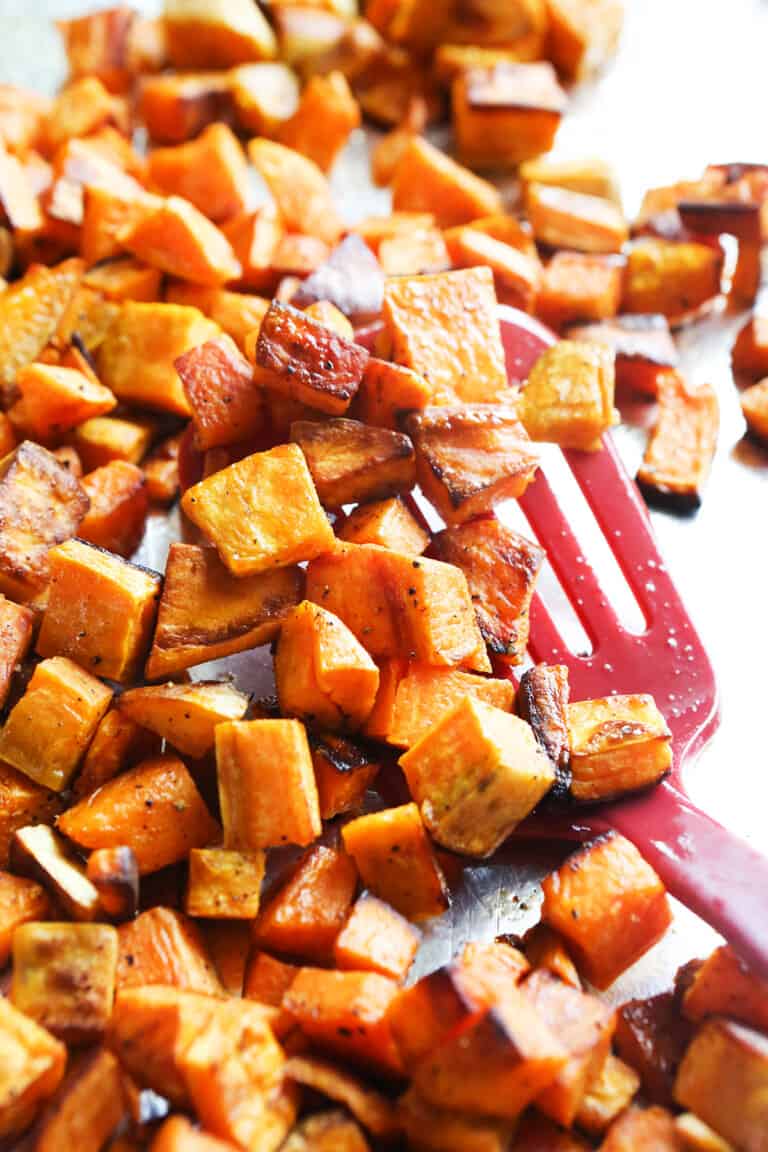 Roasted Sweet Potatoes are an easy and delicious side for any meal! More delicious than regular French fries and are a great healthy lunch, snack or side.
Quinoa Edamame Salad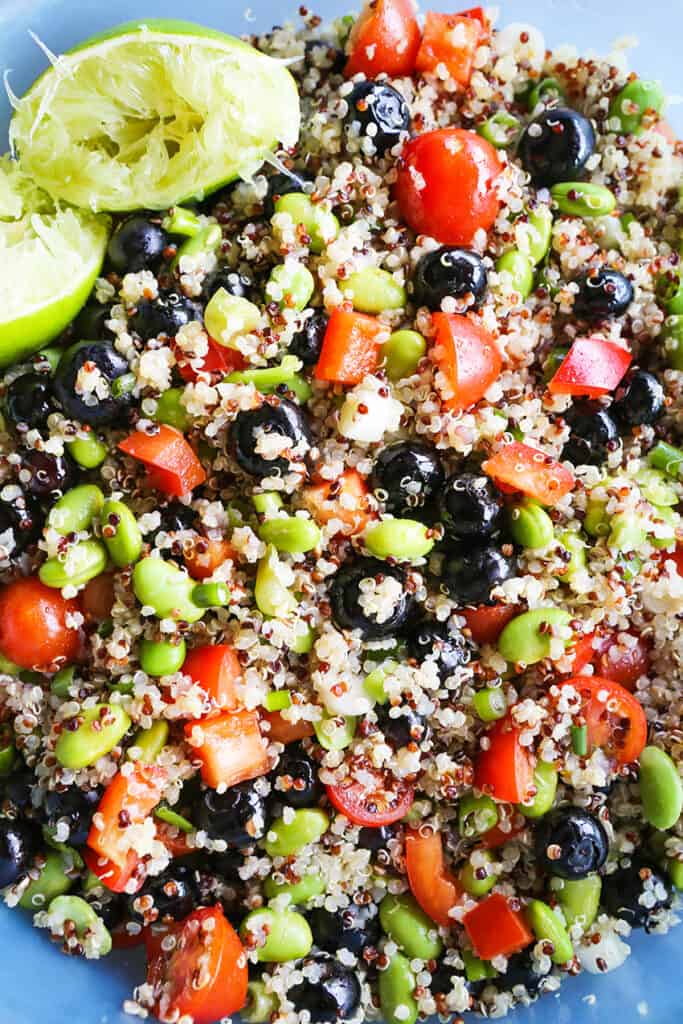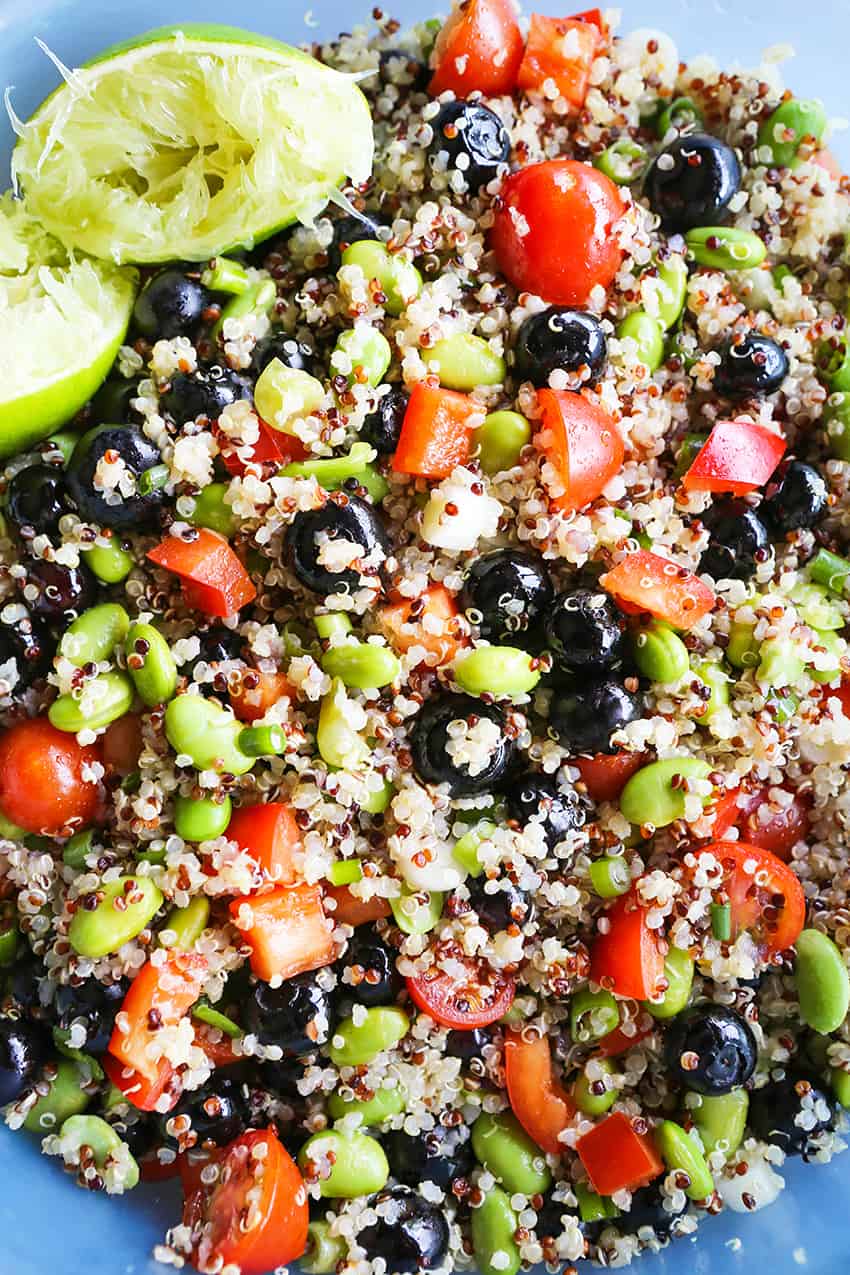 Quinoa Edamame Salad is great for parties and can be served in throw-away cups for serving ease. Also great as a salad to have in the fridge all week! Packed with fresh fruit and veggies and it is so healthy and delicious.