Enjoy an omelet in the palm of your hand! This is a great healthy option for a grab-and-go breakfast. Make ahead and reheat quickly!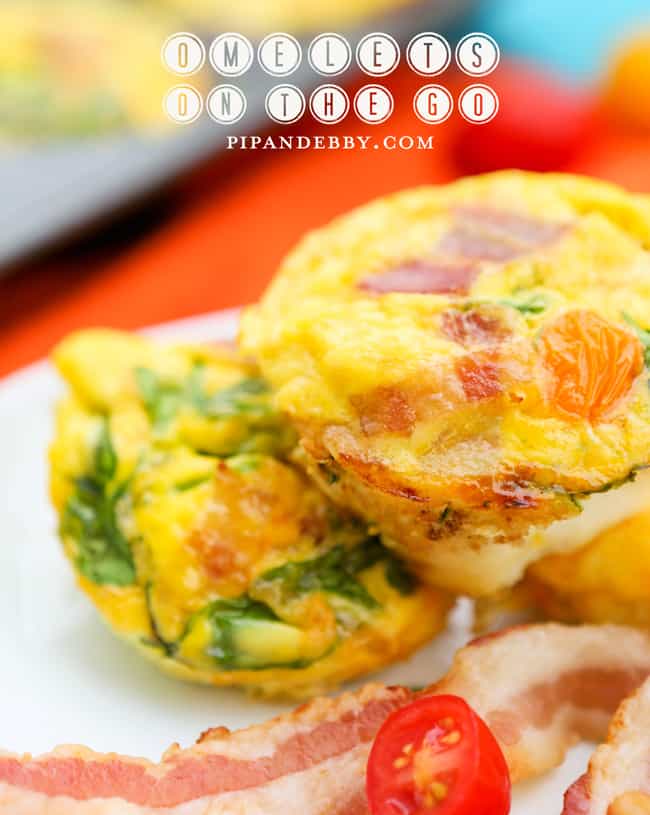 Why This Recipe Works
Dark grey clouds that hung low in the sky smacked down my lofty dreams for this post. It won't be nearly as cool to tell you about what I had planned as it would have been to pull it off. I'll try. On-the-go breakfasts are awesome! Everyone is in a hurry in the morning, right?
I thought of skydivers, who get up with the birds to jump out of airplanes. If the sun is shining and the plane is flying, the last thing we want to think about is nourishment. Coffee, maybe, but not food. I dreamed of creating a video that involved skydivers grabbing On-the-Go Omelets as we walked to the airplane.
And then jumping out of the plane while munching on them. We had almost an entire weekend of low, unjumpable clouds, so my idea did not transpire. Another time. Ahem.
What has transpired was a day of gorging myself silly at the Minnesota State Fair today.
Deep-fried green olives, fried pickles, cheese curds, a corn dog, Reuben bites (that tasted so much like this amazing Reuben Braid!), cookies, a deep-fried Monte Cristo, a dreamsicle shake, French fries, chicken-on-a-stick and walleye cakes. I ate all of the above today, I kid you not.
How To Make Omelets On The Go
Crack a dozen eggs into a medium bowl. Add a splash or two of water.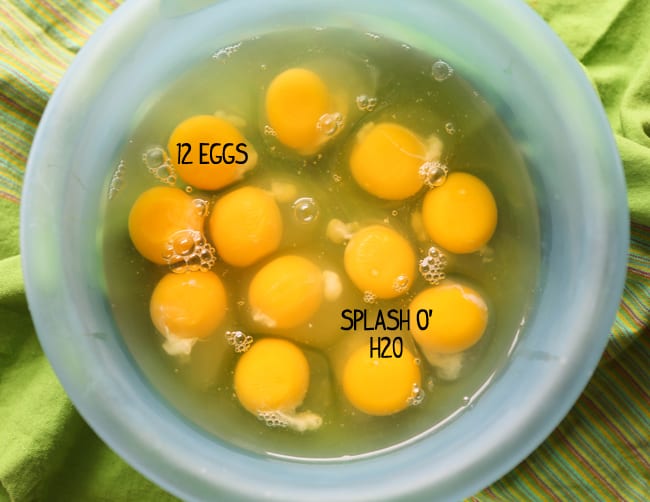 Whisk those babies up.
Then you'll have to do a bit of thinking. What ingredients would you like inside your cute little omelets that will fit in the palm of your hand? Bacon? Ham? Tomatoes? Mushrooms? Cheese? Spinach?
Pick the omelet extras of your choice and prepare them. Chop, slice, dice, do whatever you need to do.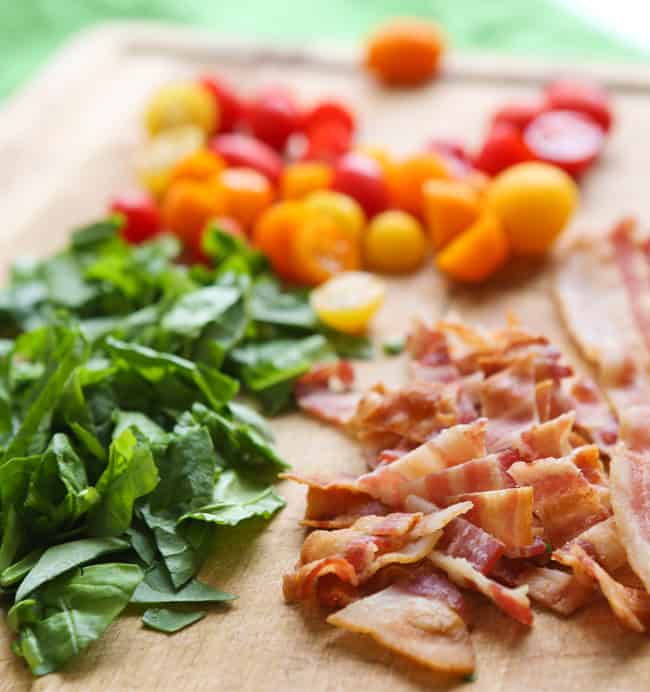 Divide the whisked eggs between twelve muffin cups (coat generously with cooking spray first). Each cup will be filled to about two-thirds full.
Add the extras to each muffin tin, making sure the contents don't overflow.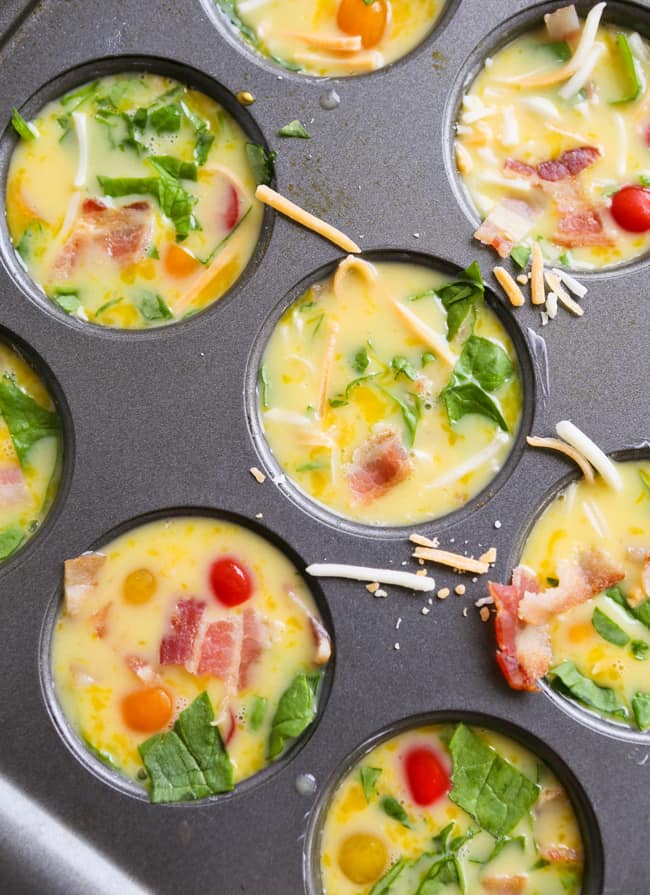 Bake for 30 minutes, or until the eggs are cooked all the way through. Serve warm and enjoy!
FAQ About Eggs
How many eggs can you eat a day?
As a good source of protein and full of healthy fats, enjoy an egg a day, or maybe two if you really enjoy them!
What is the difference between hard and soft boiled eggs?
A hard-boiled egg is cooked so that the egg white and egg yolk both solidify. On the flip side, soft-boiled eggs may have a yolk and the white partially liquid and raw.
How long do eggs last?
Eggs can be used 5 weeks after the sell date listed on the carton. The sooner they are used, the fresher they will be.
How many calories in an egg?
1 large egg contains approximately 72 calories.
How much protein in an egg?
1 large egg contains approximately 6 grams of protein.
How many carbs in an egg?
1 large egg contains approximately 0.6 grams of carbohydrates.
Can dogs eat eggs?
Yes, dogs can eat eggs because when cooked thoroughly, eggs are a nutritious and delicious snack for dogs. They are even sometimes used to help settle digestive systems for canines.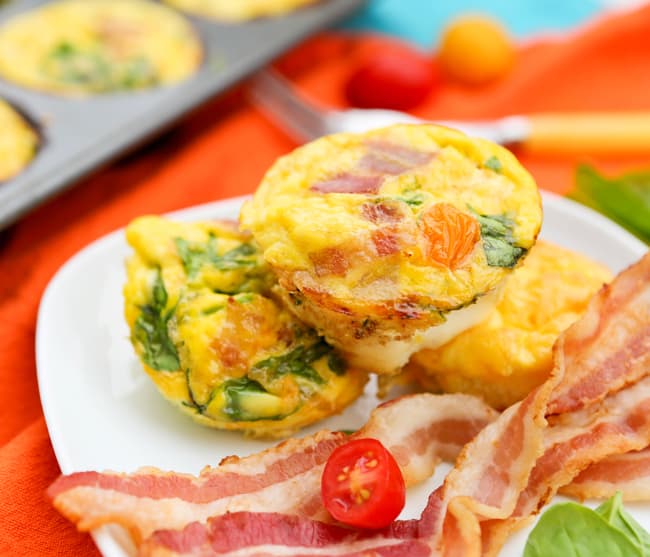 What To Serve For Brunch
Brunch contains the best collection of foods on the planet that are sweet and savory and come from a breakfast and lunch menu, which includes alcohol.
Will you help add value to Pip and Ebby?
If you make this recipe and love it, stop back and give it a 5-star rating ⭐️⭐️⭐️⭐️⭐️ and leave a comment. THANK YOU!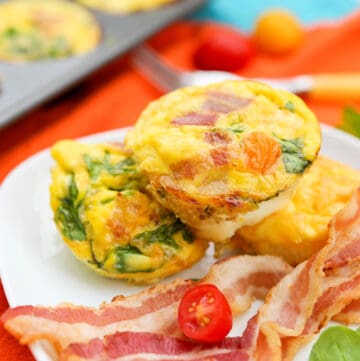 Omelets On the Go
Breakfast in the palm of your hand!
Print
Pin
Rate
Ingredients
12

large

eggs

Splash

of water

1

cup total

of extras, chopped

(ham, bacon, cheese, spinach, mushrooms, tomatoes, etc)
Instructions
Preheat oven to 350 degrees F. Coat a muffin pan with cooking spray.

Crack the eggs into a medium bowl. Add the water and whisk until mixture is fluffy. Divide between the muffin cups, filling each approximately 2/3 full.

Add the extras to the cups, as desired, making sure the contents don't spill over the edges. Bake in the preheated oven for 30 minutes, or until the eggs are cooked through.
Nutrition
Calories:
163
kcal
|
Carbohydrates:
1
g
|
Protein:
10
g
|
Fat:
13
g
|
Saturated Fat:
4
g
|
Cholesterol:
224
mg
|
Sodium:
211
mg
|
Potassium:
117
mg
|
Sugar:
1
g
|
Vitamin A:
313
IU
|
Calcium:
33
mg
|
Iron:
1
mg
Did you make this recipe?
If you loved this recipe, please rate the recipe and leave a comment below!