Enjoy this comprehensive roundup of the best summer salads you will ever meet. From sweet and savory to pasta-packed, cheesy, meaty and everything in between!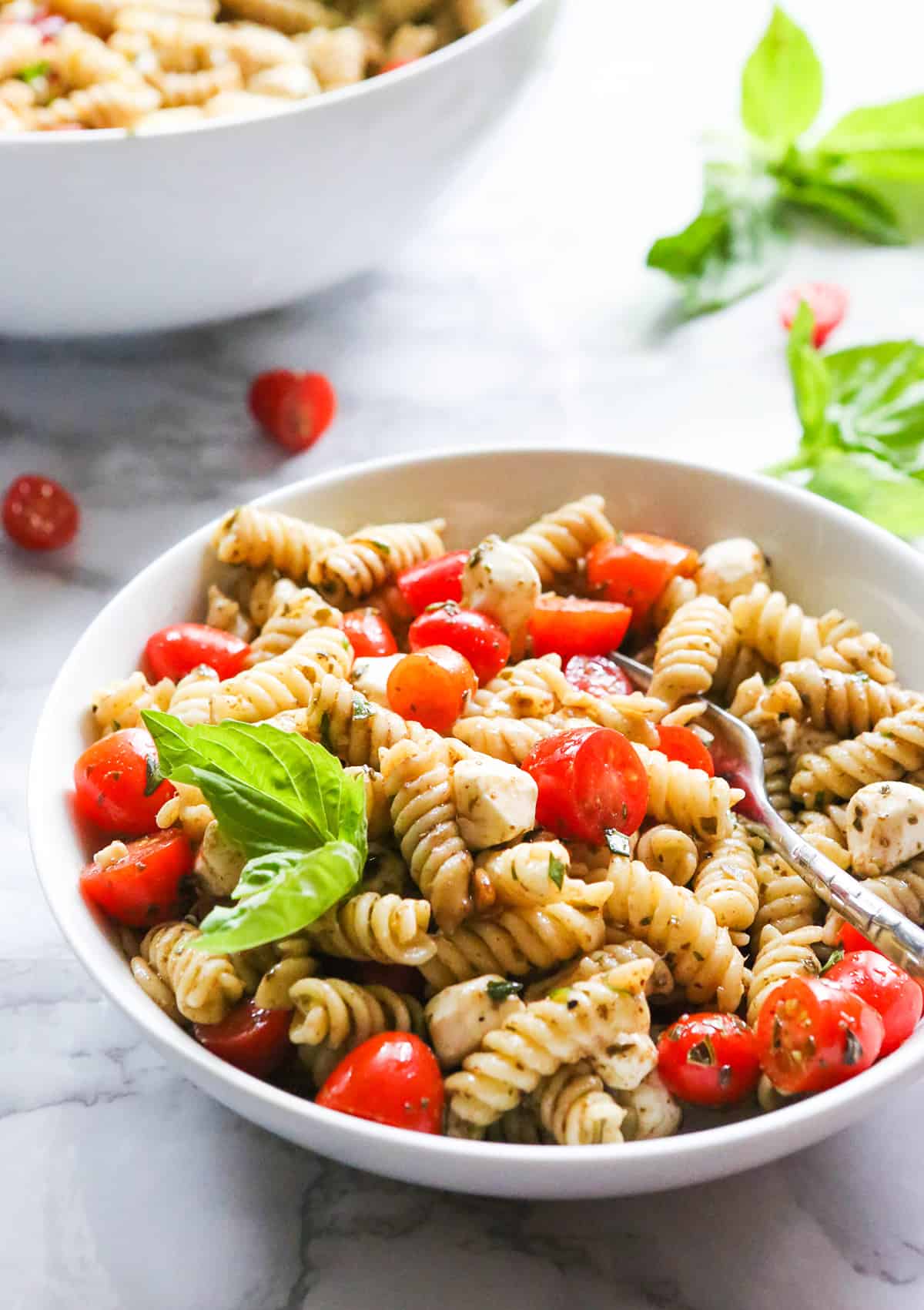 Is there anything in the universe better than a solid summer salad that satisfies? Summer salads hold a special place in my salad-loving heart. There are so many ingredient options to choose from!
Salads can be healthy, indulgent, veggie-packed, pasta-laden, packed with meat or vegetarian. They can contain fruit, leafy greens, dressing and even salsa. The world is your oyster! I'd love to hear what your own personal favorite summer salad recipes are. Leave them in the comments!
FAQ About Salad
Why salad is important?
Eating salads is a great way to ensure you are consuming a good amount of fruits and vegetables. If you eat healthy salads frequently, you'll increase the amounts of vitamin C, vitamin E, folic acid in your body.
What salad goes with salmon?
Light leafy salads such as a simple chopped salad with lemon-balsamic vinaigrette pair very well with salmon.
Are salad spinners worth it?
Salad spinners might be bulky, but if you eat a lot of salads it is worth the cost and the cabinet space to own one. This is a great way to thoroughly wash and rinse greens, ensuring a clean meal.
What salad goes with enchiladas?
Simple leafy salads pair well alongside enchiladas. A chopped salad with a handful of chopped veggies and a light balsamic or ranch dressing would be a perfect complement.
Where did salad originate?
Ancient Greeks and Romans combined raw vegetables with an oil and vinegar "dressing" and herbs to create the first version of the salad.
Delicious Summer Salad Ideas
Any variety of pasta salad
Leafy greens combined with any combination of chopped fresh vegetables
Edamame-based salads drizzled with oil and vinegar
Rice and veggies spritzed with fresh lime or lemon juice
Vegetables and any type of cooked chopped (or shredded) protein and dressing of choice
Fruit salads
Combination of fruit and vegetables along with leafy greens
Quinoa, couscous or any grain taste great combined with fresh veggies and dressing or oil
Seafood-based salads
Caprese Pasta Salad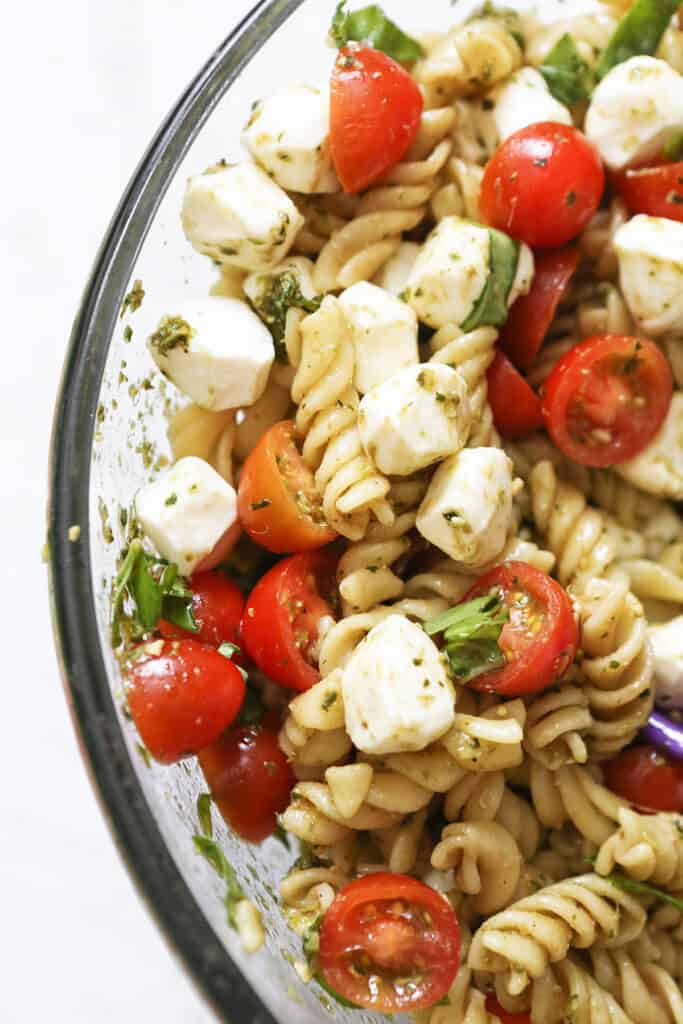 This Caprese Pasta Salad recipe is a huge hit at parties! Serve this delicious dish as a side, salad or appetizer. The combination of Mozzarella cheese, tomatoes and basil is absolute perfection!
Marinated Green Bean Salad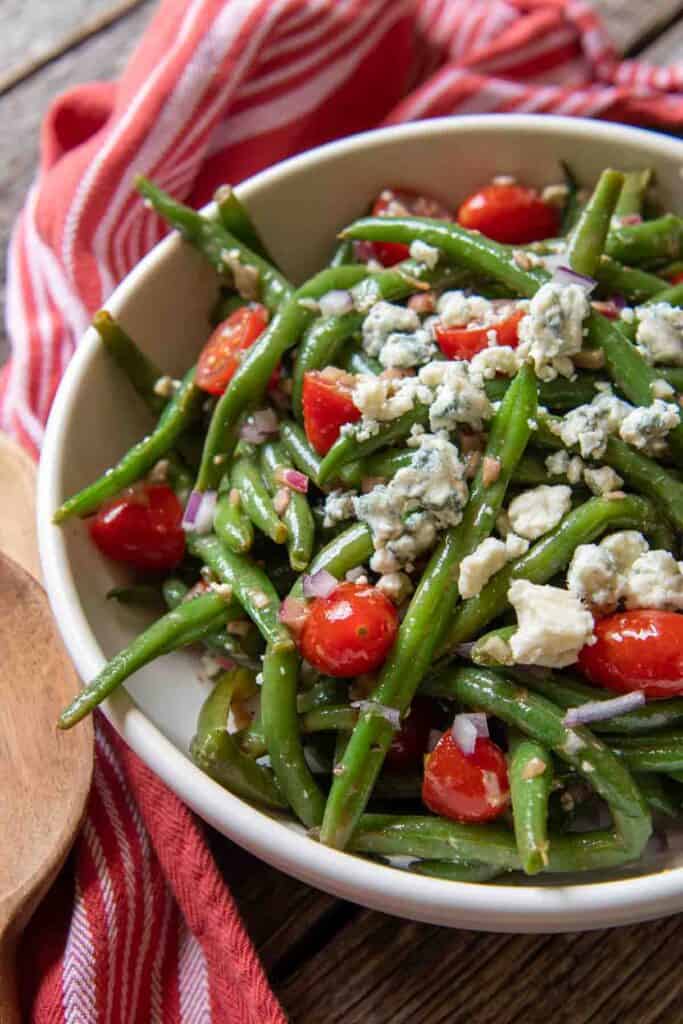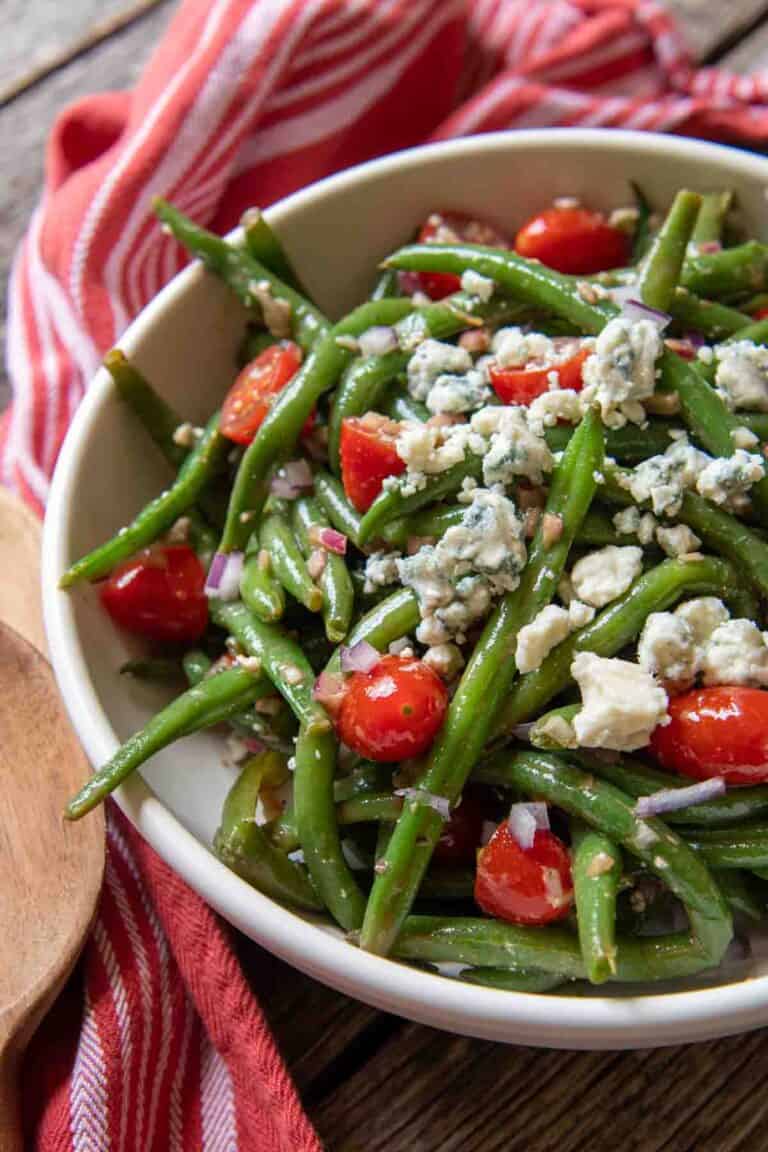 Make-ahead, marinated Green Bean Salad (from Mama Gourmand) is an easy, healthy recipe perfect for summer! Simply toss green beans, tomatoes, and red onions with a balsamic vinaigrette and serve cold with blue or feta cheese.
Balsamic Strawberry Chicken Salad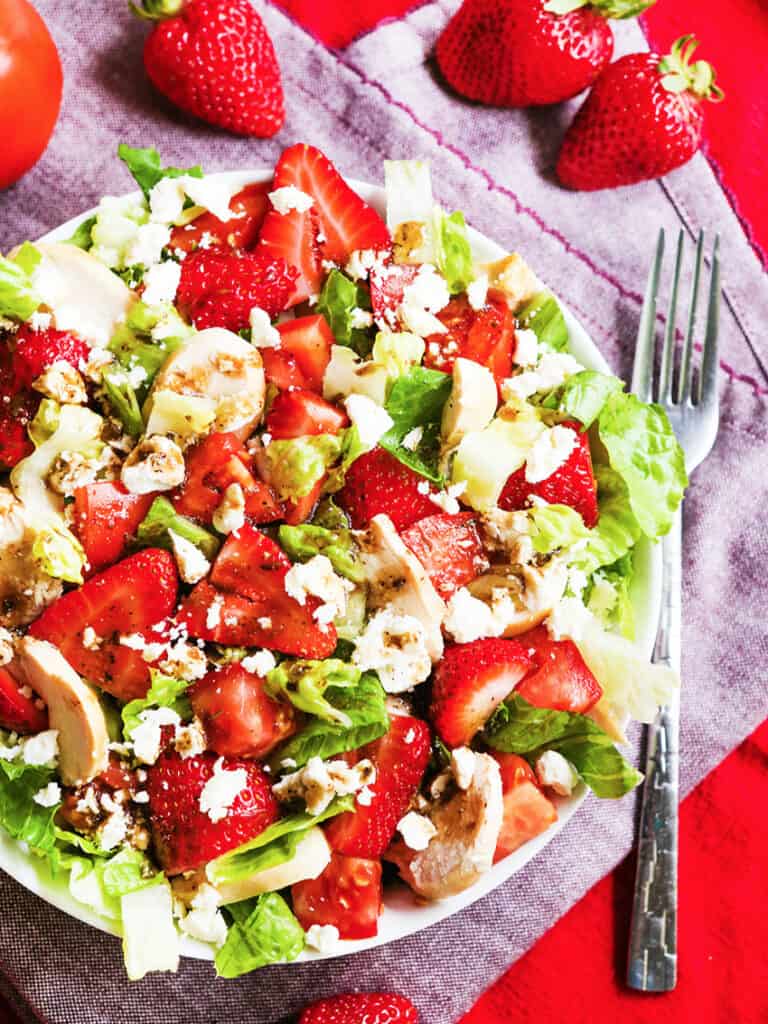 Strawberry Chicken Salad is super easy to throw together, requiring just a handful of ingredients and a few minutes of your time. The combination of flavors work perfectly together to create the perfect lunch or dinner side!
Prosciutto, Burrata and Grilled Peach Salad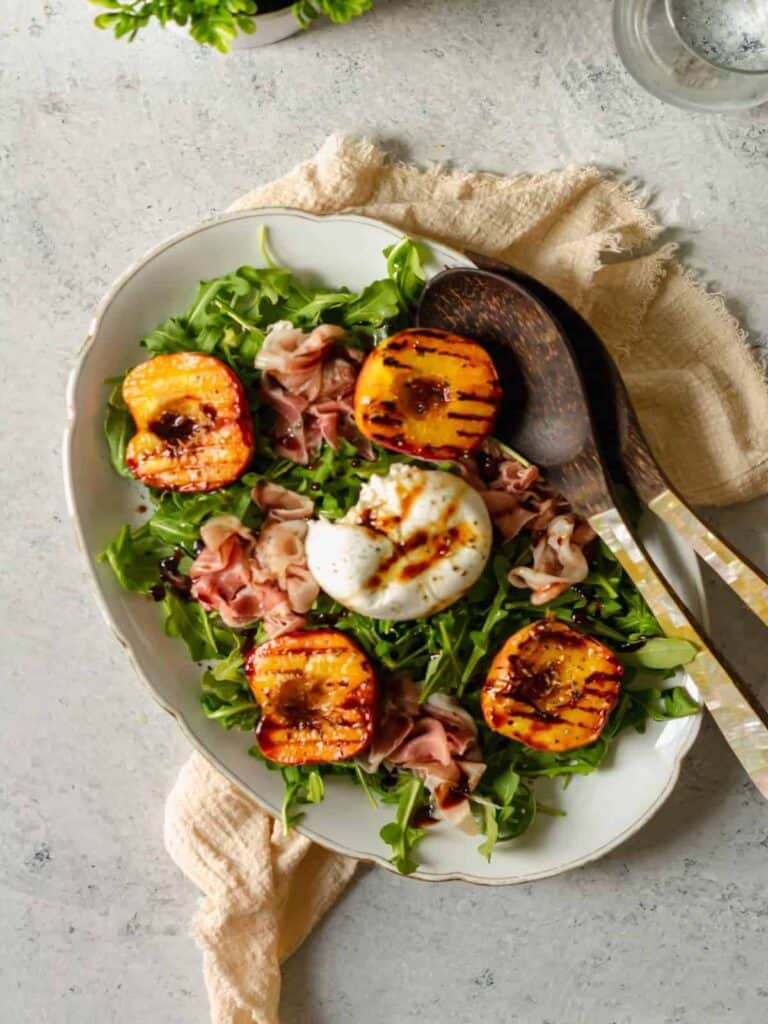 This Prosciutto, Burrata and Grilled Peach Salad (from Real Food With Sarah) is perfect for Summer parties. Sweet peaches and salty prosciutto pair perfectly with the creamy burrata. Serve over arugula or your favorite greens for a delicious meal.
Pasta Salad With Italian Dressing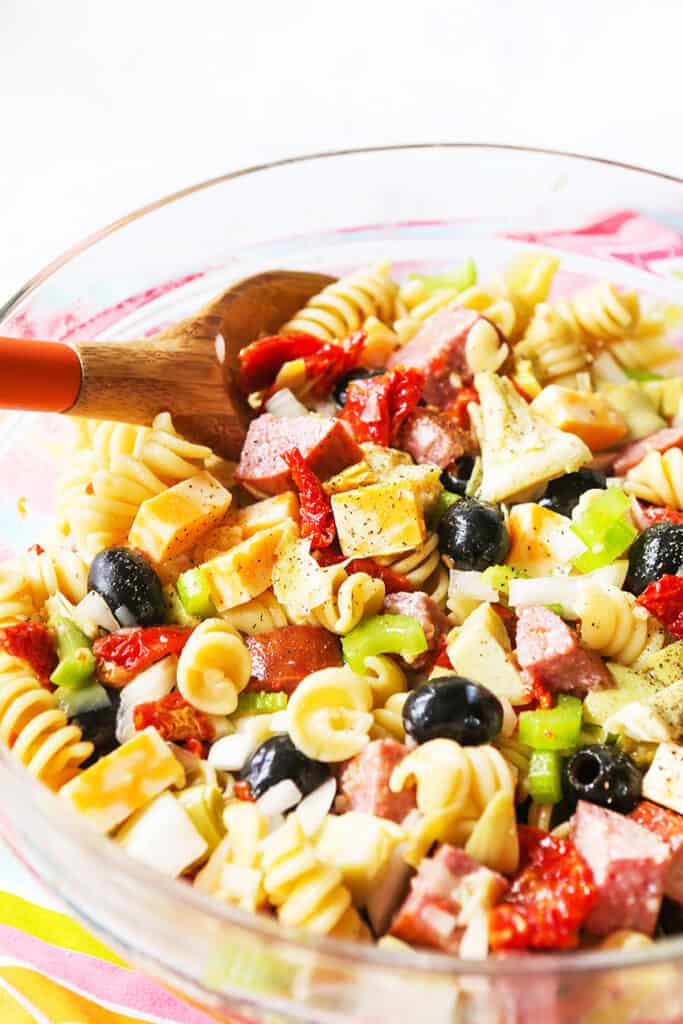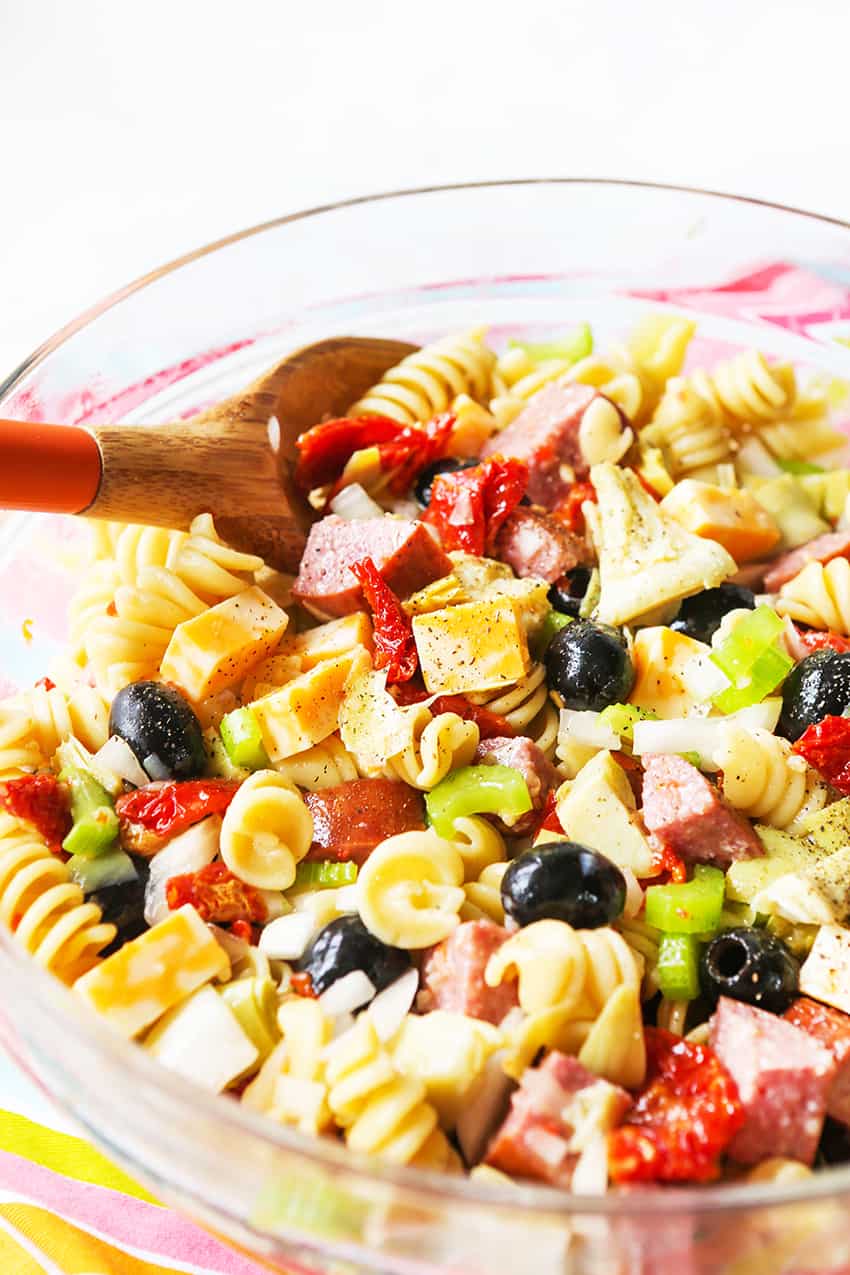 This is the best pasta salad recipe with Italian dressing you will ever find. It is packed full of delicious bites (olives, salami, tomatoes and artichokes). Perfect for parties!
Instant Pot Buffalo Chicken Salads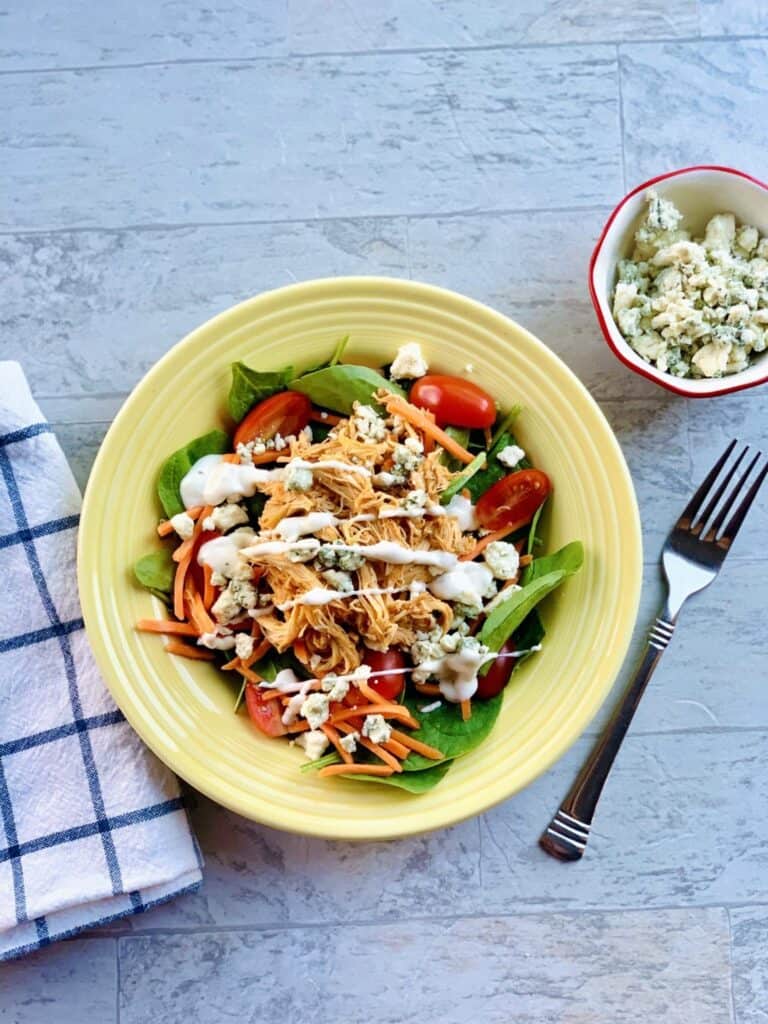 The perfect summer night salad to have on the menu plan. When you hear buffalo chicken don't worry that it will be overly spicy for the whole family. Like most of my favorite Instant Pot recipes (from Hollis Homestead), this comes together quickly and can be made from fresh or frozen chicken breast.
Quinoa Edamame Salad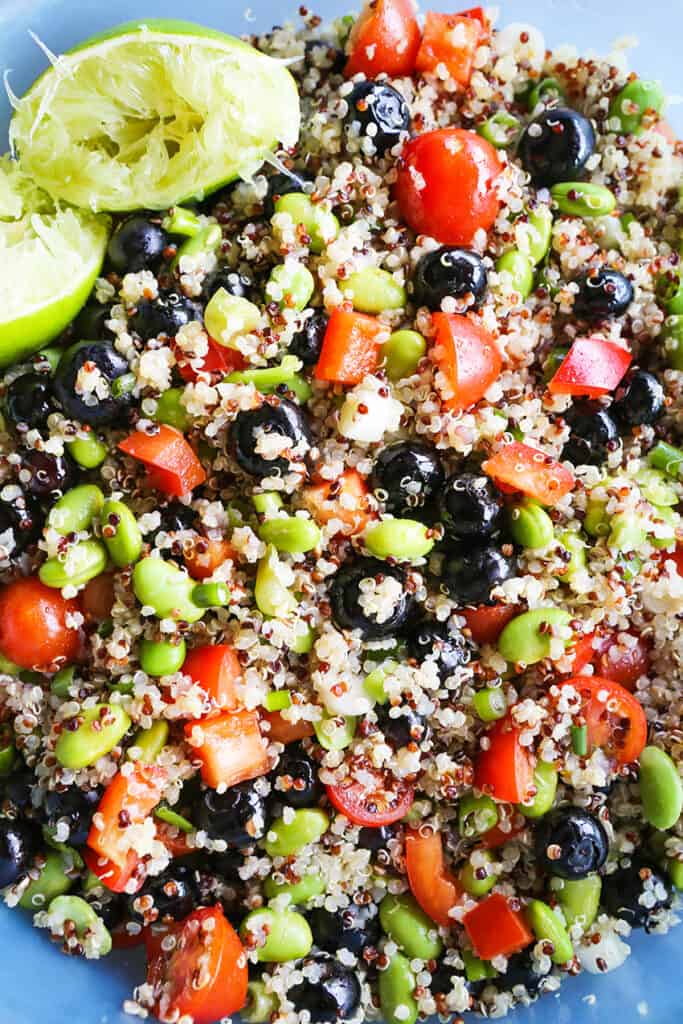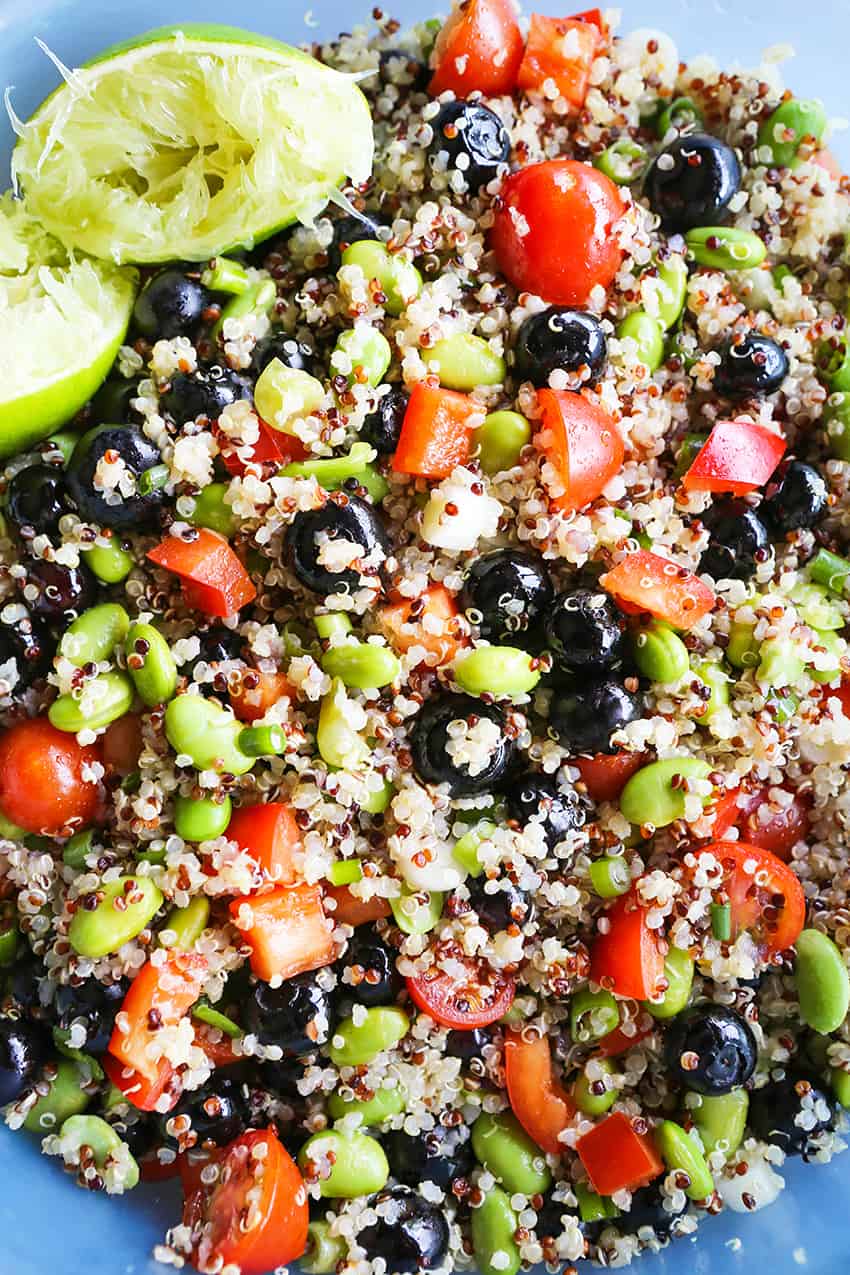 Quinoa Edamame Salad is great for parties and can be served in throw-away cups for serving ease. Also great as a salad to have in the fridge all week! Packed with fresh fruit and veggies and it is so healthy and delicious.
Grilled Eggplant Salad with Chickpeas and Tomatoes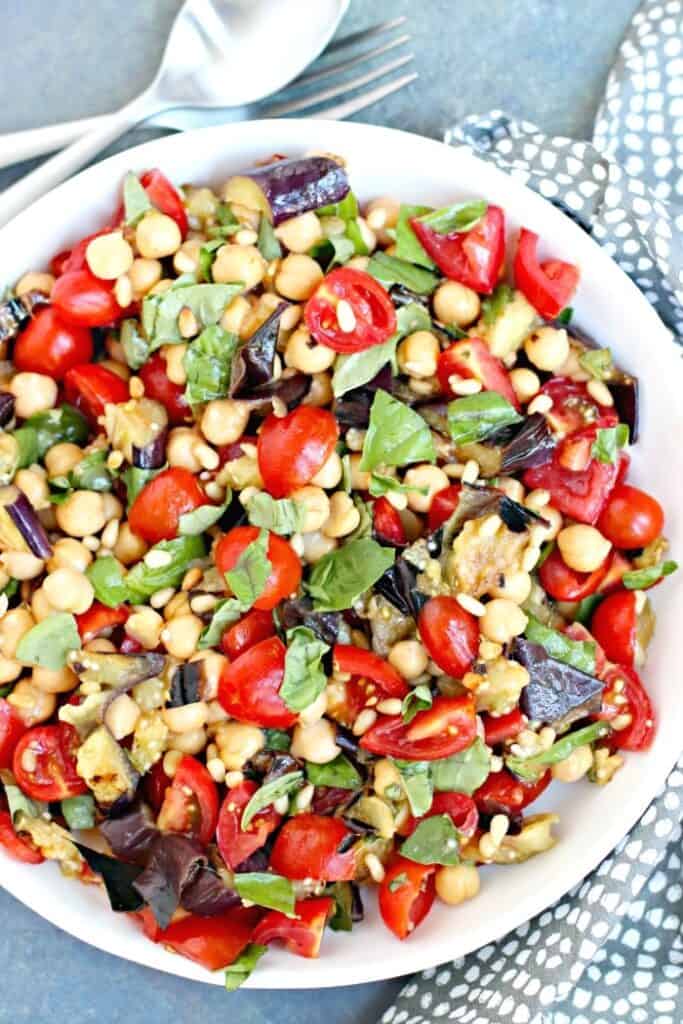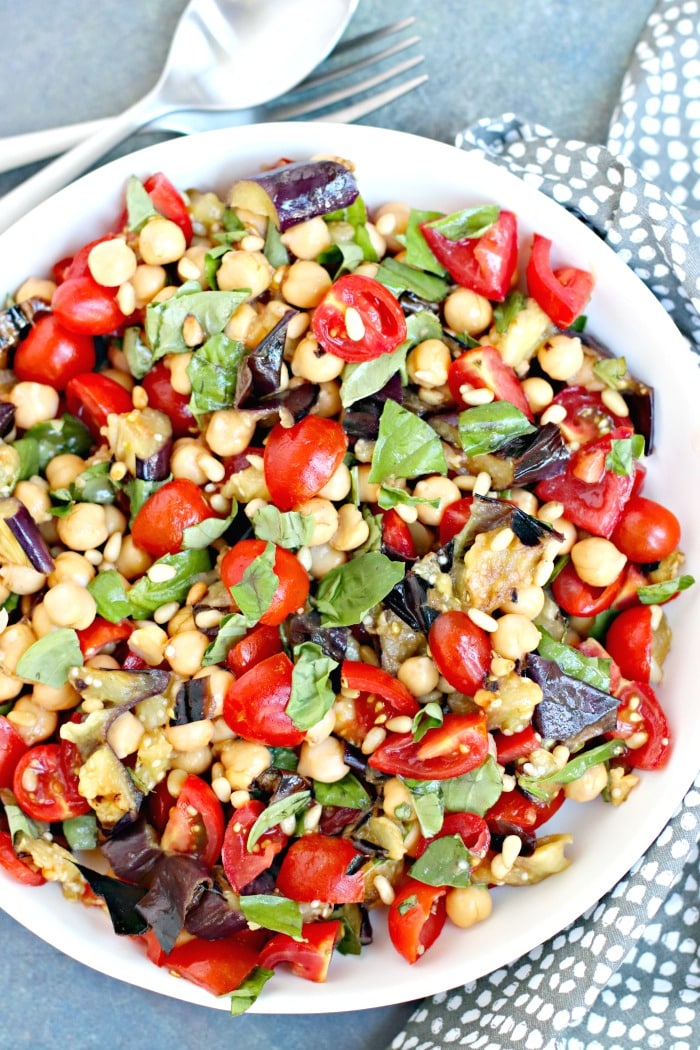 Grilled Eggplant Salad with Chickpeas and Tomatoes (from Veggies Save The Day) is a flavorful Mediterranean-inspired recipe. It's vegan, gluten-free, and healthy.
Cherry Gazpacho Salad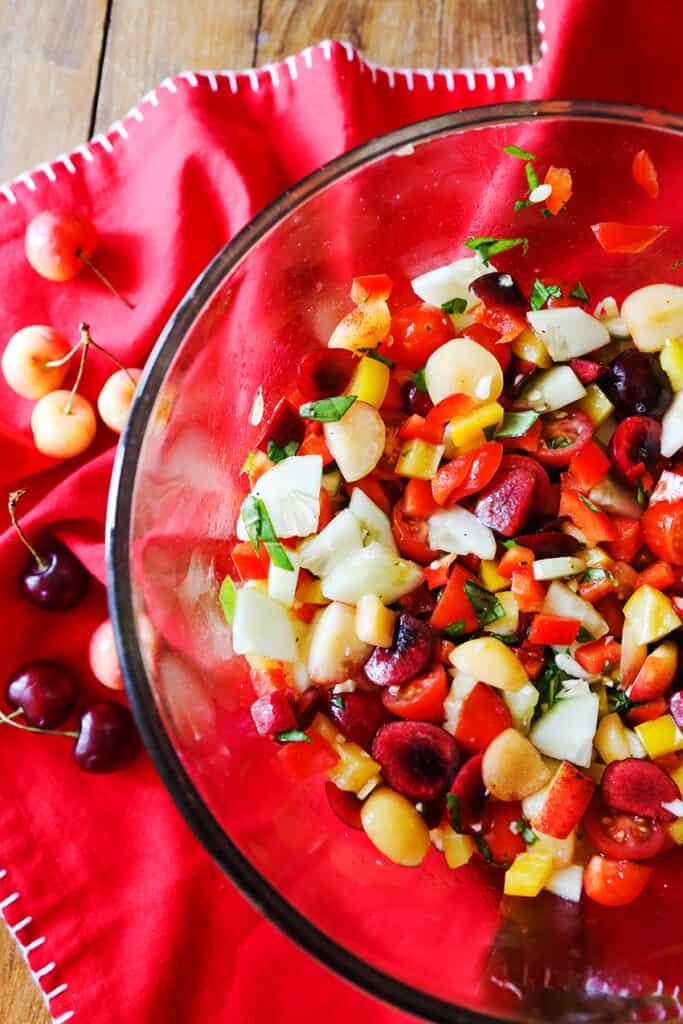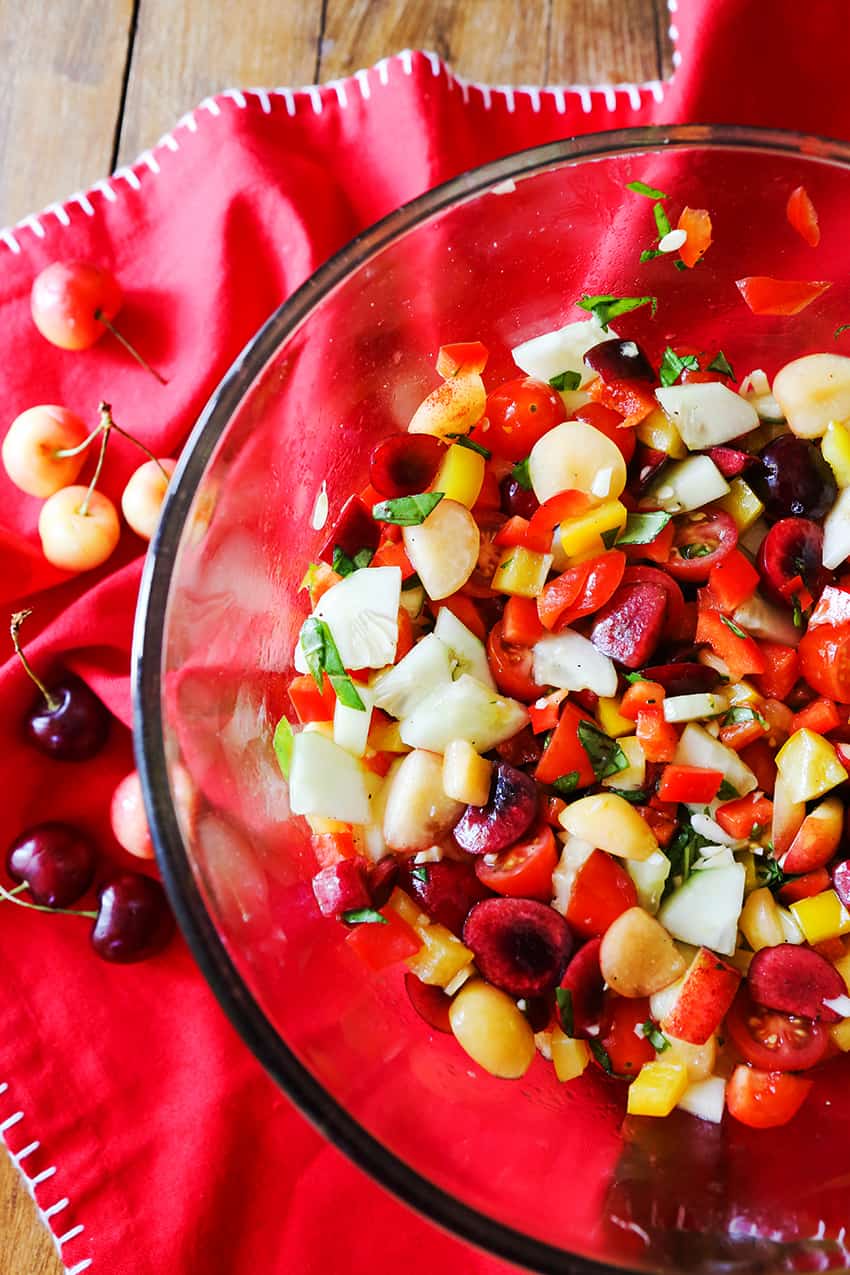 Turning Cherry Gazpacho from a soup into a salad is a dream come true! Super fresh, delicious and packed with sweet fruit and crunchy veggies. You'll enjoy sprucing up a meal with this cold side, which is equal parts sweet and savory. Great for summer parties!
Fried Okra Salad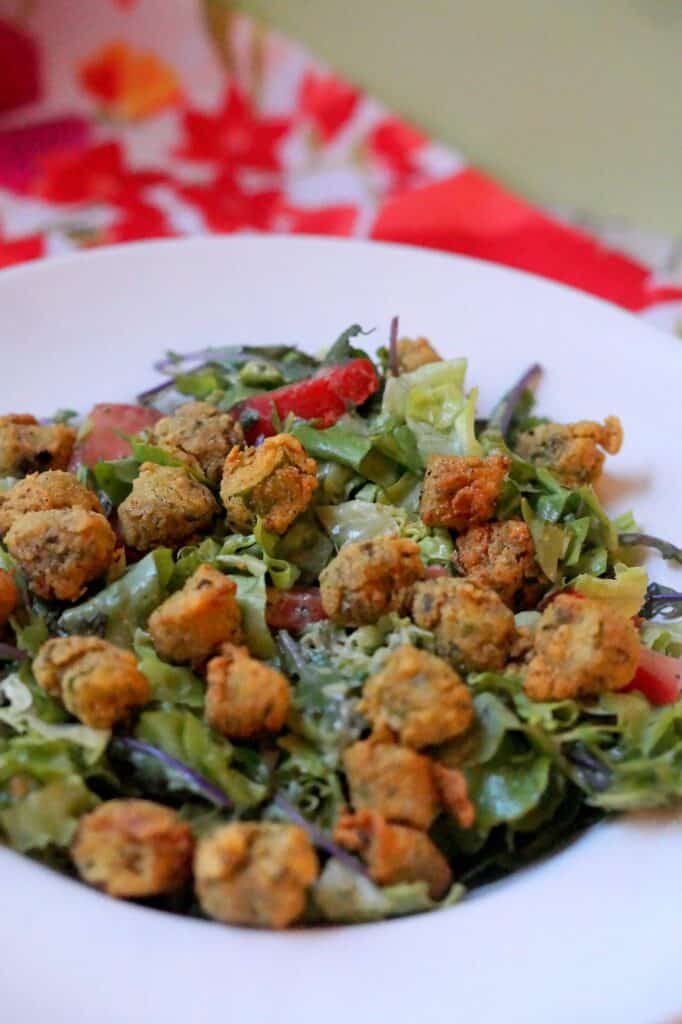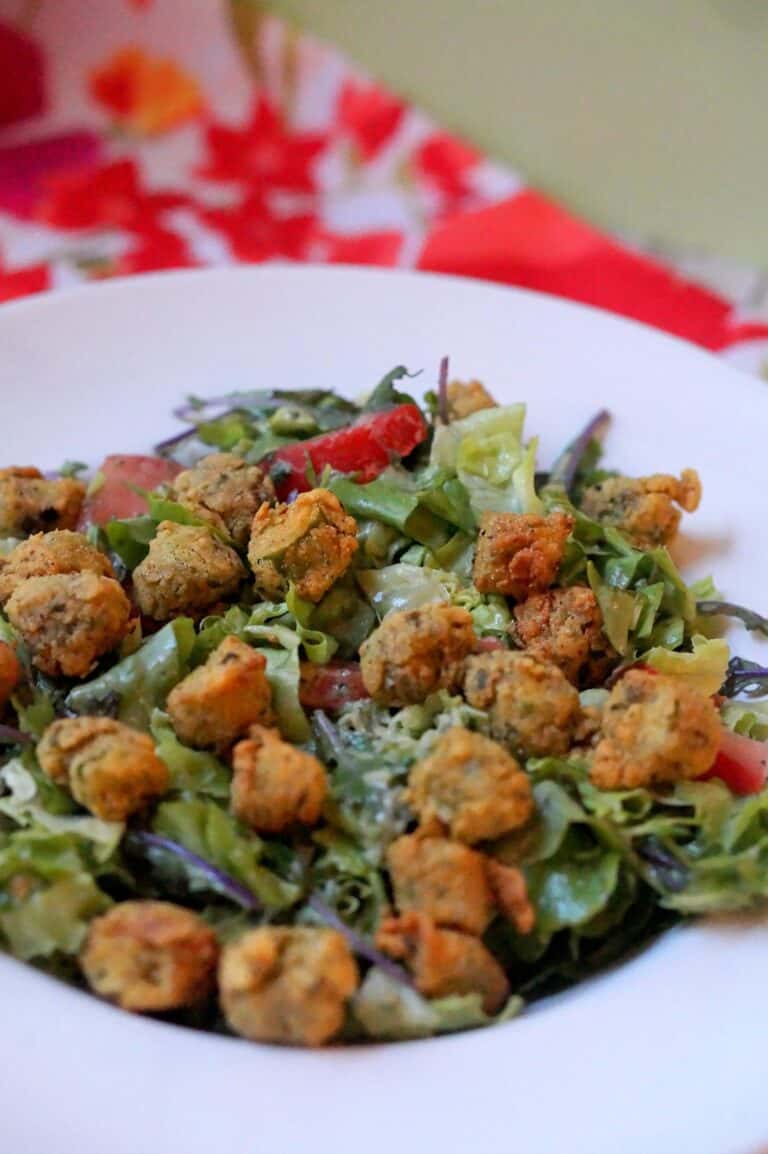 Turn fried okra into a healthy meal by combining it with a healthy salad (from Global Kitchen Travels). This is a lighter meal you can prepare for Fat Tuesday or a delicious summertime meal!
Grilled Corn and Tomato Salad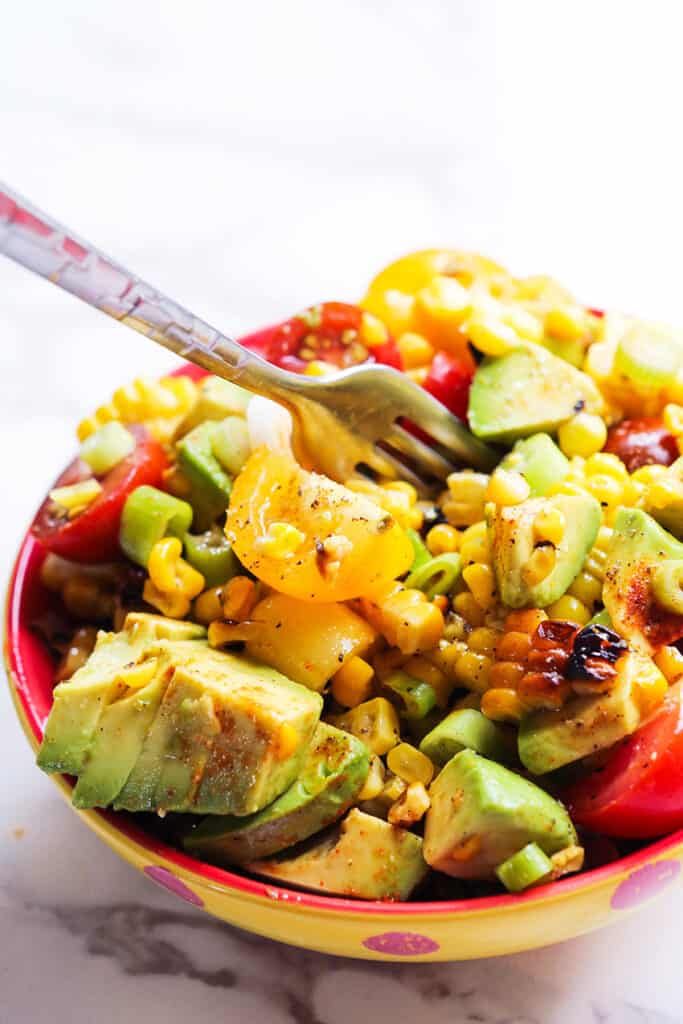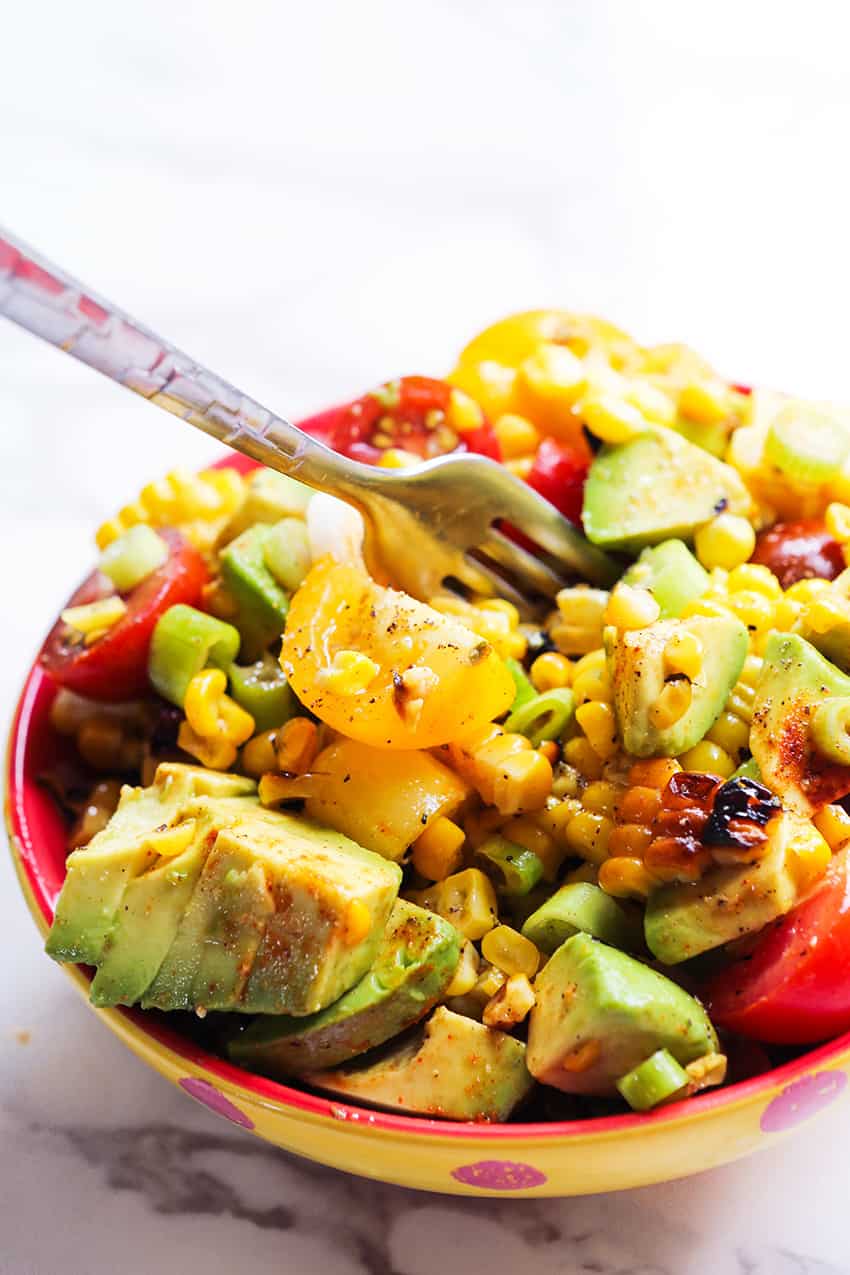 This Grilled Corn and Tomato Salad is a great side or main dish. Grill the corn for added flavor and add shredded chicken to make it a more well-rounded meal!
Arugula Steak Salad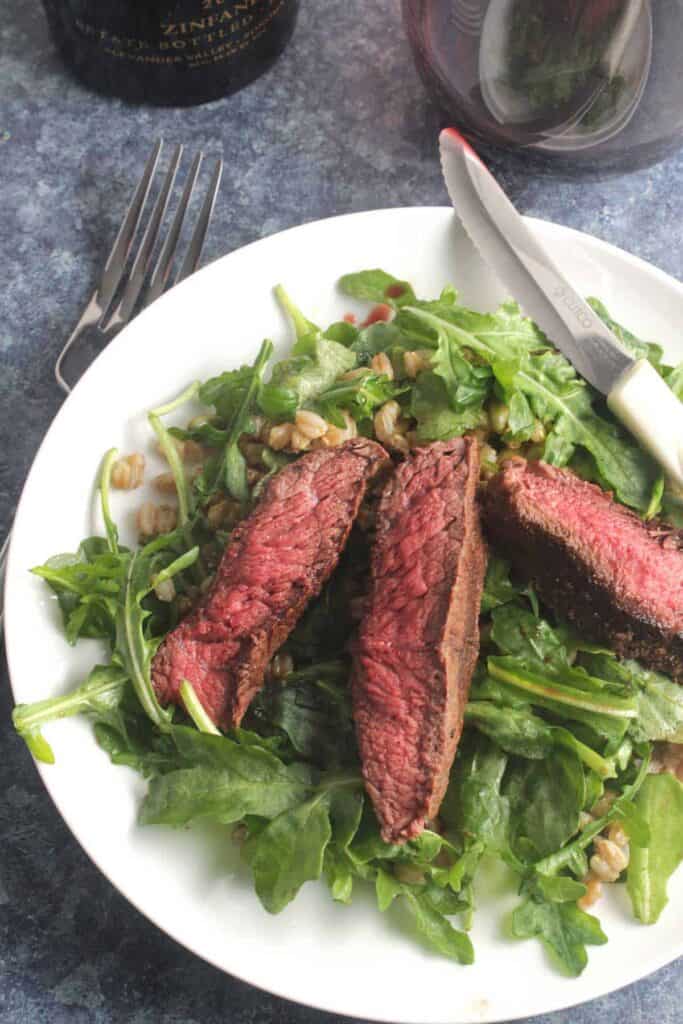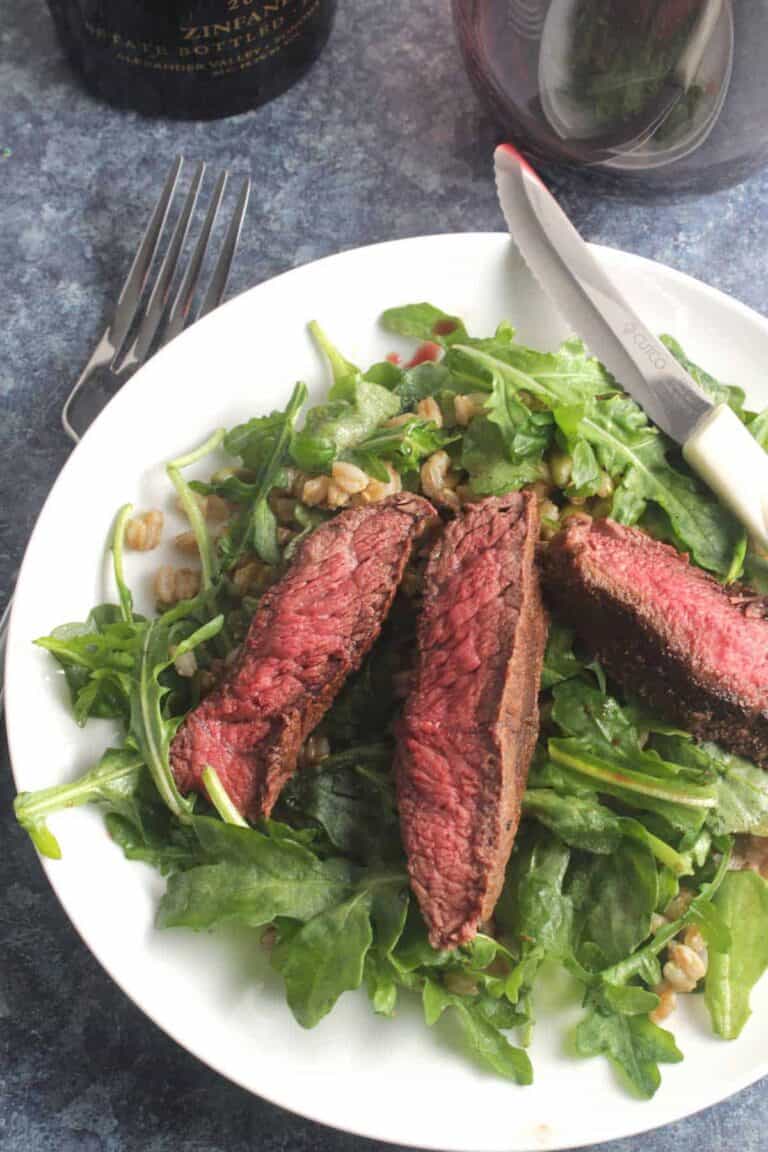 Arugula Steak Salad with Farro Recipe (from Cooking Chat) features savory grilled steak served on a bed of peppery arugula with a flavorful dressing, plus farro grain for extra substance.
Dill Pickle Pasta Salad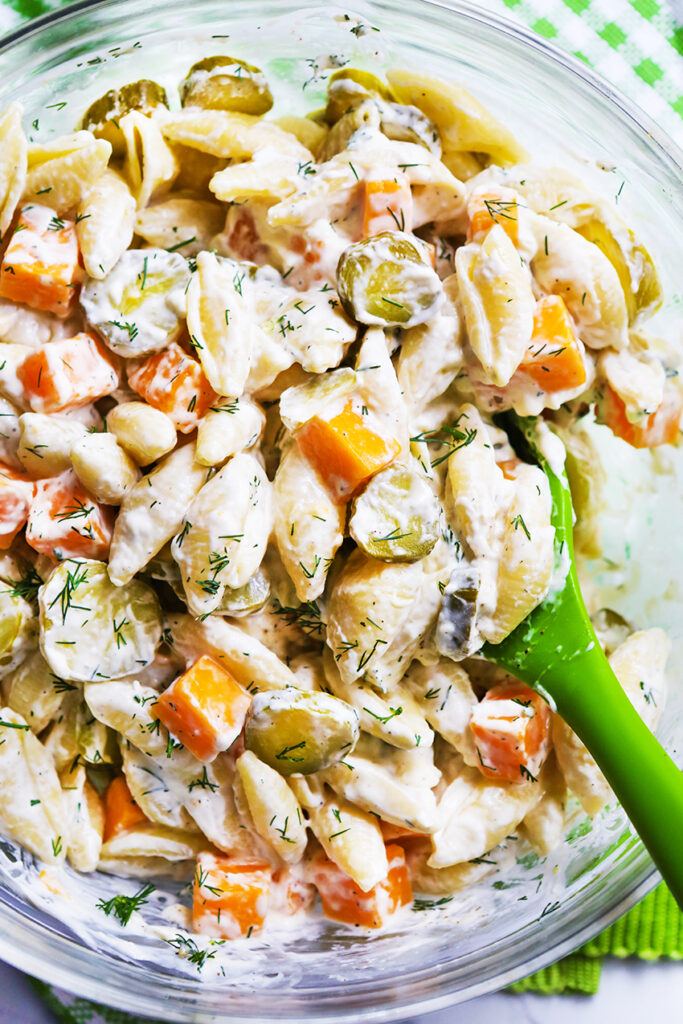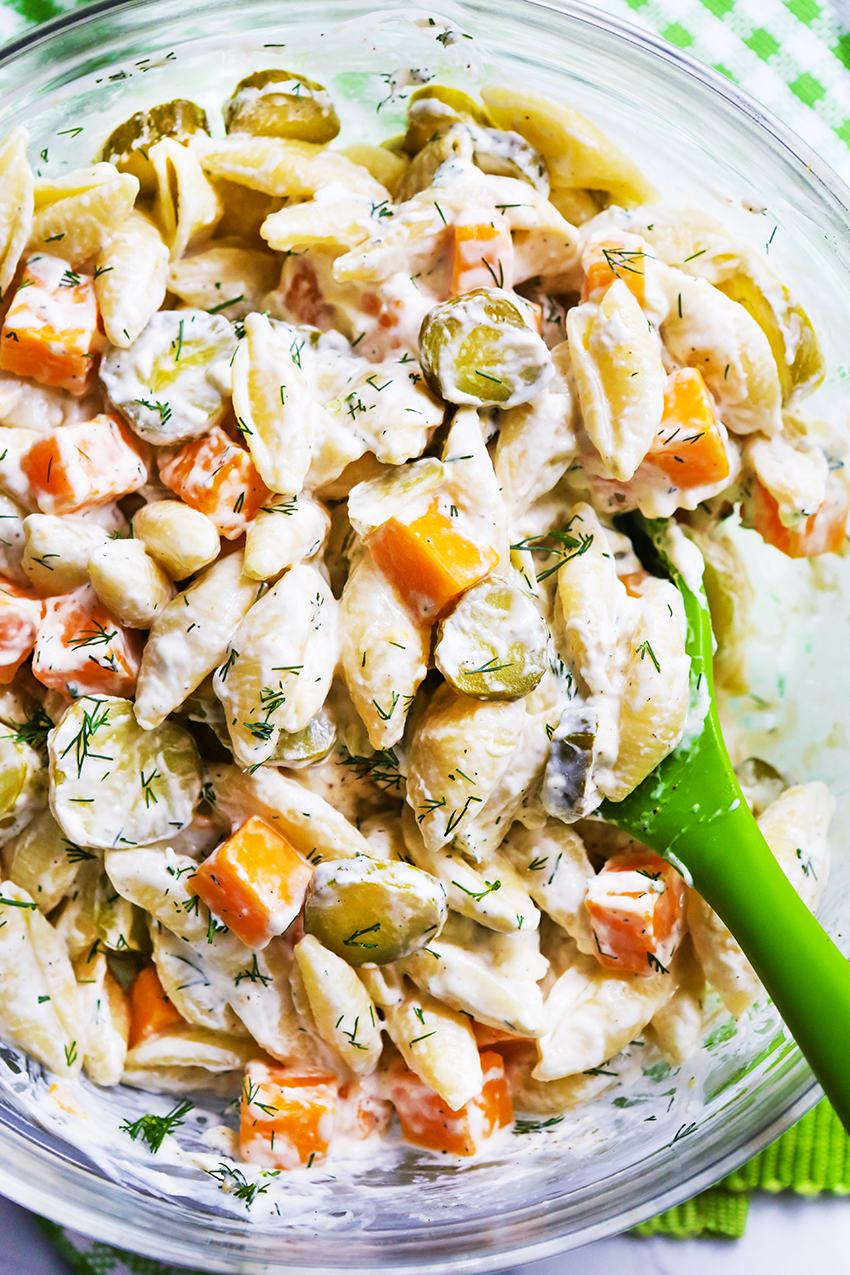 If you are a pickle lover, this Dill Pickle Pasta Salad is for YOU! It is creamy, flavorful and crunchy all in a single bite. This is a great, quick recipe to throw together for summer gatherings and potlucks. It's a crowd pleaser!
Fresh Herb Salad with Chickpeas and Feta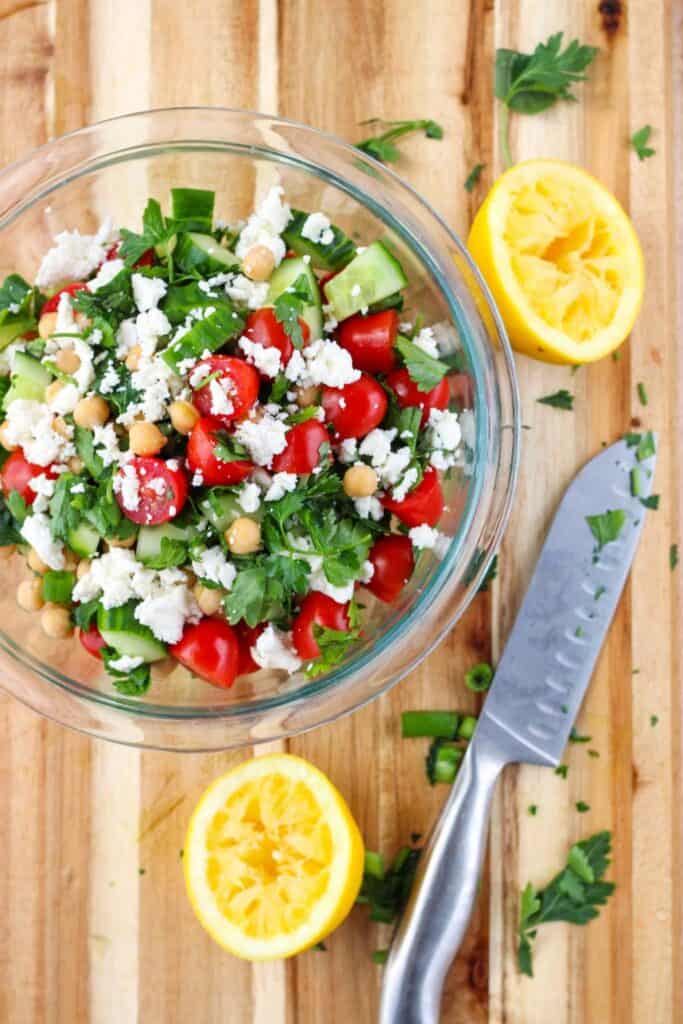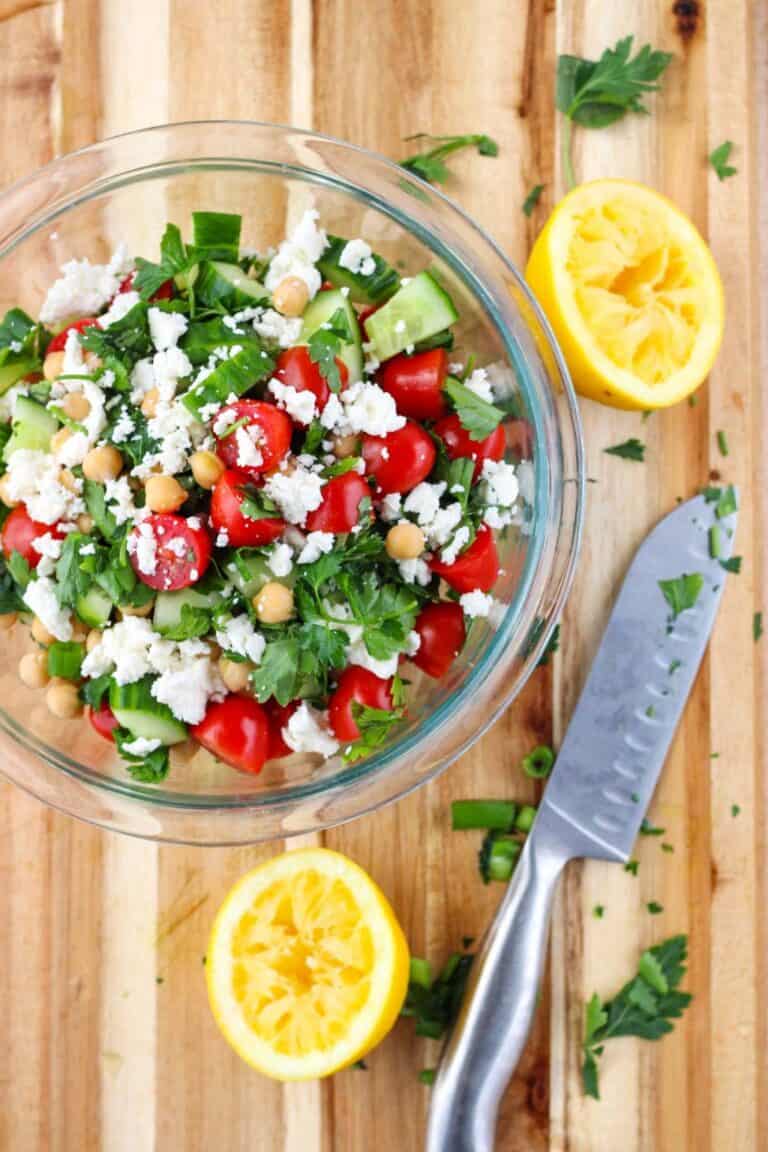 A Fresh Herb Salad with Chickpeas and Feta (from Eats By April) is perfect for spring.
Asian Pasta Salad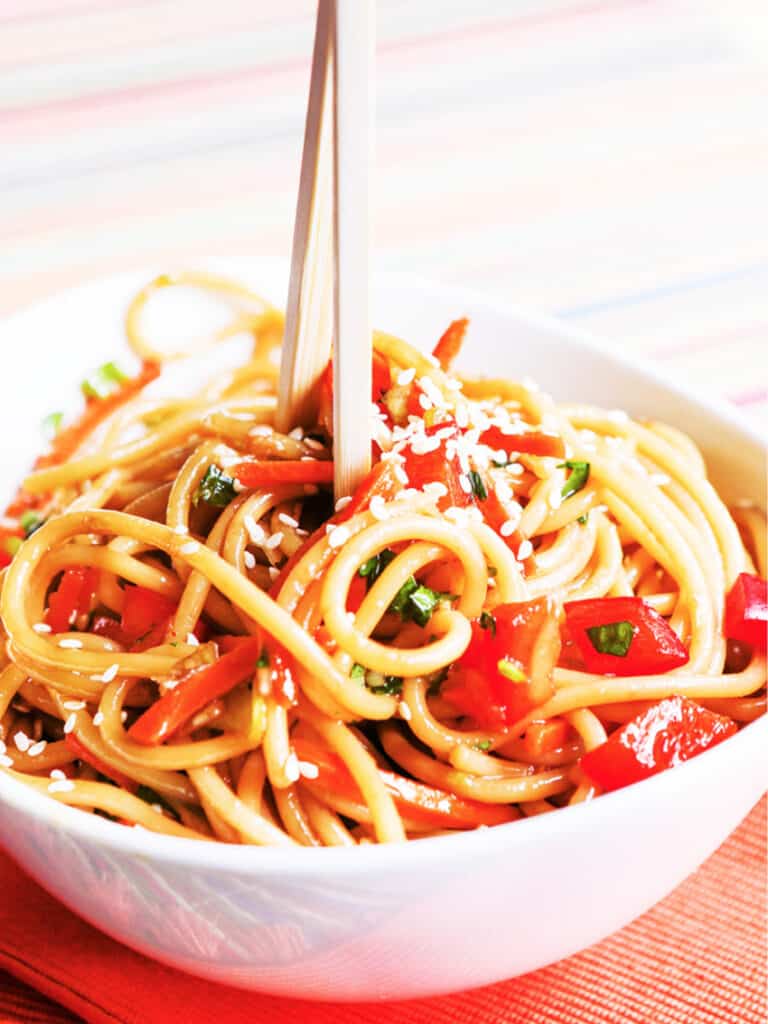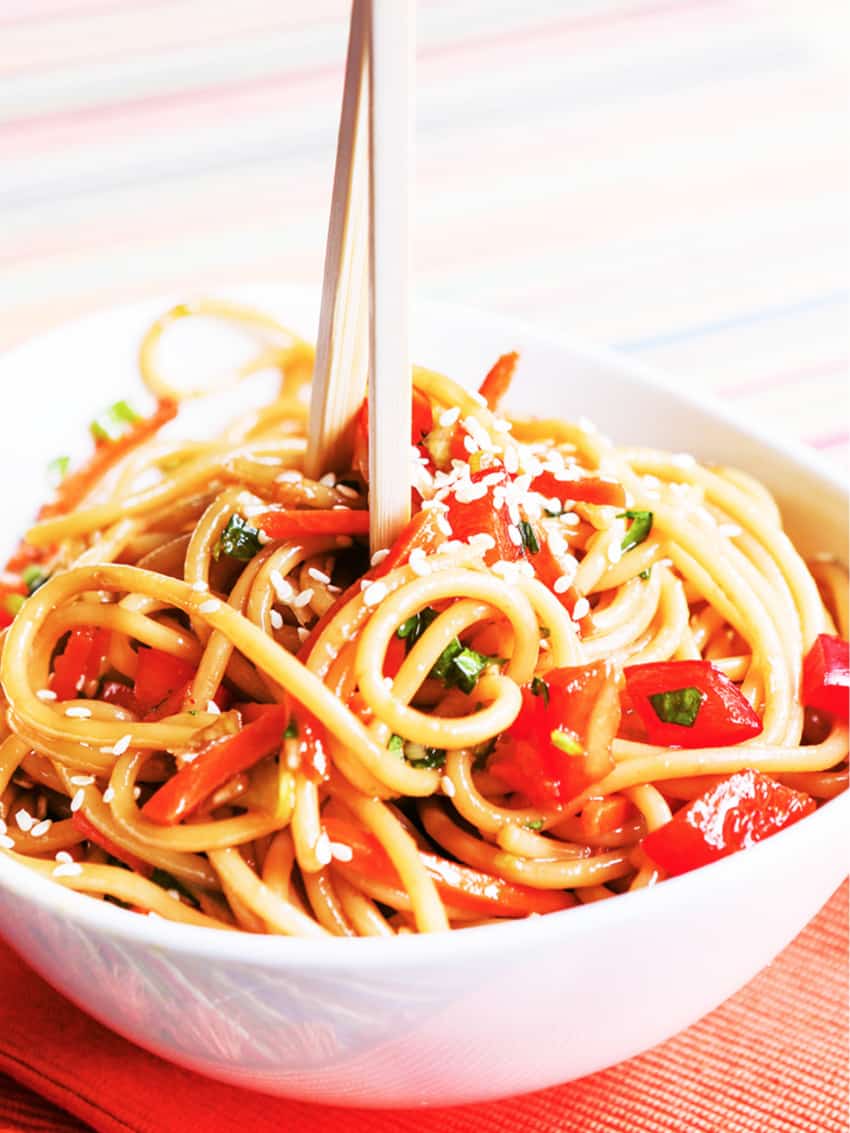 Spruce up your party with an Asian Pasta Salad! Packed with an irresistible sweet and salty flavor and full of colorful, crunchy vegetables.
Shrimp Caesar Salad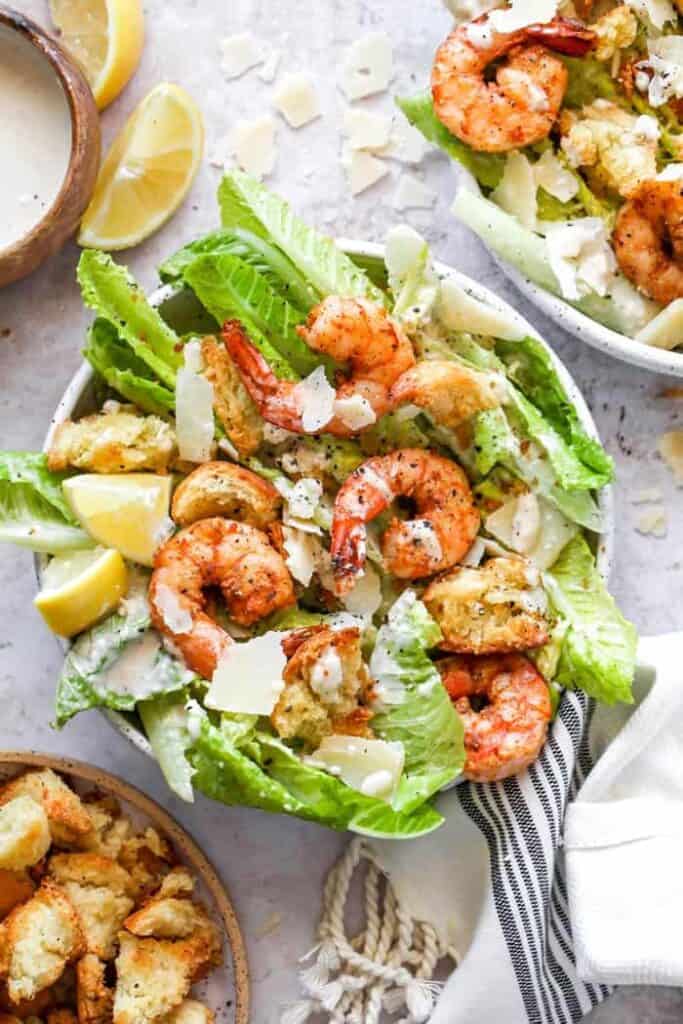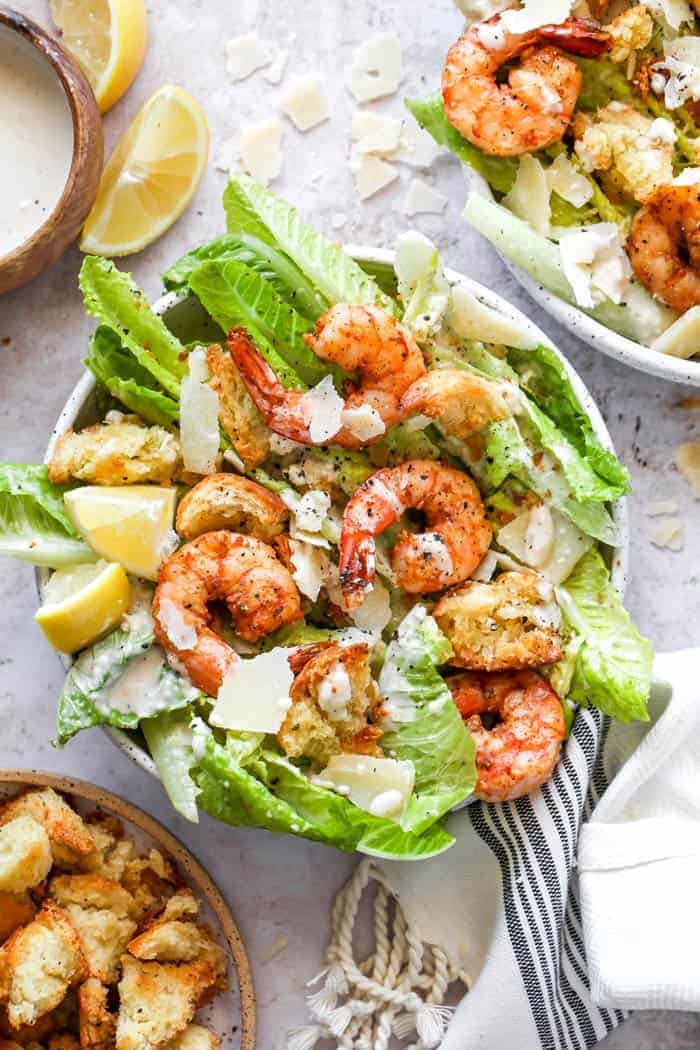 This Shrimp Caesar Salad (from GrandBaby Cakes) tosses fresh romaine lettuce with a creamy homemade and flavorful caesar dressing, shaved parmesan cheese, and juicy creole spiced shrimp! This is the best Caesar you've ever had!
Spicy Chickpea Salad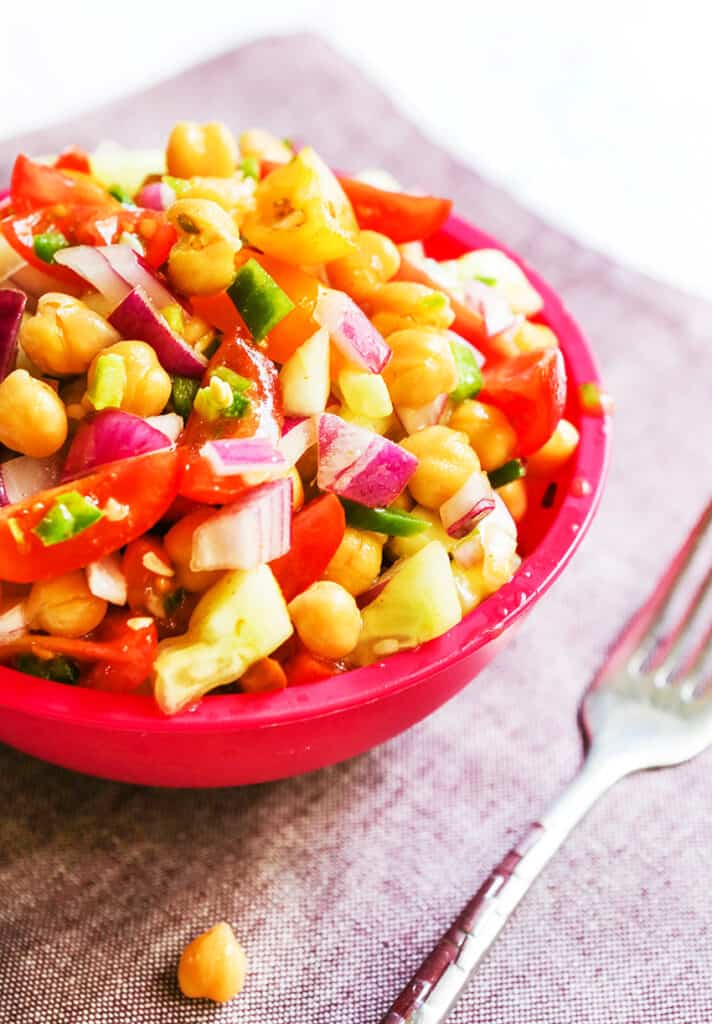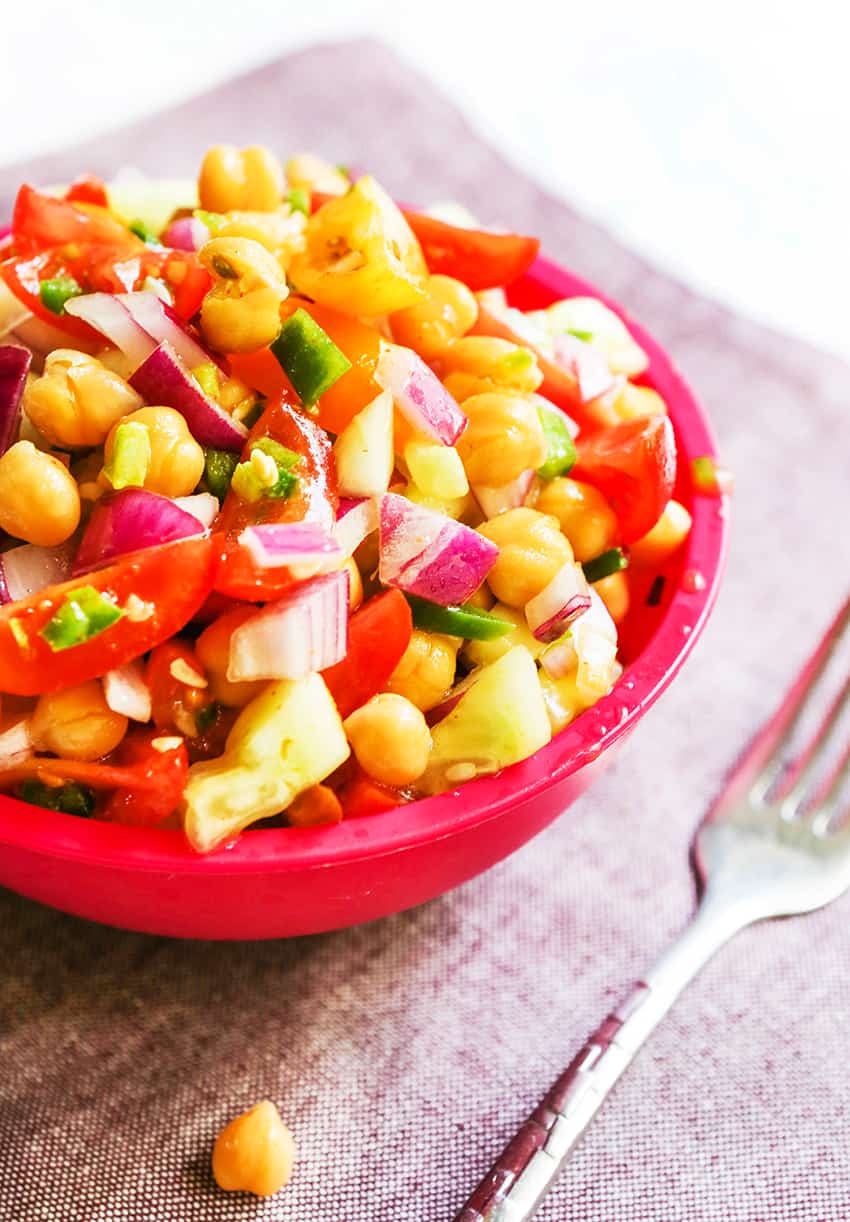 Spicy Chickpea Salad is packed with fresh tasty vegetables and chickpeas. Each crunchy bite offers a scrumptious hearty mouthful. This is a great appetizer or side dish, it acts as a great topping for chicken and it is also a delicious wrap filling!
Zucchini Caprese Salad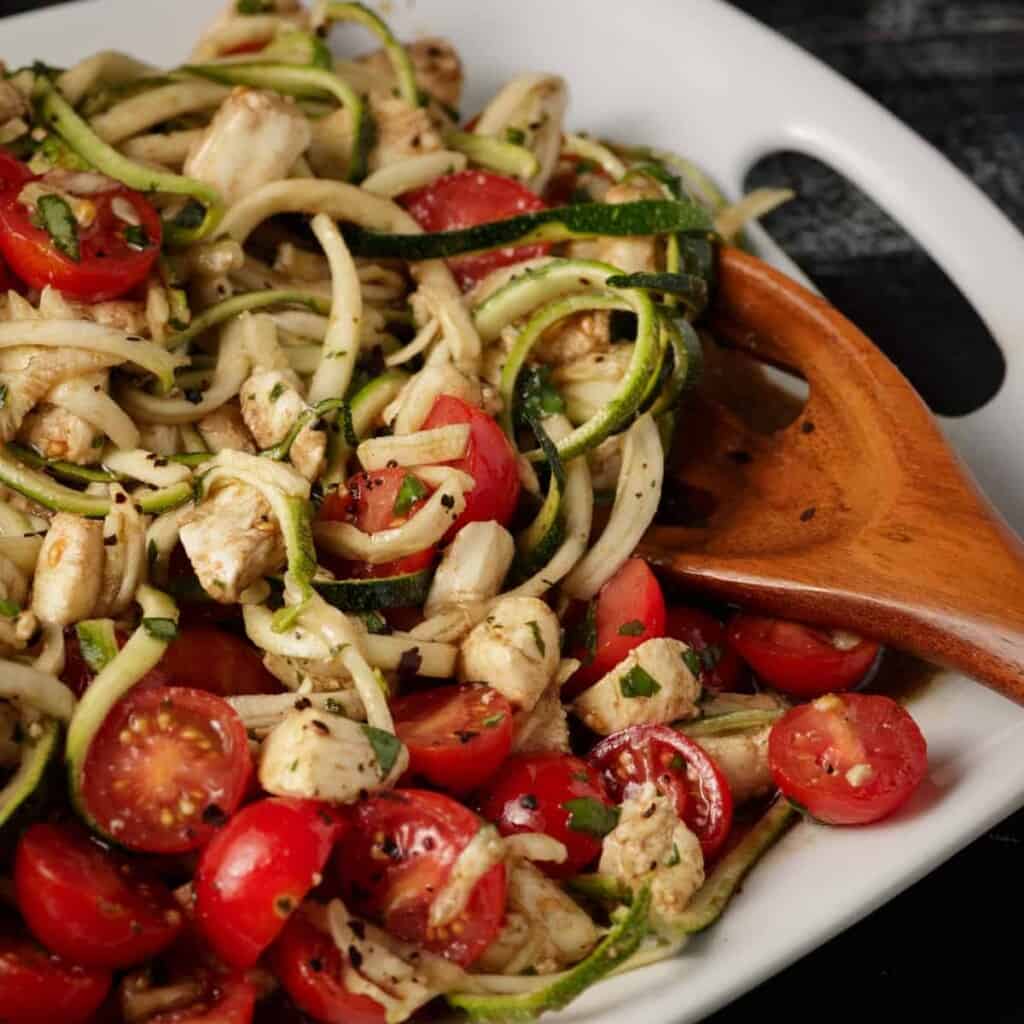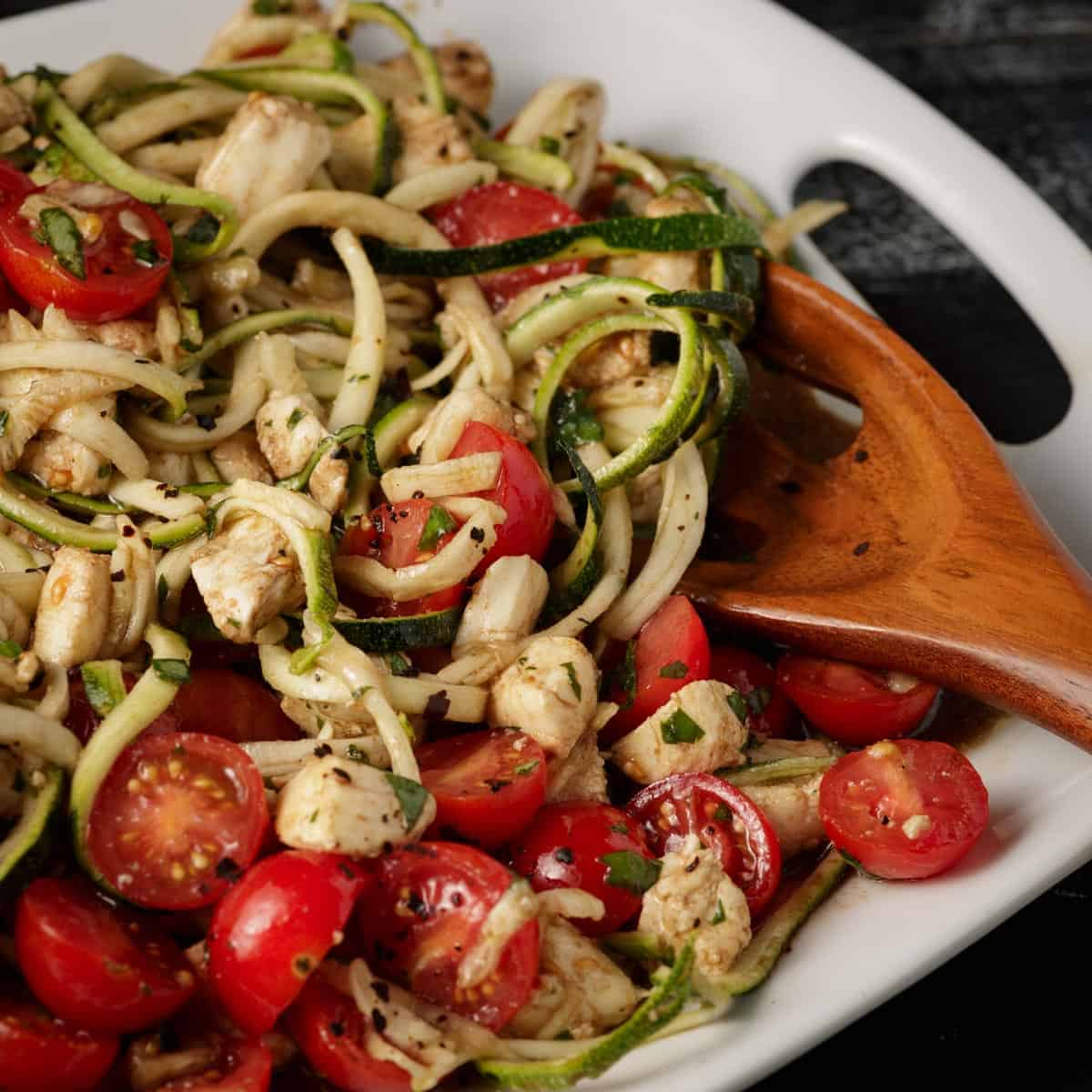 Pull out the spiralizer and make a refreshing Zucchini Caprese Salad (from Butter and Baggage). With cherry tomatoes, mozzarella and zucchini noodles, it's a summer classic. Just a few ingredients and you'll have a healthy delicious salad to add to any meal.
Mediterranean Pasta Salad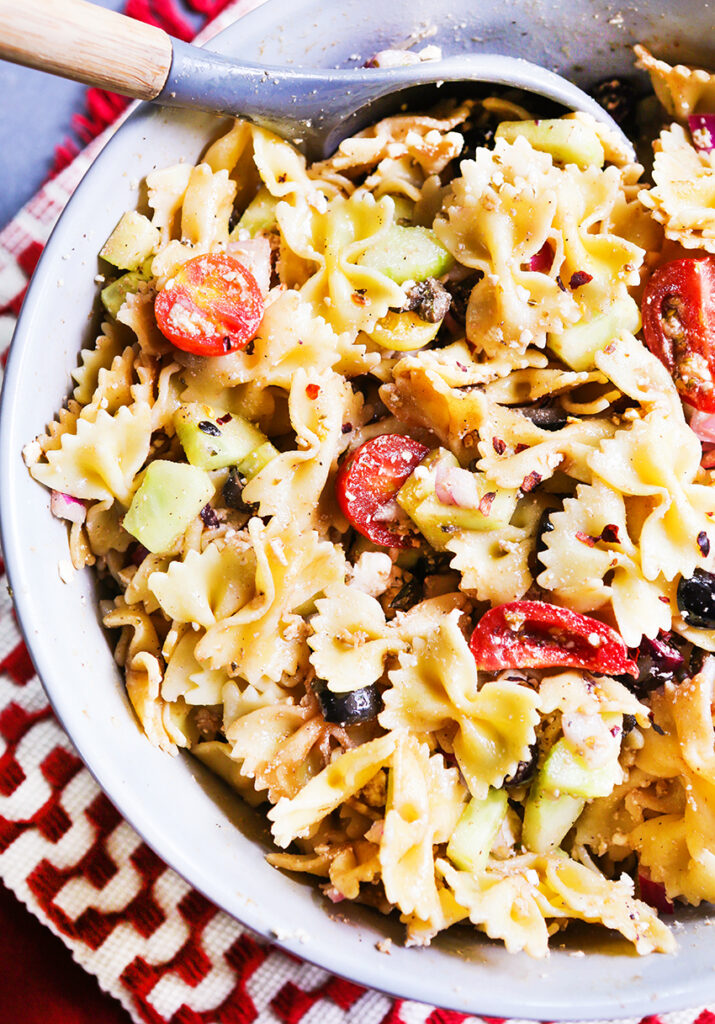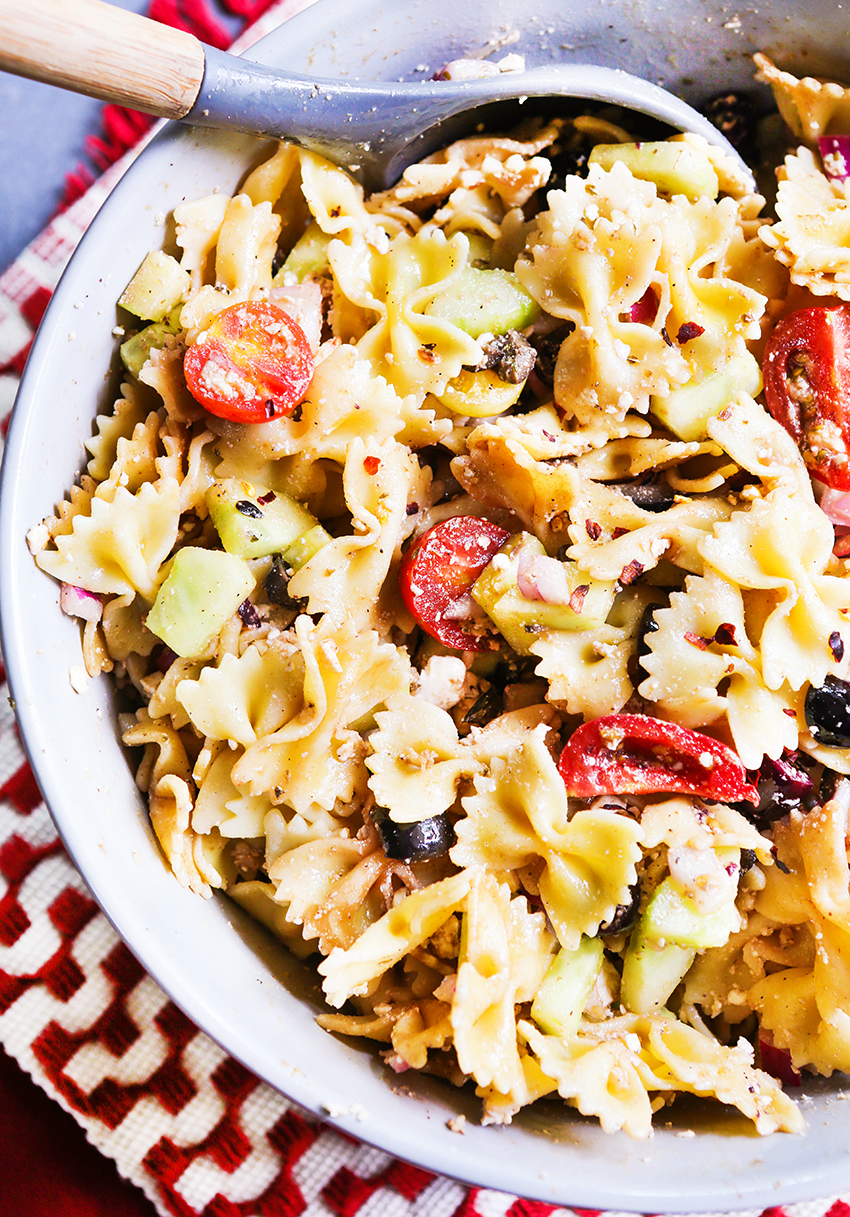 Fill your fork with an incredibly tasty Mediterranean Pasta Salad that combines pasta with fresh, crisp vegetables and a light vinaigrette straight from the Mediterranean! It will be a perfect addition to a summer BBQ, your work potluck or at dinner on the table.
Grilled Shrimp, Corn and Avocado Salad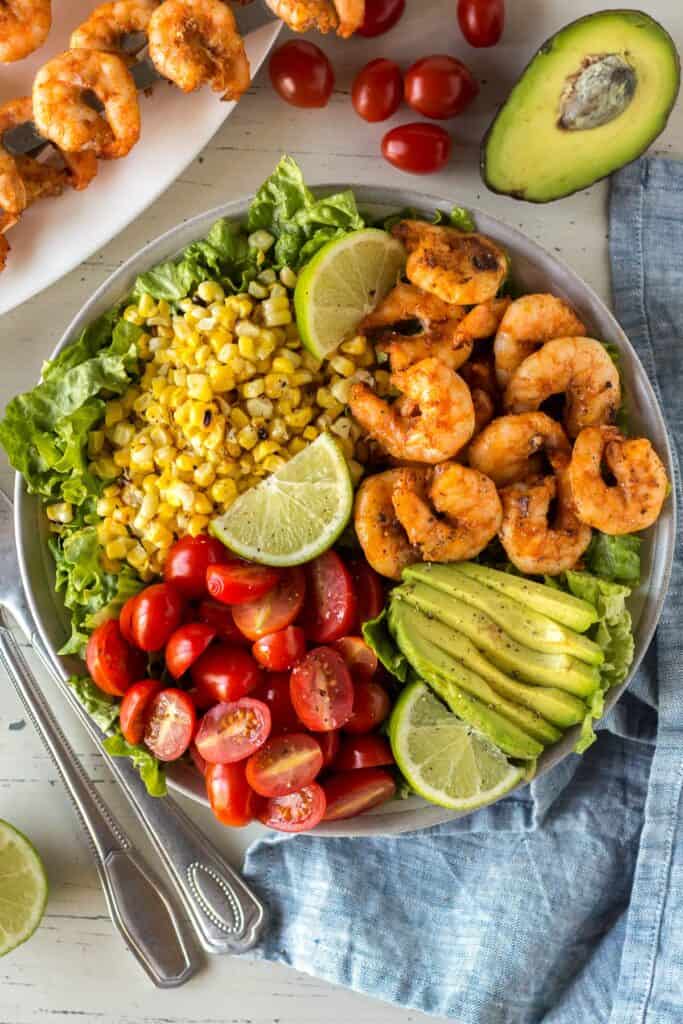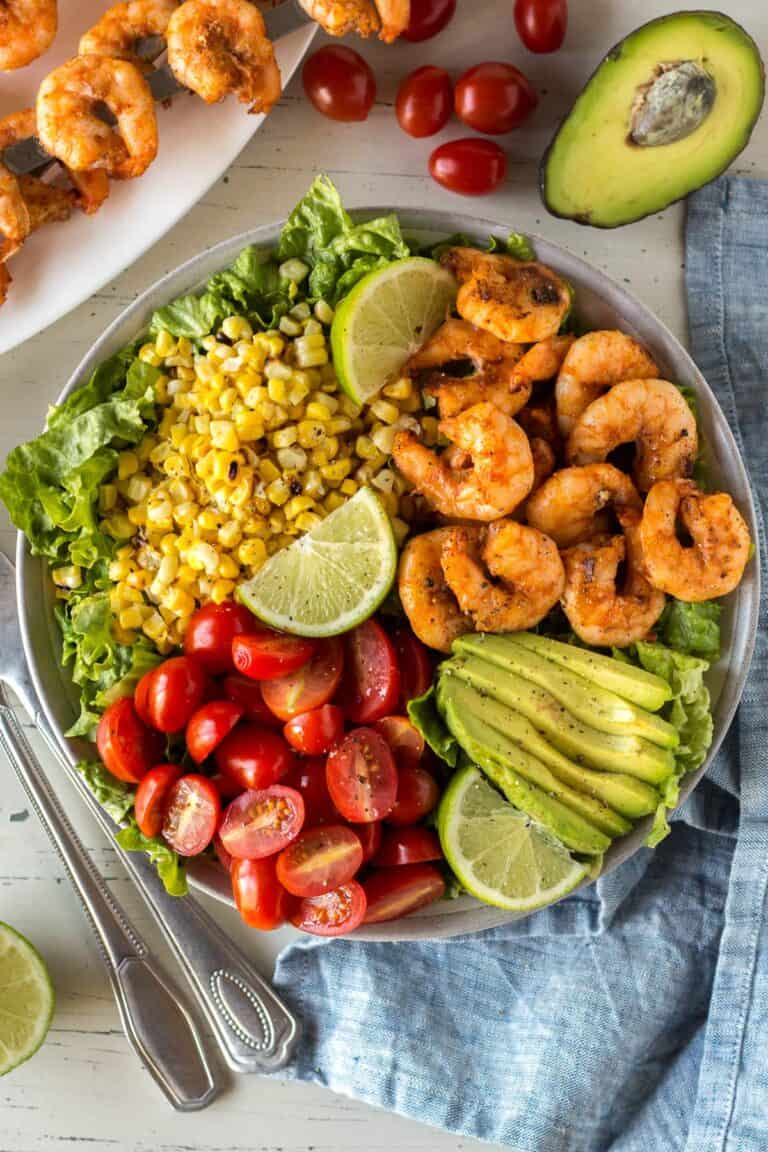 This Grilled Shrimp, Avocado, & Corn Salad (from Hot Pan Kitchen) is a crisp and delicious meal for a warm night. Made with smokey grilled shrimp, grilled sweet corn, creamy avocado and fresh tomatoes, all on a bed of leafy greens, this meal is sure to become a dinner favorite. Plus it's both gluten free and dairy free.
Classic Macaroni Salad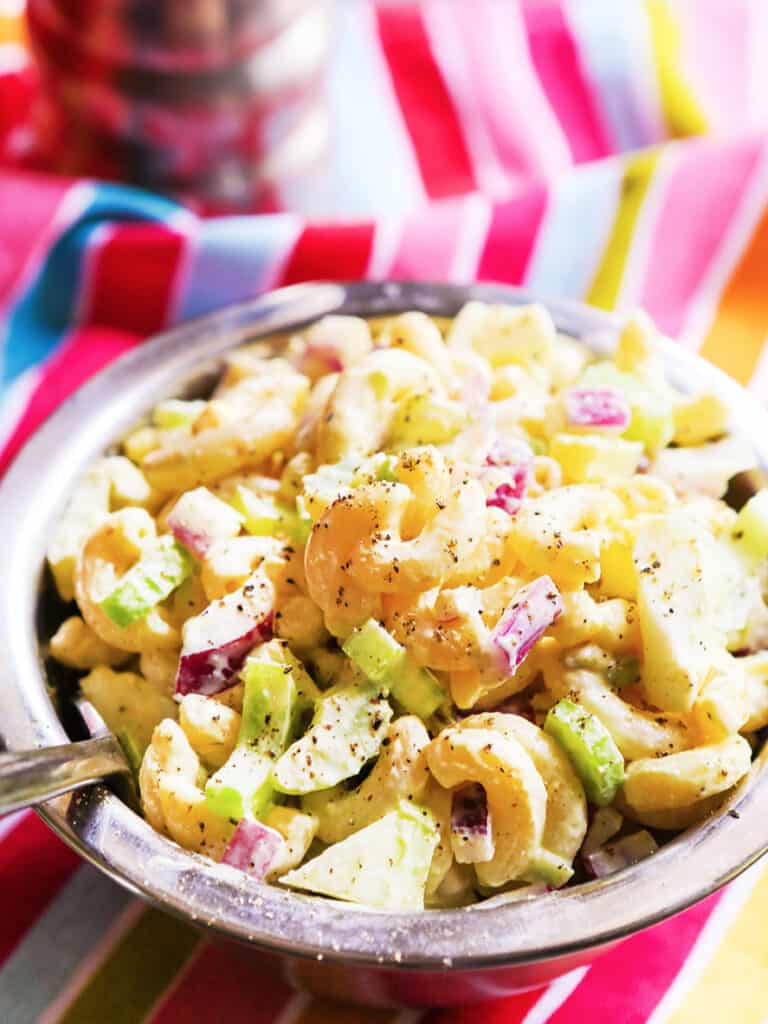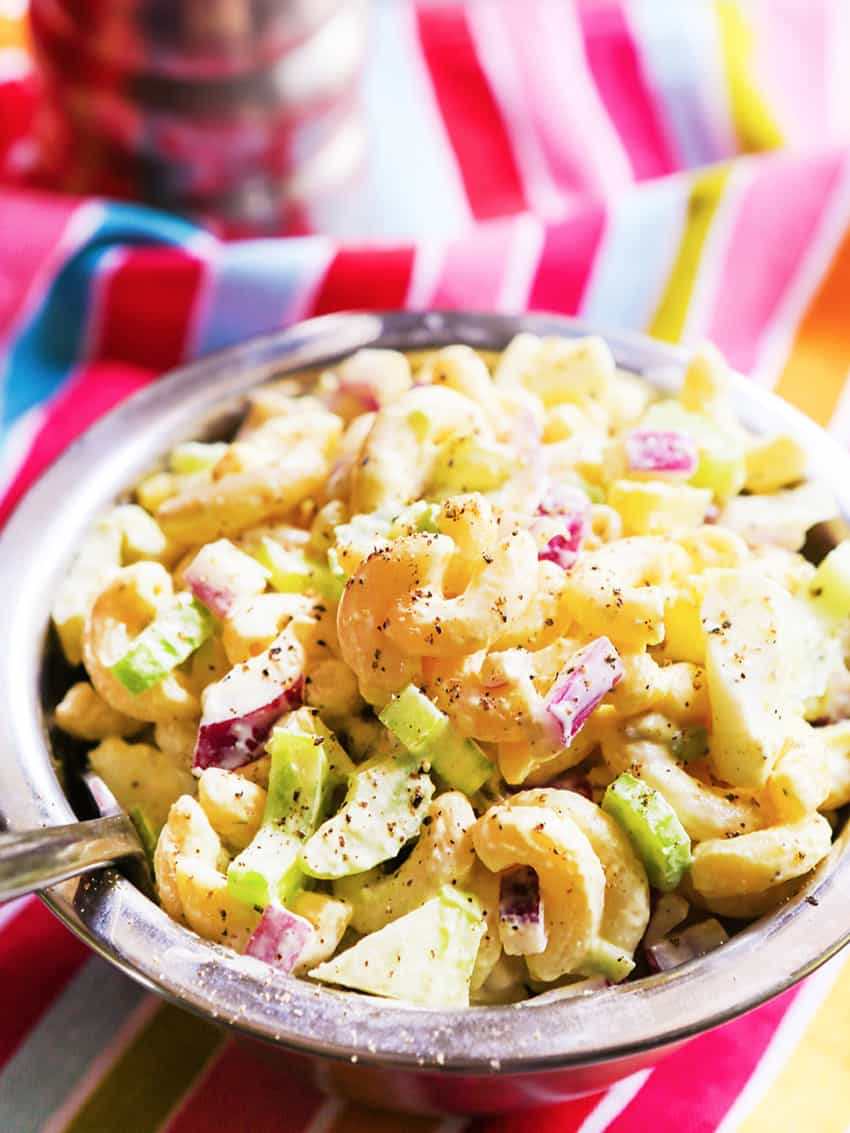 Nothing screams potluck more than this classic macaroni salad recipe! This side or party food is easy to make and will get devoured at your next gathering.
Easy Watermelon Salad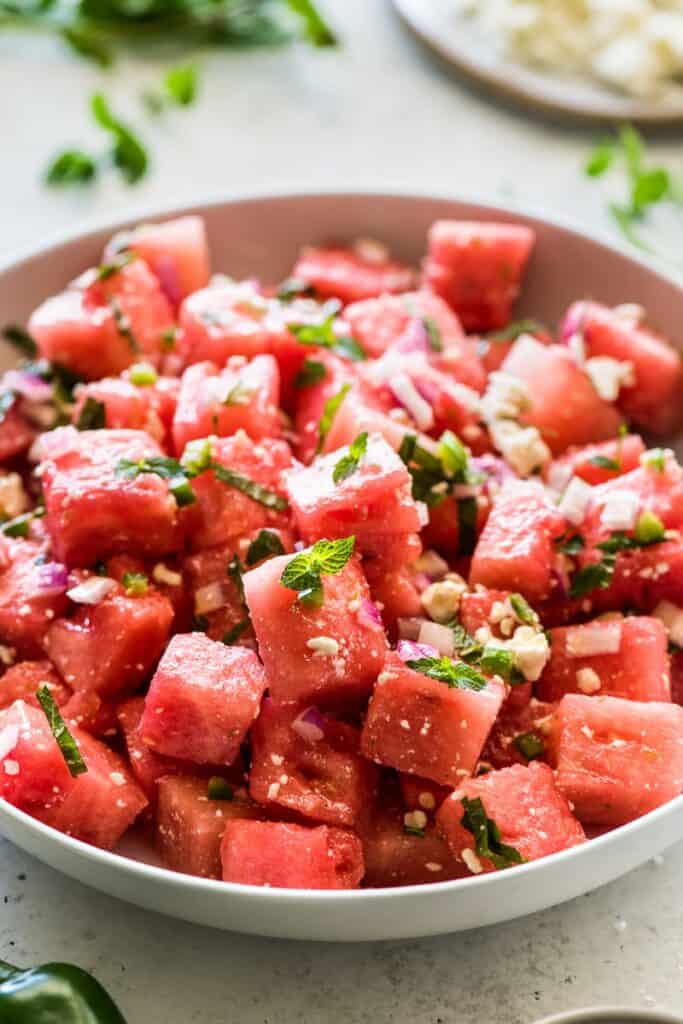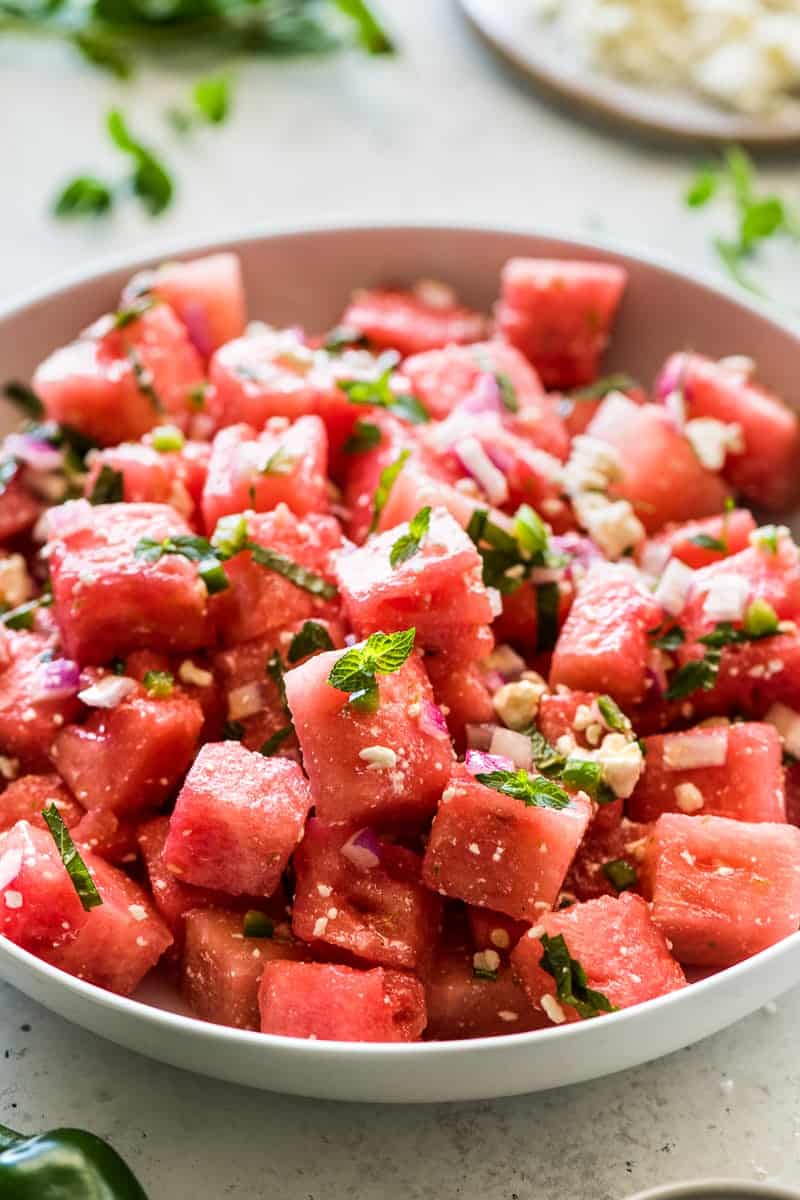 This easy Watermelon Salad (from Isabel Eats) is made with cubed watermelon, crumbled feta or cotija cheese, mint leaves and an easy lime dressing that brings everything together! It's great for serving at potlucks, parties and cookouts and adds a healthy and delicious element to every plate.