How long does applesauce last in the fridge? If you have a container staring at you from inside your refrigerator and you don't know whether to toss or eat.. read on!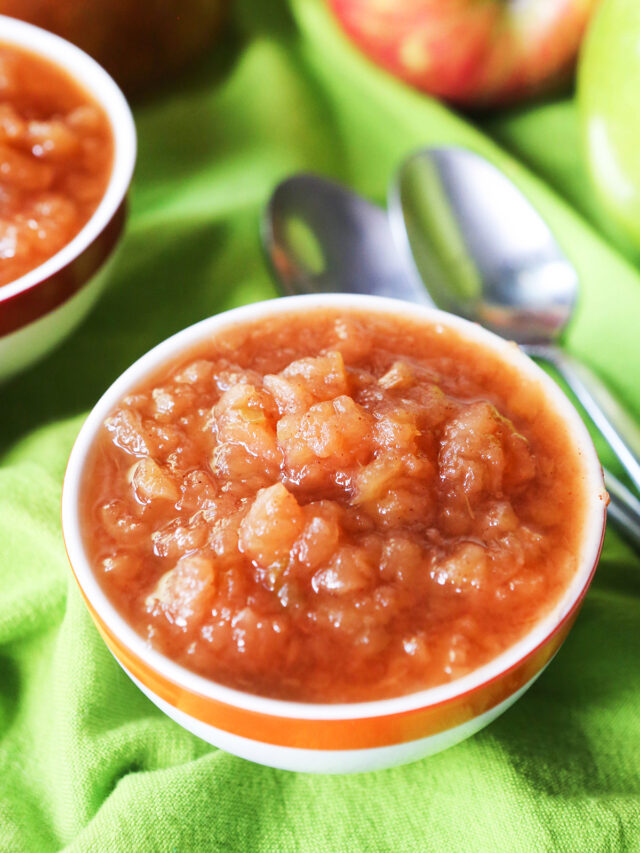 I don't know about you, but my fridge has at least one container of apple sauce sitting in it at all times. It seems like my boys either go through it like crazy.. or not. There never seems to be a steady flow of eating this snack. It's either all or nothing.
Can we take just a second here to acknowledge how delicious this saucy treat it? It tends to get thrown into the category of "kid snacks," but why?! Have you poured yourself a bowl recently? Do it and then report back. How much did you love it?!
Especially in the fall and winter months, I make my favorite homemade recipe often. And then I secretly indulge when no one is looking. It is totally irresistible! Whether you have a homemade or store-bought variety staring back at you, you might be reading this post with the question, How long does applesauce last in the fridge?
Read on for my best tips about how to determine whether it can sit tight or if it needs to be send down the garbage disposal.
Catch the Web Story
Learn About All Things Applesauce!
How Applesauce Is Made
This crockpot applesauce recipe is my favorite way to enjoy this fall treat. Let your slow cooker do the work for you! Or, if you have an Instant Pot, create this version of apple sauce in a fraction of the time.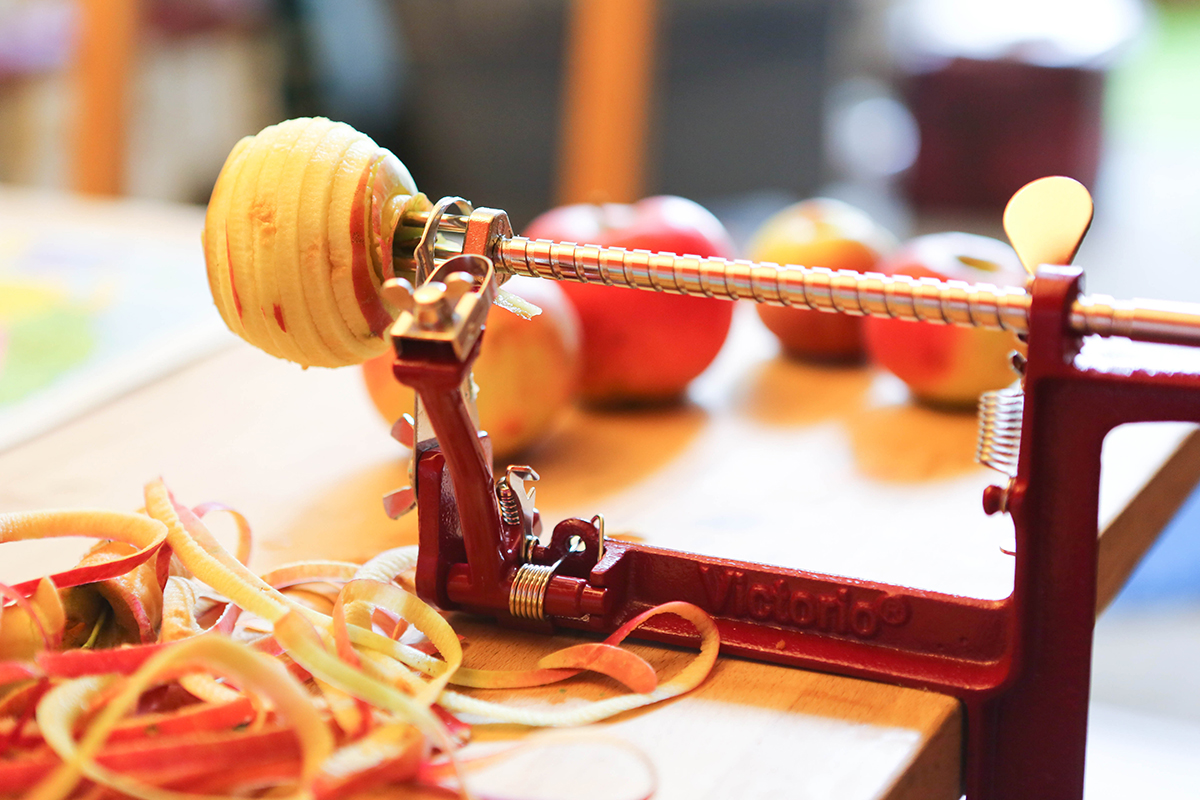 Recipe Notes
If you love more complex flavors, you could add a little of each of the following (no more than 1/2 teaspoon each): nutmeg, pumpkin spice, allspice and cloves.
Use an apple corer/peeler if you have one because they will make this process go super fast. If you don't have one, use a potato peeler and a knife to get the job done. You'll need to peel, core and chop the apples. Place them into the water-lemon juice mixture as you work.
Serve chilled and sprinkled with extra cinnamon over the top.
We enjoy a chunkier applesauce in our house, so I give the mixture a good mash using a potato masher when it's done cooking. If you prefer a smooth sauce, use an immersion blender until it has reached the desired consistency.
If you like this, then you'll also love Apple Butter!
How Long Does Applesauce Last After Opened (and Before)
An unopened jar of applesauce boasts a long shelf life, lasting for 1-2 years beyond the printed expiration date when properly stored in a pantry or dry, dark place at room temperature.
That is a really long time, but once you have opened a container of this irresistible sweet sauce, it should be refrigerated immediately and its life has been immediately and drastically shortened.
How Long Does Applesauce Last In The Fridge
After you have popped the seal and placed your opened jar of apple sauce in the fridge, it will stay fresh for anywhere between 7-14 days.
Homemade apple sauce has a shorter shelf life, ranging from 4-6 days.
How to Extend the Shelf Life
Refrigerate it! Secure the lid on the bottle or transfer to an airtight container and store in the fridge at all times when not using it.
Keep it out of the door! Food items stored in the refrigerator door are subjected to warmer temps, especially with frequent openings. This can decrease the shelf life. Instead, store on a shelf and push it toward the back of the fridge so it stays fresh for a few extra days.
Keep at the same temp! Moisture can collect inside the container when temperature change occurs. Keep the temp of the entire jar as consistent as possible to avoid early spoilage and always keep out of direct sunlight.
Go glass! Transfer the mixture from the original applesauce container (if plastic) to a glass jar (mason jars work well!) for the best quality and to add a little bit of time to its life.
Avoid cross contamination! Always be sure to use clean utensils when scooping this sauce into bowls in order to avoid cross-contamination. A clean spoon should be used every time you dip into the jar.
When Does Applesauce Go Bad
If you find yourself inspecting a bottle of this delicious sweet sauce, trying to figure out whether or not it has been sitting in the fridge for too long, there are a few ways to determine whether you should use it or toss it!
Smell test. Unscrew the lid and give it a good smell. Fresh applesauce has a sweet, recognizable scent. An unpleasant odor or off smell is the best option for determining its freshness. If something seems off with the smell, it is likely destined to be tossed into the garbage or down the drain.
Note appearance. First, note that excess water or liquid may pool at the top of the content of the jar and this can be completely normal! If the color of the mixture seems unusual (either very dark or light), that is a good sign of spoilage and should be tossed. If there are obvious signs of spoilage such as mold, it can be harmful to consume so toss the bad applesauce immediately.
Taste test. If steps one and two have passed the test, pour a bit into a spoon and give it a taste test. You probably know its familiar taste, so use common sense to determine if the taste is off. If you detect a sour taste or unusual flavor, throw the whole jar!
Best Apples to Use
There are so many brands of apples and everyone has a different favorite! But when making this sweet snack, the kind of apples you use matters! Select a variety of flavors but also consider that you want them to be softer so they cook down well into the sauce you desire. Here's some suggestions to mix together:
Sweet/Softer Apple Brands
Fuji
Red Delicious
Golden Delicious apples
Cortland
Tart (or a little Sour) Apple Brands
Granny Smith
McIntosh
Ida Red
Braeburn
Ways to Use Leftover Applesauce
Whether you purchase a bottle from the store or make your own recipe, it acts as the perfect solo snack for both kids and adults.
It is the perfect side dish to go alongside a pork loin or pork chops.
Add it to baked goods such as healthy breakfast cookies.
Freeze it and enjoy it as a frozen treat on a hot day!
Scoop a few spoonfuls into your next bowl of oatmeal.
Add it to your next bowl of ice cream.
It can act as a fruit jam replacement and can be spread on your morning toast or pancakes.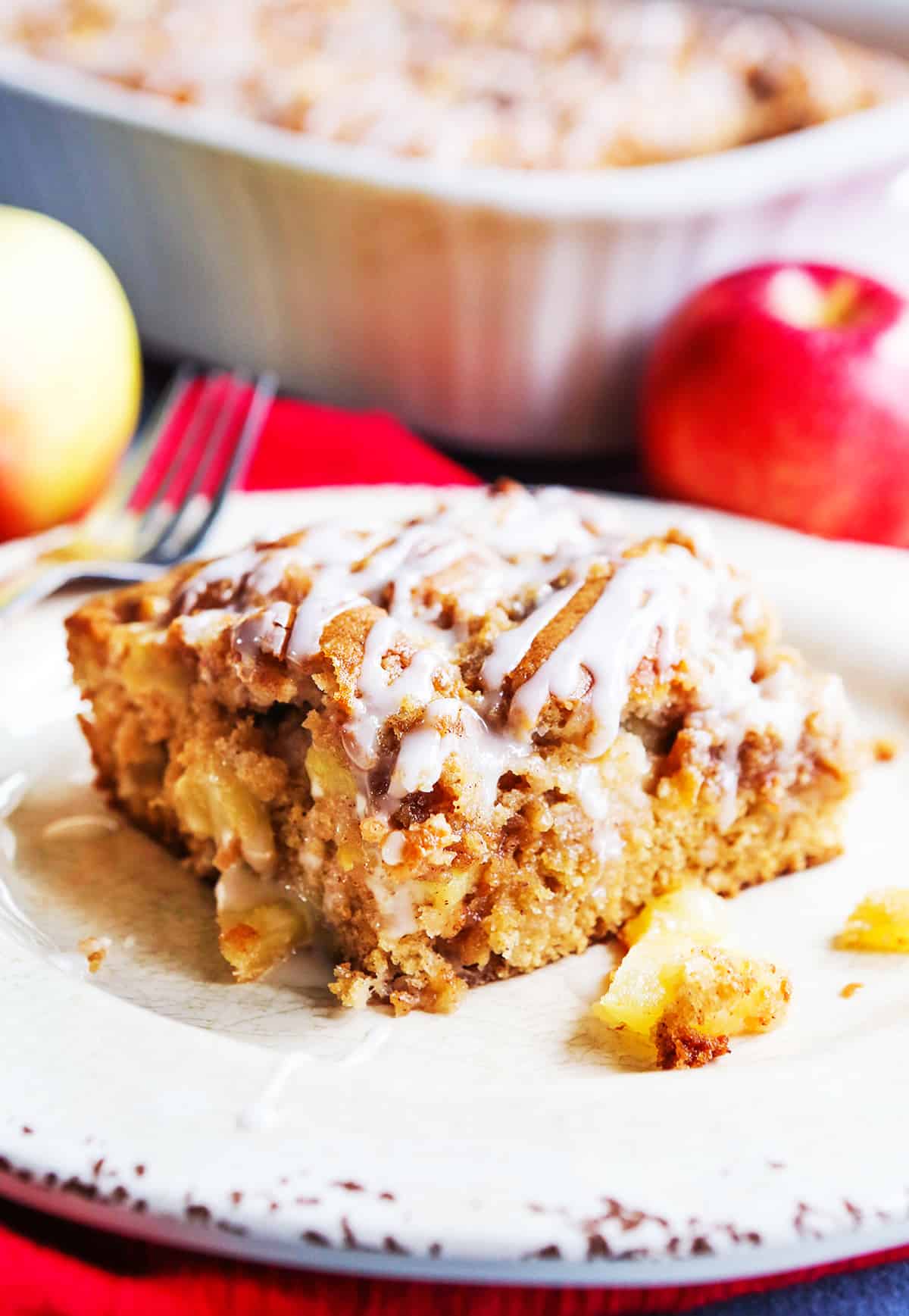 More Apple Recipes
FAQ About Applesauce
Is applesauce keto?
With approximately 33 grams of carbs in 1 cup of applesauce, it is not a keto-friendly food.
What is a good applesauce substitute?
Applesauce substitutes include mashed bananas, pumpkin puree, any type of veggie or fruit puree or yogurt. Keep in mind that each option offers a unique flavor of its own but will provide a similar consistency.
Is applesauce gluten free?
Most varieties of applesauce are gluten-free. Double check labels to see if different ingredients have been added that contain wheat.
Can dogs eat applesauce?
It is safe for dogs to eat unsweetened applesauce. If it has a lot of added sugar, it should be given in moderation.
What apples make the best applesauce?
When making a homemade applesauce recipe, the best combination of apples involves both sweet and tart varieties. Granny smith and honeycrisp (or similar) make a great team!
Can applesauce be frozen?
Applesauce can easily be frozen! Pour it into a freezer-safe container or doubled freezer bags and store in the freezer for up to a year for best results. Another option for freezing is to pour it into ice cube trays, freeze for 4 hours, then transfer cubes to a resealable freezer bag. This will allow you to pull out small portions or single servings of the sauce without having to thaw an entire batch.