How long are leftover mashed potatoes good for? If you have a container staring at you from inside your refrigerator and you don't know whether to toss or eat this yummy side dish.. read on!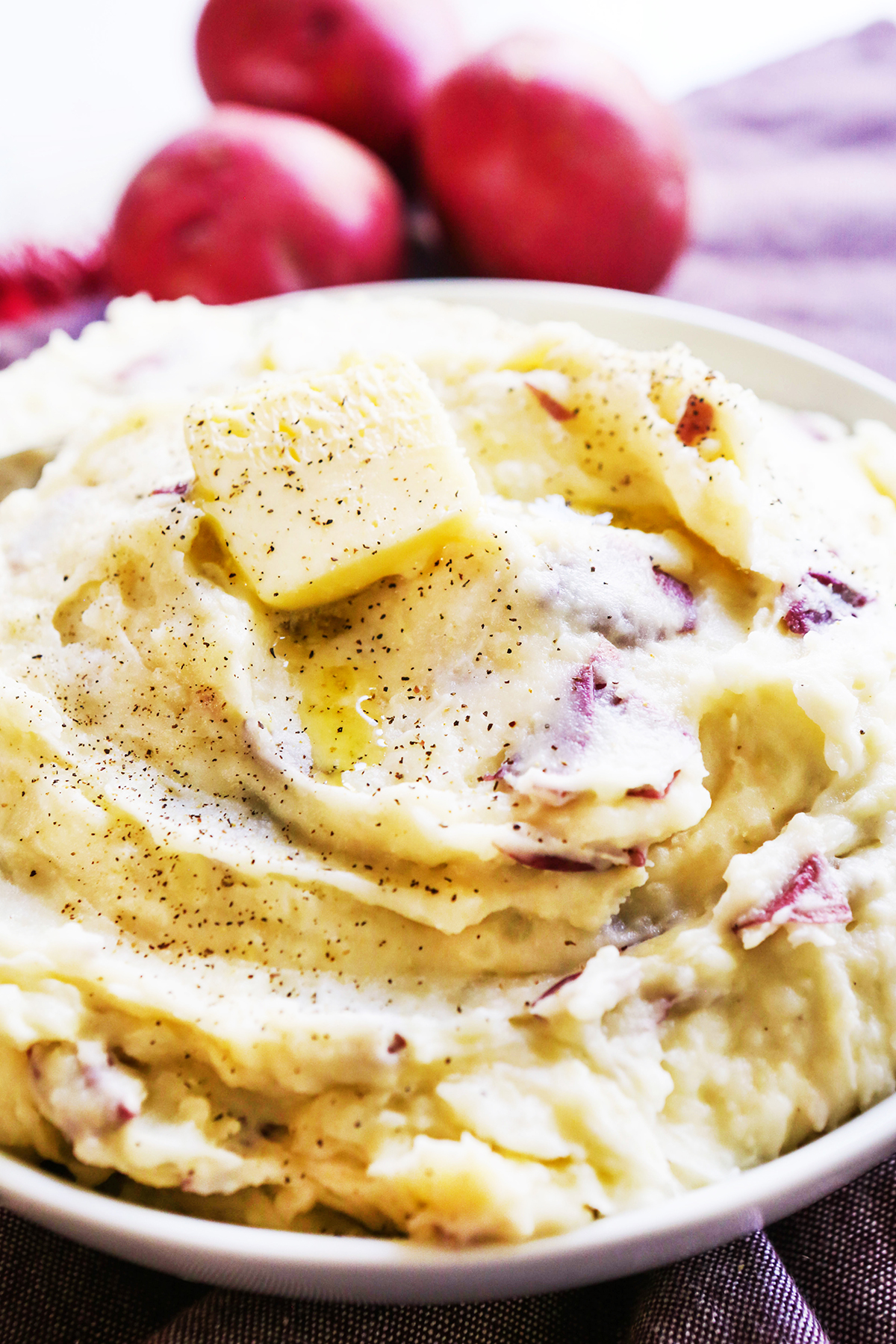 I can't think of a more comforting food than mashed potatoes off the top of my head. They are so creamy, dreamy, buttery and versatile. Any holiday or dinner table is instantly made better when they are present. I love them so much.
My mom made this irresistible side dish a lot growing up. It's not just for Thanksgiving dinner! It was a dinner staple in our house. She never once opened a package of instant potatoes and I'm forever grateful for that!
When I left home I desperately missed this creamy side, so I learned how to make it myself. No matter how many times I try, they're never as good as my mom's. It's the mom magic!
The only (and I truly mean only) "bad" thing about making them is that it is so hard to gauge how many leftovers are about to invade your fridge. I have literally never made this dish and not had leftovers. Which isn't a terrible thing because they are easy to reheat and eat later.
But if you have a dish filled with them staring at you from inside your refrigerator, you may not remember how long they've been there or whether they are worth heating up again. Read on for tips about how to know if your leftovers are still good or if you should toss them.
How Long Are Leftover Mashed Potatoes Good For In The Fridge
When stored properly in an airtight container or tightly covered baking dish, cooked potatoes will last for up to 5 days in the refrigerator.
When reheating, keep in mind that you may need to revive the potato dish by adding extra milk (1-2 tbsp at a time) or a small amount of butter.
Extend the Shelf Life
Refrigerate them. As soon as you deem them "leftovers," place them in a sealed container and store them in the fridge to maintain the best quality. Minimize their time at room temperature as much as possible.
Ensure the container is sealed. Making sure the container they're stored in is air tight or very tightly covered with aluminum foil or plastic wrap will keep them from drying out and will keep moisture buildup from happening (which can shorten their lifespan). Resealable plastic bags are another great storage option that will keep them fresh for an optimal amount of time.
Freeze them. Instead of storing potatoes in the fridge, popping them in the freezer is a great way to extend the shelf life even further. Before storing, allow them to fully cool to room temp and separate them into sections so it is easier to thaw them. Place in doubled freezer bags or shallow airtight containers. Freeze for up to 12 months.
How To Know If Leftover Potatoes Have Gone Bad
If you find yourself inspecting your dish of fluffy pots, trying to figure out whether or not it has been sitting in the fridge for too long, there are a few ways to determine whether you should toss or eat.
Discoloration or mold. The best way to determine if they're past their prime is to detect discoloration or moldy splotches. This can be a sign of growth of bacteria and may cause food poisoning if consumed.
Smell test. If the potatoes have a sour or off smell, this could be a sign that they are past their prime and should not be consumed.
Taste test. If steps one and two pass the test, give the pots a quick taste test. If anything is amiss, follow your gut and throw them away.
Ways To Prepare and Serve Mashed Potatoes
Crockpot mashed pots are delicious.
Delicious toppings include chopped chives, Parmesan cheese or green onions.
Oven baked potatoes work well every time. Consider adding cream cheese and sour cream!
Boil the potatoes on the stove top for a fool-proof method.
Consider adding different varieties of cheese such as feta for unique flavor spins.
Add them as a layer to your next shepherd's pie dinner.
Substitute for Milk in This Dish
Whether you are looking for a different flavor in your next batch of potatoes or you just don't have milk on hand, learn what to substitute for milk in mashed potatoes!
Best Potatoes To Mash
Russet
Yukon gold potatoes
Red
What To Eat With Mashed Potatoes
This is such a creamy and versatile classic side dish, easily accompanying so many different dishes! Click over for 15 delicious foods to eat with mashed potatoes!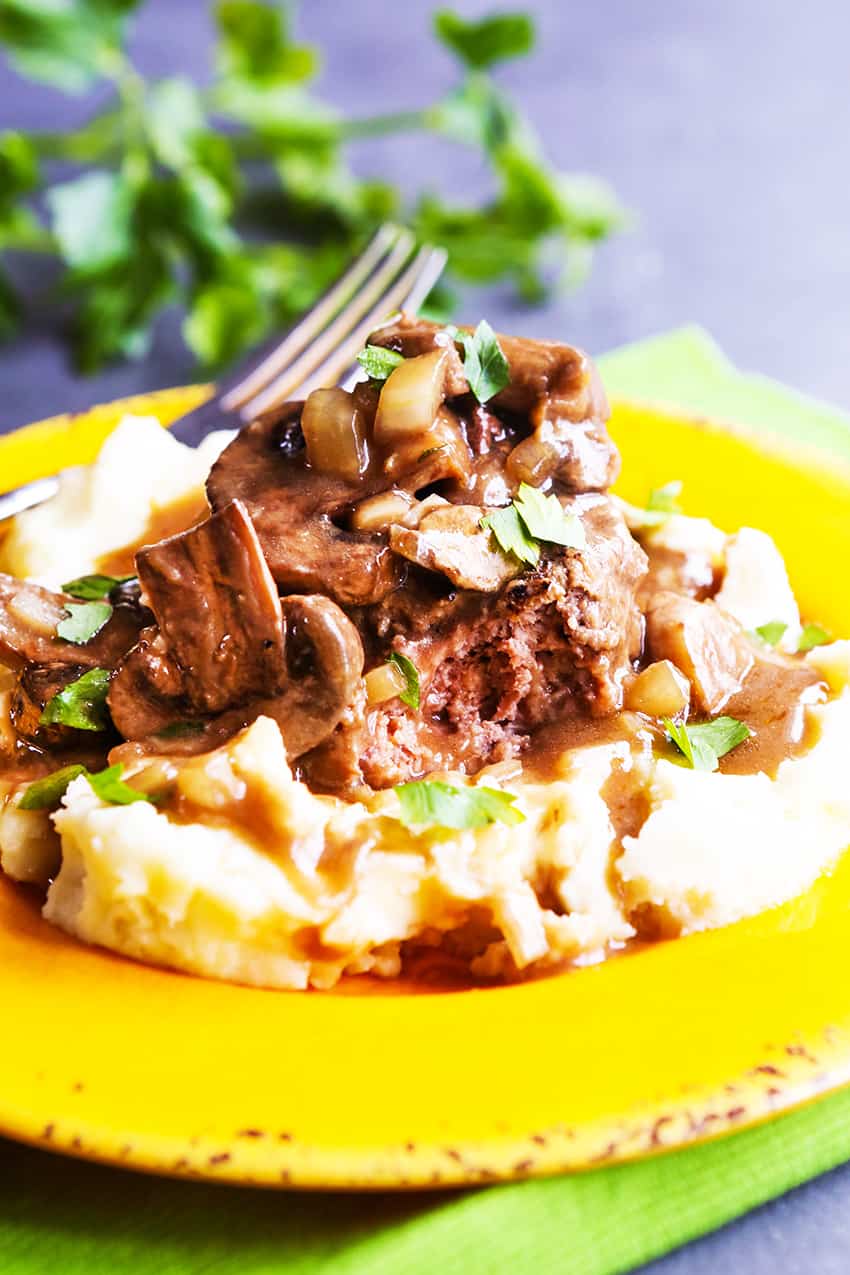 What To Do With Leftovers
Freeze leftovers.
Use them to make your next shepherd's pie.
Add to pancake batter to create delicious potato pancakes.
Reheat a quick serving in a microwave-safe bowl and enjoy a starchy snack with a simple pat of butter on top.
Serve alongside roasted vegetables such as broccoli, green beans or carrots.
Create potato patties by combining them with spices or herbs, an egg and cheese. Form into patties using your hands and either bake them in the oven or on the stove until warmed through.
Reheat and serve pot roast or salisbury steak over top of them.
Throw them into a Thanksgiving Leftovers Stromboli along with the rest of your extras (don't forget the cranberry sauce!).
Reheat them and use them as a delicious base for any pork, chicken or beef meal.
FAQ About Mashed Potatoes
What to serve with mashed potatoes?
A wide variety of foods pair well with mashed potatoes, but here are some favorites: turkey, vegetables, pork, chicken, shepherd's pie and hot beef sandwiches.
Can dogs eat mashed potatoes?
Mashed potatoes should be given to your dog in moderation if there are dairy products included, as this can cause stomach issues. A small helping should be just fine for your pooch.
What is a good substitute for milk in mashed potatoes?
Adequate milk substitutions in mashed potatoes include almond milk, rice milk, oat milk, chicken broth, heavy cream, half and half, butter, Greek yogurt or sour cream.
Can you reheat mashed potatoes in a crock pot?
Mashed potatoes can definitely be reheated in a crockpot. Transfer them to a lined slow cooker, spread into an even layer and cook on low heat setting for 4 hours.
How to reheat mashed potatoes in an oven?
Transfer mashed potatoes to an oven-safe dish and spread in an even layer. Cover tightly with foil and bake at 350 degrees F for 15 minutes, or until heated through.
Can you freeze mashed potatoes?
To freeze mashed potatoes, allow them to fully cool to room temp and separate them into sections so it is easier to thaw them. Place in a ziploc bag or a shallow container and freeze for up to 12 months. Double the freezer-safe bags or wrap the container well to avoid freezer burn.