Mashed potatoes are such a creamy and versatile classic side dish, easily accompanying so many different dishes! Read on for 37 delicious ideas about what to eat with mashed potatoes!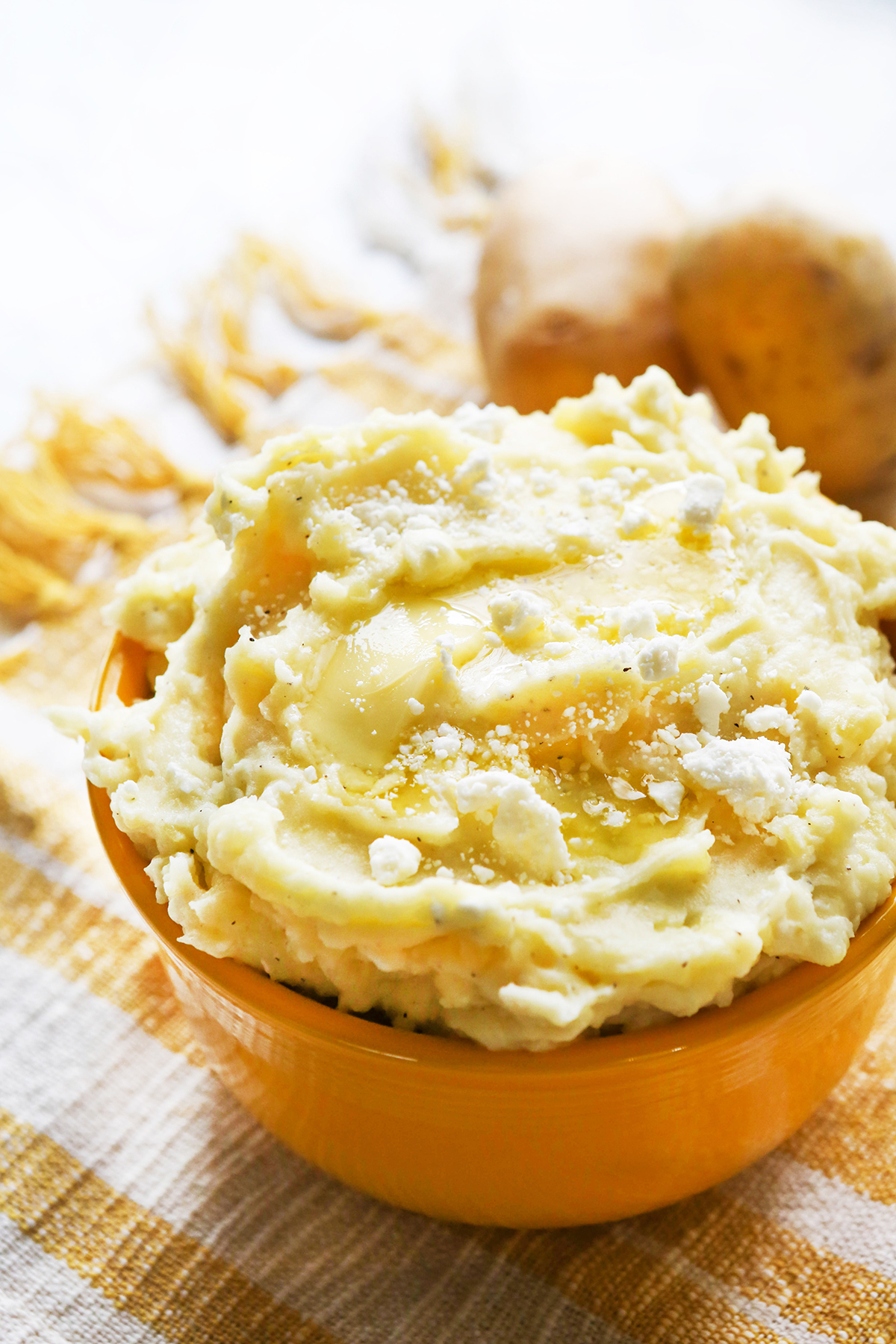 What To Eat With Mashed Potatoes
Does anyone else feel like a giant bowl of fluffy mashed potatoes should be present at every single meal? Just me?
There's something so delicious and perfect about this easy side dish. My mom made velvety potatoes a lot growing up and I never got tired of them.
Read on for a roundup for what goes with mashed potatoes. Whether you're making them to put on the dinner table this week or for a special occasion such as Thanksgiving dinner, I've got your back!
Any type of pork dish will taste perfectly next to a big pile of steaming mashed potatoes. Pork chops, pork roast, ham, pork ribs and pork loin are all great options!
The obvious classic pairing is turkey! Baked turkey, roasted turkey or Instant Pot turkey breast will get the job done.
Beef dishes also complement creamy potatoes very well. Consider beef tenderloin, beef stroganoff, beef wellington, beef stew, meatloaf, tender steak, pot roast, shepherd's pie, salisbury steak, or beef ribs.
Mashed potatoes and chicken meals are another classic combination. Baked chicken, fried chicken, roasted chicken, chicken parmesan and chicken piccata were all meant to be served on top of dreamy mashed potatoes.
Don't forget to serve them with a delicious, rich gravy.
Vegetables such as green beans, mushrooms, carrots and broccoli taste great in the mix.
Hot sandwiches such as sliders, hot roast beef sandwiches or sloppy joes are perfect pairings.
Casseroles such as tater tot casserole, green bean casserole or goulash are always better alongside a heaping pile of mashed potatoes.
Potatoes will enhance the flavor of fiish dishes such as salmon, baked flounder or fish cakes.
Best Potatoes for Mashed Potatoes
Russet potatoes
Red potatoes
Yukon gold potatoes
How Long Are Leftover Mashed Potatoes Good For
If you have leftovers staring at you from inside your refrigerator and you don't know whether to toss or eat this yummy side dish, we've got the scoop for you!
How To Reheat Mashed Potatoes in Crock Pot
Mashed potatoes can definitely be reheated in a crockpot. Transfer them to a lined slow cooker, spread into an even layer and cook on low heat setting for 4 hours. Stir occasionally.
Can You Freeze Mashed Potatoes
To freeze mashed potatoes, allow them to fully cool to room temperature and separate them into sections so it is easier to thaw.
Place in a ziploc bag or a shallow airtight container and freeze for up to 12 months. Double the freezer-safe bags or wrap the container well to avoid freezer burn.
Best Mashed Potato Recipes
This is my mom's perfect mashed potatoes recipe. It is the perfect side dish for any meal for any time of year, with a super rich texture.
Make a scrumptious mashed potato casserole by baking this popular side dish along with some of your favorite ingredients such as bacon pieces, ground turkey, veggies or cheddar cheese.
I love a good standard mashed potato recipe, but creating feta cheese mashed potatoes allows you to change up the flavors of this classic comfort food.
Instant Pot mashed potatoes are creamy, smooth, easy to prepare and have a super fluffy texture. No boiling or saucepan/stovetop cleaning required with this side dish, this recipe is the easiest way to create this side. Done in 30 minutes!
Tips for Mashed Potatoes
Leaving the skins on adds a unique and delicious flavor and texture, but feel free to peel the potatoes first to achieve creamy mashed potatoes.
Especially with soft potatoes like red and yukon gold, be careful not to over mash or the texture can become gluey. (Avoid using a blender or electric mixer! Always use a potato masher to achieve creamy potatoes.)
Optional ingredients to mix in: A little sour cream or cream cheese (or both!), brown sugar (for a touch of sweetness!), olive oil, balsamic vinegar, fresh herbs such as thyme, parsley or rosemary, white or red wine or heavy cream or milk.
Options to add to the top of the mashed potatoes: sliced green onions, a pat of butter, black pepper, Parmesan cheese, bread crumbs or shredded cheese.
For extra flavor, add minced garlic cloves or garlic powder to this dish.
Substitute for Milk in Mashed Potatoes
There are many options when looking for milk substitutions in mashed potatoes. Some of the recommendations contain dairy products and others are dairy-free, so click over to find options that work for you and the people you're feeding.
Roasted Vegetables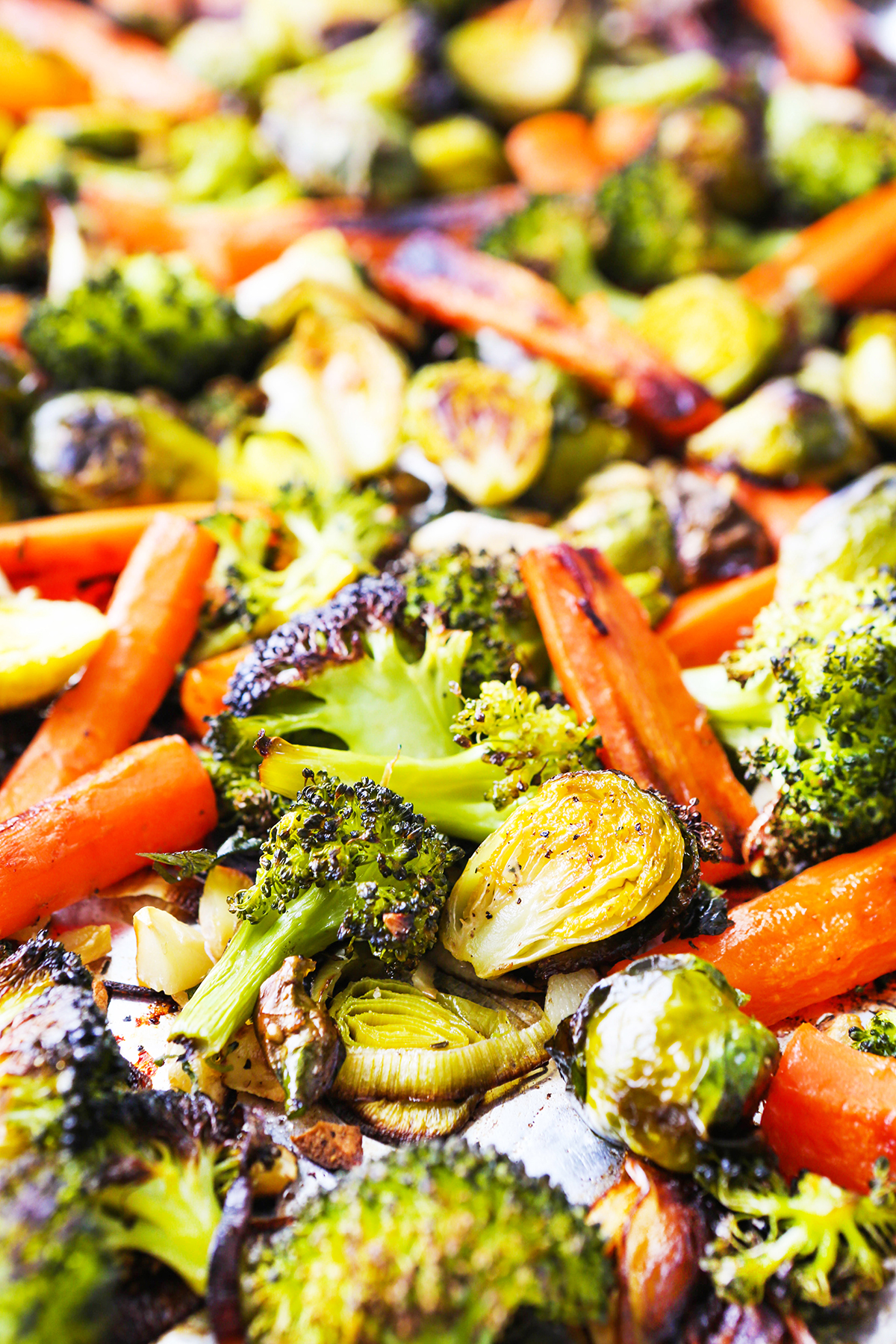 These are the best roasted vegetables recipe you will make and it's one of my favorite recipes to pair with mashed potatoes.
Roasted broccoli and carrots will turn veggie haters into veggie lovers! Swap out vegetables in this recipe for any you might have on hand, such as cauliflower, zucchini, mushrooms or onions.
Meatloaf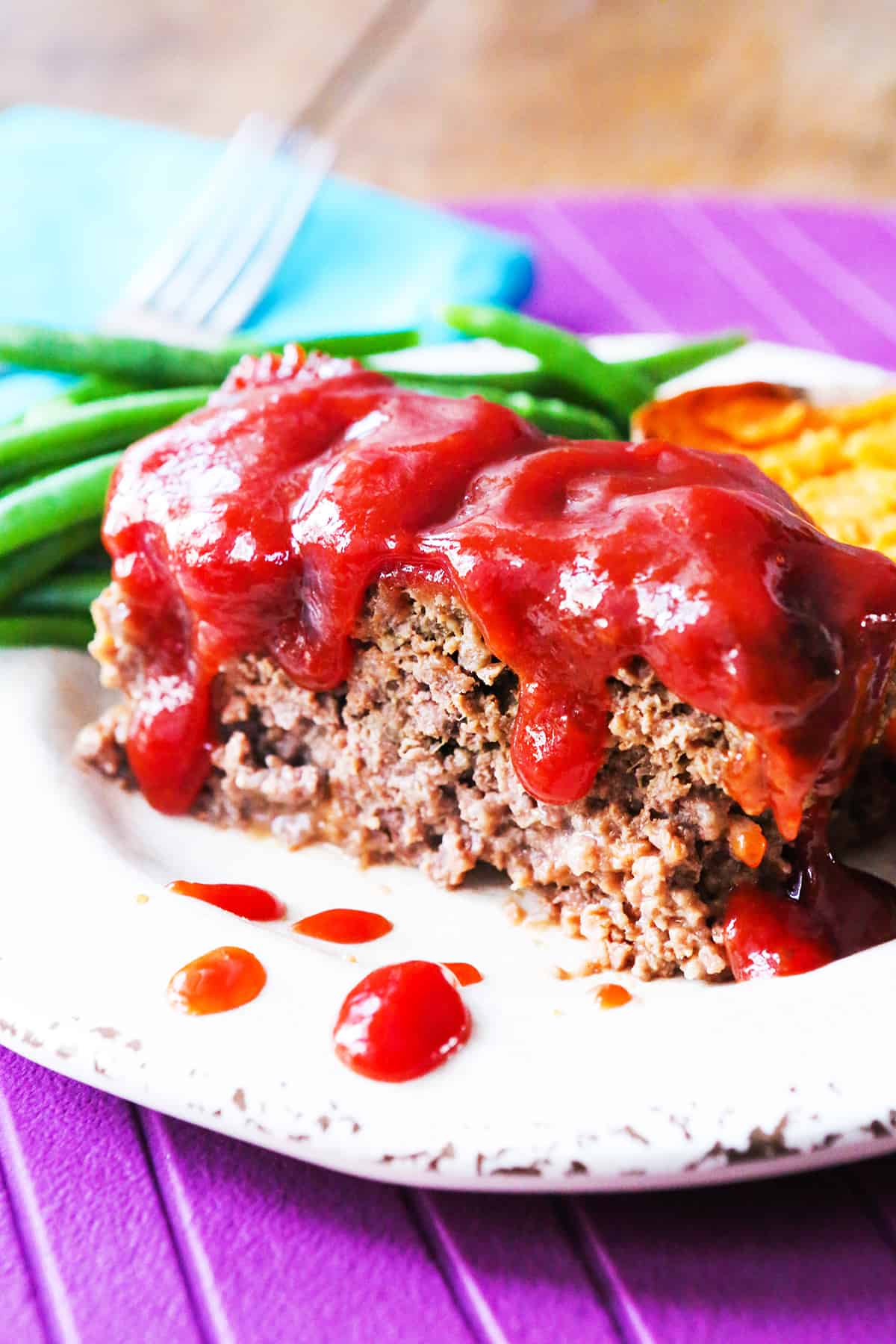 This is the best meatloaf recipe you'll ever eat and it is such an easy classic dish. It'll quickly become a favorite family meal!
Crockpot Ham with Pineapple Juice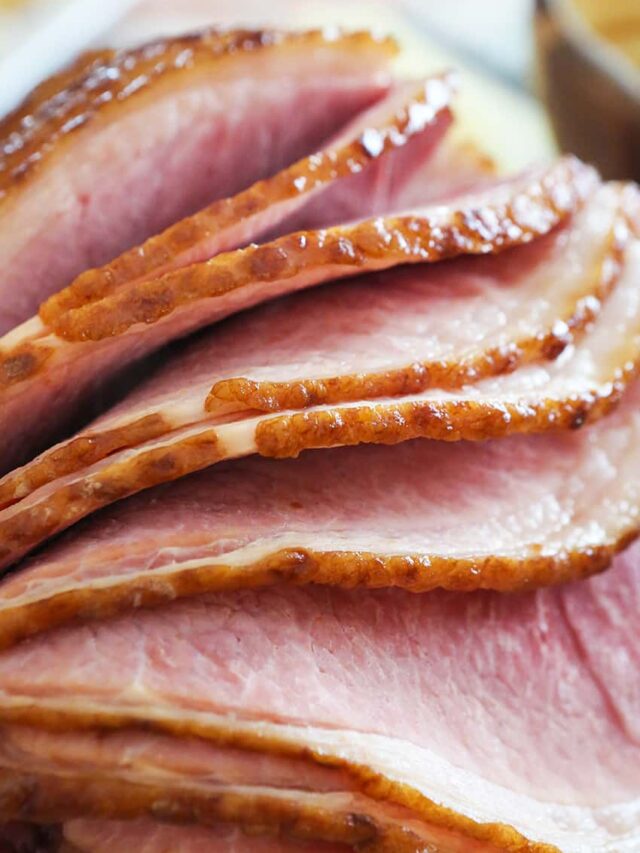 Crockpot ham is an easy way to throw together a holiday dinner or easy any-time meal. This recipe requires almost no effort on your end and turns out wonderful for dinner with the perfect glaze and all!
Chicken Parmesan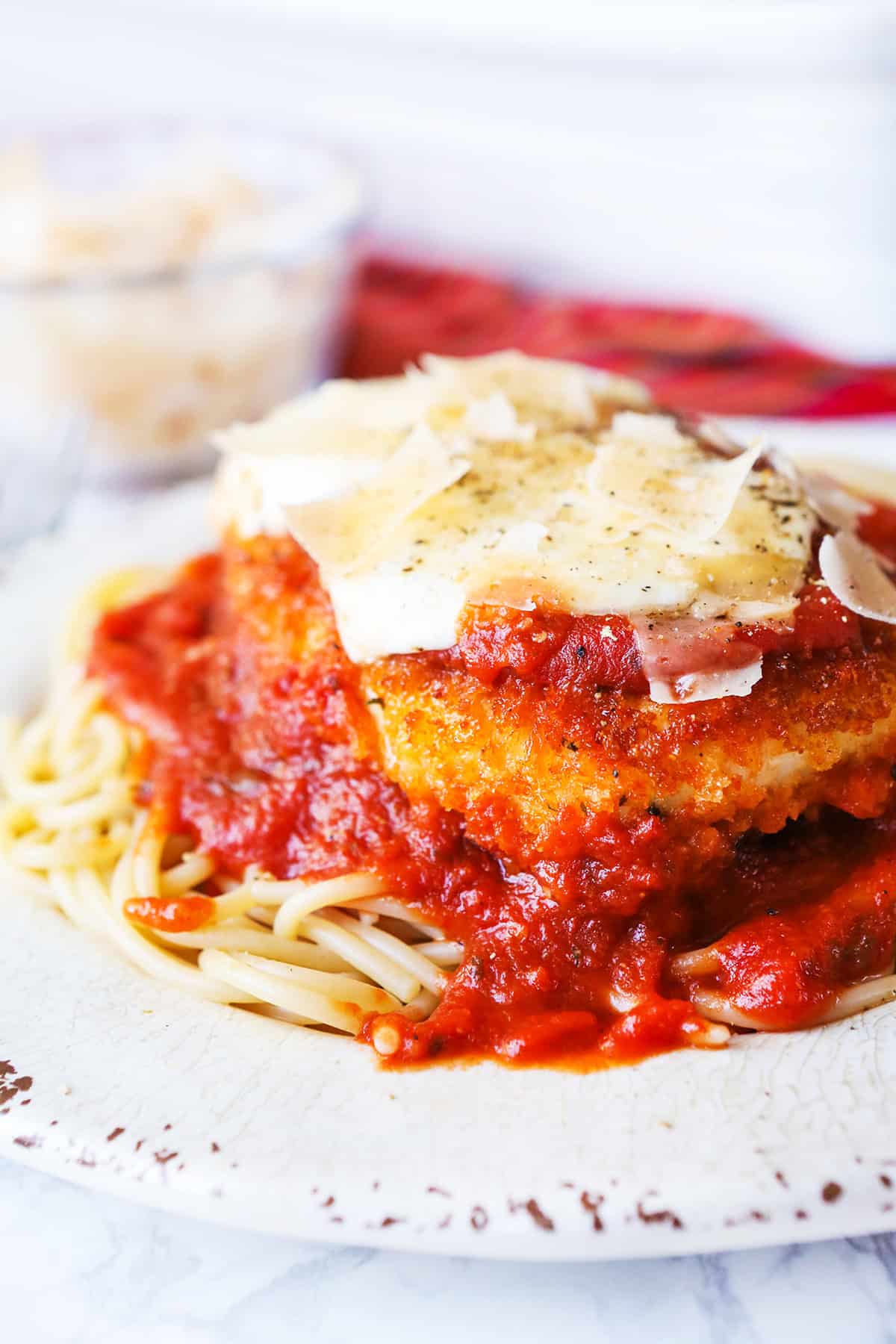 Easy Chicken Parmesan is the ultimate meal for your dinner table! It is easy to prepare and tastes like you've been slaving over it all day.
Chicken Piccata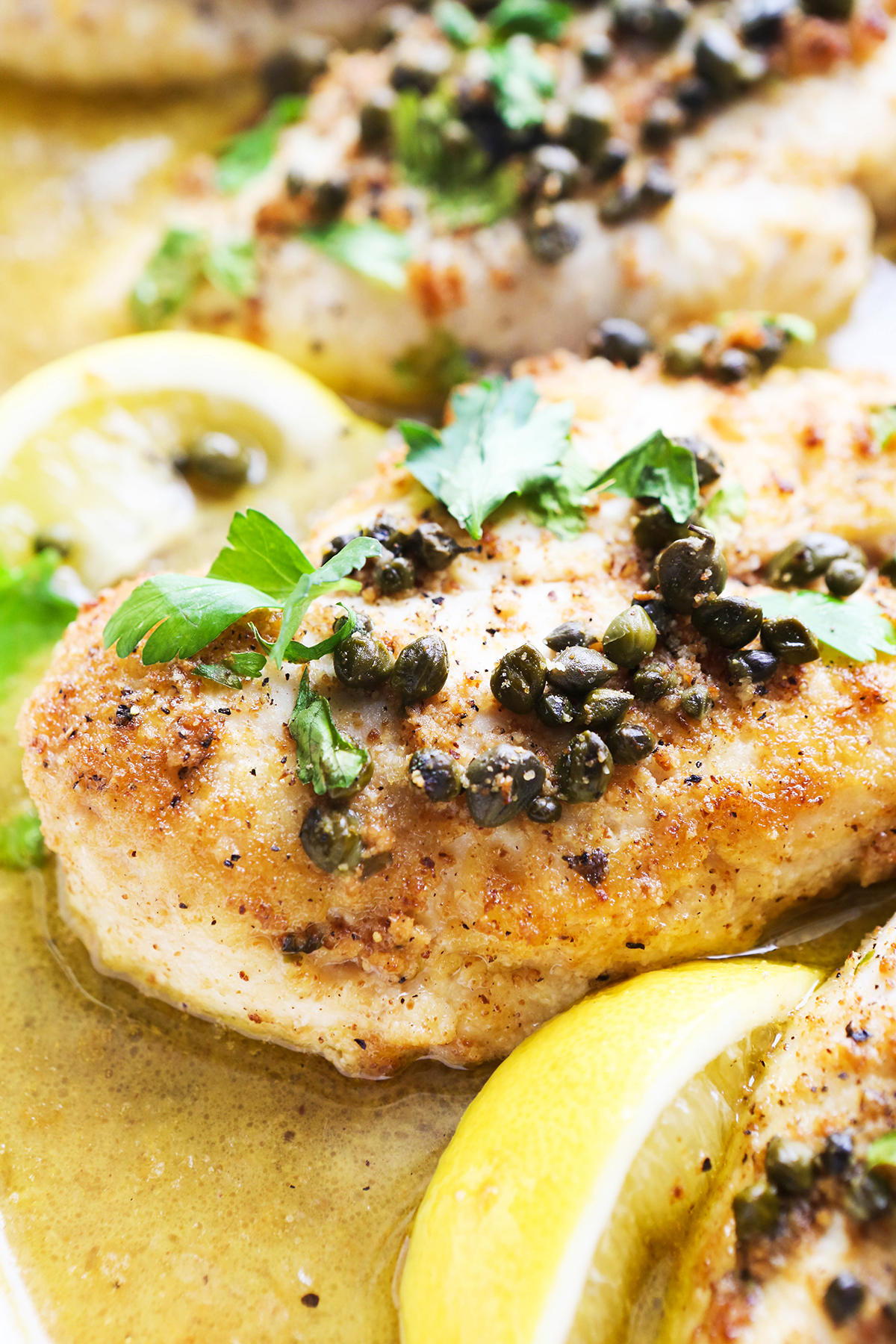 Not only is this the tastiest most tender chicken piccata recipe you'll meet, it is also super easy to prepare. Add it to your dinner rotation pronto!
Corn Dip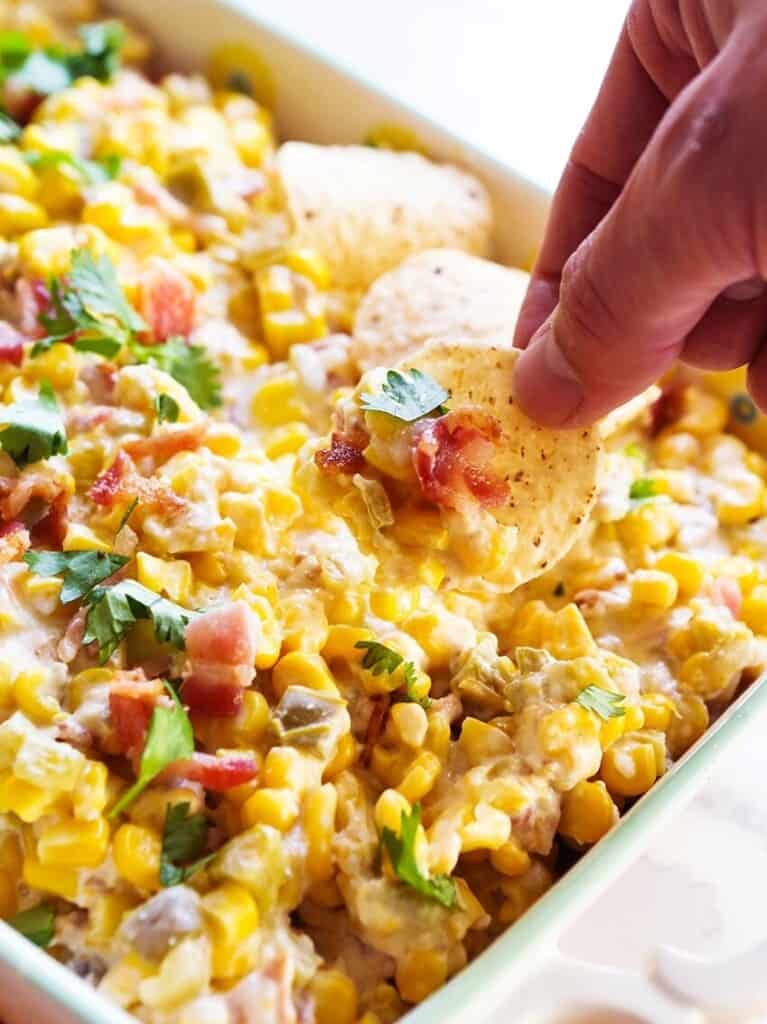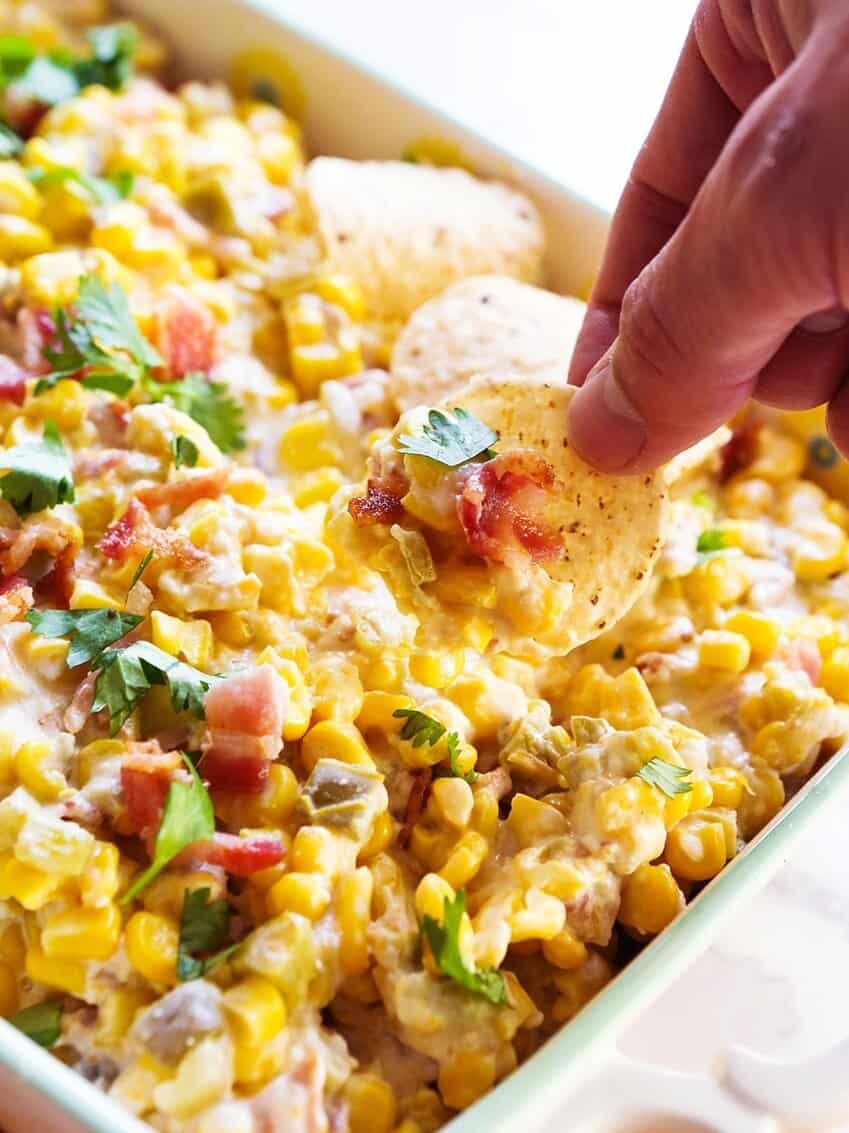 This corn dip recipe made in a slow cooker is an ADDICTING crowd pleaser! Bacon and green chiles give it the perfect kick! Serve with chips or crackers as an appetizer or solo as a creamy side.
Tater Tot Casserole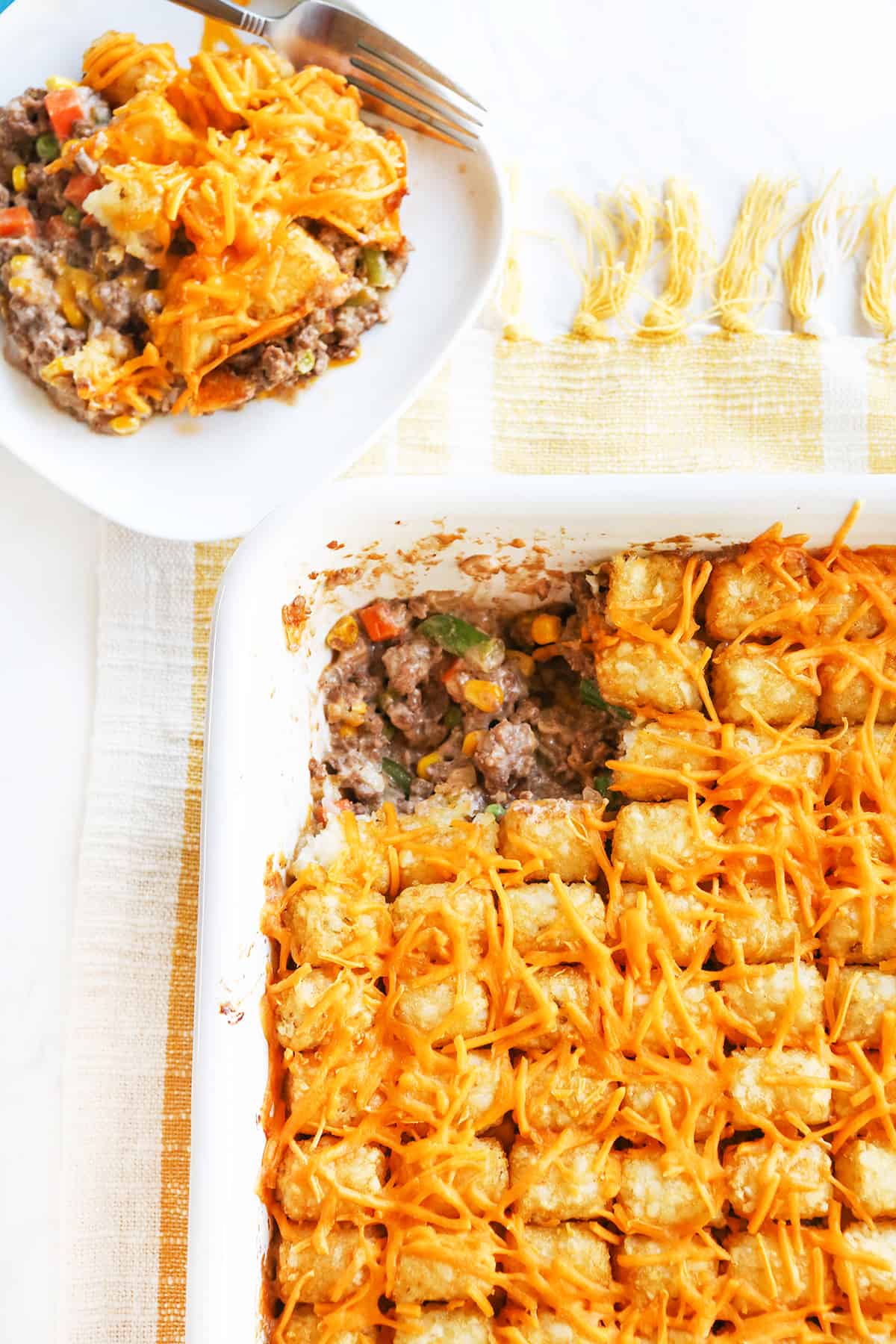 Minnesota Tater Tot Hotdish is a classic Midwestern staple. Whether as a main or side, everyone at the table will be satisfied. Great for Thanksgiving or any time!
Crockpot Vegetables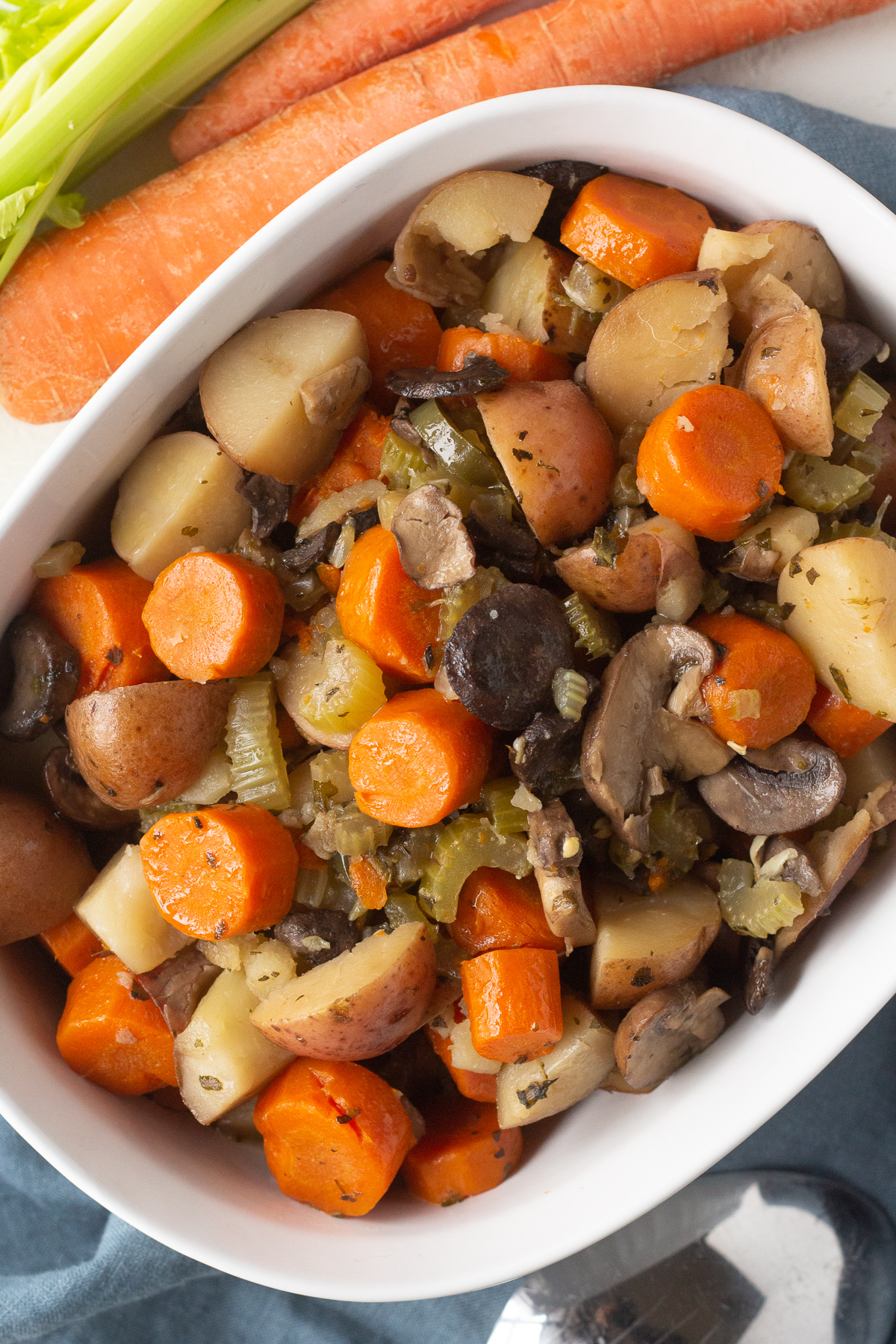 Making vegetables in the crock pot is a great way to use up extra veggies! Enjoy them now or freeze for another time. Feel free to swap out veggies from the recipe with whatever you have on hand.
Salisbury Steak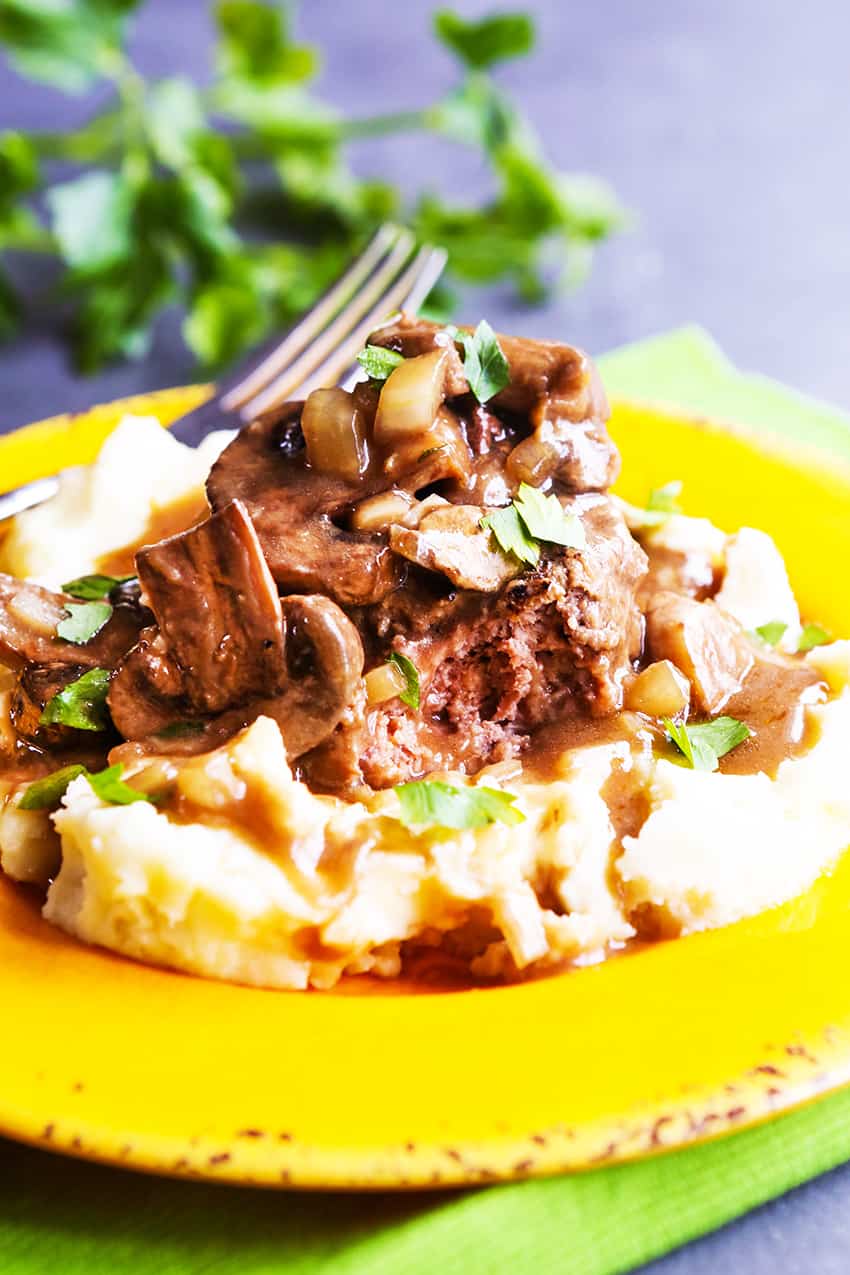 Salisbury Steak is the perfect hearty meal to throw into your crock pot! Tender beef patties and mushrooms are smothered in a flavorful and comforting brown gravy. Serve this beef recipe over a pile of mashed potatoes for an added bit of comfort!
Roasted Broccoli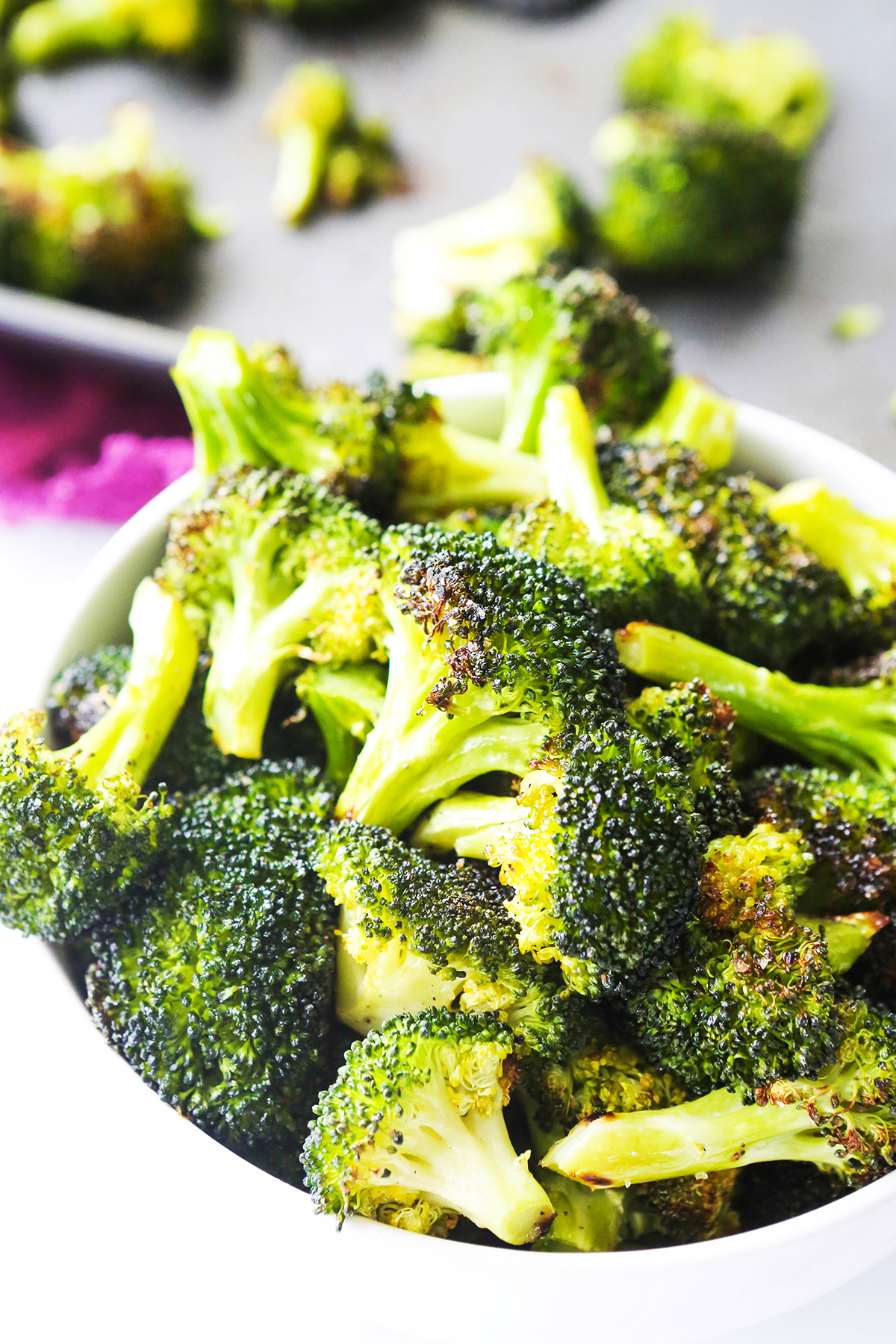 Learn how to roast broccoli in the oven so it can accompany your next meal. It is a super easy recipe and requires only 5 minutes of prep!
Instant Pot Sloppy Joes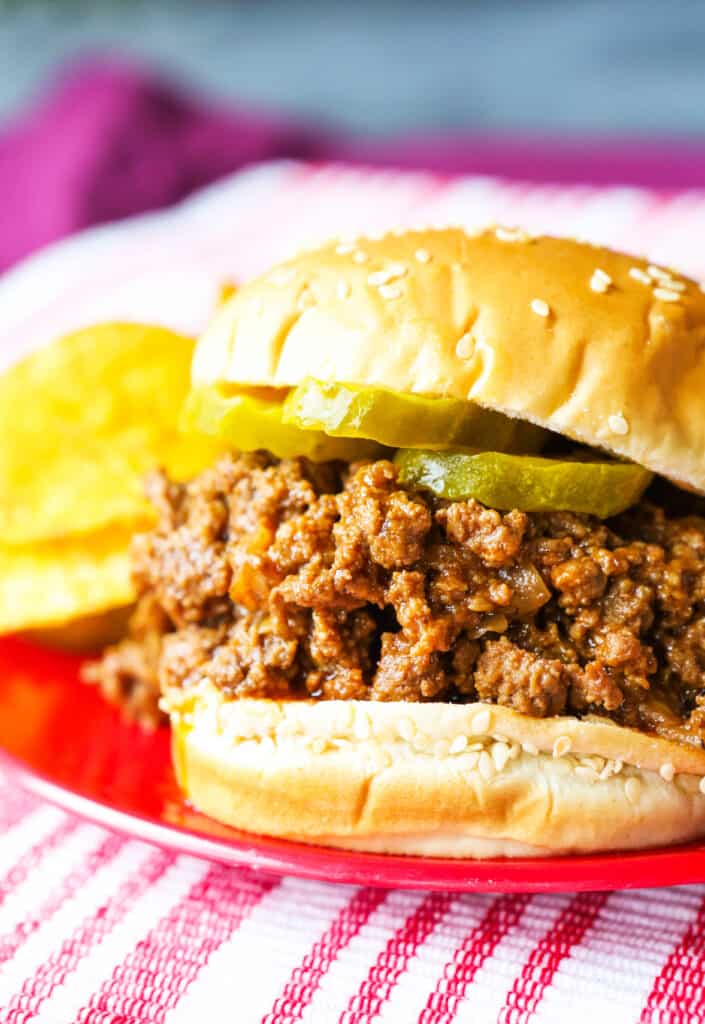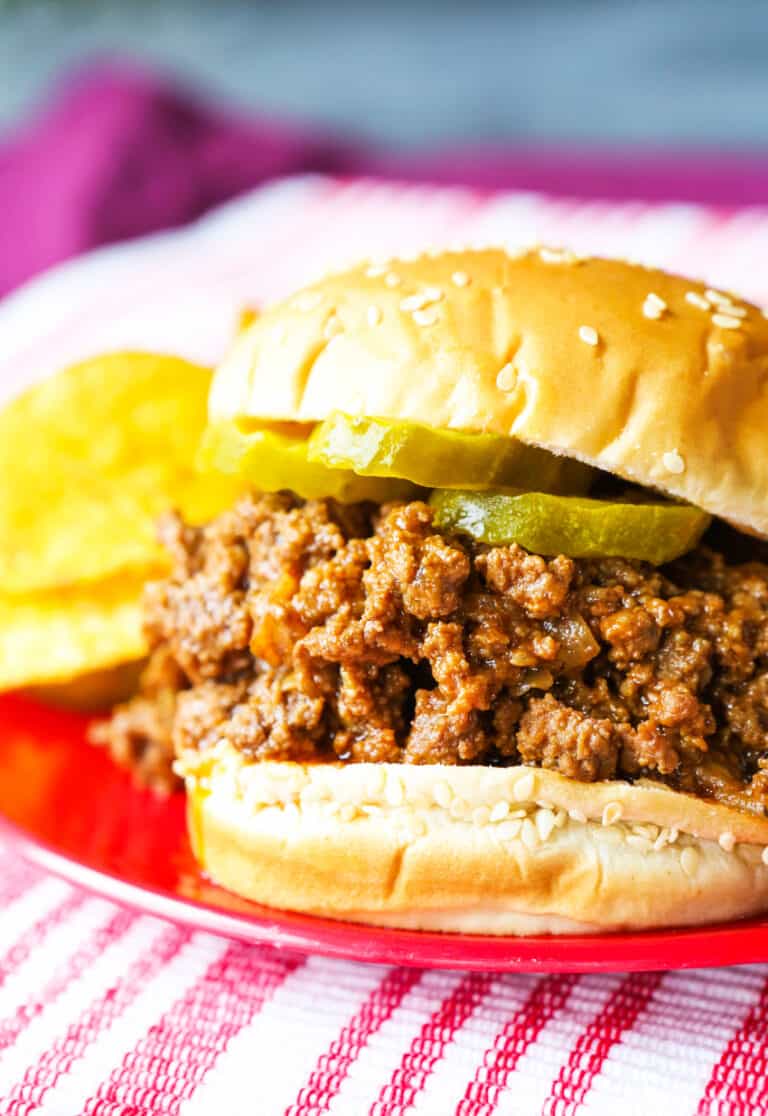 A childhood staple, Sloppy Joes are hearty and delicious! Now you can make Instant Pot Sloppy Joes for a super quick and easy dinner that has a sweet and savory sauce. This is the perfect recipe for family dinner and also potlucks.
Artichokes in Instant Pot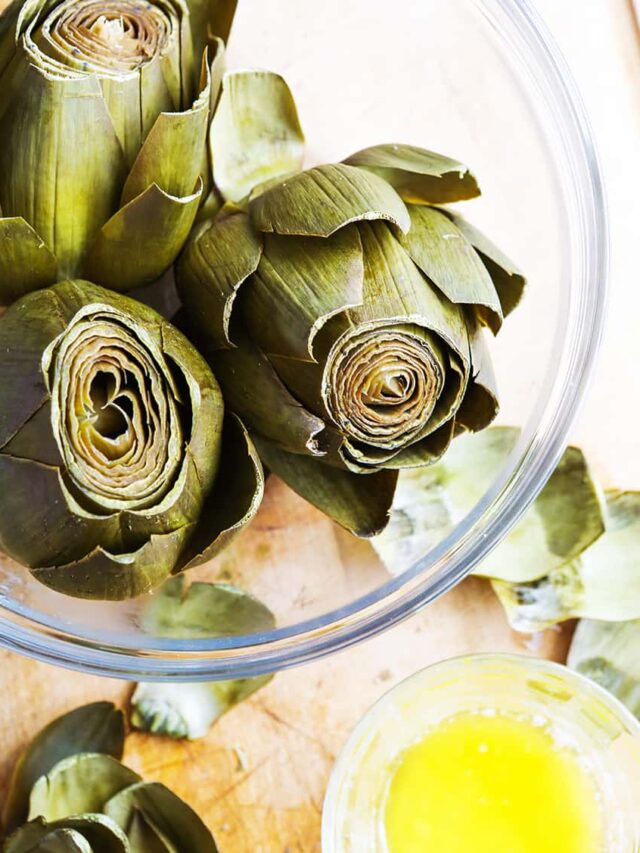 Fresh artichokes might look intimidating, but don't be shy! With little effort you'll get to the heart of the delicious vegetable.
Veggie Stromboli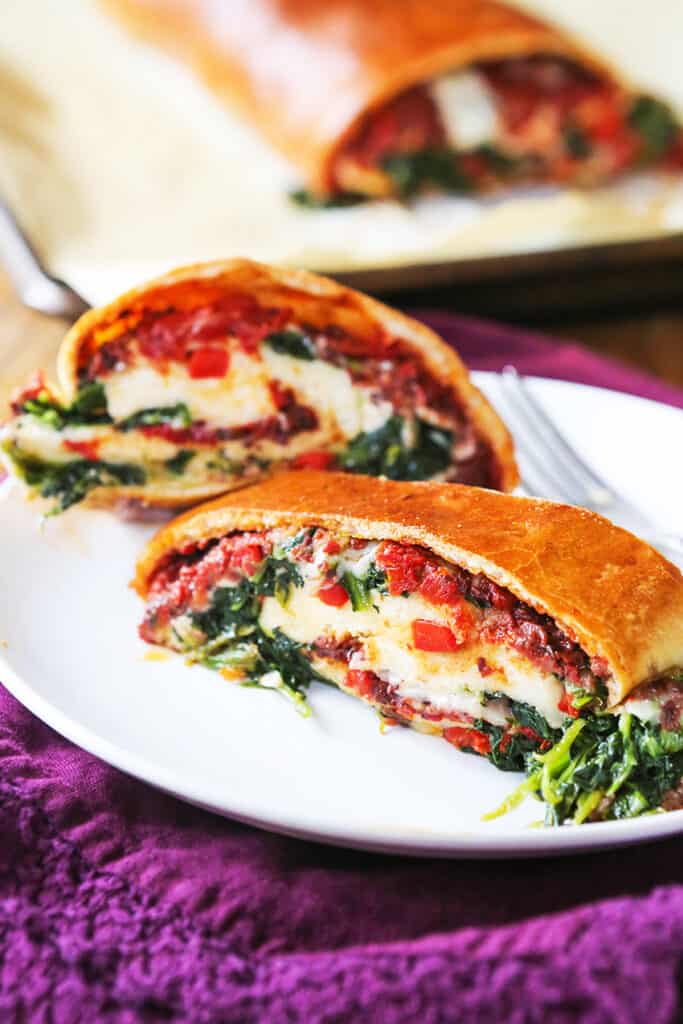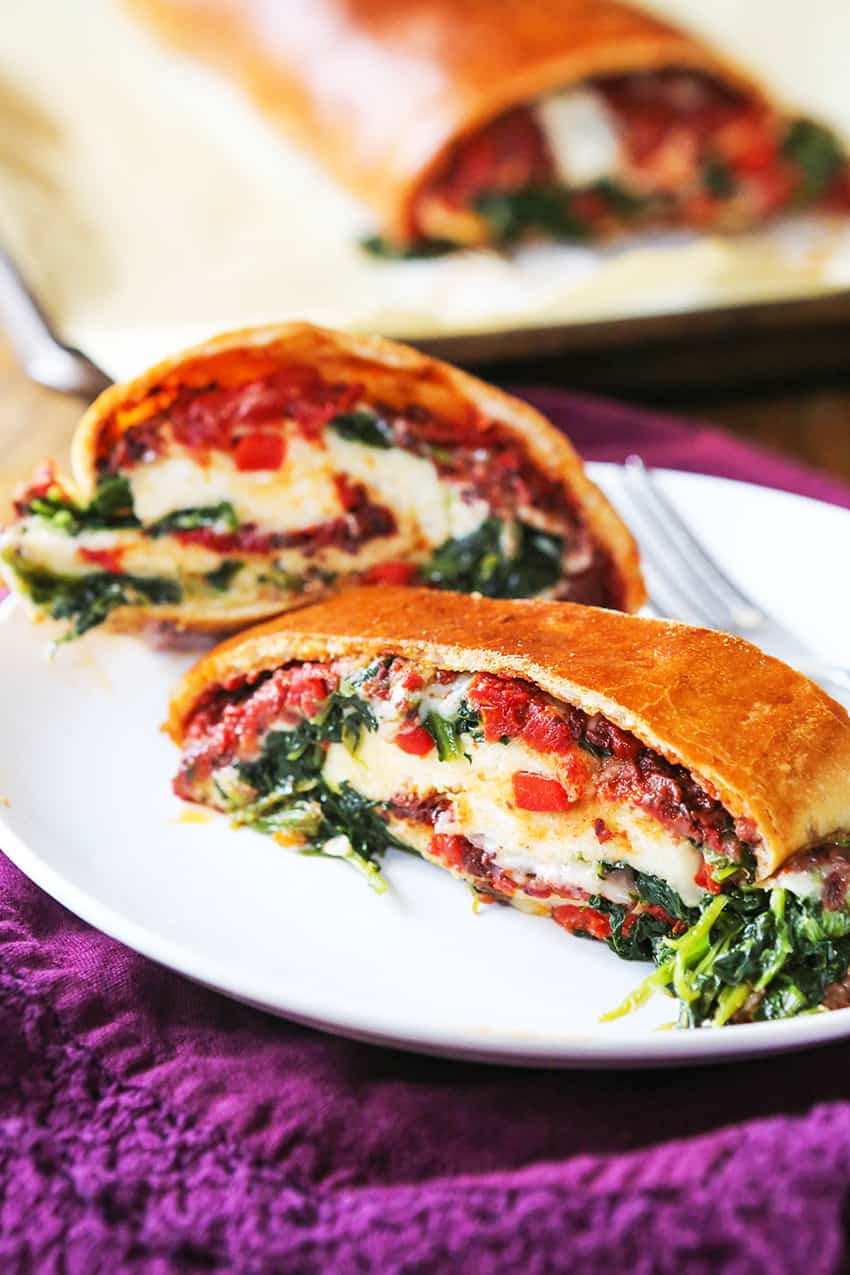 Veggie stromboli (similar to a calzone) will make guests rave, or make it for family dinner! Tuck your favorite pizza ingredients into yummy pizza dough.
Ham and Cheese Sliders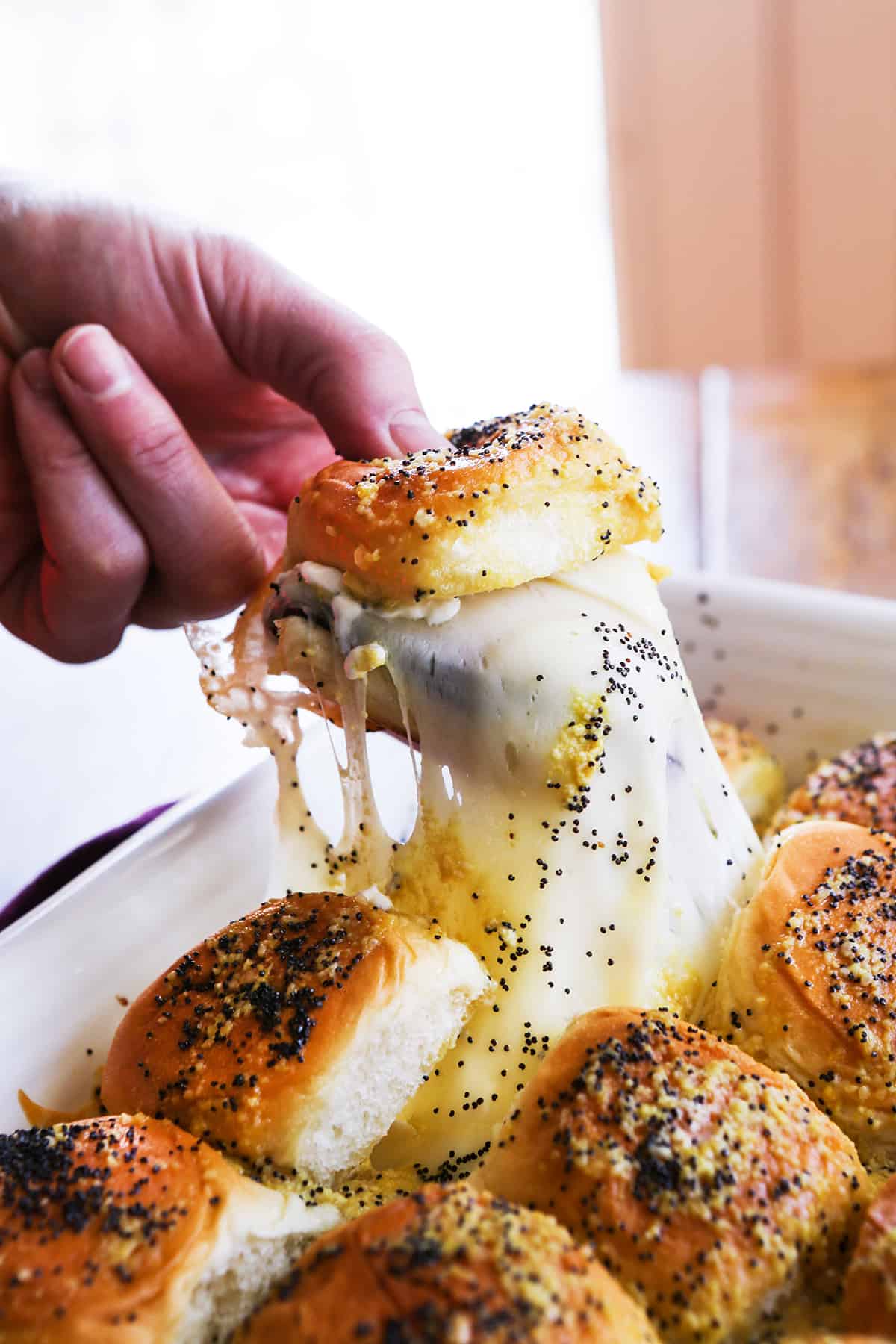 These delicious, baked Hot Ham and Cheese Sliders on Hawaiian Rolls are also known as Tailgate Sandwiches because they are the perfect game-day party fare. They are bursting with flavor and gooey cheese!
Beef Stroganoff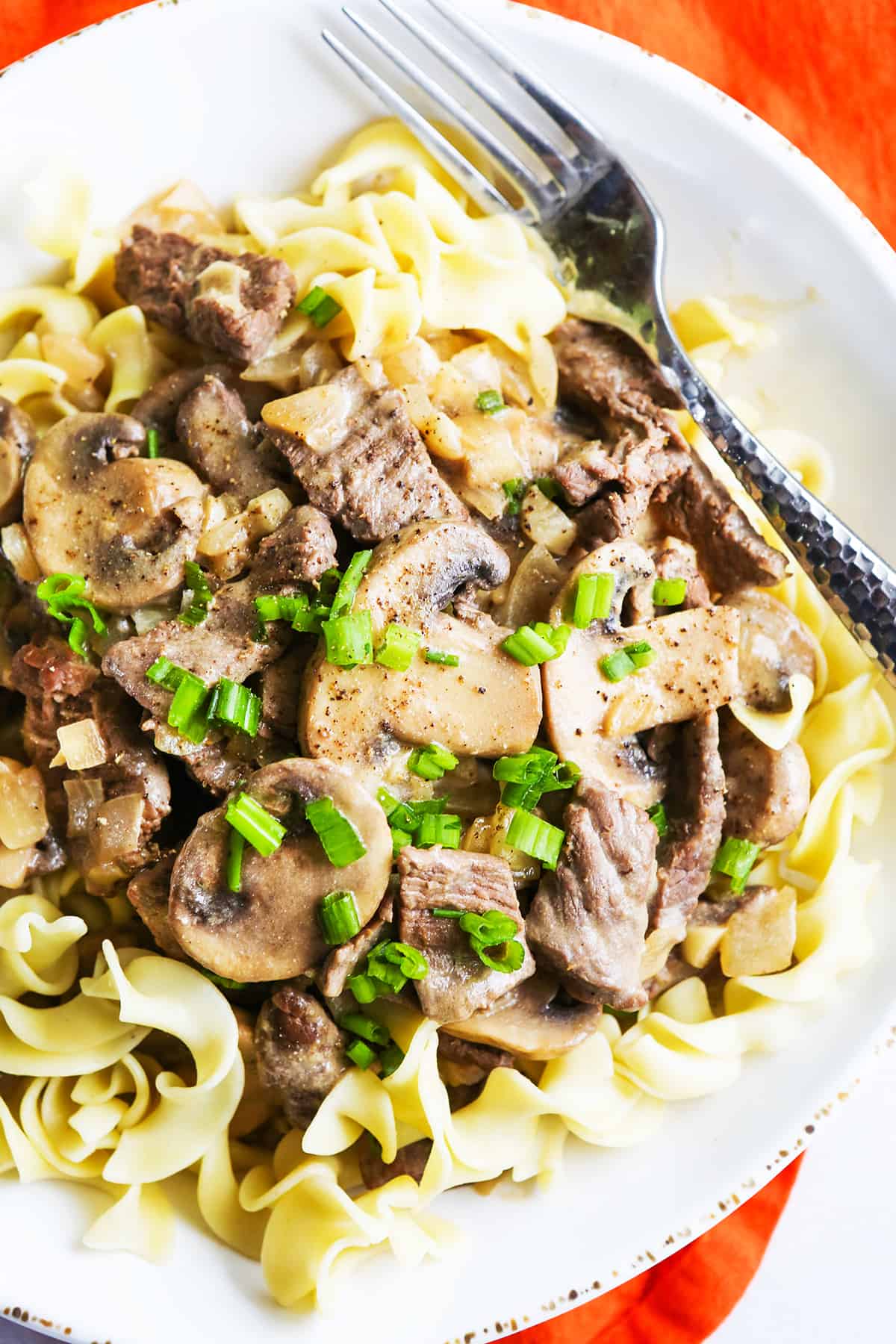 This easy beef stroganoff with noodles is the perfect dinner option any night of the week. Done in less than 30 minutes!
Roasted Chicken and Vegetables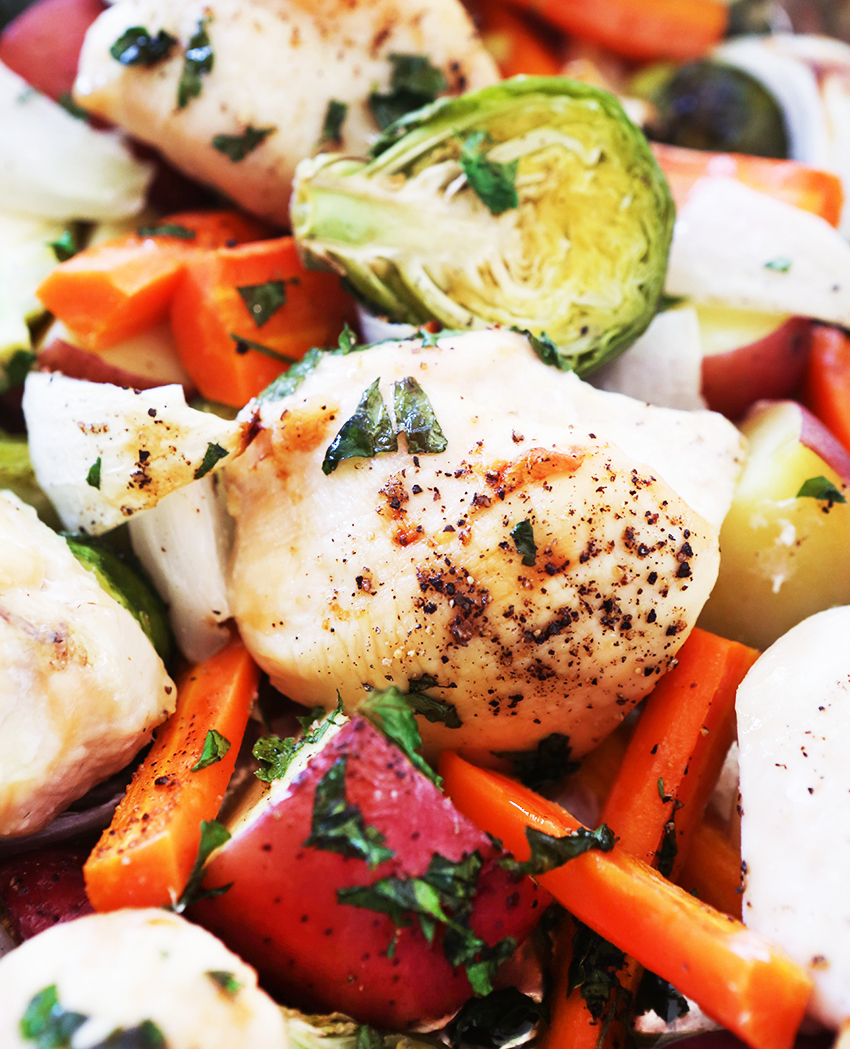 This one-pan roasted chicken and vegetables dinner is a win-win. It is easy to prepare and it is packed with flavor. Perfect meal for busy weeknights!
Chicken and Dumplings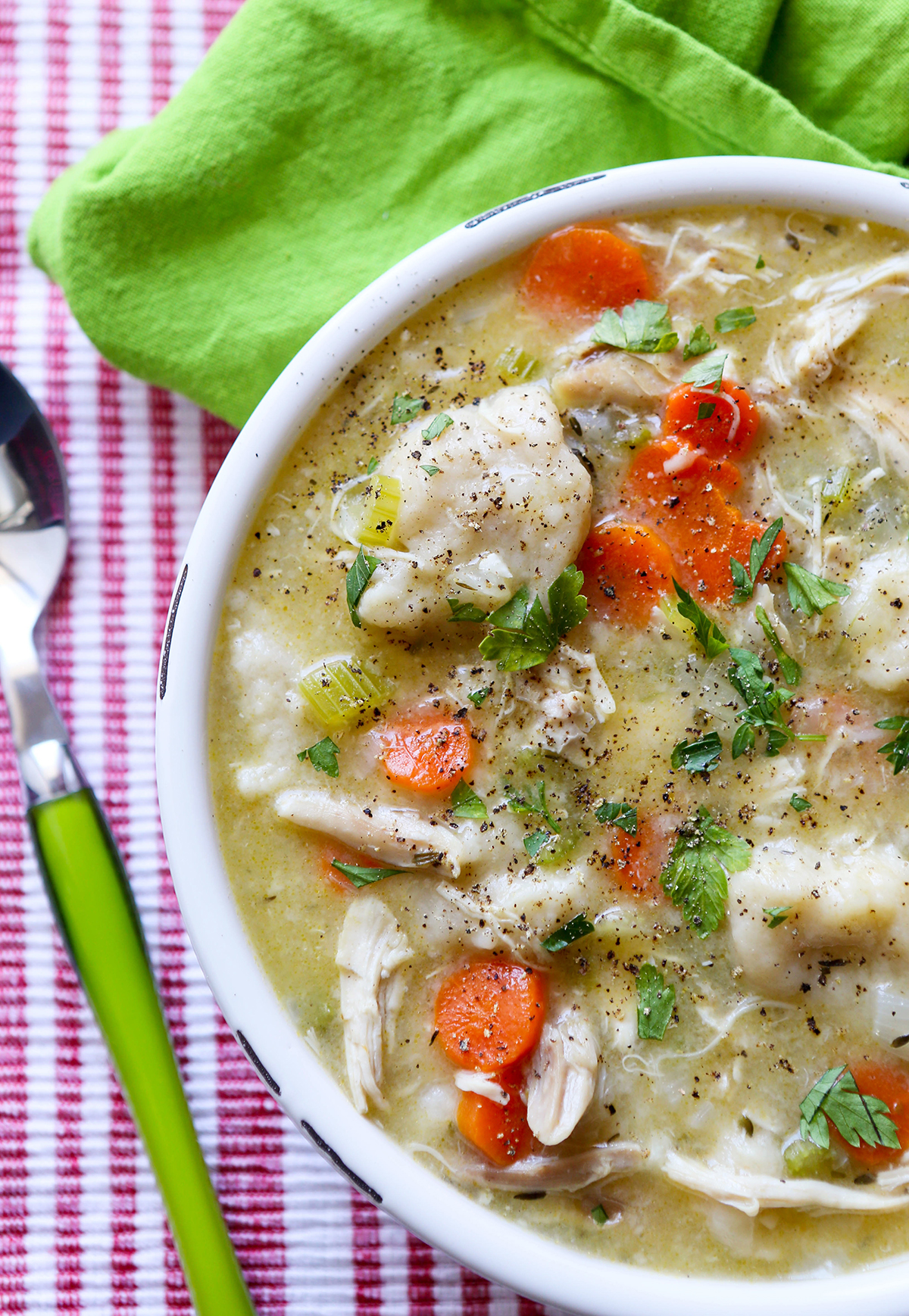 This chicken and dumplings recipe with canned biscuits is super easy to throw together and it will quickly become a family favorite. Make a batch of this creamy soup to serve today, then freeze some for later!
Creamy Mushroom Chicken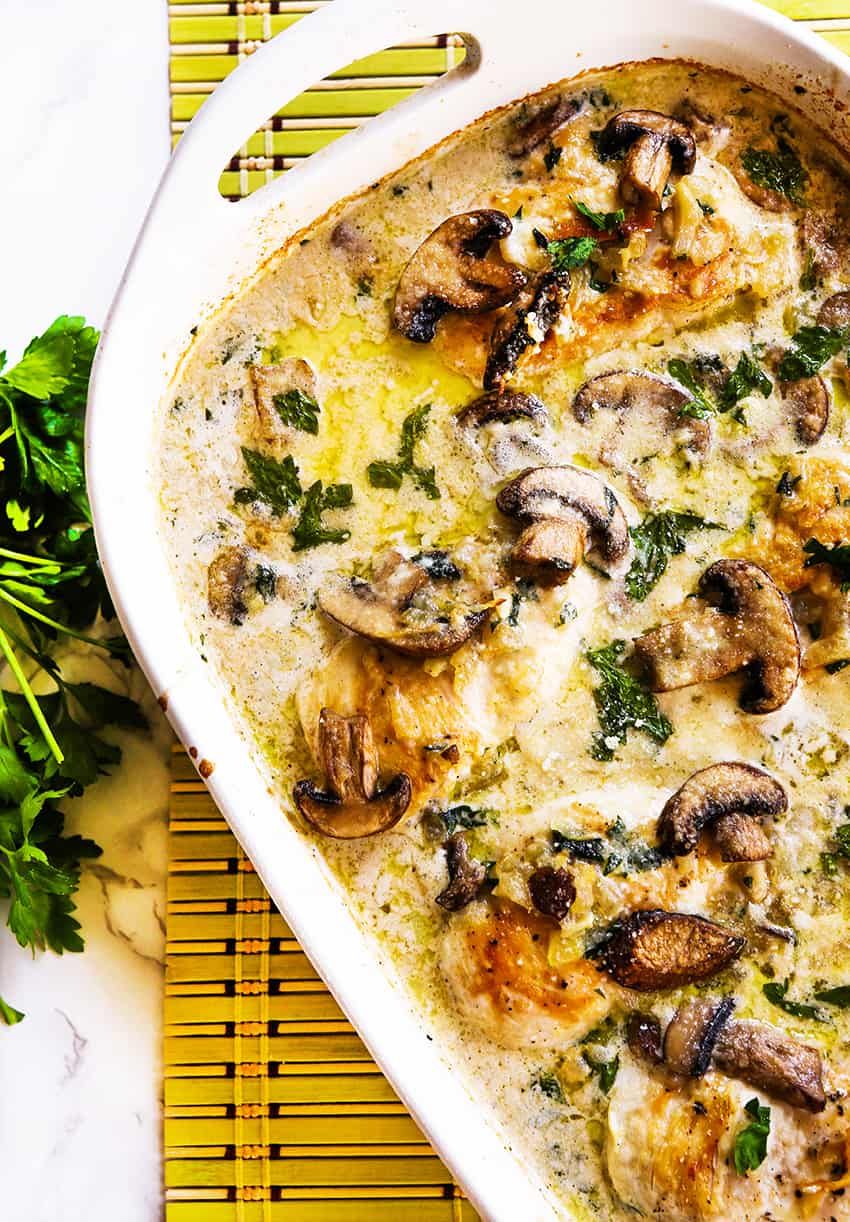 This Creamy Mushroom Chicken recipe is packed with flavor! Thick creamy sauce packed with mushrooms on top of juicy chicken. Great served with rice, quinoa, mashed potatoes or pasta! You'll love this super easy dinner option.
Baked Asparagus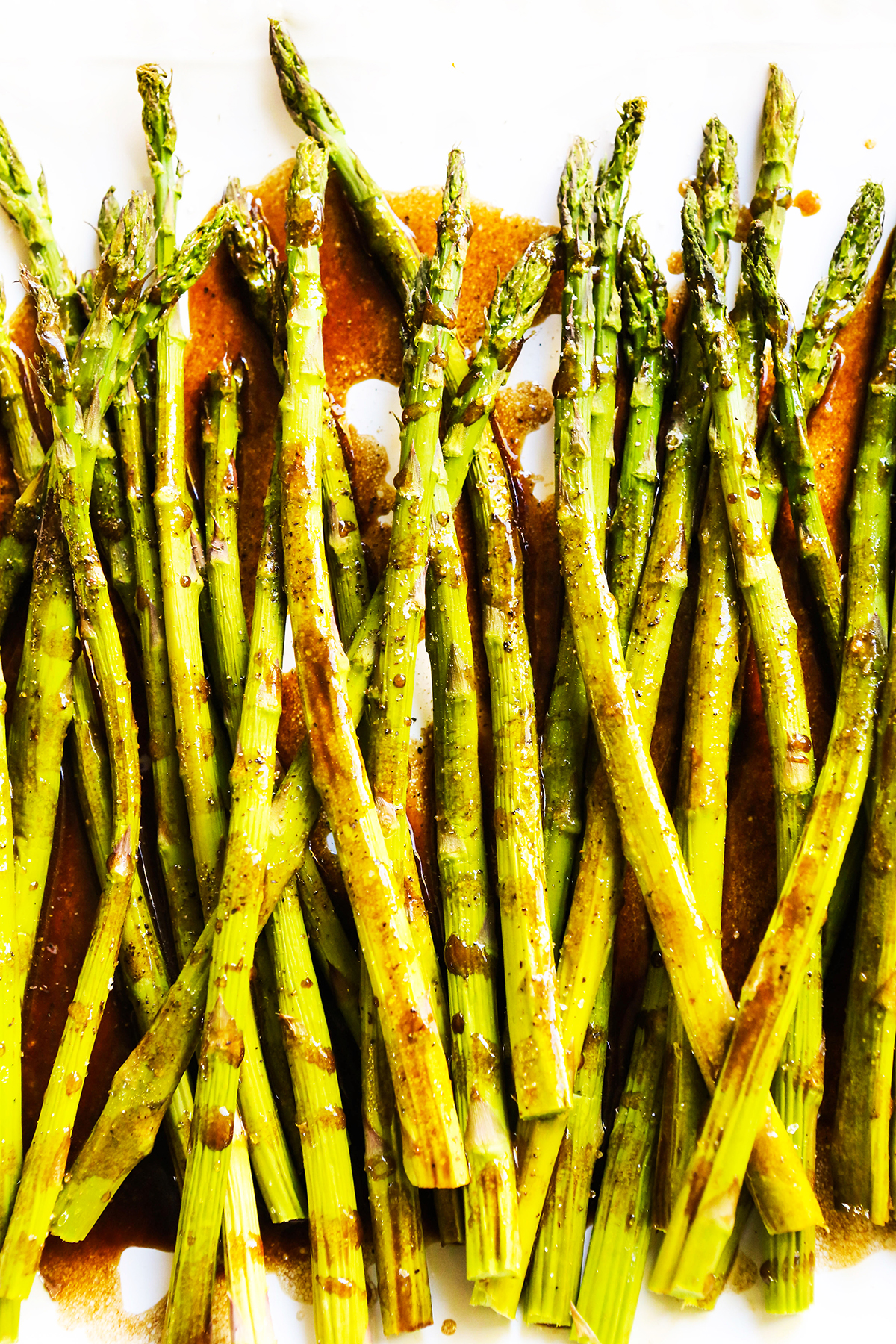 Baked Asparagus is topped with a delicious, savory balsamic butter sauce. It cooks to perfection every time and makes the perfect side to any meal!
Roasted Brussels Sprouts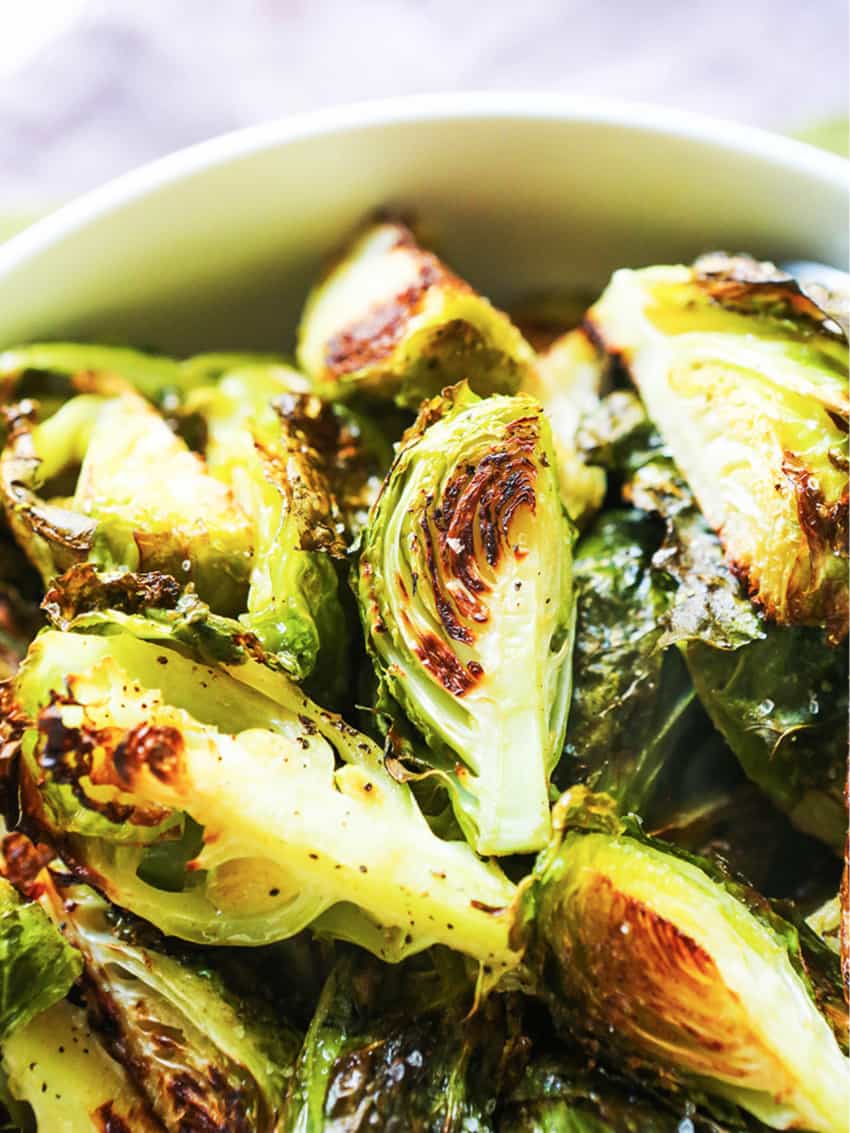 Make delicious, perfectly crispy Roasted Brussels Sprouts easily and in under 30 minutes. This side dish pairs perfectly with any meal, whether big or small. Perfect part of a holiday spread and also a great part of any simple weeknight dinner.
Slow Cooker Chicken Pot Pie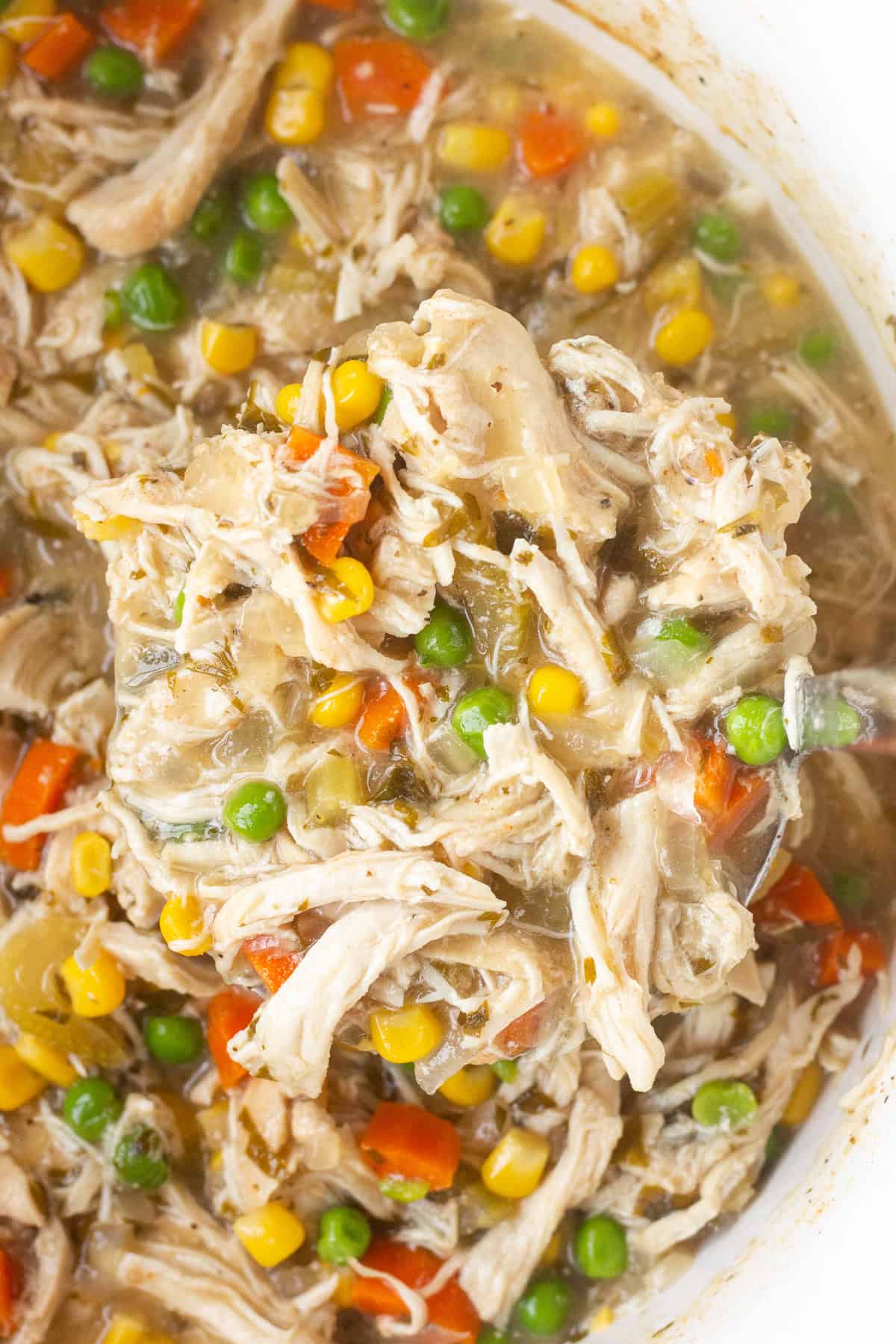 Simplify pot pie by using your crockpot! Make this slow cooker chicken pot pie with minimal effort. No pie crust required! Great dinner for a busy weeknight.
Crockpot Pulled Pork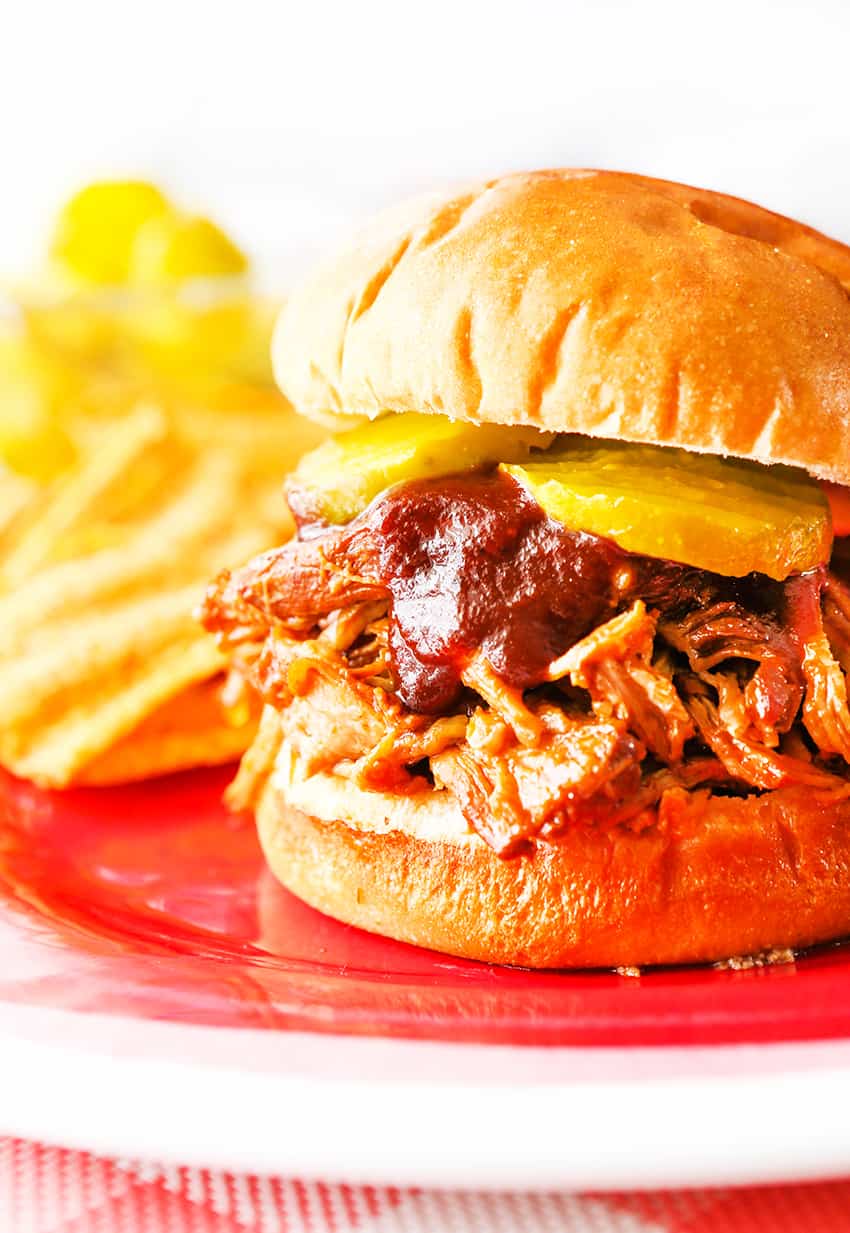 This is the best pulled pork crock pot recipe and it requires only 4 ingredients minimal effort. Dinner could not get any easier than this! Spoon into hamburger buns and serve at your next gathering or for family dinner this week.
Marinated Steak Bites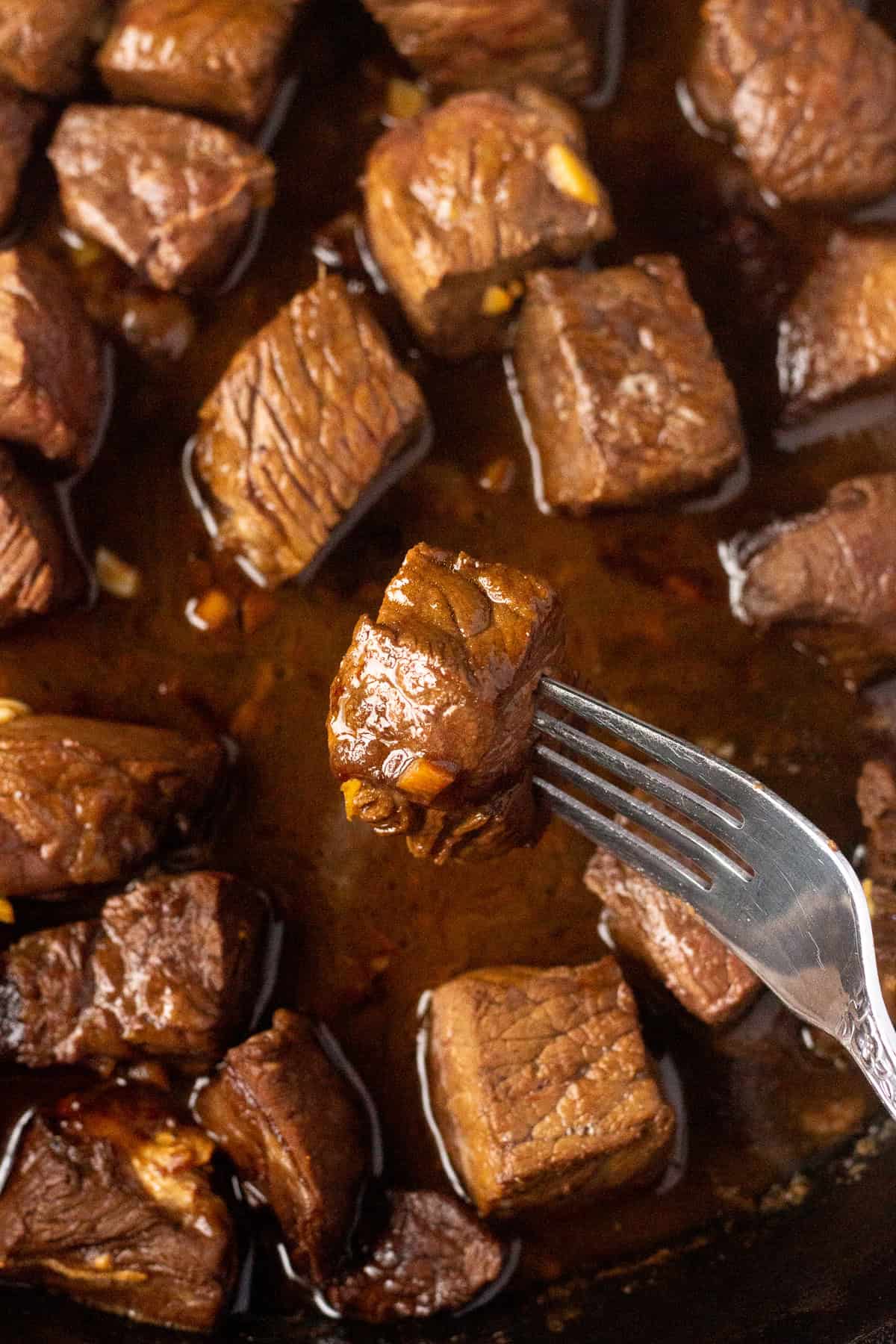 Marinated steak bites are the perfect party food, main beef protein or appetizer. They are beyond easy to make and turn out tender and delicious every single time. Cook them on the grill or stovetop!
Ground Beef Sliders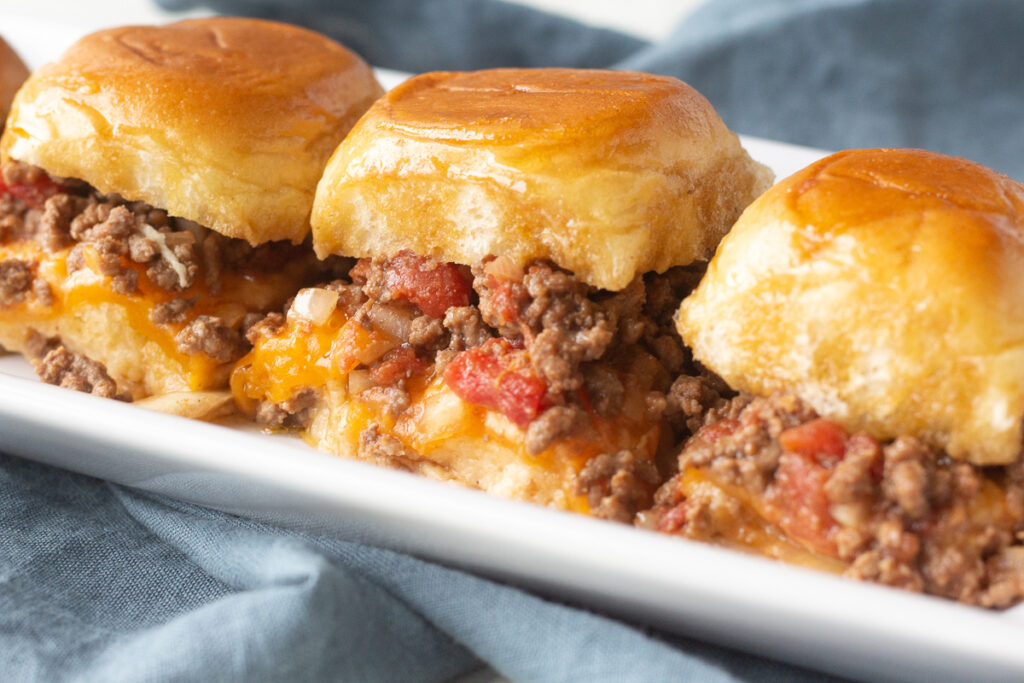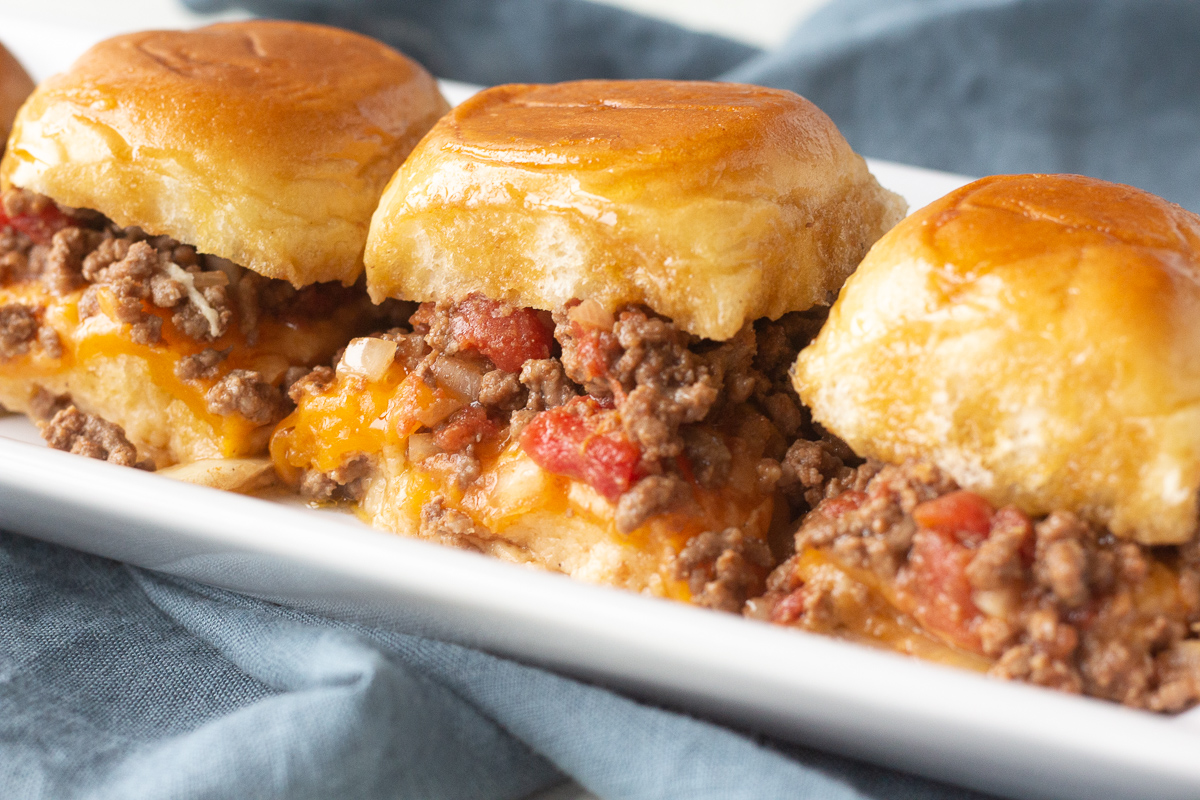 This ground beef sliders recipe is the PERFECT party food. Bring these to your next party, no matter the theme or season, and they will be a hit!
How To Make An Instant Pot Whole Chicken Rotisserie Style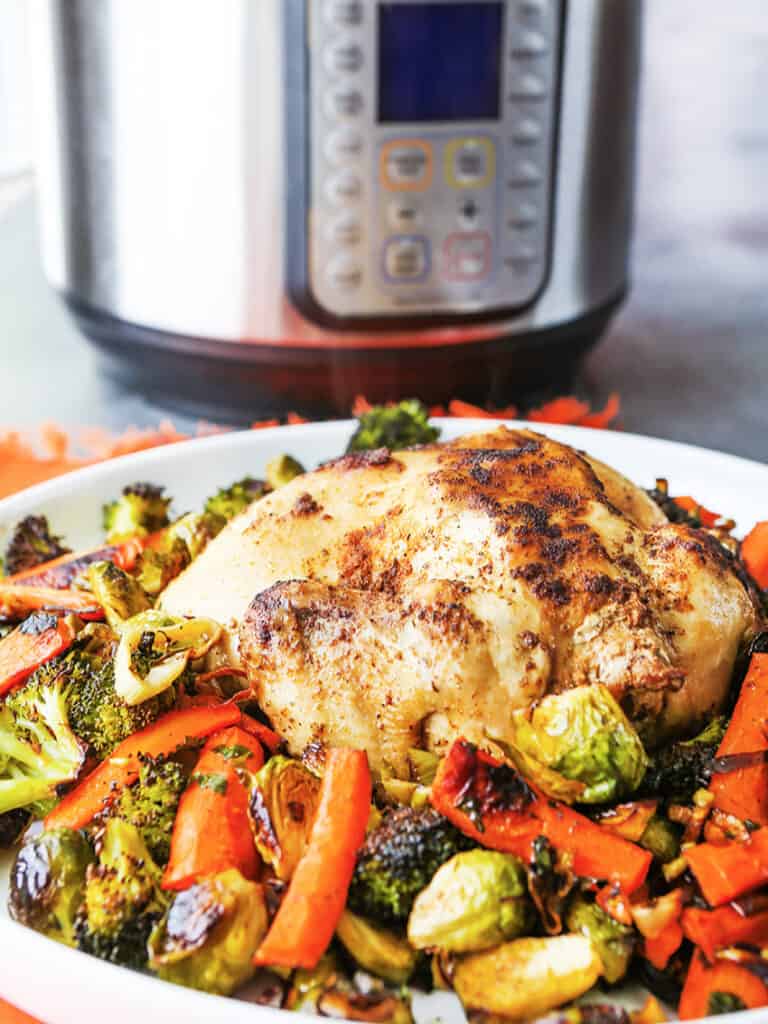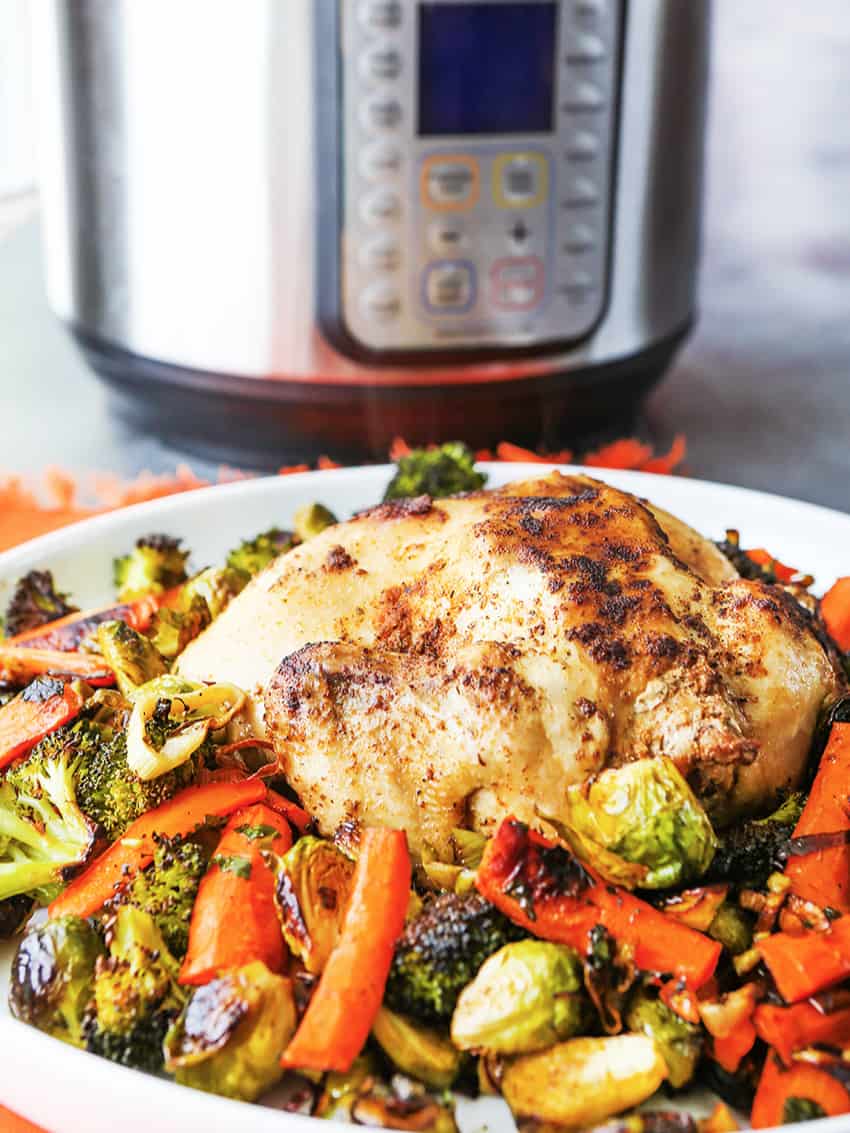 Cook a tender, perfectly roasted whole chicken in your Instant Pot rotisserie-style in less than an hour! This recipe turns out perfectly every time. Perfect for an easy dinner or to have on hand for added protein in your favorite chicken recipes throughout the week.
Shepherd's Pie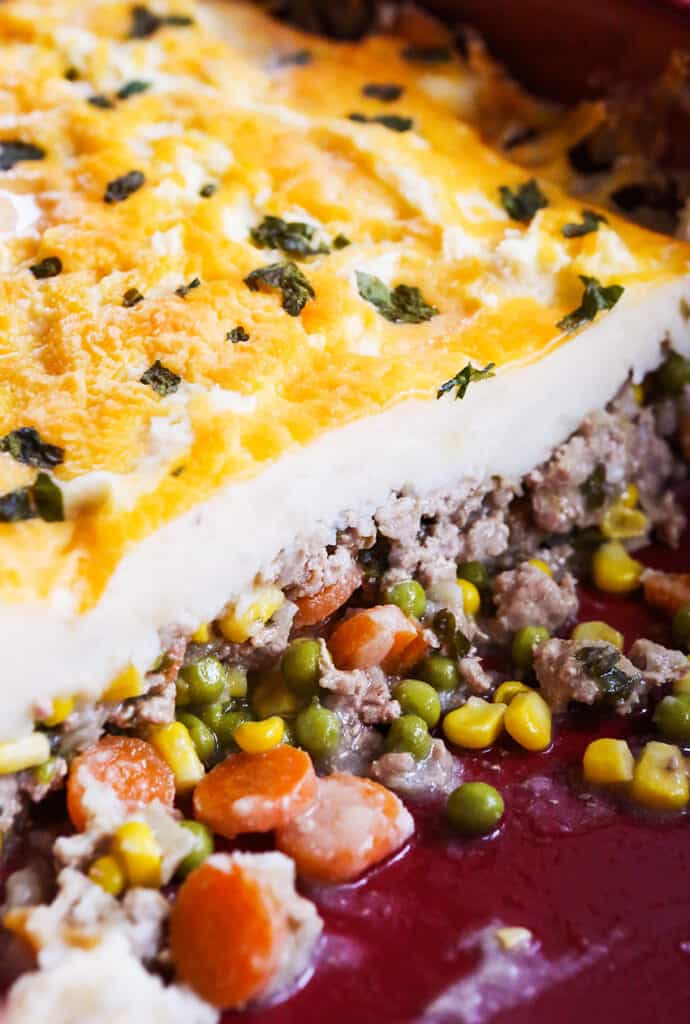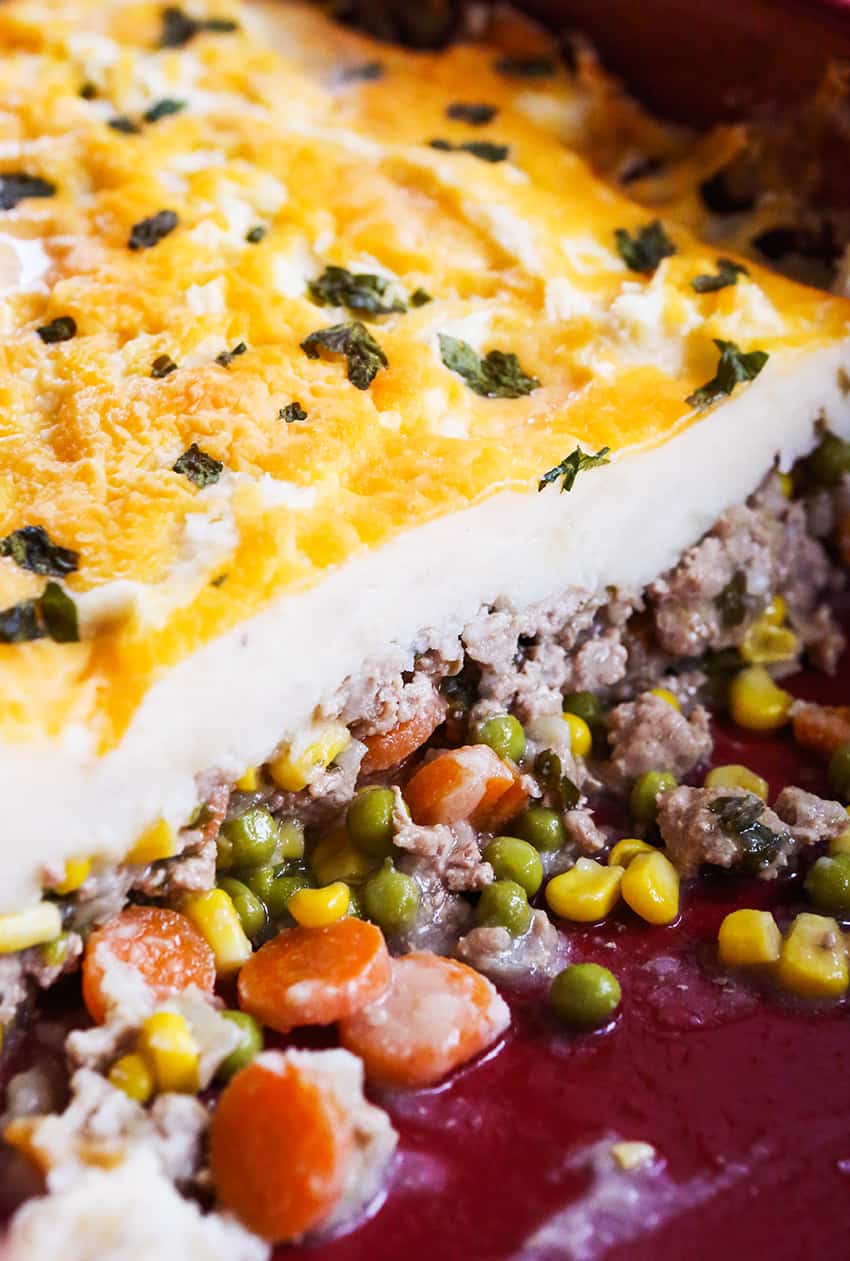 This classic, comforting turkey shepherd's pie recipe will leave everyone, big and small, wanting more. A ground meat, veggie-packed layer is covered by creamy, dreamy mashed potatoes and topped with melty cheese for good measure! This is a great weeknight dinner and also perfect party fare!
Pork Loin With Apples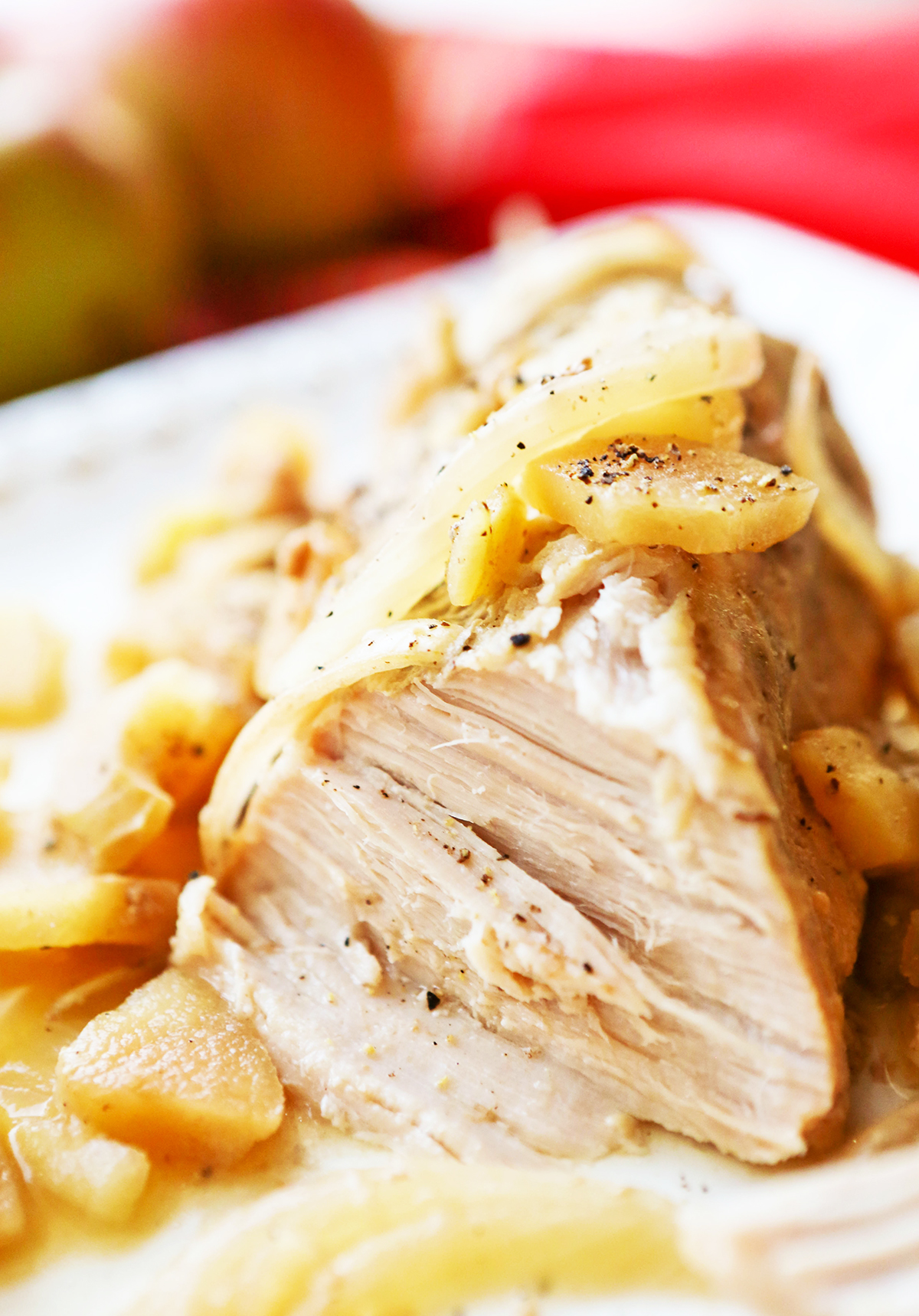 Fall is the perfect time for pork tenderloin with apples! It is such an easy, delicious meal with only 10 minutes of prep required. Prep it in the morning and by evening a hearty and healthy dinner is ready to serve. The pork is so tender and flavorful! This is a great way to use apples in the fall!
Pan-Fried Pork Chops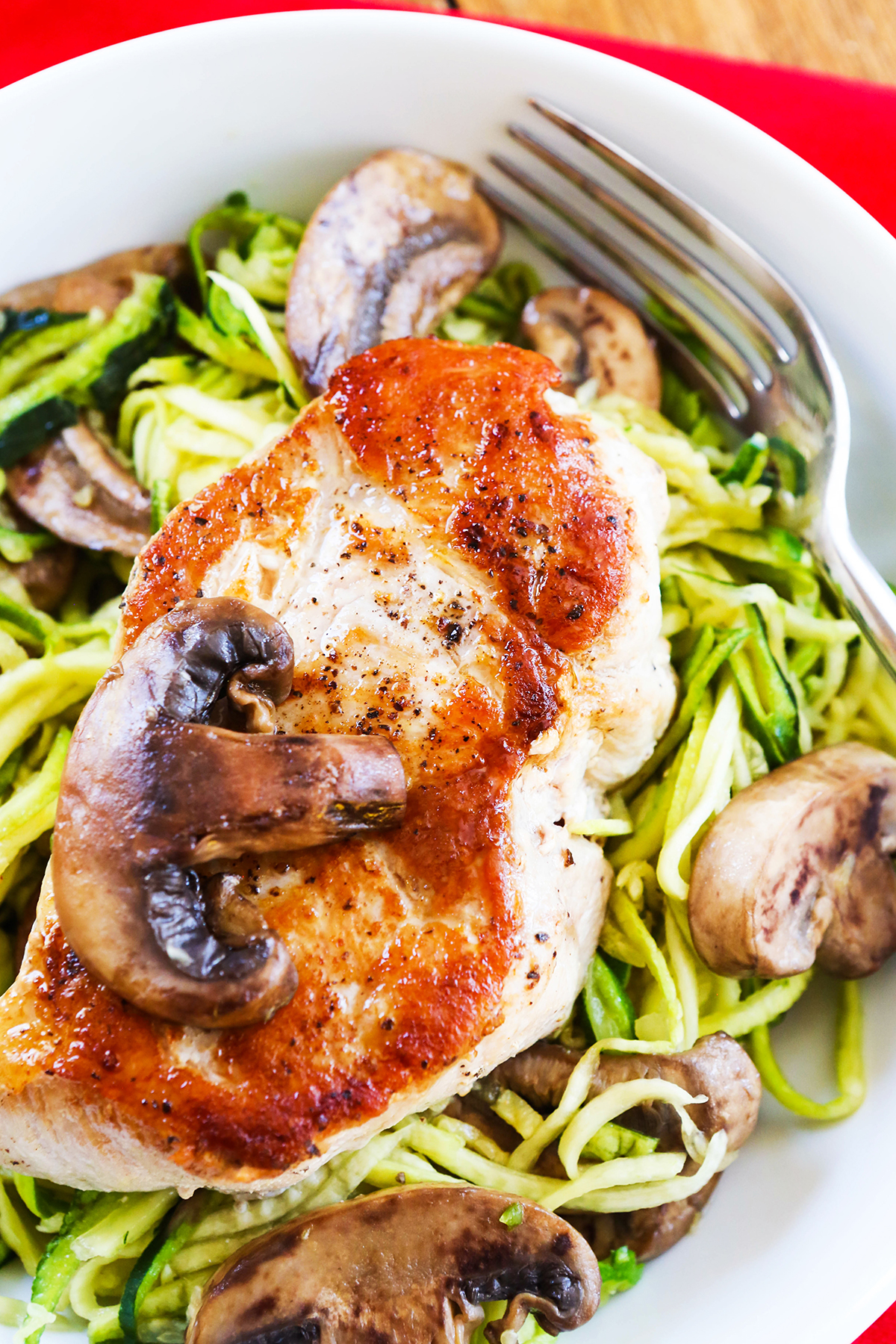 This is my mom's pan fried pork chops recipe and since learning her method, I will never prepare pork another way again. Make the pork chops while steaming some veggies and dinner will be done in less than 20 minutes!
Instant Pot Pot Roast with Potatoes and Carrots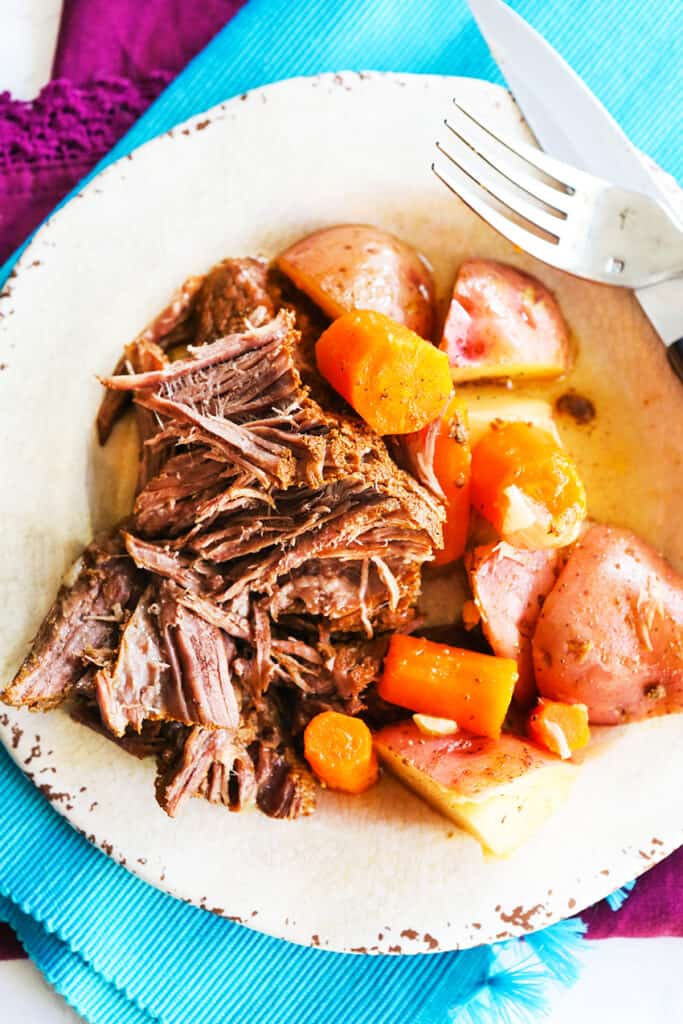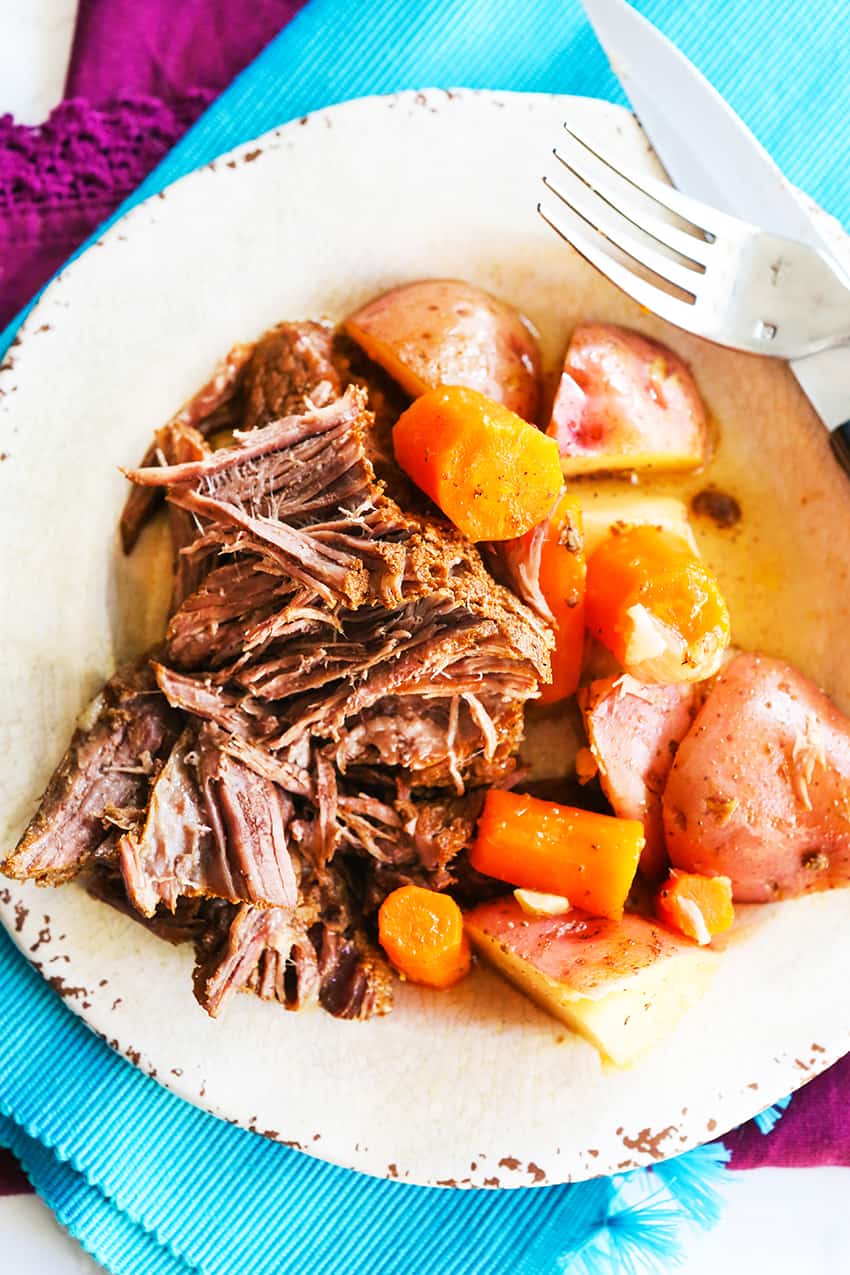 Make your next pot roast in your Instant Pot! Beef, potatoes, carrots and gravy are made in a single pot and they cook perfectly every time. This is the juiciest, most tender roast your lips will ever taste!
Instant Pot Pot Roast with Potatoes and Carrots are an easy dinner option any night of the week that the whole family will love!
Instant Pot Chicken Breasts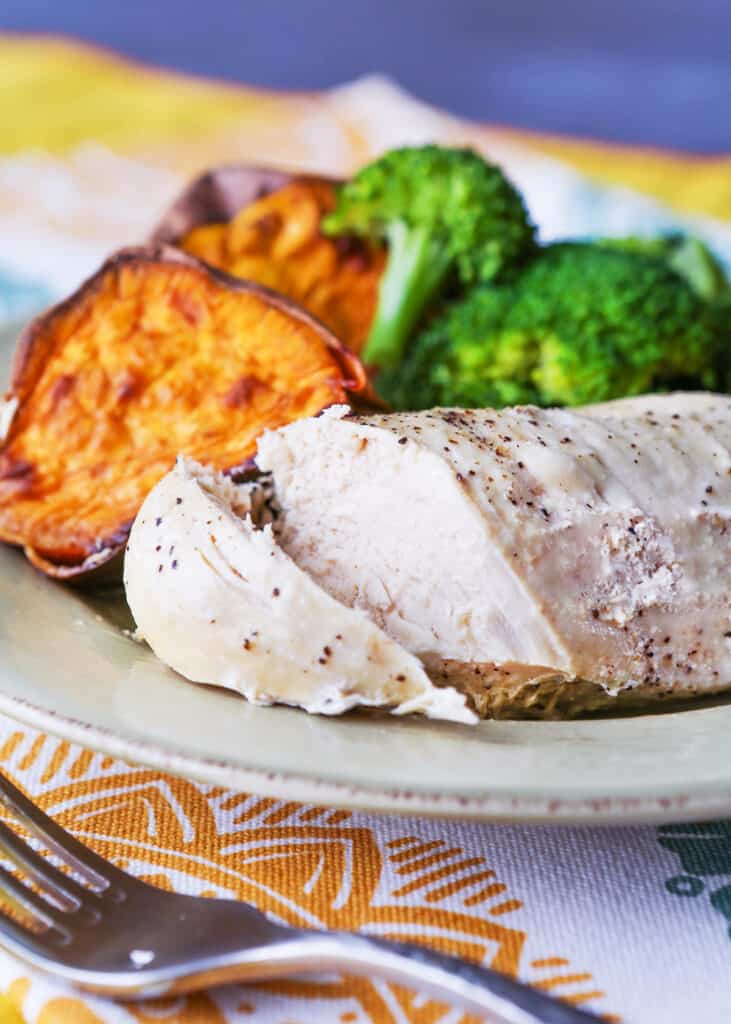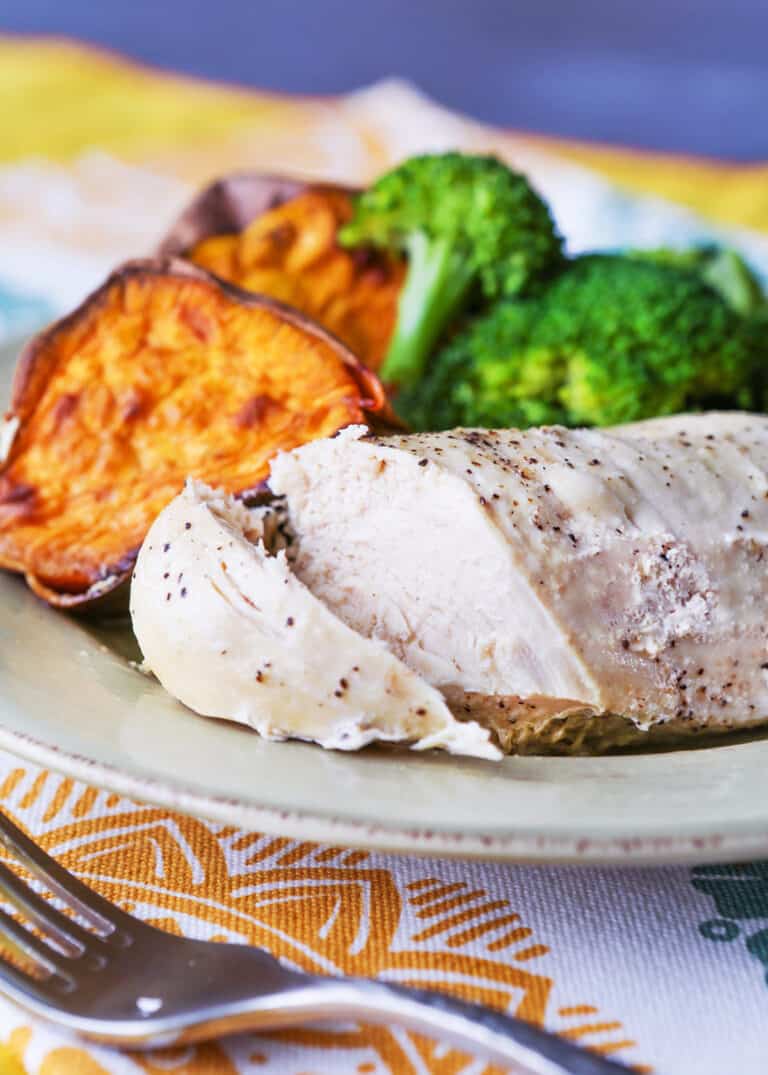 You can cook Instant Pot grilled chicken to simulate the tender, perfect chicken that comes from the grill. Start with thawed or frozen to create the most delicious chicken you will ever make.
Instant Pot Goulash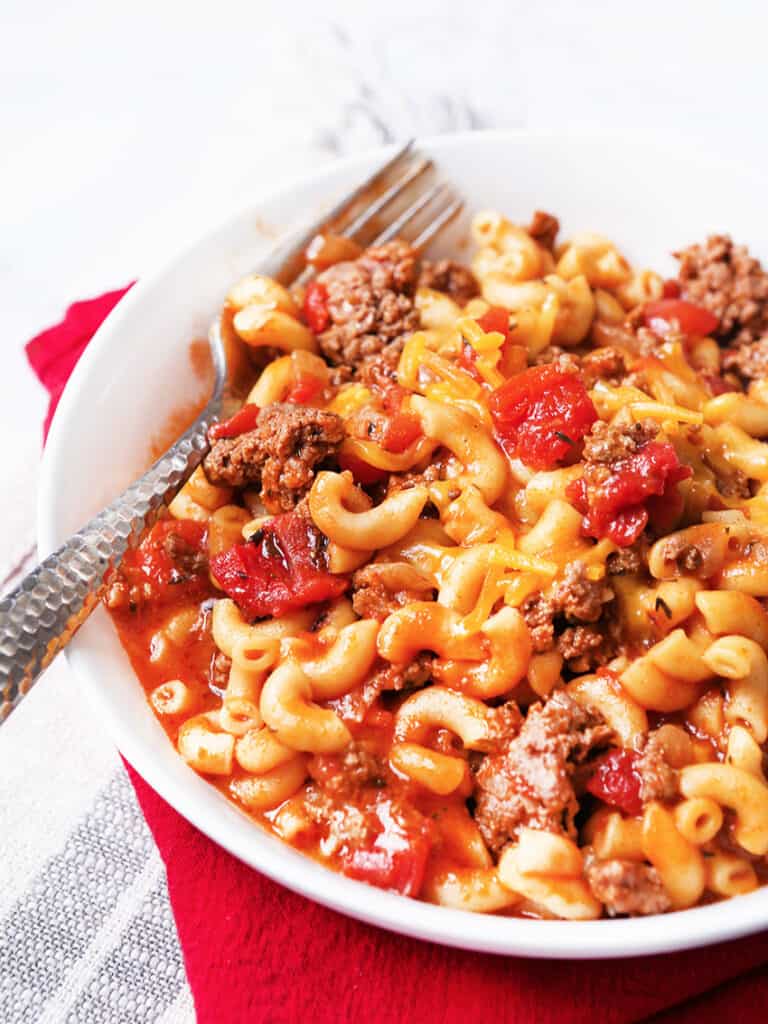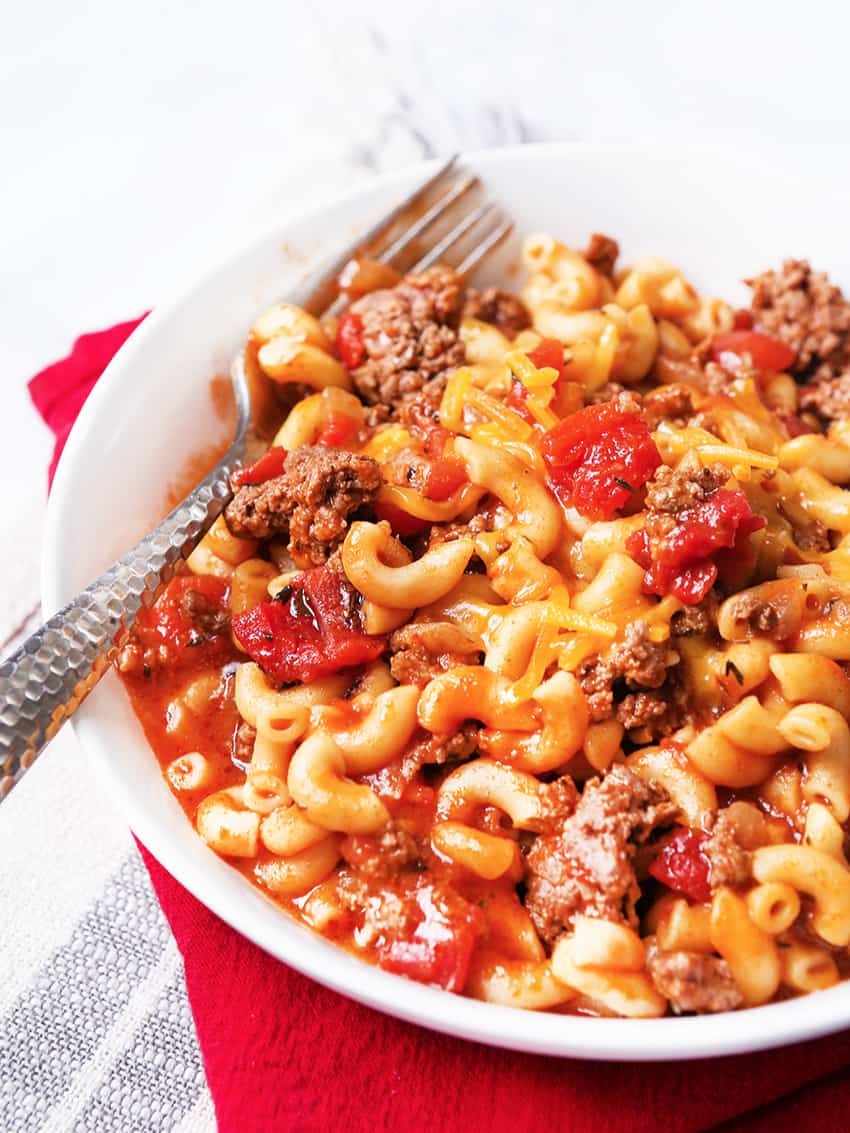 Make comforting, hearty Goulash in your Instant Pot! This Instant Pot Goulash recipe could not be easier or more delicious. It cooks perfectly every time and is done in only 30 minutes. Perfect easy dinner any night of the week!
Air Fryer Salmon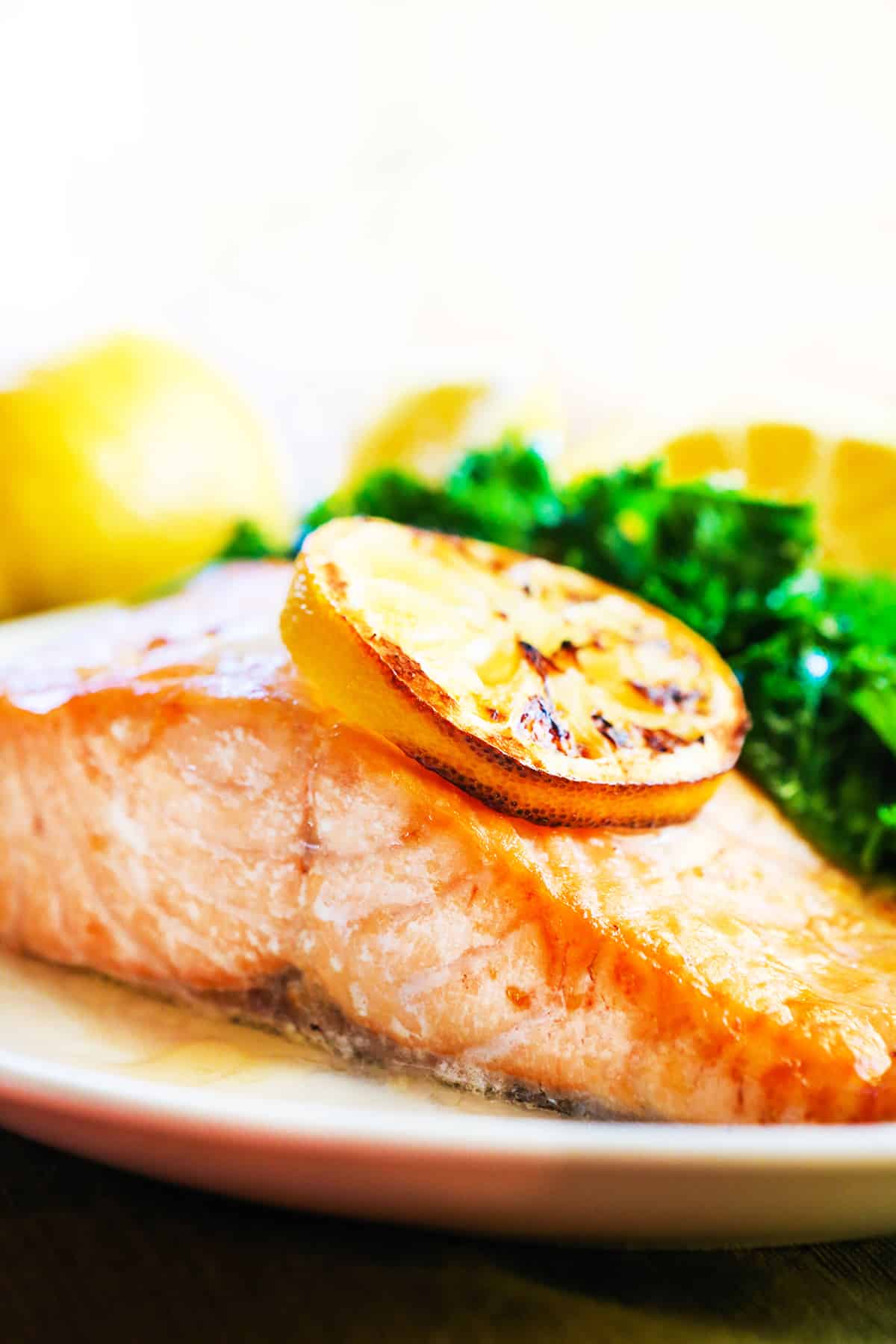 Introducing the most perfectly cooked and easy-to-prepare salmon you will ever eat. Dinner is on the table in less than 30 minutes!
Baked Pork Loin with Seasoned Rub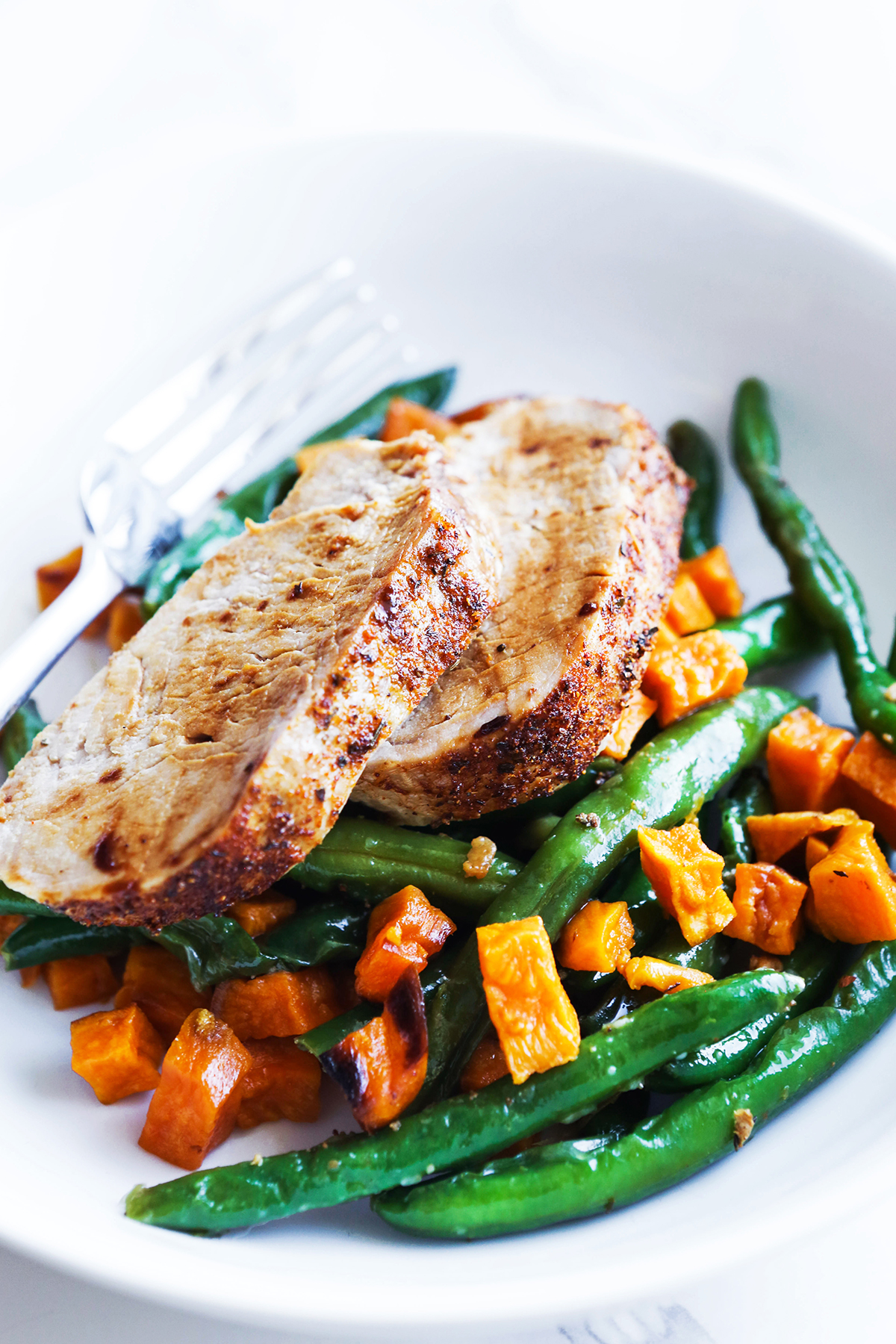 This baked pork tenderloin is delicious, affordable and easy, done in 30 minutes! The ingredients are likely already in your kitchen. Enjoy it as a Whole30 compliant and low carb meal, too!
Green Bean Casserole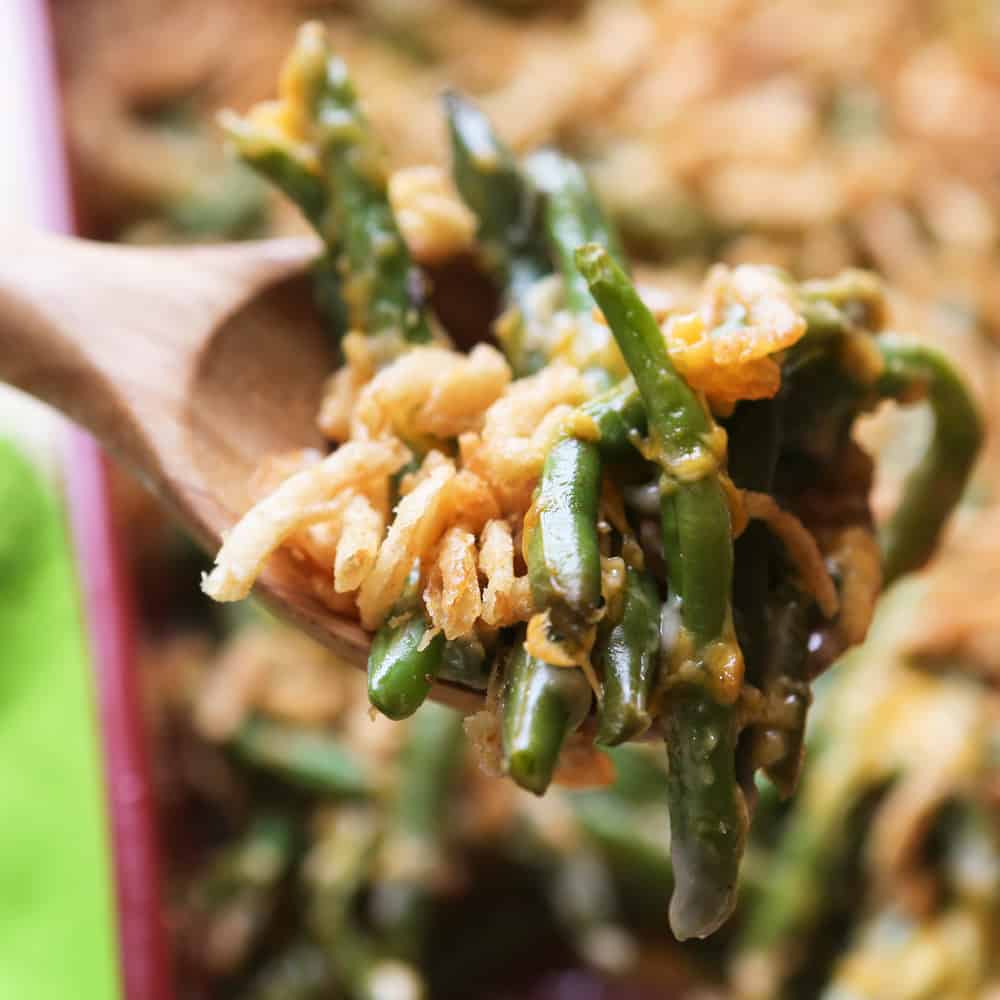 This is the BEST Green Bean Casserole recipe for your table! It is a traditional holiday staple, yes, but also great any time of the year as a delicious side dish.
Fried Walleye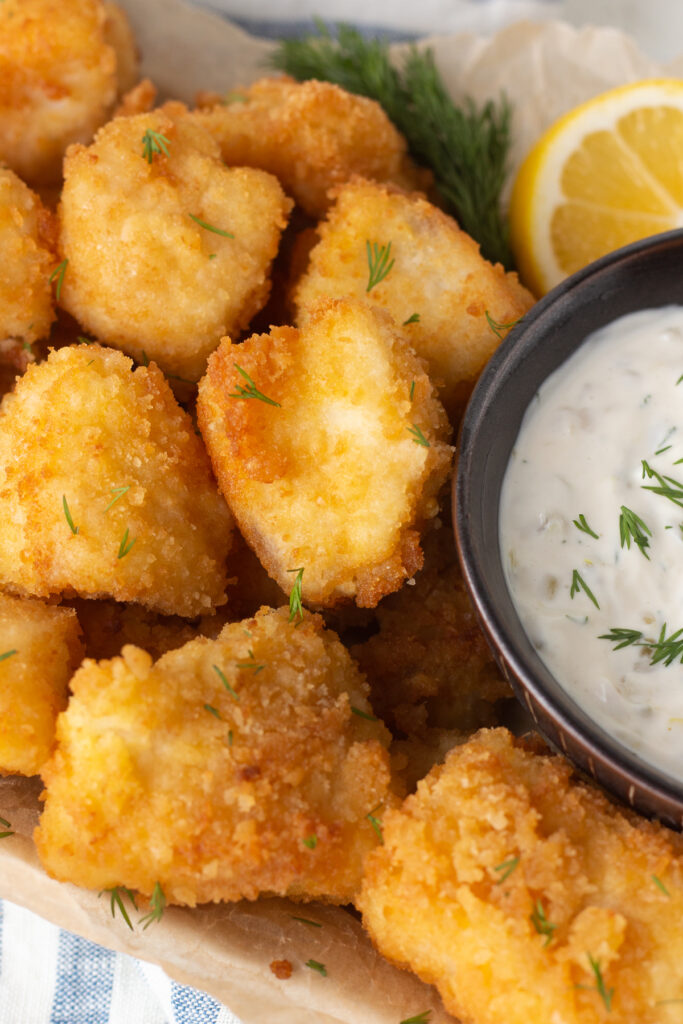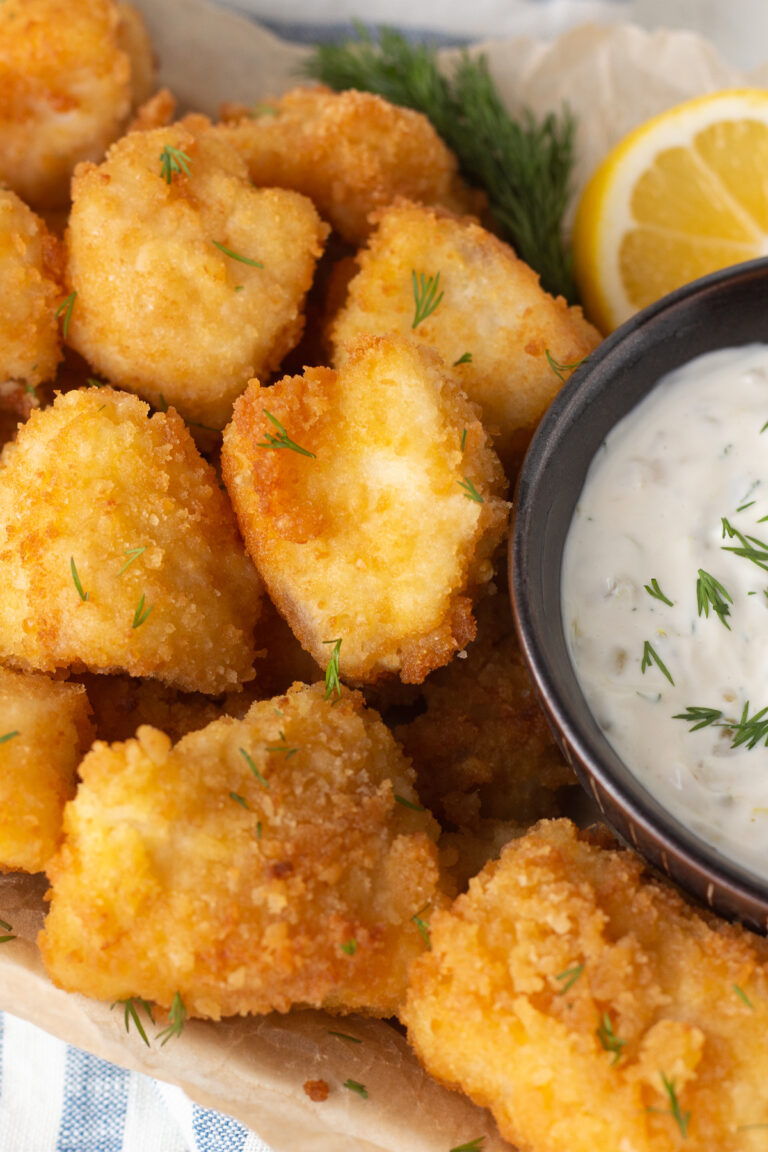 Fried walleye is a must-try Minnesota classic food! Friday fish fries are held throughout the state all summer long and walleye is the headliner. Whether you enjoy it on a sandwich slathered in tartar sauce or eaten solo, it's a delicious meal. Served with butter and lemon, it is so delicious.
Chicken Fried Steak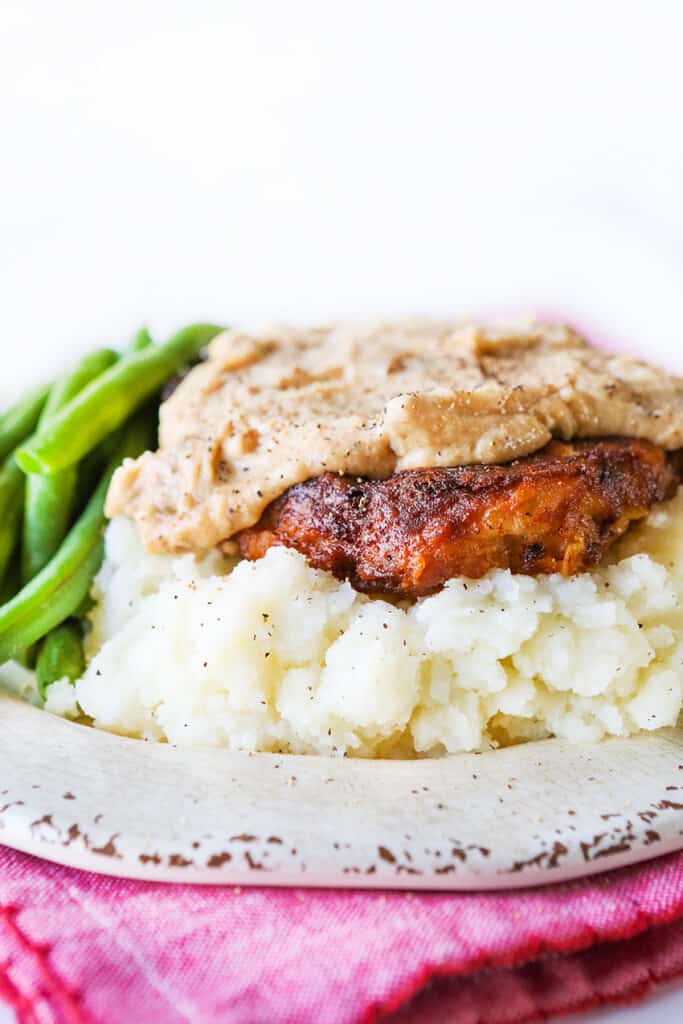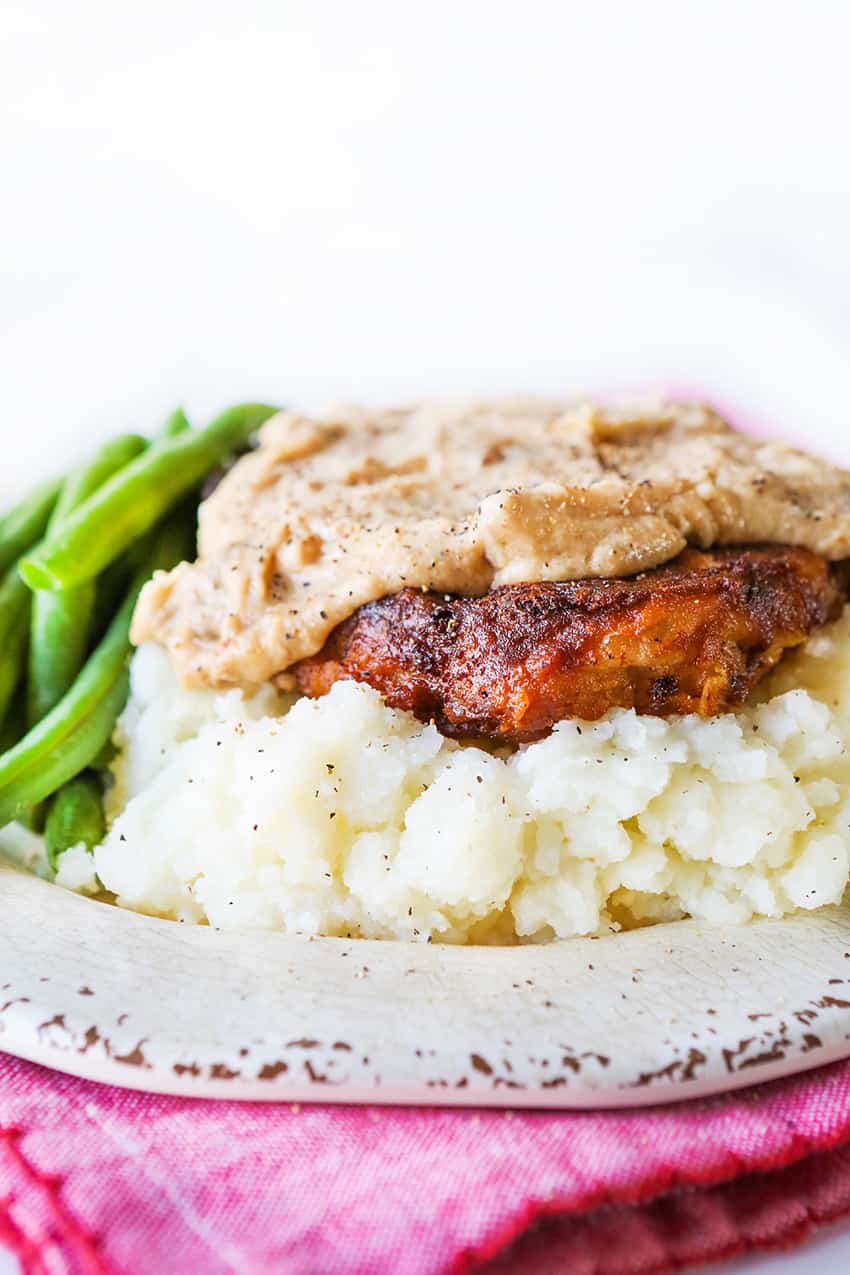 This easy Chicken Fried Steak recipe is done in just 30 minutes! Tender beef is topped with a thick gravy made quickly with drippings from the pan. Perfect easy and comforting dinner for busy nights!
Instant Pot BBQ Ribs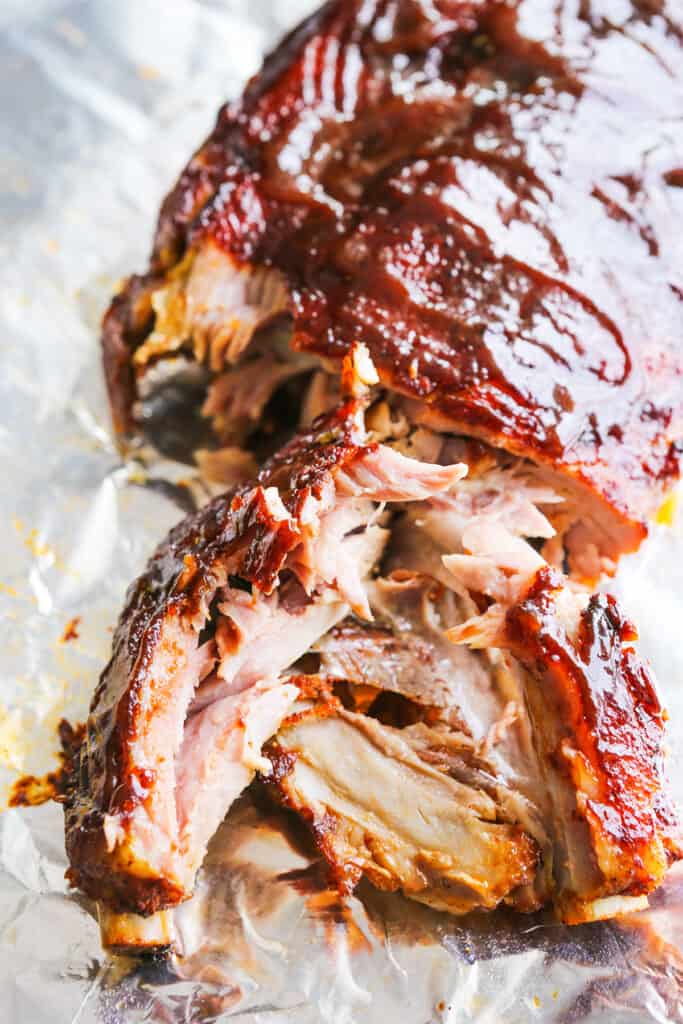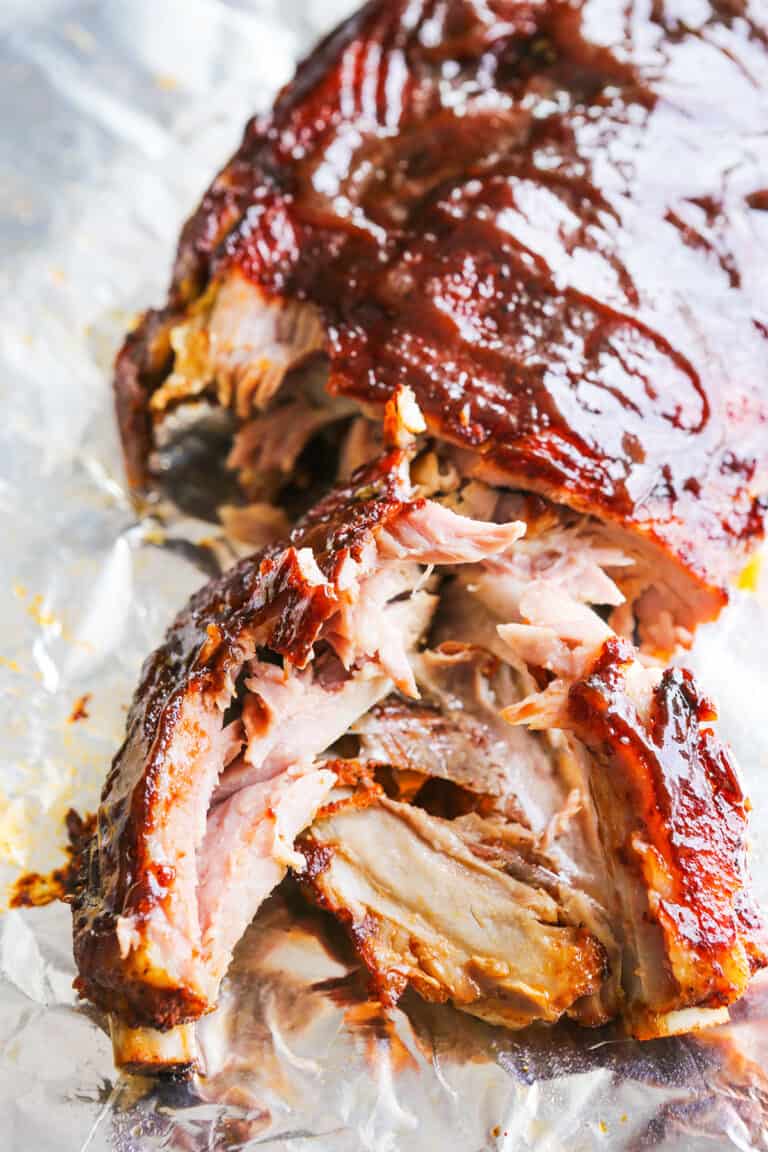 These are the best Instant Pot ribs and they make for an easy, meaty meal! The meat is fall off the bone tender. Makes a super, easy weeknight meal or a fun summer bbq addition!