Pork Loin with a delicious Seasoned Rub is an affordable and easy dinner to prepare. Oven baked, this meal is done in a half hour. The ingredients are likely already in your kitchen! You'll enjoy this as a Whole30 compliant meal too!
How's your week going, friends? Mine has been a bit of a blur, with the snow, the unseasonably cold temps and topped with a touch more snow. What month is this, anyway? Typically by now I'm enjoying sunshine on the deck, so I took matters into my own hands yesterday..
Despite the confusing weather, a lot has been going on here at Pip and Ebby! Deliciousness is flying around the kitchen.
Ok, so this Pork Loin with a yummy Seasoned Rub has become one of my new favorite healthy and easy dinners. It is compliant with the Whole30 diet, if that's your thing, and it is packed with flavor! The pork comes out tender-juicy and the quick sear on the stove sends it into the abyss of greatness.
HOW DO YOU KEEP PORK LOIN FROM DRYING OUT?
After searing the pork in the pan on your stove, this meat will be covered in the baking dish to keep the juices in the pan so it stays moist. You could also elect to wrap the meat in aluminum foil with olive oil and then place it in the baking dish. Heating it at a higher heat for a shorter amount of time helps to keep it juicy.
HOW LONG SHOULD I COOK PORK LOIN?
Typically you should cook each pound of meat about 20 minutes. However, by following the instructions below and pan searing it first on each side, you're able to jump start the cooking process and reduce the amount of time needed in the oven. Using a meat thermometer will help to be most accurate in the cooking time.
I've made this Pork Loin twice in the past couple weeks and both times we have enjoyed it with Glazed Carrots, Roasted Sweet Potatoes and veggies. It is great with mashed potatoes, as well! Delish!
Please make sure your pork is fully cooked on the inside before serving. If you have a meat thermometer, the internal temperature should reach 145 degrees F. If you don't have a meat thermometer, cut into the center and make sure it is cooked through and no longer pink.
Have a great rest of your week, lovelies! Thanks for being here.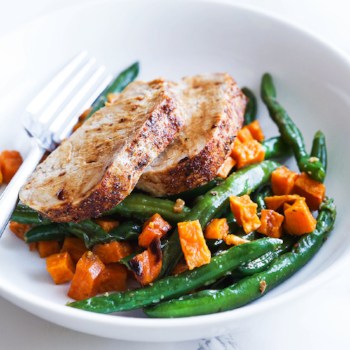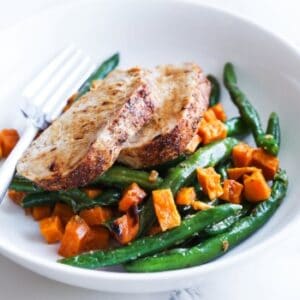 Pork Loin with Seasoned Rub
This pork loin is affordable and easy to prepare and it complies with the Whole30 program!
Print
Pin
Rate
Ingredients
1

tsp.

garlic powder

1

tsp.

oregano

1

tsp.

cumin

1

tsp.

thyme

1

tsp.

paprika

1

tsp.

salt

1

tsp.

pepper

3-5

lb.

boneless pork loin

3

tbsp.

olive oil
Instructions
Preheat oven to 350 degrees F and coat a 9×13 baking dish with cooking spray. In a small bowl, combine the garlic powder, oregano, cumin, thyme, paprika, salt and pepper. Mix well.

Place the pork loin on a large dish or plate and rub the seasoned mix all over the entire surface. Heat the olive oil in a skillet over medium heat and add the pork loin. Cover and cook on each side for 3-4 minutes, or until seared and golden in color.

Place pork in the prepared baking dish and bake in the preheated oven for 30 minutes, or until cooked through and no longer pink in the center (meat thermometer should read 145 degrees F). Serve immediately!
Nutrition
Calories:
567
kcal
|
Carbohydrates:
4
g
|
Protein:
77
g
|
Fat:
25
g
|
Saturated Fat:
6
g
|
Cholesterol:
214
mg
|
Sodium:
649
mg
|
Potassium:
1369
mg
|
Fiber:
2
g
|
Sugar:
1
g
|
Vitamin A:
702
IU
|
Vitamin C:
2
mg
|
Calcium:
61
mg
|
Iron:
4
mg
Did you make this recipe?
If you loved this recipe, please rate the recipe and leave a comment below!