If you make or purchase a batch of pasta sauce and find that is thin and lacks substance, there are ways to fix it! Read on for tips about how to make thick spaghetti sauce.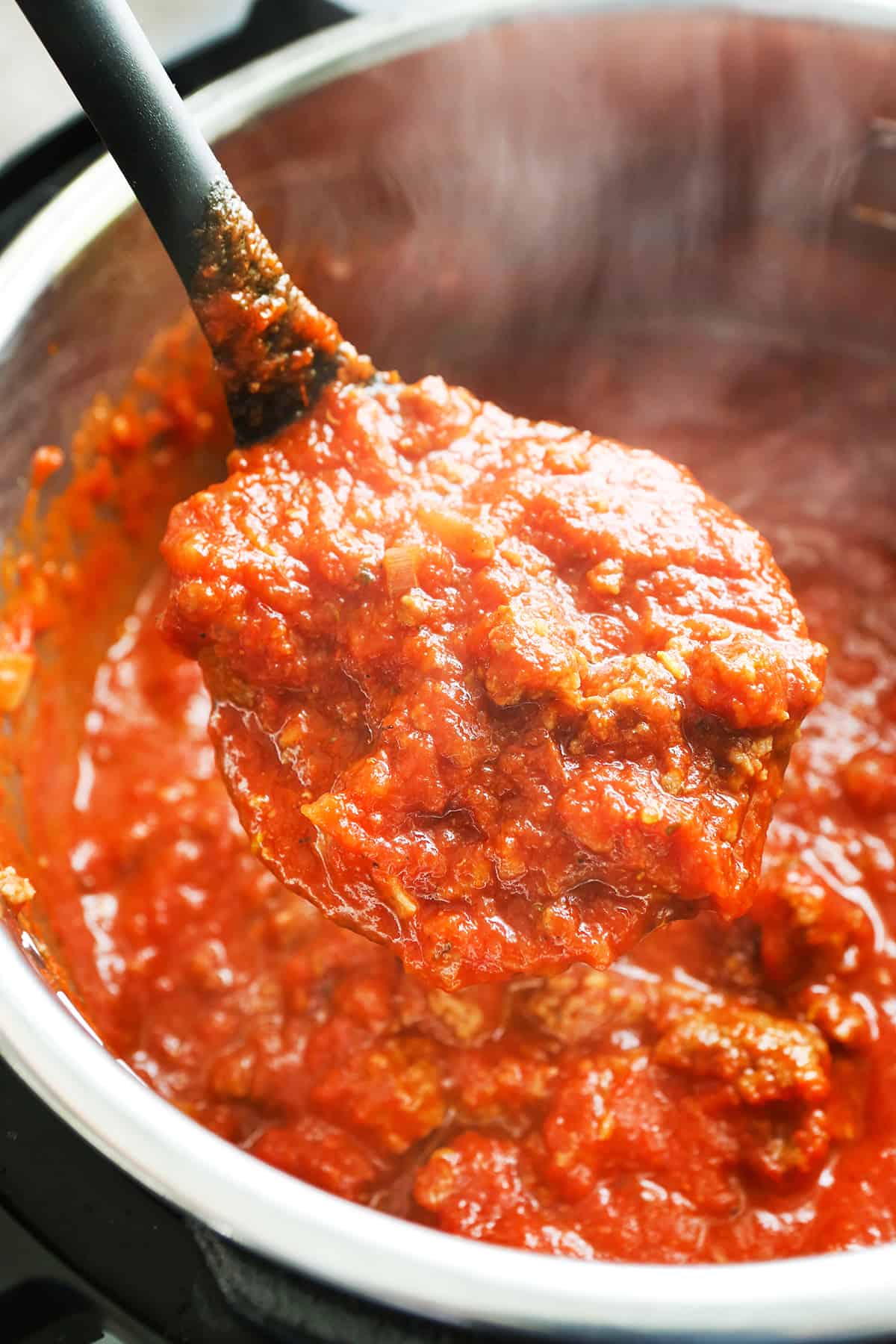 Whether you open a jar from the grocery store or you've just finished cooking a homemade batch, there is nothing better than gazing at a thick, hearty batch of pasta sauce. What happens when instead of thick and luscious, you find a thin sauce that lacks luster?
Do not throw it away! It can be saved! Use one or more of the strategies below to thicken it up. No one will ever know it was once thin and droopy.
FAQ About Spaghetti Sauce
Is spaghetti sauce gluten free?
Most spaghetti sauce recipes are gluten-free. When looking for gluten-free store-bought varieties, check the label for ingredients that contain wheat.
Are spaghetti sauce and pizza sauce the same?
Pizza sauce is typically made using tomato sauce, tomato paste and seasonings and is cooked briefly on the stovetop. Spaghetti sauce is made using additional ingredients such as onions, bay leaves and crushed tomatoes and simmers for a couple hours to help enhance the flavor.
Can spaghetti sauce be used for pizza?
Spaghetti sauce sauce can be used in place of pizza sauce in a pinch. First, run the sauce through a strainer to get rid of excess liquid. Transfer to a food processor or blender and puree until smooth. Add 1 teaspoon each of fennel seed and Italian seasoning.
Does spaghetti sauce go bad?
Unopened spaghetti sauce will typically remain at optimal quality for approximately 1 year, but can be used past that. Opened sauce will remain fresh when stored properly in the fridge for up to 10 days. Discard if visible signs of mold are present.
Can spaghetti sauce be frozen?
Store spaghetti sauce in a sealed container in the fridge for up to 5 days. If there are visible signs of mold, discard the sauce. To extend the shelf life, freeze it! Allow the sauce to cool completely and pour it into an airtight container or freezer bag. Place in the freezer for up to 4 months. When you are ready to use it, remove frozen sauce from the freezer and allow it to thaw completely. Pour into a saucepan and simmer over medium heat for 5 minutes before serving.
Homemade Pasta Sauce Recipes
Before we dive into thickening strategies, let's talk homemade sauce recipes. Here are a few delicious options for you to choose from!
Flavor Boosters
Spruce up the sauce by using any or all of the following: red pepper flakes, fresh tomatoes or diced canned tomatoes, crushed tomatoes, olive oil, fresh basil or dried basil, grated Parmesan, a few minced garlic cloves or fresh chopped onions.
Consider adding sugar (or other sweetener) 1 teaspoon at a time for a sweeter sauce.
Adding homemade marinara sauce boosts the flavor hugely!
Add a dash or two of red wine for a more complex end result.
Throw in some chopped veggies, such as green pepper, onion, mushrooms, zucchini or carrots.
Cheese is a great way to boost flavor. Add up to 1/2 cup of cheddar, mozzarella, cream cheese or parmesan cheese.
Add seasonings. Oregano, Italian seasoning, salt, black pepper, onion powder and garlic powder are all great ways to increase the flavor profile. Use any dried or fresh herbs of your liking, such as basil leaves, dried or fresh Italian parsley or fennel seeds.
A few splashes of Worcestershire sauce will add a ton of bold flavor.
How To Make Thick Spaghetti Sauce
Do not toss your weak, thin, watery spaghetti sauce! Take a deep breath and employ one or more of the below strategies to thicken it up and make it dinner-worthy.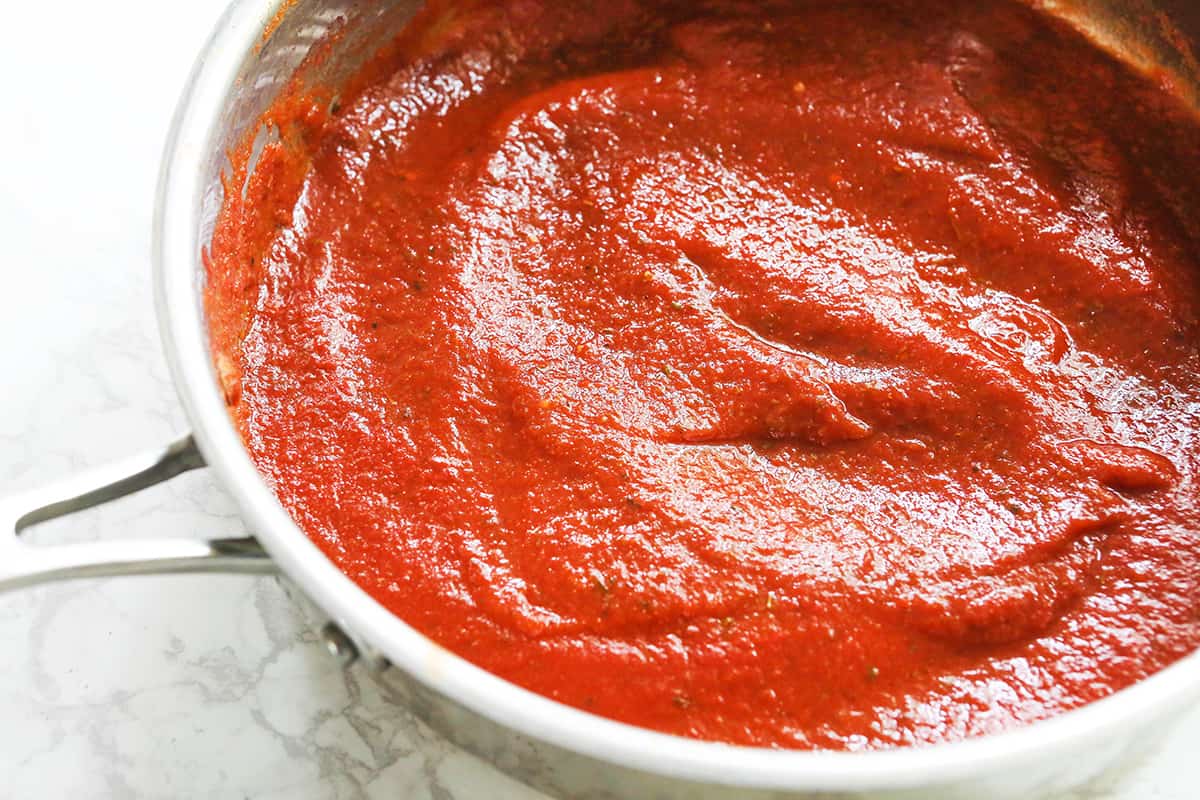 Let It Simmer
Simmering sauce on the stovetop over medium-low heat is the easiest way to thicken it. Simmer from anywhere between 10-60 minutes until thick consistency has been achieved. Stir occasionally to avoid scorching.
Slow Cooker
This method is a super simple trick! If you have time to wait, transfer the mixture to a crockpot and let it cook for a few hours to achieve a thicker consistency. Stir throughout, cooking for up to 4 hours.
Corn Starch Slurry
Adding a corn starch slurry is an easy way to thicken sauce quickly. Simply combine equal parts cornstarch and water (start with 1/4 cup each). Whisk until smooth, then stir into the sauce.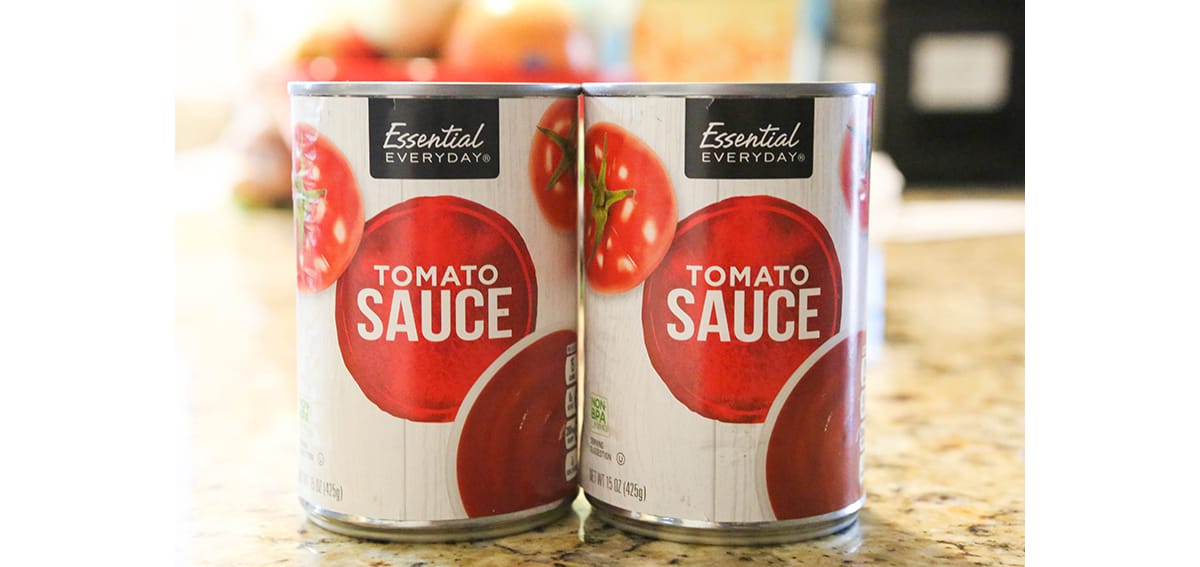 Tomato Paste or Sauce
If you have a can of tomato sauce or paste on hand, throw it into the mix! This is one of the most simple ways to not only achieve a thicker sauce, but add flavor as well. Stir and cook on the stove top for 5 minutes, or until fully combined and warmed through.
Tip: Make your own thick tomato sauce in your Instant Pot for an extra burst of flavor! Take its a step further and learn how to thicken tomato sauce for an even more robust texture.
Pasta Water
You likely have a pot of noodles cooking alongside your sauce. After they have finished cooking, reserve the water it cooked in. This water is filled with starch, which can act as a great thickening agent. Add up to 1/2 cup of the pasta water to your sauce and stir until fully combined. Adjust the amount of liquid used, depending on consistency you desire. Discard excess water.
Roux
Roux is a flour-fat thickening agent, typically involving butter but other oils can be used instead. In a separate pan or skillet, heat 1/4 cup butter over medium heat. Add equal parts all purpose flour and whisk until smooth. Add to the sauce and stir until combined and warmed through. This is a delicious method when also wanting to add creamy texture and flavor.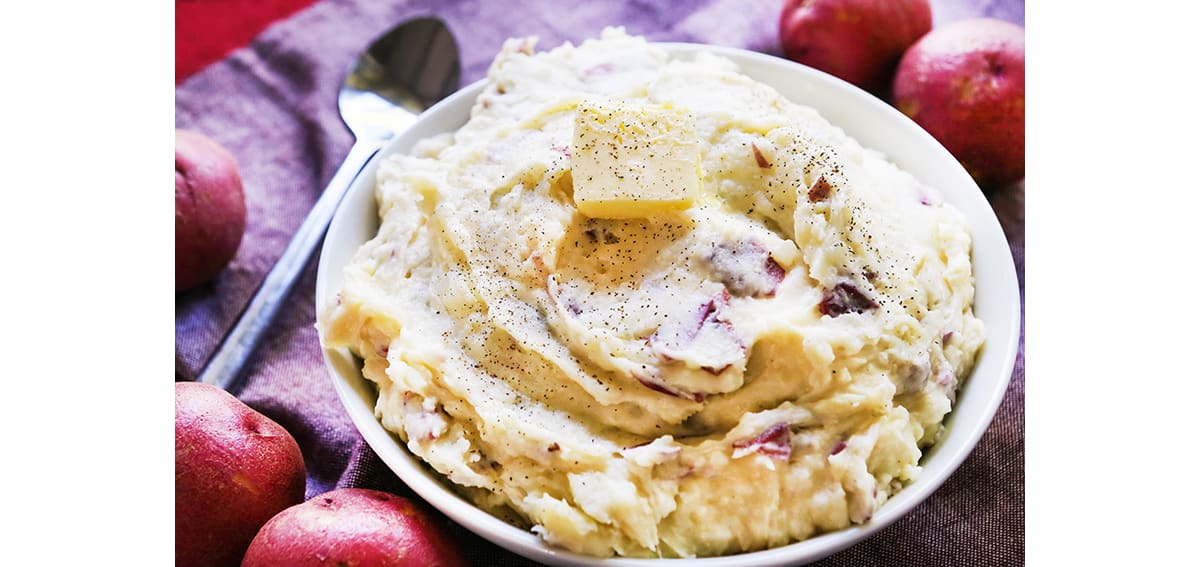 Mashed Potatoes
Adding mashed potatoes to sauce will give it a nice and creamy, thick texture that everyone will love. If you do not have mashed potatoes prepared, consider adding up to 1/2 cup mashed potato flakes instead.
Meat
Beef it up! Adding any variety of cooked ground meat will produce a nice, thick sauce all meat eaters will love. Consider adding Italian sausage, ground beef, ground turkey or even venison. Cook 1 pound of meat of your choice until golden brown and no longer pink. Drain and add to the mixture.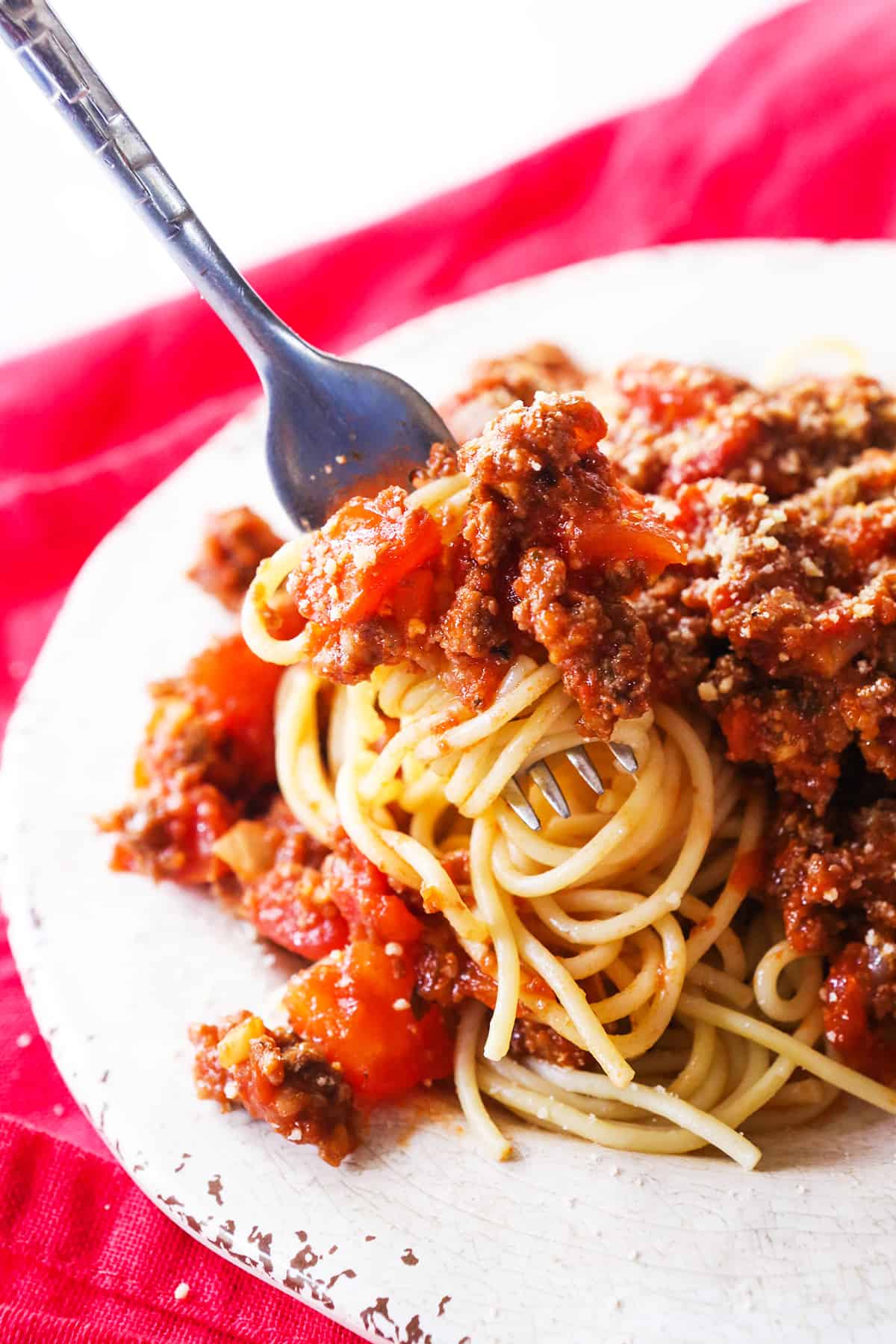 Other Easy Homemade Sauces to Make This Week
If you are looking for other easy sauces to make from scratch, check out this helpful list of 18 homemade sauces you can use now or freeze for later. Inside this roundup, you'll find savory sauces like pizza sauce and marinara sauce as well as sweet ones such as hot fudge sauce and blueberry, too!
How To Prepare Tomatoes for Freezing
If you have fresh garden tomatoes on your hands, be sure to freeze extras so you can turn them into a sauce later. Prepping fresh tomatoes for freezing is super easy! Don't waste those juicy red morsels that have spent the summer growing in your garden.
Learn the best method for freezing whole tomatoes to thaw and use them in the coming winter months!
Recipes Using Pasta Sauce
Spaghetti is a classic and comforting dinner option, but what to do with leftover sauce? If you don't want to toss it, click over for ideas about ways to use leftover spaghetti sauce so nothing goes to waste.
Marinara vs Spaghetti Sauce
So close in texture, color and flavor that you could call them cousins! Let's get to the heart of the issue and explore marinara vs spaghetti sauce. What are the differences?!
How Long Is Spaghetti Sauce Good For In The Fridge
How long is pasta sauce good for in the fridge? If you have a jar of it staring at you and you are wondering whether to toss or eat.. click over for all the information you'll ever need!