Dumplings are a delicious snack, side or appetizer, but what if you find yourself with leftovers? Learn how to reheat fried dumplings in a variety of methods and in just a few easy steps!
How To Reheat Fried Dumplings
Great news! There are a variety of different methods you can use to reheat your fried dumplings. Here is your comprehensive guide!
How To Reheat Fried Dumplings On Stove Top
The best method for reheating fried dumplings is on the stove top. Heat 1-2 tablespoons of olive oil in a skillet over medium heat. Place dumplings in the hot skillet in a single layer. Cook for 2-3 minutes per side, or until crispy and heated through.
For extra crispy dumplings, cook over medium-high heat, cover with a lid and cook for another couple of minutes per side. Remove from the frying pan and serve immediately.
Alternatively, you can reheat leftovers in a pot of boiling water on the stove top for approximately 3 minutes, or until heated all the way through. Use a metal steamer basket, if desired.
Place boiled dumplings in a bamboo steamer until ready to eat!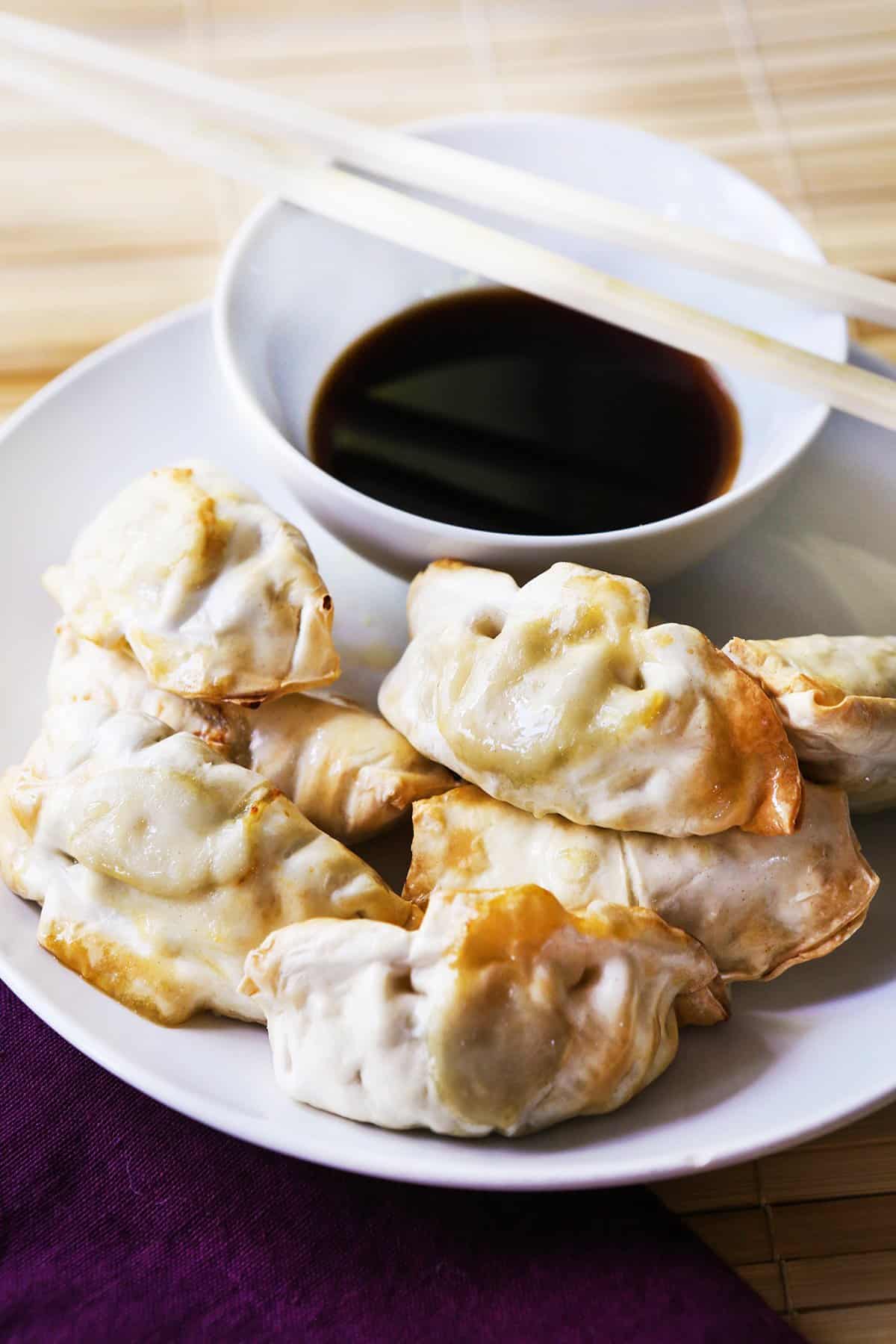 How To Reheat Fried Dumplings In Oven
Reheating dumplings in the oven is a great option for bringing them back to life. Place in a single layer on a baking sheet lined with parchment paper, or in a baking dish. Brush lightly with a little oil to prevent them from drying out.
Bake at 350 degrees fahrenheit oven for 10 minutes, or until heated through. For best results, do not exceed 15 minutes of oven time.
How To Reheat Fried Dumplings In Air Fryer
Another popular option for reheating fried dumplings is to throw them in your air fryer! Place a single layer of dumplings in an air fryer basket. Spray with oil to help them crisp up.
Cook at 375 degrees F for 3 minutes per side. Do this in batches. Serve immediately after cooking!
How To Reheat Dumplings In Toaster Oven
Heat dumplings in toaster oven with little effort. Place them on the tray that fits into the toaster oven in a single layer. Spritz with cooking oil to assist in getting that extra crispy bottom while toasting.
Cook at 375 degrees F for 5 minutes per side.
How To Reheat Dumplings In Microwave
Putting leftover dumplings in a microwave isn't the most ideal form of reheating, but it is the quickest. Place them in a single layer on a microwave safe dish.
Cover loosely with a damp paper towel. You may also add a small amount of water to the dish to keep them from drying out.
Microwave on high heat in 1-minute intervals, checking to see if they are warmed through after each interval.
Note: While this is the easiest method, it also may produce chewy or soggy dumplings. For better results, choose one of the other reheating method options.
Easy Air Fryer Frozen Dumplings
Learn how to make delicious dumplings from frozen quickly and deliciously in a matter of minutes! Straight from the freezer to your air fryer, this is the best way to enjoy the many different types of dumplings available in the freezer aisle.
This is one of those easy recipes that will add time back to your day!
Can You Freeze Dumplings
Freezing dumplings is a great way to extend the shelf life of this yummy food:
Cook them via the method of your choice.
Once cooked and cooled to room temperature, place them in a single layer on a baking sheet lined with parchment paper.
Perform a flash freeze by placing the entire baking sheet in the freezer for approximately 30 minutes, or until partially frozen.
Transfer to a heavy-duty freezer bag or airtight container and freeze for up to 3 months for best results and to prevent freezer burn.
What To Serve With Chinese Dumplings
Dumplings are a delicious appetizer, side dish or snack. Which dishes or dipping sauces do you serve alongside this yummy Asian treat? Read on for 19 delicious ideas about what to serve with potstickers!
Potstickers vs Dumplings
Pot stickers and dumplings are both types of Asian filled dough pockets that are popular in many cultures, but they have some key differences:
Potstickers are typically smaller in size and made with a thinner wrapper. They are filled with ground pork and cabbage. Most often they are pan-fried, giving them a golden brown crispy skin, and served with a soy sauce and vinegar dipping sauce.
Dumplings are made in a more doughy wrapper and are larger in size. They are filled with a more flavorful filling such as vegetables, seafood, meat or any combination of these ingredients.
Depending on the type of dumpling, they can be steamed, deep fried or pan-fried and are typically served alongside a dipping sauce that complements the filling.
Dipping Sauces for Dumplings
Choose from a variety of sauces to dip your dumpling into:
Gyoza
Sweet and sour sauce
Oyster sauce
Chili garlic sauce
Sesame oil
Chili oil
Chile sauce
Steamed vs Fried Dumplings
Here are the main differences between fried and steamed dumplings:
Steamed dumplings are typically lighter and healthier than fried due to the fact that they are steamed vs being cooked in oil. They also have a soft texture and are served with soy sauce as a dipping sauce.
Fried dumplings are typically pan-fried and have a crispier texture due to being fried, as their name suggests. They also have a more complex, rich flavor and are served with hot chili oil or sweet and sour sauce.
What Are Soup Dumplings
Soup dumplings are a popular dim sum dishfound in many Chinese restaurants. They require a bit of skill to make at home, filled with a mixture of pork and broth which transforms into a delicious soup once the dumplings are steamed.