Be prepared to swoon over this decadent Peppermint Buttercream Frosting. This may just be the best frosting I have ever tasted in my life. Thick and creamy, it literally goes great on everything – cookies, cupcakes, you name it!
I have this thing against store-bought frosting. I mean, why ever go that route when making frosting in your own kitchen takes so little time and tastes sooo much better? I have fallen in love with many a frosting in my life, but this dear delicious Peppermint Buttercream Frosting ranks high. It is UNBELIEVABLY yummy and once you try it you'll want to smear it all over everything in your entire house, like chocolate cookies or chocolate cake or steak and lobster.
MAKE A DELICIOUS SMOOTH PEPPERMINT BUTTERCREAM FROSTING AT HOME!
This rich buttercream is better than any store bought, more affordable too and perfect for cake, sweet rolls and whoopie pies – just 4 ingredients needed!
1 cup (2 sticks) salted butter, softened

5 cups powdered sugar

2 tablespoons milk

2 teaspoons peppermint extract
In a large bowl, mix (using whisk attachments) the butter with a hand or stand mixer on medium speed until fluffy. Add the powdered sugar one cup at a time until just combined. Add the milk and peppermint extract and mix on medium speed for 3 minutes.
Refrigerate until ready to spread on desserts. Crusting up candy canes or peppermint candies gives this buttercream a little texture and color that is perfect for dressing up a dessert. Add it at the end if you have them on hand!
If you prefer cream cheese frosting over buttercream, not to fret! I have a Peppermint Cream Cheese Frosting for you, as well. Whichever you prefer, I beg you not to go store-bought.
BUTTERCREAM VS REGULAR FROSTING
Buttercream – just like the name says, it starts with a rich butter which also gives it a slightly yellow tint. It tends to be less sweet but is a great option for all your baked goods. This is the perfect time to try a new brand of butter that's higher quality and see how buttercream has an even more complex flavor that will make you want to enjoy eating it by the spoonful!
Frosting – The base of this frosting is shortening or cream cheese (no butter!). If you're shooting for a completely white frosting, this is the route you'll want to go.It'll produce a fluffier, thicker texture. Because shortening has no flavor, be sure to add an extract to your bowl that will flavor your frosting and avoid it tasting like eating vegetable oil or like a chemical. This is typically used to just frost the outside of a cake.
Icing – Icing is a sweet often glossy treat that is thinner than frosting, almost runny, used to glaze treats and top them as they are ready to be put out.
I'm hoping you all had a very Merry Christmas! Thanks so much for being here!
FESTIVE HOLIDAY TREATS TO TRY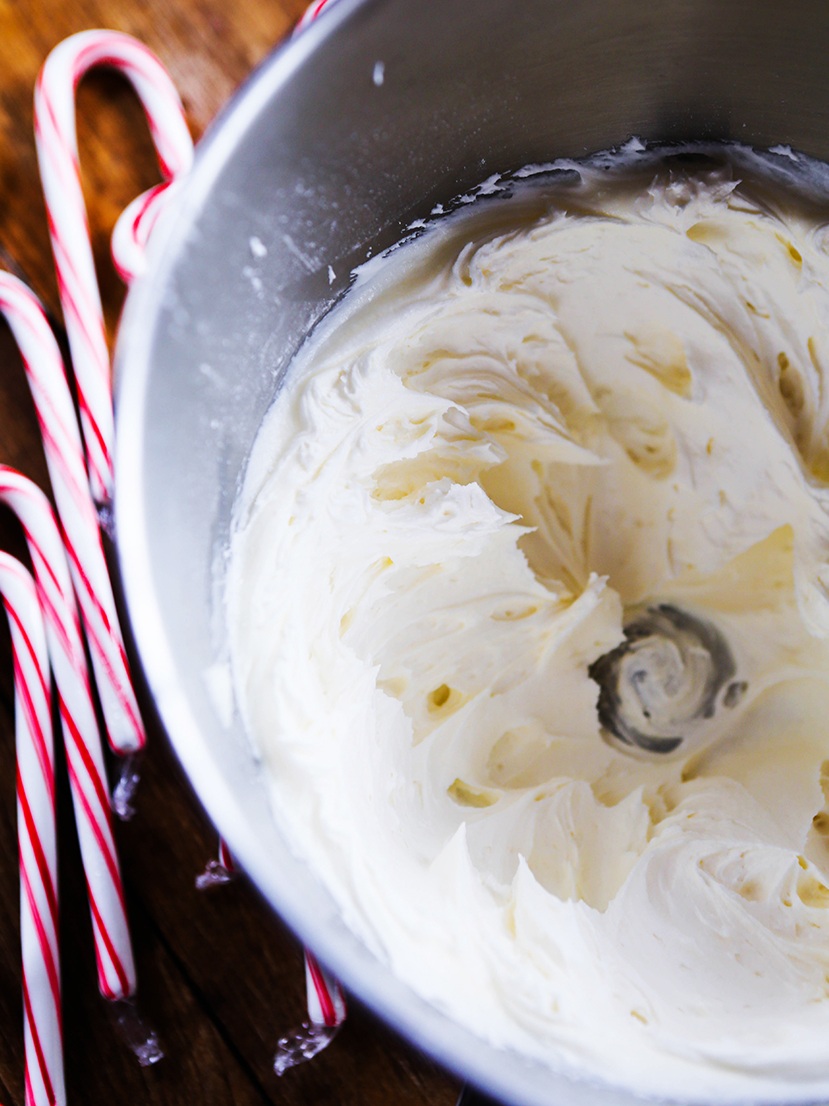 STORING LEFTOVER BUTTERCREAM FROSTING
The buttercream frosting in this recipe is safe at room temperature in an air-tight container for 2-3 days. The US Food Safety and Inspection gives it a thumbs up because of the amount of sugar and just a little bit of milk in it. A cream cheese based buttercream however needs to be stored in the refrigerator and is good for about a week. When getting ready to use it again, give it a few minutes to come to room temperature. If you don't think you'll have a use for it right away, freeze it! That'll give you a couple of months to put it away and then make another batch of these cookies.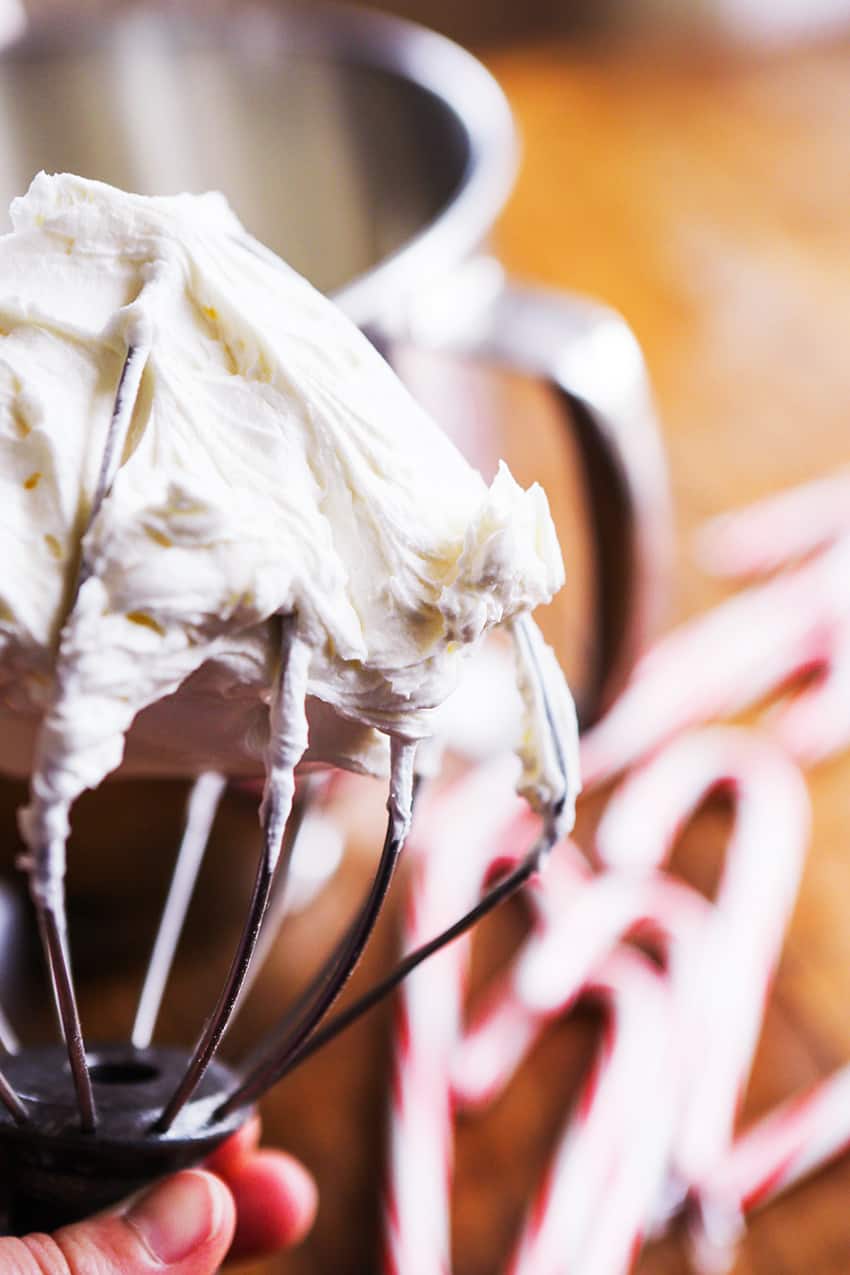 Peppermint Buttercream Frosting
Be prepared to swoon over this decadent Peppermint Buttercream Frosting!
Print
Pin
Rate
Ingredients
1

cup

salted butter

softened (2 sticks)

5

cups

powdered sugar

2

tbsp

milk

2

tsp

peppermint extract
Instructions
In a large bowl, mix (using whisk attachments) the butter with a hand or stand mixer on medium speed until fluffy. Add the powdered sugar one cup at a time until just combined. Add the milk and peppermint extract and mix on medium speed for 3 minutes.

Refrigerate until ready to spread on desserts
Nutrition
Calories:
4003
kcal
|
Carbohydrates:
601
g
|
Protein:
3
g
|
Fat:
185
g
|
Saturated Fat:
117
g
|
Cholesterol:
491
mg
|
Sodium:
1646
mg
|
Potassium:
94
mg
|
Sugar:
590
g
|
Vitamin A:
5673
IU
|
Calcium:
88
mg
|
Iron:
1
mg