Crab soup is the best soup ever! It is an easy meal bursting with seafood and a super rich flavor that'll make your taste buds sing. But what do you serve alongside it? Read on for 11 delicious ideas about what to serve with crab soup!
What To Serve With Crab Soup – Best Side Dishes
See the list of side dishes below if you are looking for side dishes to serve alongside your bowl of crab soup!
Seafood – There's never too much seafood! Serve with seafood salad, king crab legs, lobster bisque or any favorite seafood soup.
Steak – Make it a surf and turf meal by serving this soup with grilled steak bites. 
Salad – A simple salad such as a caesar salad, potato salad or steak salad are great options, topped with Parmesan cheese of course.
Bread – A slice of warm crusty bread, breadsticks or dinner rolls with butter are the perfect sides. Garlic bread is another great option, as well as serving it right inside a delicious bread bowl!
Potatoes – Baked potatoes or roasted potatoes complement this creamy soup perfectly.
Sweet potatoes – Serve baked or roasted sweet potatoes alongside this delicious soup. Sweet potato fries work great, too!
Sandwiches – A grilled cheese sandwich with lobster, shrimp, crab or even steak would make a great match. An egg salad sandwich is a great option, too!
Vegetables – Roasted broccoli, Brussels sprouts or cauliflower complement this dish perfectly.
See the collection of recipes below for recipes you can make in the comfort of your own kitchen!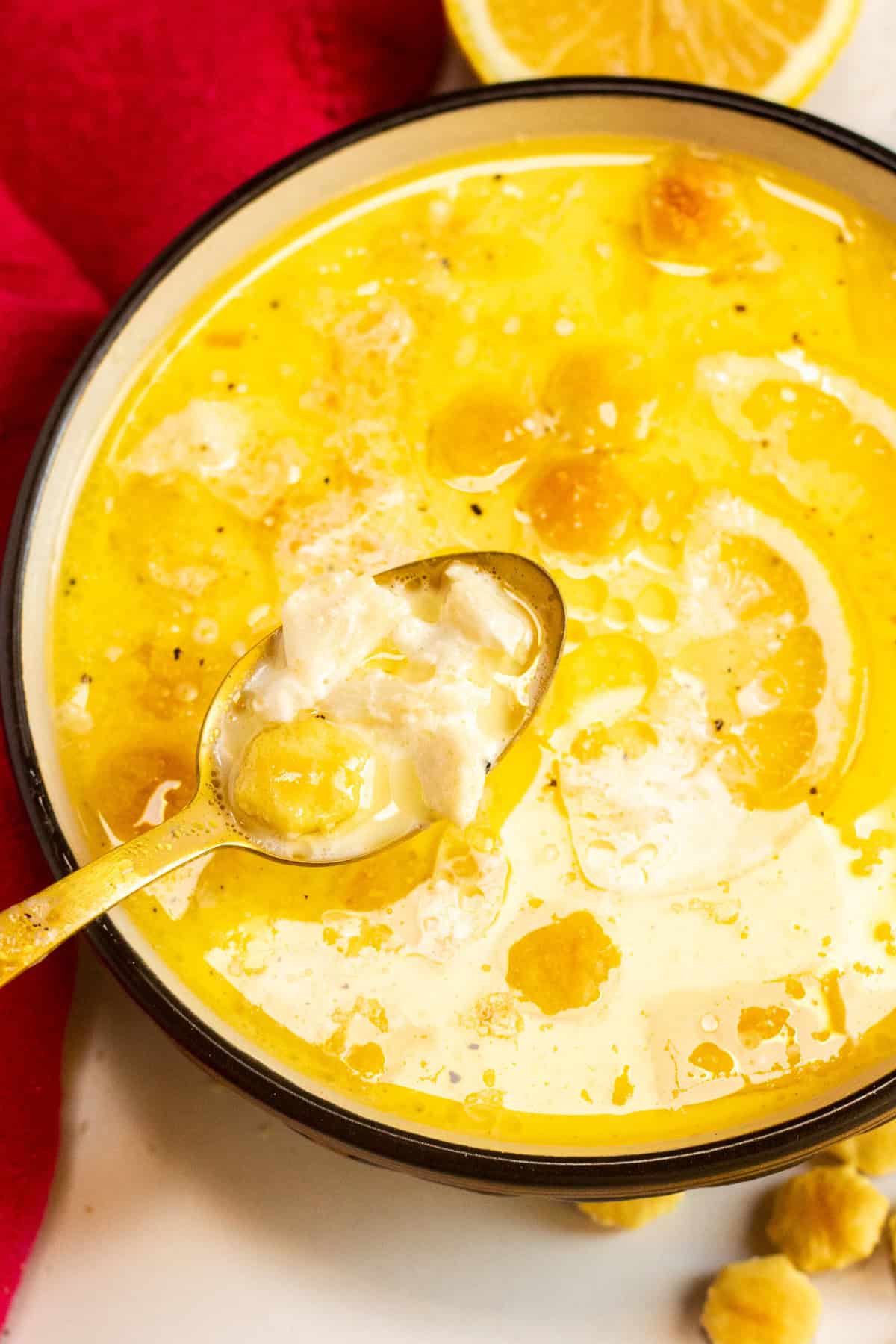 Easy Creamy Crab Soup Recipe
This easy crab soup recipe requires only 5 ingredients and it is done in less than 30 minutes! This seafood dish tastes complex but is actually very simple.
Recipe Notes
Use jumbo lump crab meat for best flavor, but imitation meat can be used in a pinch.
Fresh lemon juice and saltine crackers or oyster crackers are the perfect complement to this soup.
If you have it on hand, add a sprinkling of old bay seasoning!
Add a few bay leaves to the pot for a punch of flavor.
To slim down the recipe, cut the amount of butter used in half and replace half of the cream with milk.
A splash of Worcestershire sauce or red pepper flakes will turn up the flavor profile.
Serve with lemon wedges and freshly ground black pepper!
Replace heavy cream with whole milk, if desired.
What To Serve With Soup
Soup is an easy, comforting meal to prepare for dinner any time of the year. But what do you serve alongside it? Click over for 33 delicious ideas about what to serve with soup.
Canned Crab vs Fresh Crab Meat
Fresh crab meat is more costly since it requires extra work to harvest the meat. It has amazing flavor and will make your next recipe taste delicious! If you have the time and are willing to put in the work, I highly recommend using fresh crab meat.
Canned or packaged crab meat is available on your grocer's shelf. You can pop this ingredient straight out of the can. Often it comes with fillers, so pay attention to the ingredient list. Added flavors may affect the flavors in your recipe.
What is Imitation Crab Meat
Imitation crab meat is not actually crab meat, so be sure to read the label first. It looks similar to crab meat and flakes in the same way, but it is actually Alaska pollock.
Recipes Using Lump Crab Meat
FAQ About Crab Soup
What is the difference between she-crab soup and crab soup?
She-crab soup is made using only female crabs which carry flavorful eggs, making the flavor extra delicious.
How to store leftover crab soup?
Allow soup to cool to room temperature, then store leftovers in an airtight container in the refrigerator for up to 3 days for best results.
Can you freeze cream of crab soup?
Freezing the soup is not recommended. The cream in the soup will cause it to lose quality once thawed and reheated. If you do decide to freeze it, transfer to an airtight container and freeze for up to 3 months for best results.
How to make Maryland crab soup?
Maryland soup is made using crab meat combined with tomatoes, chicken or beef broth or seafood stock, beans, corn, Old Bay seasoning and sometimes vegetables such as carrots, onions, celery or green beans.
Brie Stuffed Mushrooms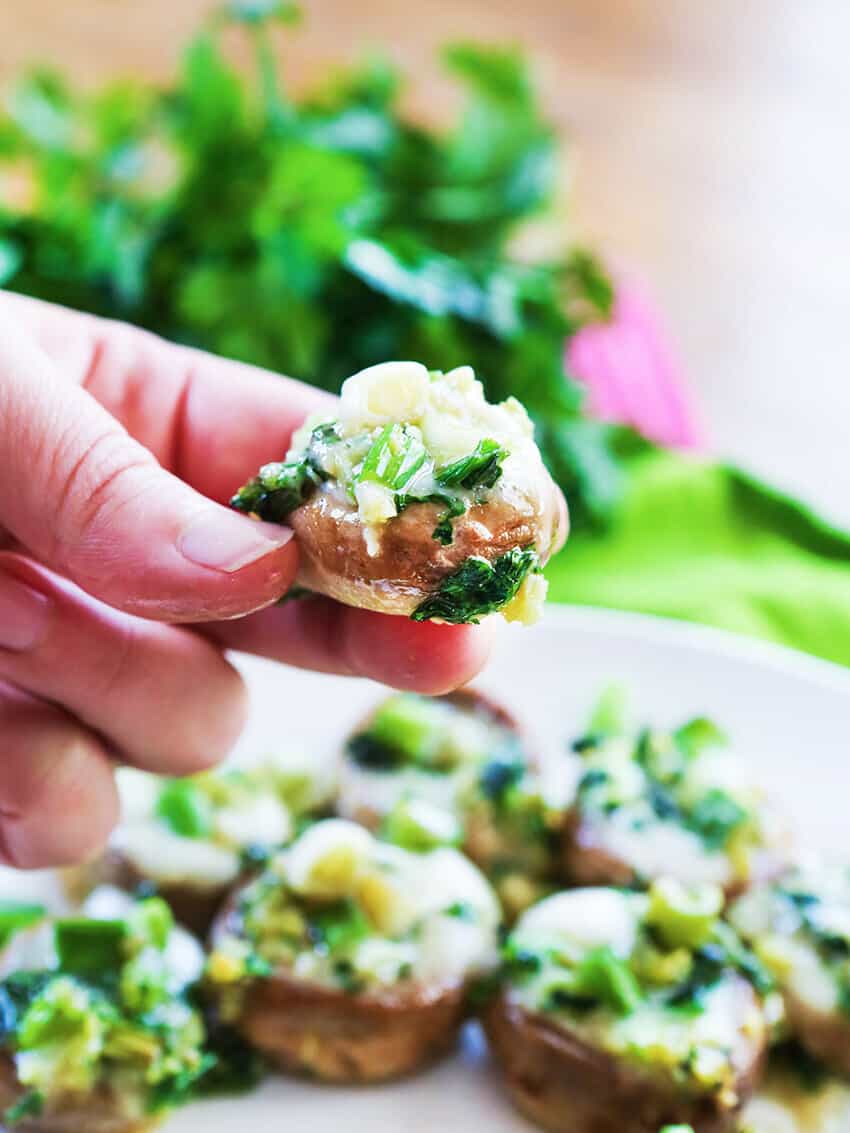 Sauteed mushrooms stuffed with Brie cheese make such a wonderful recipe. Great for party tables of any variety! They'll go fast, so consider making a double batch!
Bruschetta with Balsamic Glaze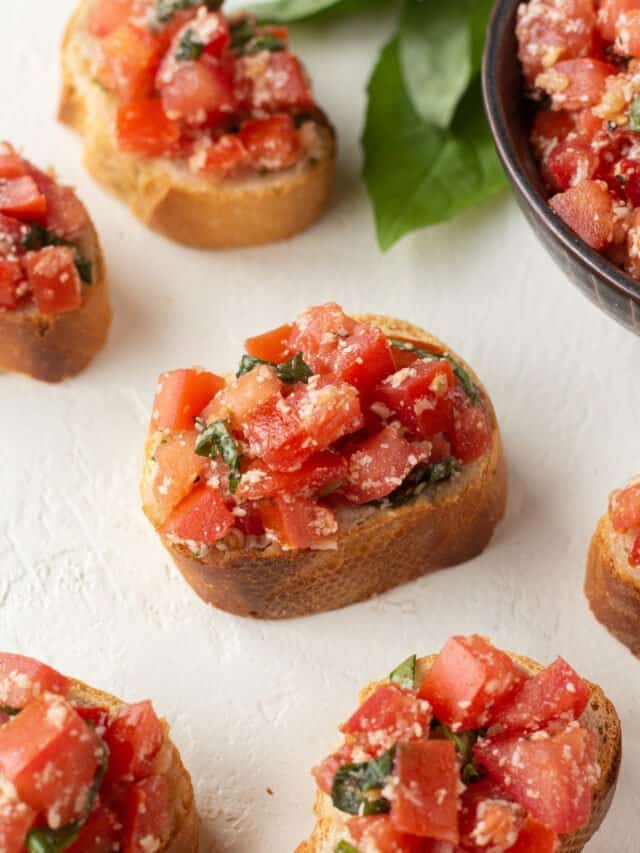 Tomatoes marinated in basil, oil, balsamic vinegar and garlic is the perfect topping for this bruschetta with balsamic glaze recipe. It is the perfect little finger food for any gathering. Get ready to knock people's socks off!
Air Fryer Chicken Tenders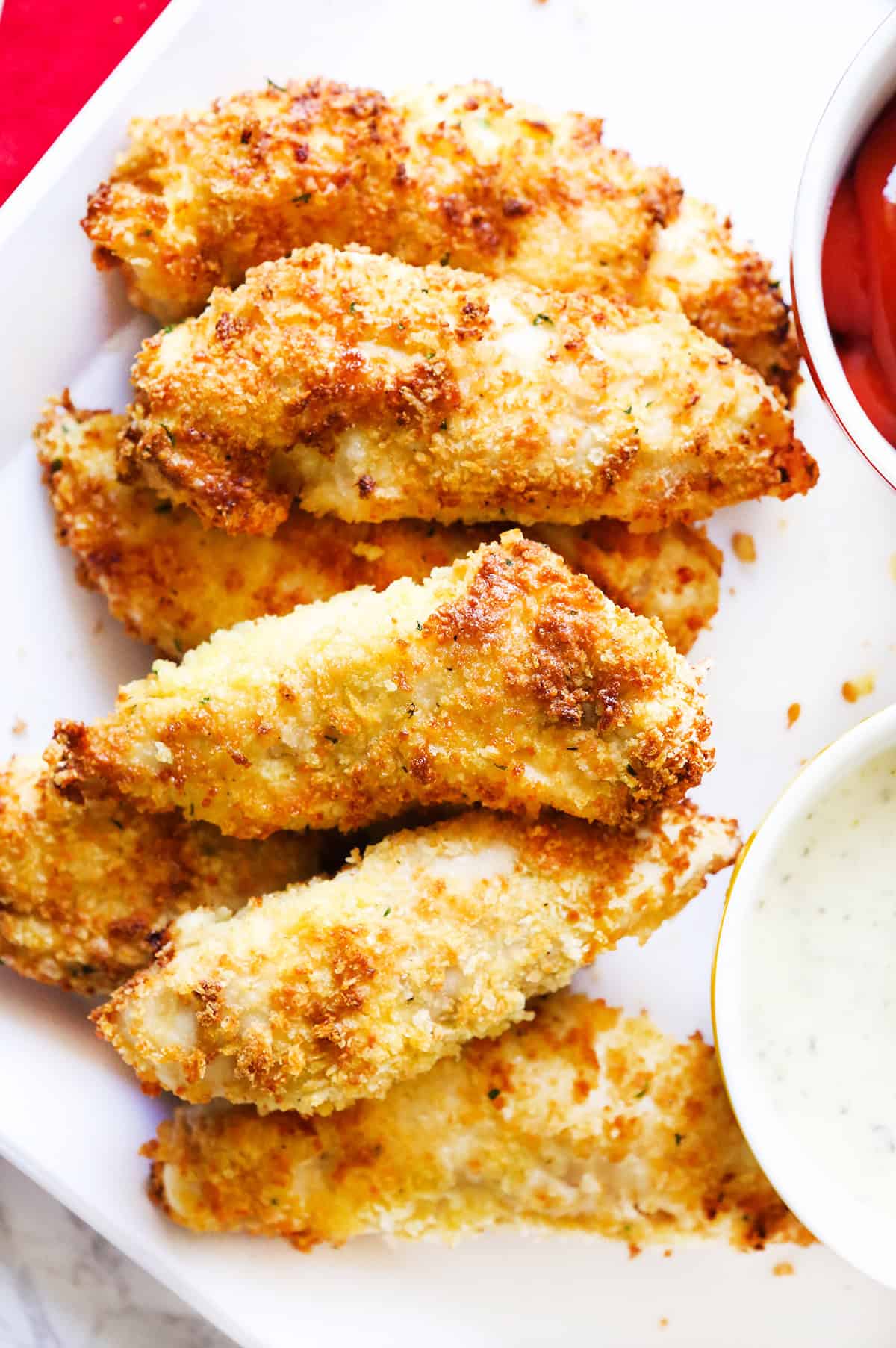 Air Fryer Chicken Tenders are healthier and more delicious than anything you find in the frozen aisle, made with just a few simple ingredients. Great as a kid meal, quick dinner or adult appetizer!
Baked Asparagus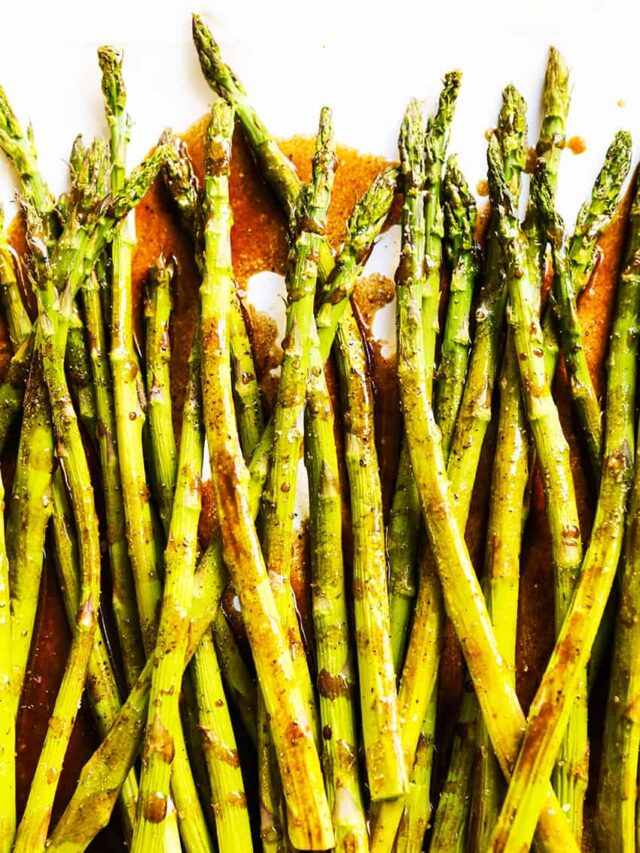 Baked Asparagus is topped with a delicious, savory balsamic butter sauce. It cooks to perfection every time and makes the perfect side to any meal!
Mozzarella Sticks in the Air Fryer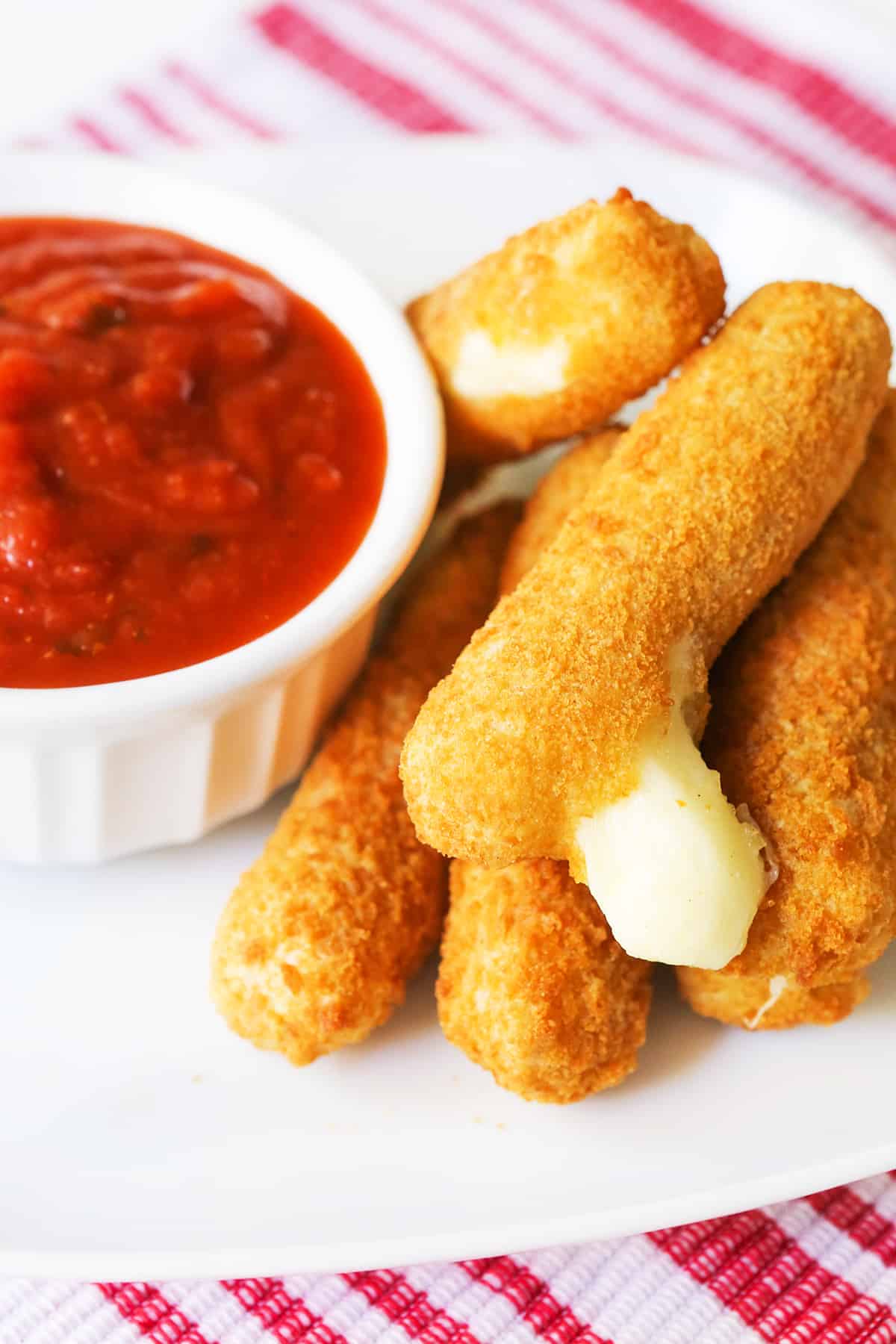 Learn how to make this frozen mozzarella sticks in air fryer recipe in just a few minutes! Straight from the freezer to your air fryer, this is the easiest way to get this cheesy easy snack into your tummy.
Zucchini Fritters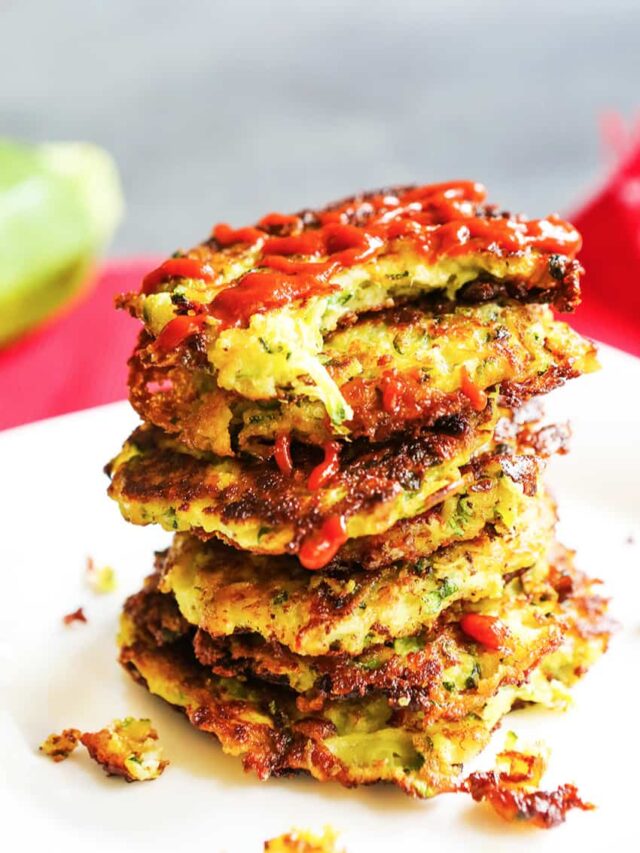 Enjoy your next batch of zucchini in the form of a fritter! Made with simple ingredients, this zucchini fritters easy recipe come together quickly. 100% kid-friendly and a great way to get veggies in little bodies. Perfect for a light lunch, dinner side or even an appetizer.
Guacamole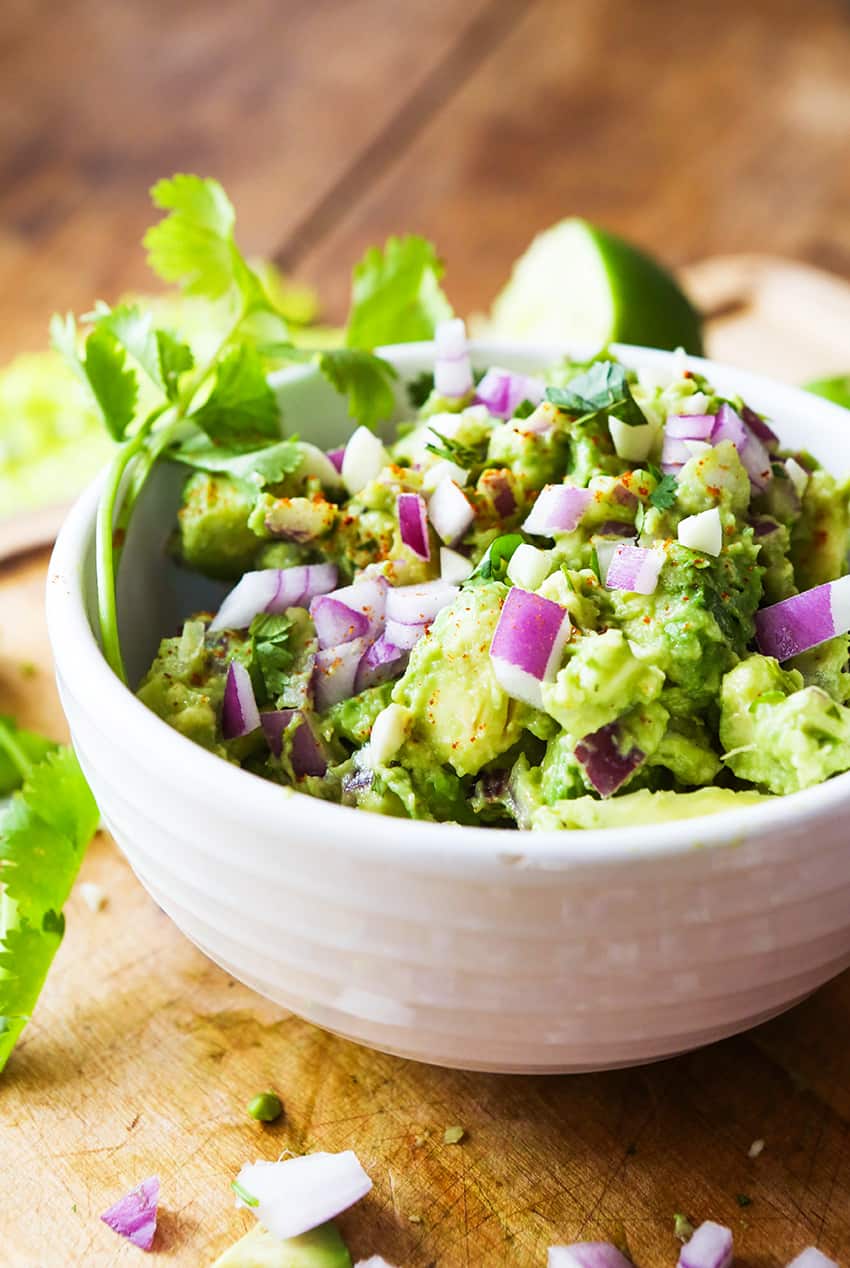 Make this classic guac in minutes and learn what to put in guacamole to make it even tastier! This is a healthy snack and also a delicious appetizer/party food when served with chips. Make it spicy or go mild! Either way, this party staple will not disappoint.
Feta Cheese Dip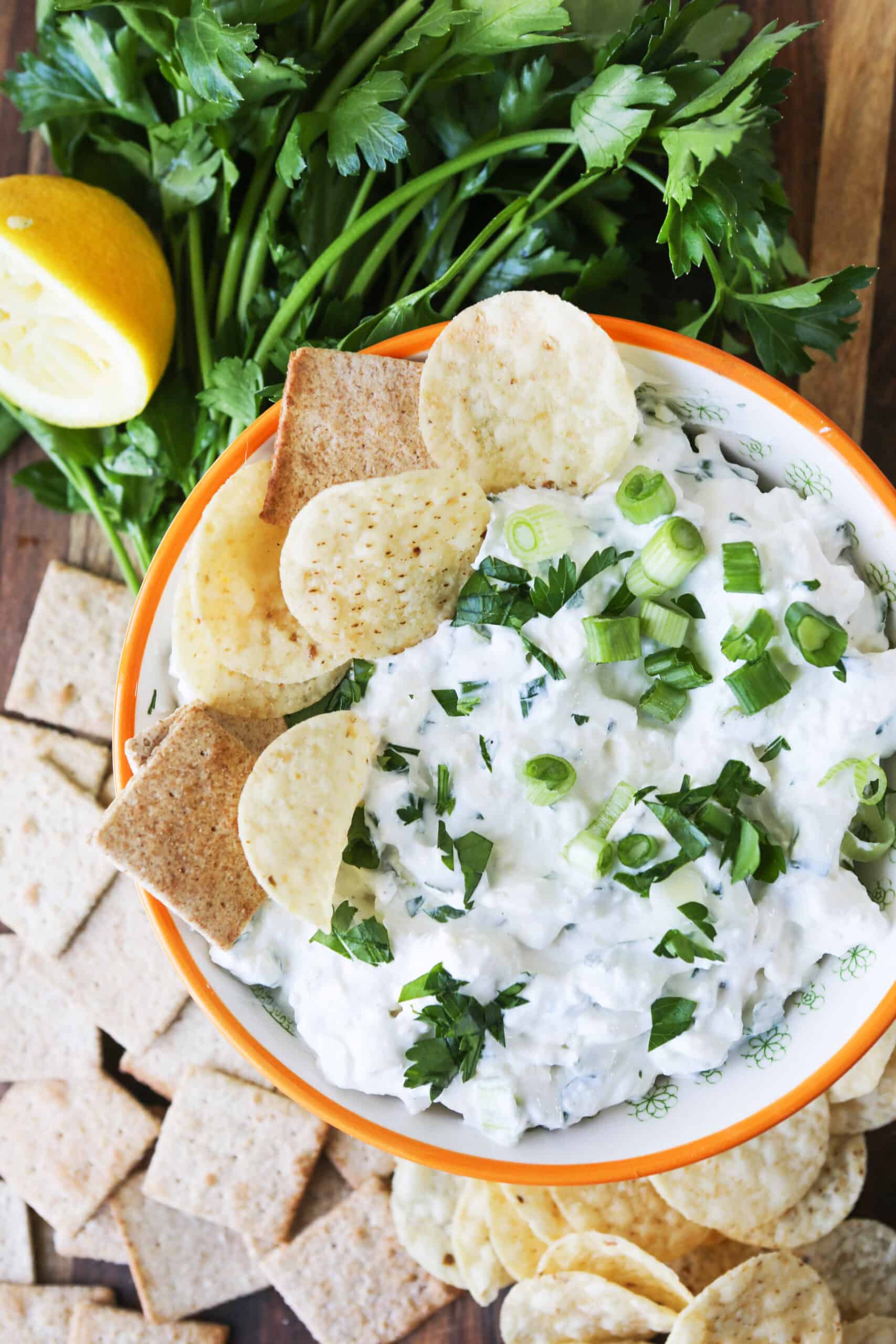 Feta Cheese Dip takes 10 minutes to make and it is ridiculously delicious. I'd tell you it's a great party food, but it never makes it to the party.
Air Fryer Sweet Potato Fries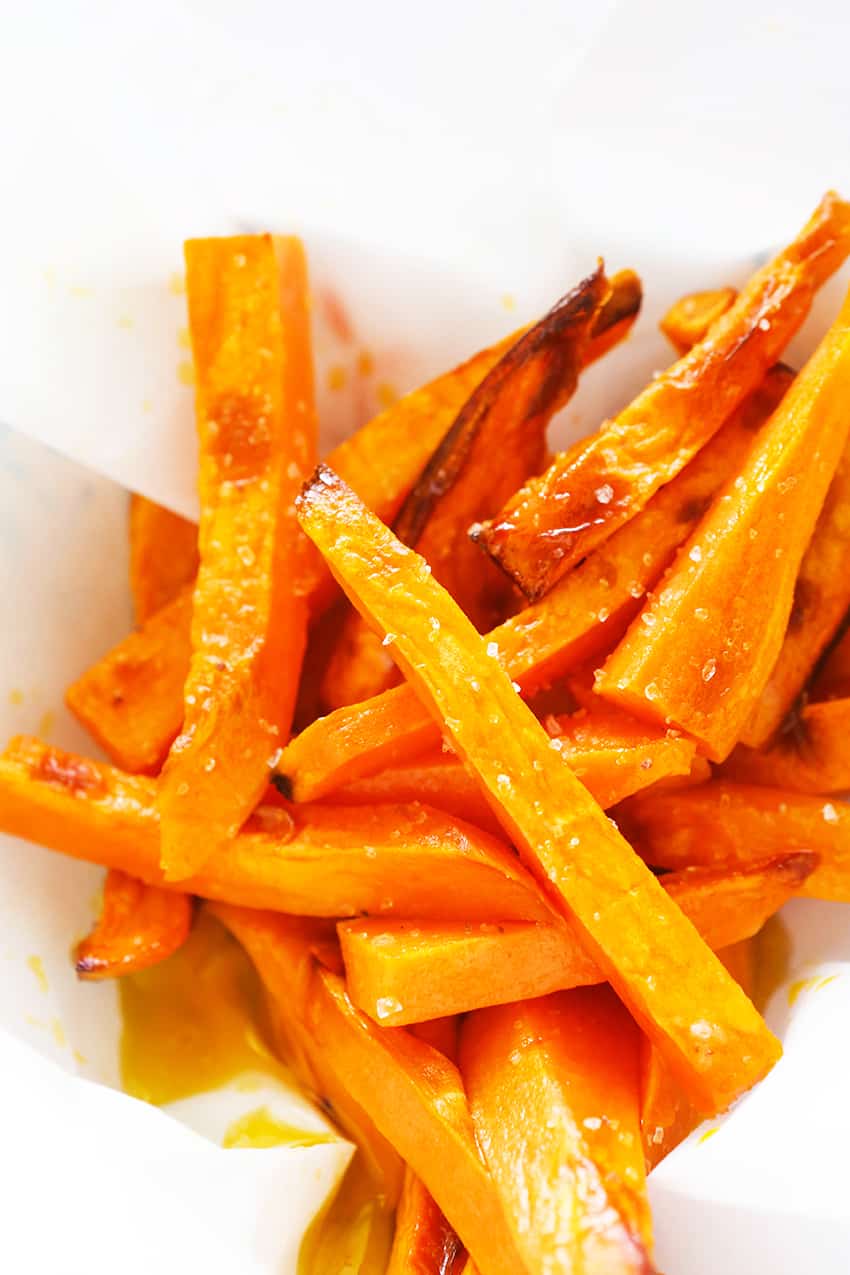 Air Fryer Sweet Potato Fries is a delicious way to enjoy sweet potatoes! The air fryer works its magic and transforms them into a sweet or savory treat or side that will not last long.
Garlic Bread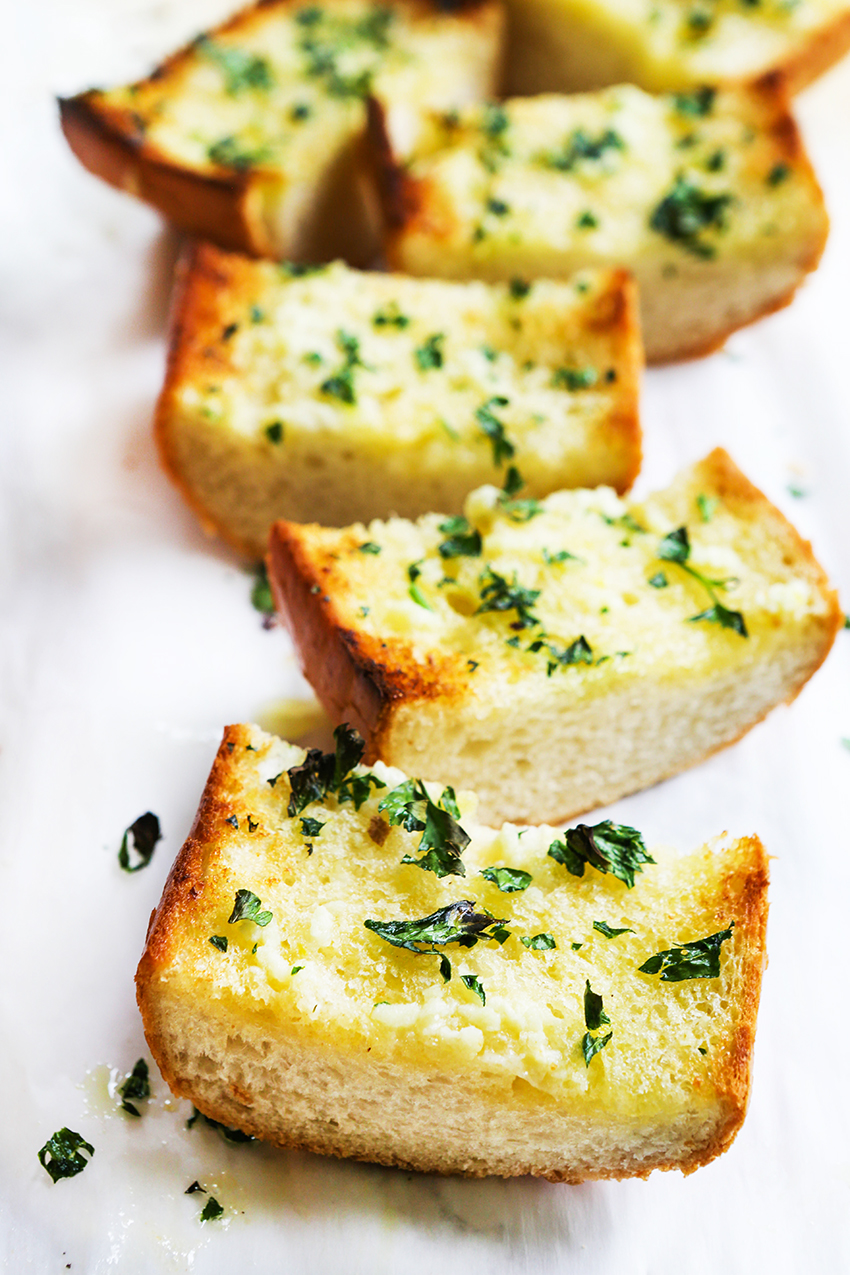 Garlic bread is super easy to make, requiring only a few simple ingredients and 10 minutes of your time!
Oven Roasted Sweet Potatoes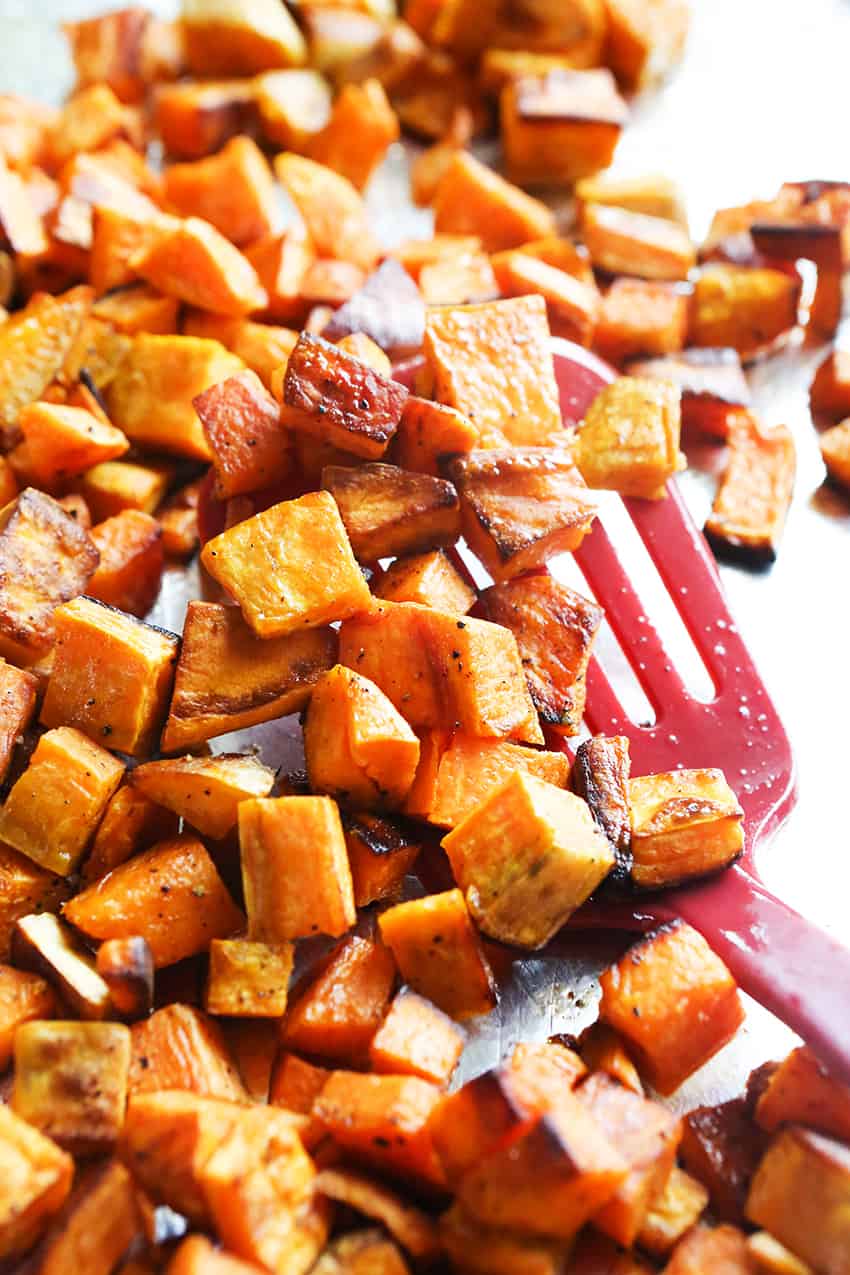 Roasted Sweet Potatoes are an easy and delicious side for any meal! More delicious than regular French fries and are a great healthy lunch, snack or side.