Cold dips are easy to prepare and even easier to eat. If you are looking for the perfect party appetizer, read on for 23 cold dip recipes to make today!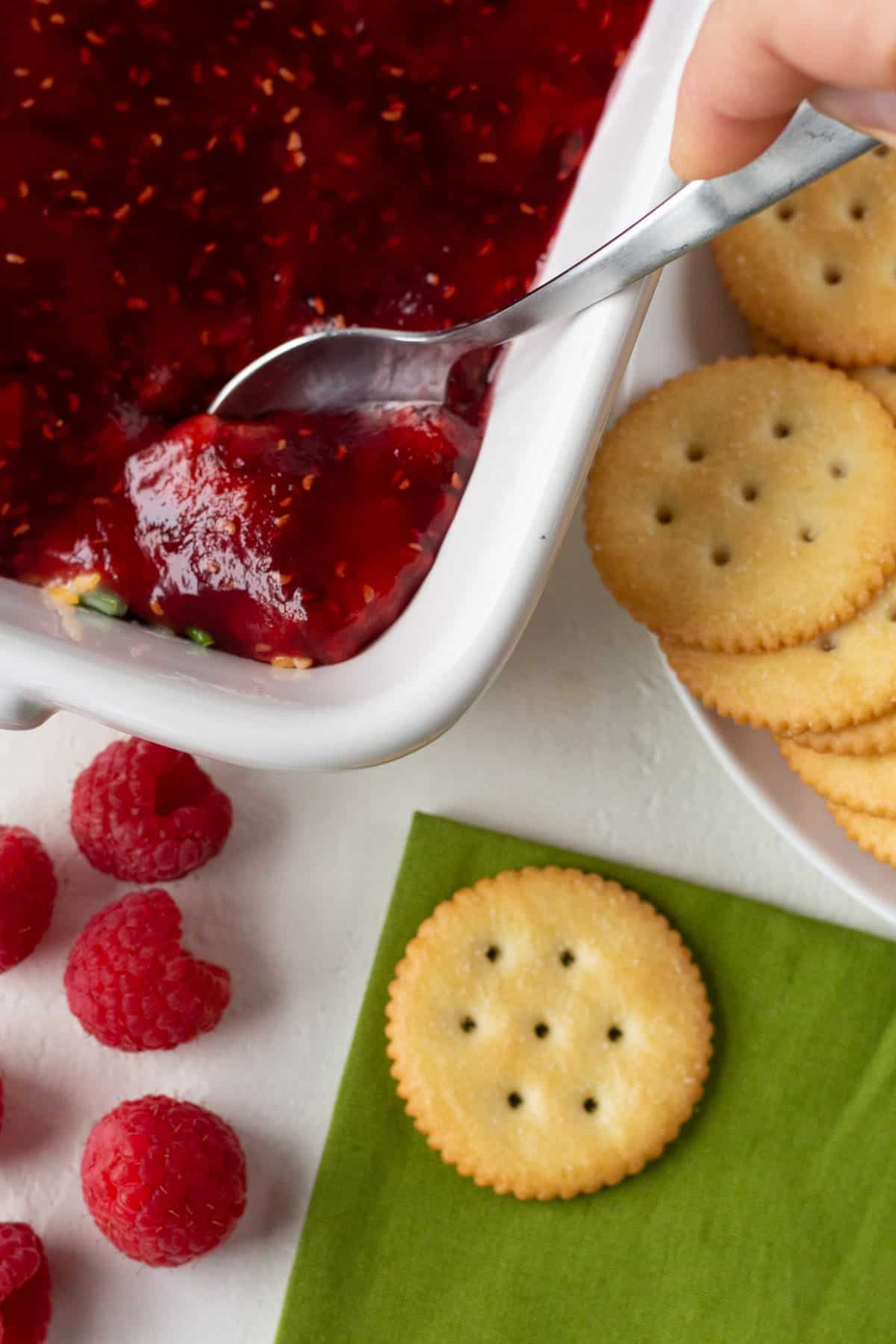 The main reason I love hosting and attending parties (outside of enjoying my people, of course) is that I get to munch on an assortment of my favorite foods. Yummy, easy appetizers are the best! One of my favorite categories of party food is cold dips. They are often so easy to throw together, they're versatile and I could eat them all day long.
Whether you are hosting or attending an upcoming gathering, you're likely looking for one or two yummy and easy recipes to share. Cold dip recipes are your ticket to making guests rave!
Browse through the 23 cold dip recipes below that will get your wheels turning! You are guaranteed to find an idea or two that will make bellies sing and you'll find a range of options, from sweet dips to savory dips.
FAQ About Cold Dips
How to keep dips cold at a party?
Fill a large bowl or tray with ice and press each dip bowl down into the ice to keep them chilled during a party. Be sure to keep the top edges of the bowls above the ice to avoid ice water seeping inside.
Are dips healthy?
Whether or not a dip is healthy is determined by the ingredients inside it. Recipes made using sour cream or cheese as a base would not be considered healthy options. Recipes such as hummus or guacamole or anything with a yogurt base are more healthy options.
How to thicken cold dips?
Thicken cold dips by adding up to 1/4 cup of softened cream cheese, yogurt, mayonnaise or sour cream.
What are some popular cold dips?
Popular cold dips include guacamole, hummus, layered taco, cold bean dips, onion dips and sweet options to dunk apples or other fruit into.
Favorite Dippers
Any or all of the following dippers pair perfectly alongside your creamy party food!
Tortilla chips or corn chips
Carrot sticks
An assortment of potato chips
Celery
Cauliflower or broccoli florets
Any fresh veggies cut into small pieces or sticks such as bell peppers
Pita chips
Crackers
Bread bowl pieces
Baguette slices
Tortilla pieces
Flavor Boosters
Enhance the flavor of your dips by mixing in any of the following ingredients!
Bacon bits
Ranch dressing mix
Hot sauce
Fresh dill
Worcestershire sauce
Chopped red onion
Cold Dip Recipes
The world is your oyster when it comes to cold dips to bring to or serve at your next party! There are so many ingredient options and spins and all of them are easy to throw together. Read on for some excellent ideas!
Greek
Taco
Guacamole
Bean
Cheese
Ranch
Dill
Veggie
Crack dip
Fruit
White bean
Roasted Red Pepper
French onion dip
Creamy spinach dip
Buffalo chicken dip
Cheesecake
Greek Layer Dip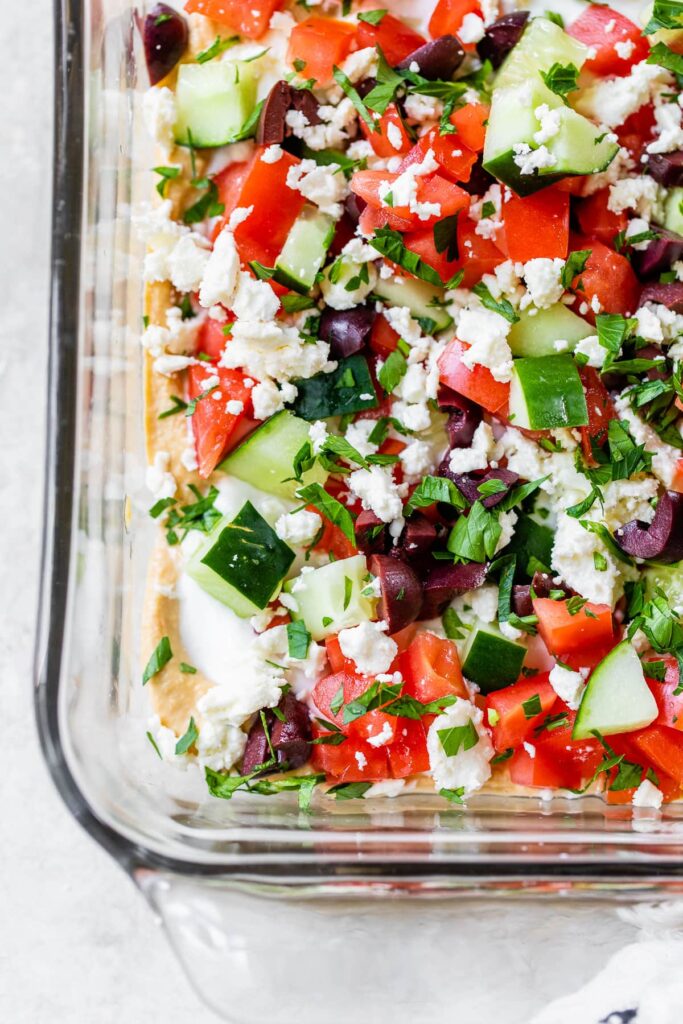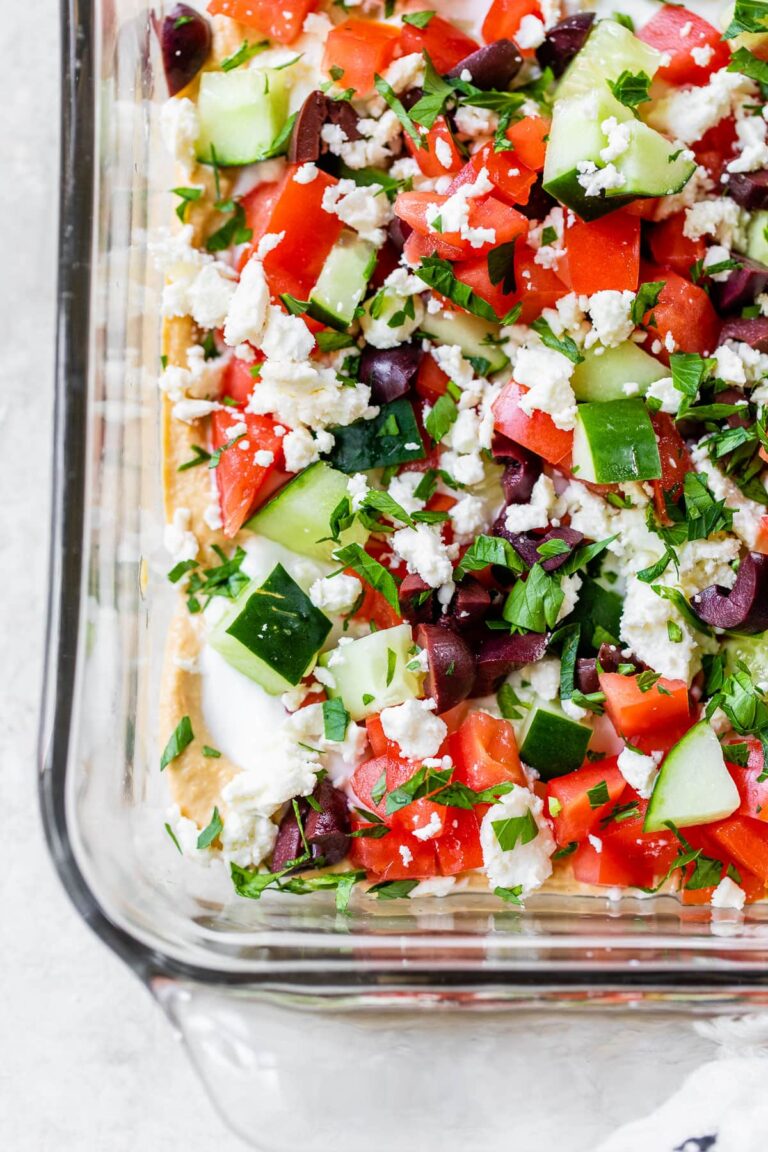 We are in hover-over-the-bowl territory! This unstoppably tasty Greek Layer Dip (from Well Plated) served with pita chips and veggies is a fresh, colorful addition to your party spread. Get your share early; this dip disappears fast.
Raspberry Dip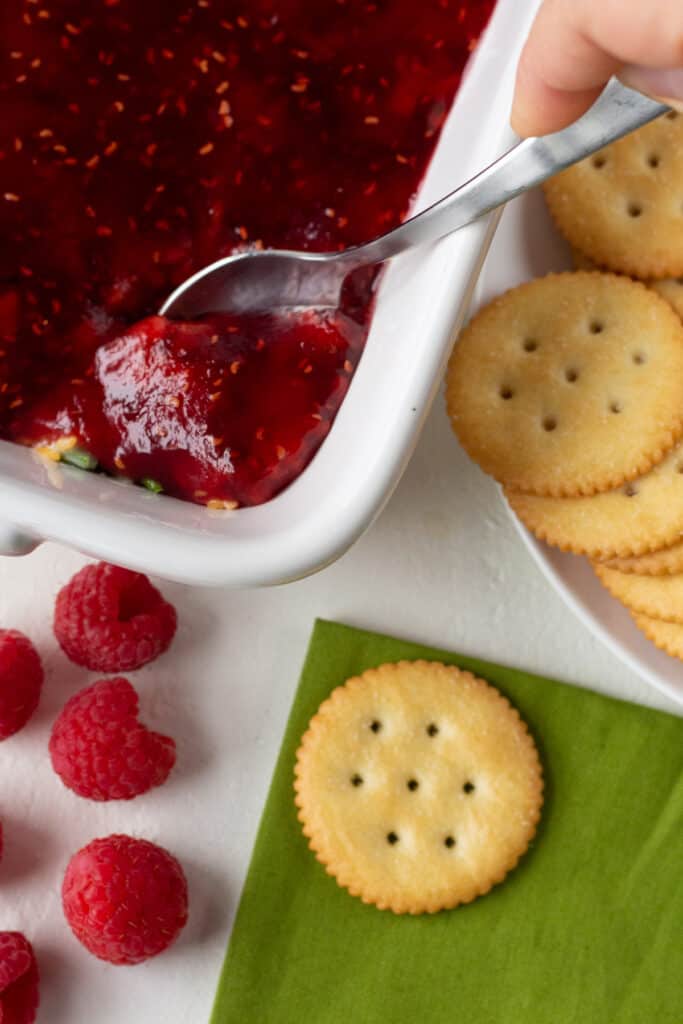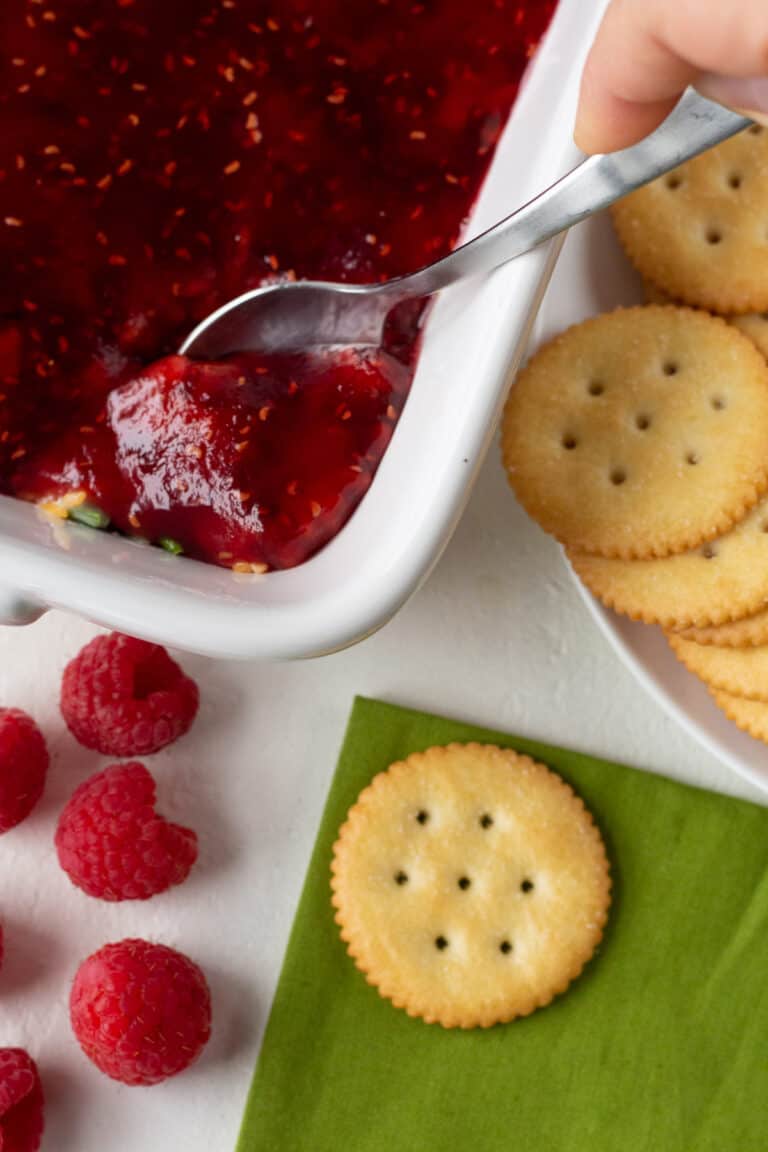 The ingredients in this Raspberry Dip might seem like an unlikely match, but they create the perfect after school snack or appetizer for any gathering! It is such an easy recipe and perfect for any type of party.
Spicy Herb Avocado Dip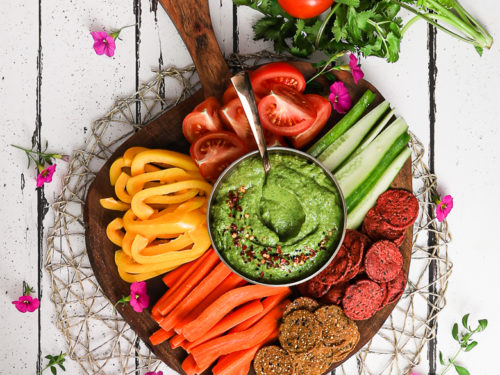 Bright and refreshing, this Avocado Dip or Chutney (from Desi-licious by Shahzadi Devje) is infused with the aromatic scent of cilantro and mint. It's creamy, spicy, tangy and will incite double-dipping.
Accompany with your favourite local seasonal veggies and crackers to create a show-stopping platter. Easy, healthy and done in the blender – in literally 5 minutes!
Feta Cheese Dip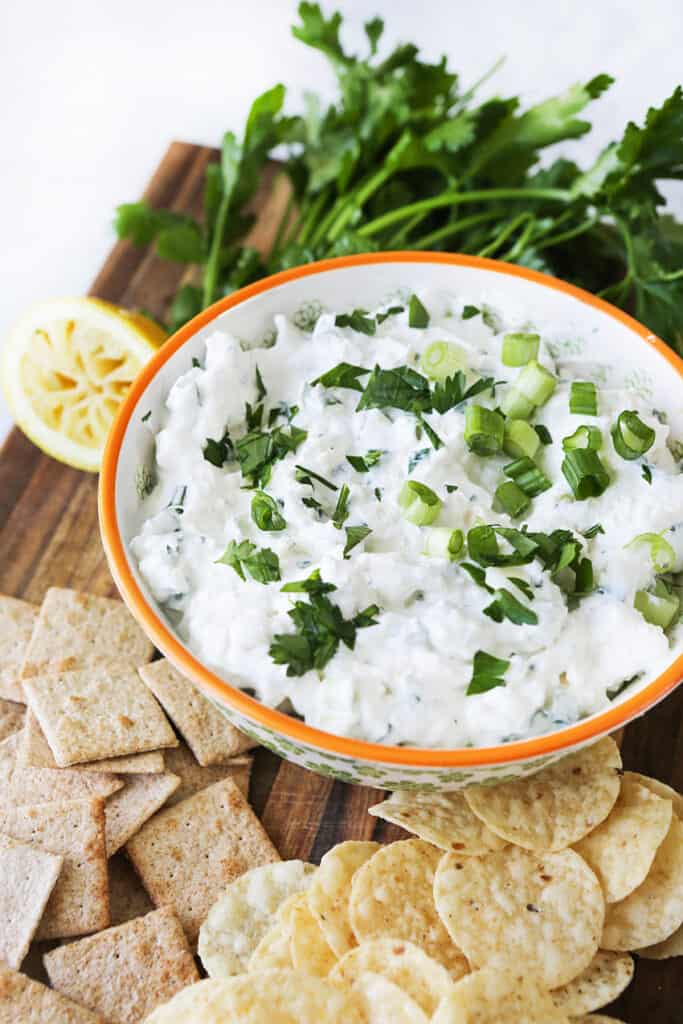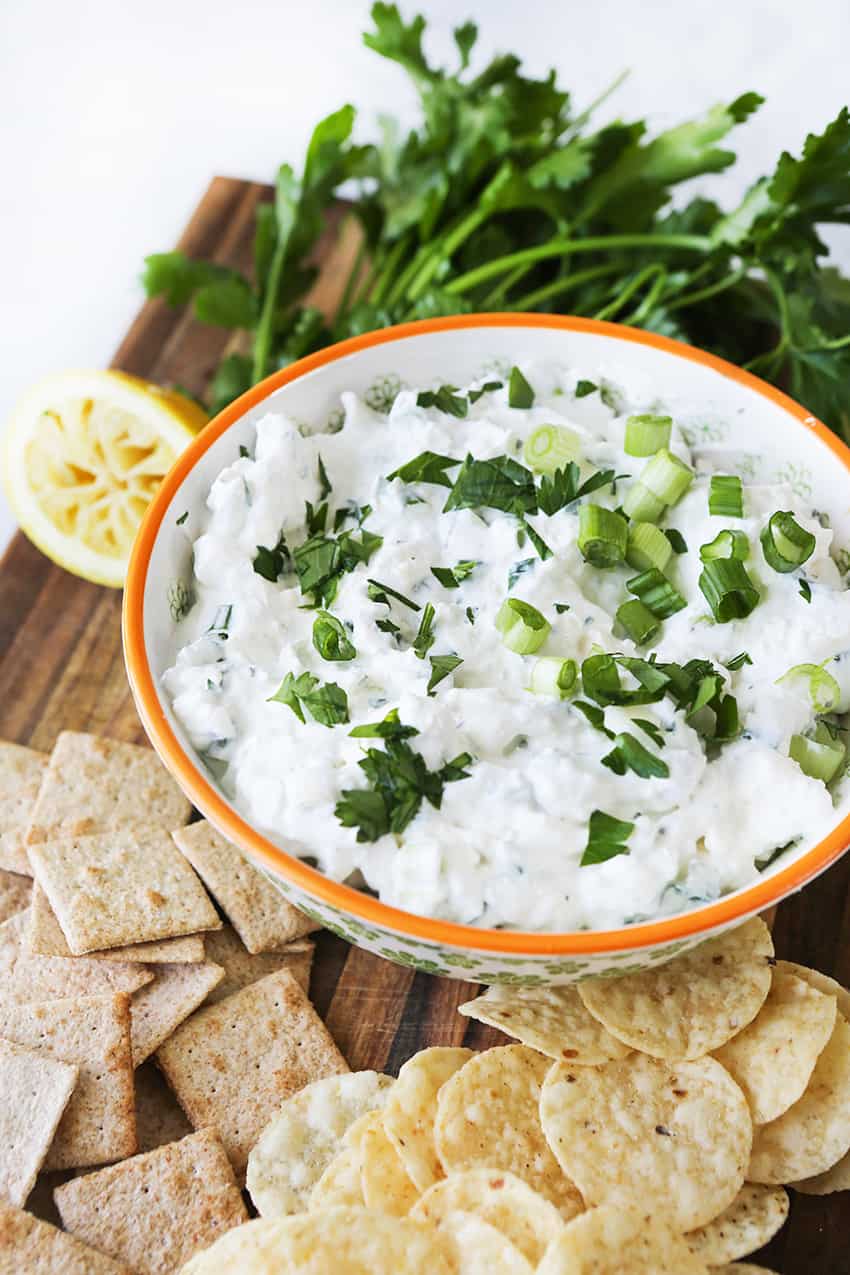 This delicious dip takes 10 minutes to make and has such a creamy base. I'd tell you it's a great party food, but it never makes it to the party. Top with green onions just before serving!
Basil Strawberry Cream Cheese Dip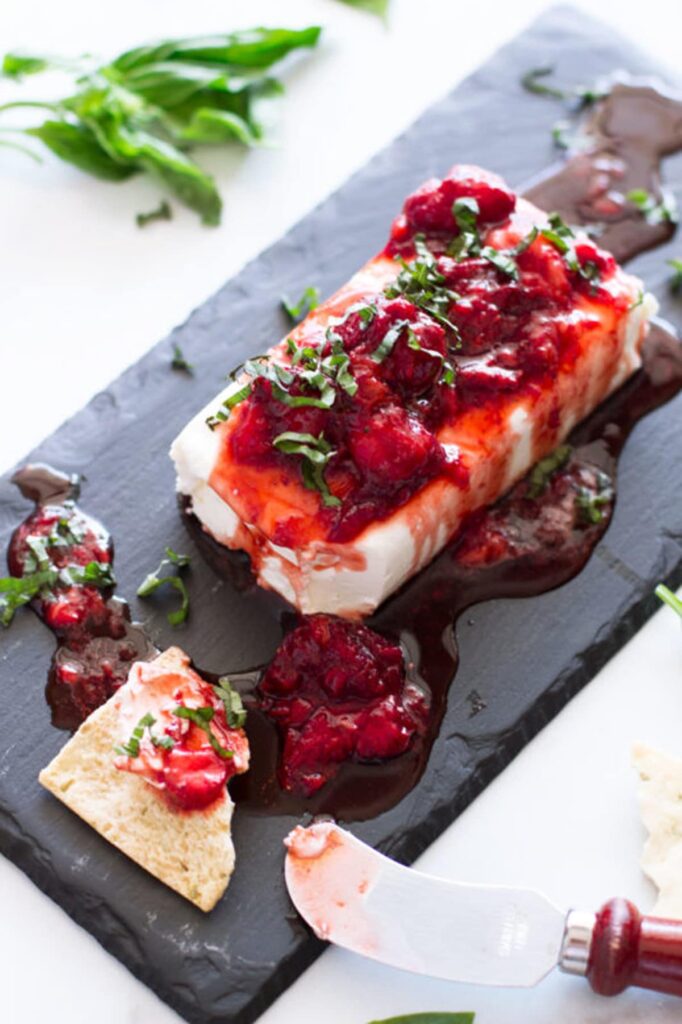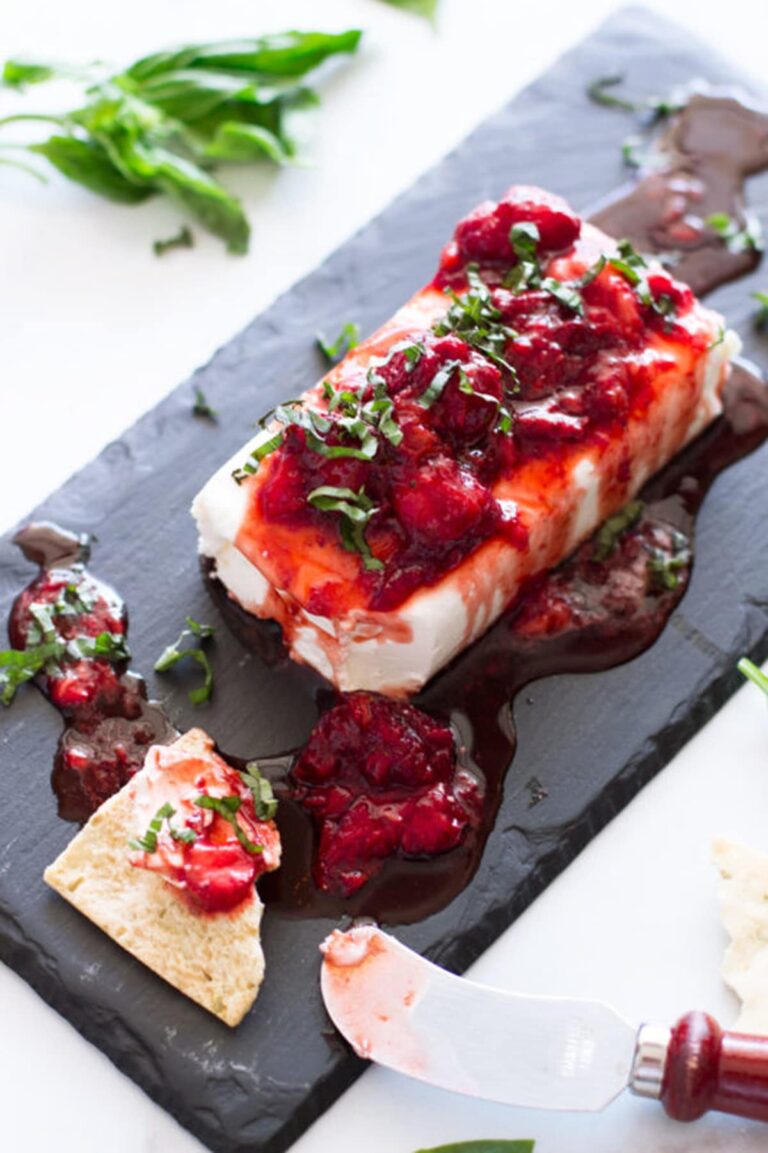 The easiest and most flavorful cream cheese dip (from Recipes Worth Repeating) I've ever tasted! Perfect for a crowd and always gets gobbled up fast! The combined flavors of fresh basil, balsamic vinegar, and strawberry sauce over the cream cheese is divine and also makes for an amazing spread cheese!
Sriracha Lime Mayo Dip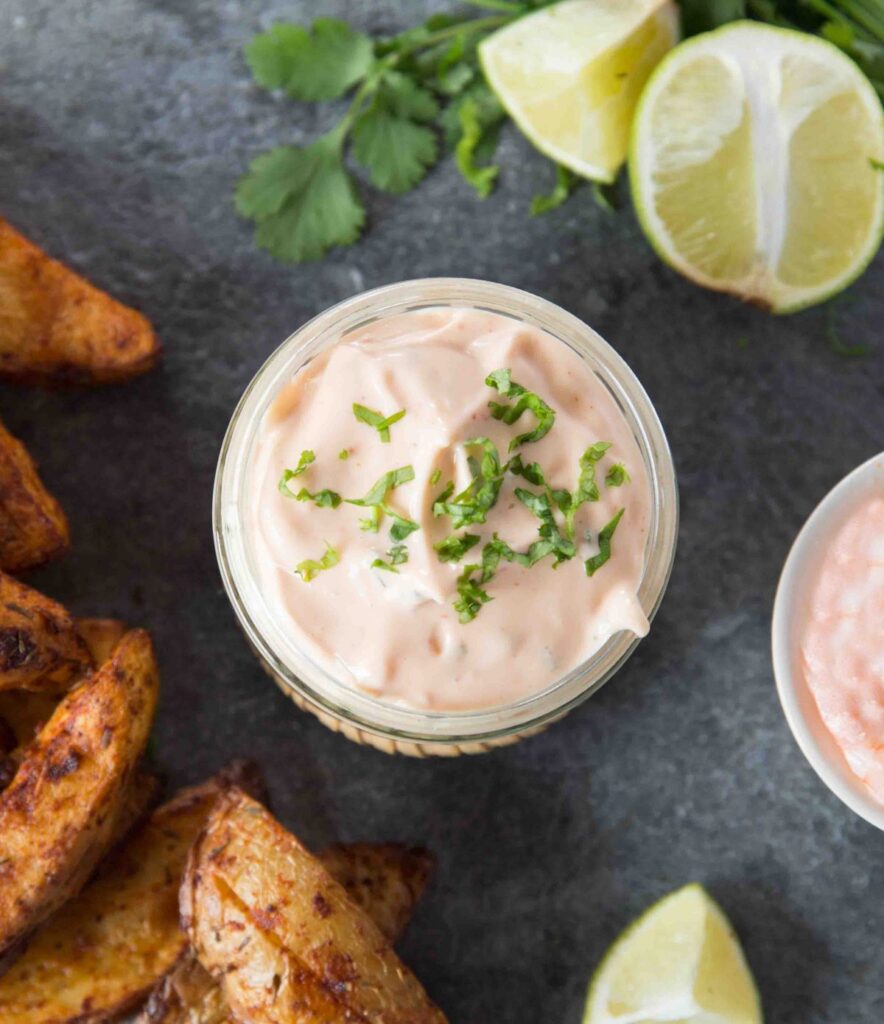 Sriracha Mayo (from Don't Go Bacon My Heart) couldn't be easier to make! Here I'll show you the secret ingredient that takes this homemade dip to new heights.
Creamy Vegetable Dip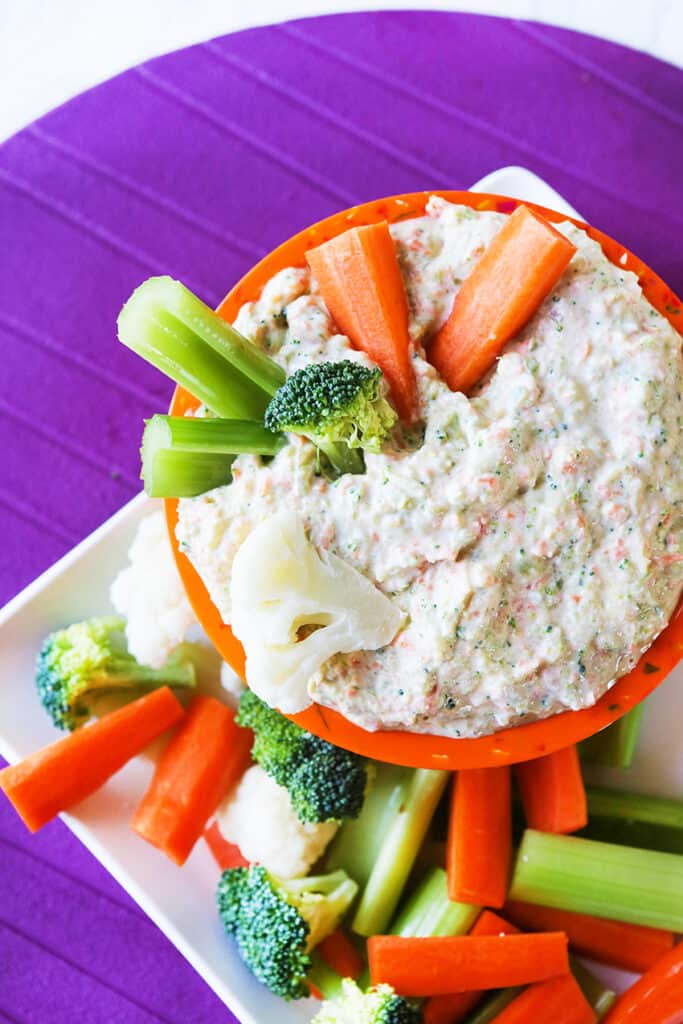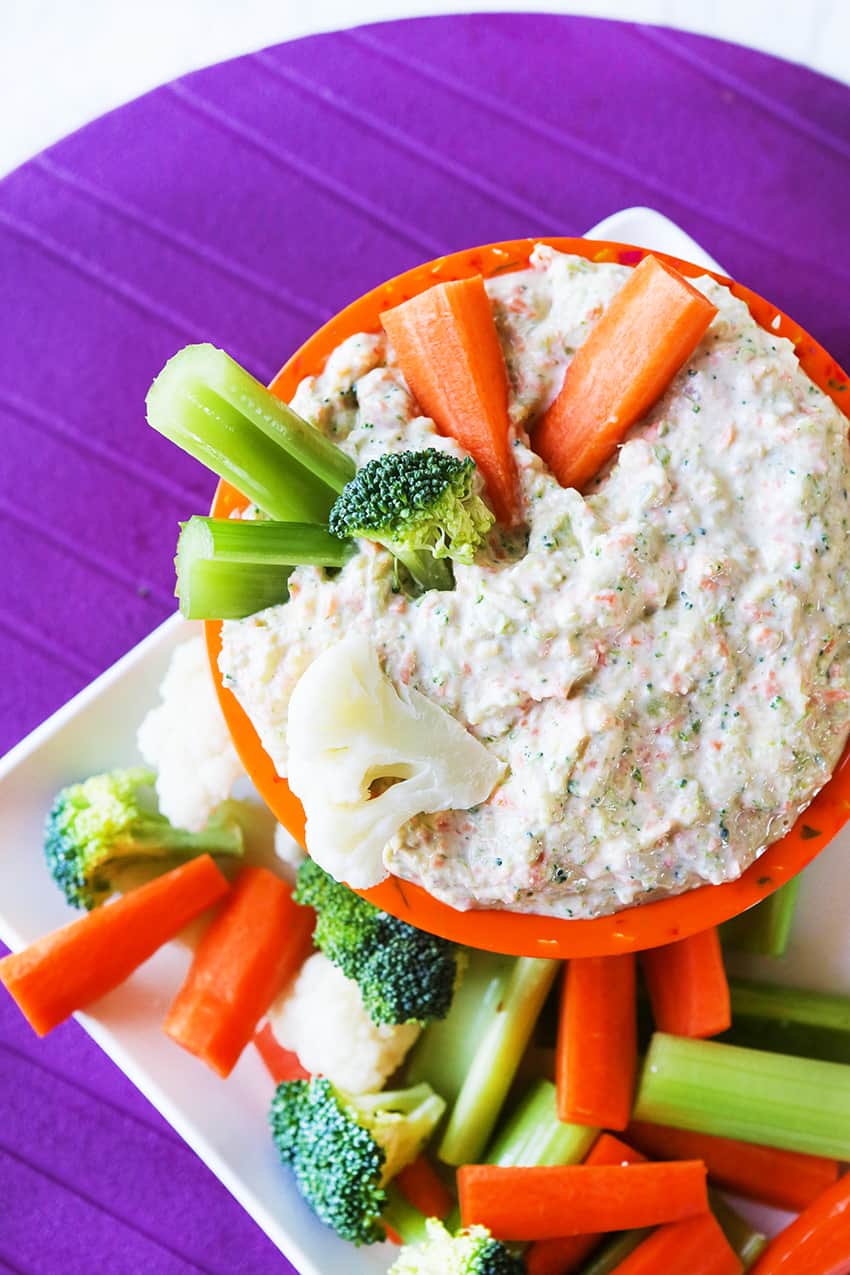 This recipe is a great party dip to share at any gathering and is certain to get rave reviews. Pack as many veggies as you can inside and serve with crackers or more vegetables!
Roasted Garlic White Bean Dip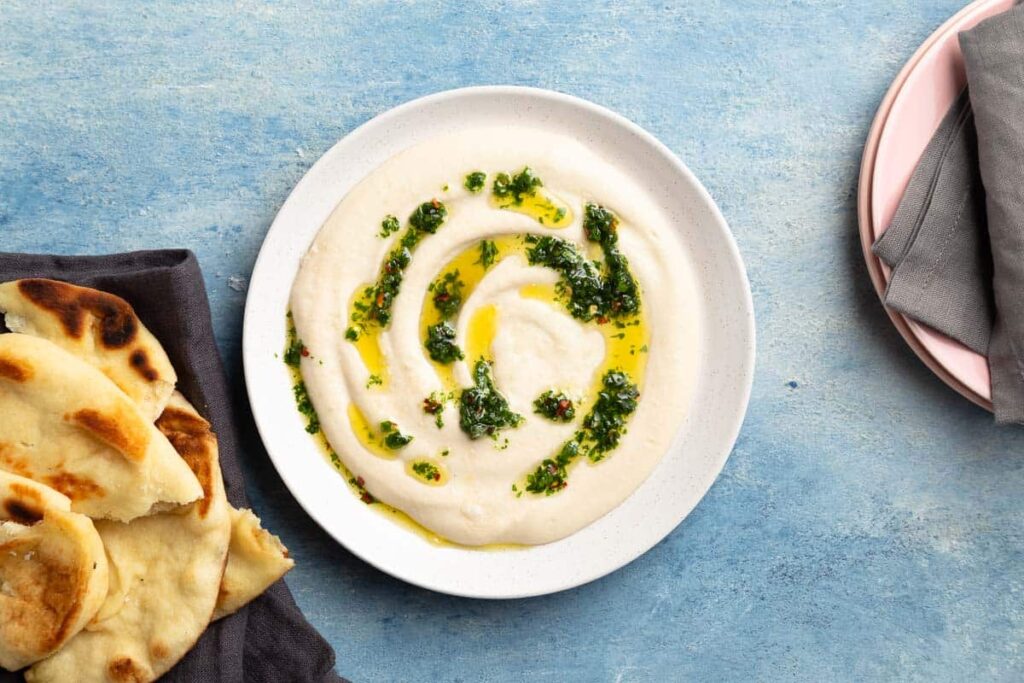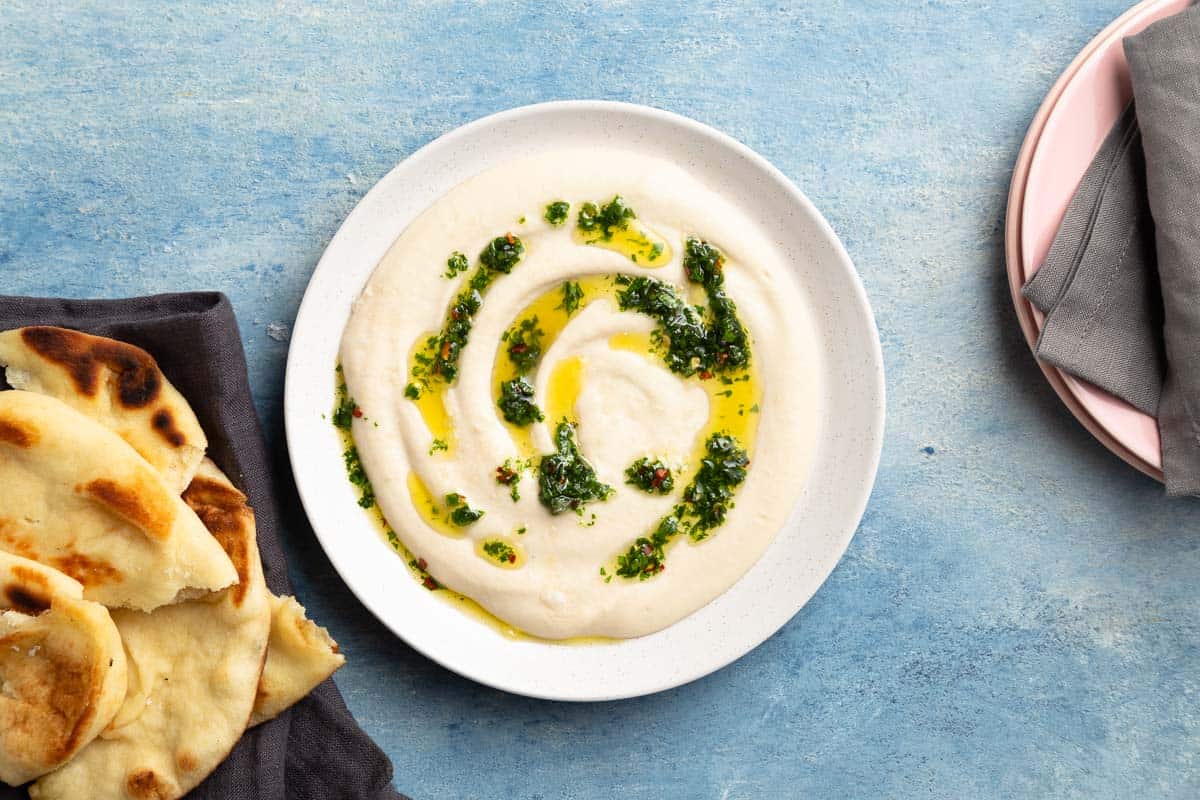 Creamy Roasted Garlic White Bean Dip (from Cup of Zest) is a savory snack that comes together in only a few minutes. Made with roasted garlic, cannellini beans, and cashews, it's a simple recipe you can dress up and take to parties!
Healthy Fruit Dip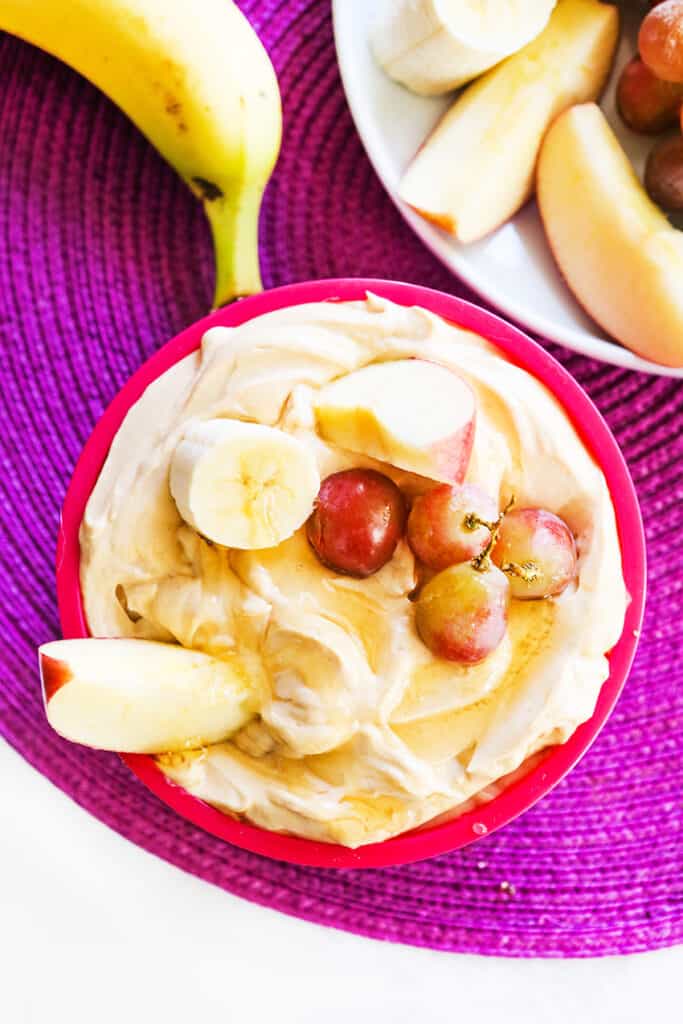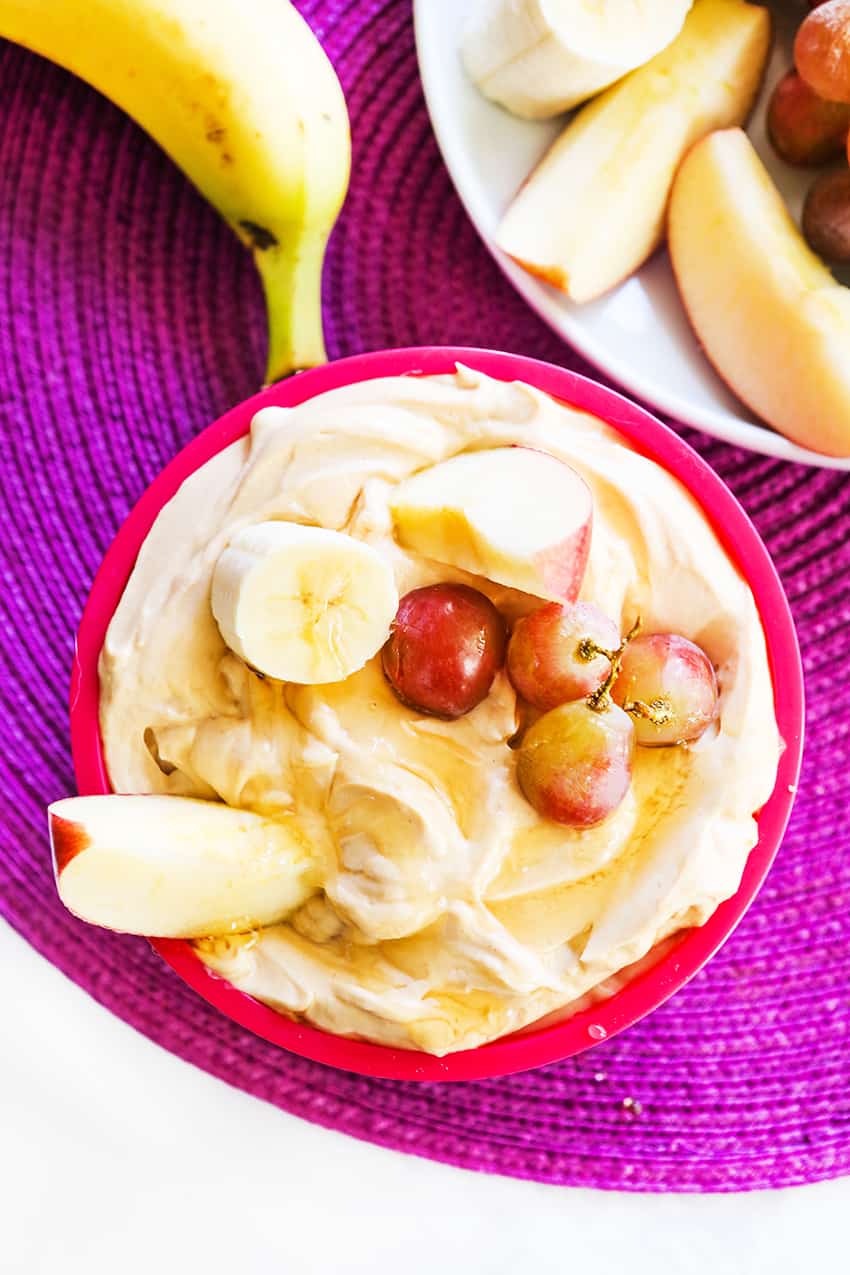 Only 3 simple ingredients are required to make a super easy and creamy dip! Healthy and yummy, there couldn't be an easier or quicker snack to throw together for the kiddos today. Greek yogurt acts as the perfect base of this dip.
Easy Guacamole without Tomatoes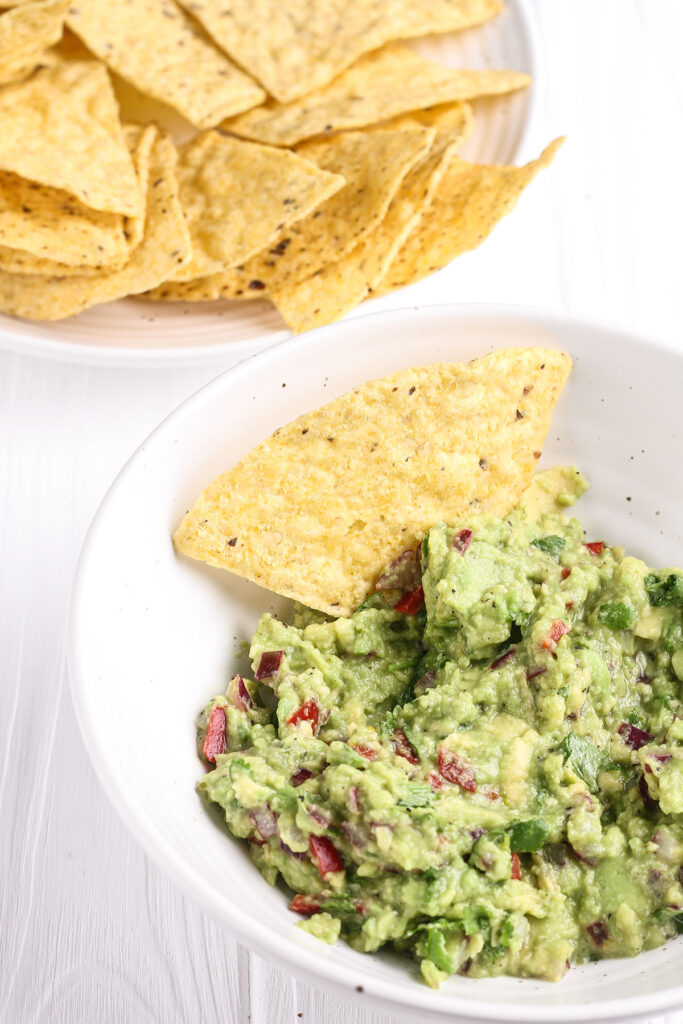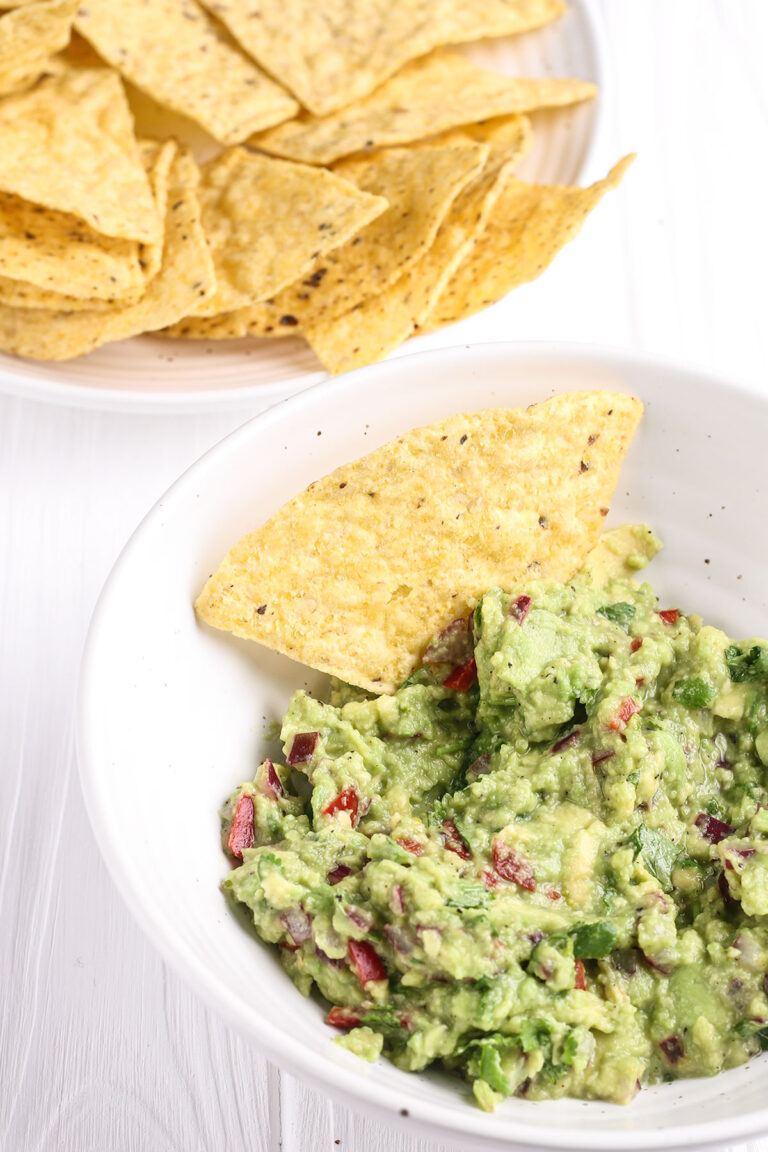 A deliciously creamy, zesty and slightly chunky guacamole (from Knife and Soul) that is super quick and easy to prepare. This vegan Mexican avocado dip is a real crowd-pleaser because it's gluten, dairy, and tomato-free.
What's more, it's wonderfully versatile. Whether you're looking for a healthy breakfast food, side dish or snack, this easy 10-minute recipe has got you covered.
Best 7 Layer Taco Dip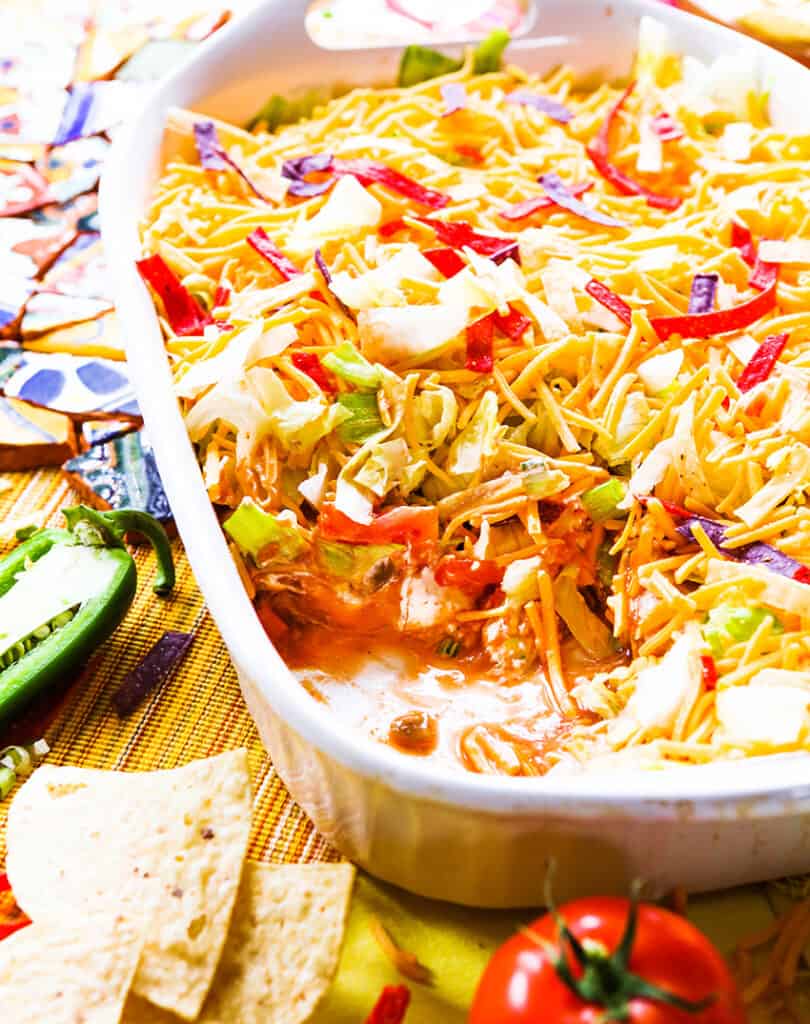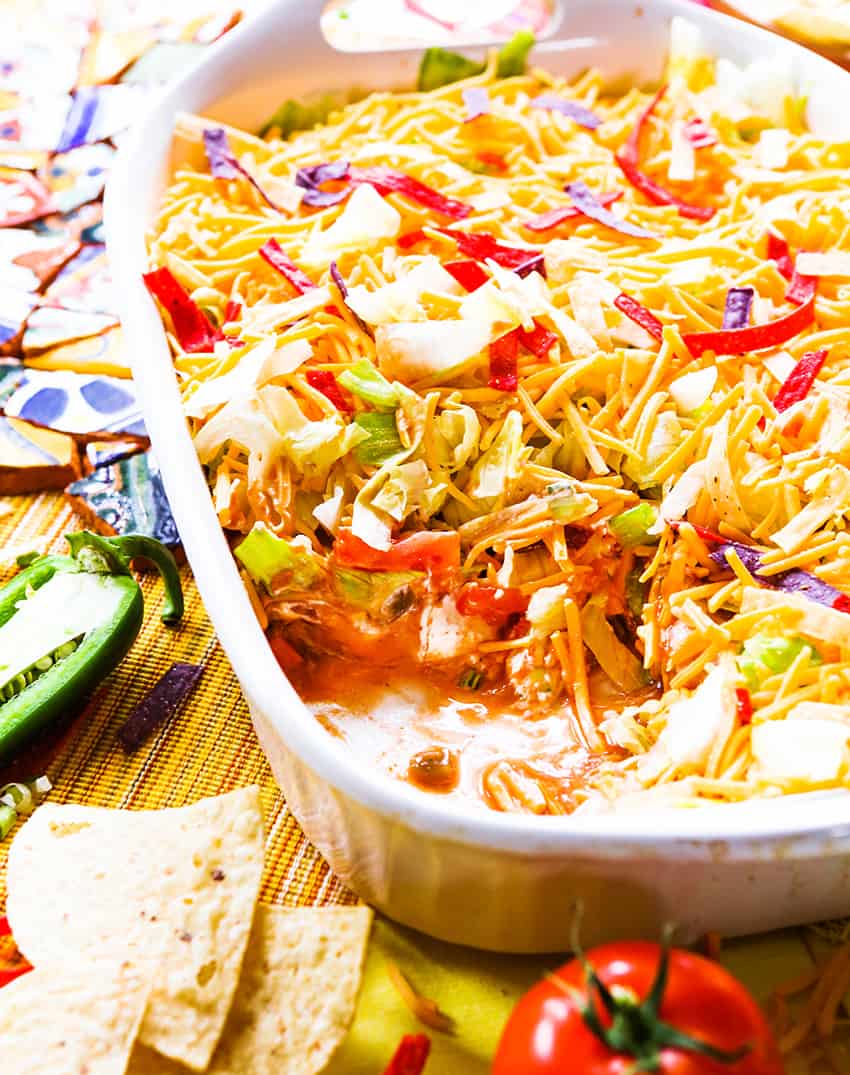 This is my favorite dip recipe of all time! It's the perfect appetizer and party food and it is always the first thing to get devoured.
Pimento Cheese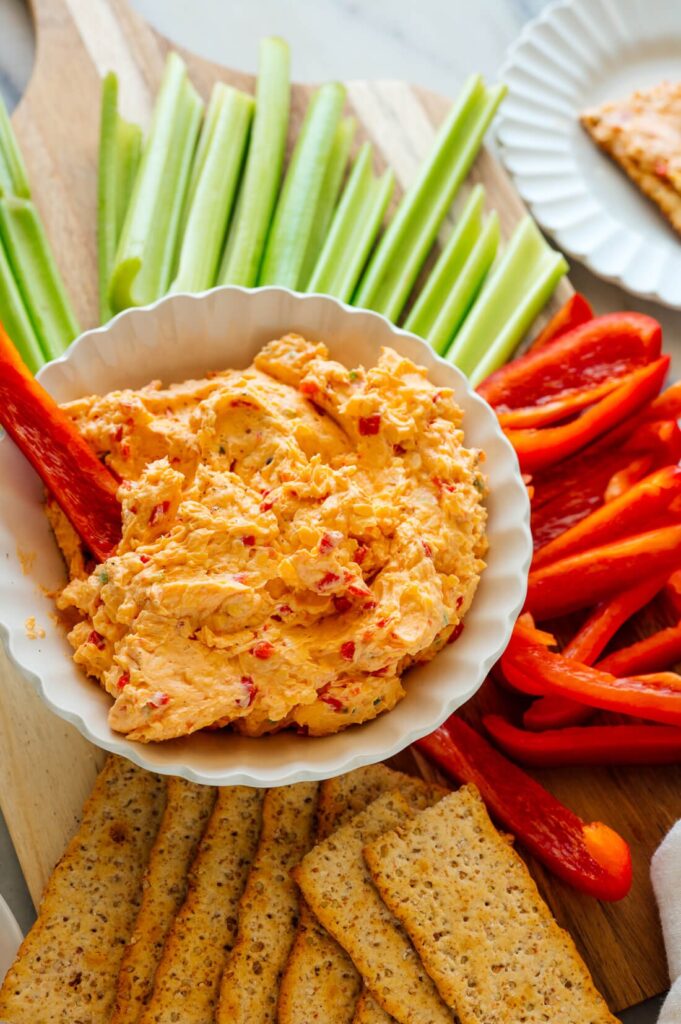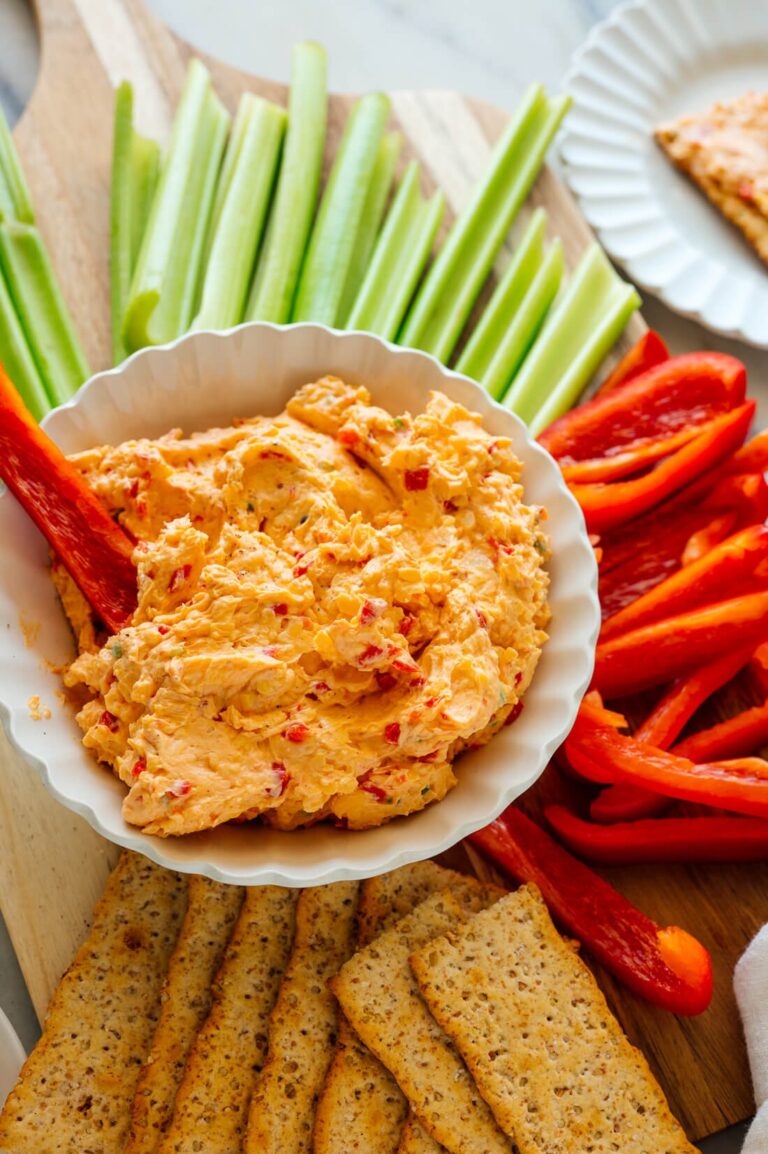 Pimento cheese (from Cookie + Kate) is creamy and cheesy, tangy, peppery (spicy if you wish), and spreadable. If you appreciate cheddar cheese, pimento cheese is going to be your new favorite party dip and sandwich spread.
Dunkaroo Dip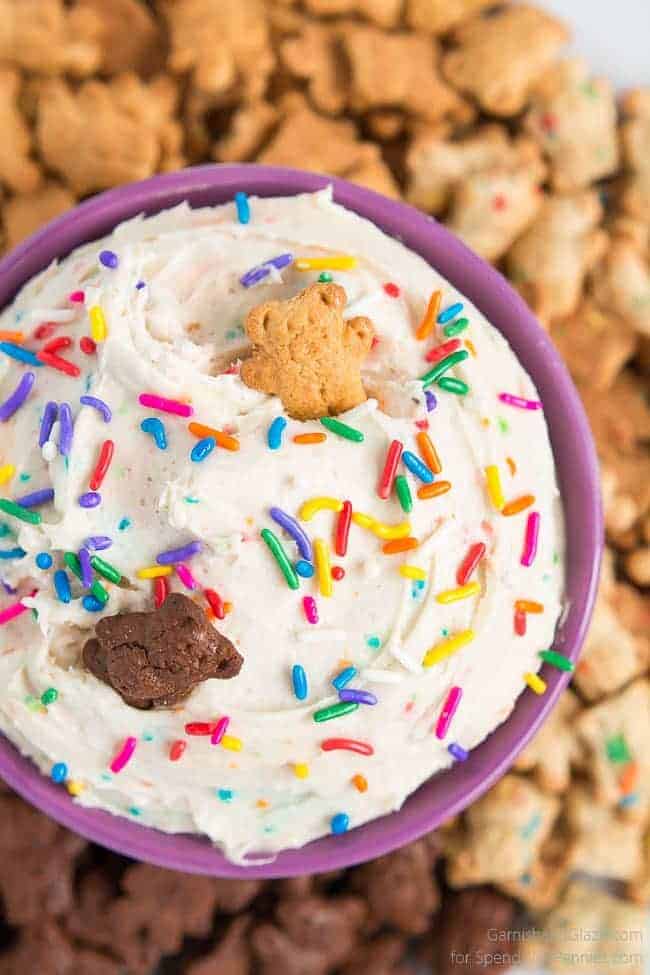 Relive the 90's with Dunkaroo Dip (from Spend With Pennies)! With just three ingredients and three minutes, you could be dunking your cookies in yummy funfetti frosting.
Zucchini Dip with Mint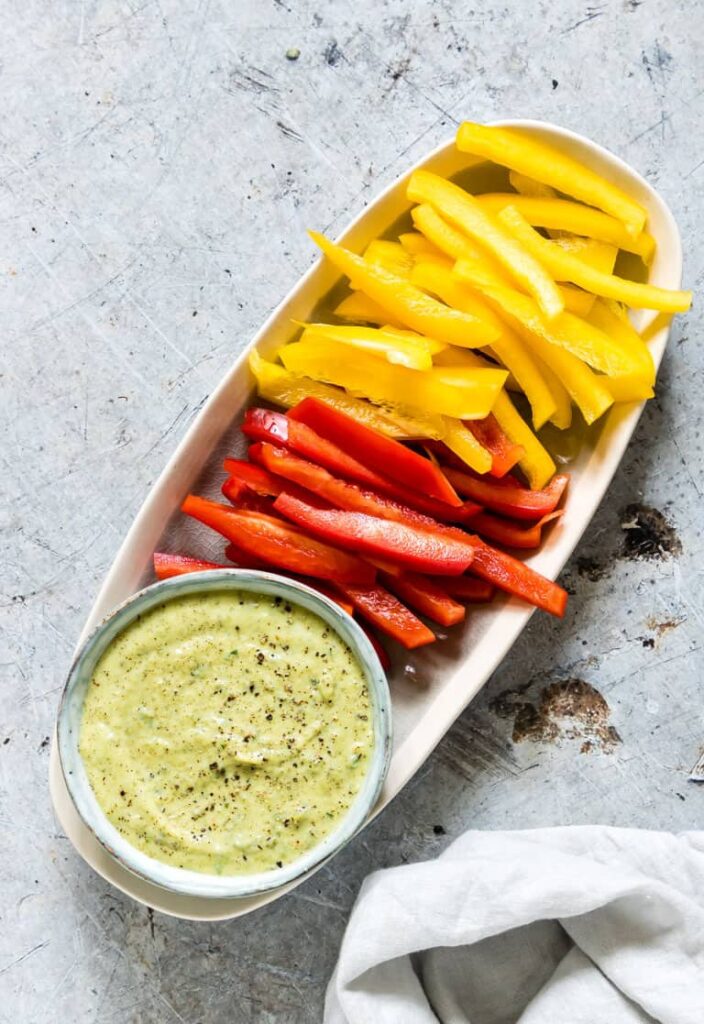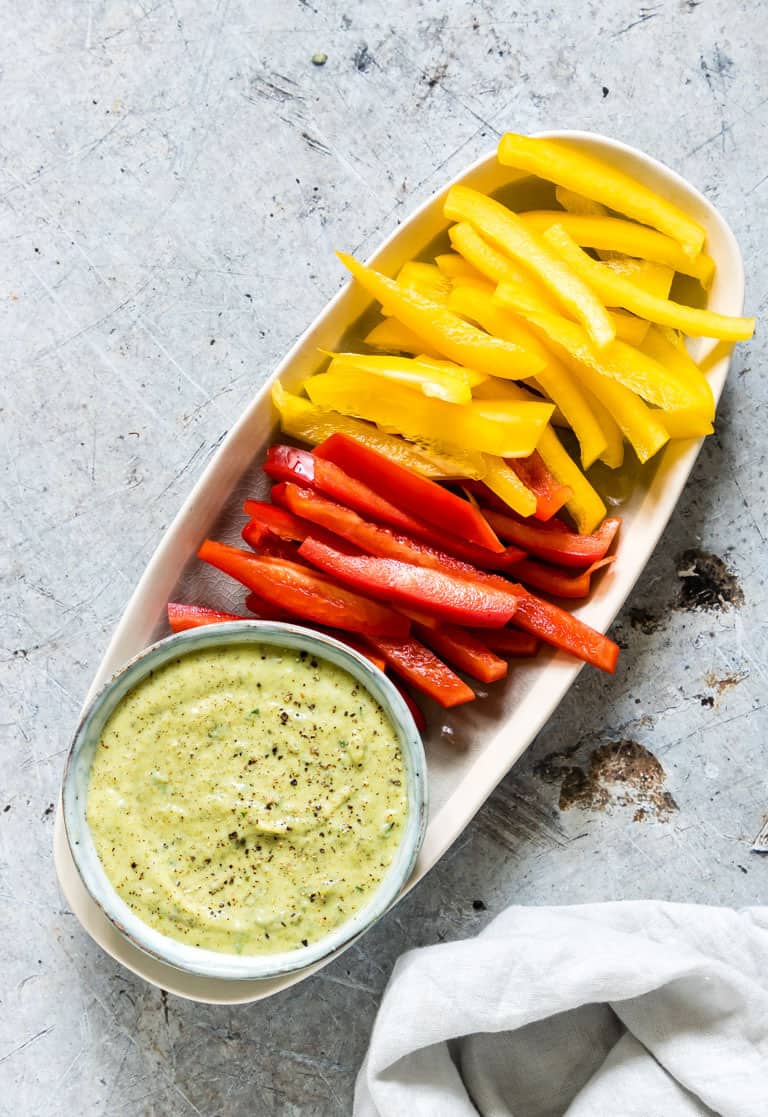 This light refreshing and creamy Zucchini Dip with Mint (from Recipes From A Pantry) is completed with coconut yoghurt and mint. It is perfect for a quick and healthy snack and the excuse to use up your zucchini / courgette bounty. Serve with slices of yellow or red peppers!
Mermaid Cookie Dip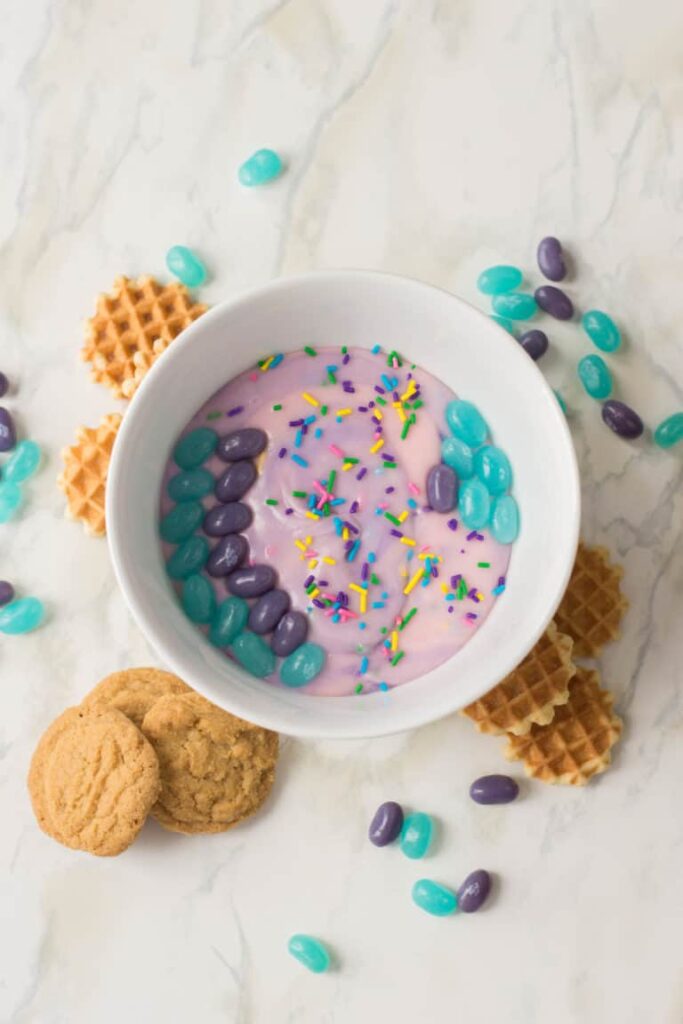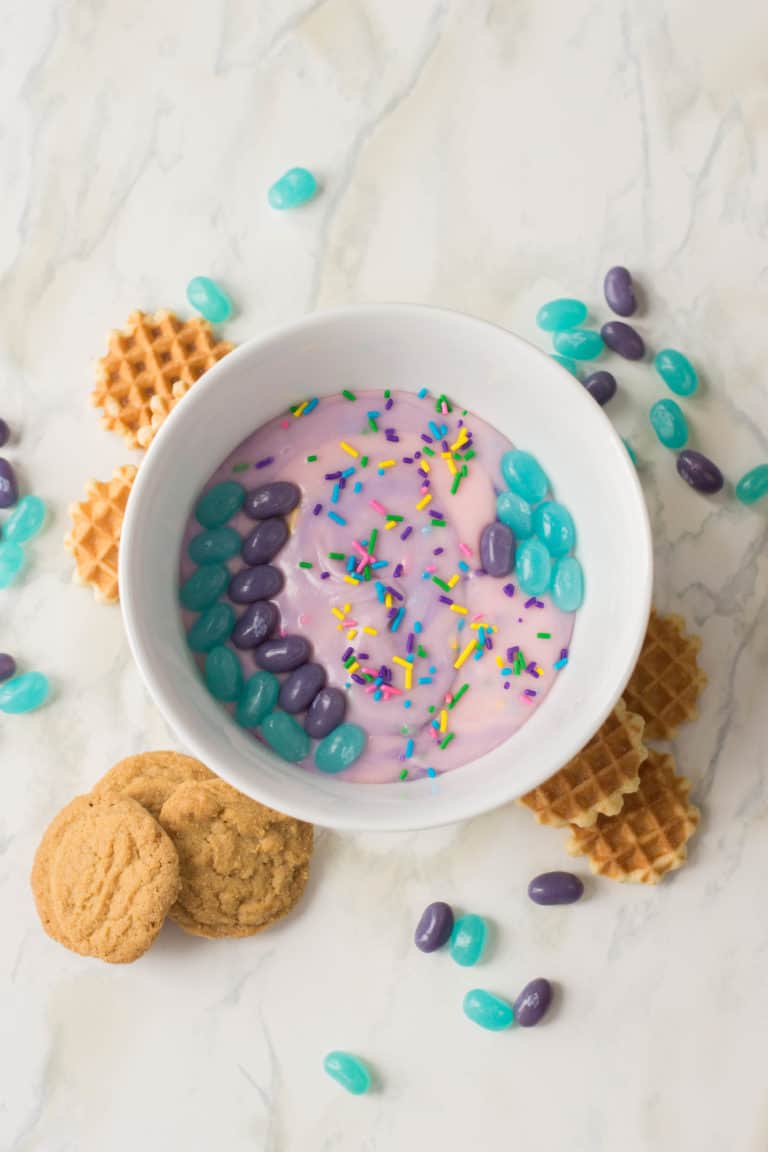 Learn how to make this Mermaid cookie dip (from Stylish Cravings)! A treat that's just as yummy as it is pretty! Scroll down for the easy no-bake recipe!
Dill Pickle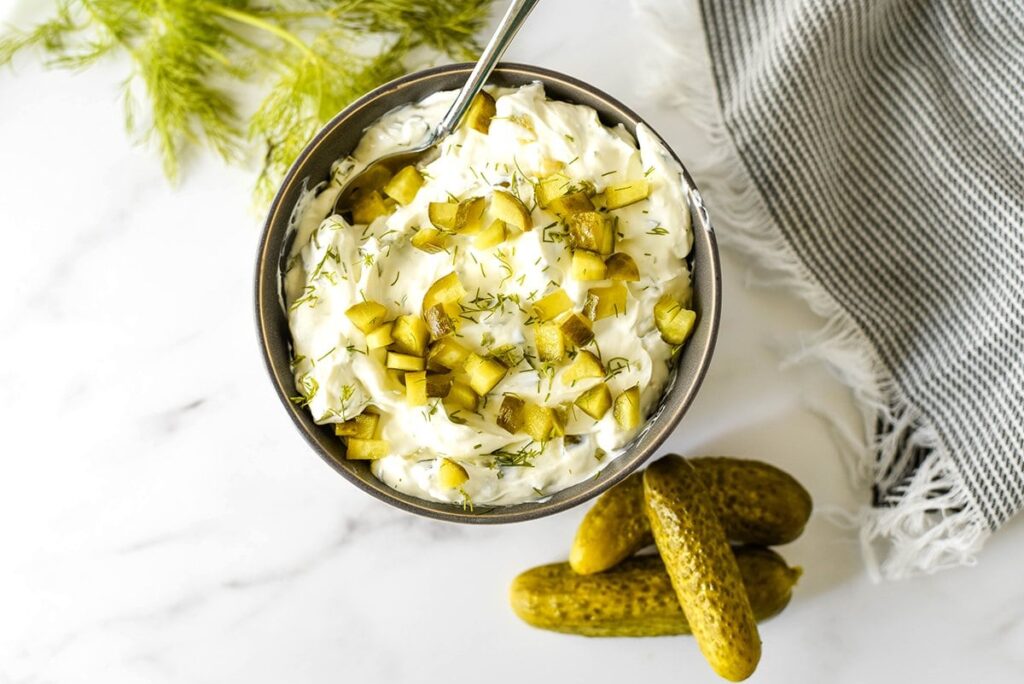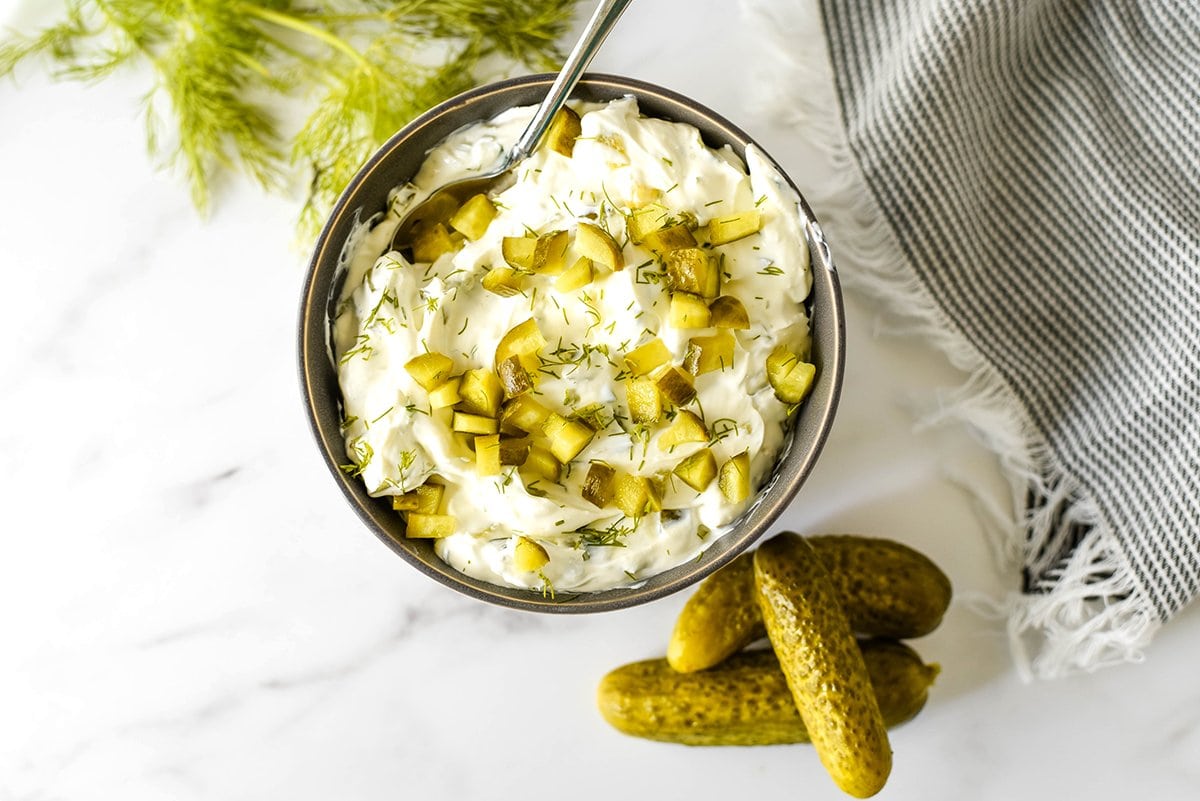 Dill pickle dip (from Savory Experiments) is a quick and easy appetizer that comes together in 5 minutes and will please your dill pickle lover and everyone between.
Baklava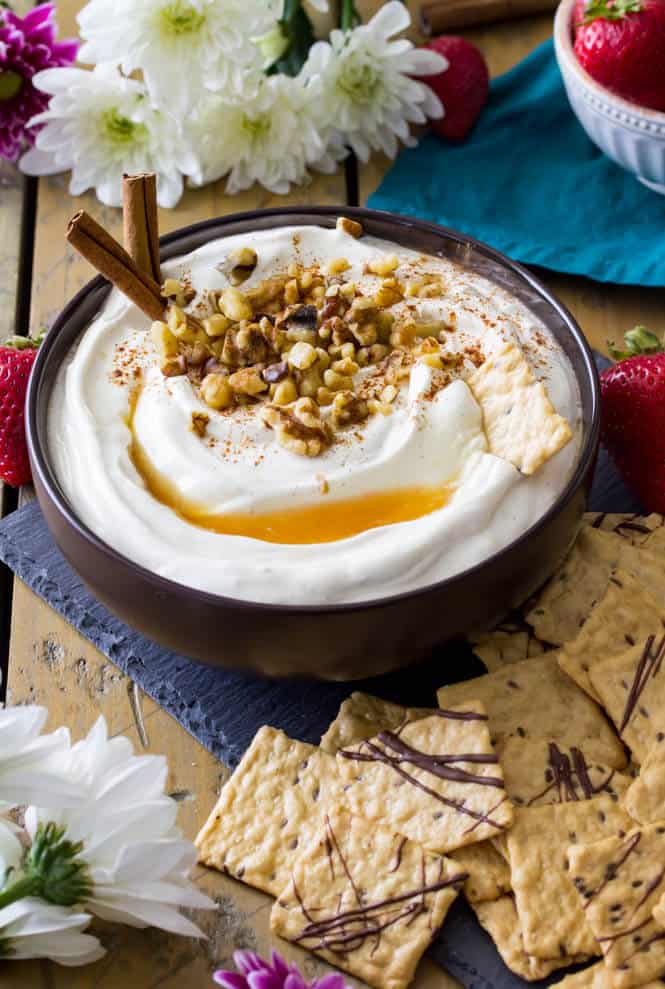 A sweet, creamy baklava-inspired dip (from Sugar Spun Run), made with yogurt, honey, and cinnamon, and served with crackers and fresh fruit!
Roasted Red Pepper Dip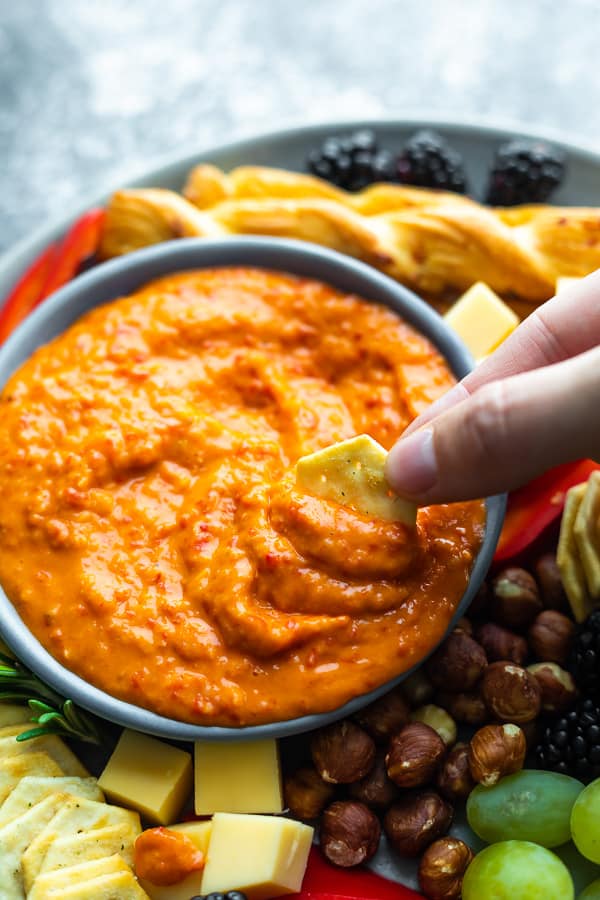 This roasted red pepper dip (from Sweet Peas and Saffron) is creamy, delicious, and a little bit spicy! Serve with chips and veggies for the perfect party snack.
10 Minute Apple Pie Dip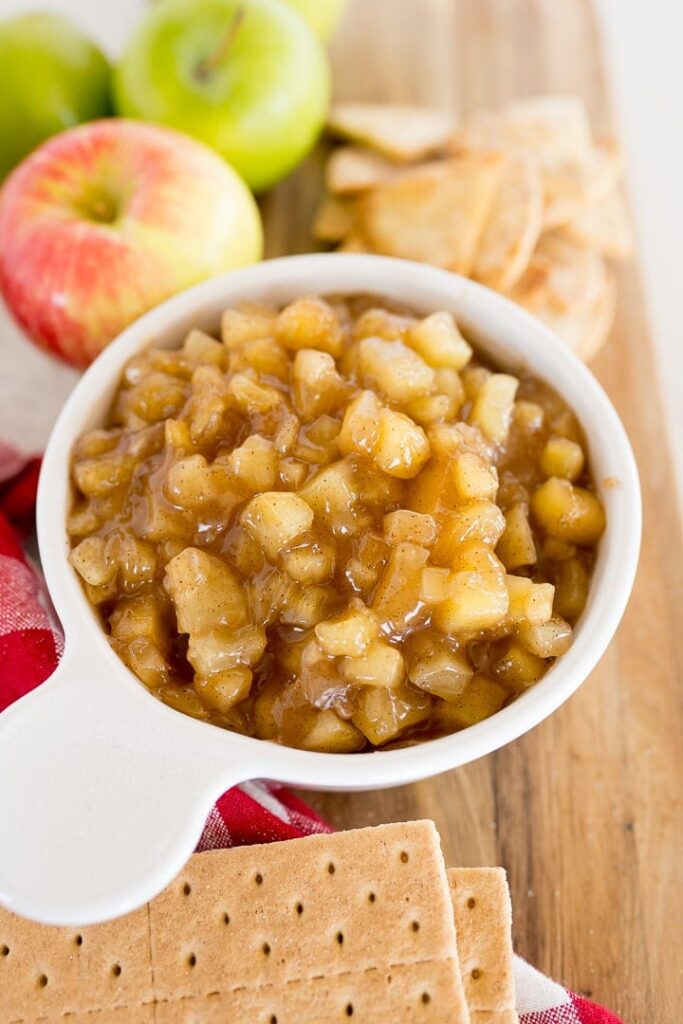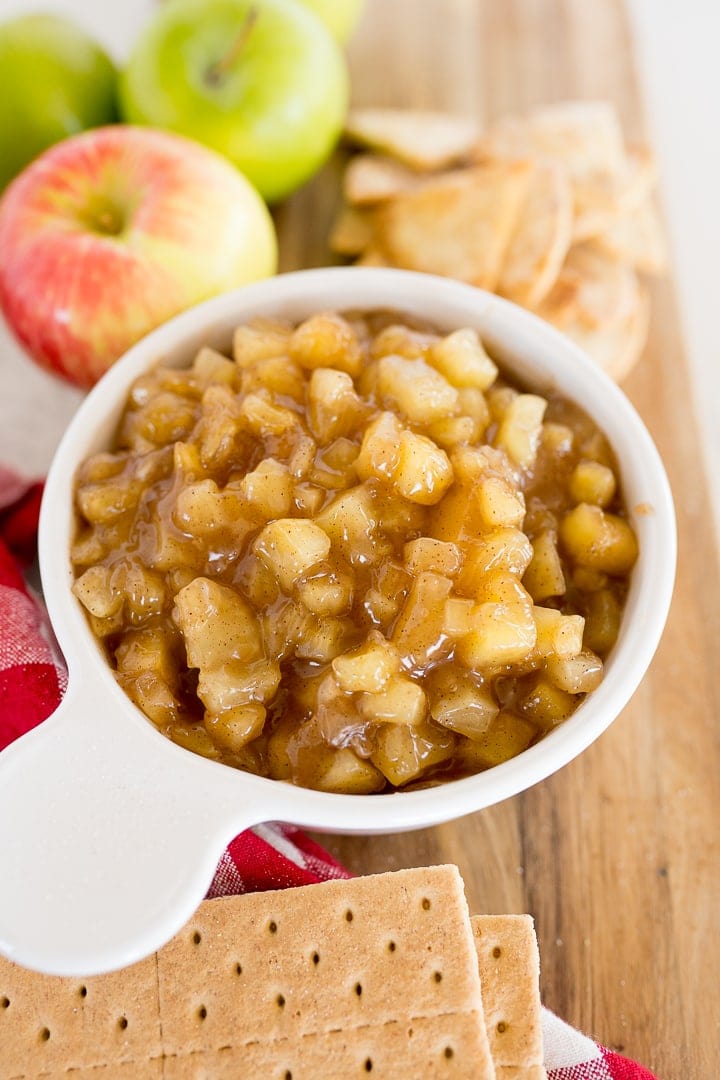 Apple Pie Dip (from Cooking with Karli) is a super fun spin on good old fashion apple pie. This recipe is PERFECT for parties, potlucks or even a fun and quick dessert.
Fiesta Ranch Cream Cheese Dip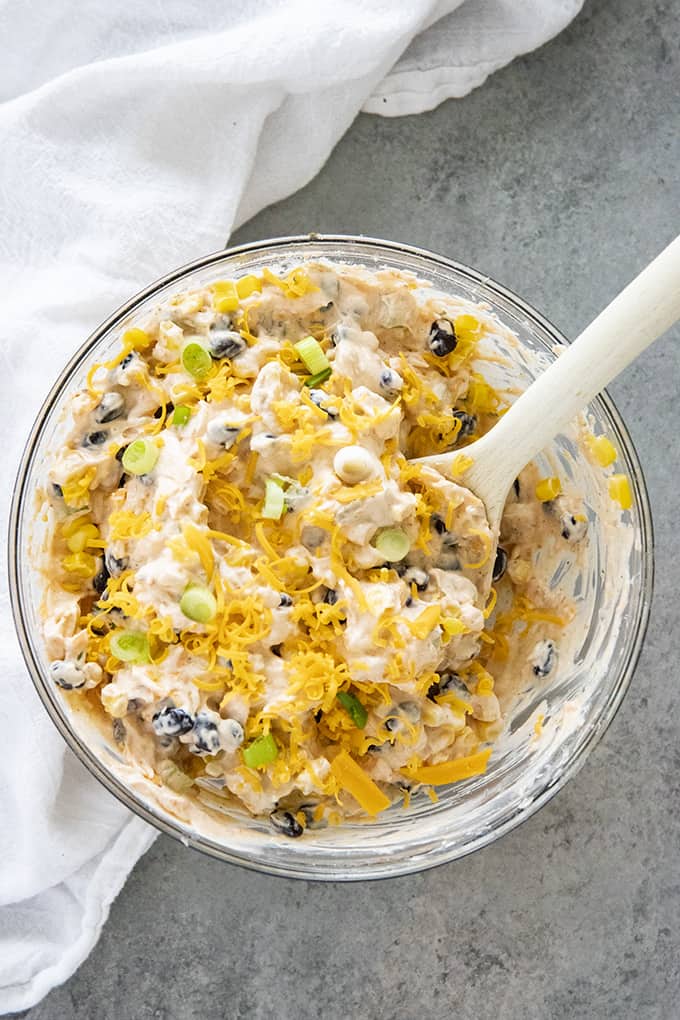 Fiesta Ranch Cream Cheese Dip (from The Salty Marshmallow) is loaded with flavor from ranch, salsa, black beans, corn, and cheese! This cold dip recipe is always a crowd pleaser!
Colorful Cowboy Caviar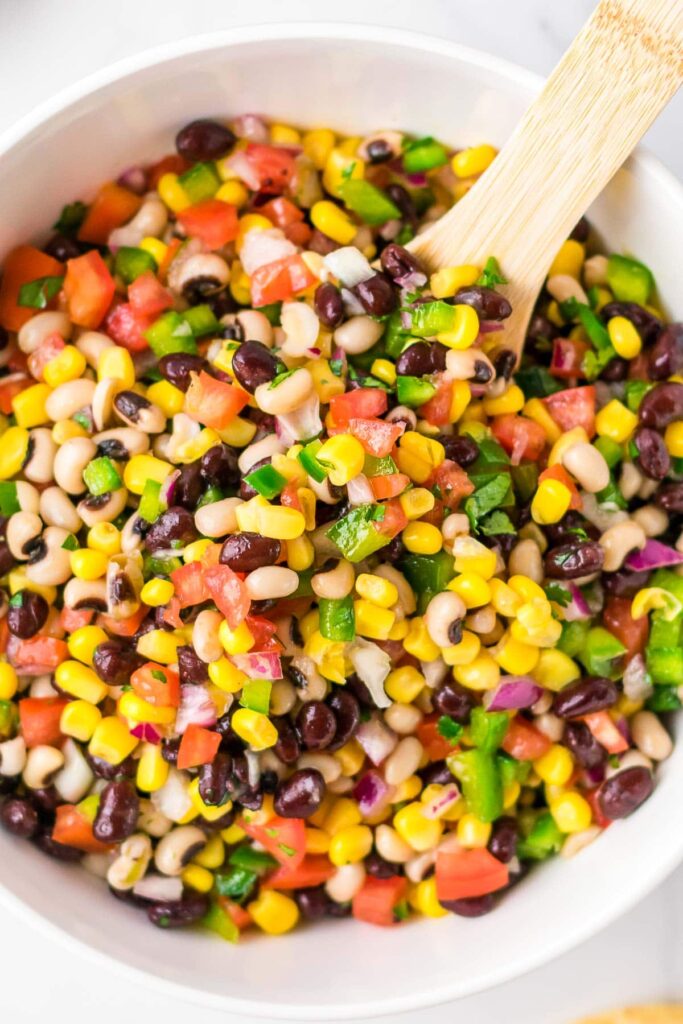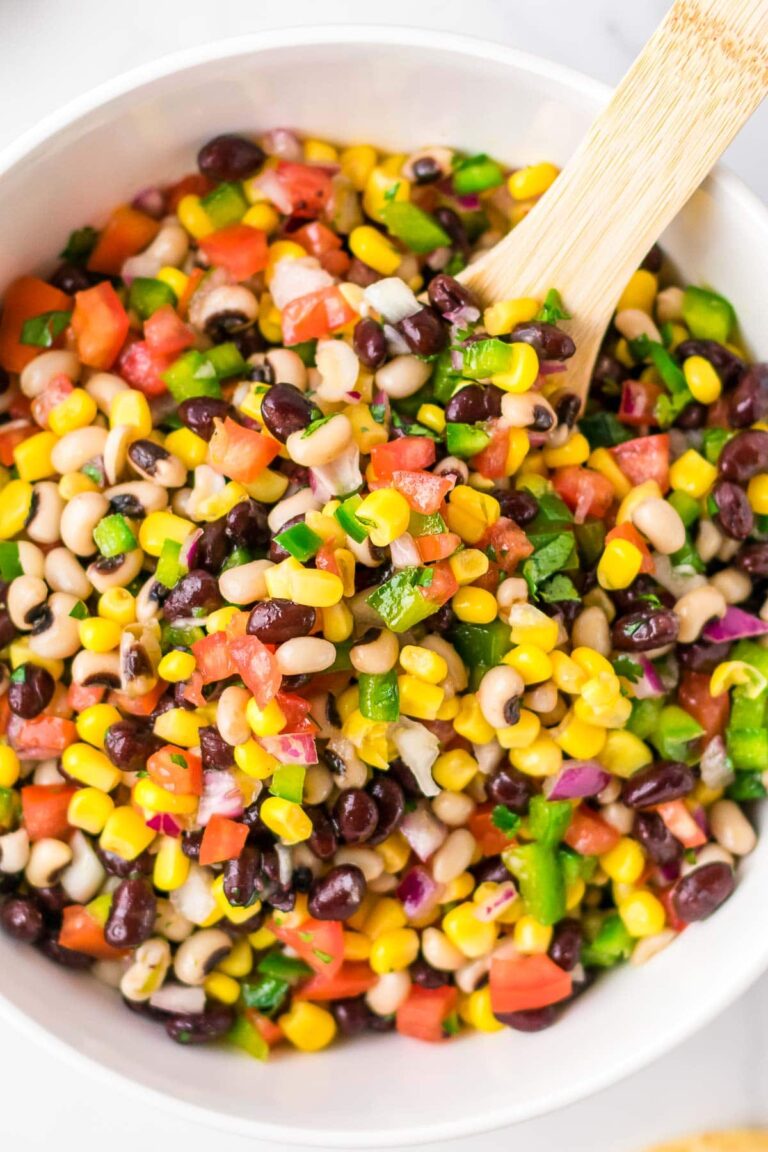 Cowboy Caviar (from Boulder Locavore) is a chunky, flavor-packed recipe perfect as a scoopable appetizer or side salad. Tangy, spicy and full of colorful wholesome ingredients you'll love.
Creamy Cranberry Dijon Dipping Sauce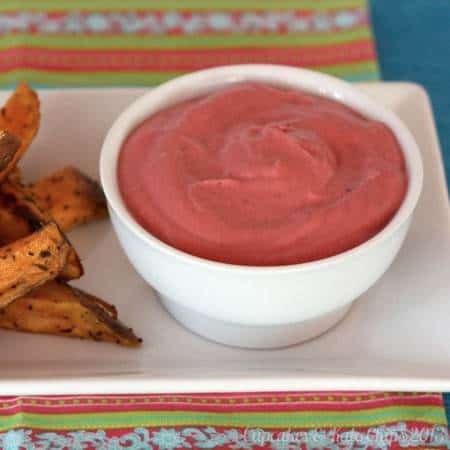 Cranberry dijon dipping sauce (from Cupcakes and Kale Chips) is a creamy, homemade condiment, loaded with tangy cranberry flavor. Perfect for dipping, it also makes a delicious sandwich spread!
Vegan Caramelized Onion Dip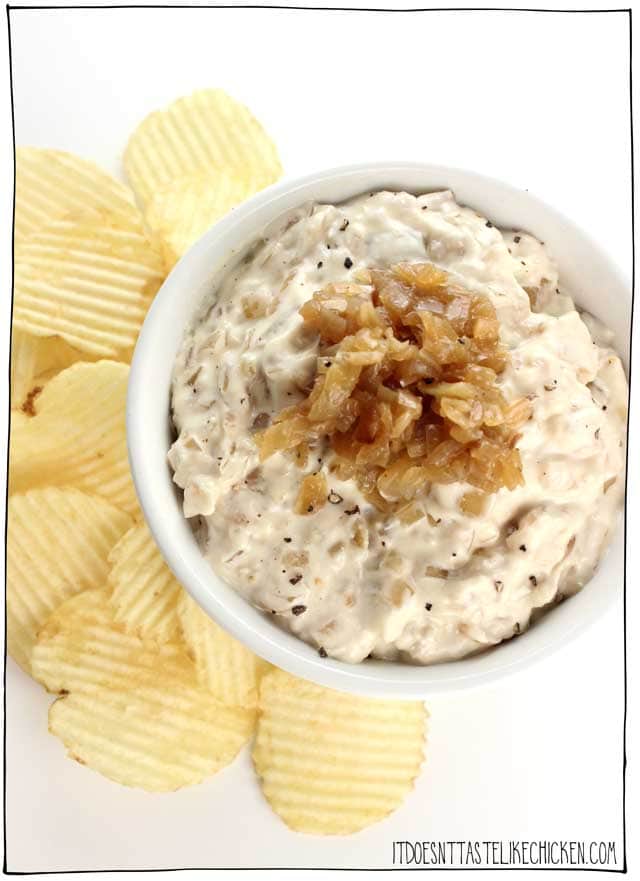 This classic dip (from It Doesn't Taste Like Chicken) tastes just like the traditional recipe, which is my kinda vegan speciality. No sacrificing on flavour, just all the goodness wrapped up into dippy perfection. So incredibly thick and creamy, rich, sweet, and tangy all at the same time.