Pepper jelly is one of the most versatile condiments out there. There are so many tasty things to do with it! Read on for 24 delicious ideas about what to eat with pepper jelly.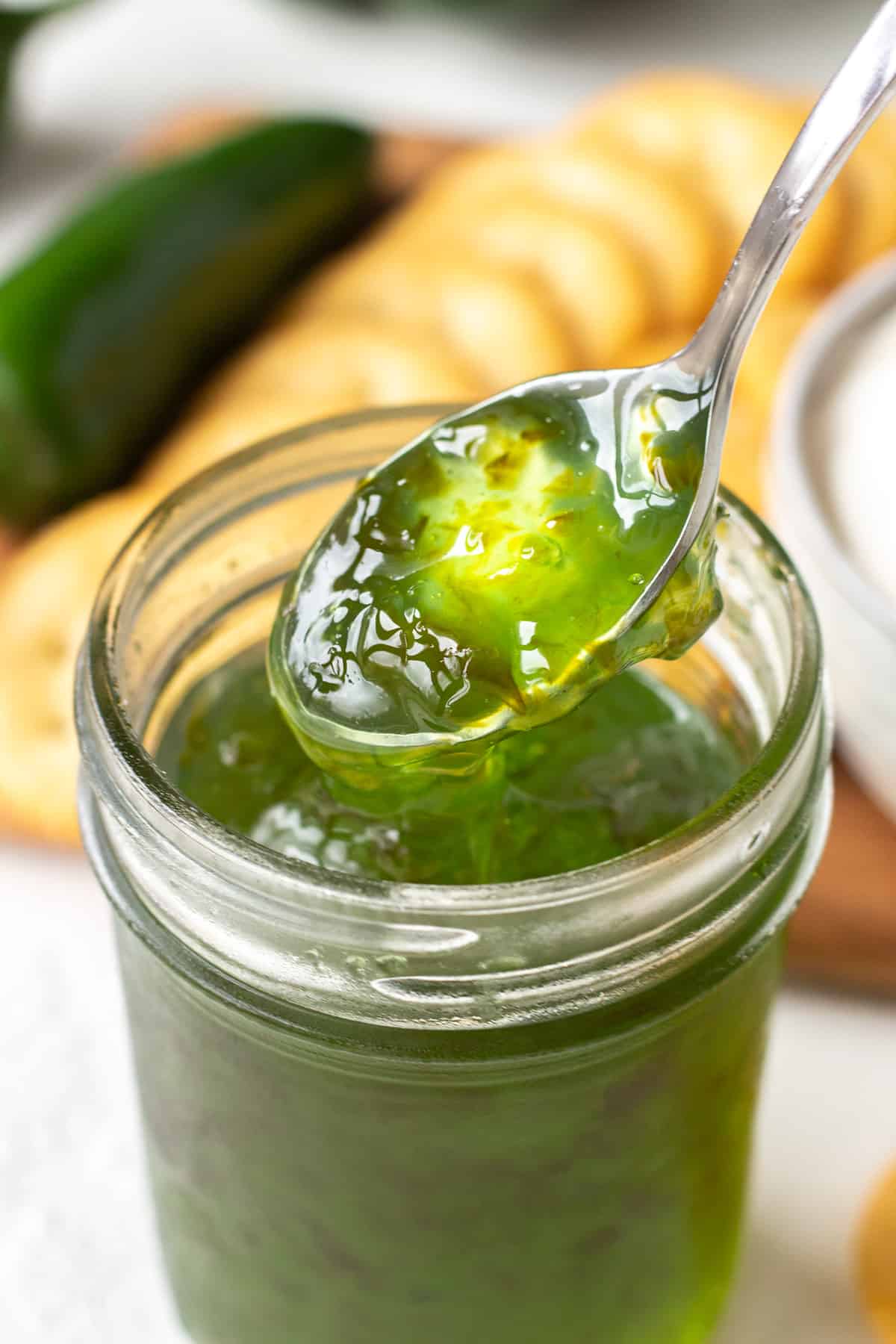 Pepper jelly is such an unassuming, underrated little green condiment. It holds so many little secrets about the huge array of other foods it pairs well with. While yummy in its simplest form, it is also sooo good when paired with many other types of food.
If you have a jar or more of this irresistible sauce on your hands and you have no idea what to do with it, I've got your back! Read on for tons of ideas about what to eat with pepper jelly. The options are endless!
Catch The Web Story
Learn about what you need to make pepper jelly and what to eat it with.
Green Pepper Jelly Recipe
Make this pepper jam recipe with a few basic ingredients. Serve with your favorite crackers and cream cheese for a delicious party appetizer! Made with green bell peppers and jalapenos.
Transform into a red pepper jelly recipe by using red chili peppers or other red varieties. This is such an easy recipe to enjoy with a variety of foods or to give a jar of pepper jelly away as a gift during the holiday season.
Hot Water Bath Canning Without A Canner – A Step By Step Tutorial
There's no need to buy a water bath canner if you're wanting to can a big batch or relish or jam! Use what you already have sitting in your kitchen. This technique works just as well.
Step 1
Carefully place jars (and their lids) into a large pot of cold water in a single layer. Turn the heat to high heat and bring to a full rolling boil. Do not stack jars and ensure they are all immersed in the water (open sides facing up) with approximately 2 inches of water extending up past the top of the jars.
Step 2
When the jelly is prepared and ready for canning, set it out next to the saucepan with the jars. One by one, use a tongs to remove hot jars from the boiling water.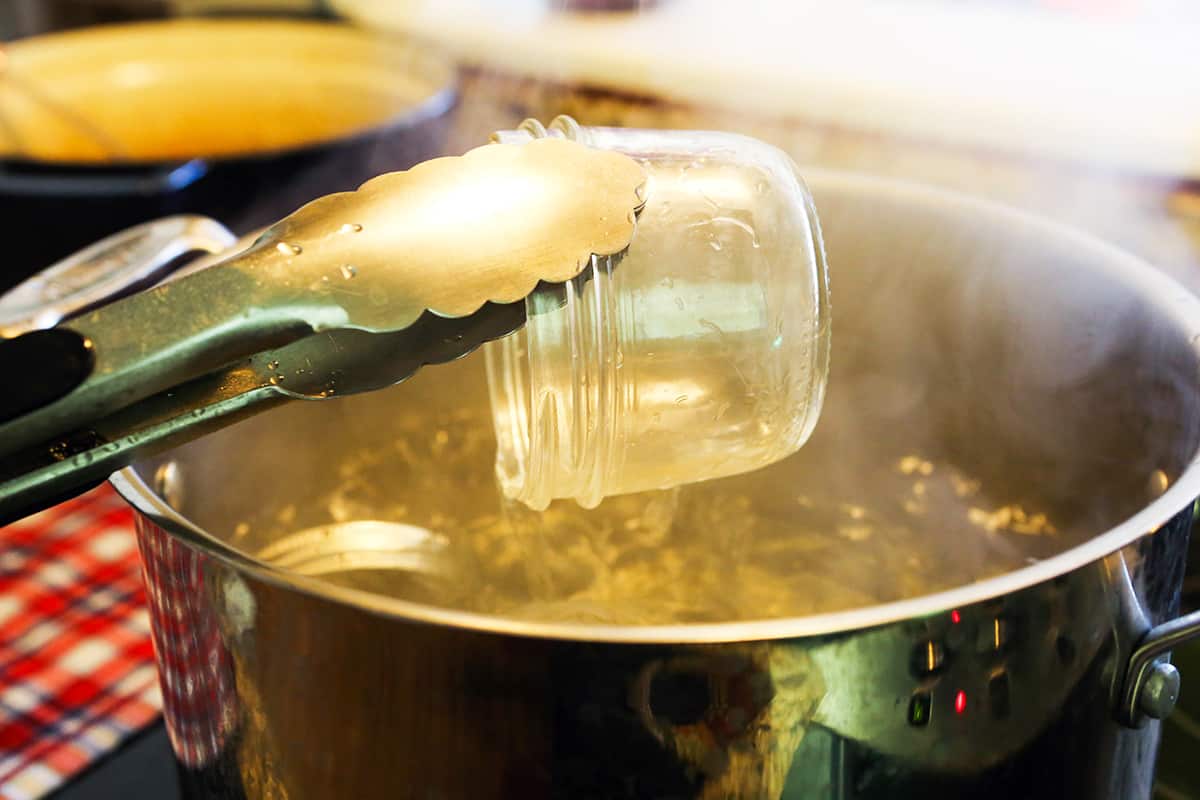 Fill with the jam. Fill to about 1/2 inch from the top, wipe rims with a clean cloth and place lid on the jar. Screw bands as tightly as possible. Use an oven mitt for this step since the jars will be hot.
Step 3
After all jars have been filled and lidded, carefully return them to the boiling water and let boil for 10 minutes. Turn the burner off and remove the jars from the water once it has cooled down a bit. You may use a jar lifter for this step or carefully use a tongs and large spoon in tandem to pull and lift at the same time.
Step 4
Transfer jars to a flat surface covered with a clean kitchen towel and let sit for a few hours or overnight, or until the lids have come to room temperature and sealed. You will hear an audible popping noise when a jar seals. Store sealed jars in a cool dark place until ready to use. Once the seal has been broken, store in the refrigerator.
What To Eat With Pepper Jelly
Soften a block of cream cheese. Pour the jelly over top of the cream cheese for a spicy spread. Serve with crackers for a super easy appetizer. Delicious cracker options include wheat thins, Ritz crackers, saltines or any other salty crackers.
Replace it with grape jelly in your next peanut butter and jelly sandwich.
Spruce up your next piece of toast with it.
Use as a glaze to brush over any type of meat such as pork tenderloin, burgers, chicken, fish or steak.
Add spice to your next batch of roasted vegetables by drizzling it over the top after baking.
This is such a great gift idea! Seal in jars and put a fun label on it for holiday gifts.
Acts as the perfect dipping sauce for chips, crackers, carrots, celery sticks, potstickers, egg rolls or mozzarella sticks.
Drizzle over pancakes or waffles.
Great filling or topping for baked goods such as cupcakes, cookies or cakes.
Use as a zingy salad or coleslaw glaze or dressing.
This is a perfect cheesecake glaze.
Add a dish filled with jam to a charcuterie board along with a variety of crackers, olives, cheese, salami and pickles for the perfect appetizer.
Drizzle it over a bowl of ice cream.
Use as a glaze for pineapple or watermelon.
Makes a great filling for thumbprint cookies.
Meatloaf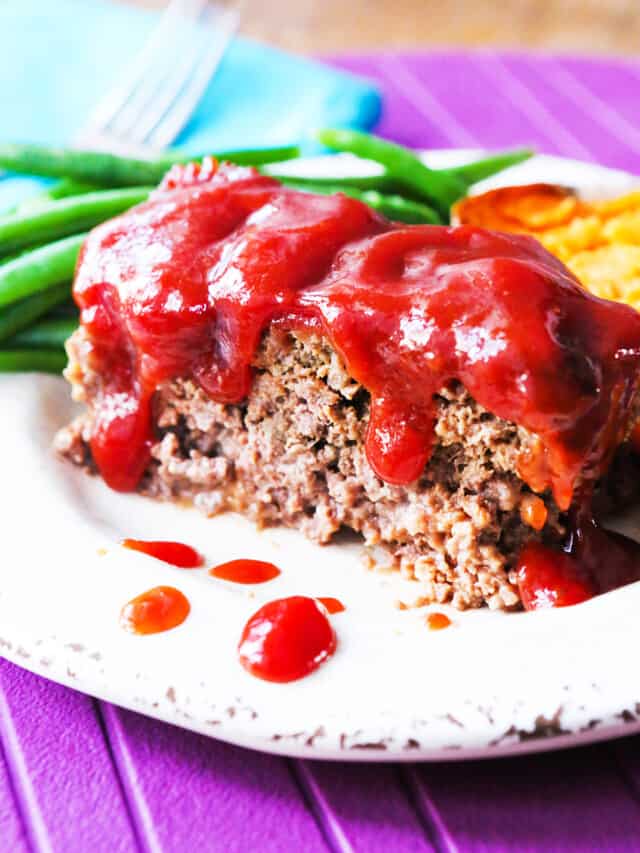 This is the best meatloaf recipe you'll ever eat and it is such an easy classic dish. Replace the apricot jam in the glaze with a pepper variety instead!
Coleslaw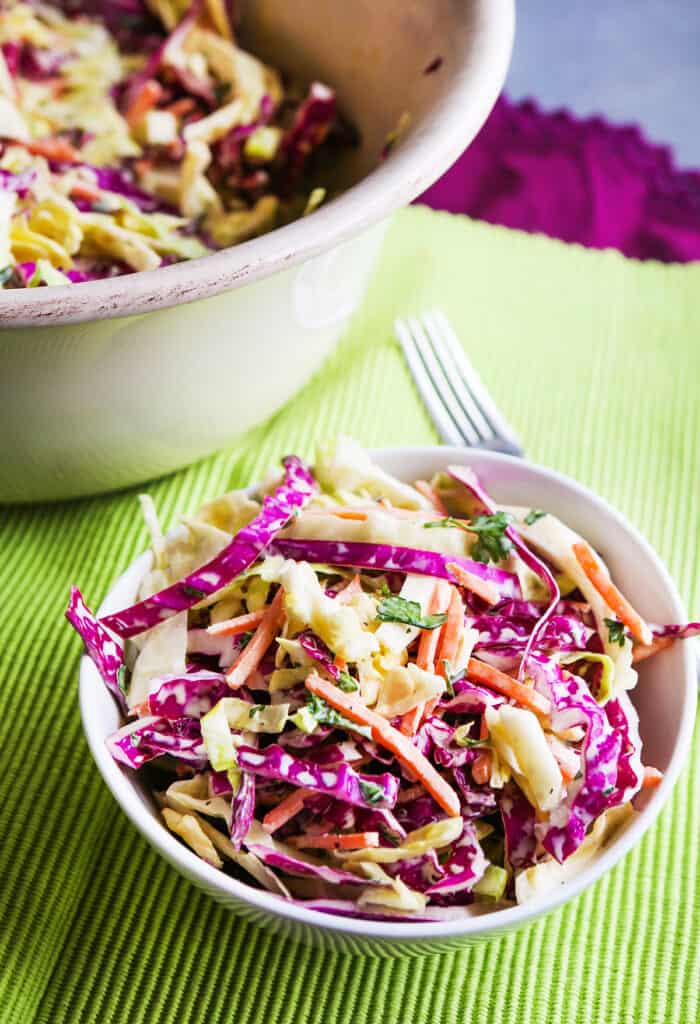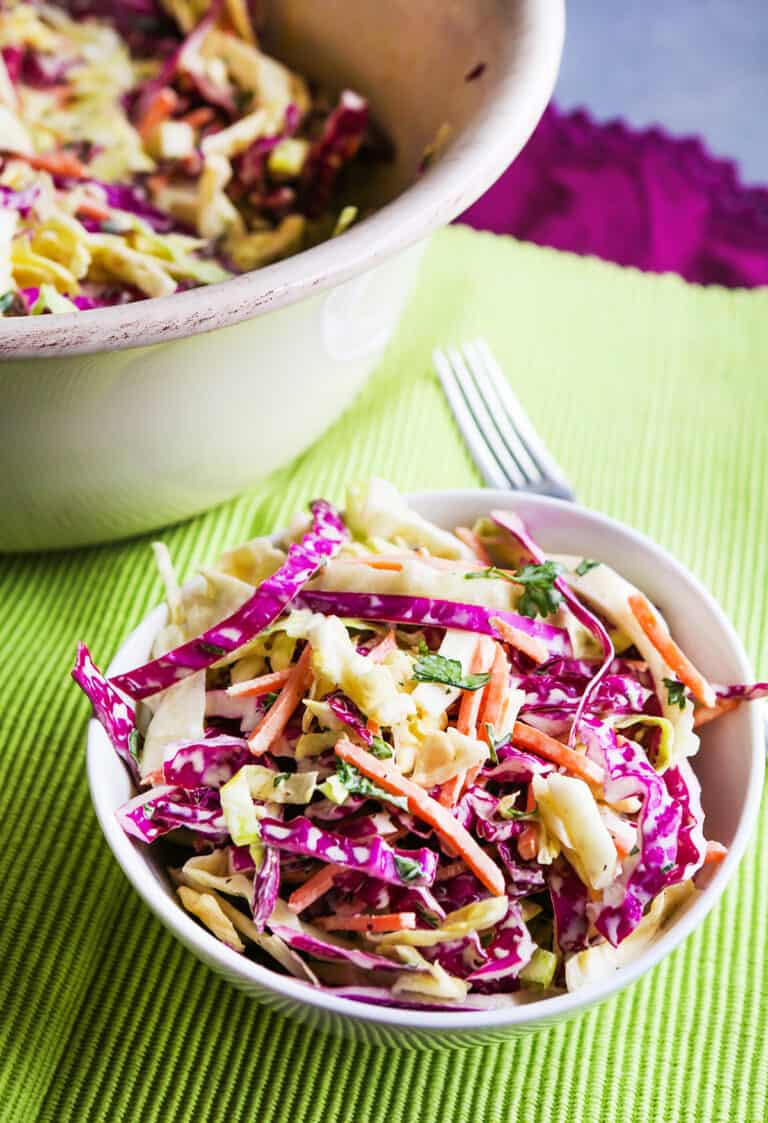 Throwing together a delicious coleslaw recipe should be easy and simple. This coleslaw contains shredded cabbage, apple cider vinegar, creamy vinaigrette dressing and it is NOT loaded down with mayo! For a spicy touch, mix in a zingy variety of jelly/jam.
Dutch Oven Bread with Cheddar and Everything Bagel Seasoning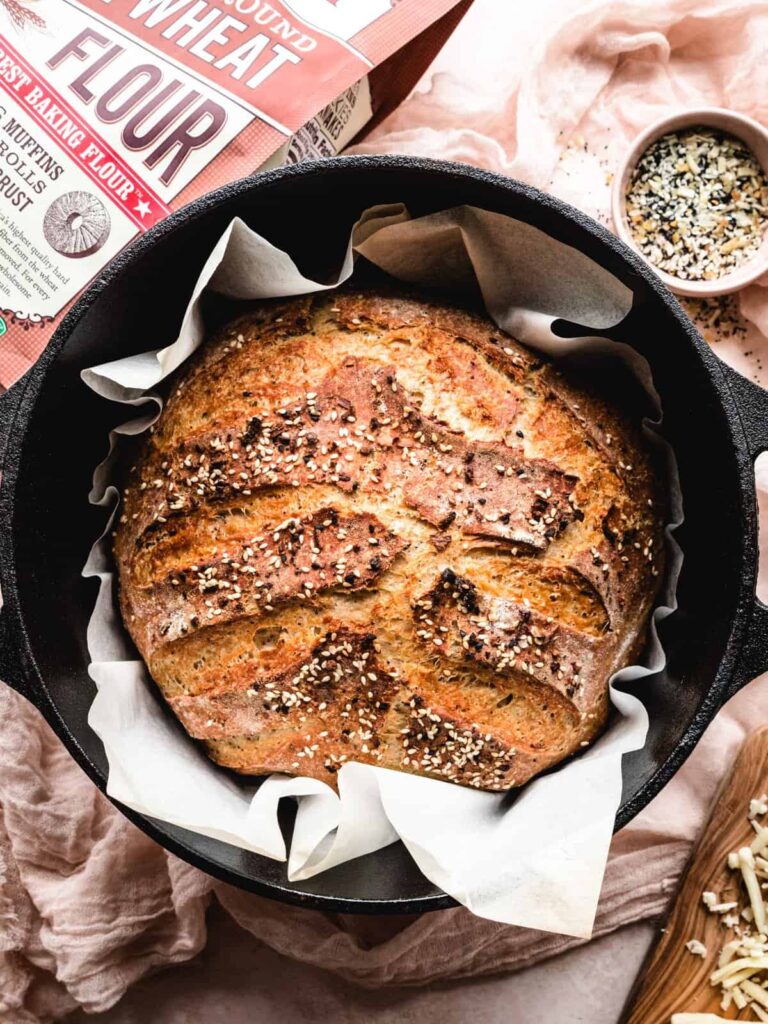 If you've ever considered trying your hand at baking bread, but considered the task too intimidating or you have a fear of working with yeast, this recipe for Dutch Oven Bread with Cheddar and Everything Bagel Seasoning (from Kickass Baker) is for you.
Party Meatballs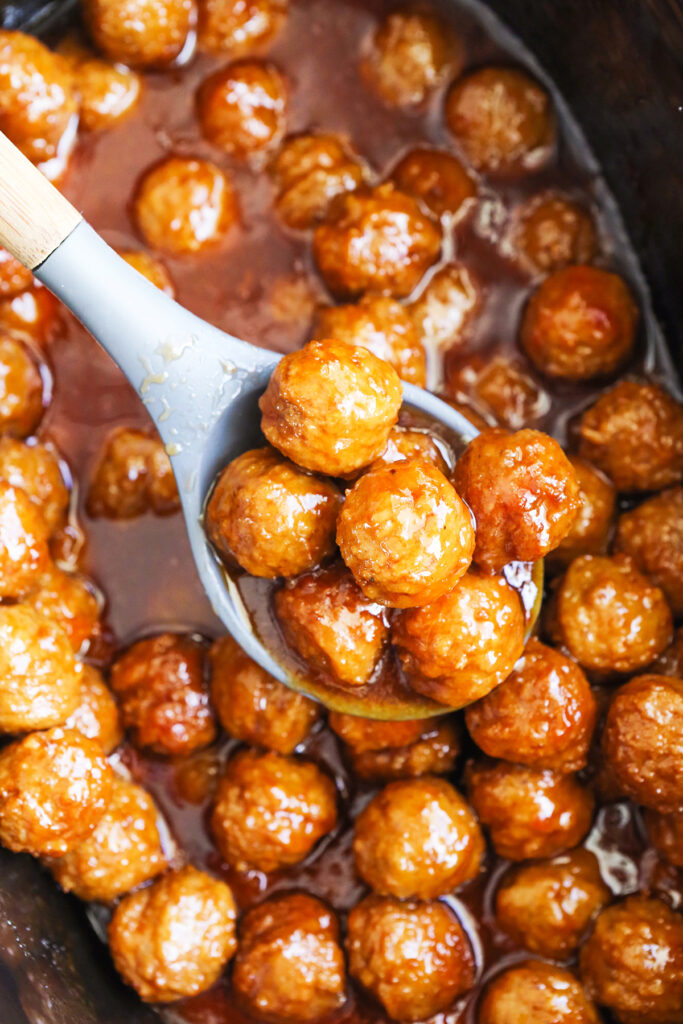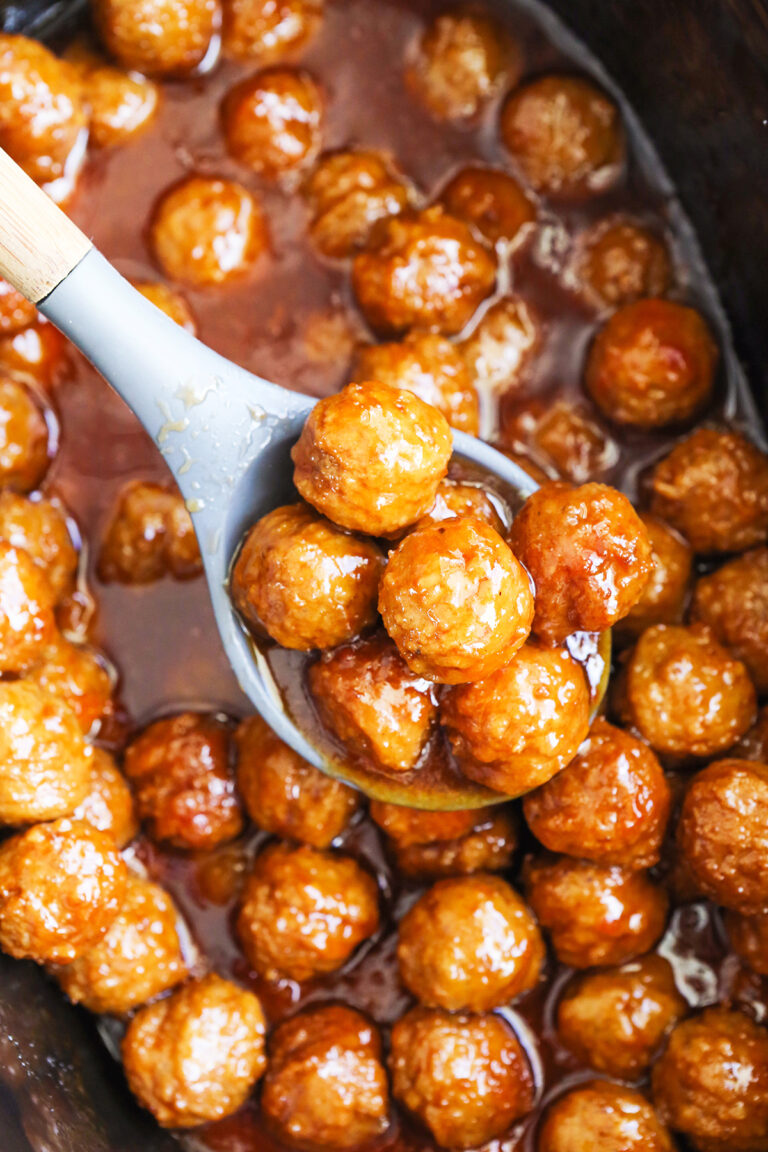 Crockpot Meatballs require only a few ingredients with only a few minutes of prep. They are SO EASY to make, totally packed with delicious flavor and great for game-day parties or holidays. Replace the apricot jam with spicy jelly to spruce it up and for a major flavor boost!
Roasted Broccoli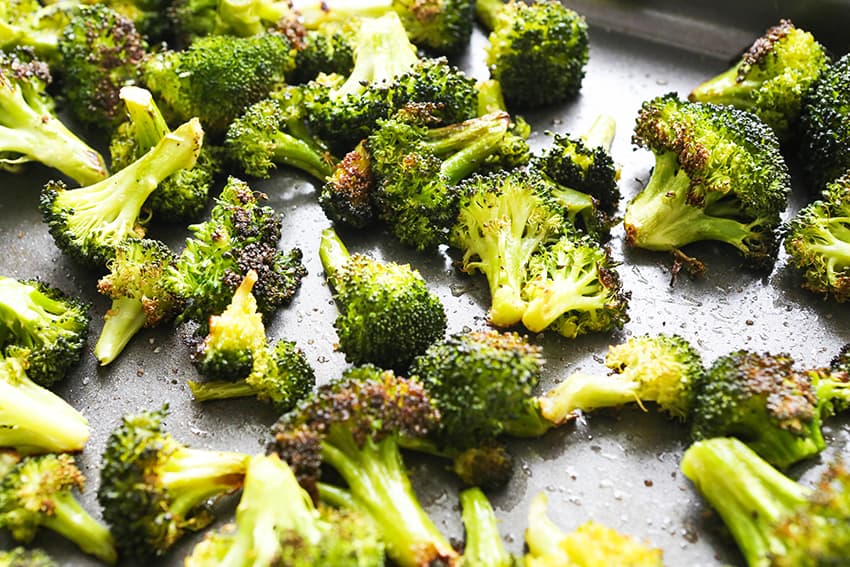 Make this roasted broccoli recipe to accompany your next meal. Roasting broccoli is super easy and it is so good it tastes like candy! Drizzle a glaze over the top, such as any type of jelly/jam!
Salsa Burgers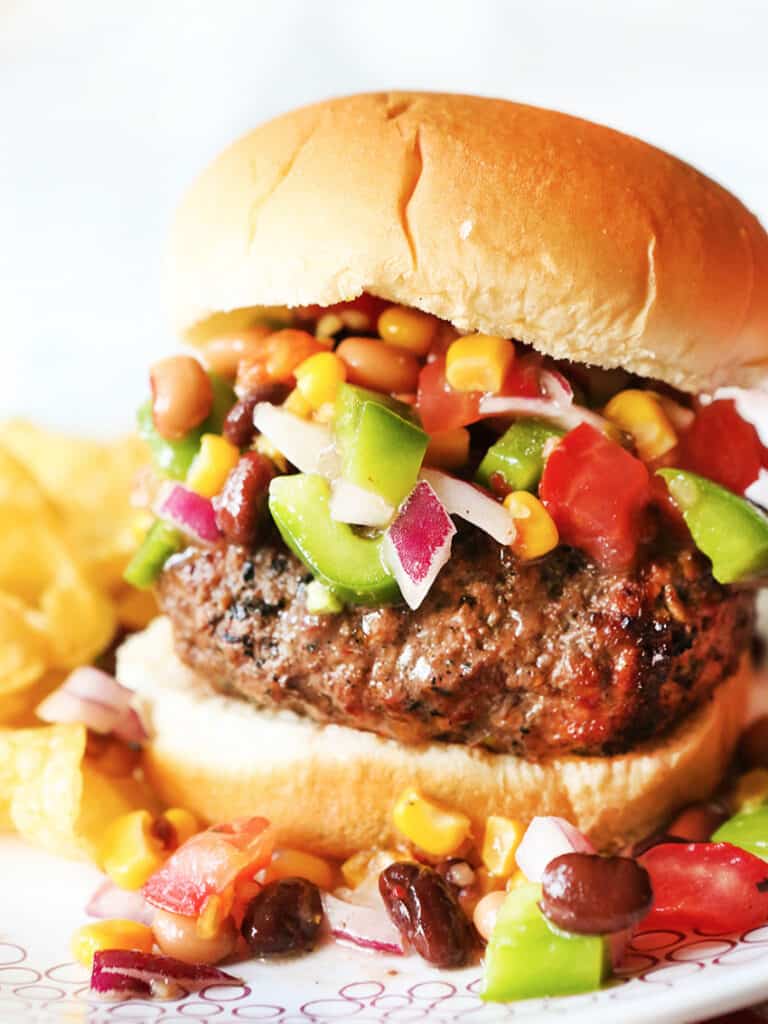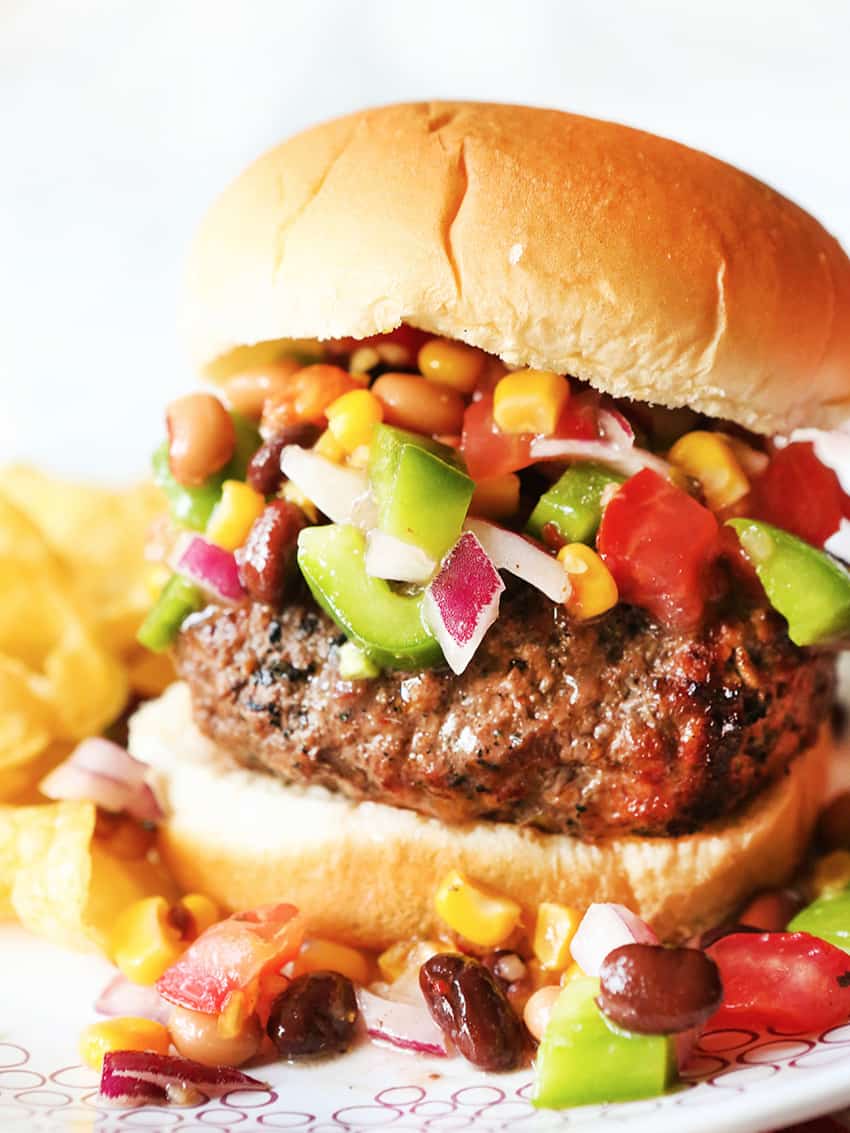 Incorporate salsa into the meat of your burger for a zesty, super juicy burger that everyone will fall in love with. Use spicy salsa for burgers with a kick or go mild for a less spicy option. Brush spicy jam over the cooked meat before serving.
Baked Chicken Wings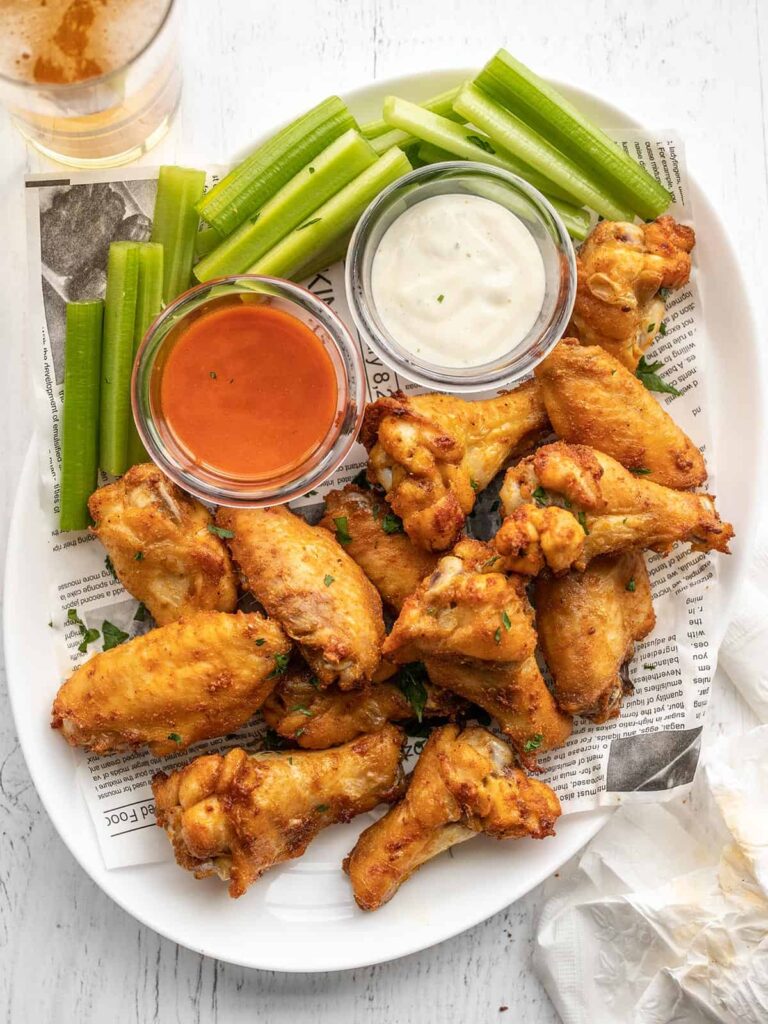 These Baked Chicken Wings (from Budget Bytes) are incredibly simple, delightfully crispy, and they can be enjoyed plain or drenched in your favorite sauce.
Pan Fried Pork Chops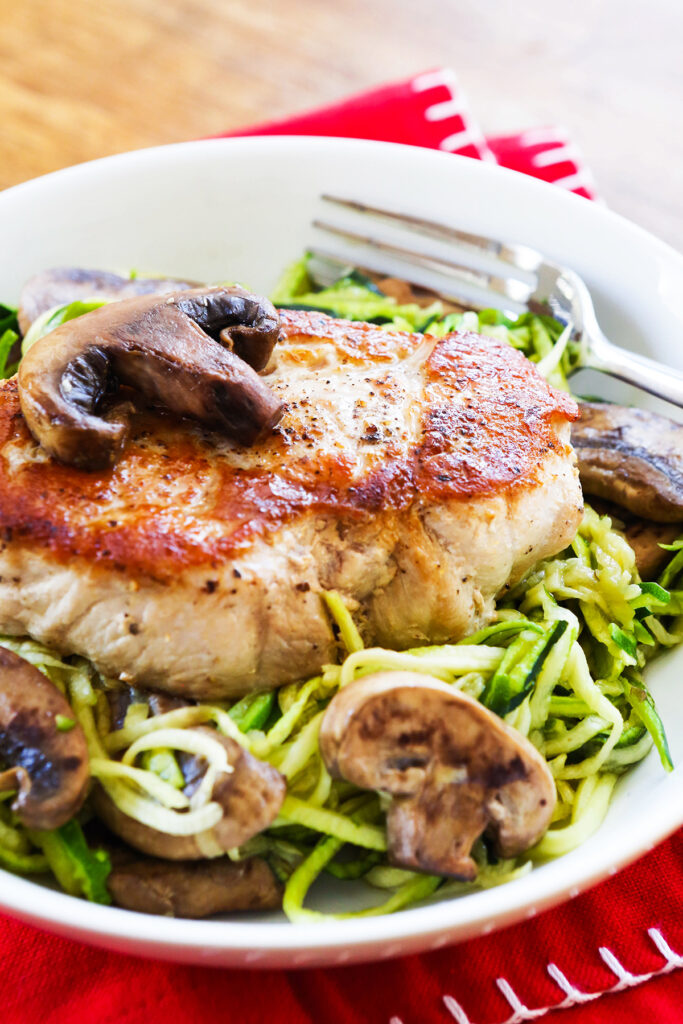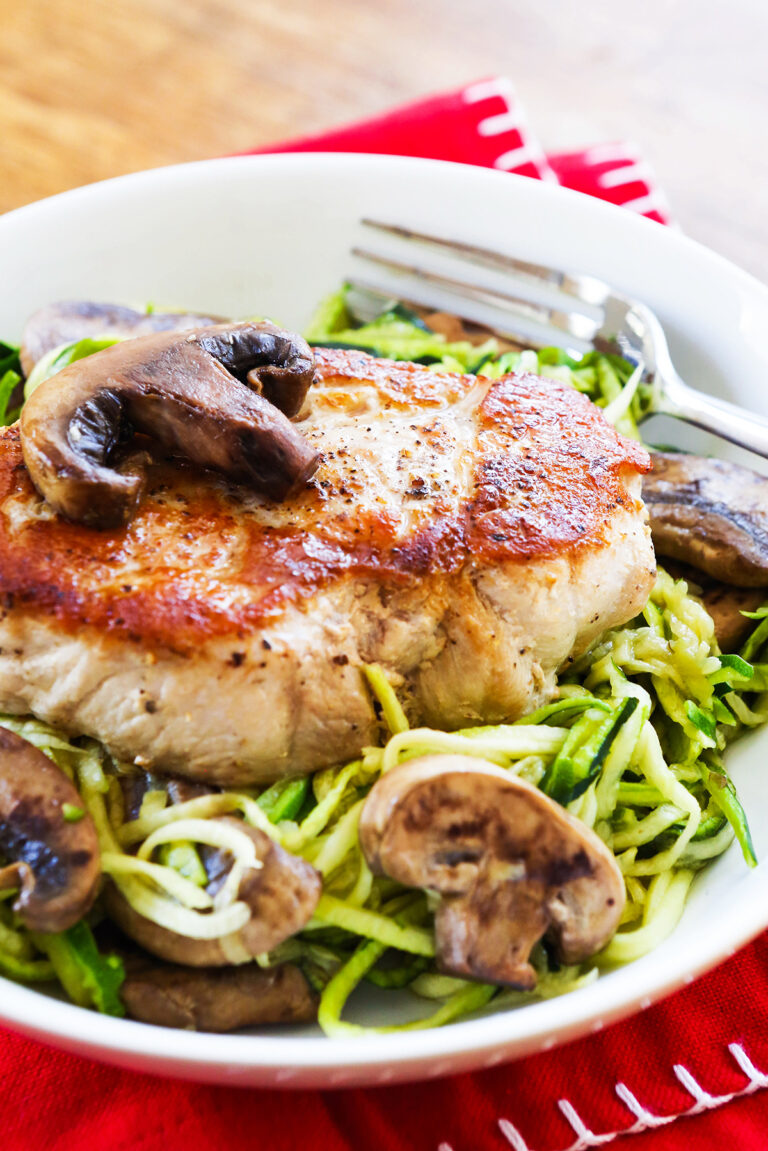 This is my mom's pan fried pork chops recipe and since learning her method, I will never prepare pork another way again. Make the pork chops while steaming some veggies and dinner will be done in less than 20 minutes! Glaze with jellies of your choice to spruce up the flavor of the meat!
Cheese Crackers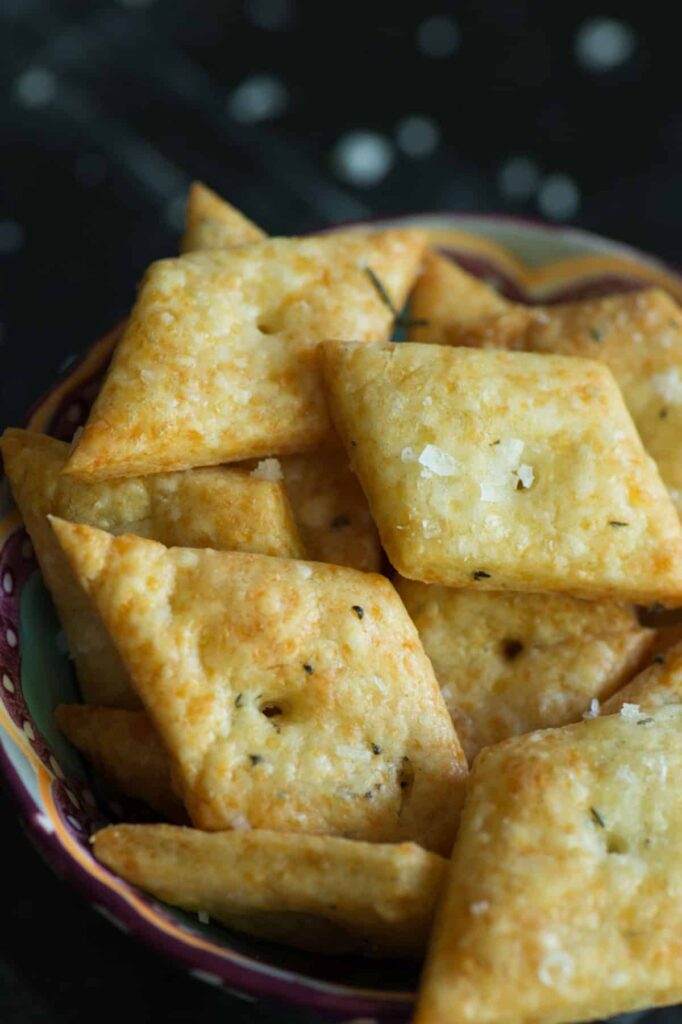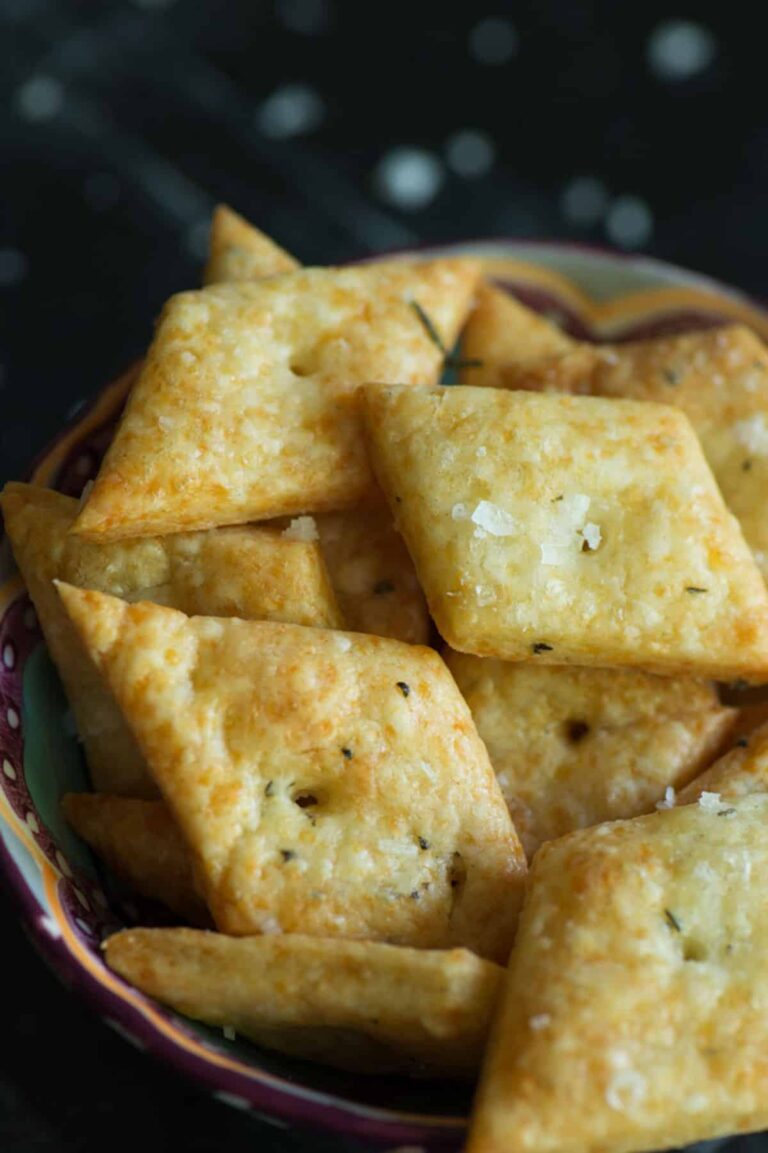 This Gruyère cheese crackers recipe is the grown up version of a childhood favorite. Homemade and easy to make with just 4 ingredients. These savory crackers will become your go to snack or appetizer.
Air Fryer Salmon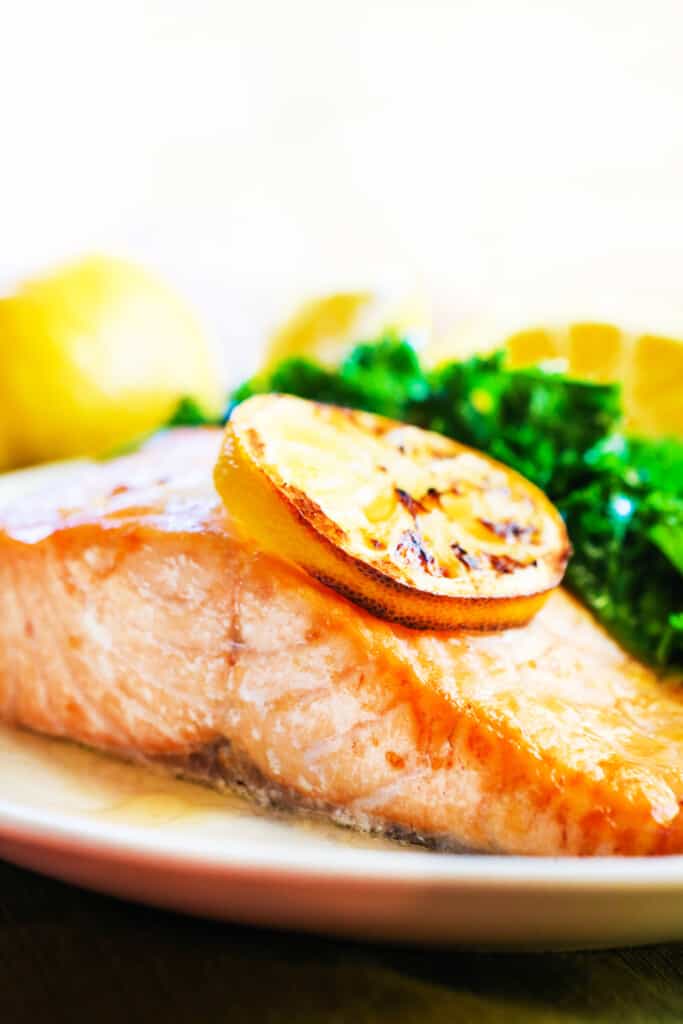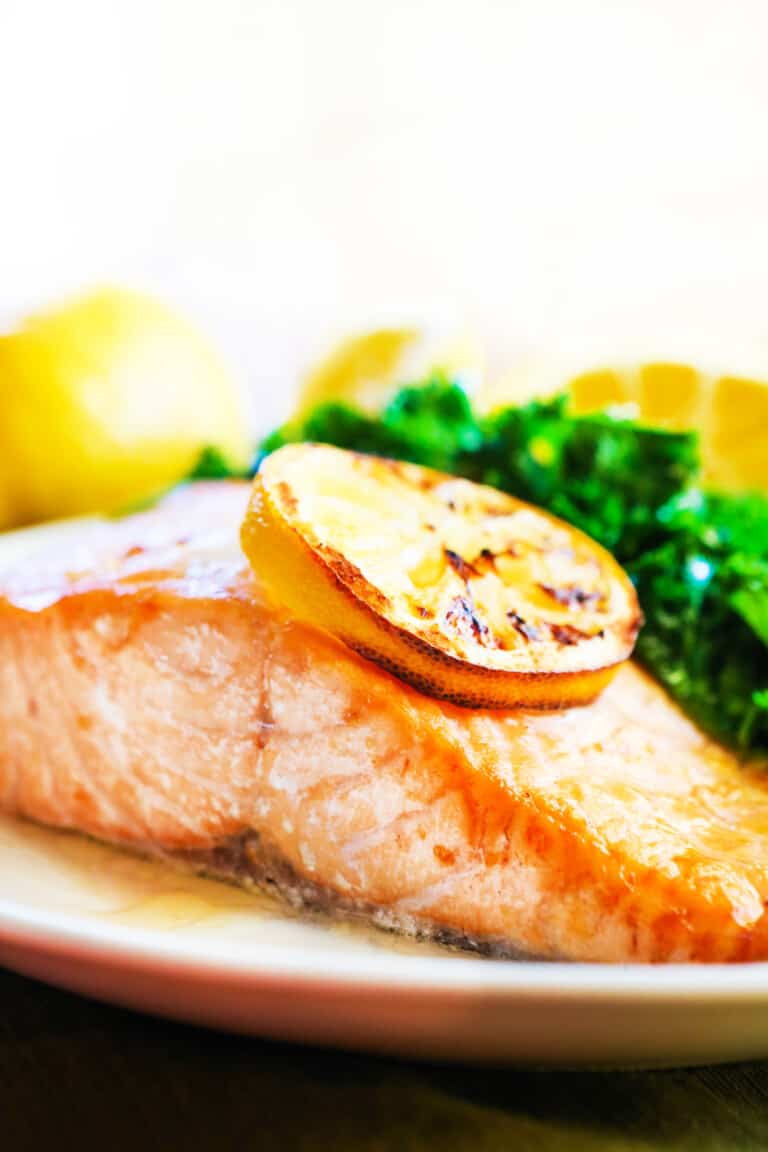 Introducing the most perfectly cooked and easy-to-prepare salmon you will ever eat. Dinner is on the table in less than 30 minutes!
Baked Jalapeno Poppers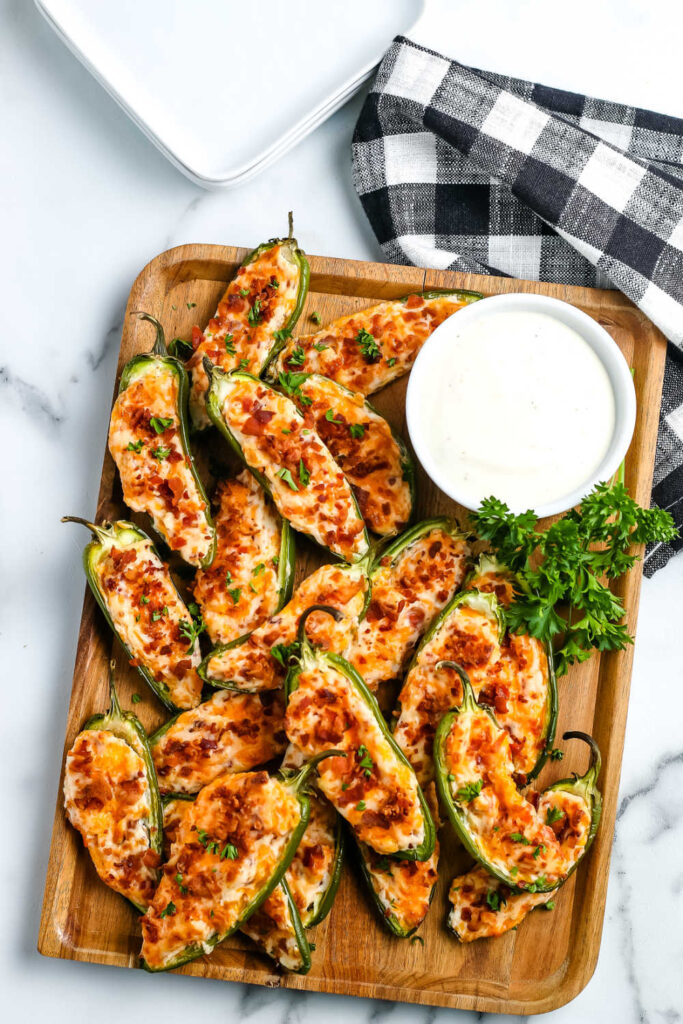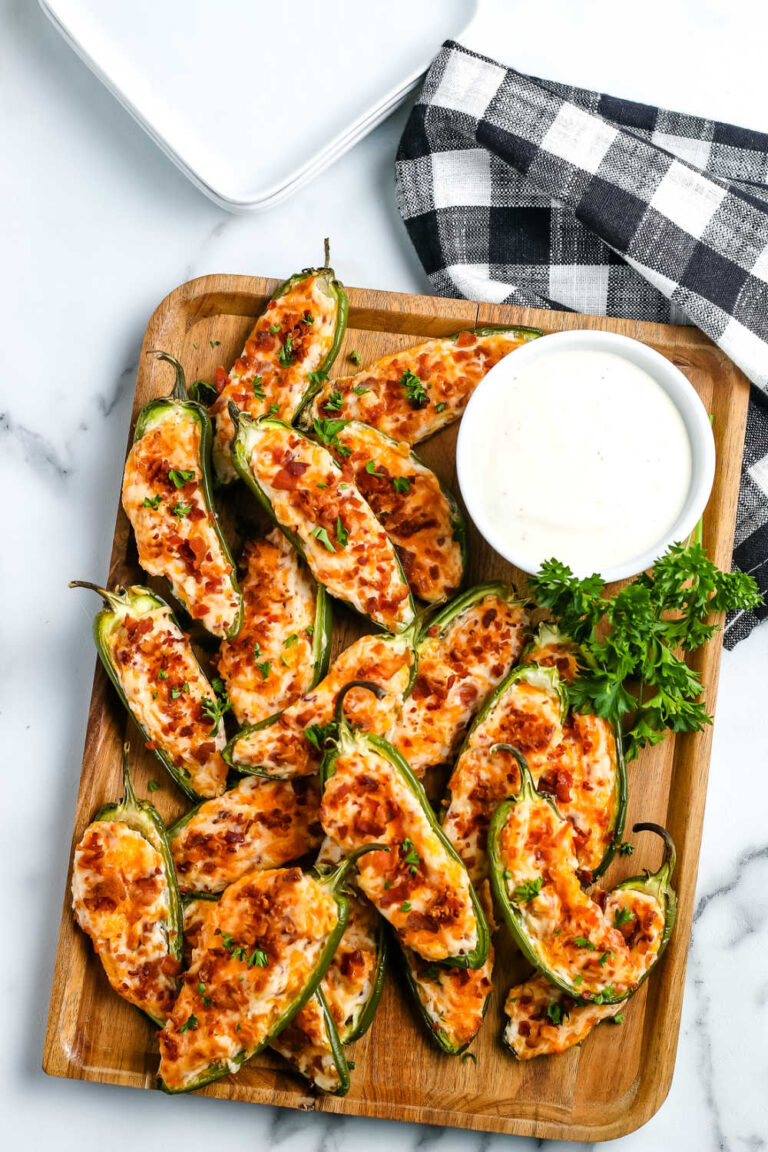 These Baked Jalapeño Poppers (from Food, Folks and Fun) are easy to make, and they feed a crowd. They're stuffed with cream cheese, cheddar, and bacon!
Leftover Meatloaf Sandwich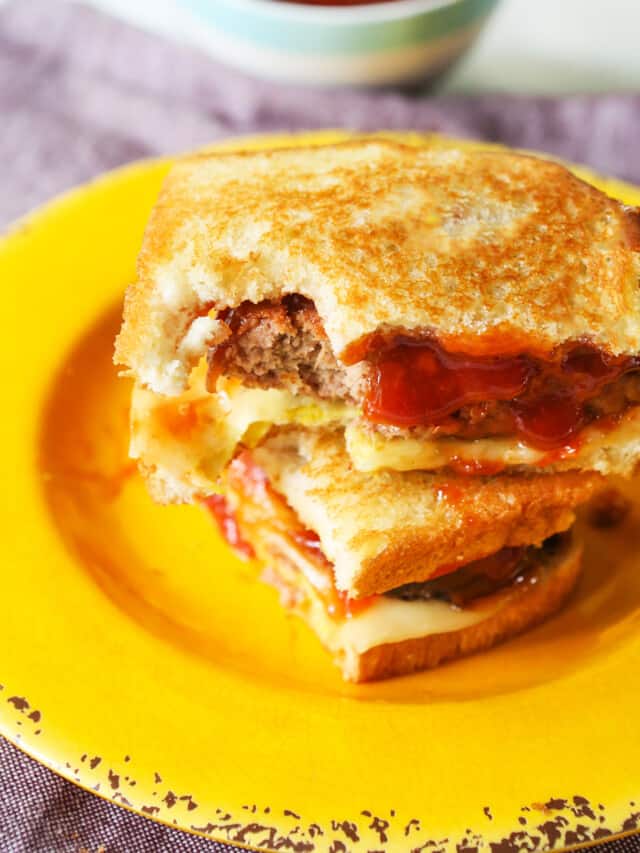 Have leftover meatloaf on your hands? Throw together a delicious leftover meatloaf sandwich for a taste buds explosion! Replace the meatloaf red sauce with a spicy jam instead!
Peanut Butter and Jelly Cupcakes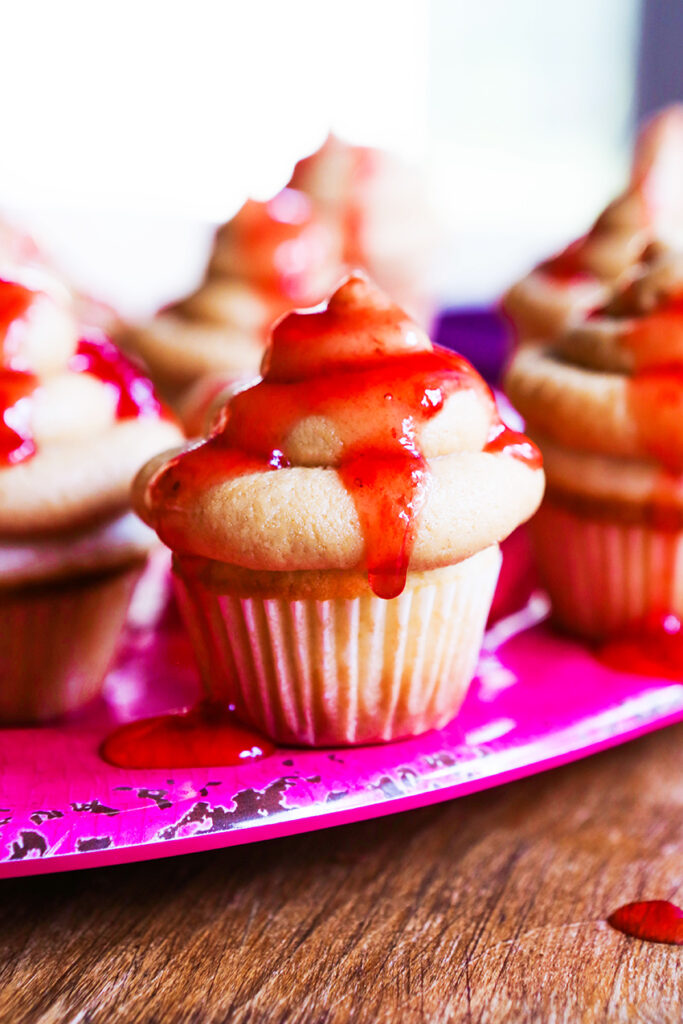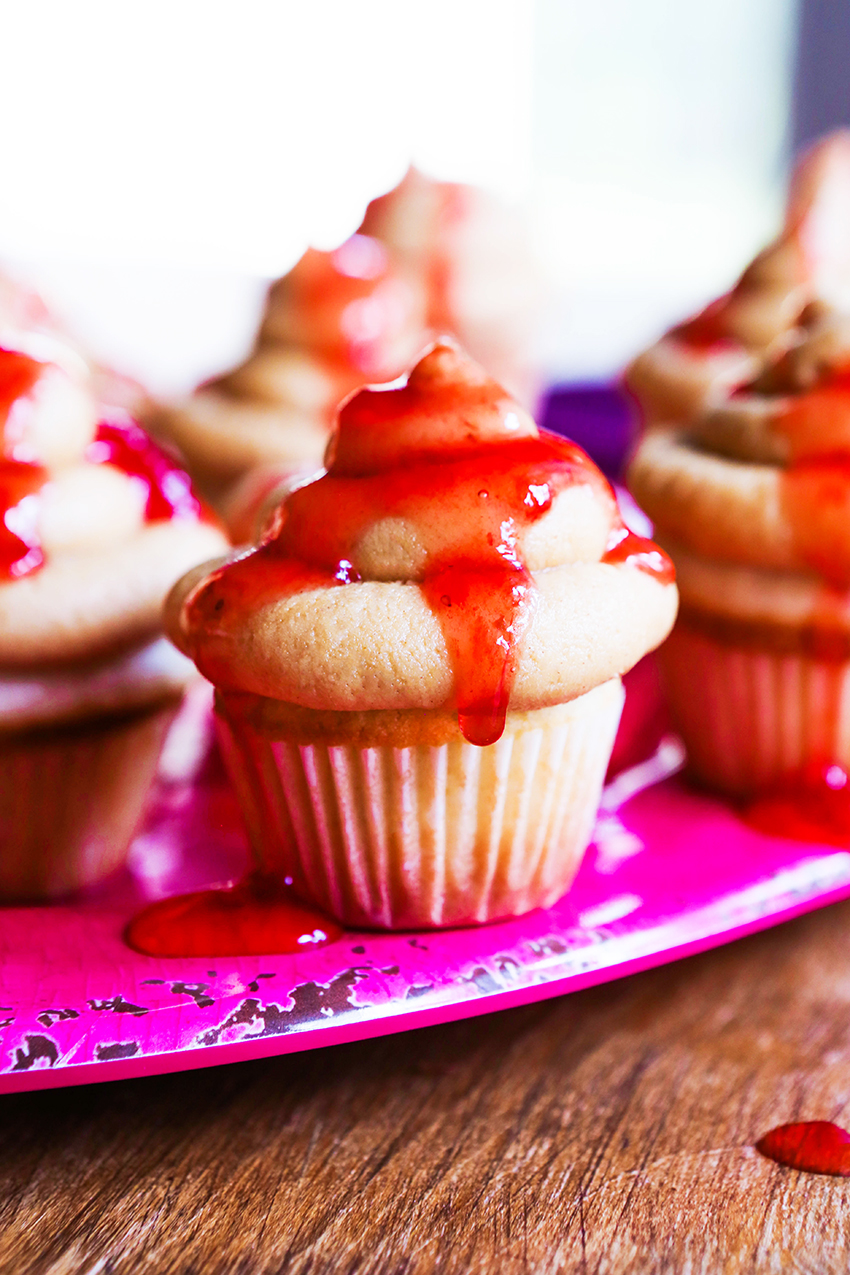 Enjoy one of the best food duos of all time: Peanut Butter Cupcakes loaded with JELLY! Guests will swoon over the surprise in the middle.
Pepper Dip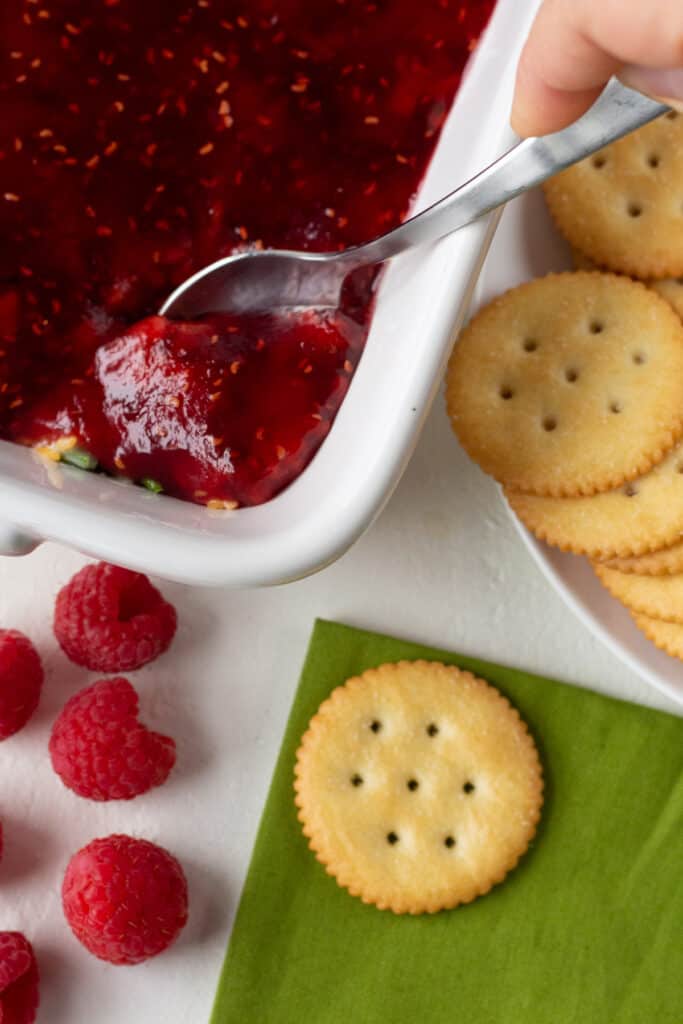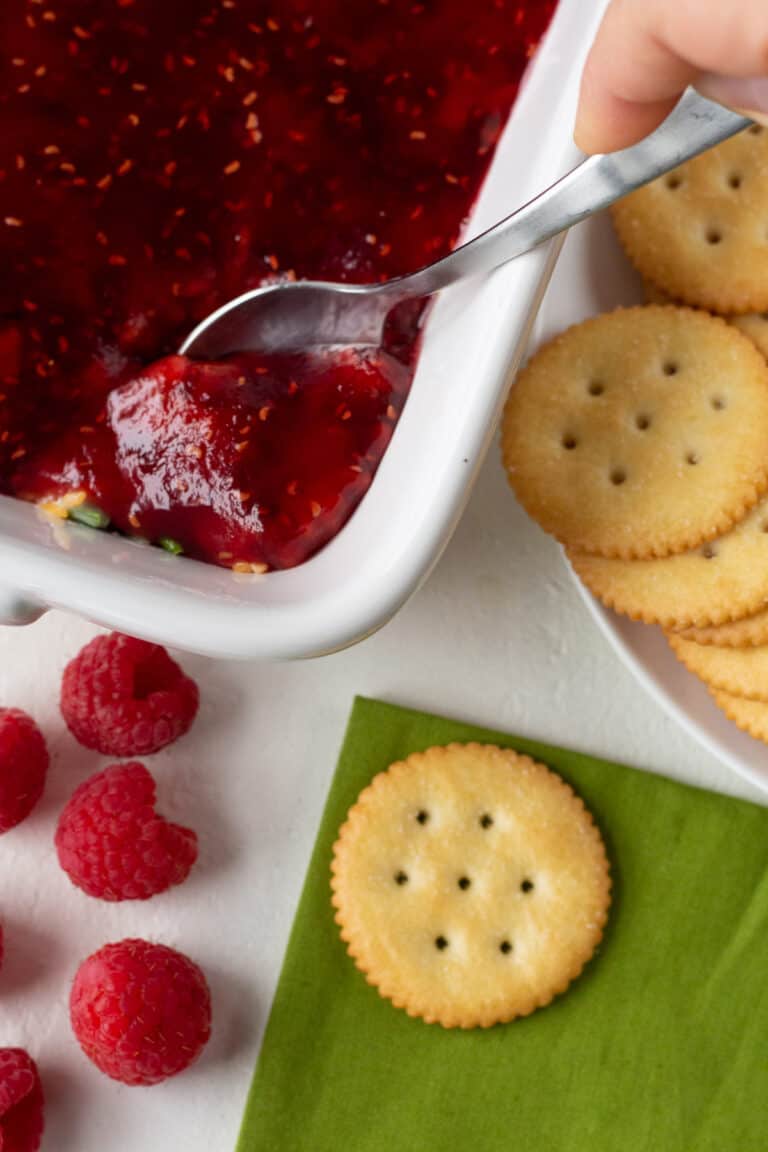 The ingredients in this dip might seem like an unlikely match, but they create a delicious snack or appetizer for any gathering! This is an ideal dish to bring to any type of party. Made with sharp cheddar cheese and green onions. Swap the raspberry jam with a green, spicy version to spruce it up!
Coconut Shrimp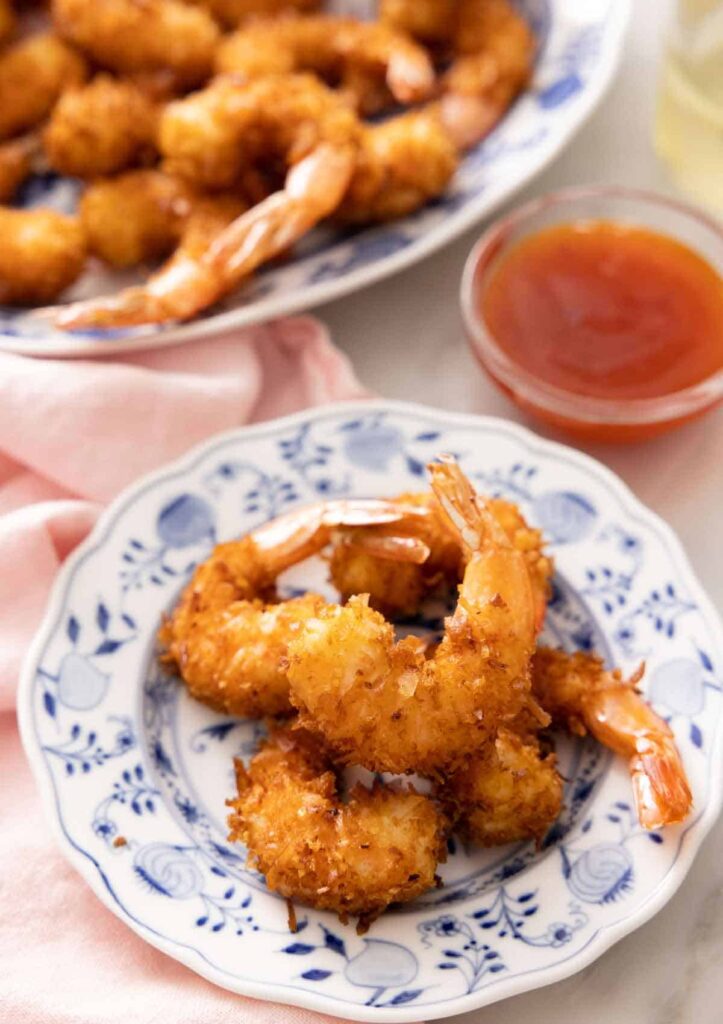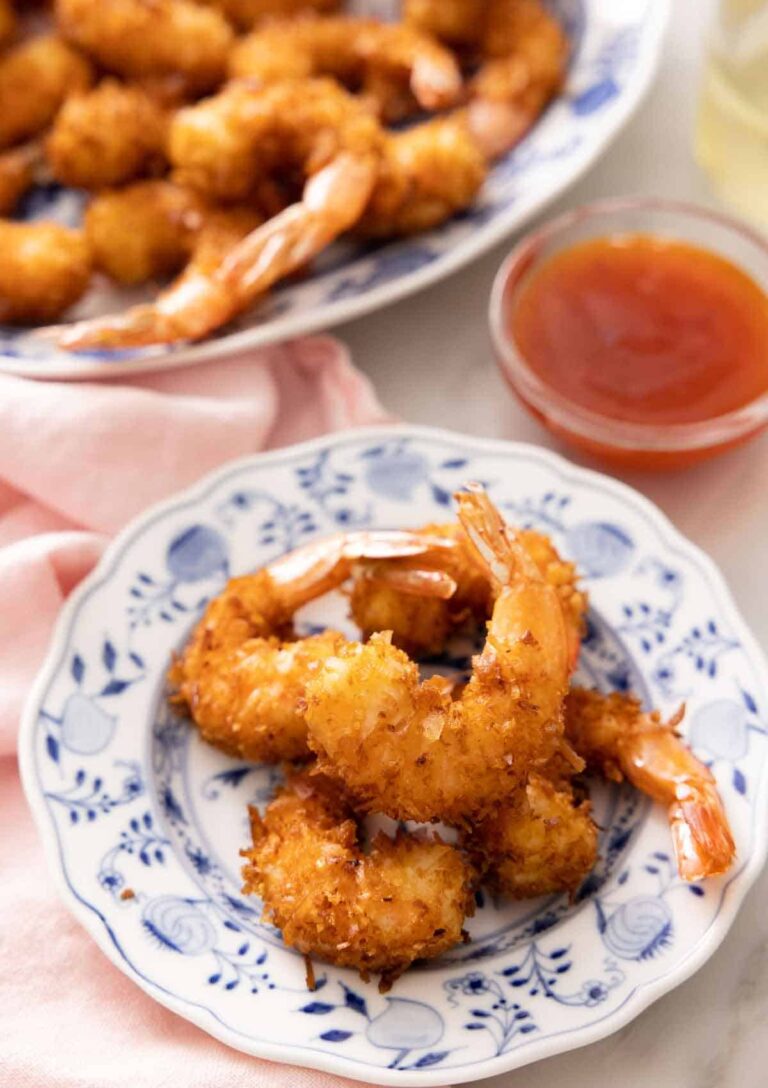 You won't be able to get enough of this delicious Coconut Shrimp recipe (from Preppy Kitchen)! ​​Shredded coconut mixed with panko breadcrumbs creates the most satisfying crunch when you bite into them. Dipped in the sweet chili sauce, the sweetness of the coconut balances with the spicy sauce perfectly.
Breakfast Pizza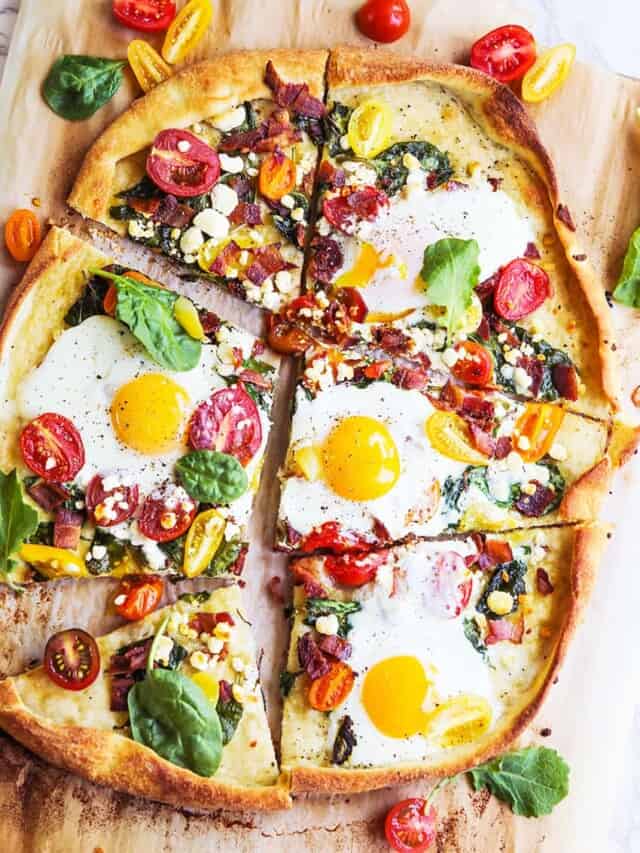 Enjoy breakfast in pizza form in just 20 minutes! Eggs, bacon, spinach and goat cheese are supremely delicious atop this healthy breakfast pizza recipe. This is a super fun way to start your day!
French Buckwheat Galette Bretonne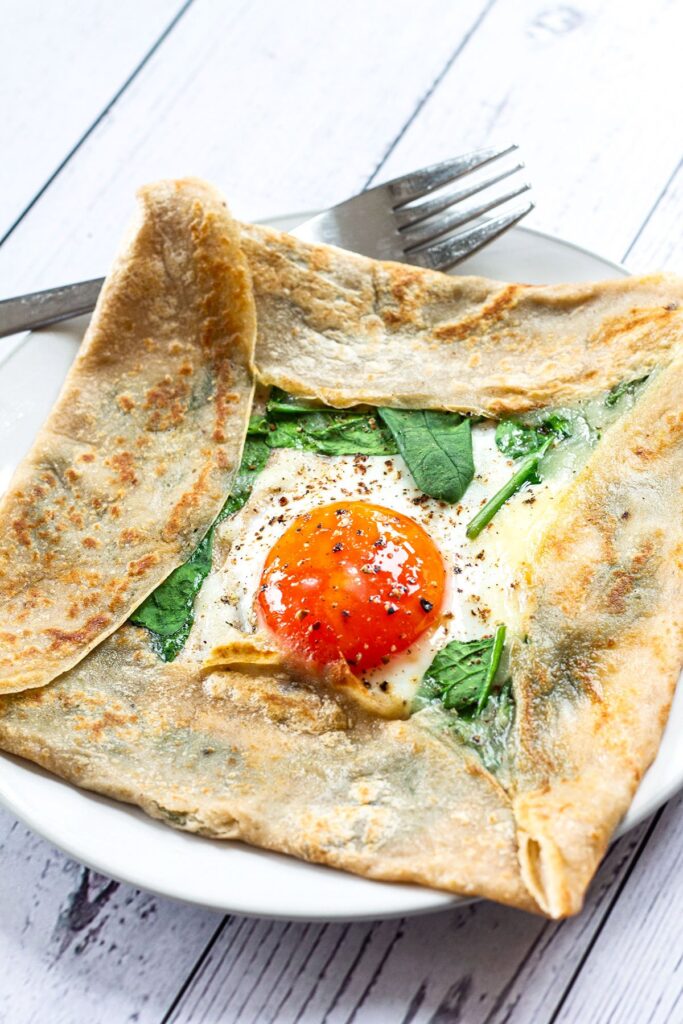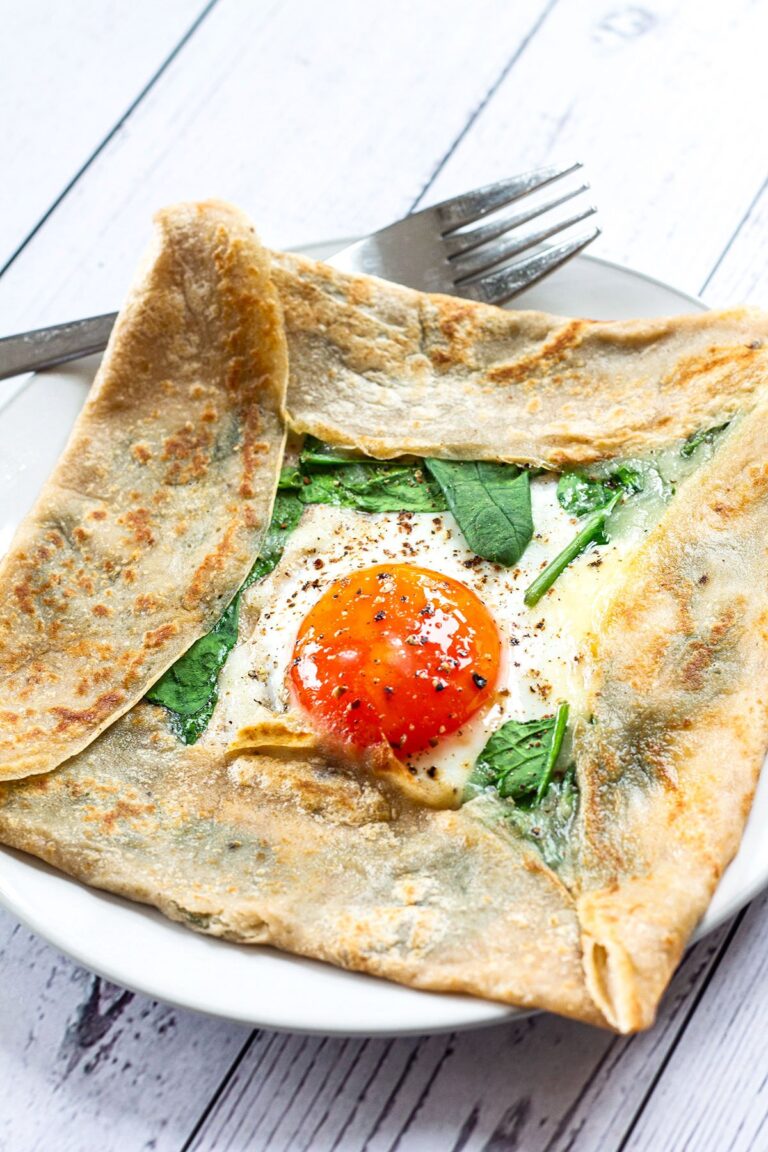 A simple and delicious recipe for buckwheat galettes (otherwise known as Galette Bretonne). These savoury crepes take just 20 minutes to make and are perfect for breakfast, lunch or brunch.
Fill these versatile French Buckwheat crepes (from Knife and Soul) with cheese, spinach and a fried egg or any other fillings of your choice.
Baked Zucchini Chips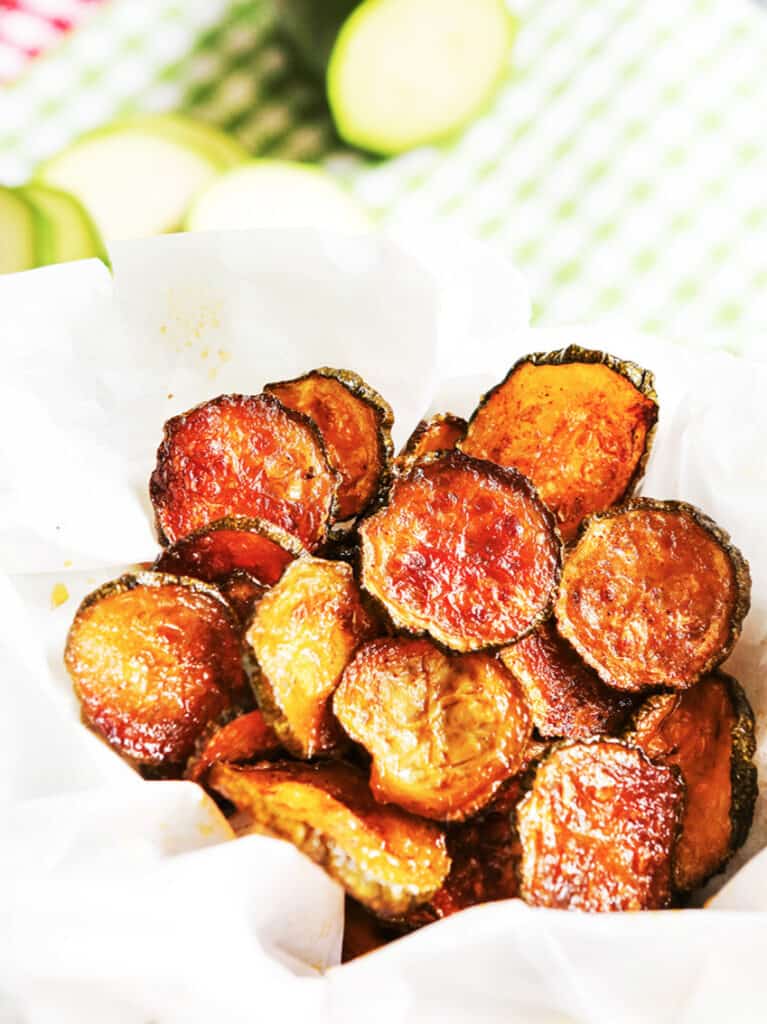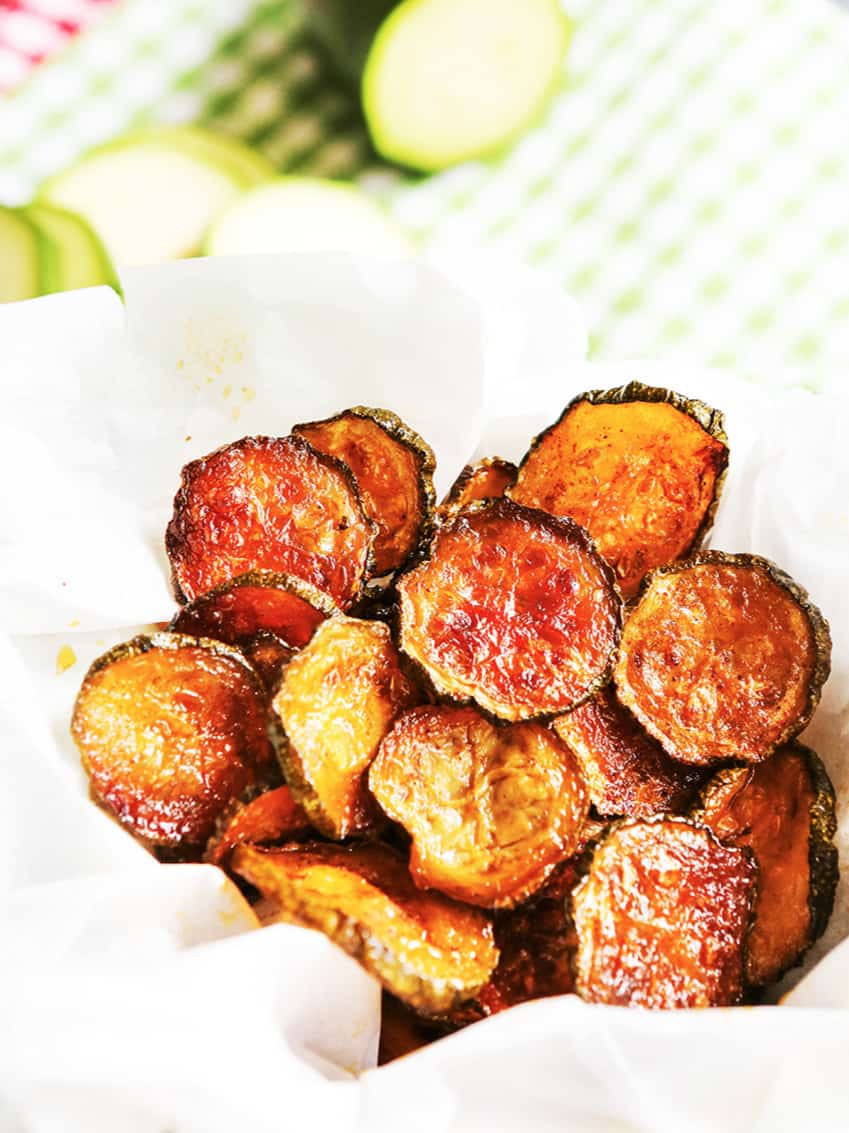 Zucchini Chips are the perfect snack made from a favorite garden vegetable! Free from preservatives, super easy to make and better than potato chips!
Cornbread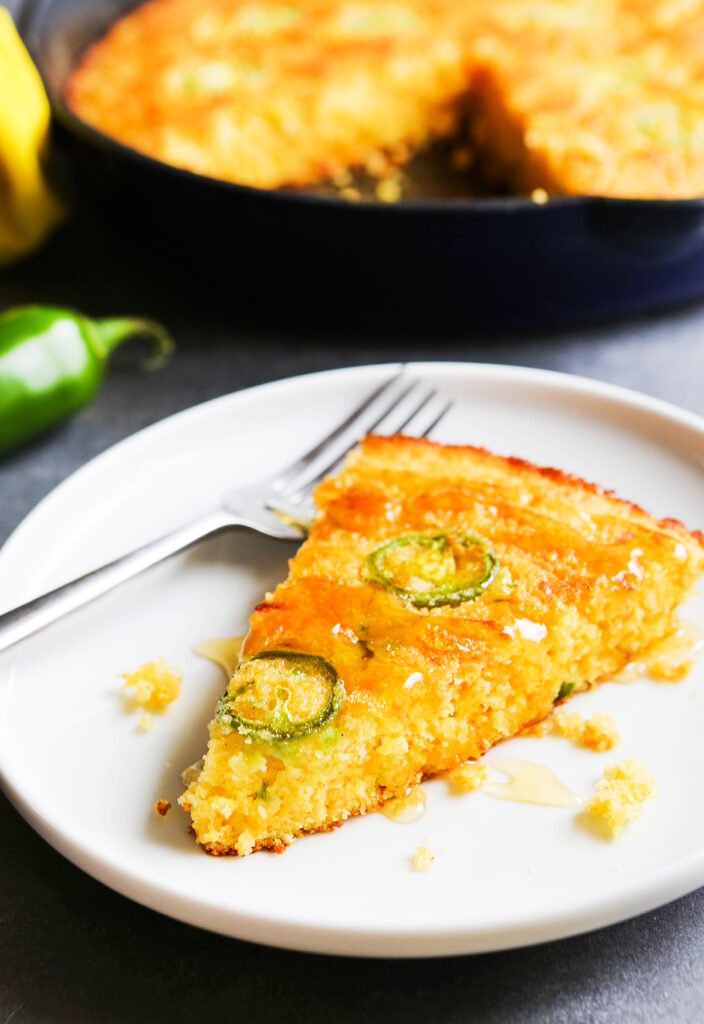 This cornbread recipe is the perfect side for any meal. Omit the jalapeño and cheese for a perfect go-to cornbread recipe. Spread spicy jam over the top as a tasty glaze!
How To Make Greek Yogurt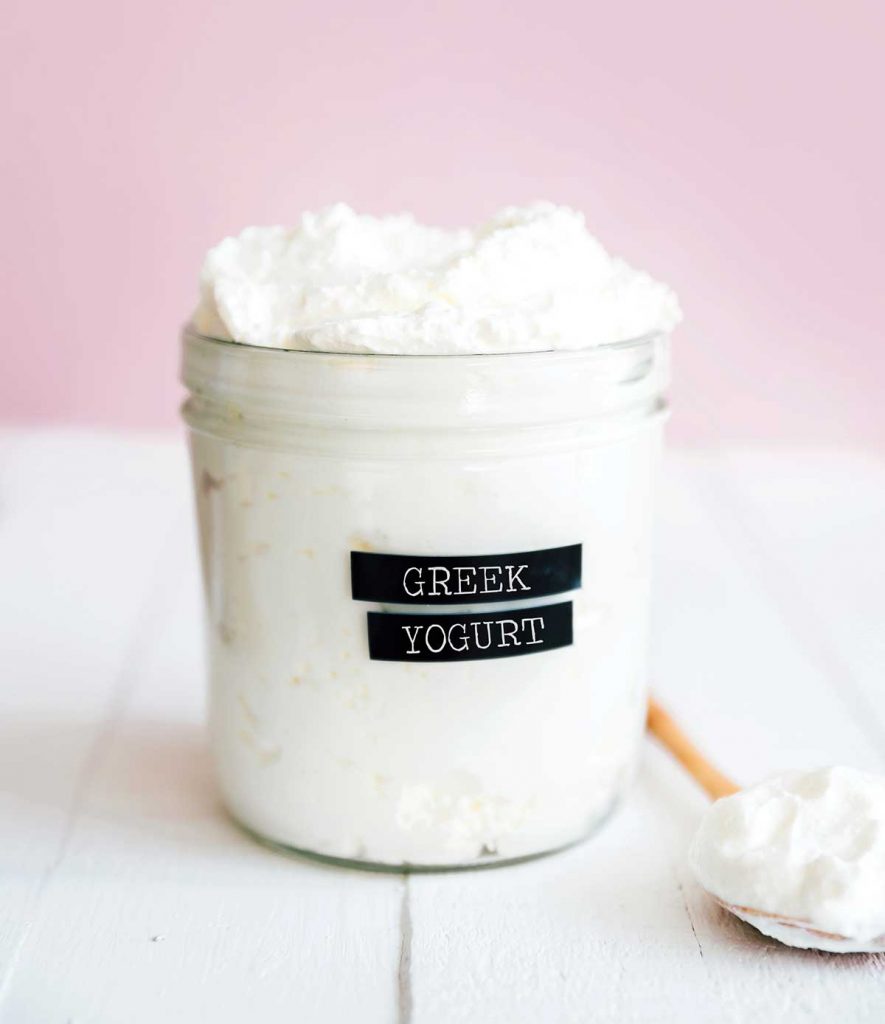 Greek yogurt (from Live Eat Learn) is essentially the same as regular yogurt with the addition of one critical step – straining! At the very end, the yogurt is strained to remove the excess watery whey, creating a thicker, more protein-dense product.
While we call this variation of yogurt "Greek yogurt" in the U.S., you may see it called "strained yogurt" in other areas of the world.
Baked Brie with Pepper Jam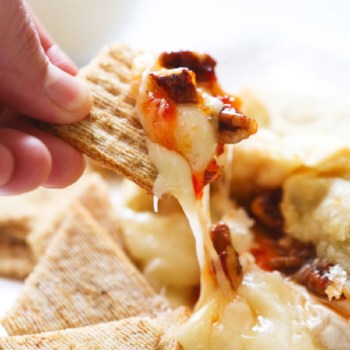 This Baked Brie with Pecans and Roasted Pepper Jam is super simple but ridiculously delicious. Serve as a party food, appetizer, side dish or snack!
Instant Pot Chicken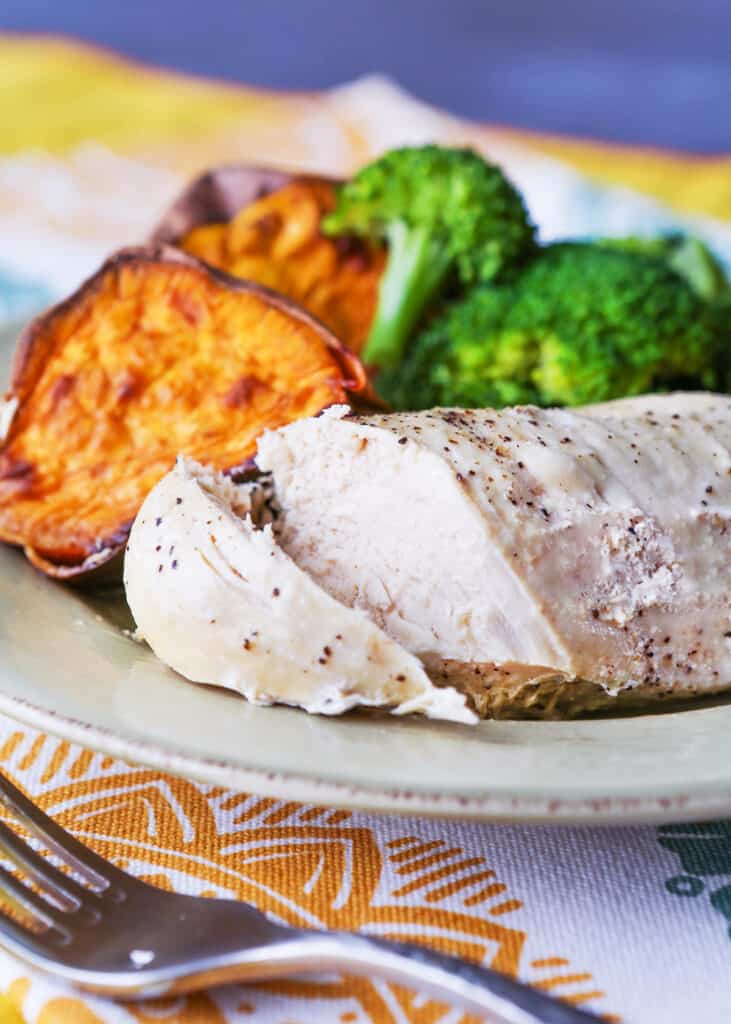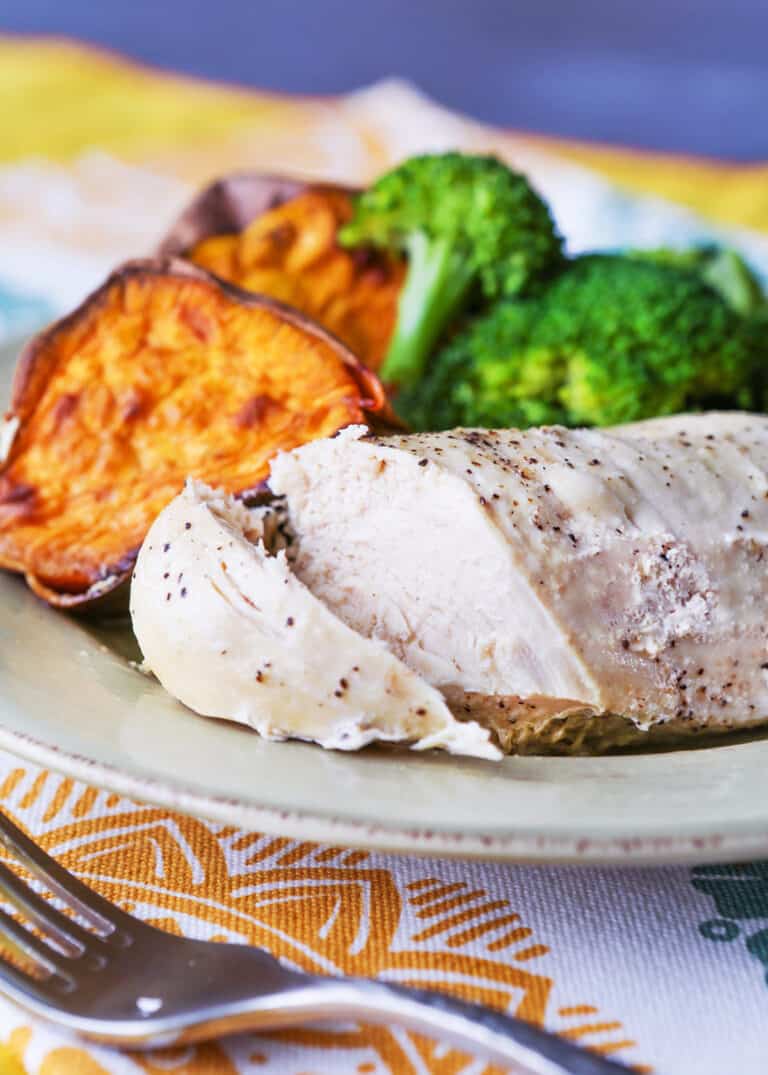 You can cook Instant Pot grilled chicken to simulate the tender, perfect chicken that comes from the grill. Start with thawed or frozen to create the most delicious chicken you will ever make. Glaze with sauce of your choice!
Pound Cake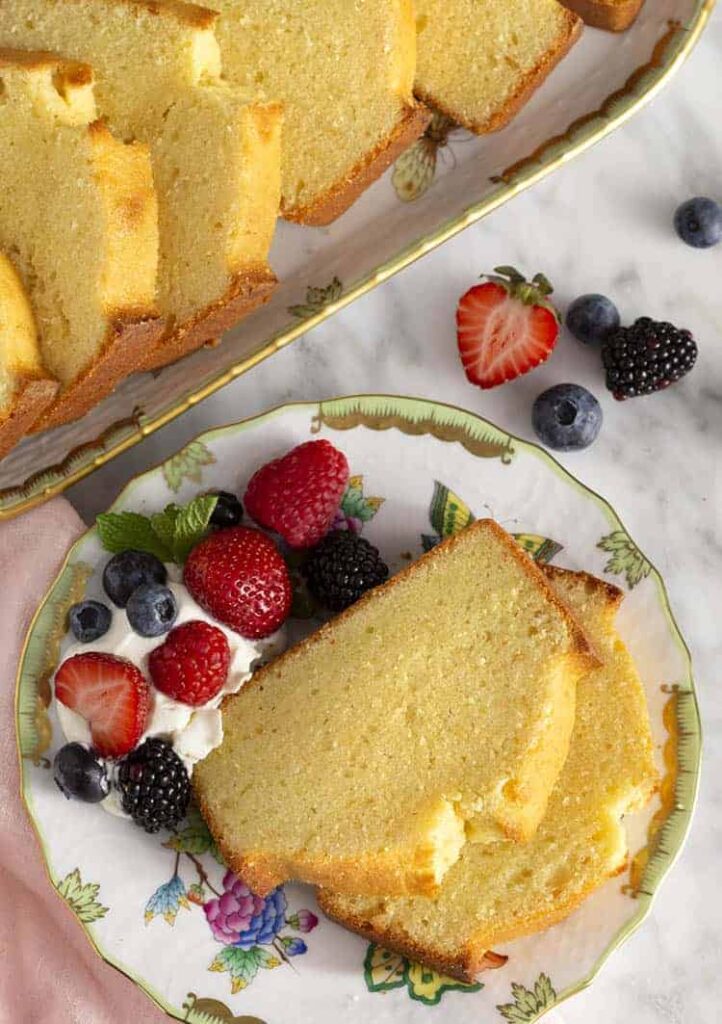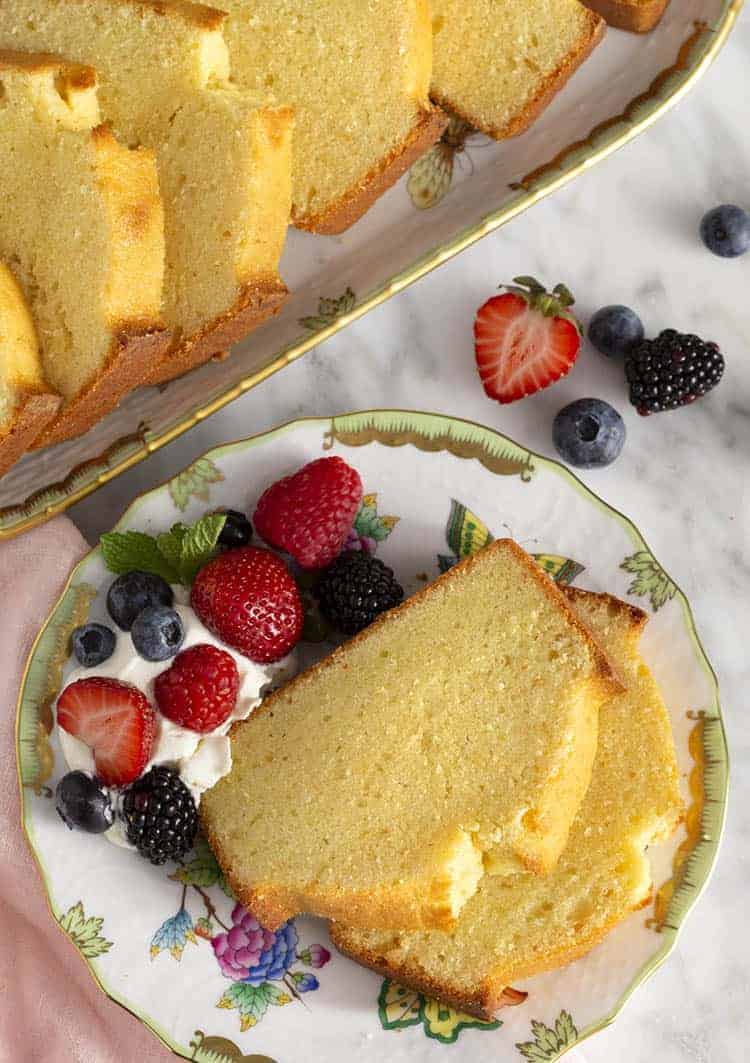 This Beyond EASY and DELICIOUS pound cake (from Preppy Kitchen) is an irresistible, moist, buttery, dense, melt in your mouth treat with the perfect note of vanilla.
Waffles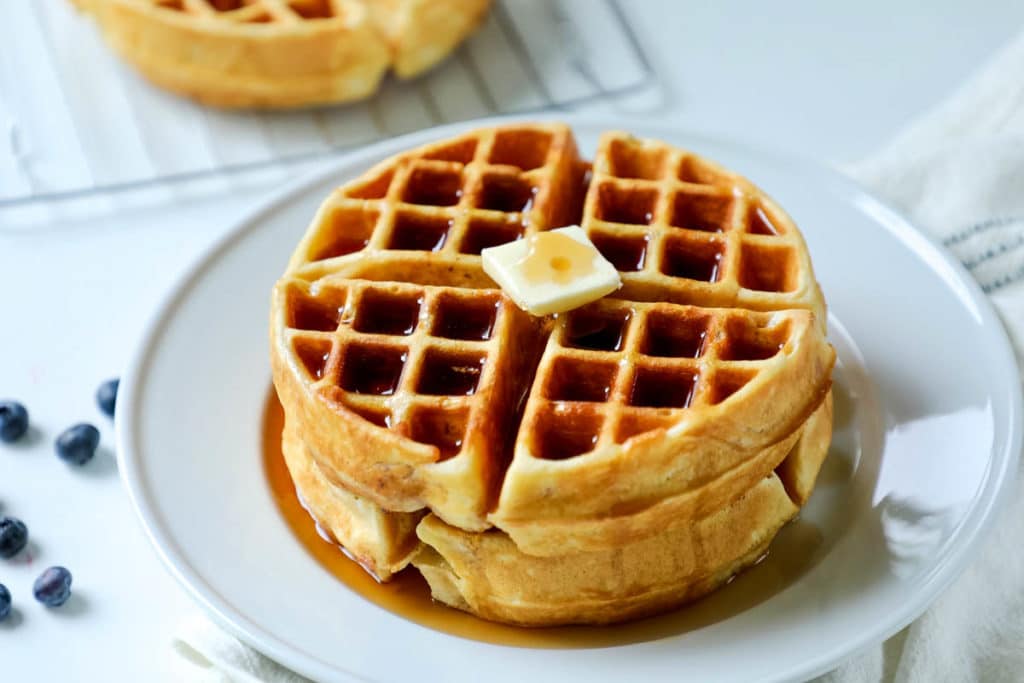 This Homemade Waffle Recipe (from All Things Mamma) is made with simple ingredients and is light and crispy on the outside, soft and fluffy on the inside. They're perfect every time!
FAQ About Pepper Jelly
Is pepper jelly spicy?
Depending on the variety of peppers used to make the jam, it can be mild or spicy. Jalapeño peppers, ghost peppers and other hot peppers produce a hot jelly. Use rubber gloves when chopping hot peppers. Green or red bell peppers or another variety of sweet pepper create a sweeter, milder option.
Does pepper jelly go bad?
A jar of pepper jam purchased from the grocery store will remain fresh for up to 12 months past its expiration date. Homemade versions of this condiment will remain fresh for 12 months.
Does pepper jelly need to be refrigerated?
Jam that has been properly canned will remain fresh before the seal has been broken for up to 12 months. Once the seal has been broken, it should be refrigerated and will stay fresh when cooled properly for up to 6 months.
What does pepper jelly taste like?
Pepper jelly has a sweet taste with some spice from the peppers. The level of spice can be catered to your personal preferences by using a variety of different peppers.