Browse through this deliciously sweet roundup of summer party desserts perfect for your next gathering! Whether you are hosting a party or attending one, you're certain to find a sweet treat to make.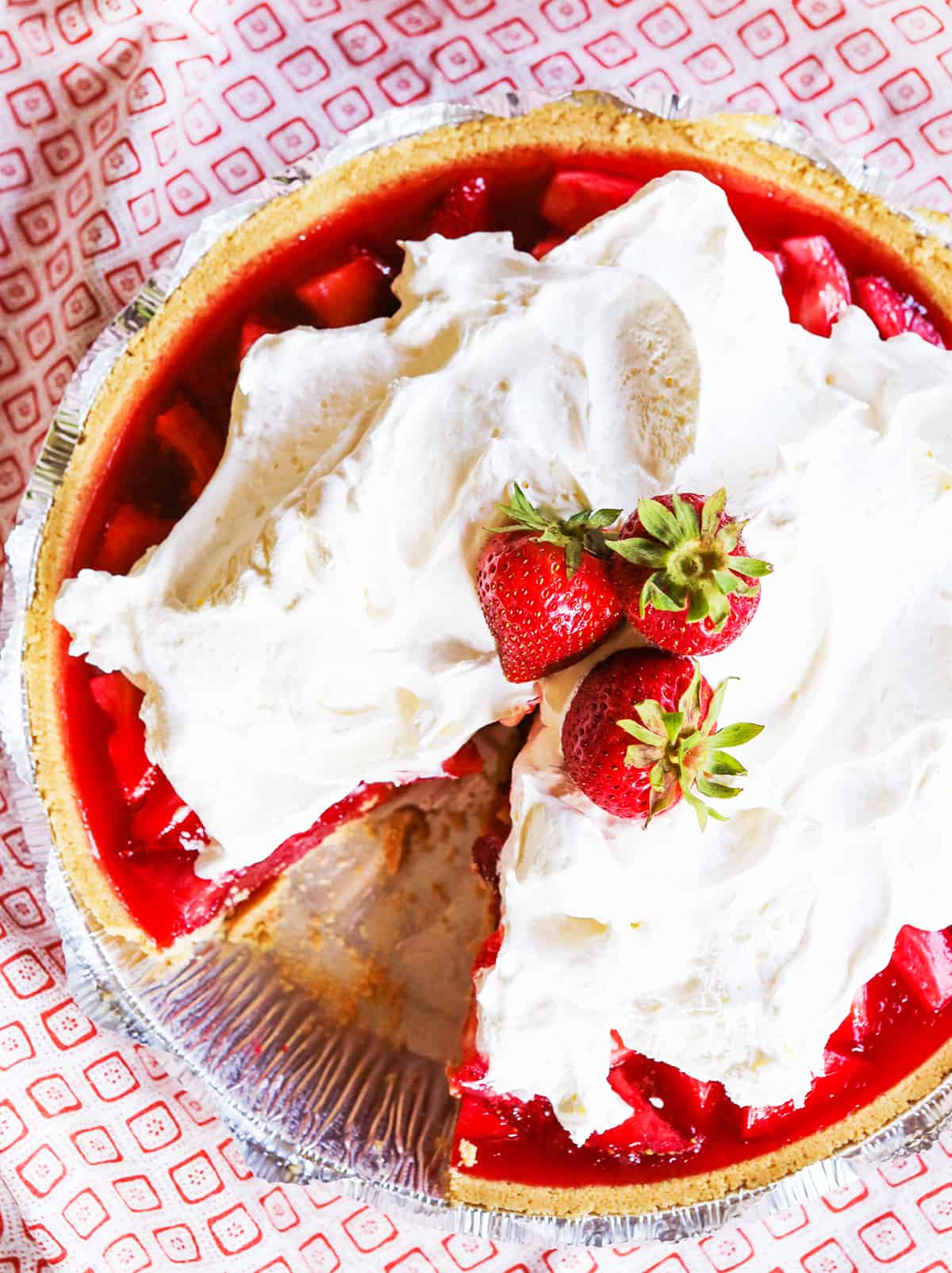 The great thing about summer is that we get to eat summer SWEETS (my favorite!). There's nothing better than being able to absorb and cherish nice weather while also enjoying delicious food and sweet treats.
We created this roundup to jumpstart some ideas for YOU, to provide you with a number of classic summer dessert recipes that will hopefully save you time and energy during those cherished months.
Whether you are looking for a potluck dessert recipe or something to accompany an upcoming backyard bbq, we've got you covered for your next summer party!
FAQ About Party Food
How to keep party food cold?
To keep party food cold that is sitting on a platter, place the platter or plate on top of a pan or baking dish filled with ice cubes. For food that is contained inside bowls, simply place each bowl in a larger ice-filled bowl.
How to keep party food warm?
Use roaster ovens to keep party food warm. If you do not have access to these, transfer the food to a slow cooker if appropriate or simply cover with a few layers of aluminum foil.
What party food to have?
When serving party food to guests, be sure to include finger foods along with food requiring a fork or spoon such as pasta salad or soup. Also consider serving both cold and hot dips. A few good party food options: crockpot meatballs, guacamole and chips, potato salad, bruschetta, bars or cookies and a few beverage options.
Can I make party food the night before?
Many party food recipes can be made the night before they're being served. Either cook or bake recipes in their entirety and reheat (if applicable) before serving. Or make the recipe and store in the fridge until just before serving (if applicable). Recipes that should remain as freshly as possible such as guacamole should be made as closing to serving time as possible.
Great Options for Easy Summer Desserts
Cake or cheesecake
Frozen desserts such as ice cream sandwiches, popsicles or frozen yogurt
Cold, sweet beverages
Seasonal fresh fruit salads (with or without a little sugar sprinkled over top)
Trifles
Milkshakes
Lemon or lime bars
Chocolate chip cookies or refrigerator cookies
Zucchini dessers
Blondies, white chocolate or regular brownies served with vanilla ice cream
Jello salad
Crisps or crumbles using fresh berries
Strawberry shortcake
Lemon, key lime or coconut pie
No bake desserts
Strawberry, cherry or peach pie
Mousse or frozen mousse
Any dessert using fresh blueberries or strawberries
Lemon ice box cake
Don't forget whipped cream to top desserts with! Make your own easily using heavy cream and powdered sugar.
No Bake Strawberry Pie Recipe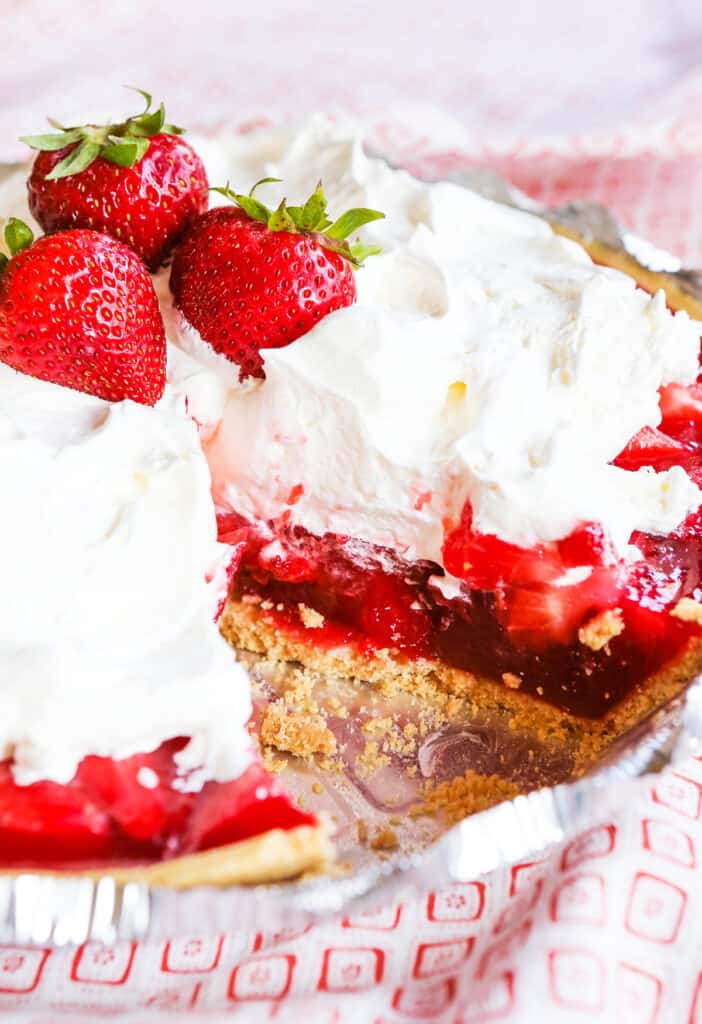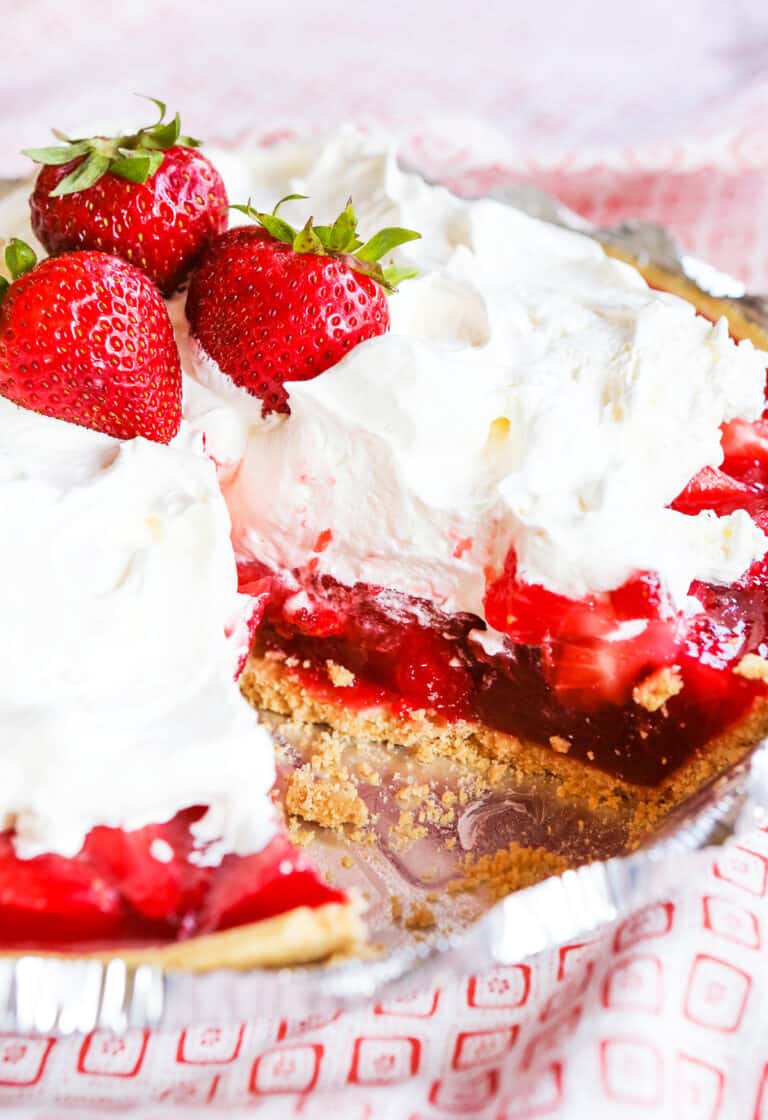 This no-bake pie is a great dessert for gatherings of any kind. It is super easy to prepare and it is packed with delicious strawberry flavor! The perfect way to celebrate a hot summer day!
Creamy Cookie Peanut Butter Milkshake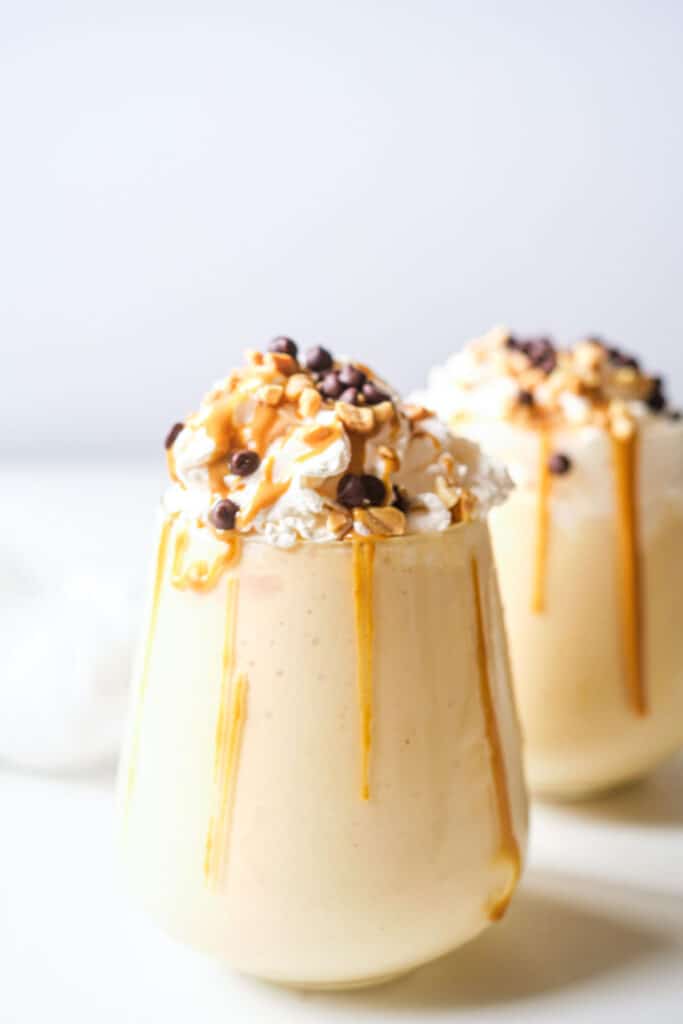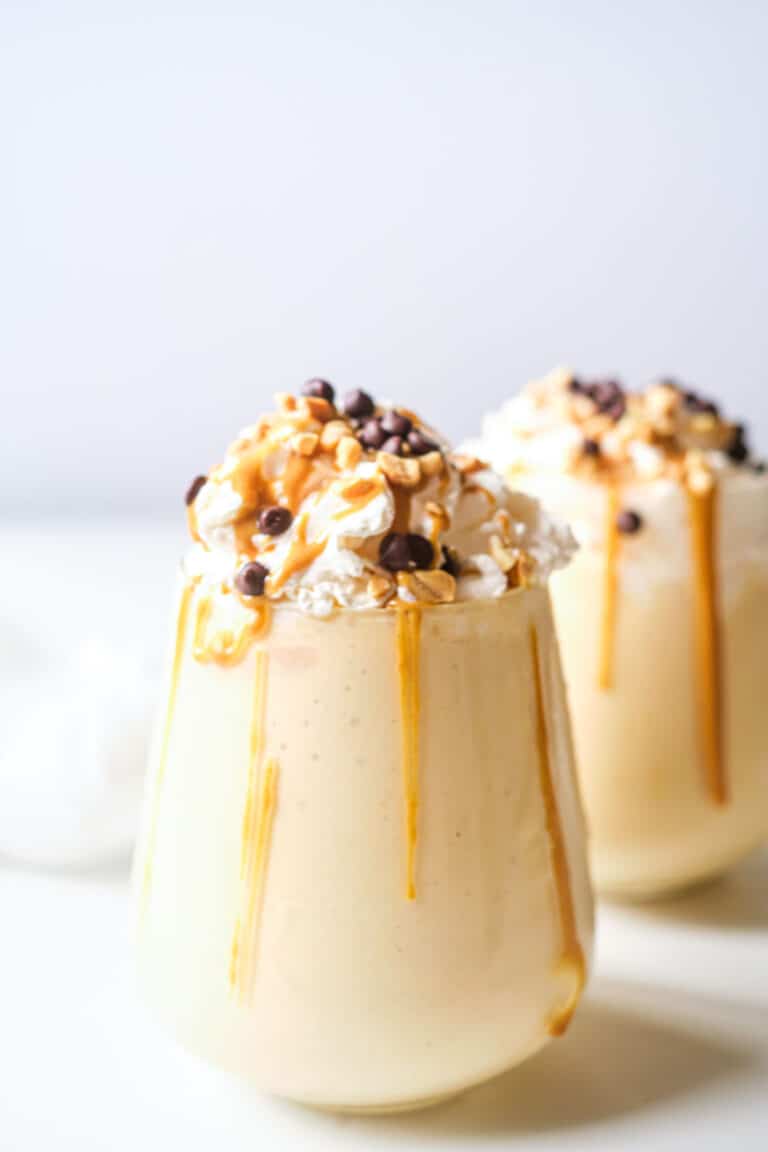 This Cookie and Peanut Butter Milkshake (from Recipes From A Pantry) is creamy, luxurious, and easy to make with a few everyday ingredients and is super family friendly too.
Lemon Bars with Cream Cheese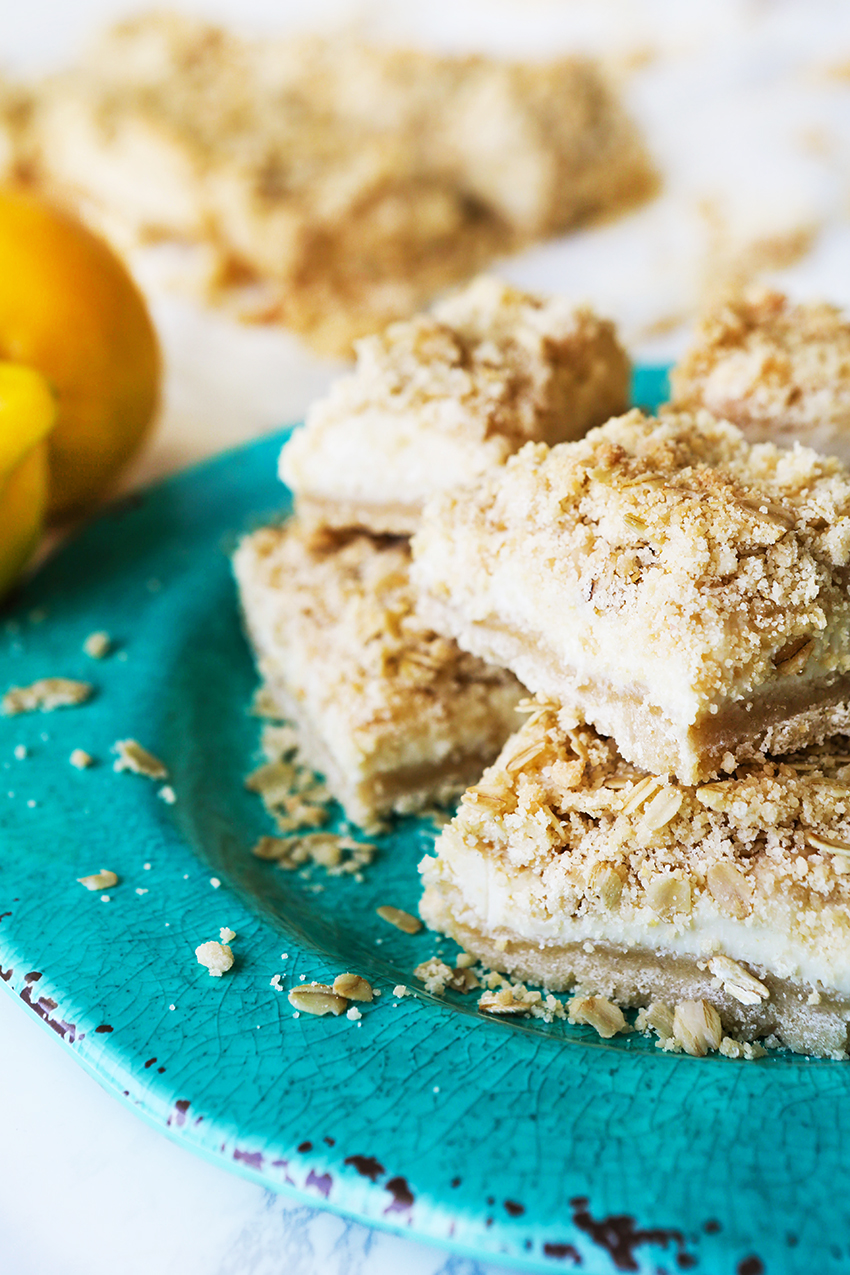 Make lemon bars with cream cheese for your next dessert! Whether for your next gathering or family dinner, everyone will RAVE!
Gluten Free Key Lime Pie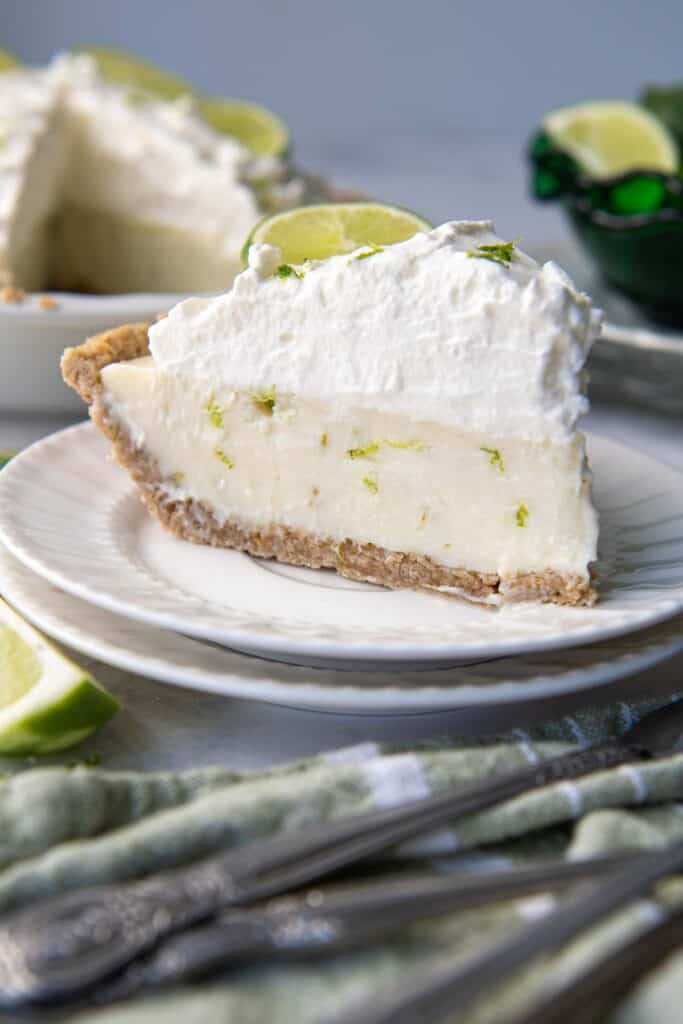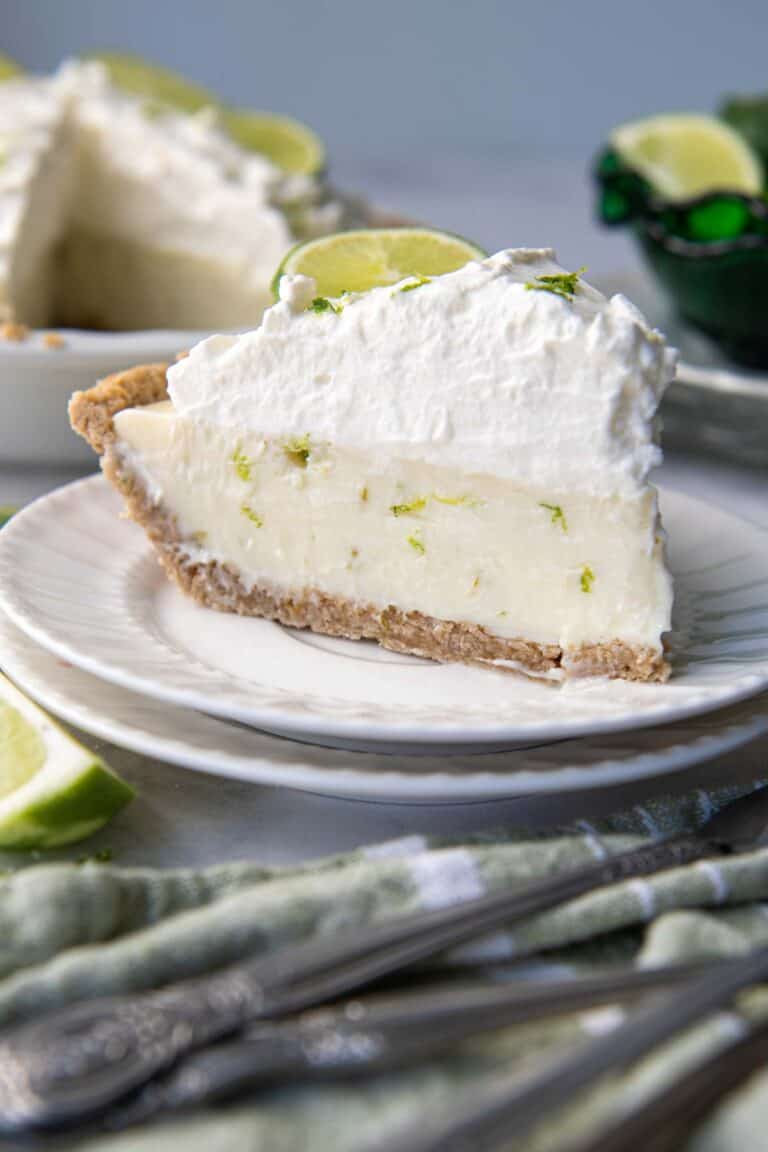 The absolute best Gluten Free Key Lime Pie (from Mama Gourmand) beats out all other recipes in taste, affordability, and ease! This effortless recipe will bring you back to Key West with a traditional creamy lime pie flavor and easy substitution for graham cracker crust!
Salted Caramel Cheesecake with Apples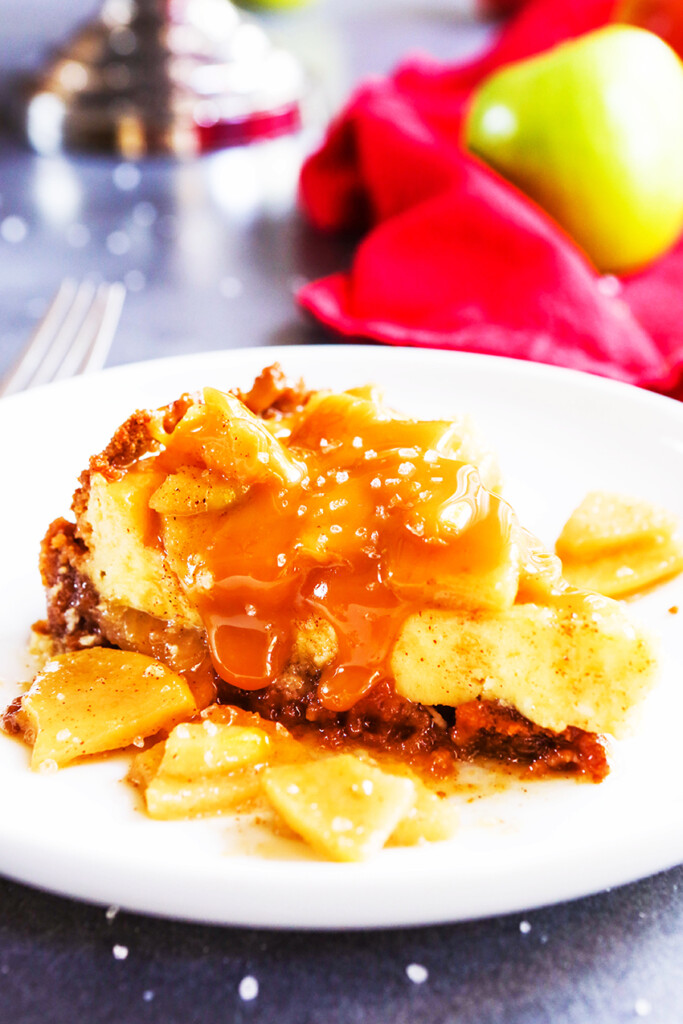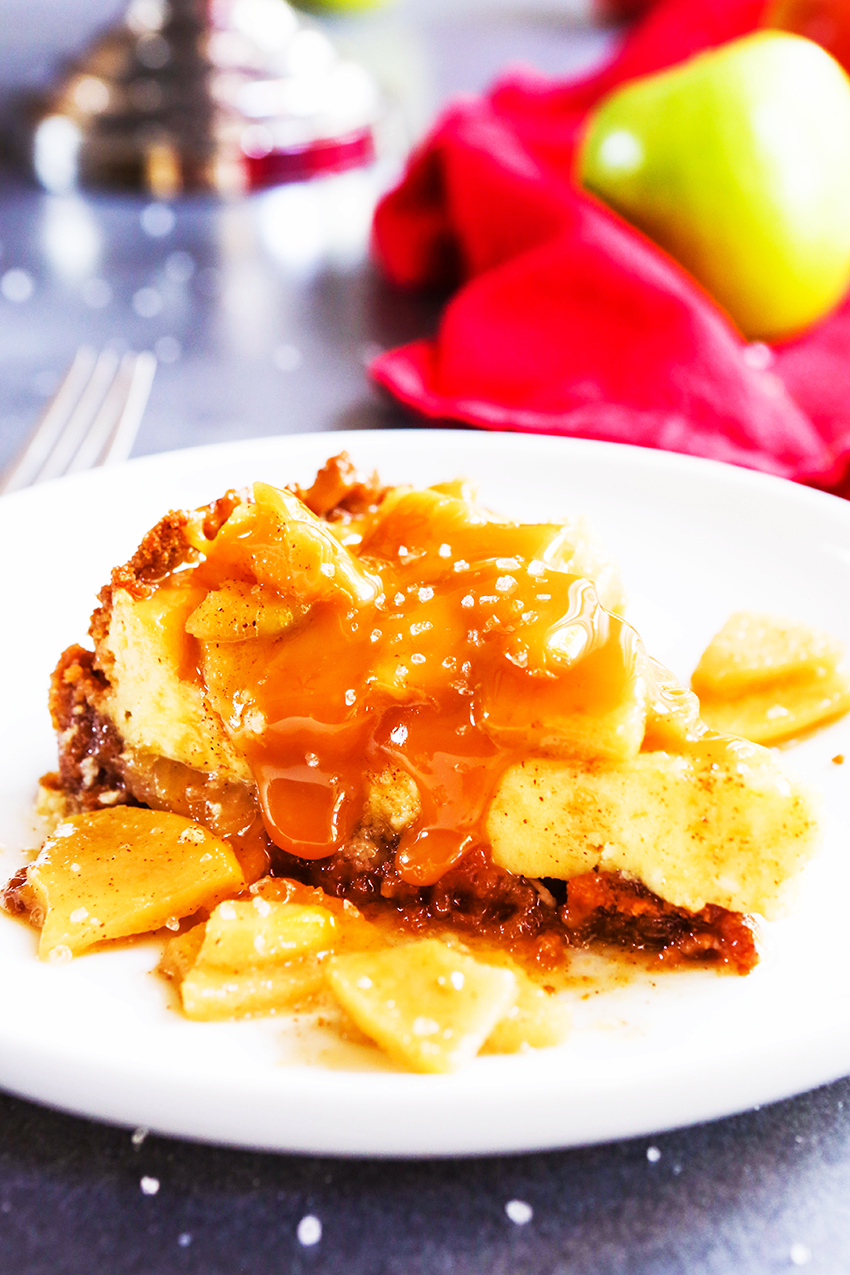 The only thing better than salted caramel apples? A salted caramel cheesecake recipe! Throw apples on top for the perfect flavor combo!
No Bake Healthy Brownies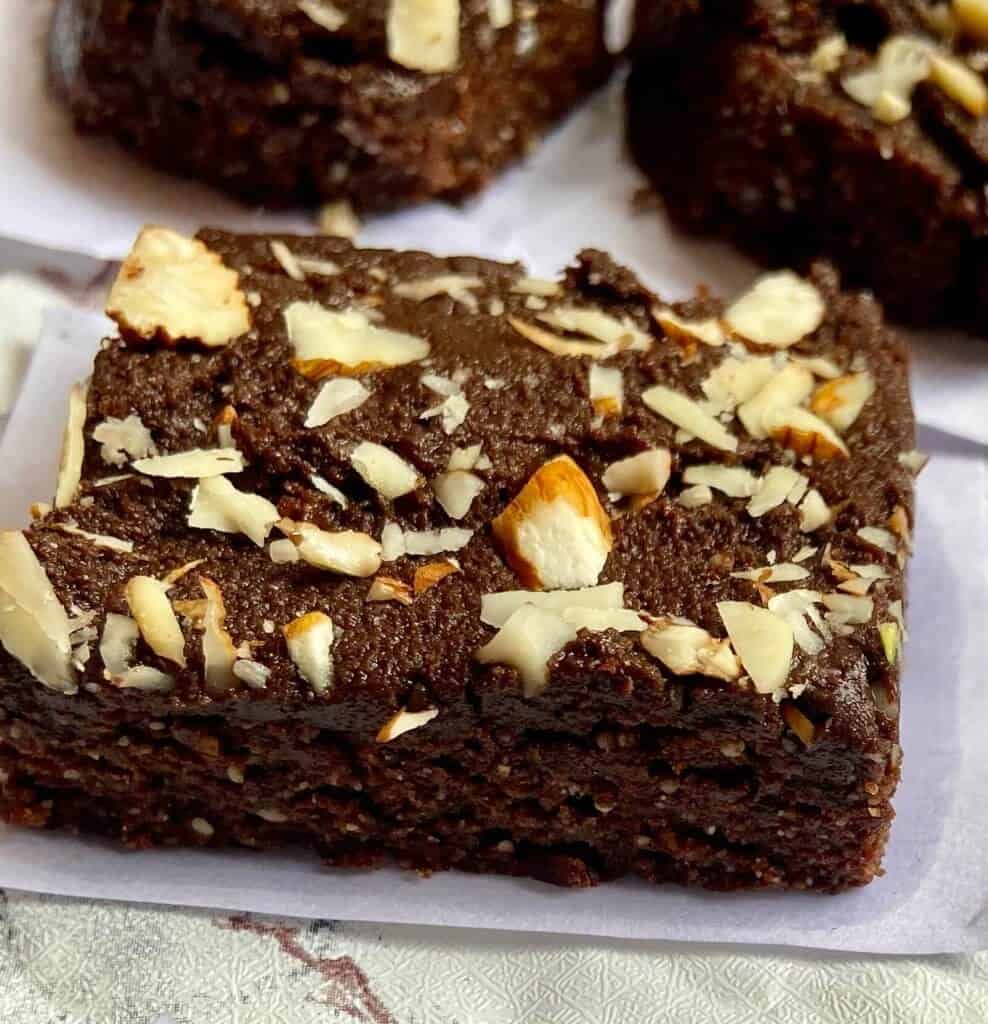 No bake healthy brownies recipe (eggless, gluten free)- healthy and delicious brownies can be prepared in 20 minutes. Enjoy these delicious brownies with healthy chocolate frosting (from Shelly Foodspot) which need only 3 ingredients.
Monster Cookies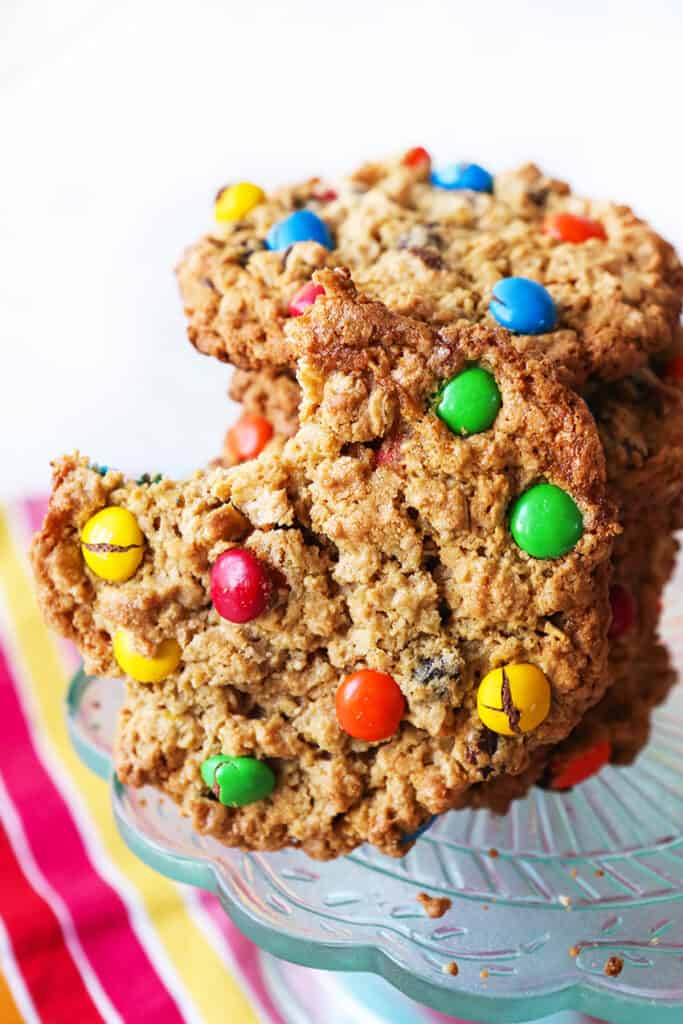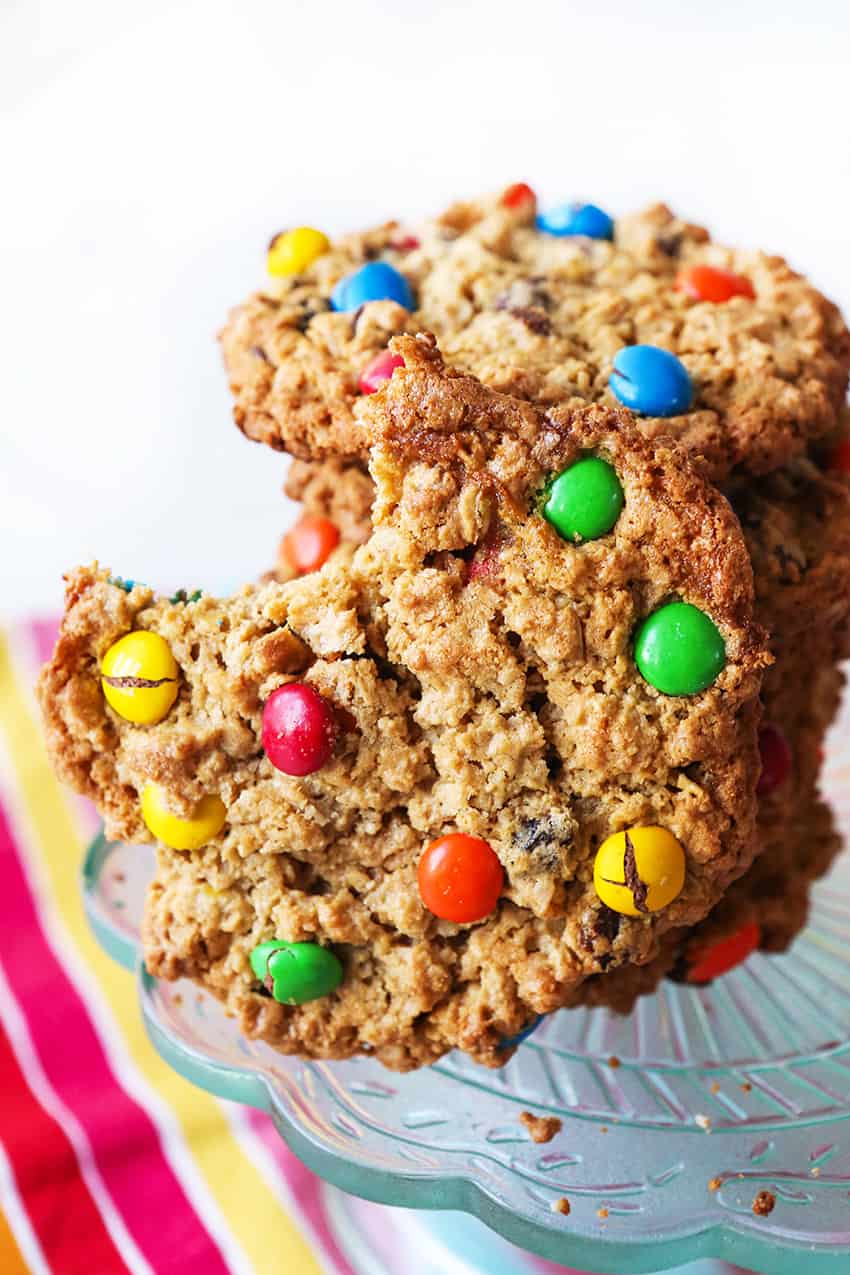 Monster Cookies are not just massive. They are packed with delicious ingredients and texture and color and alllll the good stuff!
Strawberry Cheesecake Trifle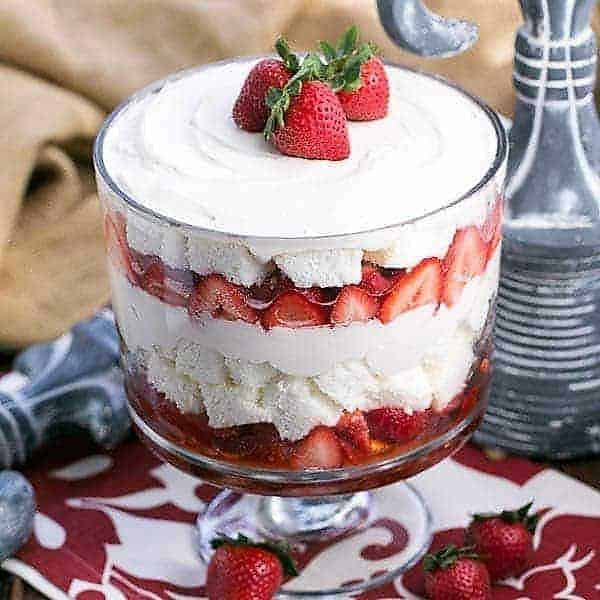 This Strawberry Cheesecake Trifle (from This Skinny Chick Can Bake) features layers of sweetened berries doused with Amaretto, angel food cake cubes, and luscious cheesecake filling, lightened with whipped cream.
Crack Brownies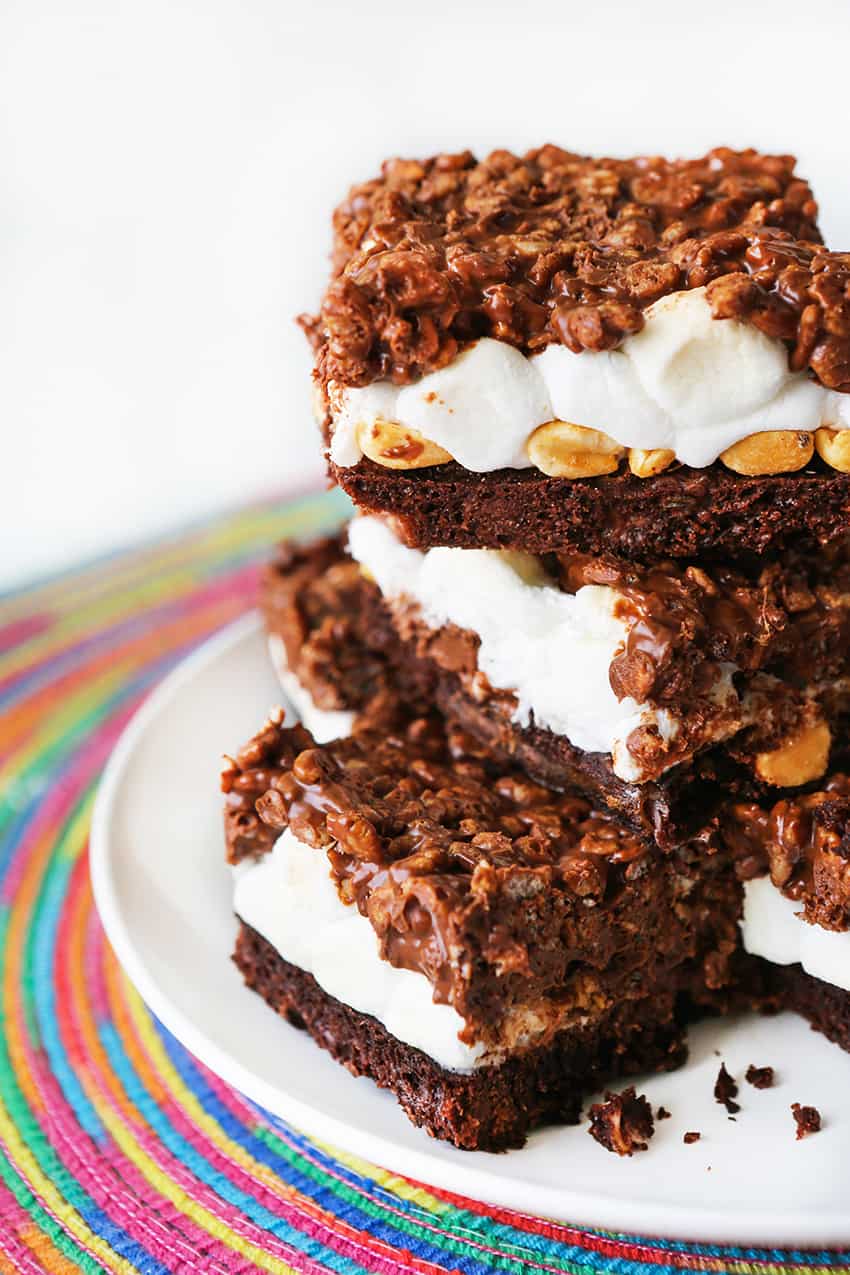 Introducing the aptly named crack brownies. WARNING: You will NOT want to stop eating these once you start. Great dessert option for parties!
Gelatina De Mosaico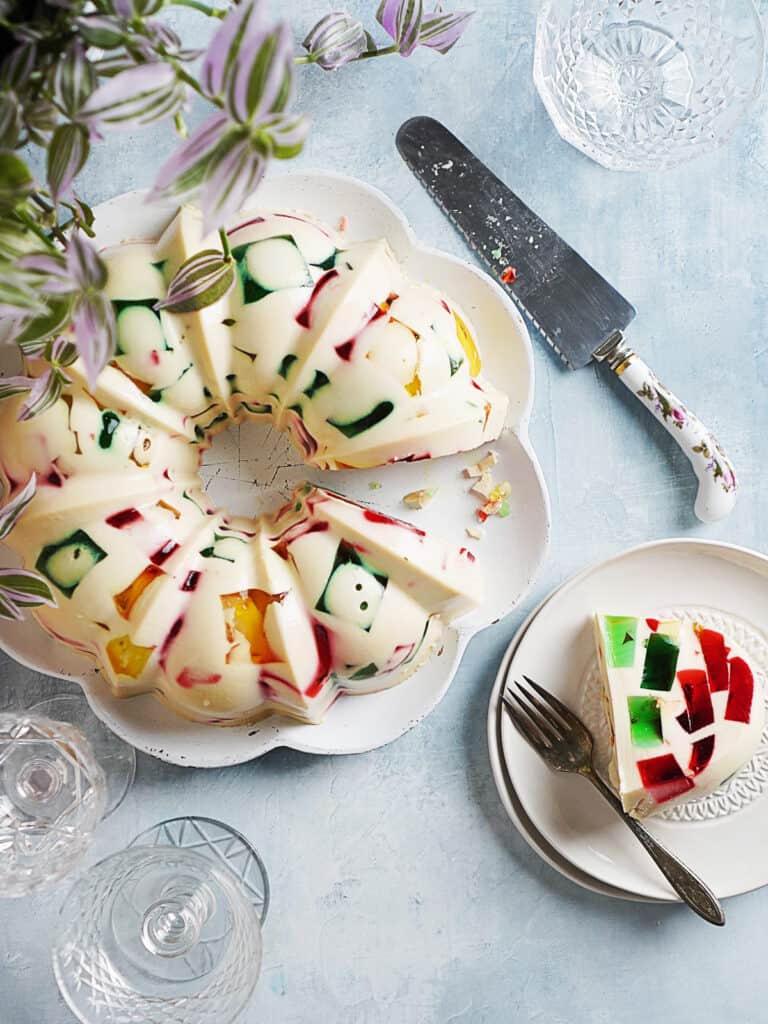 Easy Gelatina De Mosaico (from Muy Delish) is a classic Mexican dessert that's perfect for spring and summer holidays, parties and potlucks. You'll love this creamy and refreshing treat!
Ice Cream Sandwiches Made With M&M Cookies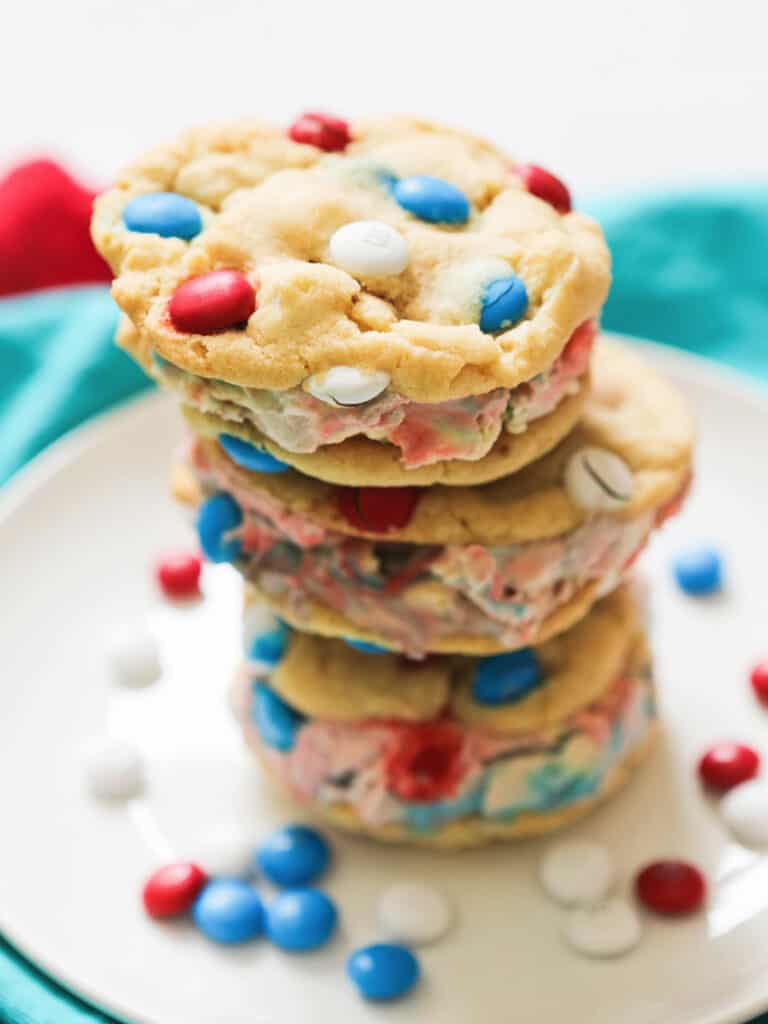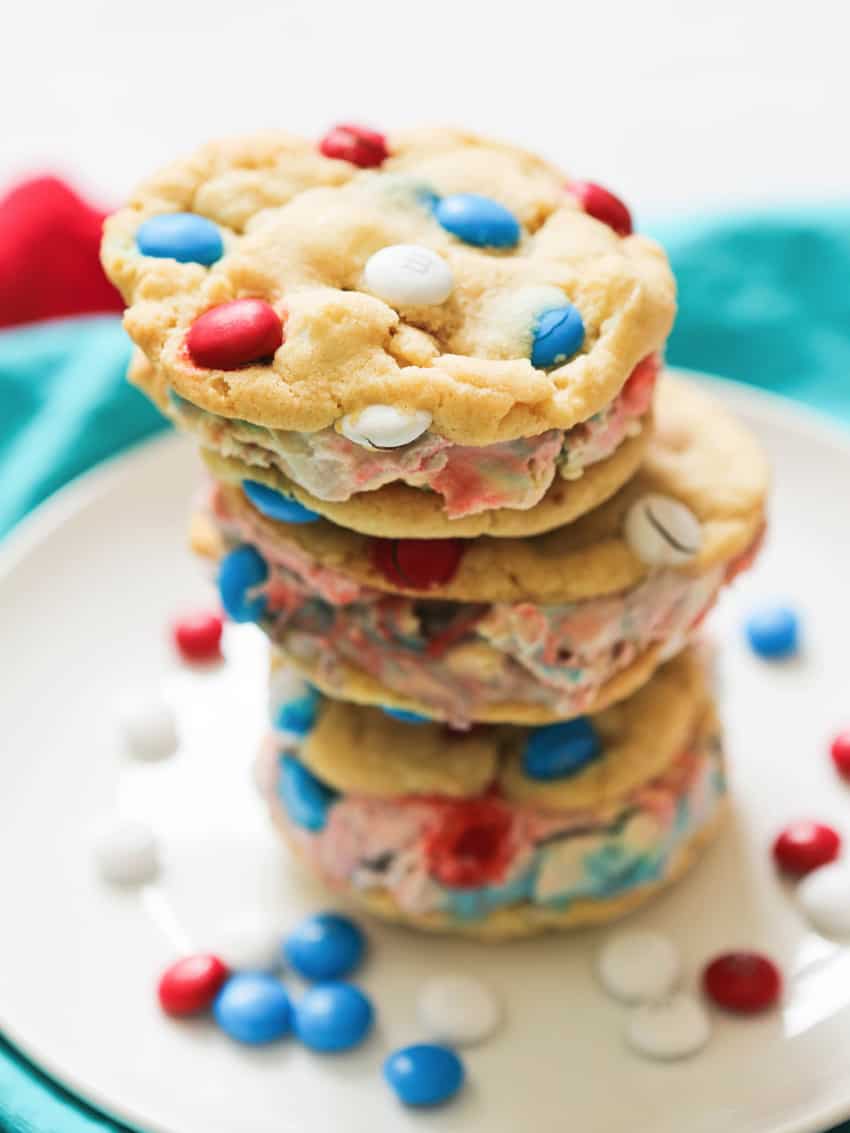 These delicious Ice Cream Cookie Sandwiches are a delicious spring or summer treat. Use red, white and blue chocolate M&M's for an added a touch of patriotic fun!
Easy Keto Chocolate Mousse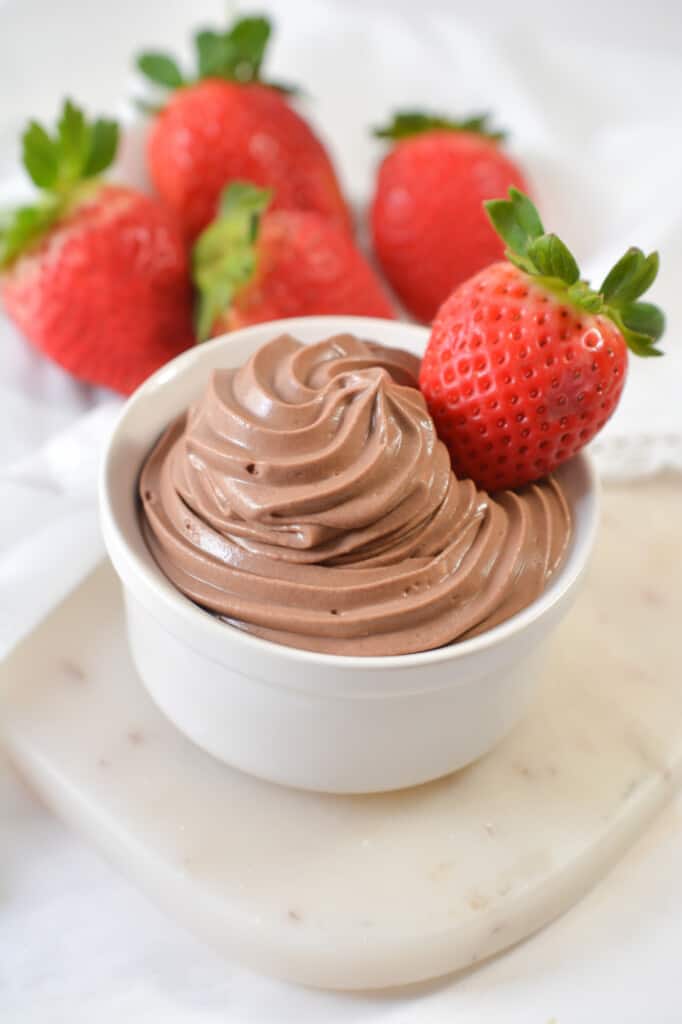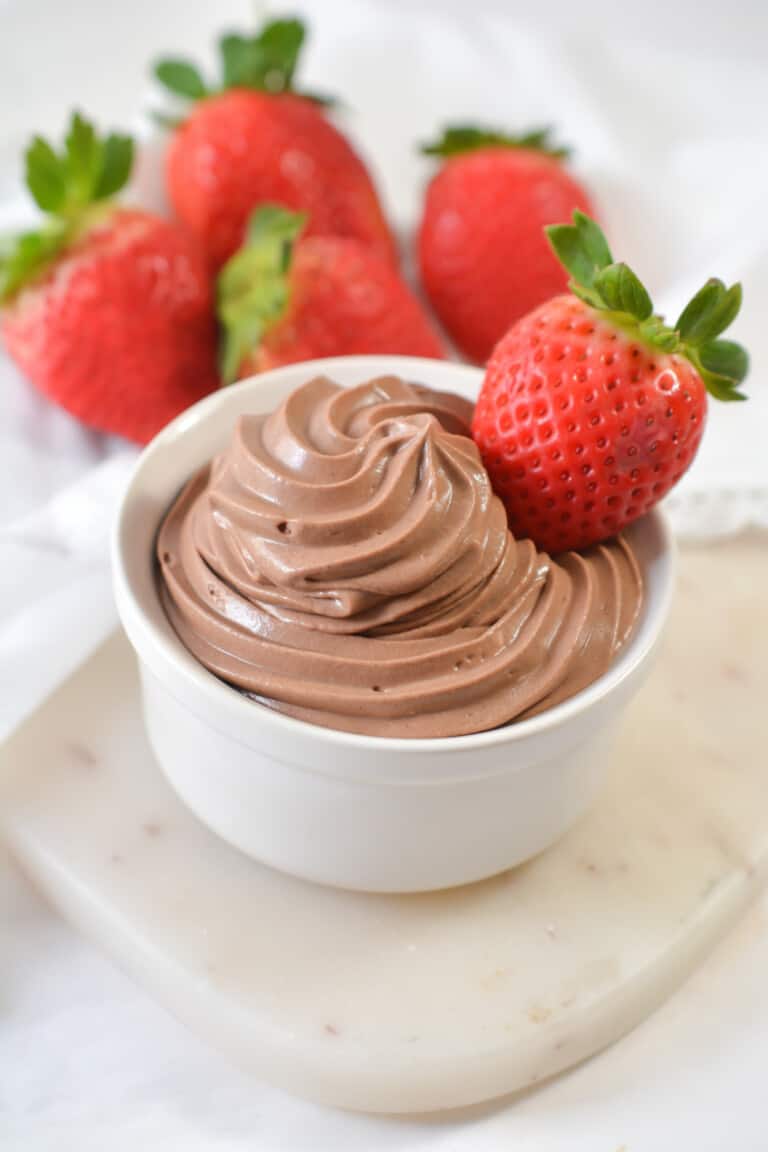 This light whipped dessert is so rich and creamy that you will want to eat it every day. Easy keto chocolate mousse (from Stylish Cravings) is the perfect snack!
Frozen Peach Yogurt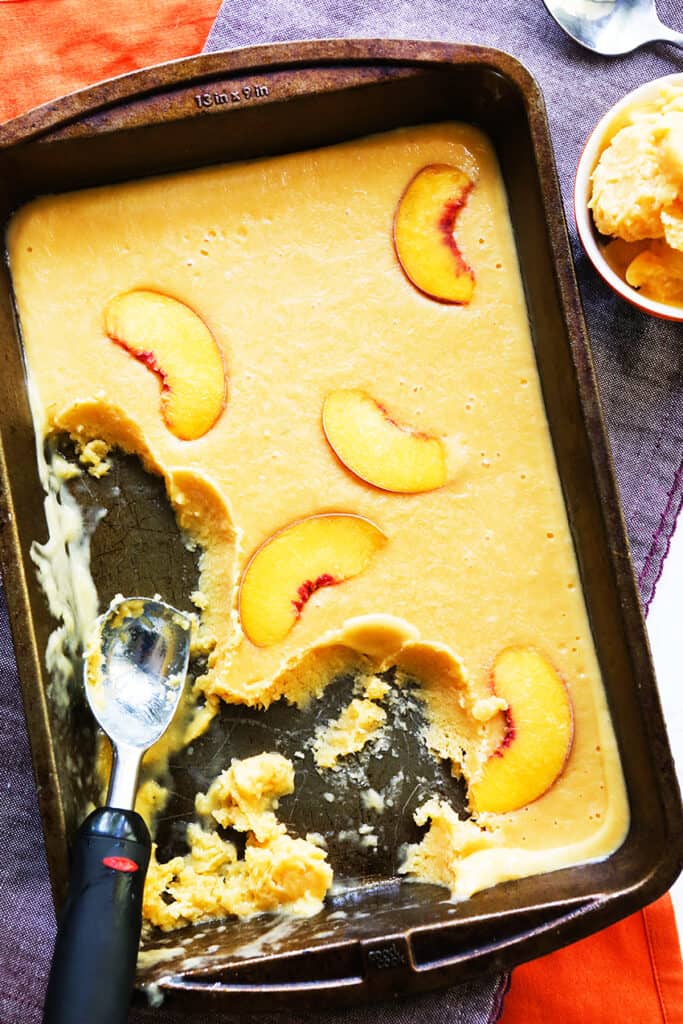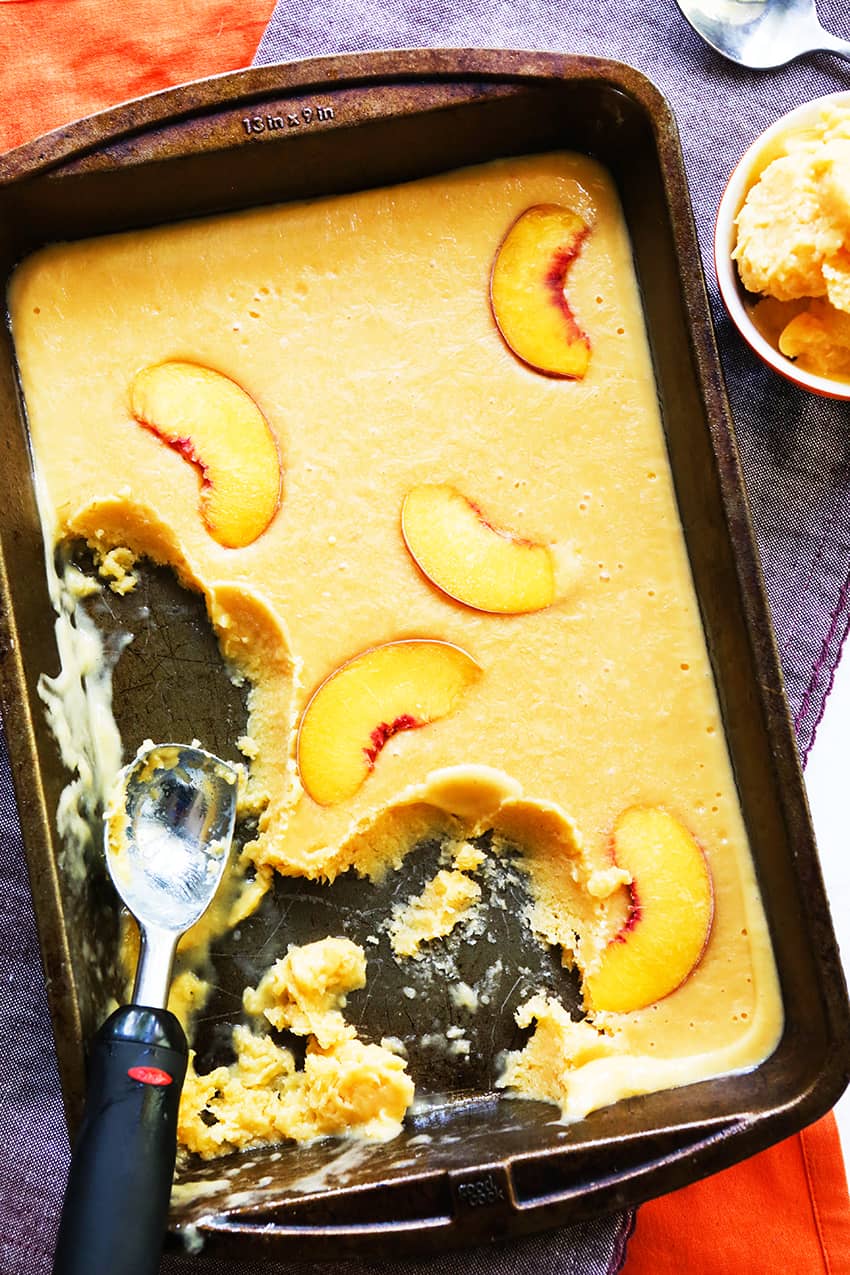 Only 3 ingredients needed to make this delicious Frozen Peach Yogurt (Greek yogurt, peaches and honey)! Perfect for a healthy snack OR dessert, it is just as delicious as ice cream!
Air Fryer Homemade Churros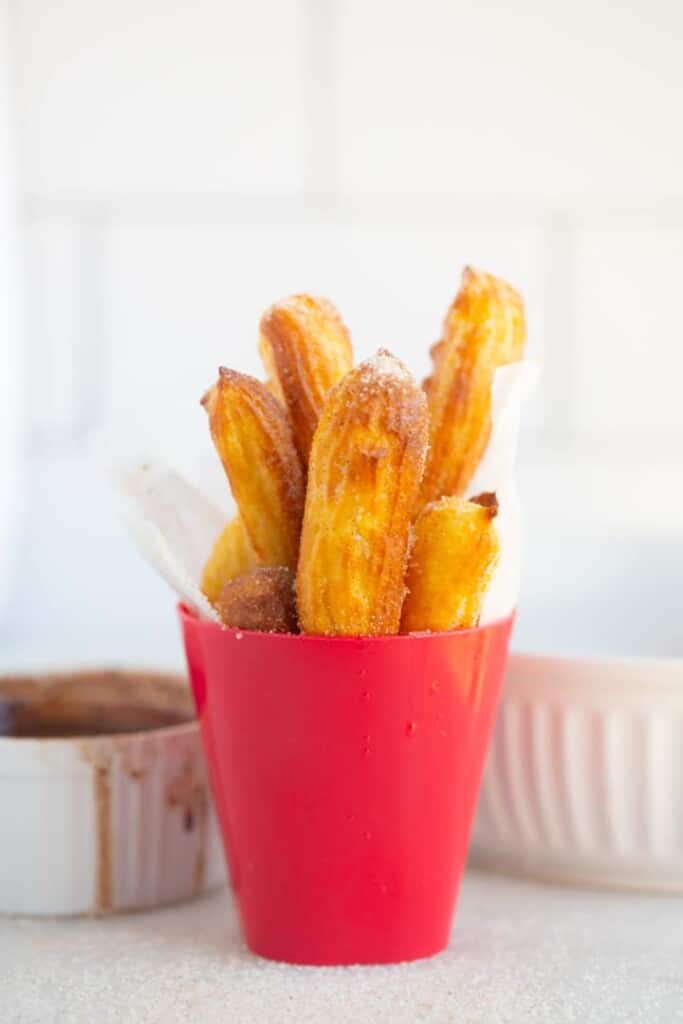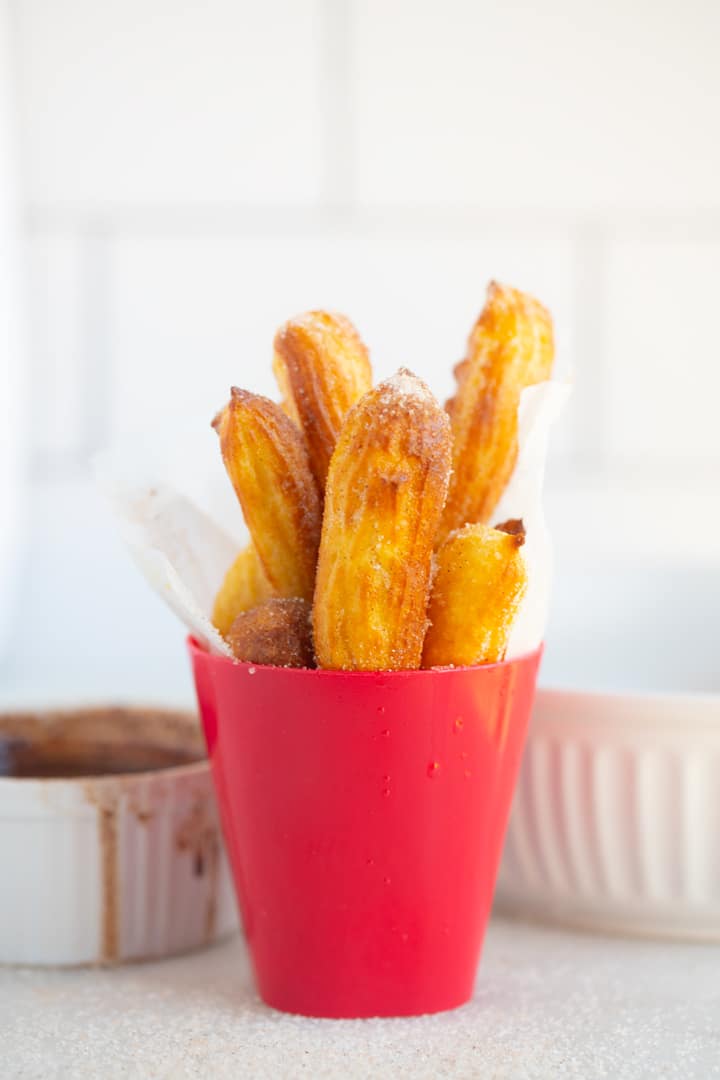 Make a batch of Homemade Churros (from My Forking Life) quickly and easily either in the air fryer or on the stovetop. This wonderfully fluffy Spanish dessert is a real treat! Topped with cinnamon sugar and served with a silky chocolate sauce.
Fruit Pizza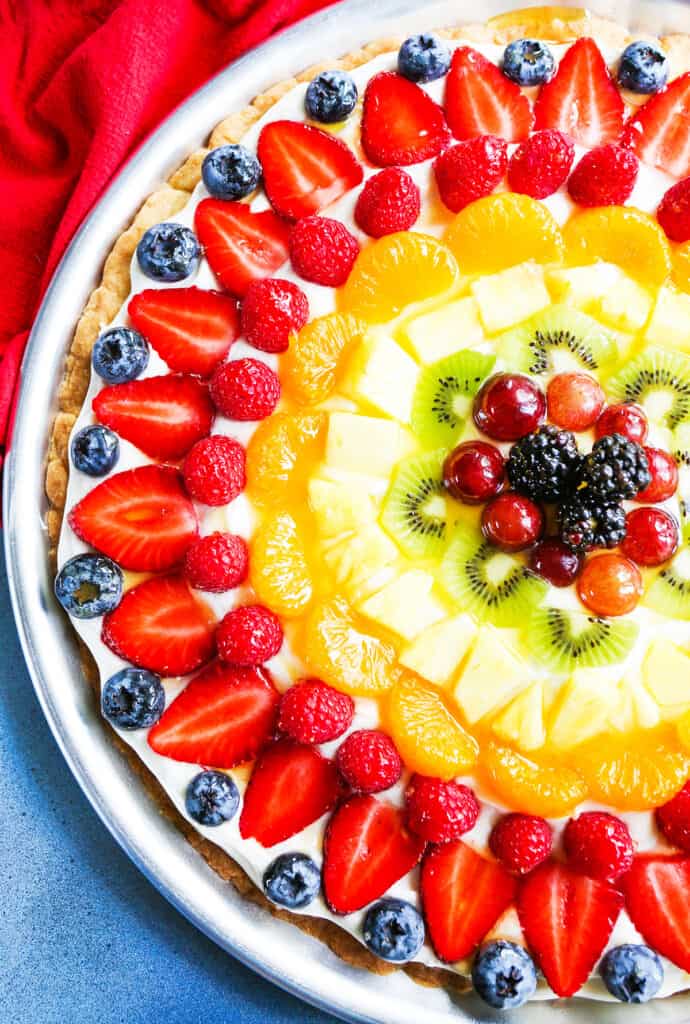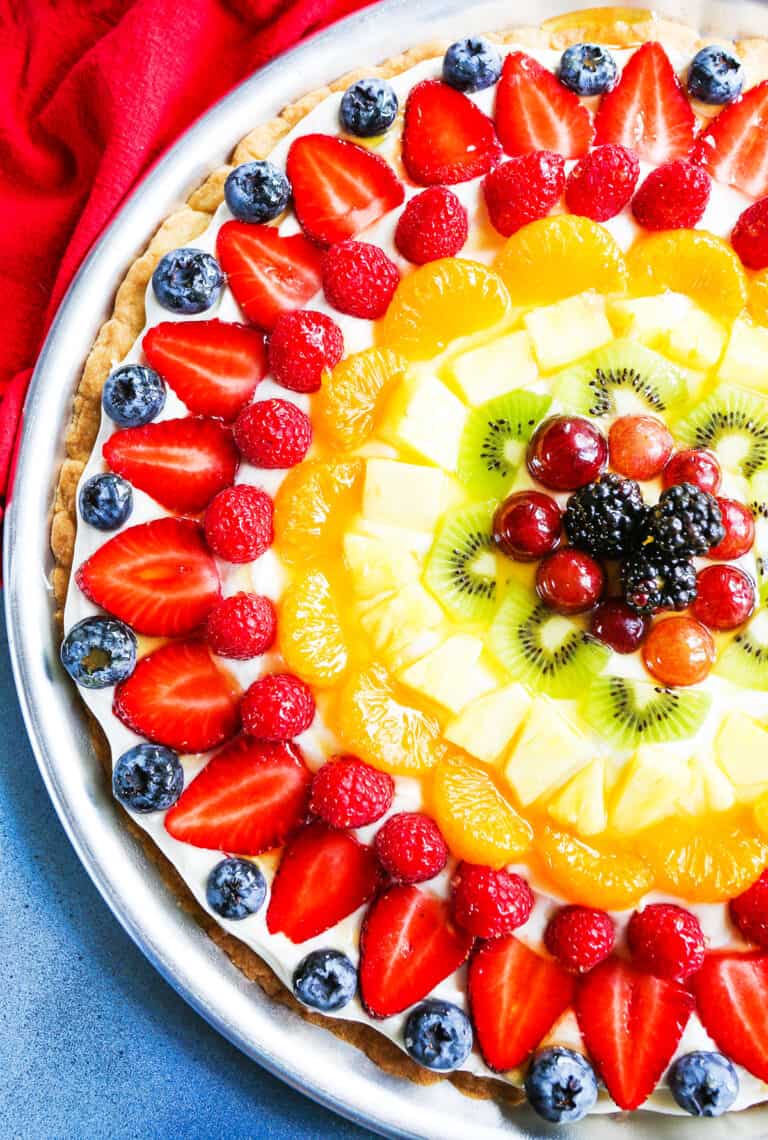 Learn how to make fruit pizza to WOW guests! It has a cookie dough crust, dreamy cream cheese frosting and a colorful top layer of fruit with a tasty glaze. This is one of those creative desserts to throw together and is SUCH a good dessert to make in the summertime.
Easy Baked Sopapillas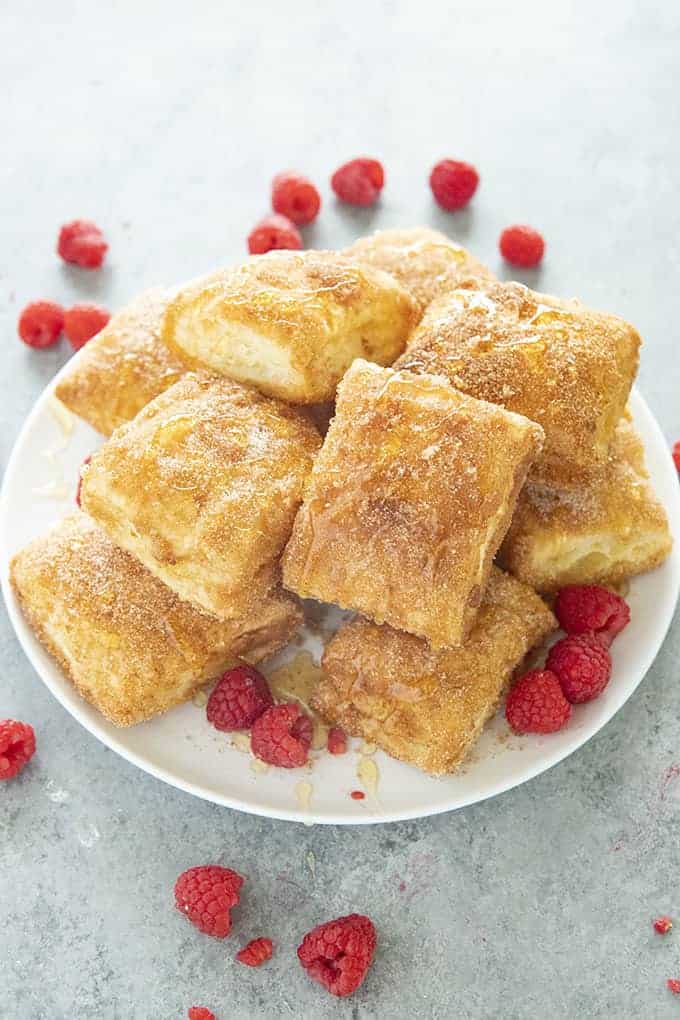 Easy Baked Sopapillas (from The Salty Marshmallow) are light on the inside and crisp on the outside! Rolled in melted vanilla butter and cinnamon sugar these sopapillas are fun and mouthwatering!
Patriotic Ice Cream Sandwiches No-Bake Summer Dessert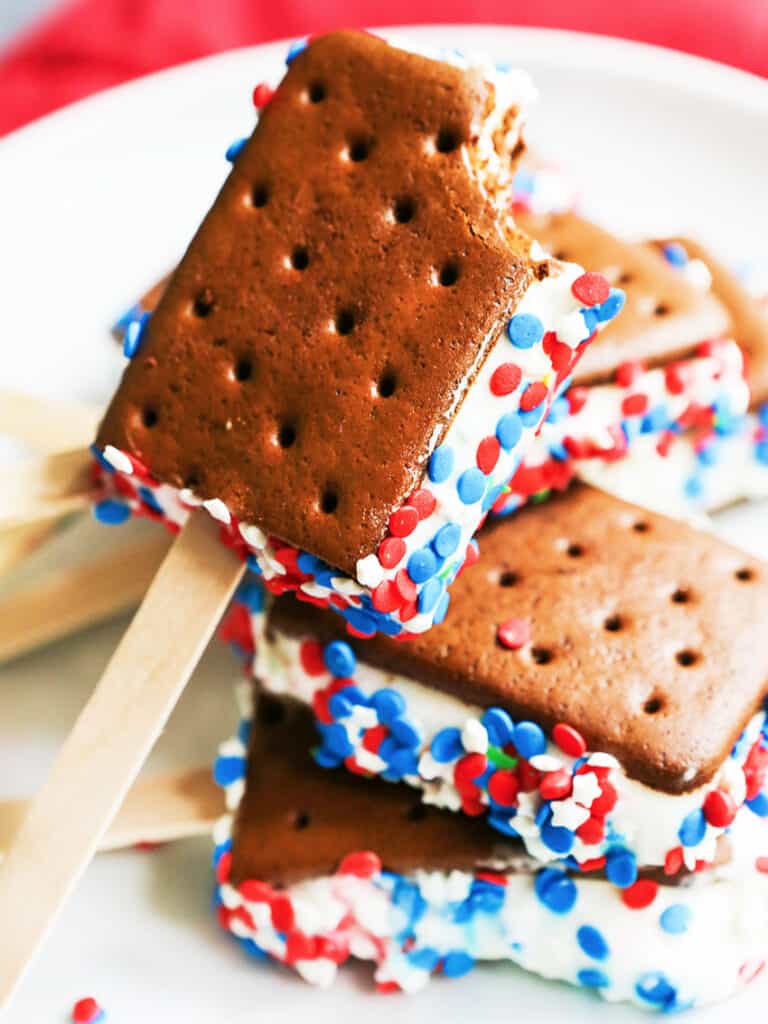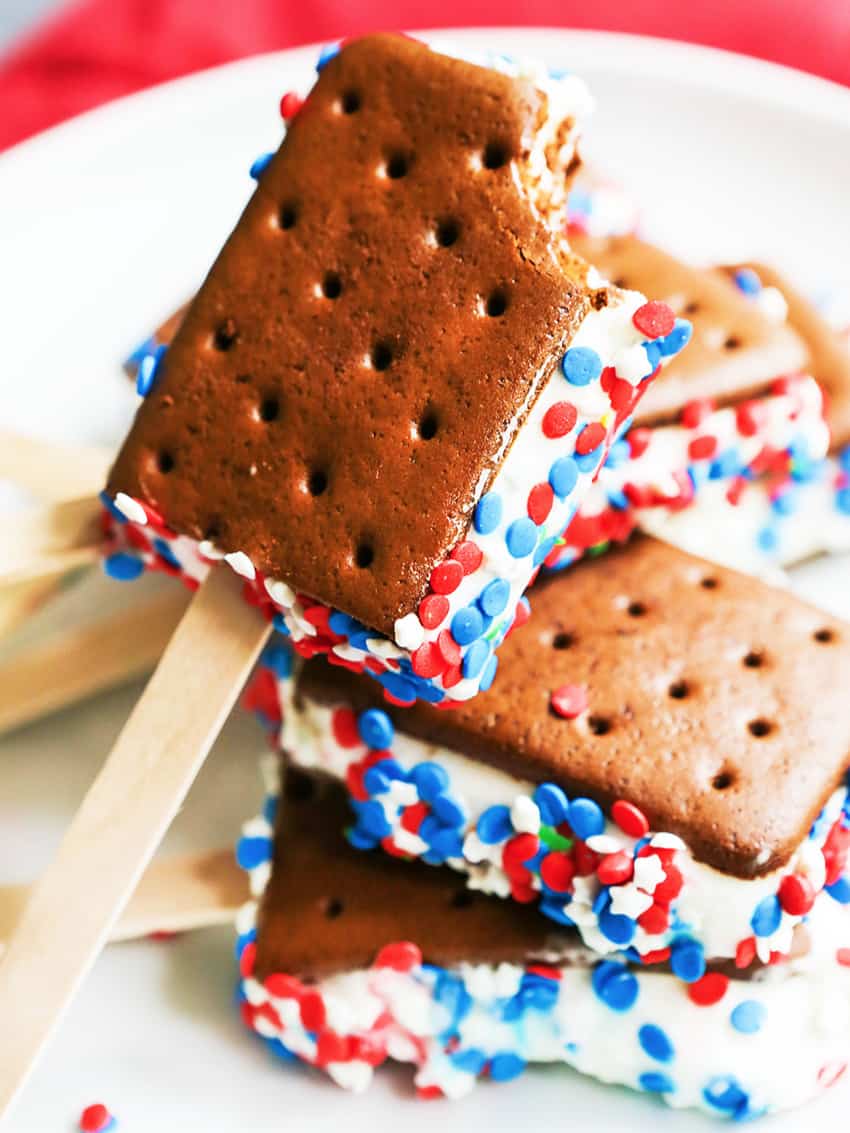 Easily transform classic ice cream sandwiches into a patriotic 4th of July dessert by rolling the exposed ice cream in red, white and blue sprinkles!
Arroz Con Leche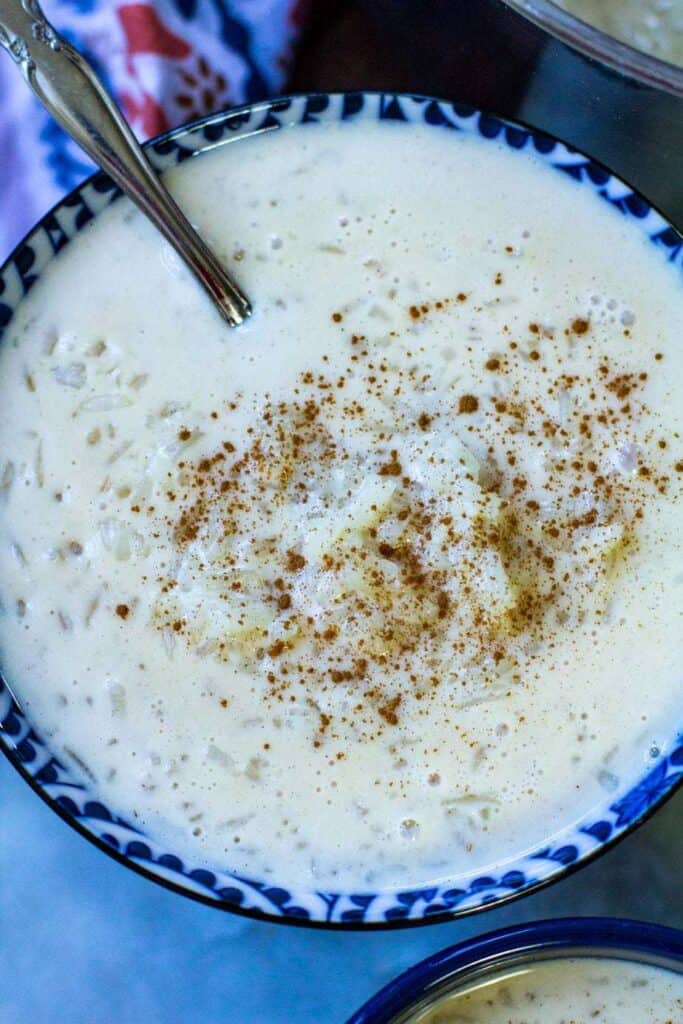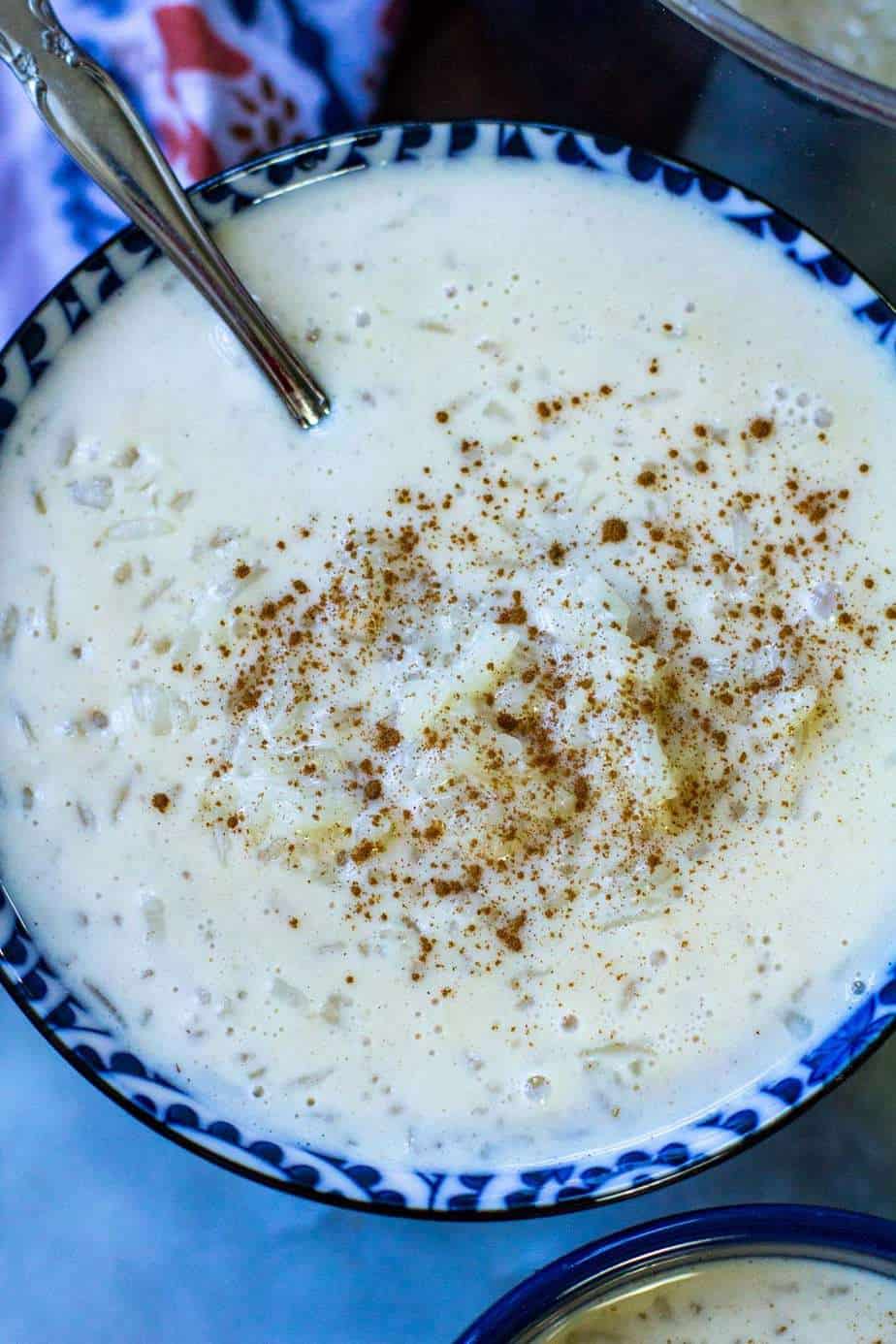 This arroz con leche recipe (from Latina Mom Meals) is a sweet rice with milk only treat that can be served in the evenings on cool days!
Instant Pot Berry Crisp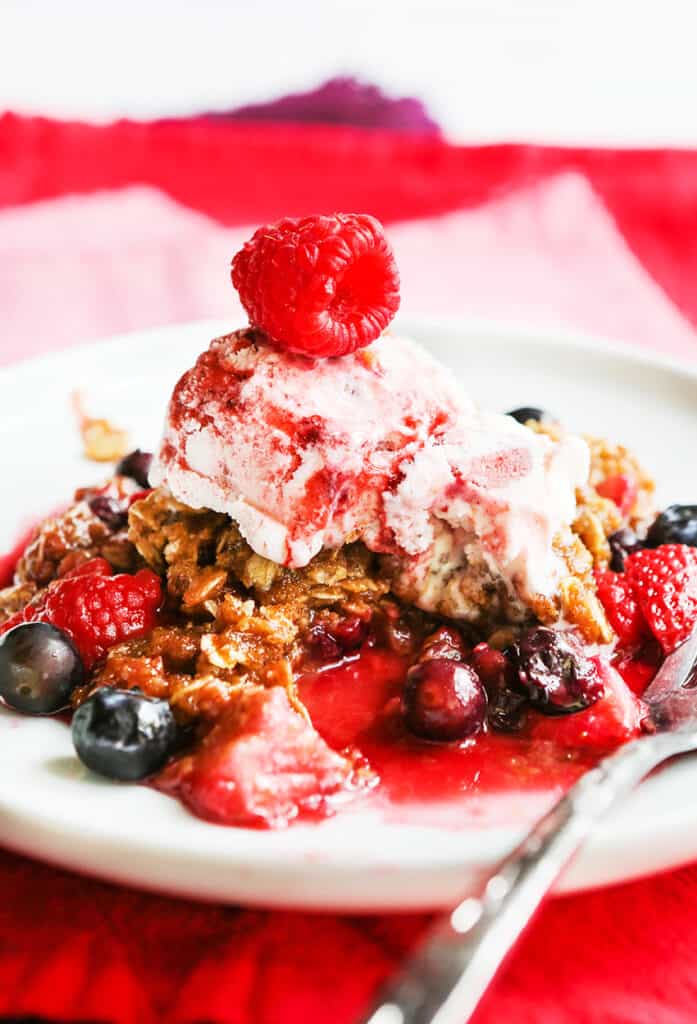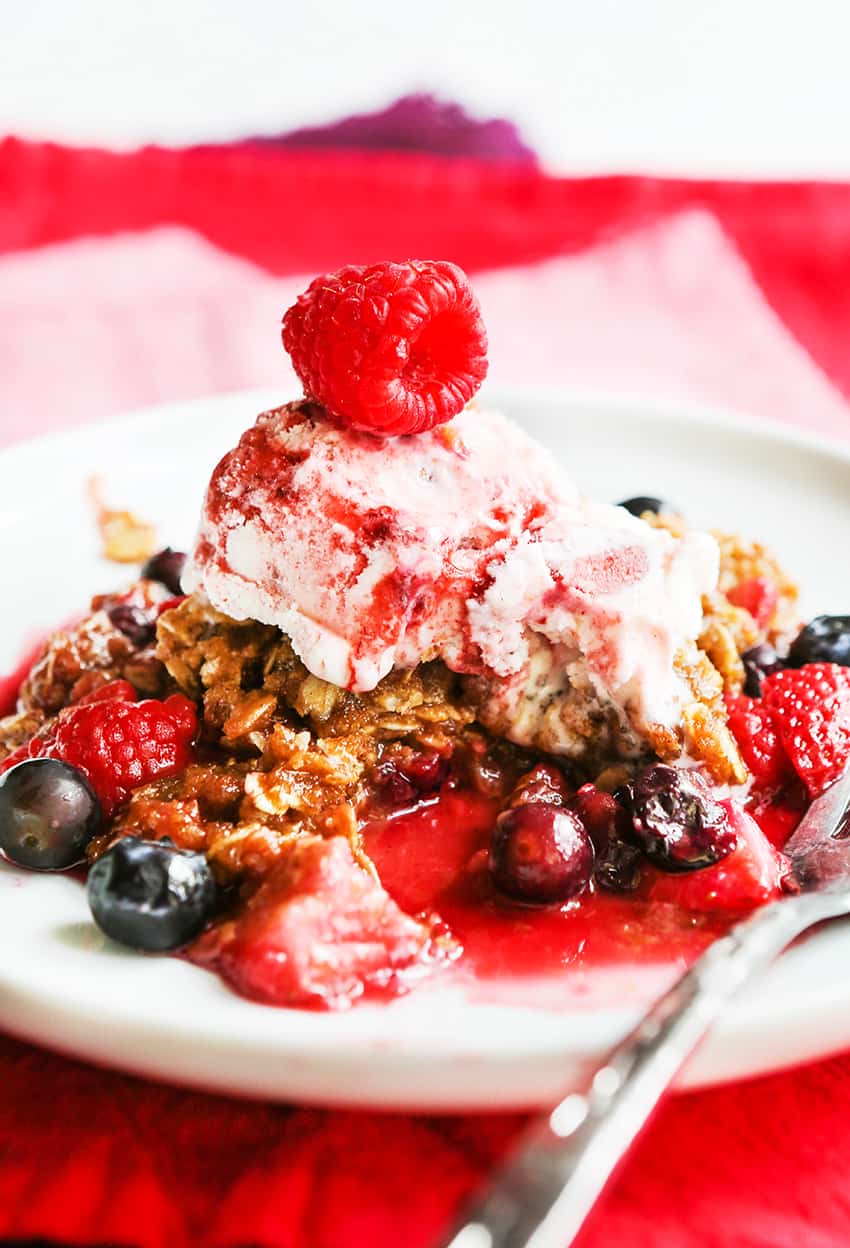 This Berry Crisp recipe will BLOW YOUR MIND when you pull it out of the magical Instant Pot. Pressure cook your next fruit crisp for a ridiculously simple, easy and delicious little dessert recipe! Use blueberries, raspberries, strawberries, blackberries or a combination of any of the above. This is such a refreshing summer dessert!
Ice Box Cookies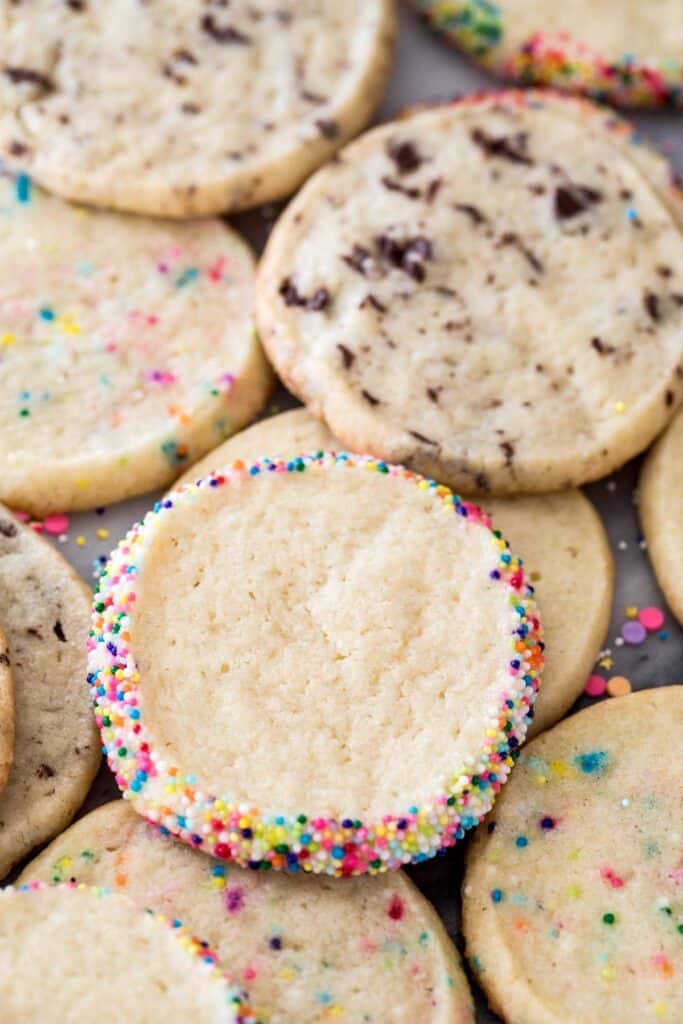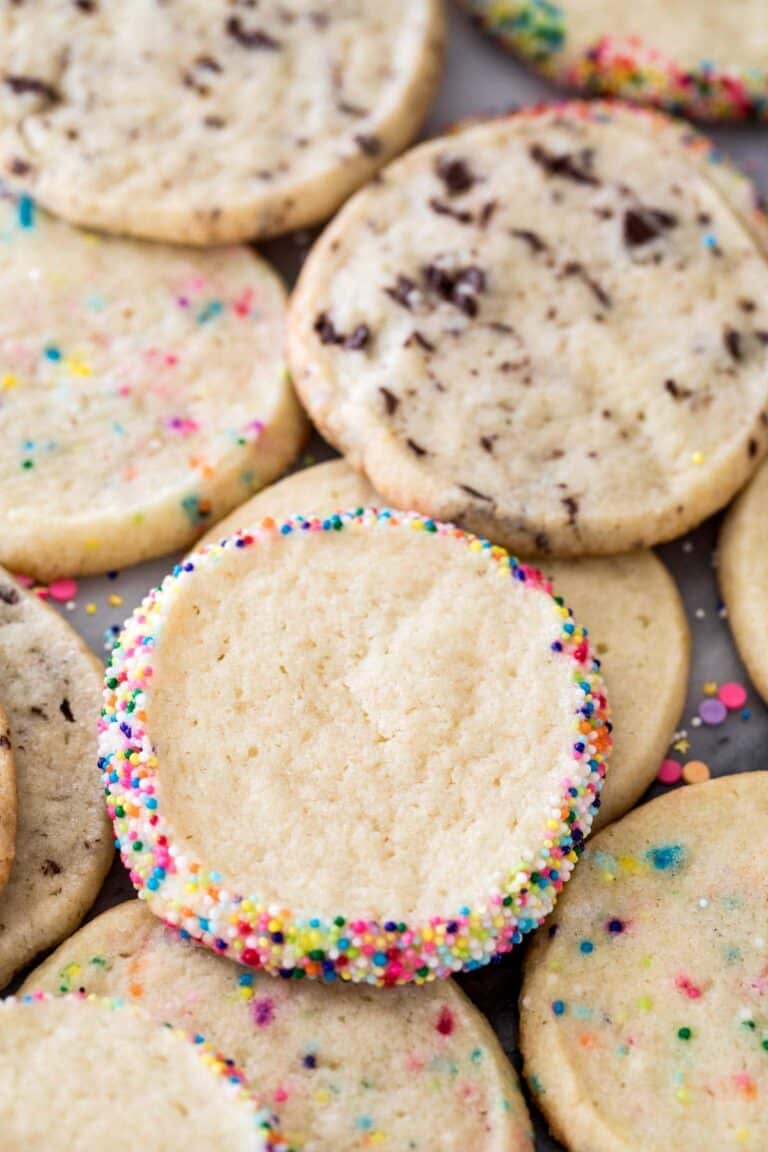 A simple recipe for old-fashioned Icebox Cookies (AKA Refrigerator Cookies) (from Sugar Spun Run). This recipe uses only a few basic ingredients but must be chilled for at least 4 hours before baking. These are great for preparing then storing in your fridge, ready to slice whenever you catch a cookie craving. I've included plenty of add-in options and a how-to video!
Skillet Chocolate Chip Cookie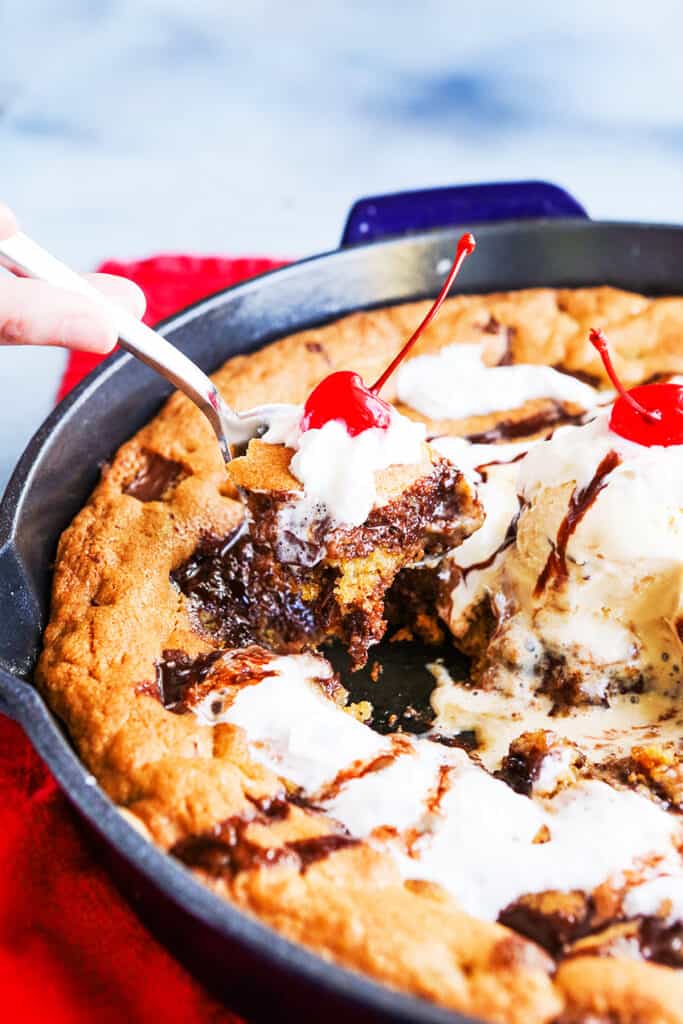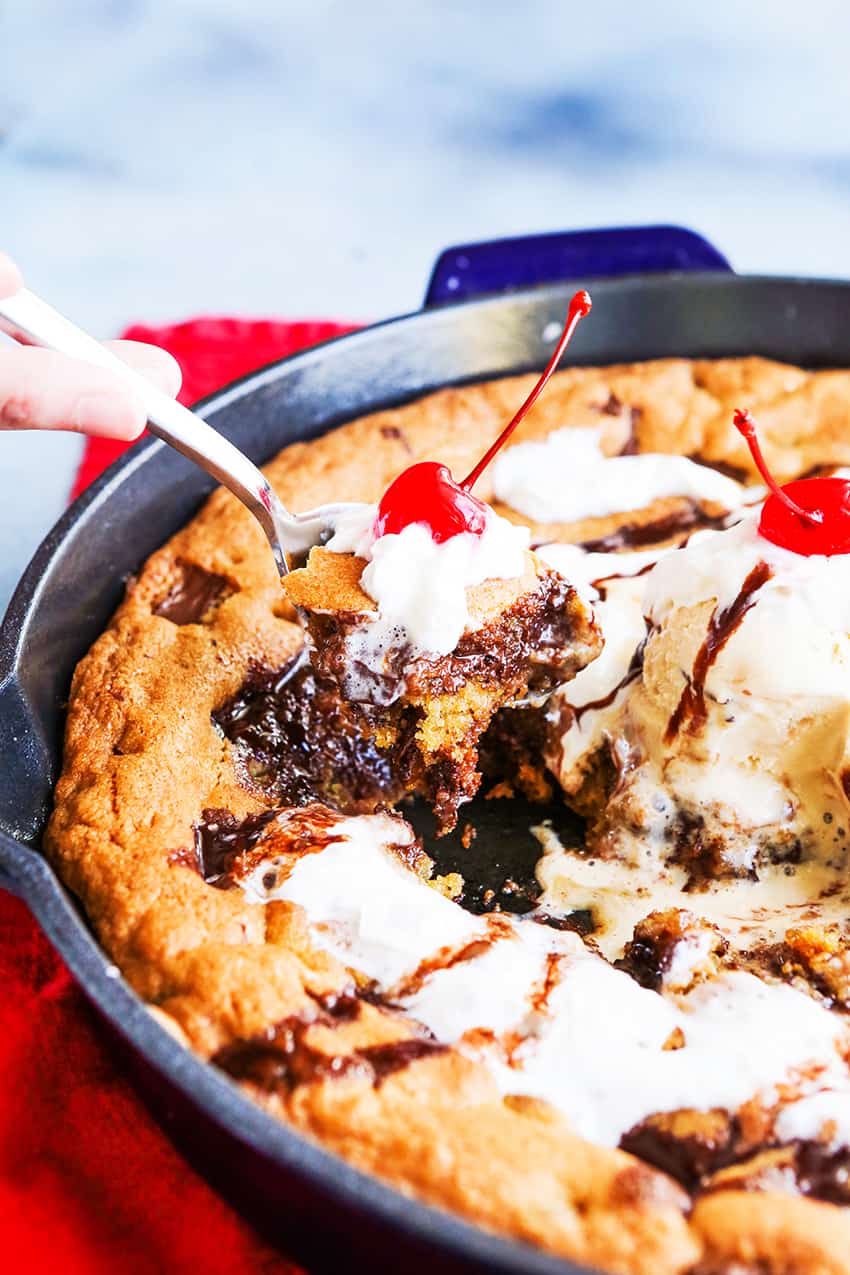 Enjoy this crispy-soft, ooey-gooey, over-sized chocolate chip cookie straight out of the oven and topped with your favorite ice cream! Baking it in a cast iron skillet gives it a perfectly crispy outer edge and a soft center. This "pizookie" is a cookie lover's dream come true!
Strawberry Slab Pie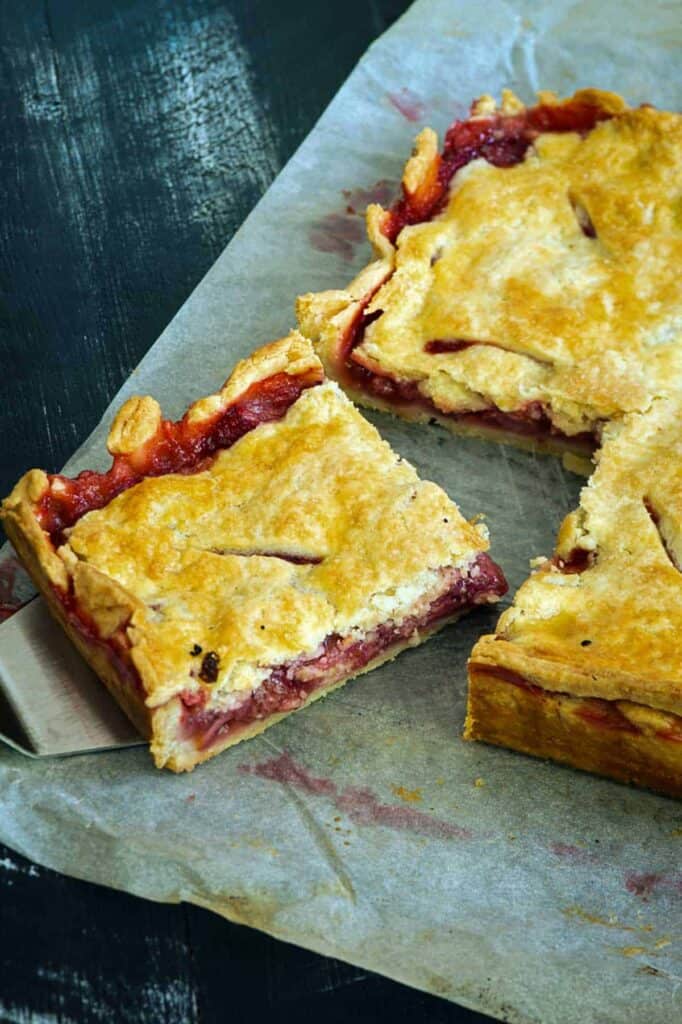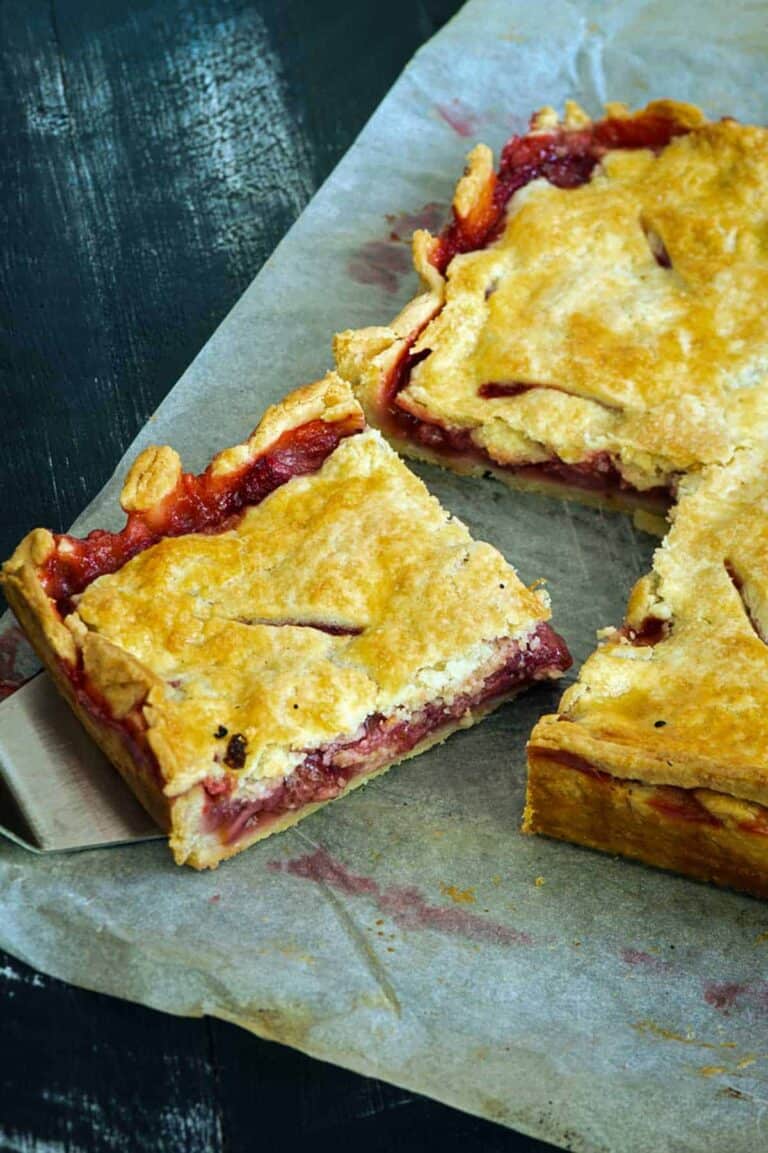 Whether you're feeding a crowd or just don't want the hassle of making a traditional pie, you'll love a slab pie filled with everything you love about a strawberry pie but easier! Try a strawberry slab pie (from Butter & Baggage) and showcase your fresh strawberries surrounded by a buttery crust that makes this a summertime favorite.
Cookie Dough Ice Cream Cake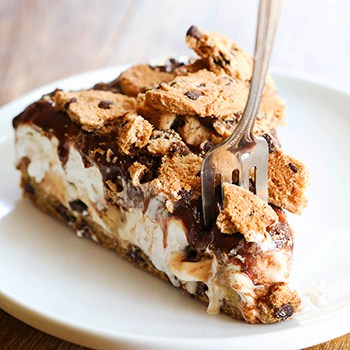 This frozen cake involves a giant baked cookie, cookie dough ice cream, hot fudge topping, cool whip, chocolate chips and COOKIES. It doesn't get any better than this!