How long is pizza sauce good for in the fridge? If you have leftovers staring at you from inside your refrigerator and you don't know whether to toss or eat.. read on!
How Long Is Pizza Sauce Good For In The Fridge
Both homemade and store bought pizza sauce will stay fresh in the fridge for up to 7 days with proper storage and proper refrigeration. The countdown begins once a recipe has been made or a store-bought jar has been opened.
Unopened sauce can be used for up to 6 months past the expiration date printed on the packaging when stored in a cool place such as a pantry.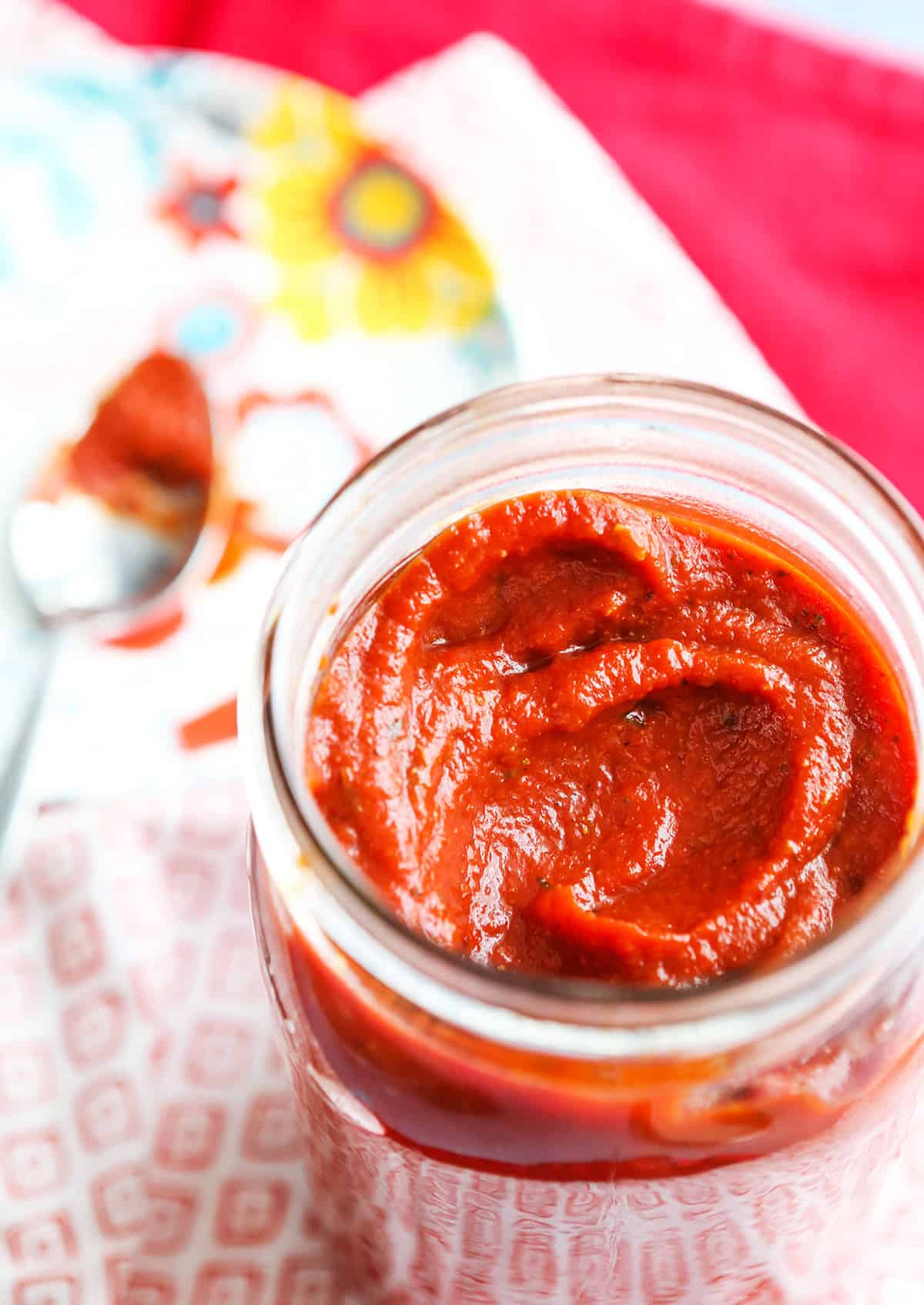 Extend The Shelf Life Of Pizza Sauce
Follow the guidelines below to make pizza sauce last longer!
Refrigerate it! Secure the lid on the jar or transfer it to an airtight container. Store pizza sauce that has been opened in the fridge at all times.
Keep it out of the door! Food items stored in the refrigerator door are subjected to warmer temps, especially with frequent openings. This can decrease the shelf life. Instead, store on a shelf and push it toward the back of the fridge so it stays fresh for a few extra days.
Keep at the same temp! Moisture can collect inside the container when temperature change occurs. Keep the temp of the entire jar as consistent as possible to avoid early spoilage and always keep out of direct sunlight.
Go glass! Transfer the mixture from the original container (if plastic) to a glass jar (mason jars work well!) for the best quality and to add a little bit of time to its life.
Avoid cross contamination! Always be sure to use clean utensils if scooping this sauce into other containers in order to avoid cross-contamination. A clean spoon should be used every time you dip into the jar.
How Can You Tell If Pizza Sauce Is Bad
If you find yourself inspecting a jar of this sauce wondering, "When does pizza sauce go bad?" there are a few ways to determine whether you should eat it or toss it.
Smell test. Unscrew the lid and give it a good smell first and foremost. Fresh pizza sauce has a pleasant, tomato-hinted fresh scent. An off odor is the best way to determine if it has gone bad.
Note appearance. If the color of the mixture seems unusual or if fuzzy mold is present on the top of the sauce or lid of the jar, these can be signs of spoilage. Consuming any bacterial growth can cause food poisoning, so toss immediately.
Taste test. If steps one and two have passed the test, pour a bit into a spoon and give it a taste test. You probably know its familiar taste, so use common sense to determine if the taste is off. If you detect a sour taste or unusual flavor, throw the whole jar!
How To Freeze Pizza Sauce
Cool to room temperature if it has been heated.
Transfer to a freezer-safe container or plastic freezer bags. It is a good idea to double bags in order to avoid leakage. Consider freezing small portions in small mason jars or ice cube trays so you can thaw a little bit at a time, if desired.
Place in the freezer for up to 3 months for best results and to avoid freezer burn.
Best Pizza Sauce Recipe
This homemade pizza sauce takes less than 25 minutes to make and tastes way better than anything you can buy from the store. My homemade recipe is loaded with flavor and tastes great with just about any toppings. The recipe makes enough to cover two 12-inch pizzas!
What To Do With Leftover Pizza Sauce
Create mini pizzas using either leftover pizza dough, bagels or English muffins.
Let your eggs swim in it for a savory breakfast.
Add it to a batch of homemade pasta sauce.
Use it as a replacement in any recipe that calls for spaghetti sauce or tomato sauce.
Replace it with a jar of pasta sauce in any pasta dish for a flavor twist.
Bulk up marinara sauce by adding it to the mix.
Create a thick, flavorful salsa by throwing it into your next batch.
Tomato Sauce vs Pizza Sauce
Tomato-based pizza sauce and tomato sauce are similar in the sense that they both derive from tomatoes, but they have differences, as well.
Tomato sauce is a base ingredient added to many types of dishes, such as pasta sauce, chili and pizza sauce.
Pizza sauce is typically used just for pizzas.
Substitute For Pizza Sauce
Spaghetti sauce
Marinara sauce
Pesto sauce
Garlic sauce
Barbecue sauce
Homemade Sauce Recipes
18 Homemade Sauces to Use Now or Freeze for Later
Making homemade sauces is a great way to know exactly what ingredients are going into them, they are more affordable than store-bought and they're just tastier! Homemade all the way!