Can you freeze leftover tater tot casserole? You can! Read on for our best tips about how to freeze this hotdish so you can enjoy it later.
Can You Freeze Leftover Tater Tot Casserole
There is no need to waste your tater tot casserole leftovers! This dish can easily be frozen and reheated at a later time so you can enjoy it all over again.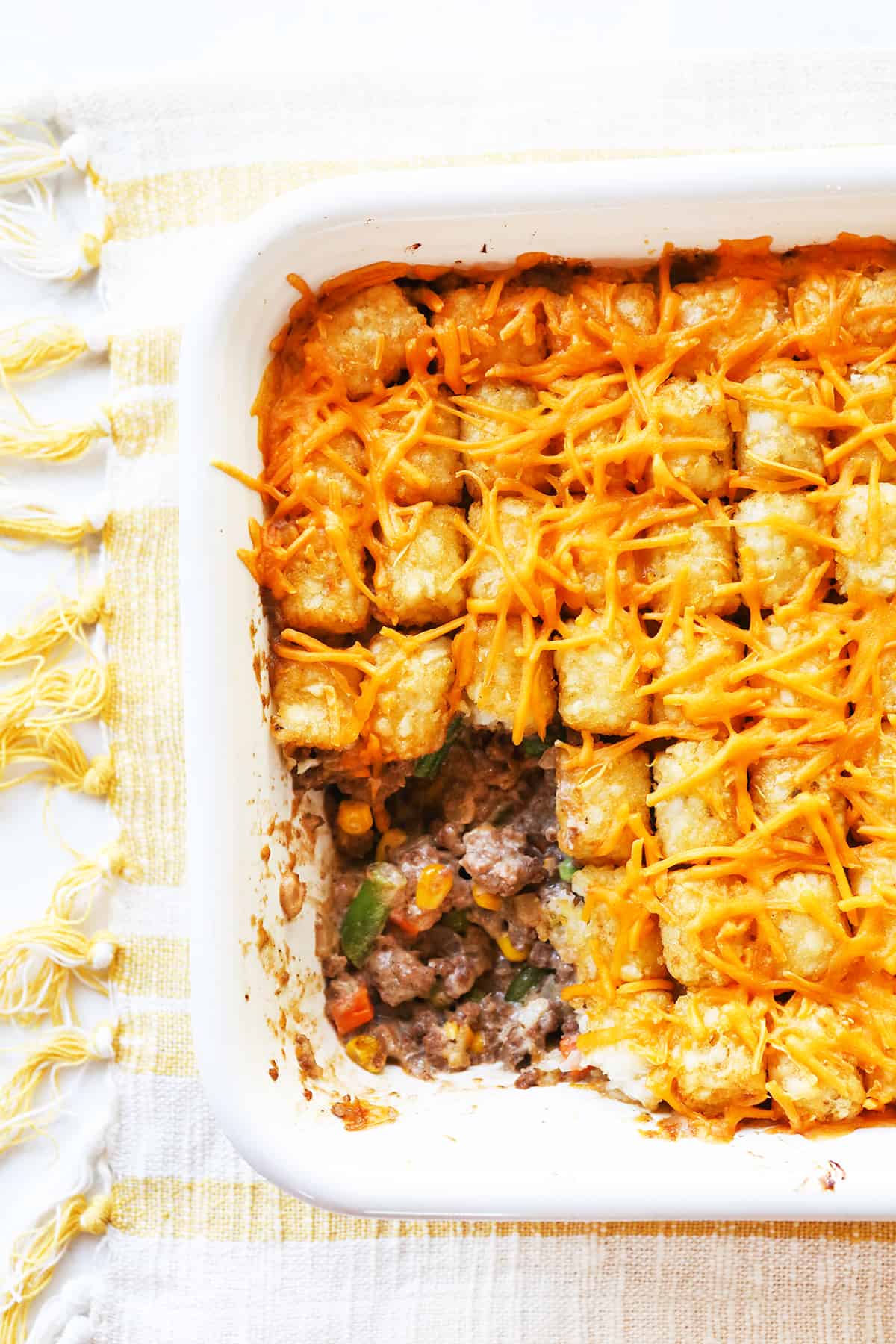 How To Freeze Tater Tot Casserole
There are a couple options for freezing your leftover casserole for later enjoyment.
Freeze Before Baking
Assemble the casserole as directed in an aluminum pan. Wrap pan tightly with a layer of plastic wrap or aluminum foil. Or you can opt to layer the entire recipe in an airtight container from the start. Place the prepared casserole in the freezer for no more than 4 months to avoid freezer burn.
When you are ready to thaw the tater tot casserole freezer meal, allow it to defrost completely in the fridge overnight. Cook as directed the following day.
Freeze After Cooking
Assemble the layers and bake as directed in a casserole dish. Allow it to cool to room temperature and wrap tightly in foil. Freeze for up to 4 months.
When you are ready to enjoy it, remove the frozen casserole from the freezer allowing it to thaw completely in the fridge overnight.
Easy Tater Tot Casserole Recipe
Minnesota Tater Tot Hotdish is a Midwestern staple and classic comfort food. Whether as a main or side, everyone at the table will be satisfied. This is a great recipe for your Thanksgiving table or as a main dish or side dish for any meal.
Tips For Making The Best Tater Tot Hotdish
To add spice to the dish, add 1/2 teaspoon cayenne pepper to the meat mixture.
For a Mexican twist, add taco seasoning to the mix.
Two cups of frozen mixed vegetables can replace the green beans and corn.
Cream of chicken or cream of celery soup can replace cream of mushroom, if desired.
1/2 teaspoon of garlic powder would be a great addition to the beef mixture.
Ground turkey or sausage would be excellent replacement options for ground beef or skip the meat altogether to make it a meatless dish.
There is no need to thaw frozen tater tots before adding them to the baking pan. Throw them in straight from the freezer!
The secret ingredient in this particular recipe is Worcestershire sauce. Add a little bit extra if you love this sauce as much as I do!
Can You Freeze Cream of Mushroom Soup
If the dish you are about to freeze contains cream of mushroom soup as ingredient, do not fret! It can still be frozen and will yield delicious results.
Can You Freeze Sour Cream In A Casserole
You can freeze casseroles that contain sour cream as ingredient. As long as you wrap the dish before freezing and thaw within recommended time guidelines, it will yield great results.
How To Reheat Tater Tot Casserole Leftovers
Enjoy your favorite hot dish a second time by following these easy tips for reheating.
Remove the thawed baking dish from the fridge at least 30 minutes prior to baking so it can be at room temperature when you cook it.
If your hotdish contains a top layer of shredded cheese, consider sprinkling a fresh layer of it on the top.
The cooked tater tots will need to be covered with foil if the dish has already been baked. If you pulled it from the freezer/fridge unbaked, follow the instructions on the recipe card about whether or not to cover it.
Bake for approximately 20-30 minutes in a 350 degree F oven. The reheating process is done when it is warmed all the way through and bubbling at the top. The amount of time it takes to reheat will vary depending on how thick the layers are.
Remove from the oven and serve immediately!
Here is some great information on guidelines for reheating casseroles more generally, outside the tater tot variety.
Note: A great way to reheat individual portions of the dish is to place a slice on a microwave-safe dish and heat in the microwave in 1-minute intervals until heated through.
Easy Casserole Recipes
If you are on the lookout for some seriously delicious, savory dishes to make for your loved ones, read on for some great options!
Popular Casseroles
Here are a handful of our most popular hot-dishes here at Pip and Ebby!
What to Serve With A Casserole
Check out this roundup of ideas about what to serve with your next delicious casserole so you can make your next breakfast, brunch or dinner a complete meal! Options range from a side salad to eggs to mashed potatoes to steak and salmon and everything in between!