Homemade Simple Syrup can be used for many different purposes! Brush it onto a cake for added flavor or add it to a drink to spruce it up. It is way more affordable to make it at home vs. store bought simple syrup!
I was hoping that making Simple Syrup would simplify my life, but the opposite has happened. We are in the midst of COMPLETE chaos. My brain is consumed with so many different things that I have been totally absent-minded. I left a voicemail message for someone the other day and as I was signing off I said, "Thank you! Megan!" As if I were writing a letter or sending an email. I was mortified and I will certainly never hear back from that person again.
Simple Syrup. We have some in our fridge and we LOVE it. Add this to the list of things we wish we would have learned to make ten years ago, like my Chili Paste that I add to everything.
Add Simple Syrup to a Mint Julep for a refreshing alcoholic cocktail!
Brush this Simple Syrup onto cakes to add moisture (add extracts if desired, too!) or add it to beverages of any variety for a bit of added sweetness. I LOVE that it is so easy to make this and that it can last for a while. If you prefer to use honey to make it, then you can try this recipe!
Here's to SIMPLICITY and happiness for all of you!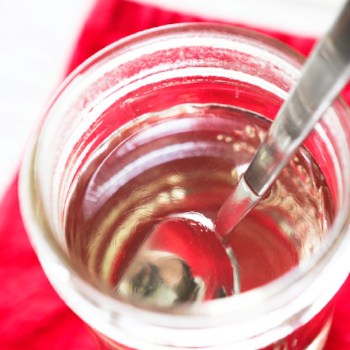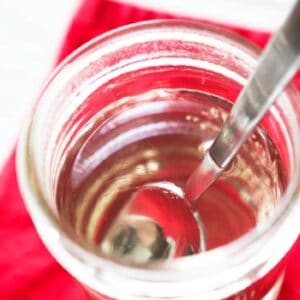 Simple Syrup
It is SO EASY to make this simple syrup and much more affordable than the store-bought version.
Print
Pin
Rate
Instructions
Combine sugar and water in a small saucepan. Bring to a boil and stir until sugar dissolves. Remove from heat and let cool.

Pour into a sealable container and store in the fridge for 3 to 4 weeks.
Did you make this recipe?
If you loved this recipe, please rate the recipe and leave a comment below!