Beef stroganoff is an easy and delicious meal to make any night of the week. Warm egg noodles are topped with tender beef swimming in a creamy sauce. But what do you serve alongside this ultimate comfort food? Read on for 12 perfect ideas about what to serve with beef stroganoff.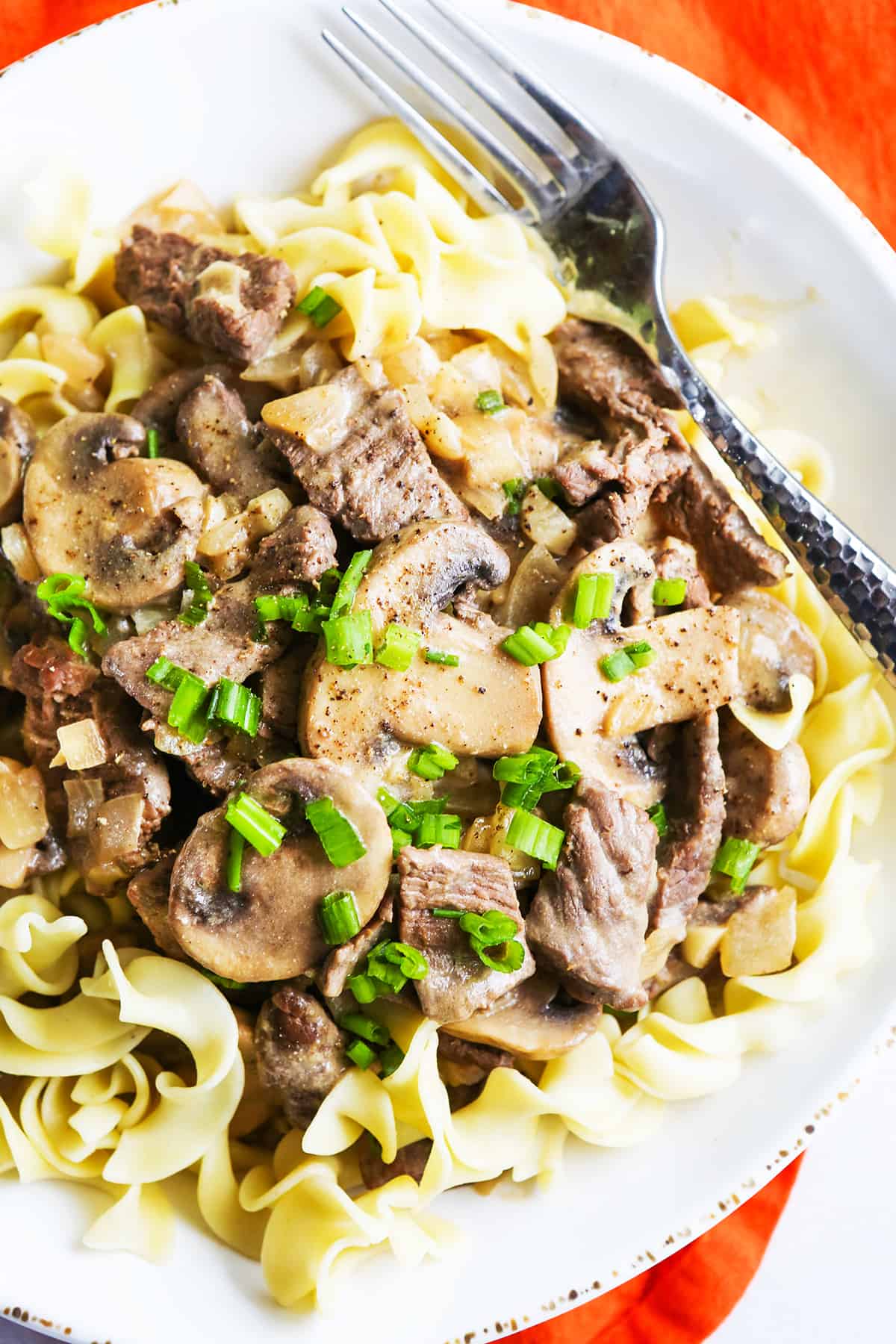 Beef stroganoff was in our regular dinner rotation when I was a kid and I was always excited when it was on the daily menu. It is so perfectly meaty, hearty, comforting with those tender strips of beef in a flavorful sauce and piled on top of steaming hot noodles.
I don't recall what my stepmom served with this meal, but I can imagine this could cause people to scratch their heads a bit. What goes with a heaping plate of stroganoff? I've got your back on this. Read on for a comprehensive list of delicious side dish ideas.
FAQ About Beef Stroganoff
Is beef stroganoff healthy?
The cream sauce that typically goes into beef stroganoff makes it a fairly high-calorie meal. To slim the recipe down, replace the sour cream with yogurt and substitute quinoa or brown rice with the egg noodles.
Can beef stroganoff be frozen?
Because beef stroganoff contains sour cream, fresh is always best when enjoying this meal. If you'd like to freeze it, place into an airtight container (minus cooked noodles) and freeze for up to 3 months.
How to thicken beef stroganoff?
Create a corn starch or flour slurry and add it to beef stroganoff in order to thicken the sauce. Add equal amounts corn starch/flour and cold water to a small bowl and whisk until combined. Add to the stroganoff mixture.
How to make beef stroganoff using ground beef?
Making beef stroganoff using ground beef is definitely an option. Use ground beef in place of steak, ensuring that you do not break the meat up into small pieces. You will want to keep the meat in the dish chunky, so bigger chunks of beef is always better.
Which cut for beef stroganoff?
Round steak or rump steak are classic options for this dish, but don't feel limited if you have another cut on hand because sirloin steak is good too. Use the beef you have, even if it is ground beef.
Affordable Dinner Ideas Using Ground Beef as a Main Ingredient
Make dinner and affordable with this delicious list of dinner ideas using ground beef. Ground beef does not need to be boring!
Ground Beef and Cream of Mushroom Soup Recipes
Simplify dinner tonight! Create an easy, affordable and delicious meal using two hearty main ingredients. Click over for a handful of delicious beef recipes with cream of mushroom soup!
Best Beef Stroganoff Recipe
This classic beef stroganoff recipe is a comforting meal for your dinner table any night of the week. Done in less than 30 minutes!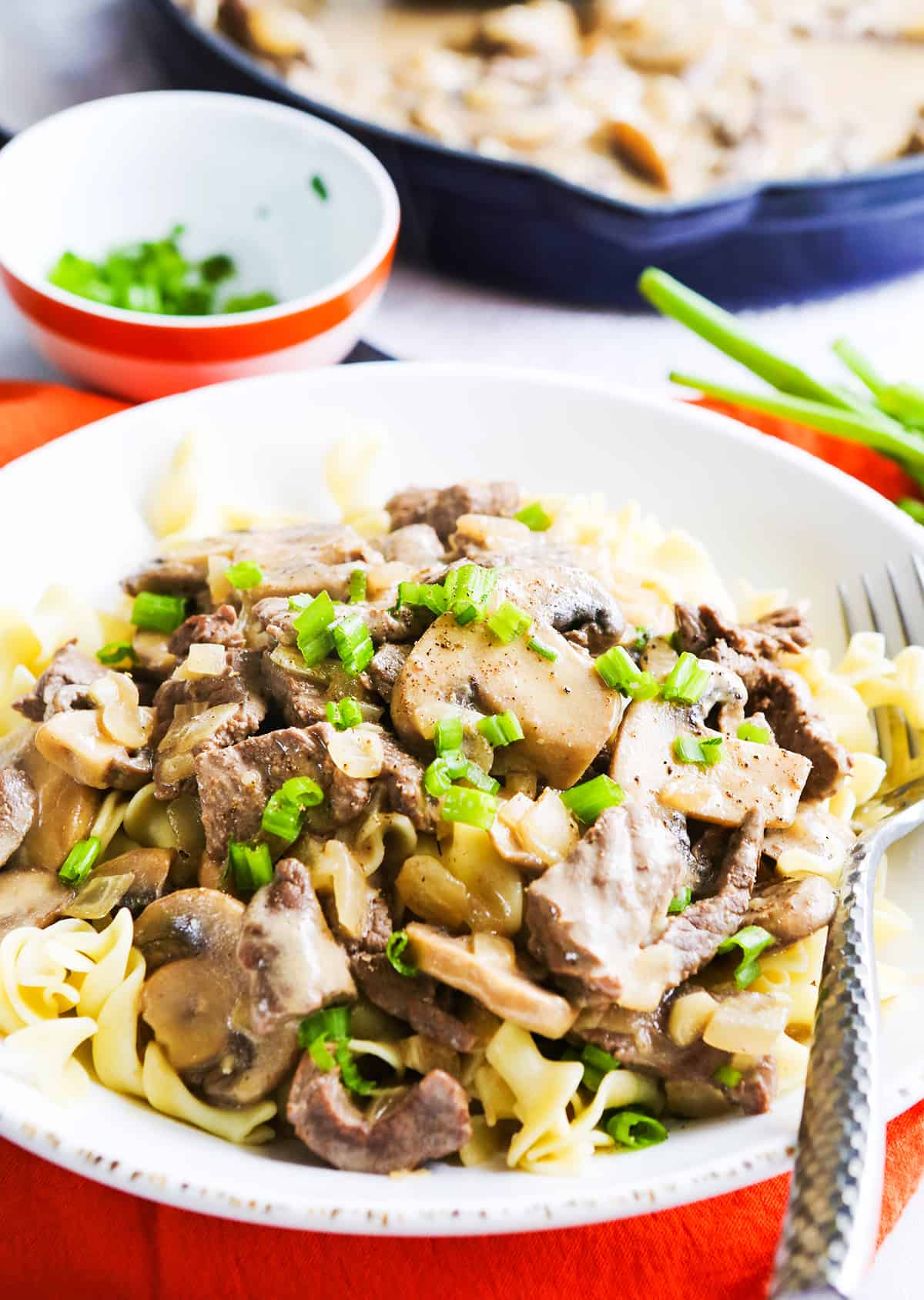 Vital Ingredients for Traditional Beef Stroganoff
Egg noodles – Any type of cooked pasta, rice or quinoa can replace egg noodles, if desired.
Mushrooms – Any kind of mushrooms works great in this recipe, but white button mushrooms are my personal fave.
Beef round or flank steak – Cut the steak into thin slices and be sure to cut against the grain. Chuck roast can be used as an alternate cut of beef.
Flour – Use a gluten-free variety of flour (and replace egg noodles with a GF pasta) to make this a meal free of gluten.
Beef broth or beef stock – For a less salty/more healthy meal, use low-sodium beef broth.
Sour cream – A great way to slim this recipe down is by replacing the sour cream with Greek yogurt. Sour cream can be replaced with heavy cream, if desired.
Toppings – I enjoy topping the beef mixture with sliced fresh green onions, fresh parsley, Parmesan cheese, black pepper or extra sour cream.
What To Serve With Beef Stroganoff
As comforting as this main dish is, many different sides pair perfectly with it. Read on for a list of both indulgent and healthy side dish ideas, in addition to specific recipes!
Pasta – Egg noodles or other cooked pasta.
Potatoes – Mashed potatoes, baked sweet potatoes, roasted potatoes, French fries or potato chips.
Rice – White rice or brown prepared rice.
Bread – Dinner rolls, cheese bread or garlic bread.
Vegetables – Cooked or roasted vegetables of any variety. Great options include carrots, Brussels sprouts, green beans, asparagus, cauliflower or broccoli.
Cabbage – Sauteed green or red cabbage or cabbage steaks.
Salad – Leafy green salad, chopped salad, broccoli salad or rice salad.
Sandwiches – Grilled cheese sandwiches or a Reuben on rye bread.
Soup – Comforting soup such as broccoli cheese or potato soup.
Kale Salad with Chickpeas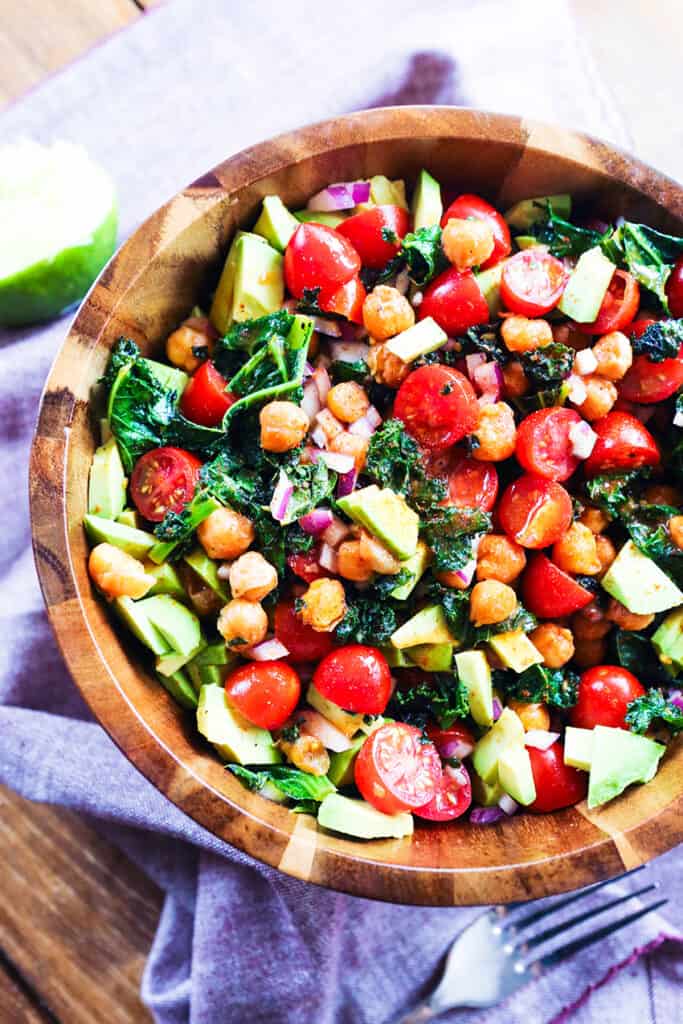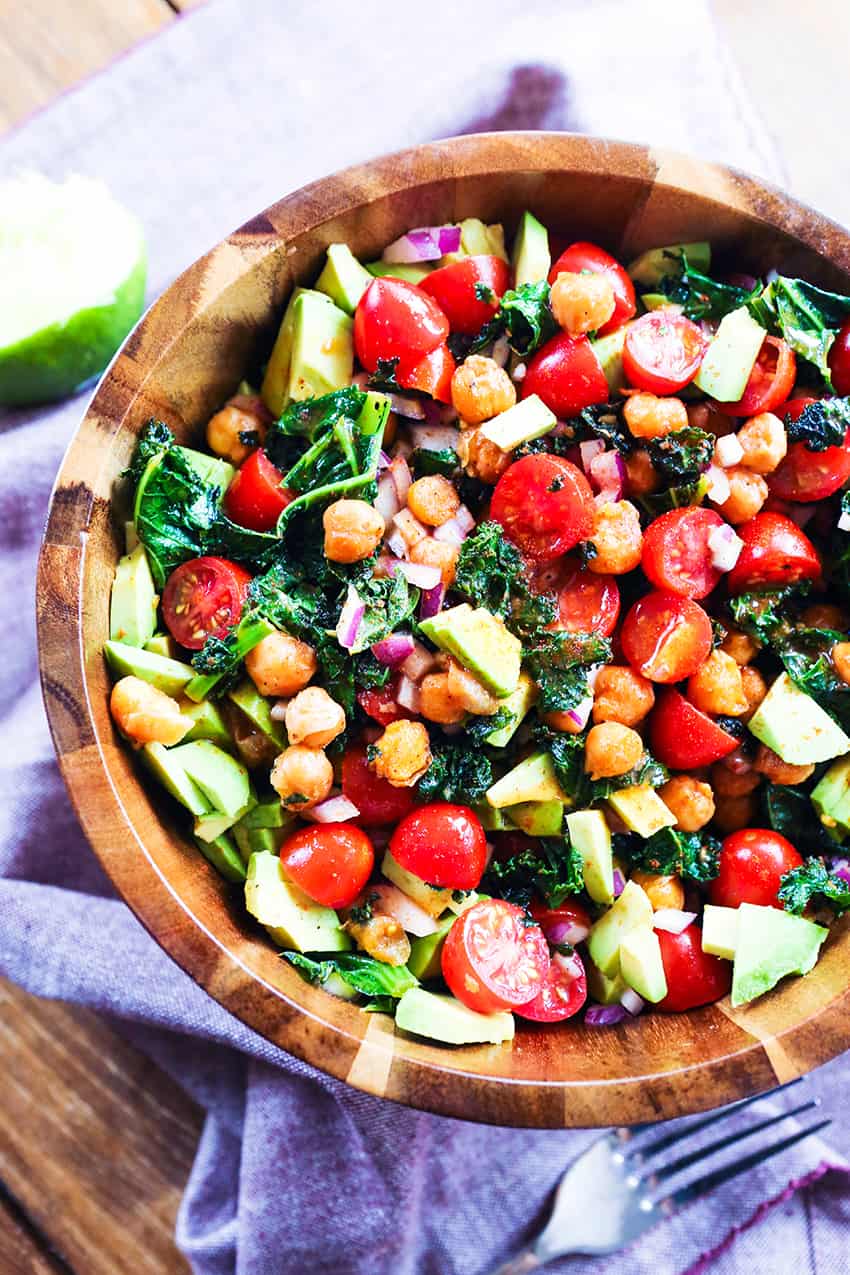 This kale salad with chickpeas recipe is a great lunch any day of the week. Or double the recipe and serve it at your next gathering. The different textures and bold flavors make this salad a keeper!
Roasted Brussels Sprouts and Cauliflower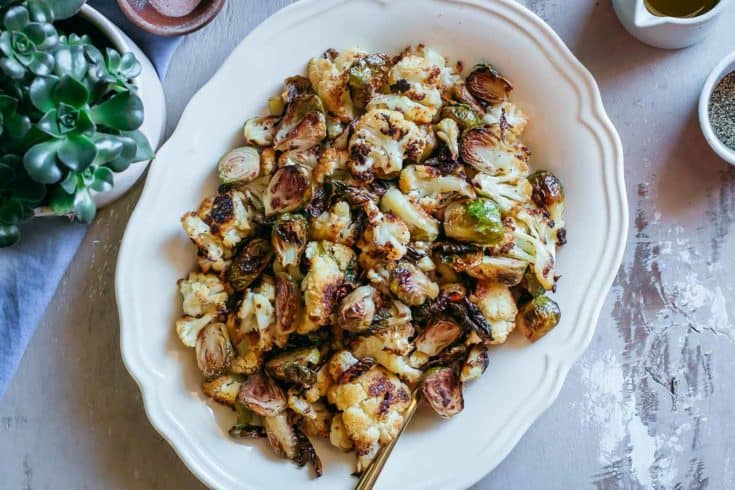 Roasted Brussels Sprouts and Cauliflower (from Fork In The Road), an easy oven-baked roasted vegetable recipe that uses only 5 ingredients and takes less than 40 minutes. A simple side dish or salad topper!
Garlic Bread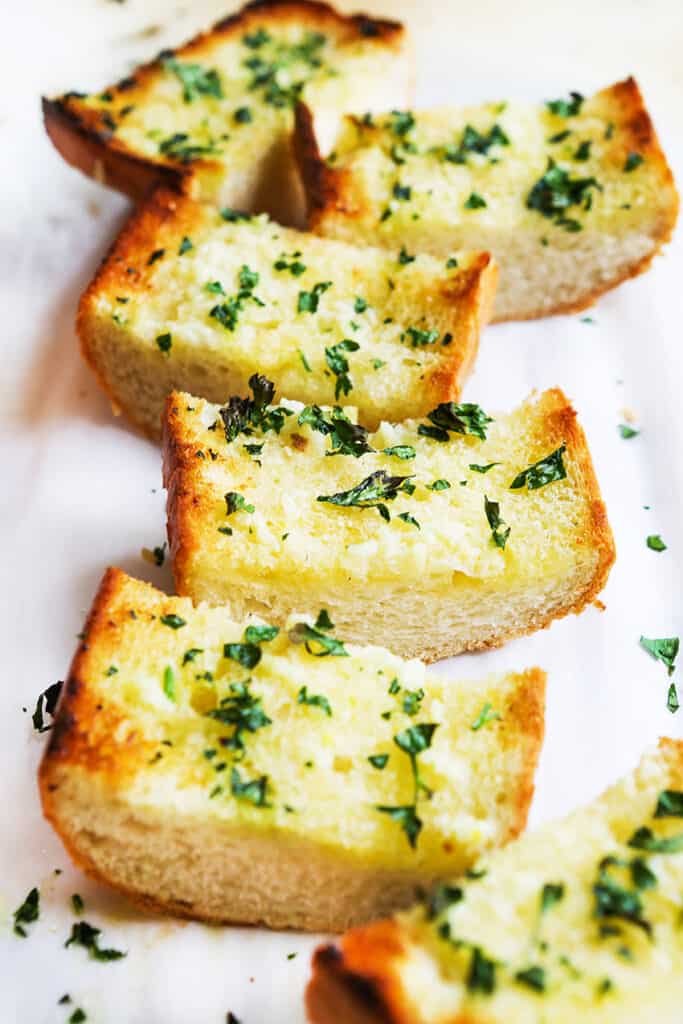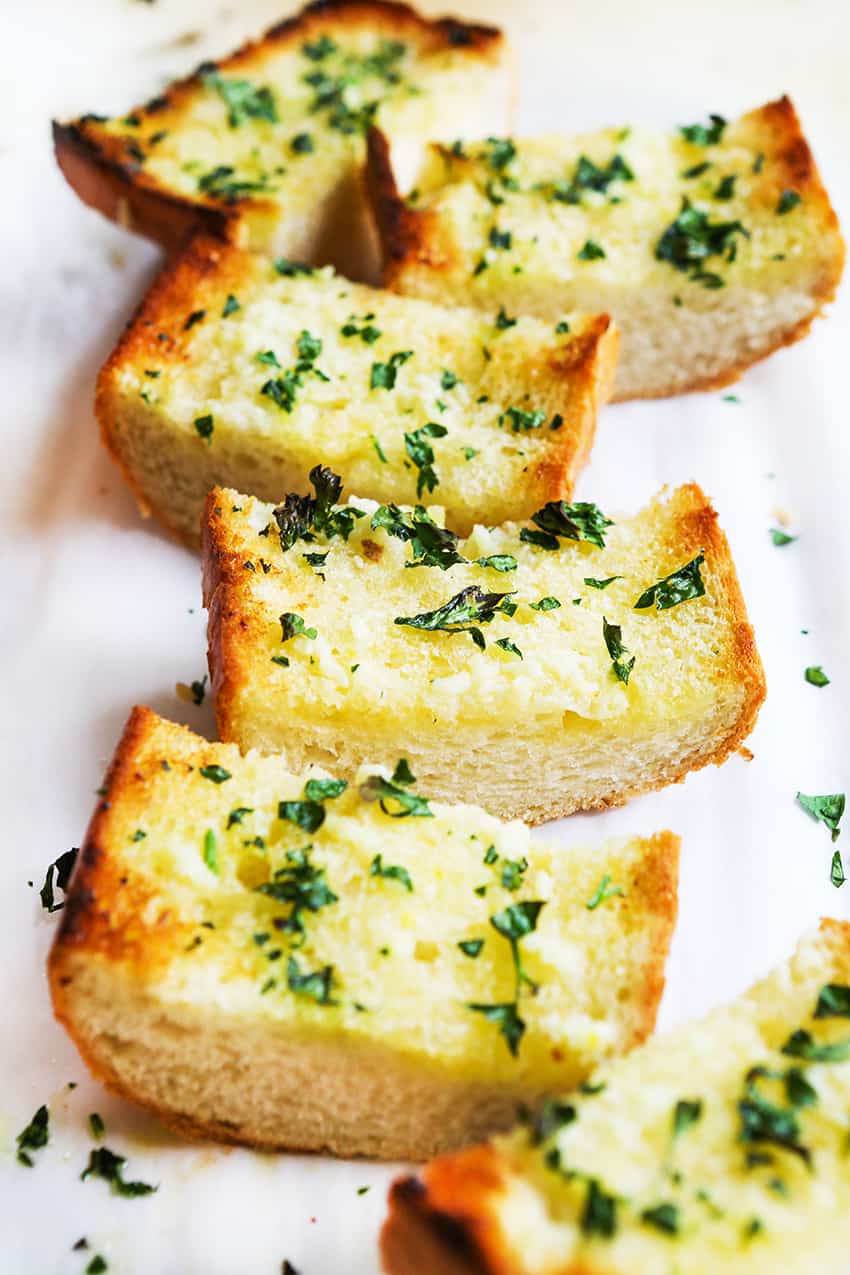 Garlic bread French bread style is a great side dish for any meal, requiring only a few simple ingredients and 10 minutes of your time!
Broccoli Salad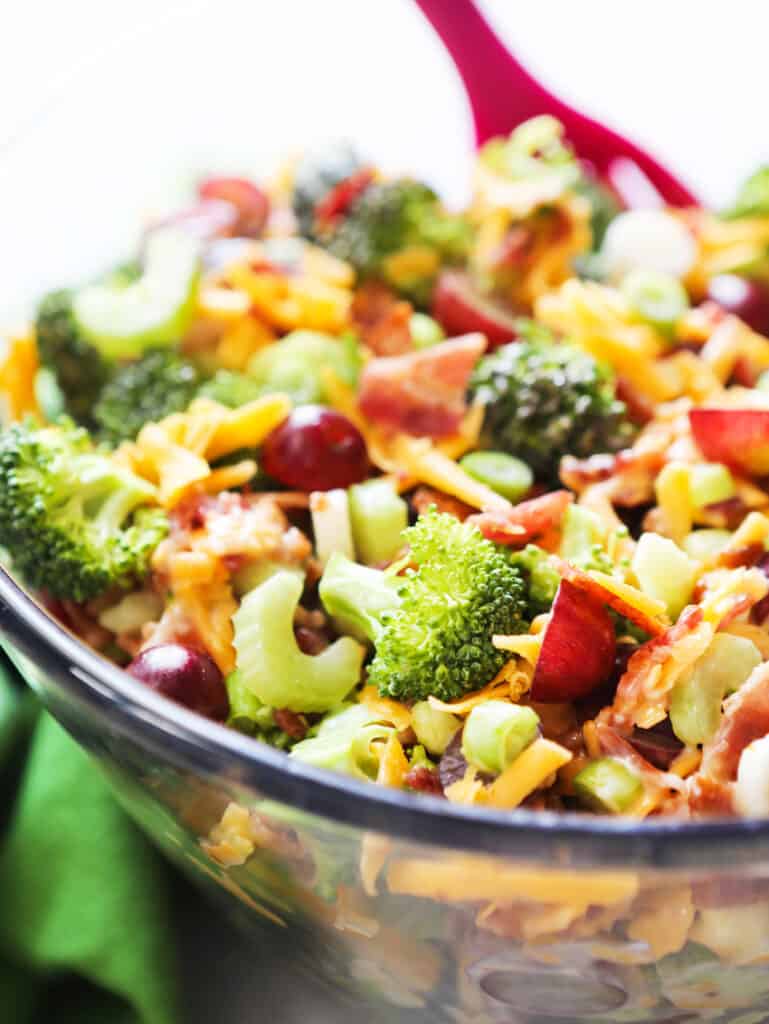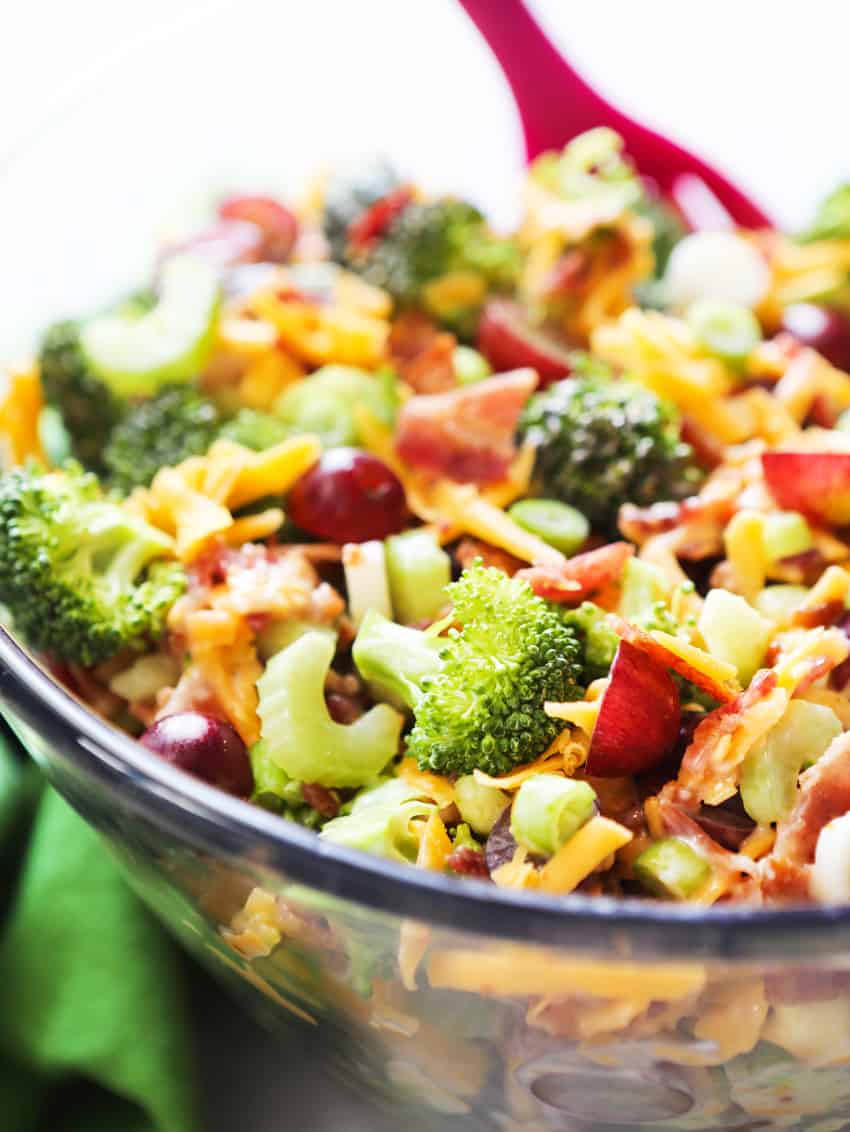 This Broccoli Salad is packed with crunchy, delicious ingredients and is not loaded heavily with mayo. It is the perfect dish to bring to your next potluck or gathering!
Homemade Egg Noodles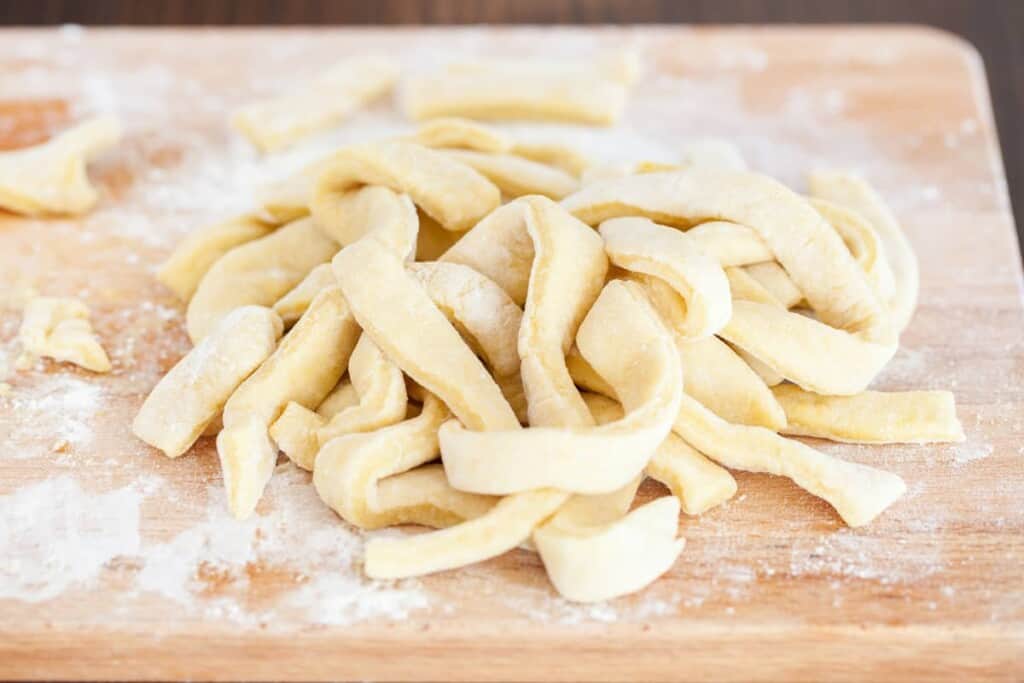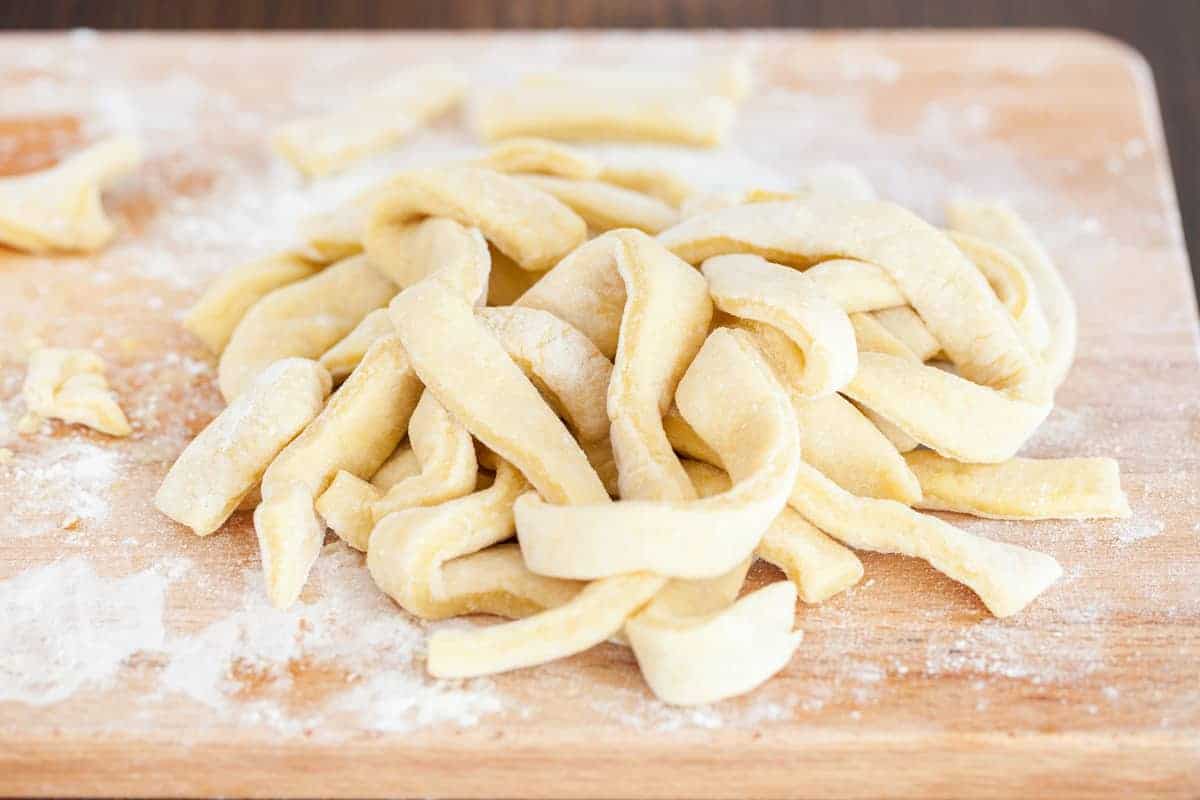 You are only a few ingredients away from fresh, made-from-scratch egg noodles (from I Am Homesteader)! Made completely with your hands, rolling pin, and a knife, a fresh batch of homemade egg noodles can be prepared under 15 minutes and without any special equipment.
Creamy Vegetable Dip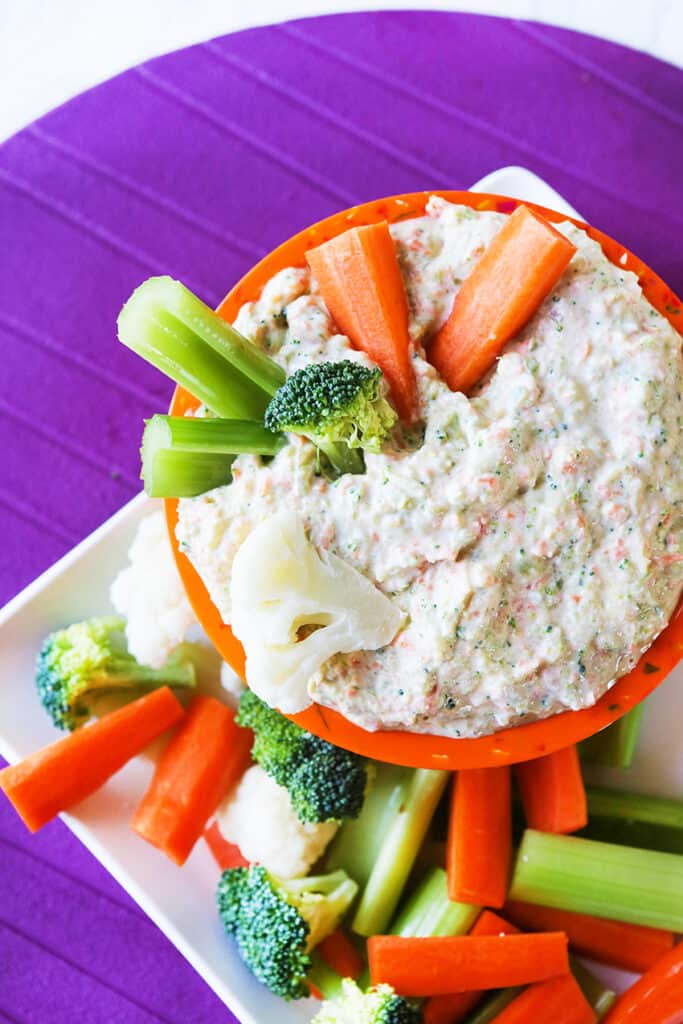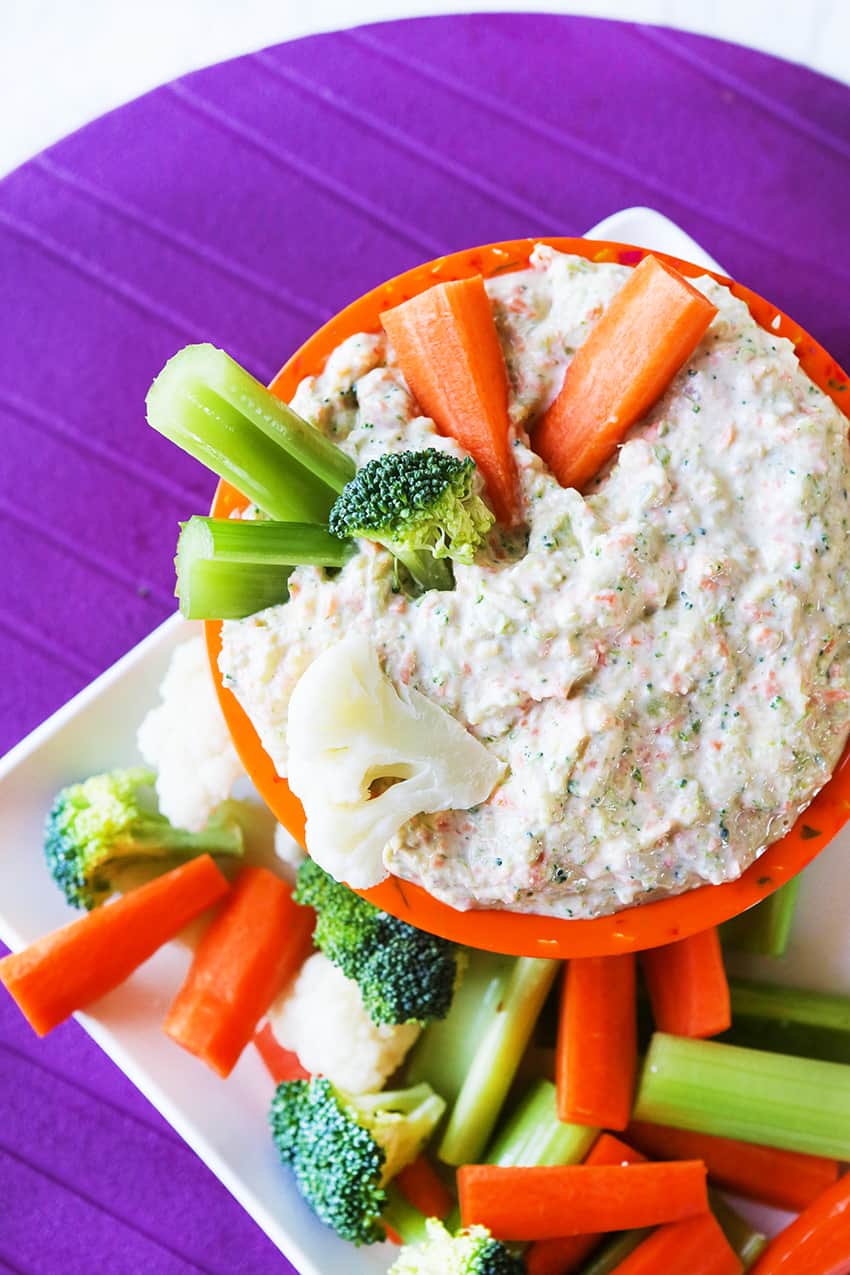 This Creamy Vegetable Dip is a great appetizer to share at any gathering, big or small. Pack as many veggies as you can inside and serve with crackers or more vegetables!
Stoemp: Creamy, Vegetable-Stuffed Mashed Potatoes from Belgium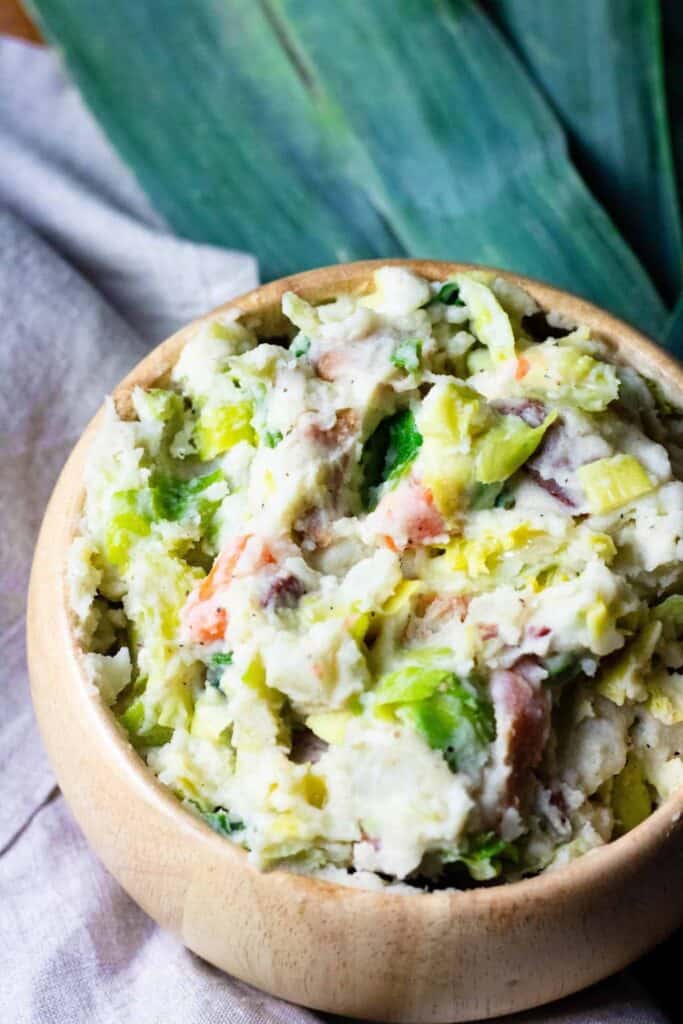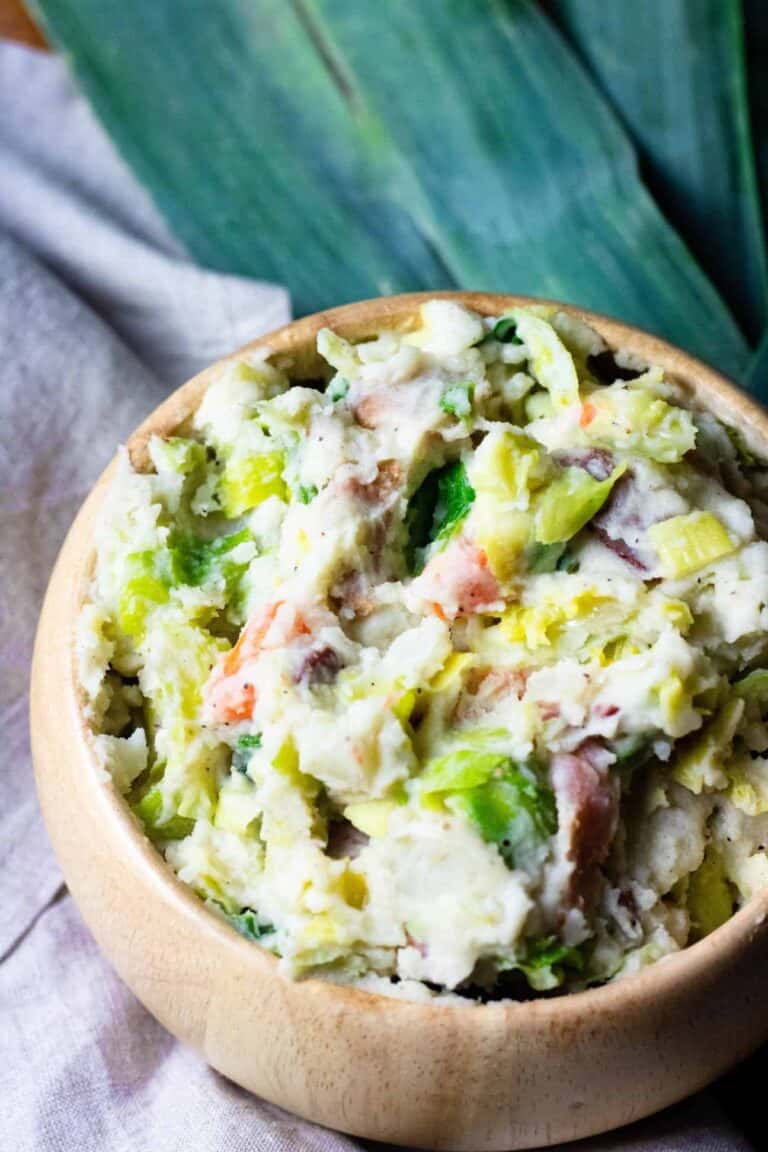 Stoemp (from The Foreign Fork) from Belgium is the epitome of the perfect comfort food. Mashed potatoes are mixed with cream and sauteed vegetables and eaten to experience the taste of a homey and comforting dish.
Chopped Salad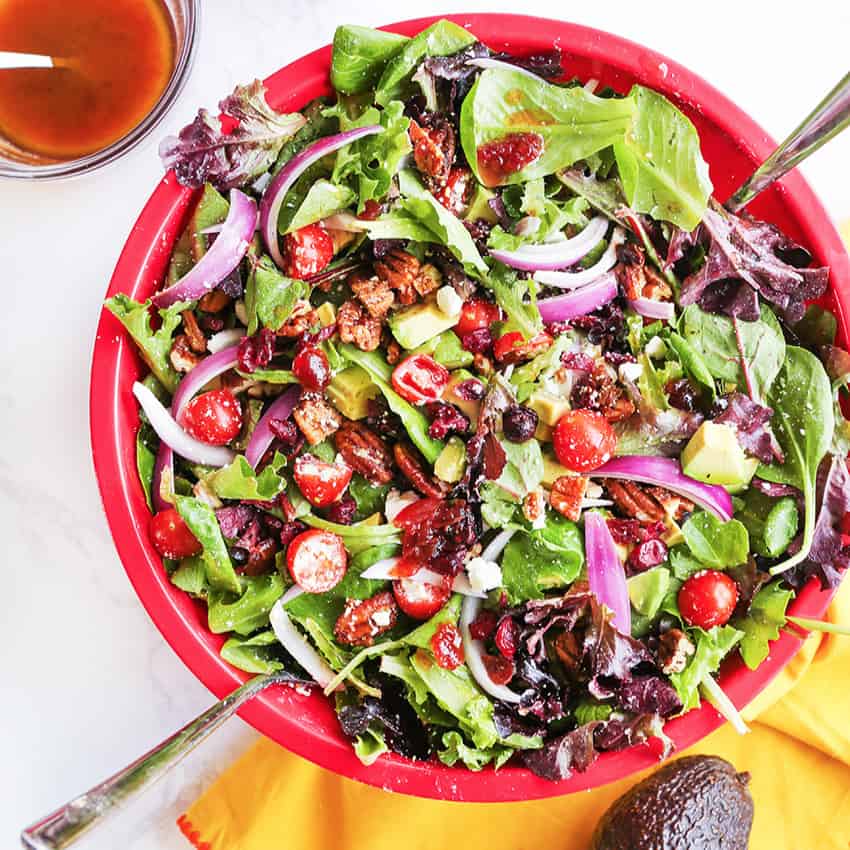 This is the best chopped salad recipe you'll find. It makes a large batch to enjoy for lunch throughout the week or serve at your next gathering.
Super Crunchy Roasted Potatoes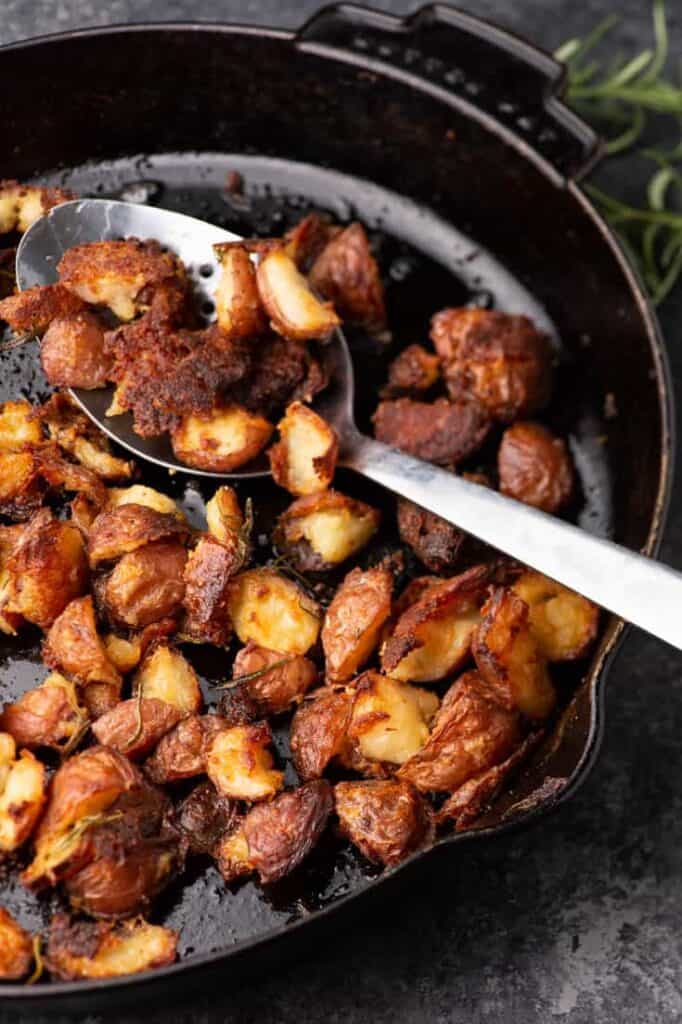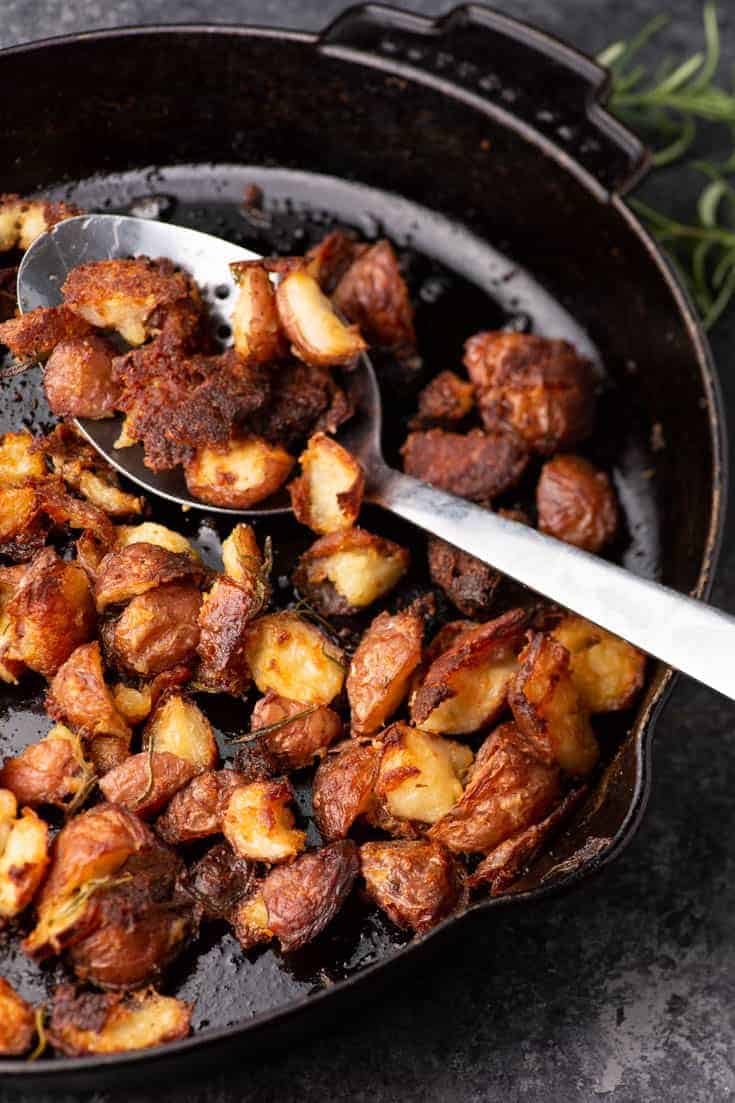 If you love your potatoes crispy, then you're going to love Super-Crunchy Roasted Potatoes (from Butter and Baggage). With just one added step you get the crispiest roasted potatoes.
Sauteed Asparagus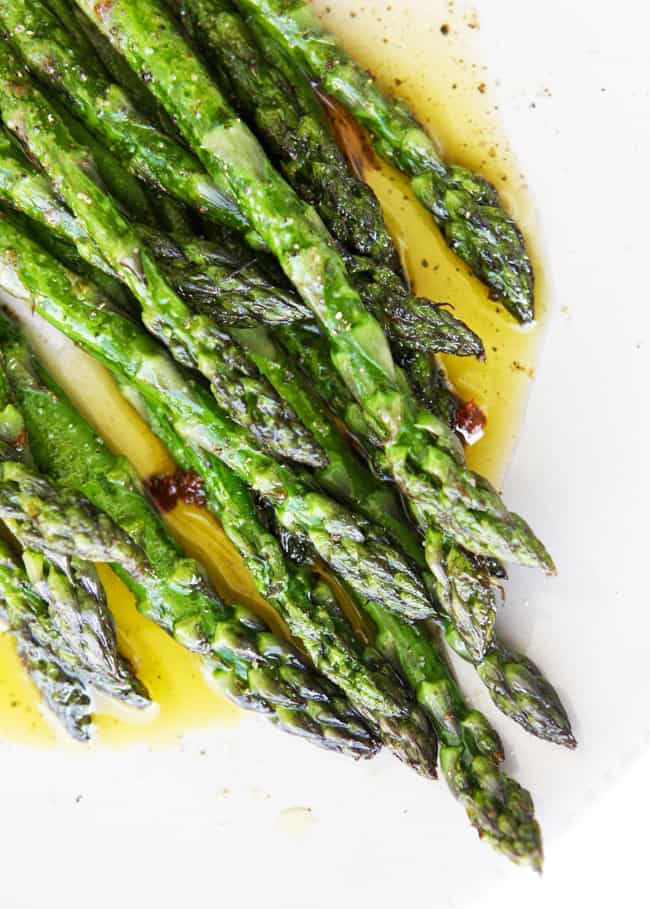 Asparagus is a super simple veggie to prepare. Make this delicious side dish to go along with any meal. You'll enjoy every bite of this sauteed asparagus!
Instant Pot Sweet Potatoes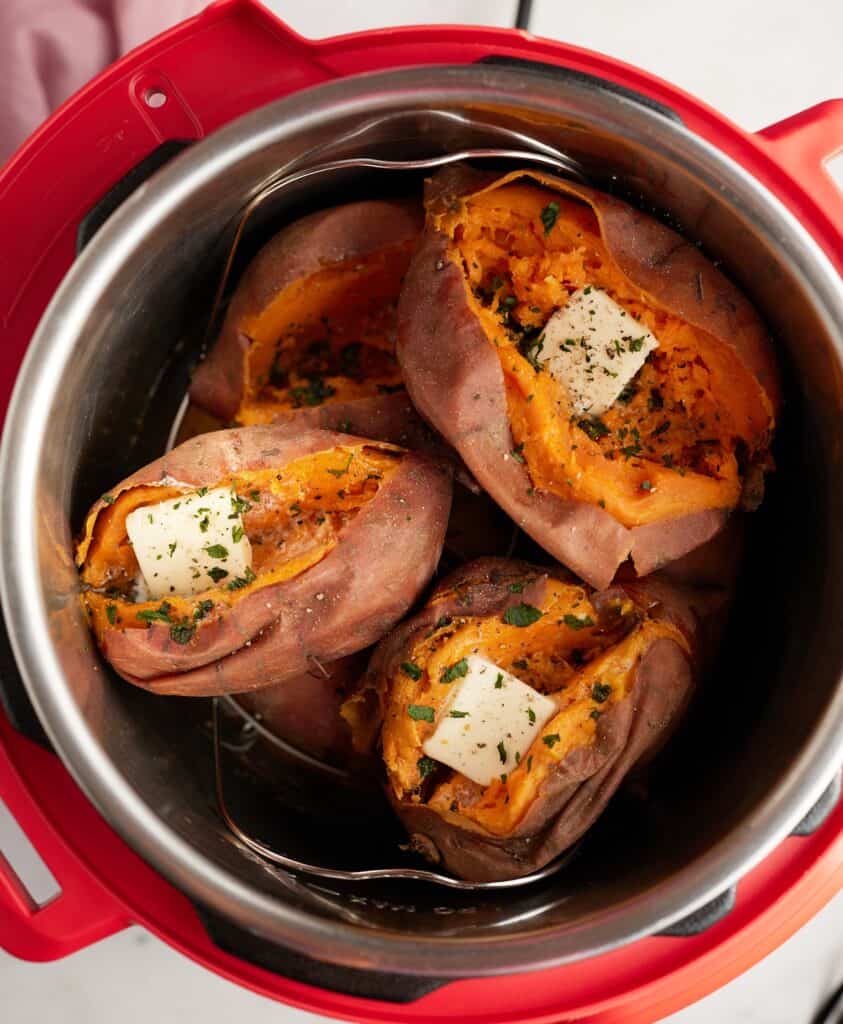 Cook whole sweet potatoes (from My Forking Life) quickly and easily in your Instant Pot. Perfectly tender, cooking these in your pressure cooker is a great option when you need to get dinner on the table in a hurry, and it's a bonus that you don't have to turn your oven on!
Instant Pot Rice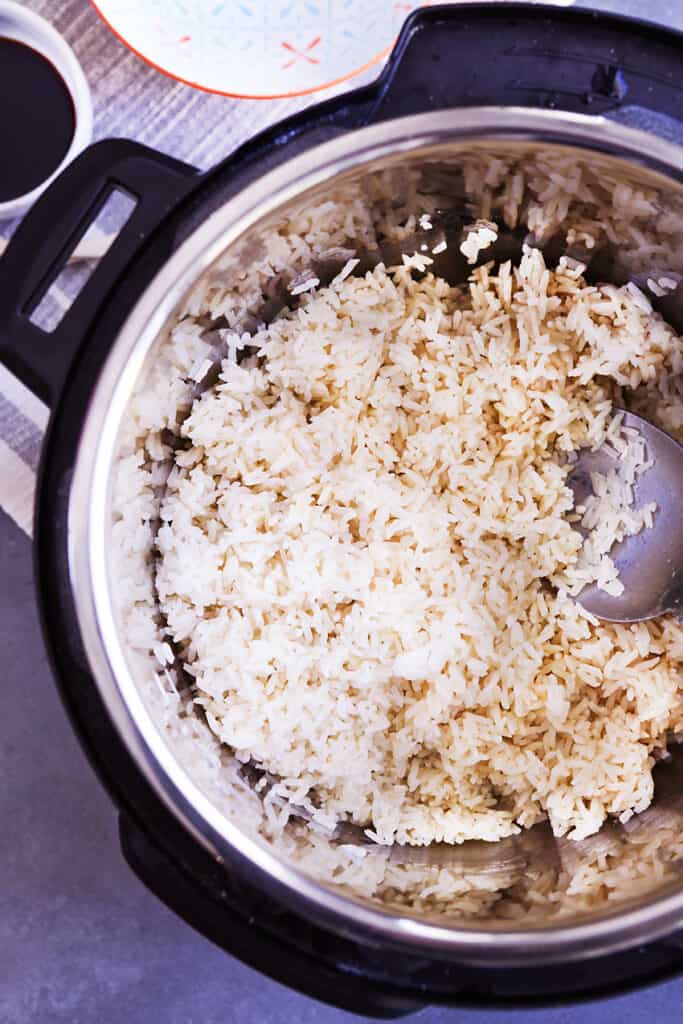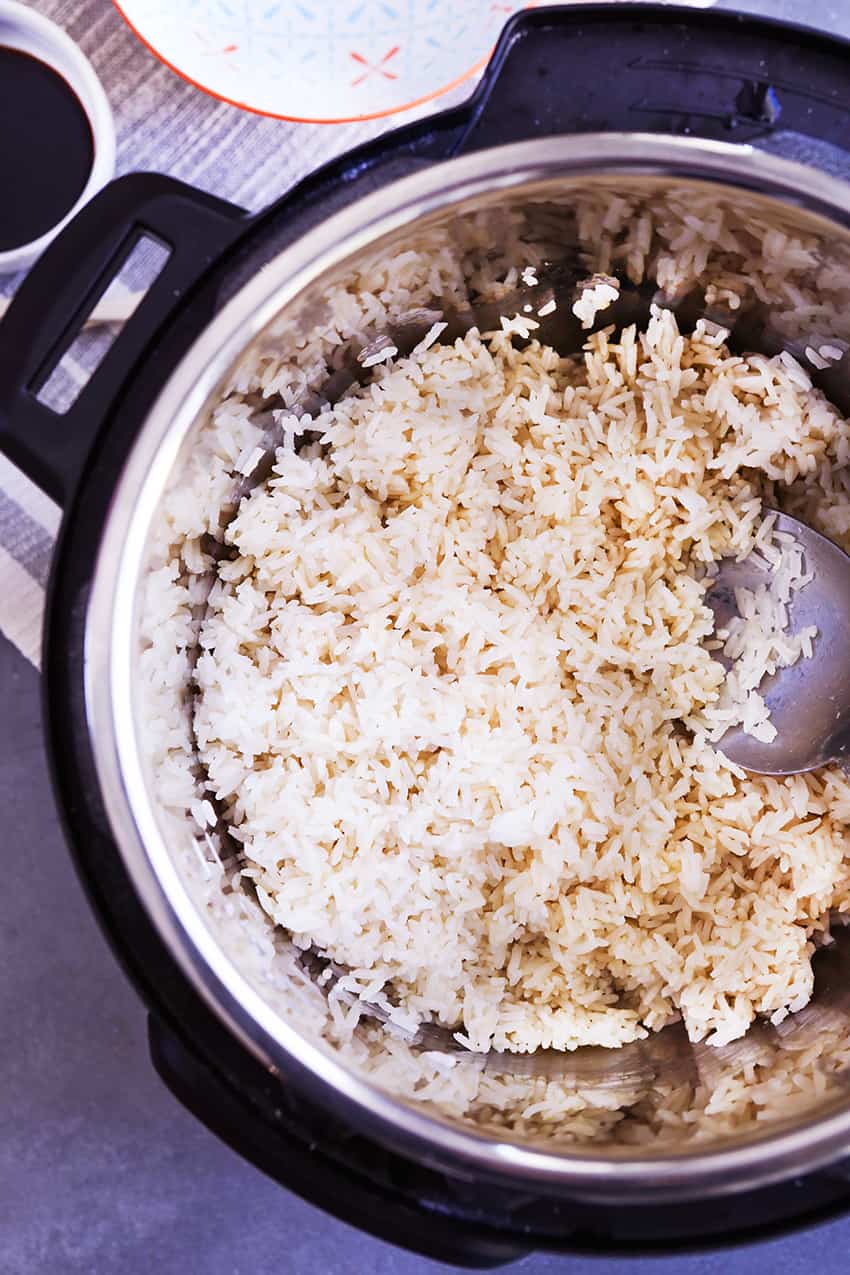 How to cook rice in the instant pot PERFECTLY every single time is easy to do. This no-fail recipe works with white or brown rice and eliminates the possibility of mushy or under-cooked rice. Instant Pot Rice is the perfect side dish for any meal!