Chicken Parmesan is the ultimate meal for your dinner table! But what do you serve alongside this classic Italian dish? Read on for 17 delicious ideas about what to serve with chicken parmesan.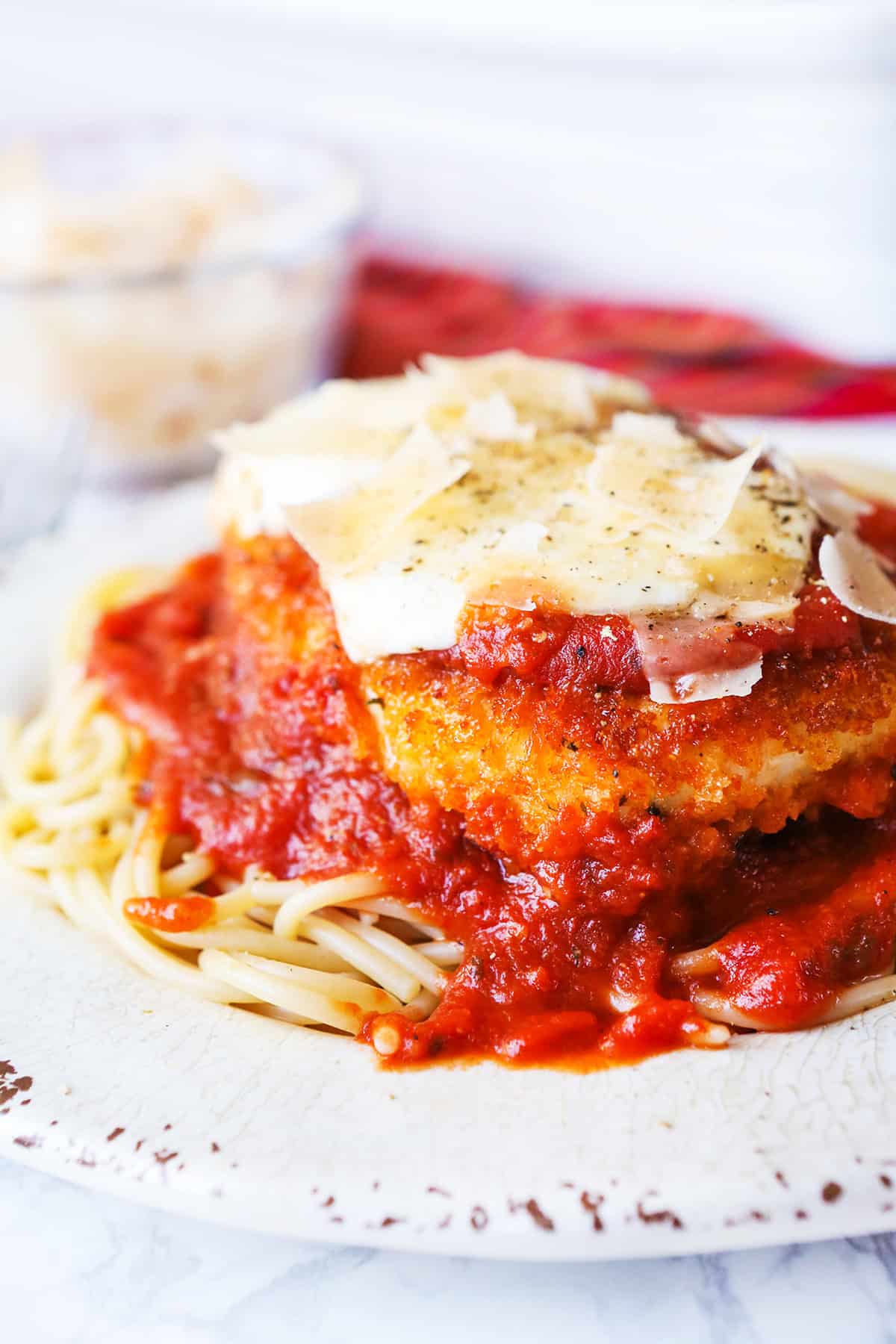 For the longest time I shied away from making Italian food out of pure intimidation. I felt too inadequate to give them a try because I thought that certainly my recipes would flop.
Then I started implementing my easy approach (as I do with all of my recipes) and found that recipes like chicken parmesan weren't as intimidating as I'd thought!
This Italian main dish has become one of my favorites to make because it is such an easy recipe to throw together and it is packed with yummy flavor.
If you've found yourself with a pan of chicken parm to serve to loved ones but don't have a clue about what to serve with it, read on for a bunch of delicious ideas!
FAQ About Chicken Parmesan
Can chicken parmesan be frozen?
This Italian chicken dish can definitely be frozen! After it has cooled, transfer it to an aluminum pan wrapped in foil or an air-tight container. Freeze for up to 4 months.
Is chicken parmesan gluten free?
To make chicken parmesan a gluten-free recipe, replace all-purpose flour with a GF flour such as almond flour and use GF breadcrumbs. Serve over GF pasta.
Why bake chicken parmesan?
When the chicken is cooked on the stove top, it may not fully cook through to the center. It must be baked to ensure chicken is fully cooked and so the cheese has an opportunity to melt.
Easy Chicken Parmesan Recipe
This chicken parm recipe is easy to prepare and has the best flavors! The finished product tastes like you've been slaving over it all day long!
Recipe Notes
Use a meat mallet or heavy wooden spoon to pound chicken breasts to 1/2-inch thickness for the most tender chicken.
For the coating, use Panko bread crumbs, Italian breadcrumbs or finely crushed crackers.
For a gluten-free meal, replace flour with almond flour, and breadcrumbs with a GF variety.
Cook chicken breasts in the oil one at a time for best results. Cover the pan as each side cooks to avoid oil splattering and if 1.5 minutes/side produces too crispy of a coating, decrease time in 15-second intervals.
Chopped fresh basil, a squirt of lemon juice, shaved or grated Parmesan cheese, bacon bits and/or a sprinkling of black pepper are all delicious toppings.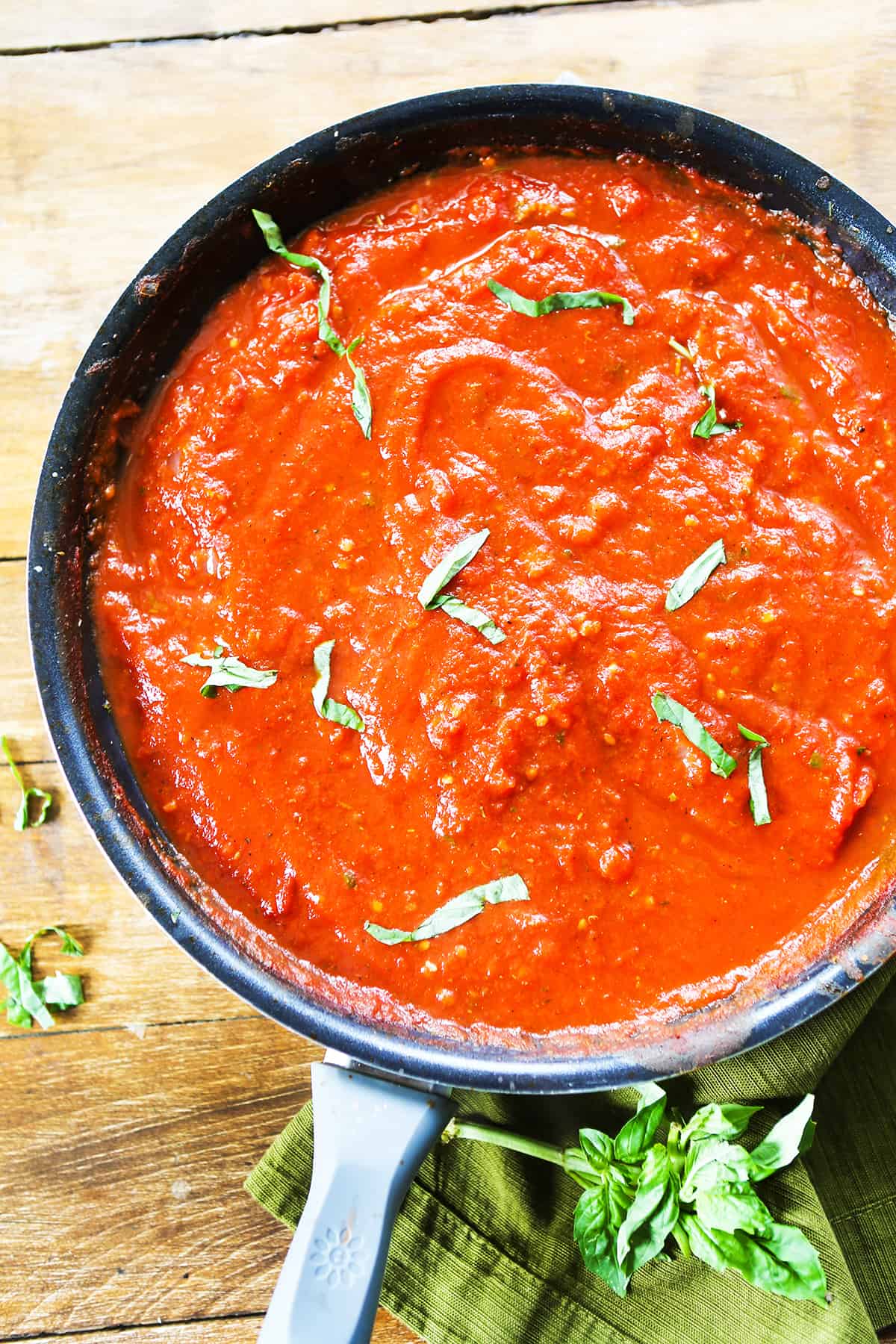 How To Make Homemade Marinara Sauce
Marinara sauce is a key ingredient in this dinner recipe. Make it shine even brighter by making a quick homemade batch of marinara! It is super easy and off-the-charts yummy.
Marinara Substitutes
If you are looking for a substitute for marinara sauce, you have options! Click over for some excellent alternatives!
Marinara vs Spaghetti Sauce
So close in texture, color and flavor that you could call them cousins! Let's get to the heart of the issue and explore marinara vs spaghetti sauce. What are the differences?!
What To Serve With Chicken Parmesan
The great thing about this hearty meal is that just about any type of side dish tastes great alongside it. There is a huge range of options for pairing it with other types of food.
Pasta – This dish shines when it is served over a steaming pile of spaghetti noodles. Don't have spaghetti on hand? No worries! Any variety of cooked pasta will work!
Rice – Whether you don't have pasta on hand or you are staying away from gluten, cooked white or brown rice acts as a yummy base layer.
Potatoes – Mashed potatoes, baked potatoes or roasted sweet potatoes add an extra dose of comfort to this already comforting recipe.
Vegetables – Just about any veggie on the planet accompanies this meal perfectly. Fresh broccoli florets, Brussels sprouts, mushrooms, zucchini, collard greens, carrots, cauliflower and green beans are great choices. Replace pasta with zucchini noodles for the perfect low-carb option.
Bread – Dinner rolls, garlic bread or any type of bread are the perfect match for this delectable dish.
Salad – A fresh, leafy green salad drizzled with a creamy dressing such as a classic Caesar salad tastes great after a bite of chicken and red sauce. Or go leafless and try a cucumber salad or broccoli salad instead!
Soup – Any variety of soup accompanies this meal perfectly.
Bruschetta with Balsamic Glaze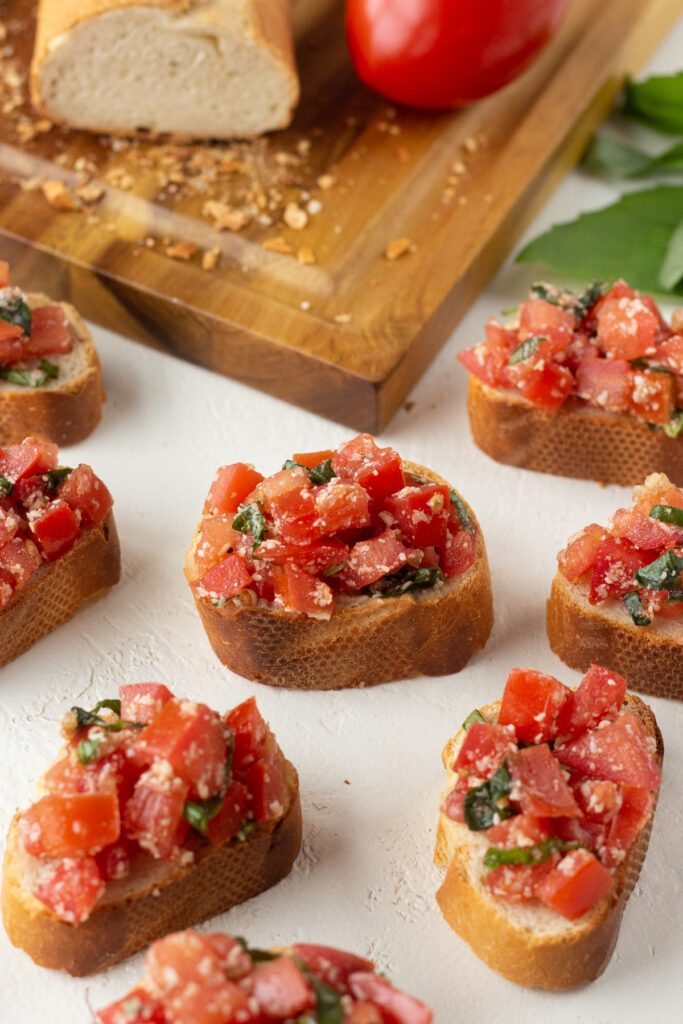 Tomatoes marinated in basil, oil, balsamic vinegar and garlic is the perfect topping for this bruschetta with balsamic glaze recipe. It is the perfect little finger food for any gathering. Get ready to knock people's socks off!
Kale Salad with Chickpeas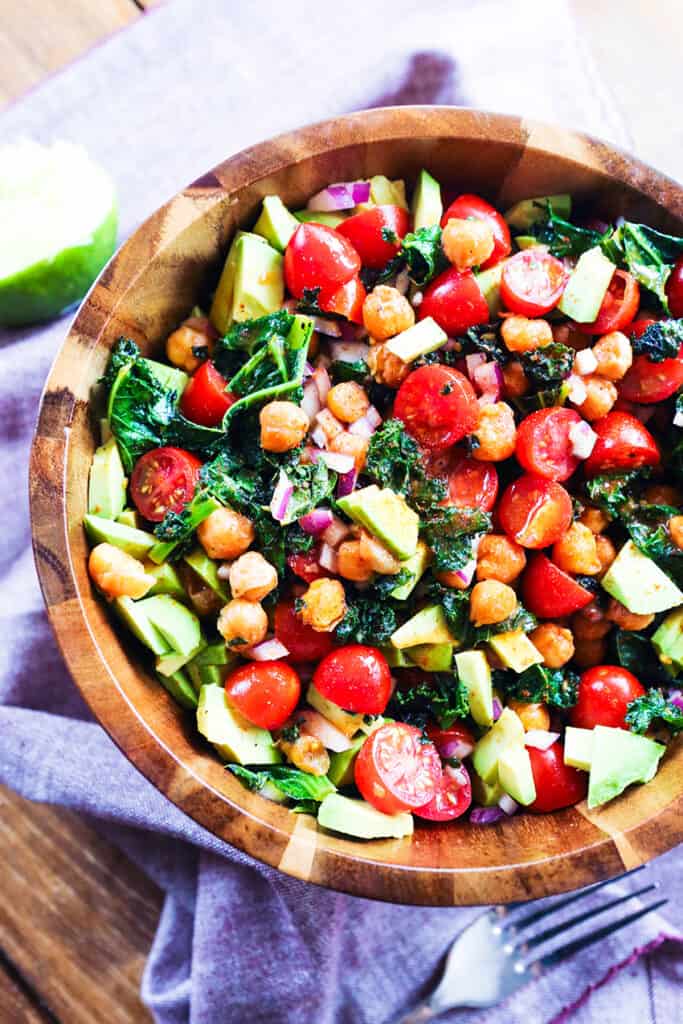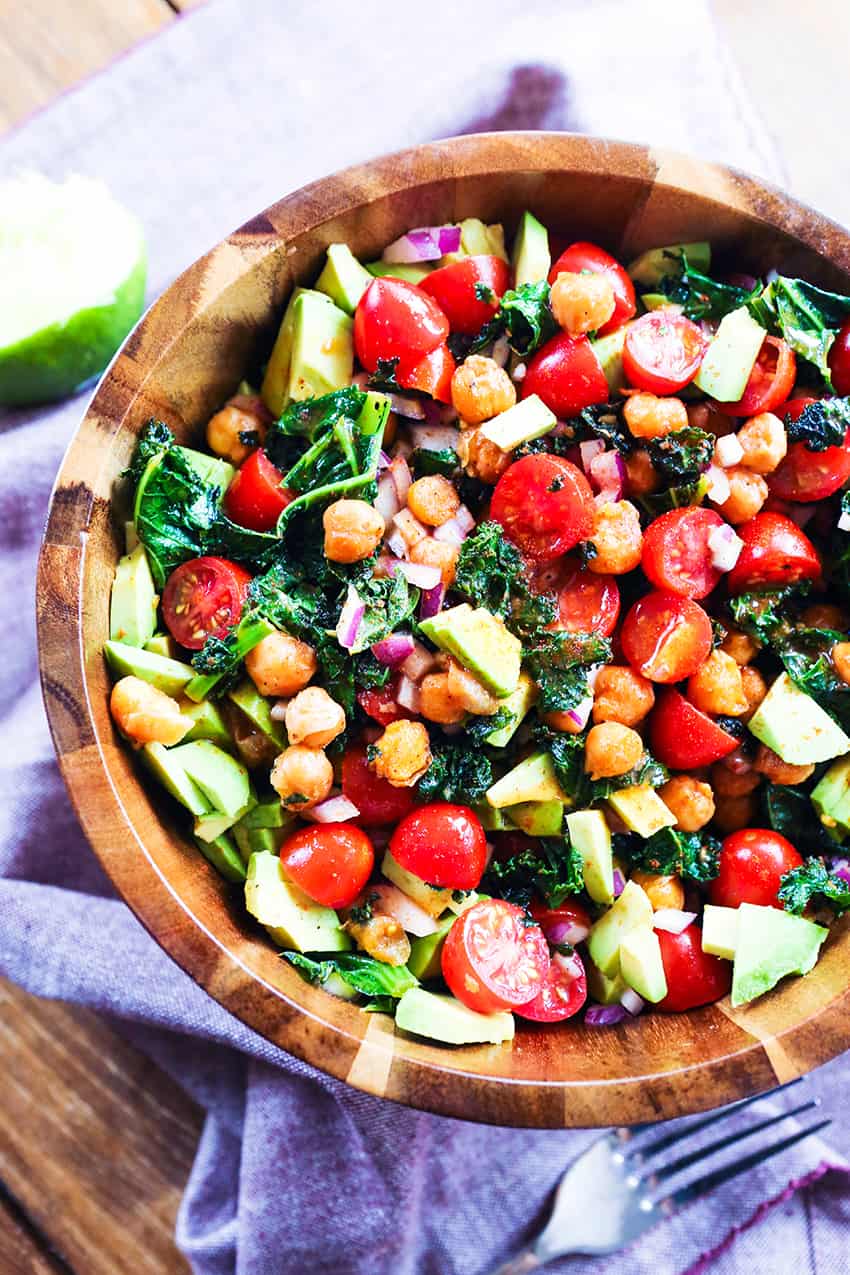 This kale salad with chickpeas recipe is a great lunch, easy side dish or appetizer for your next gathering. The different textures and bold flavors make this salad a keeper!
Caprese Pasta Salad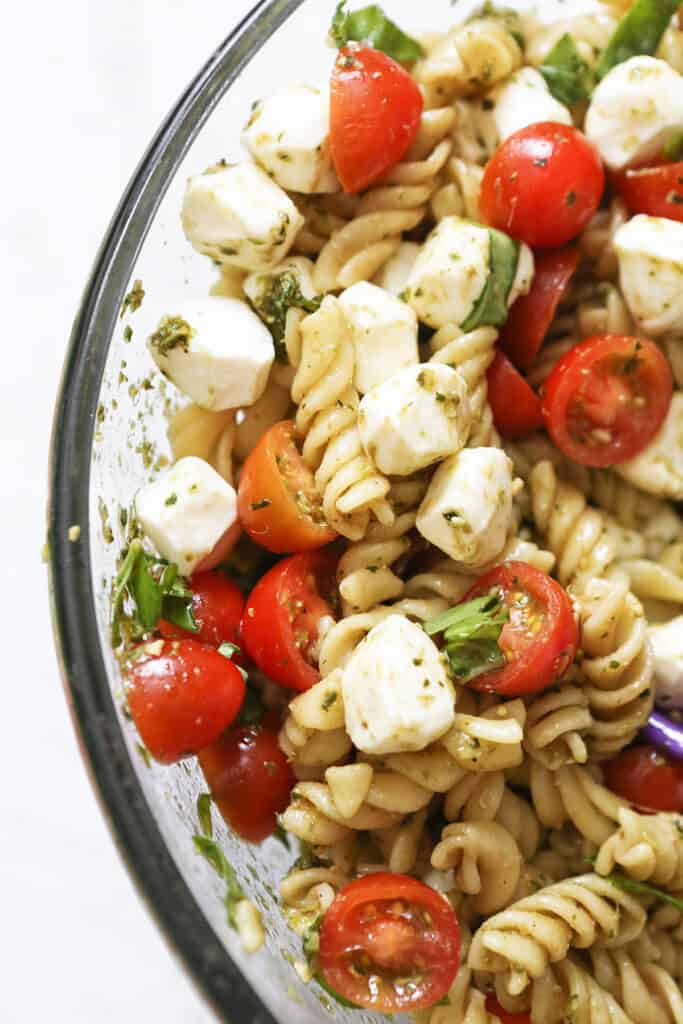 This Caprese Pasta Salad recipe is a huge hit at parties! Serve this delicious dish as a side, salad or appetizer. The combination of Mozzarella cheese, tomatoes and basil is absolute perfection!
Vegetable Rice Salad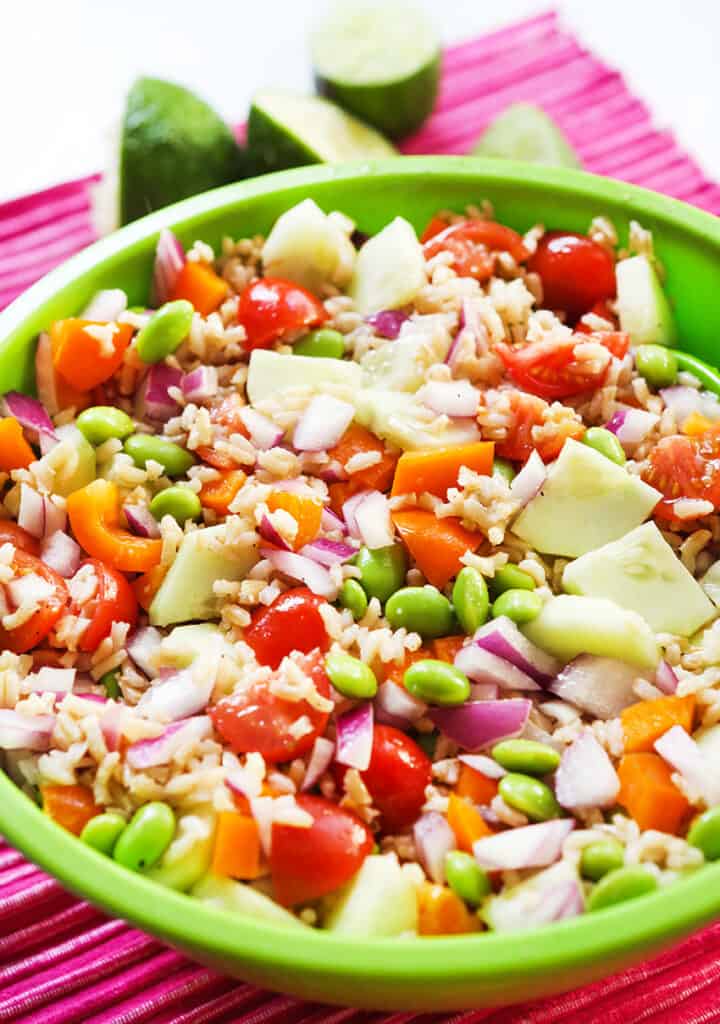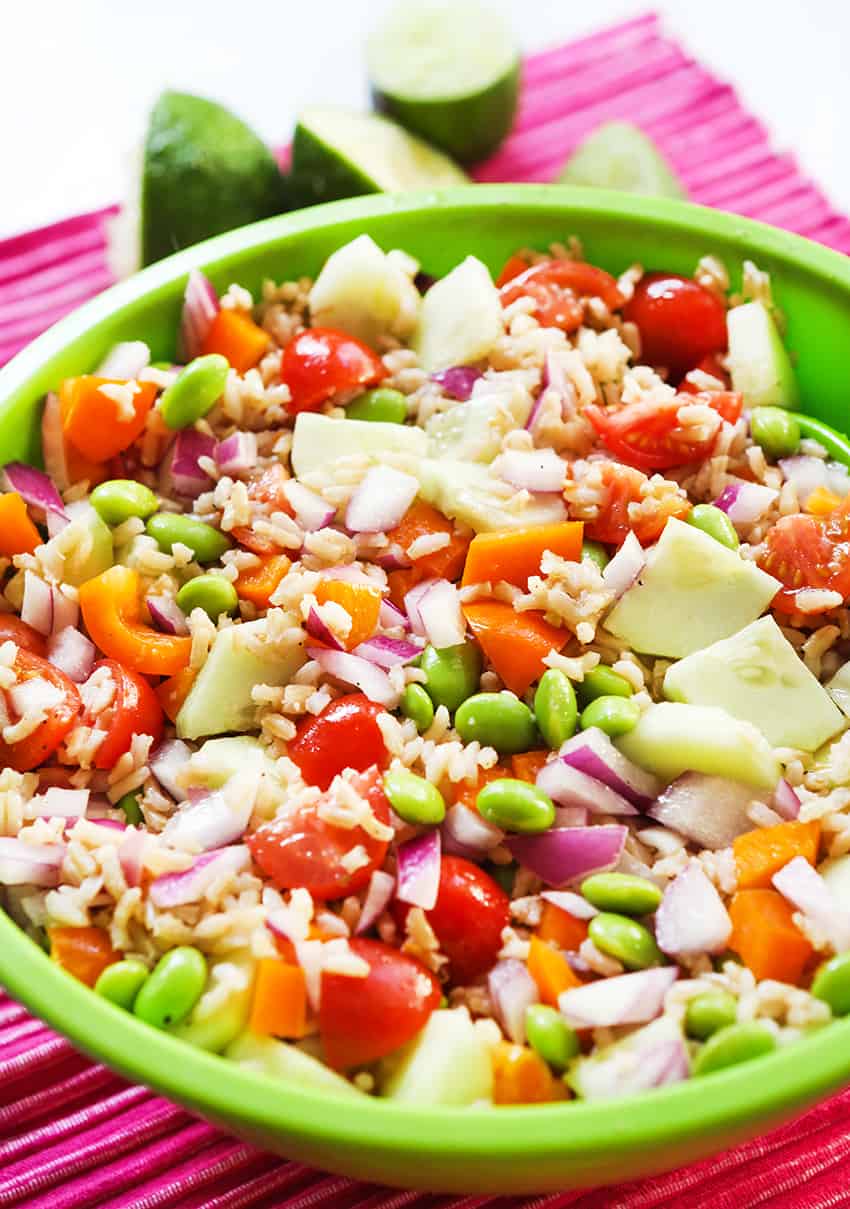 Vegetable Rice Salad is a great option for small or large gatherings. Great as lunch, a party food or a side to dinner. It is colorful and packed with delicious flavor and textures and perfect for any occasion, summer or otherwise!
Crab Stuffed Mushrooms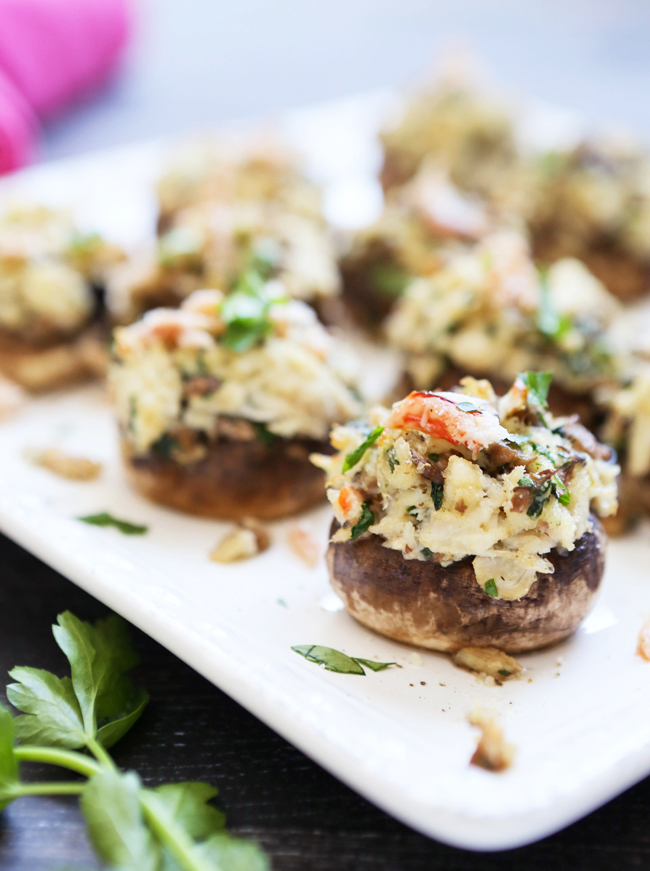 The cheese wedged into the centers of these crab stuffed mushrooms will send you to your knees. Great finger food for parties and also a delicious side dish option.
Deviled Eggs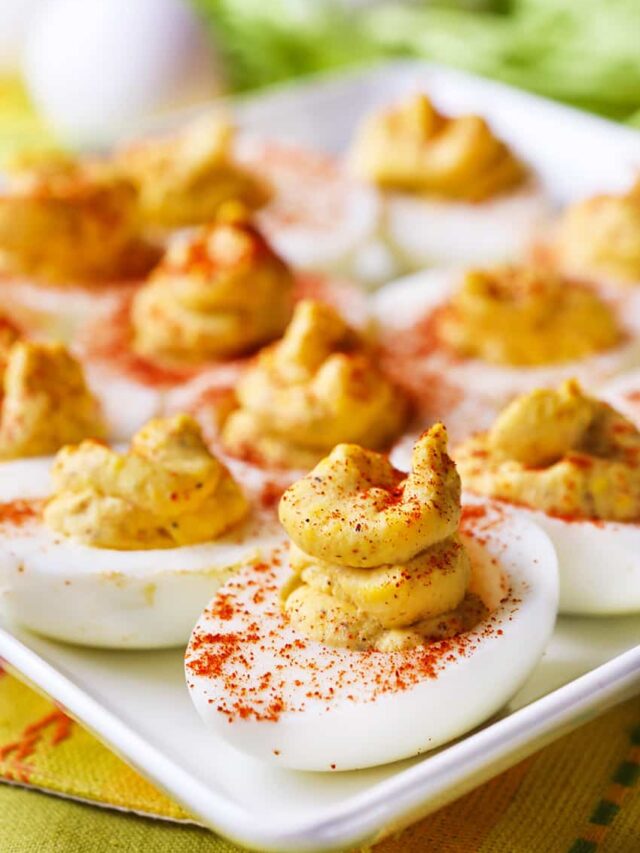 This recipe details the best deviled eggs ever. An American classic known for their appearances at summer potlucks and Easter dinner!
Feta Cheese Dip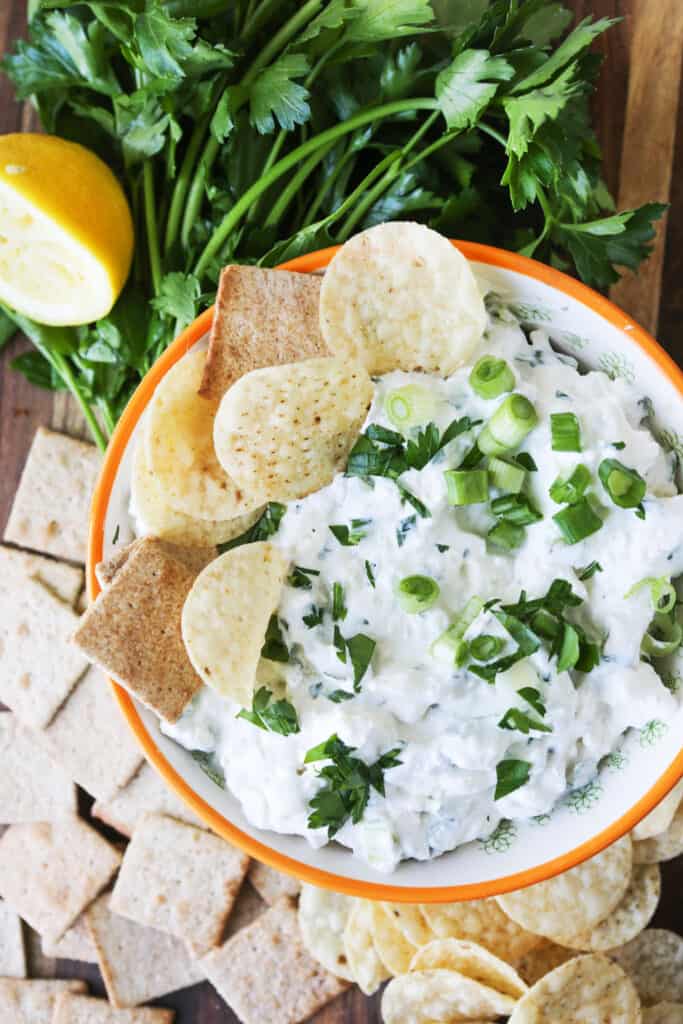 Feta Cheese Dip takes 10 minutes to make and it is ridiculously delicious. I'd tell you it's a great party food, but it never makes it to the party.
Chopped Salad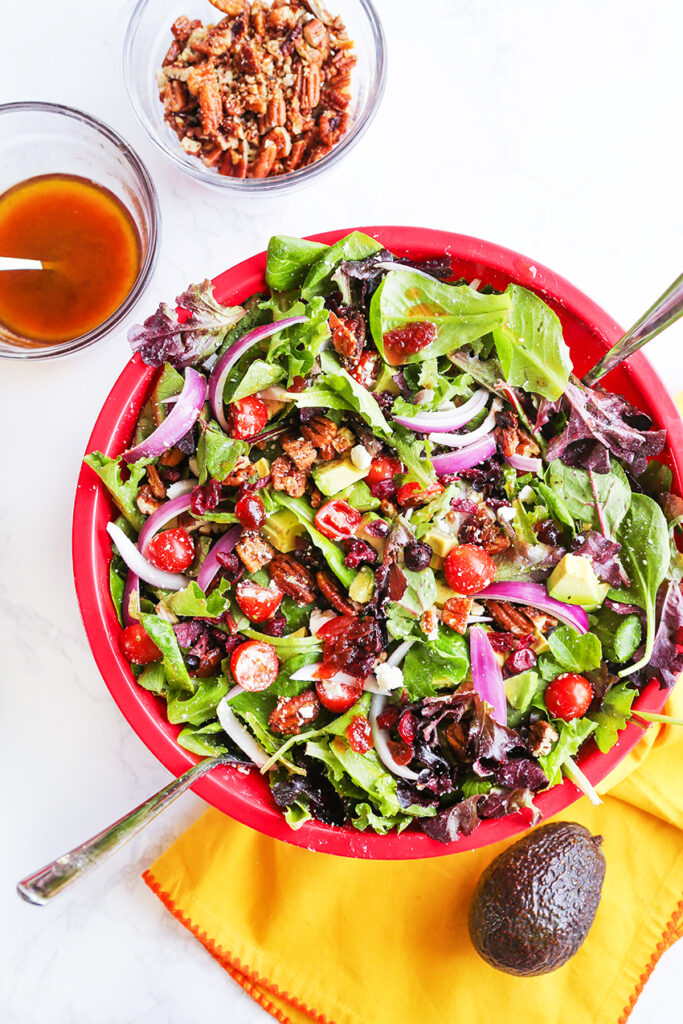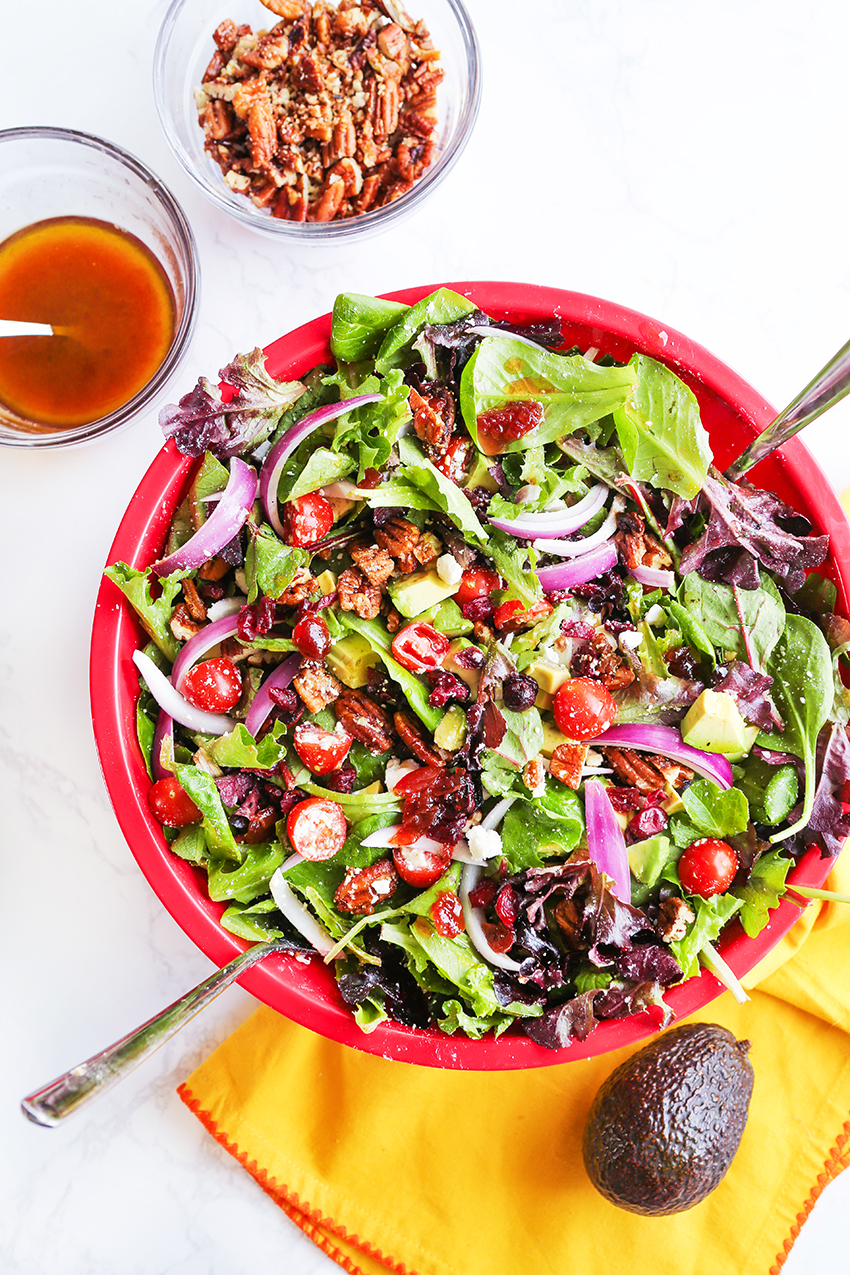 This is the best chopped salad recipe you'll find. It makes a large batch to enjoy for lunch throughout the week or serve at your next gathering.
Baked Brie with Pesto, Artichokes and Sun-Dried Tomatoes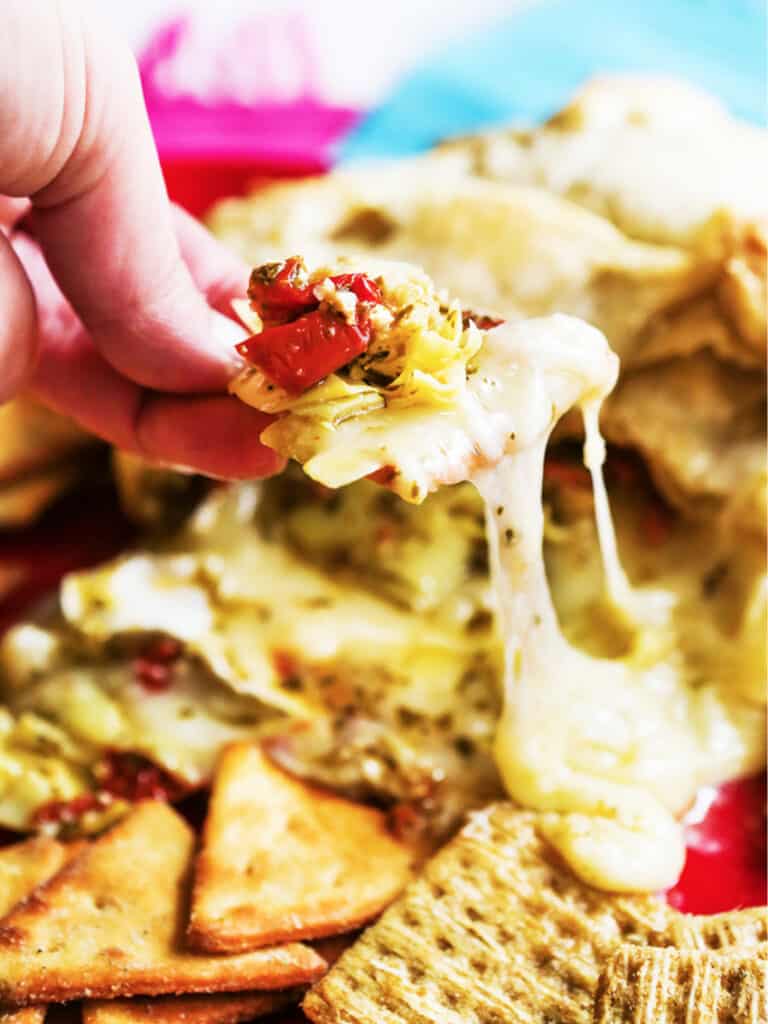 Savory Baked Brie is an ooey-gooey, savory and irresistible dip topped with a pesto-artichoke-tomato mixture and enclosed in a puff pastry sheet.
Honey Roasted Vegetables with Cranberries and Pecans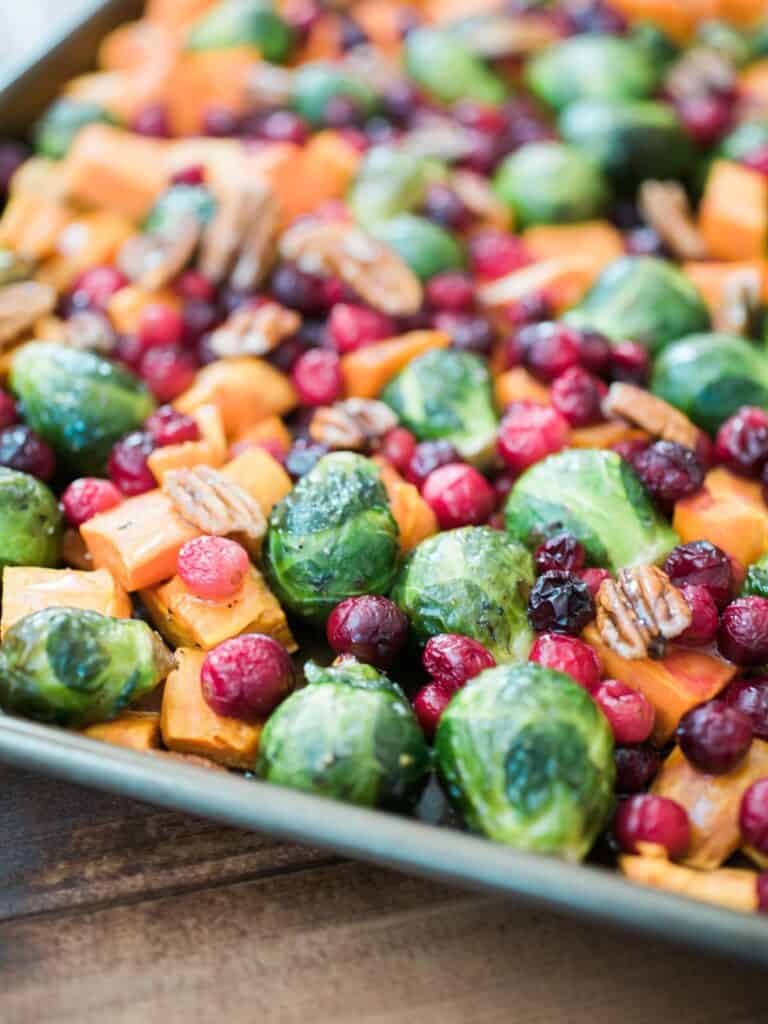 Honey Oven Roasted Veggies (from Sweetly Splendid) are a sweet twist to your standard roasted vegetables. The cranberries and honey offset the bitterness of Brussels sprouts for the perfect side dish.
Baked Parmesan Zucchini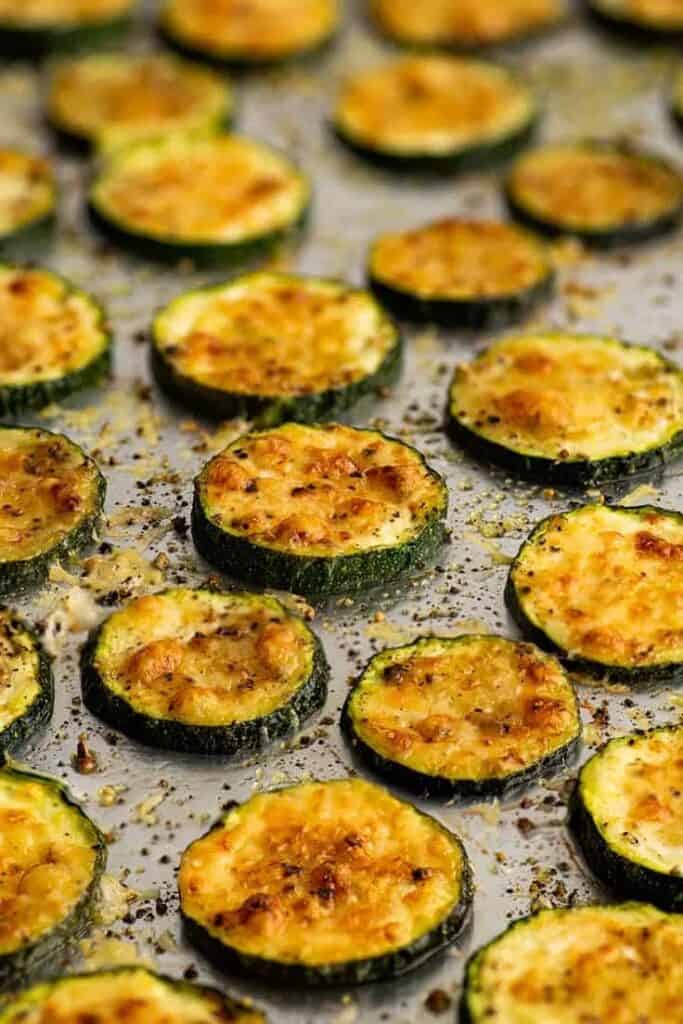 This cheesy Baked Parmesan Zucchini (from Baking Mischief) is quick, easy, and an incredibly satisfying veggie side.
Garlic Butter Mushrooms and Cauliflower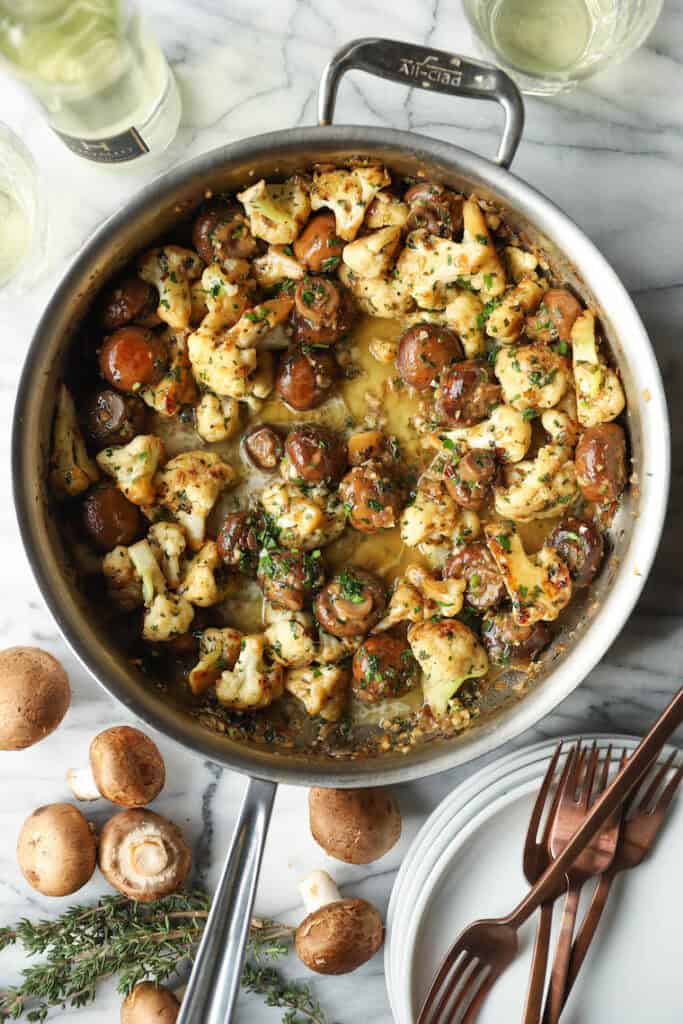 The perfect side dish! Chockfull of veggies, easy to make + loaded with garlicky-buttery goodness! (from Damn Delicious).
Marinated Tomatoes
Ripe, juicy tomatoes soak up olive oil, red wine vinegar, onion, garlic, & fresh herbs in Marinated Tomatoes (from Five Heart Home), a zesty summer salad or a versatile side dish!
Green Bean Tomato Salad with Cilantro Lime Mustard Dressing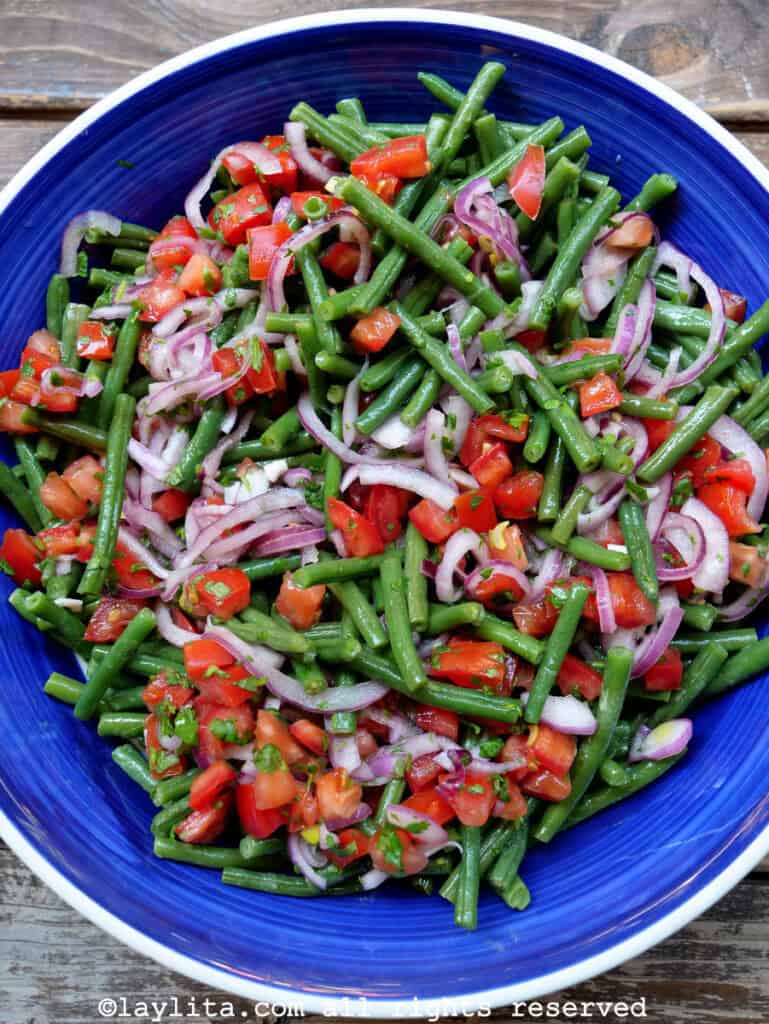 This green bean tomato salad with lime marinated onions (from Laylita) (cebollas encurtidas) and a cilantro lime mustard dressing reminds me both of Ecuador and France. Adding what we call a curtido (vegetables like onion and tomato pickled or marinated with lime juice) to a salad is very common in Ecuador.
Pina Colada Fruit Salad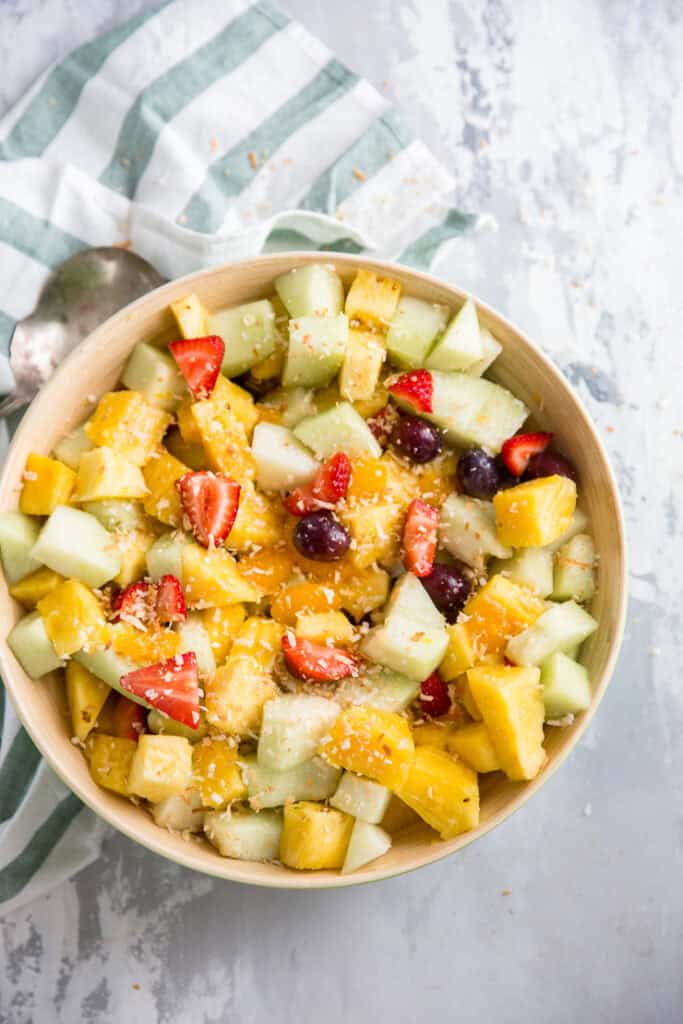 Fruit salad is a great way to enjoy summer's finest. Fresh, ripe fruits are tossed in a simple Pina colada inspired sauce and tossed with coconut. This tropical fruit salad recipe (from Lemons for Lulu) makes a great side dish and an excellent dessert! It is the best summer fruit salad!
Mango Blueberry Asiago Kale Salad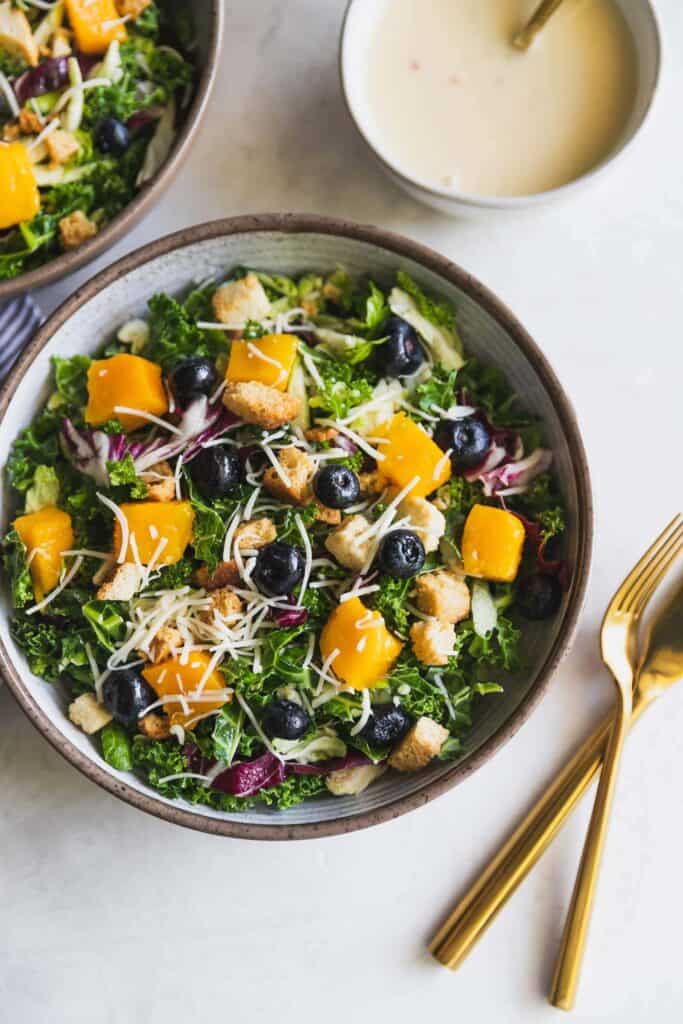 A Summer kale salad (from A Sassy Spoon) made with mango, blueberries, shaved Brussels sprouts, radicchio, Asiago cheese, Parmesan garlic croutons and tangy lemon vinaigrette. Just 3 ingredients!
Brown Sugar Grilled Pineapple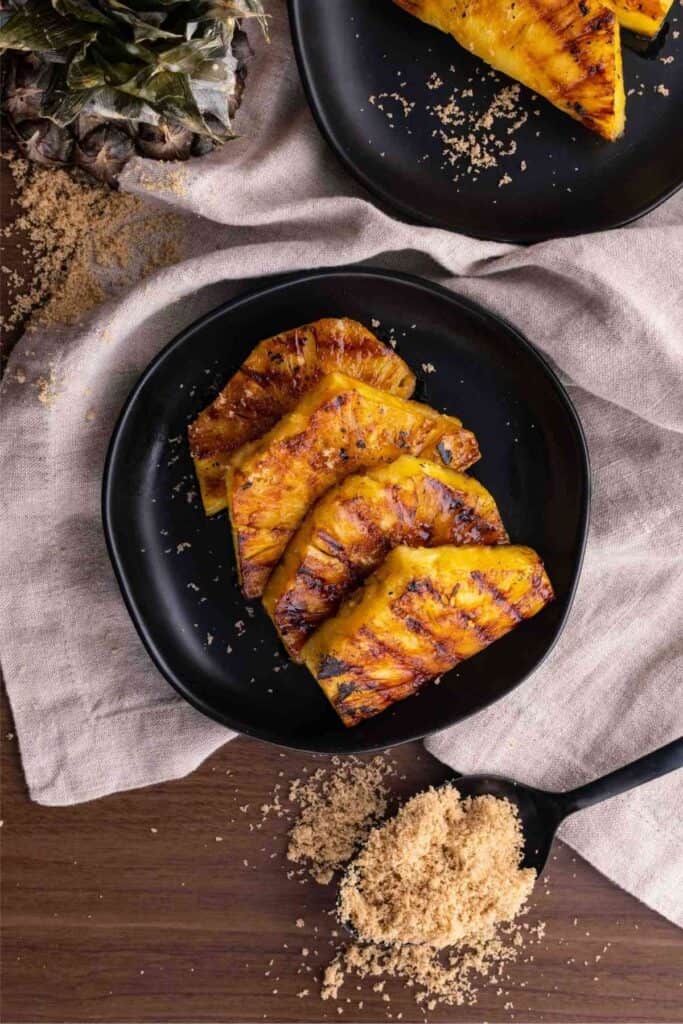 Easy Brown Sugar Grilled Pineapple (from Dinner Then Dessert) is the quintessential side dish to any summer meals you're making and it takes just a few minutes in a pan.