If you are looking for a substitute for marinara sauce, you have options! Read on for some excellent alternatives!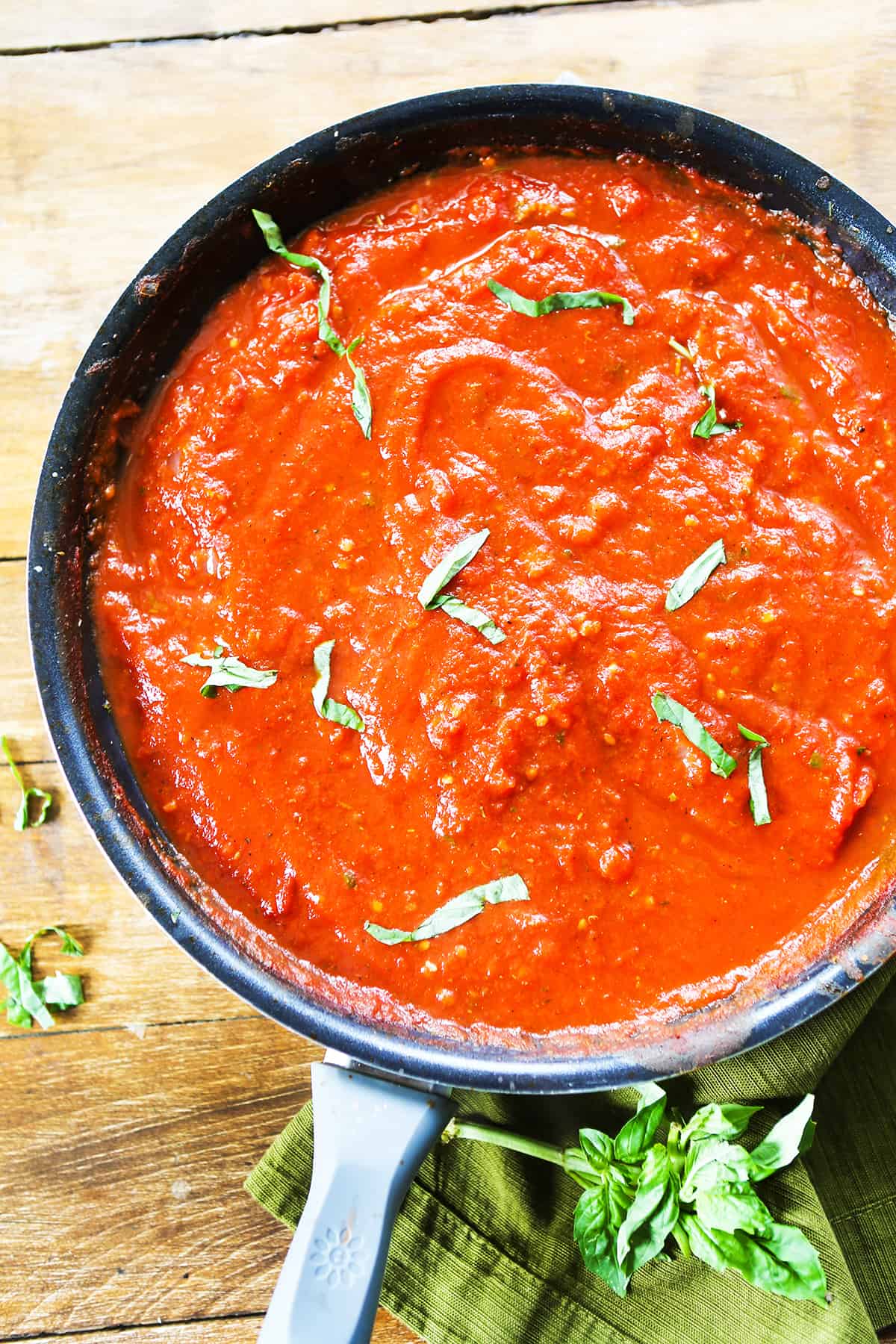 I have a slight obsession with homemade sauces and marinara is no exception. It is such a robust, hearty, delicious and flavorful way to dress up recipes!
Whether you are using this simple sauce as a dipping sauce or an ingredient in a pasta dish, what happens if you think you have it on hand but it's not in the pantry?! Do not fret! We have backup recommendations for you so you don't have to skip a beat.
Read on for a handful of great ideas about what to use as a substitute for marinara sauce. Enjoy!
What is Marinara Sauce
Marinara Sauce is a very simple tomato-based sauce with minimal ingredients, including tomatoes, onion, garlic and seasonings. It does not require a long simmer time and can be made on the stove top in under 30 minutes.
It can be made using any type of tomato, but plum or San Marzano tomatoes work best.
You will find my all-time favorite best marinara sauce recipe here!
Substitute for Marinara Sauce – 5 ideas!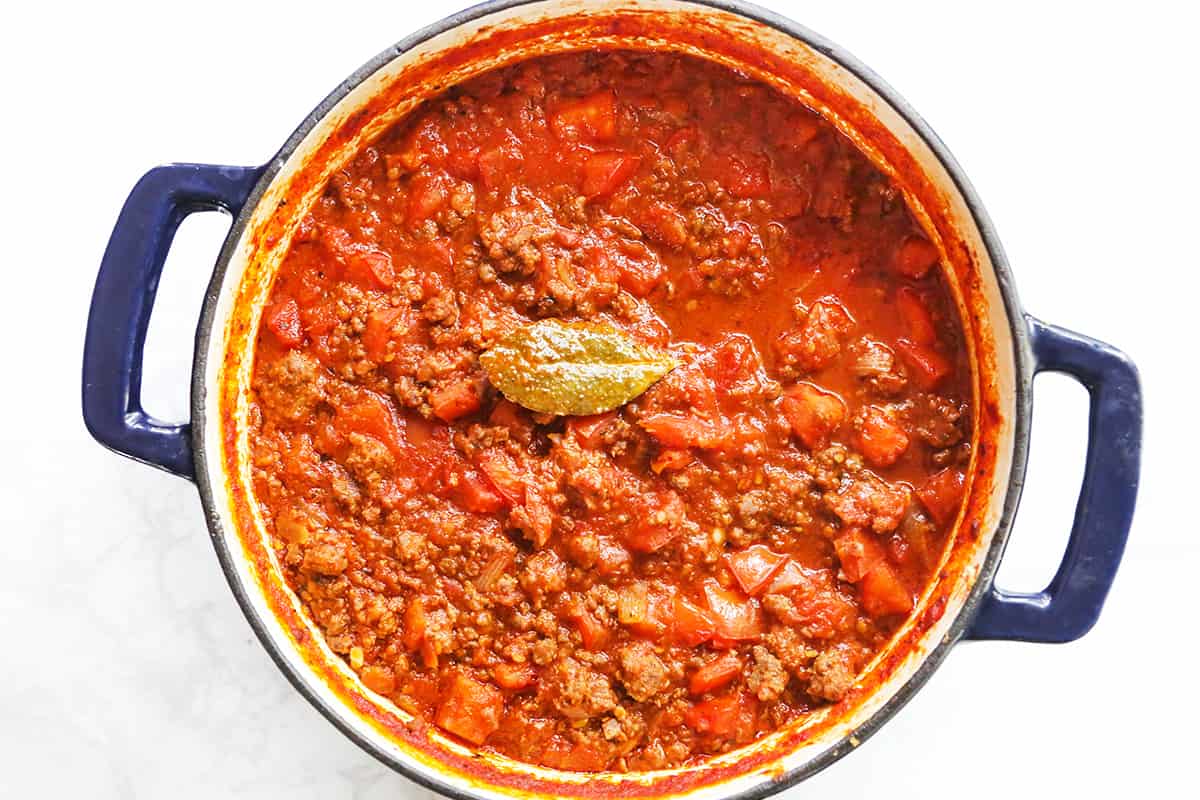 Spaghetti Sauce
Marinara and spaghetti sauces have the same core ingredient—tomatoes! While the two sauces differ slightly, they have a very similar texture and can be used interchangeably in equal amounts. Pasta sauce will bring extra flavor to the the table, which is an added bonus.
Tomato Sauce, Paste, Juice or Soup
Combine tomato sauce with a few spices and use in equal amounts as a replacement. Spices and fresh herbs to consider are Italian seasoning, red pepper flakes, fresh basil, bay leaves, salt and black pepper. Use olive oil to create a more smooth sauce when needed, adding in 1-tablespoon increments.
Paste will need to be mixed with equal amounts water and spices in order to thin out the consistency. Once thinned, use in equal amounts.
Thicken tomato juice with a couple tablespoons of tomato paste (along with spices of your choice) and use in equal amounts.
Tomato soup will bring a different flavor to the mix, but contains a very similar consistency and can be used in equal proportions.
Diced tomatoes
A can of diced or crushed tomatoes have tomato at the core (obviously!), so can definitely act as a replacement ingredient for marinara. If you wish to simulate the smoother texture, try draining the excess water from the can and running them through a blender or food processor.
For a flavor boost, add fresh garlic cloves that have been minced and sauteed, garlic powder, onion powder or Parmesan cheese.
Use in equal proportions.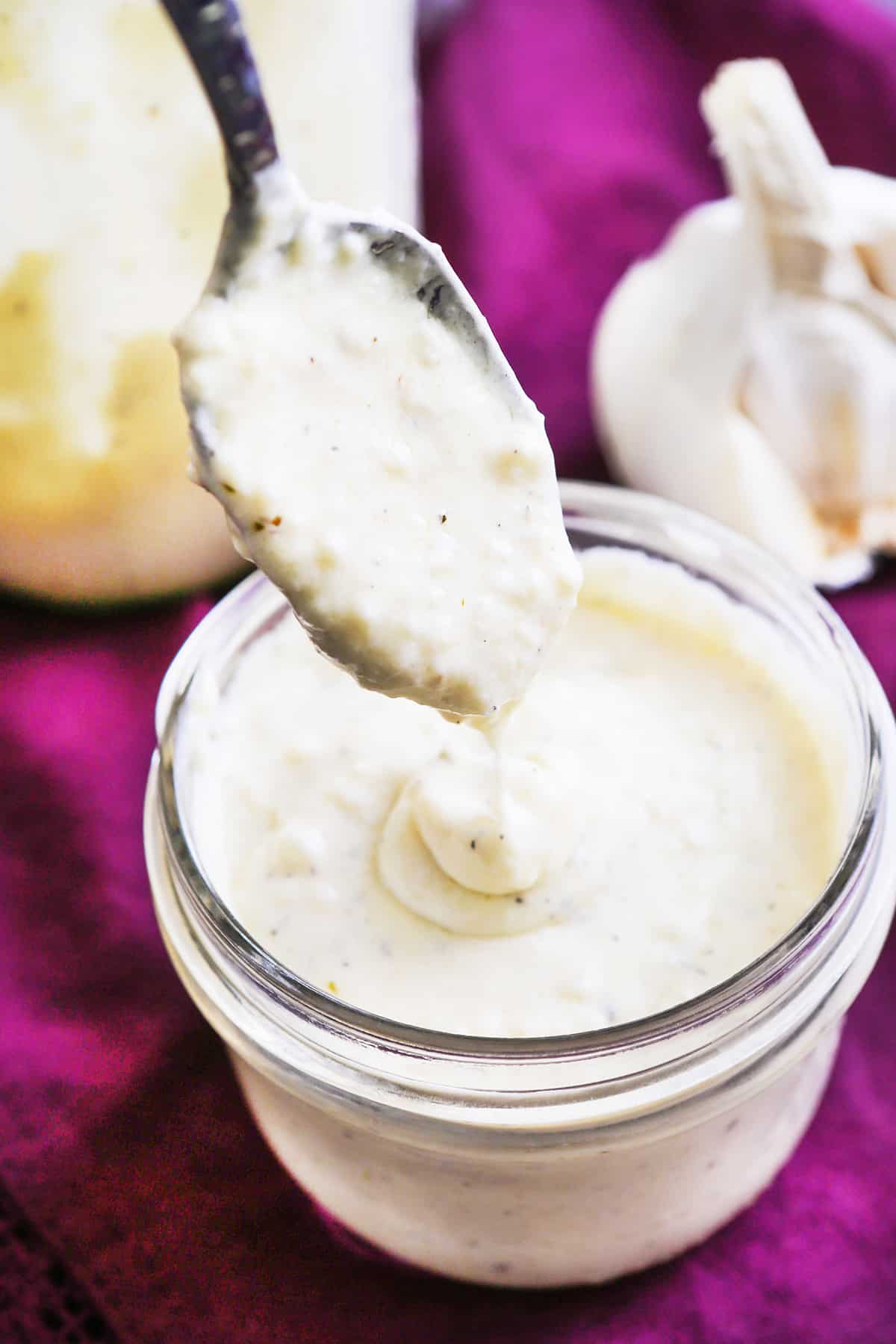 Alfredo Sauce
If you're willing to forego a tomato-based sauce, but wish to retain flavor and achieve a similar consistency, alfredo sauce is an excellent and very tasty choice!
Use in equal amounts.
Pizza Sauce
Pizza sauce also has a bold tomato flavor, so will act as a fine replacement for marinara, as well.
Use in equal parts.
Flavor Boosters
Spruce up any of the above sauces by adding sugar (or other sweetener) 1 teaspoon at a time for a sweeter sauce.
Add a dash or two of red wine or white wine for a more complex end result.
Add meat such as ground beef, ground Italian sausage or ground turkey for added texture and flavor.
Throw chopped veggies, such as green bell peppers, onion, mushrooms, zucchini or carrots into your next batch.
Cheese is a great way to boost flavor. Add up to 1/2 cup of cheddar, mozzarella, cream cheese or parmesan cheese.
A few splashes of Worcestershire sauce or balsamic vinegar will add a ton of bold flavor.
A splash or two of lemon juice will add a freshness that you won't be able to resist.
Marinara vs Spaghetti Sauce – A Comparison!
So close in texture, color and flavor that you could call them cousins! Let's get to the heart of the issue and explore marinara vs spaghetti sauce. Discover the differences!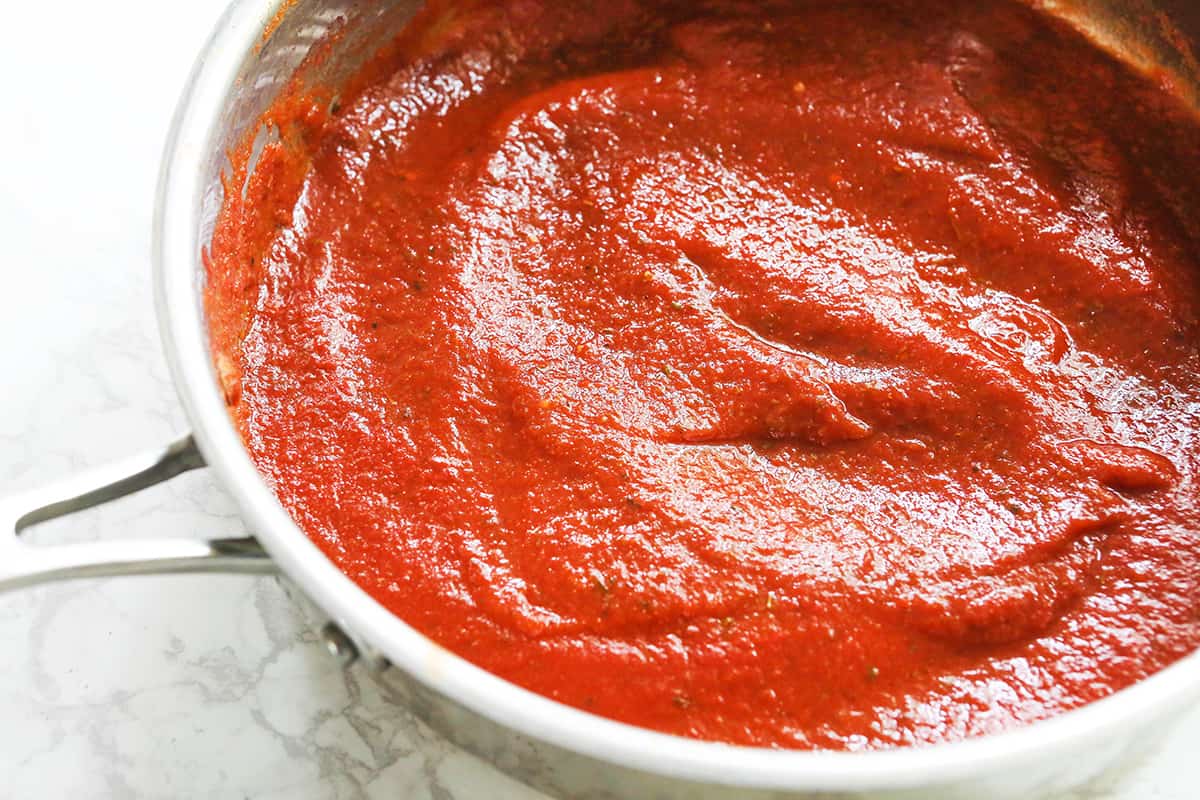 How To Make a Thicker Sauce
This value-packed post details everything you'll ever need to know about how to thicken spaghetti sauce. Or check this post out if you find yourself without tomato paste and this one to specifically focus on thickening marinara.
In a nutshell, here are the different ways to achieve a thicker consistency:
Let it simmer on the stove top until desired consistency is reached.
Pop it in your slow cooker!
Create a corn starch slurry and mix it in.
Add tomato paste or tomato sauce.
Mix together and add a roux.
Add mashed potatoes.
How To Prepare Tomatoes for Freezing
If you have fresh juicy tomatoes on your hands, be sure to freeze extras so you can turn them into a sauce later. Prepping fresh tomatoes for freezing is super easy! Don't waste those juicy red morsels that have spent the summer growing in your garden.
Learn the best method for freezing whole tomatoes to thaw and use them in the coming winter months!
Uses For Marinara
If you have an abundance of leftovers on your hands, there are a ton of ways to use leftover sauce.
Pour it over the top of cooked plain pasta of any kind.
Dip bread sticks, mozzarella sticks, zucchini fries, jalapeno poppers or pizza bites into it.
Use it in place of store-bought sauce in your next pan of Baked Spaghetti or Baked Ziti.
Replace pizza sauce with either of these options on your next homemade pizza. Thaw pizza dough from the grocery store or make your own!
Add it to your morning eggs because everything tastes great with eggs. 
More Homemade Sauce Recipes
Making homemade sauces is a great way to know exactly what ingredients are going into them, they are more affordable than store-bought and they're just tastier! 
Enchilada Sauce is more delicious than anything you can buy at the store and it is super easy to make. It only requires a handful of ingredients and is done in 15 minutes, with perfect flavor and consistency. 
Make your own Taco Sauce taco sauce to use in a variety of Mexican dishes, such as tacos, burritos and taco salads. Ditch the store-bought version so you know EXACTLY what goes inside! Make this quick sauce with a handful of ingredients and in just a few minutes.
FAQ About Marinara Sauce
Does marinara sauce go bad?
Store homemade marinara sauce in an airtight container in the fridge for up to 5 days. If there are visible signs of mold, discard the sauce. To extend the shelf life, freeze it! Allow the sauce to cool completely and pour it into an airtight container.
Can marinara sauce be frozen?
Store marinara sauce in the freezer for up to 4 months. When you are ready to use the sauce, remove it from the freezer and allow it to thaw completely. Pour it into a saucepan and simmer over medium heat for 5 minutes before serving.
Is marinara sauce healthy?
Since tomatoes and spices take up most of the ingredient list in marinara sauce, it is one of the healthier dipping sauces. If you are looking for a boost in calories or fat, marinara is not a good fit. If you're looking for a veggie-based, leaner sauce you have found your sauce.
Can marinara sauce be used for pizza?
Yes! Marinara sauce can definitely be used in place of pizza sauce. Pizza sauce is typically a bit thicker in consistency, but the two can be used interchangeably.