Can you reheat green bean casserole? You can! Read on for a complete guide for reheating this dish so you can enjoy it later.
Can You Reheat Green Bean Casserole
Great news, you can store and reheat your green bean casserole leftovers! This dish can easily be kept in the fridge or freezer and reheated at a later time so you can enjoy it all over again.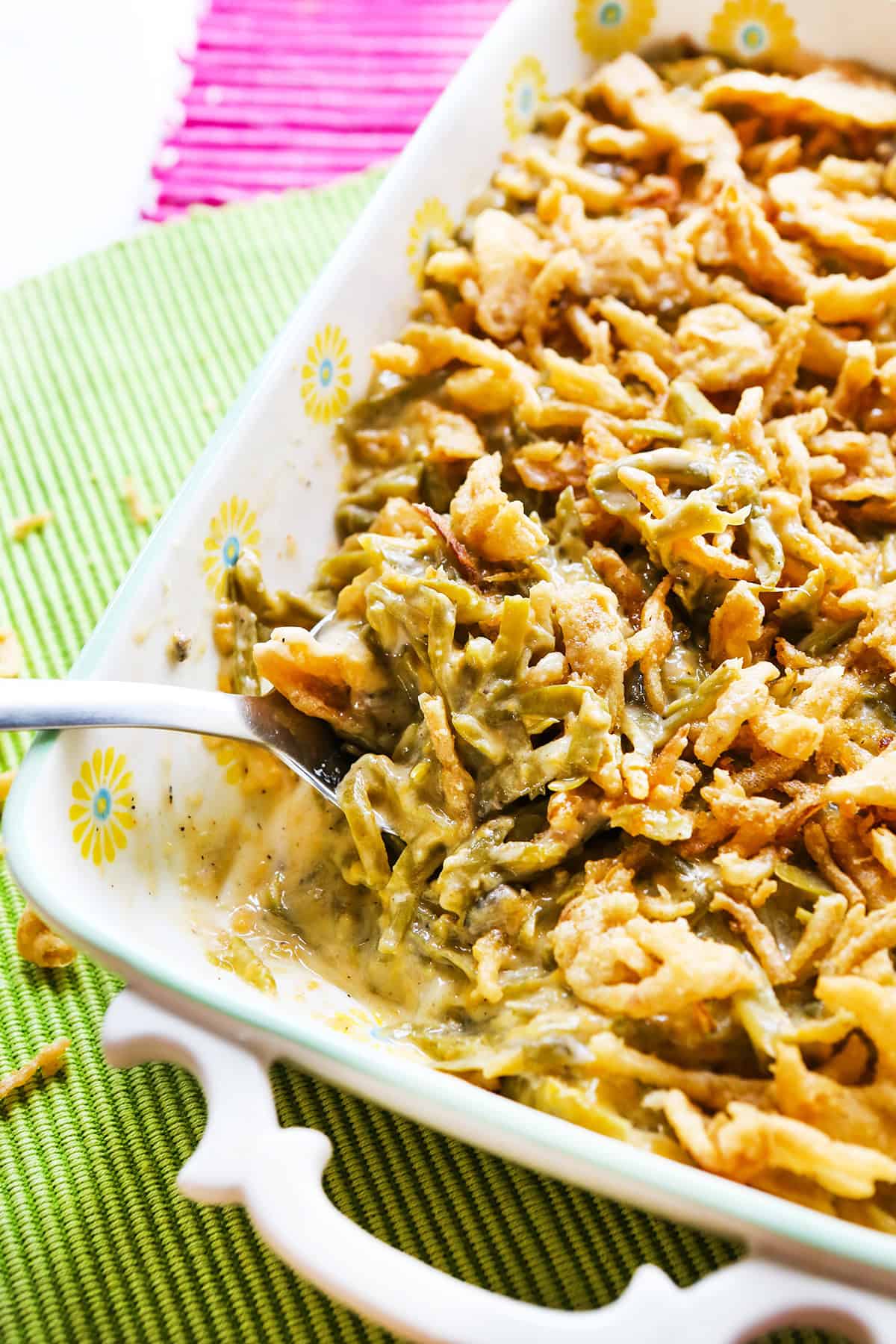 How To Reheat Green Bean Casserole Leftovers
Follow a few simple steps to reheating green been casserole in larger portions:
Remove the thawed baking dish from the fridge at least 30 minutes prior to baking so it will be at room temperature when you cook it.
If the mixture appears dry, add a splash of liquid such as chicken broth, vegetable broth, vegetable stock or water.
If the dish contains a top layer of shredded cheddar cheese or grated Parmesan cheese, consider sprinkling a fresh layer of it on the top.
When you pulled it from the freezer/fridge unbaked, follow the instructions on the recipe card about whether or not to cover it.
Bake for approximately 20-30 minutes in a preheated oven at 350 degrees fahrenheit. The reheating process is done when it is warmed all the way through and bubbling at the top. The amount of time it takes to reheat will vary depending on how thick the layers are.
Remove from the oven and serve immediately!
Here is some great information about the best way to reheat casseroles in general.
Air fryer: Reheat in an air fryer by transfering mixture to a heat safe dish. Place the dish inside the air fryer basket and cook for 8 minutes at 375 degrees F.
Individual portions: Reheat small portions of the dish by placing a large spoonful on a microwave safe dish and heat in the microwave in 1-minute intervals until heated through. Cover with a damp paper towel before cooking.
How To Freeze Green Bean Casserole
There are a couple options for freezing your leftover green bean casserole for later use and to extend its shelf life.
Freeze Before Baking
Assemble the casserole ahead of time in an aluminum pan. Wrap pan tightly with a layer of plastic wrap or aluminum foil. Or you can opt to layer the entire recipe in an airtight container from the start. Place the prepared casserole in the freezer for no more than 4 months to avoid freezer burn.
When you are ready to thaw the casserole, allow it to thaw completely in the fridge overnight. Cook as directed the following day.
Freeze After Baking
Assemble the layers and bake the whole casserole as directed in a casserole dish. Allow it to cool to room temperature and wrap tightly in foil. Store green bean casserole in the freezer for up to 4 months.
When you are ready to enjoy it, remove the frozen casserole from the freezer allowing it to thaw completely in the fridge overnight.
Best Green Bean Casserole Recipes
Tips For Making The Best Green Bean Casserole
If you love a crispy topping, add extra crunchy onions to the top! French fried onions can be found in the condiments section of your local grocery store.
To add spice to the recipe, include cayenne pepper, red pepper flakes or hot sauce to the mixture.
Use fresh ingredients, canned or frozen. Fresh beans, canned green beans and frozen beans can be used interchangeably, depending on what is in season.
Sprinkle black pepper over the top just before serving for an extra flavorful serving.
Sprinkle up to 2/3 cup shredded cheddar over the top of the casserole (underneath the onions, if using) before baking for an extra cheesy dish.
Can You Freeze Cream of Mushroom Soup
If the dish you are about to freeze contains cream of mushroom soup as ingredient, do not fret! It can still be frozen if it contains a creamy mushroom sauce, and will yield delicious results.
Easy Casserole Recipes
If you are on the lookout for some seriously delicious, savory dishes to make for your loved ones, read on for some great options!
What to Serve With Green Bean Casserole
Green bean casserole is a great Thanksgiving dinner or any-time side dish. Read on for 15 delicious ideas about what to eat with green bean casserole no matter when you are serving it!