Planning to serve alfredo sauce but find the jar in your pantry bland? Read on for delicious ideas about how to make jarred alfredo sauce better!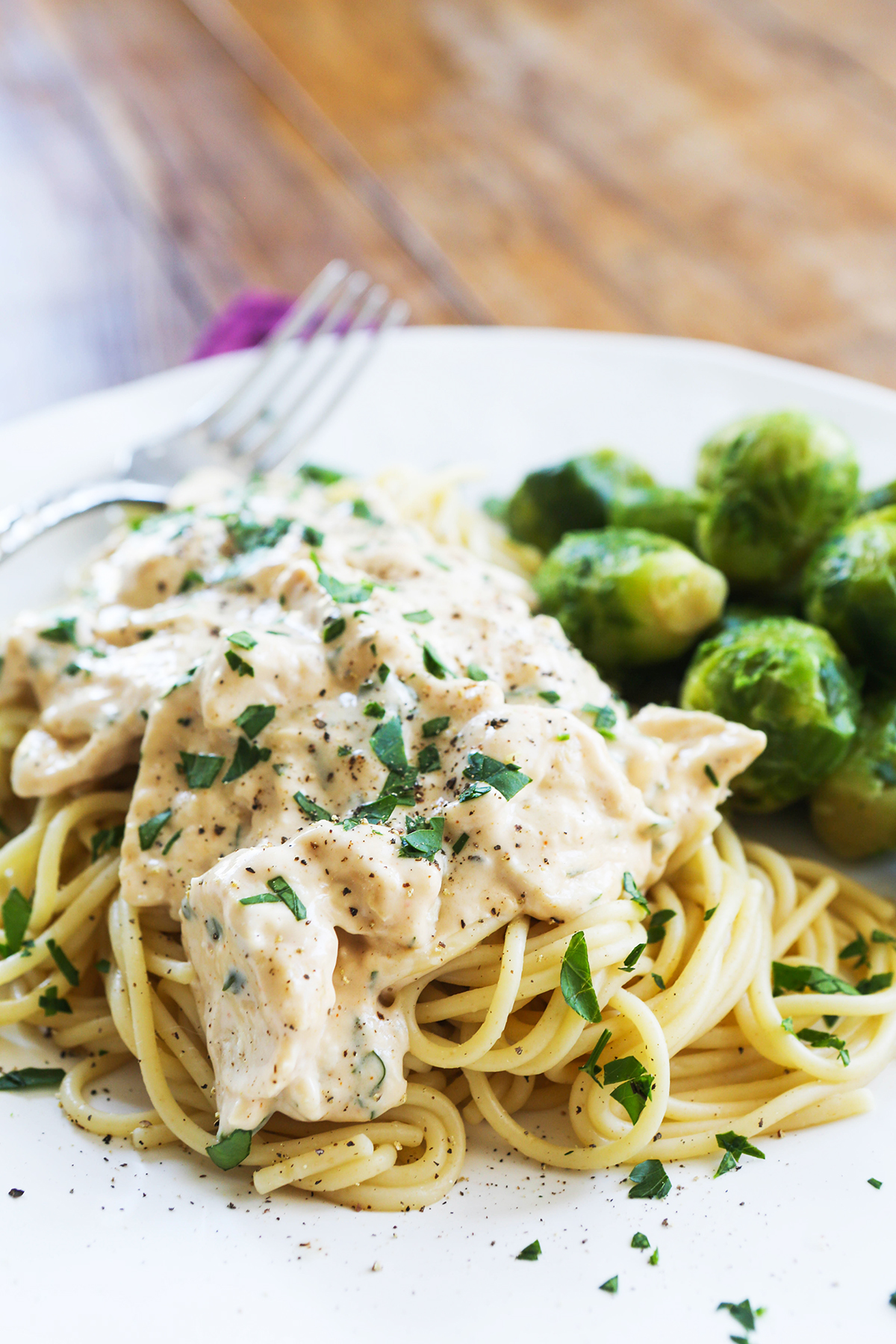 One of my favorite things about creating homemade sauces is having creative reign, with the ability to transform the flavor the way I like. But sometimes grabbing a jar of sauce from the grocery store is easy and cheap!
Throwing a jar of alfredo sauce from the pantry together with cooked pasta is easy! But it can lack flavor and uniqueness. If you find yourself in this predicament, there is no need to stress. With just a little extra time and a few simple ingredients, that bland jar can be transformed into something special.
Make a Homemade Alfredo Sauce Recipe
When you have a bit of time to go the extra mile, make your own alfredo sauce for a super easy recipe that is done in under 10 minutes. Save yourself a trip to the store and also a little cash!
What To Serve With Chicken Alfredo
Chicken Alfredo is the perfect easy meal for busy nights. It is easy to make and even easier to enjoy! Once it is ready to eat, what should you serve alongside it? Read on for 21 delicious ideas about what to serve with chicken alfredo!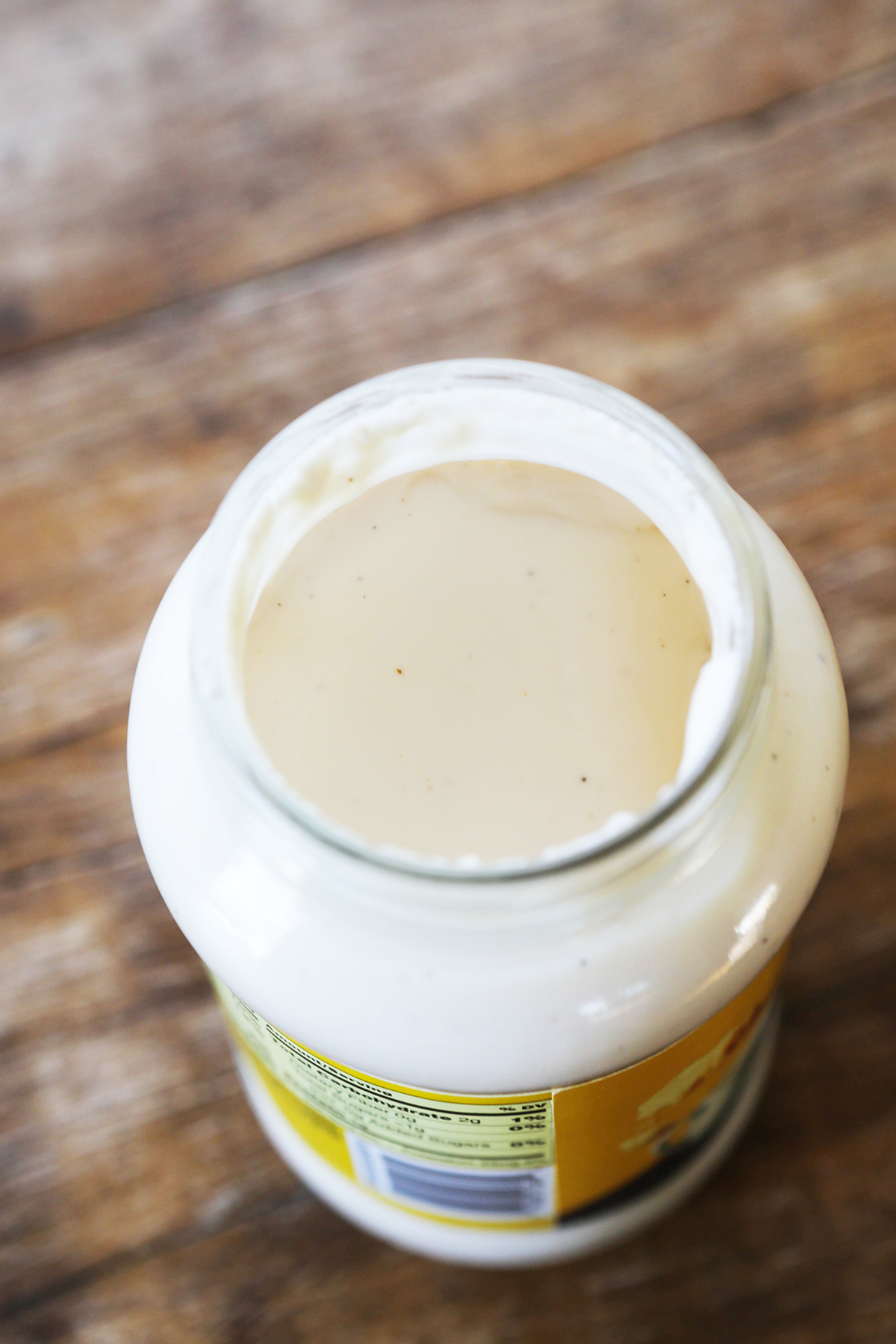 Check Out This Quick Web Story
You can enjoy a jar of alfredo sauce with some quick tips to spruce it up.
How To Make Jarred Alfredo Sauce Better
When you don't have the time or just want to use up ingredients hanging out in your pantry, learn how to make jarred alfredo sauce taste better! There are several ways to do this, so pick and choose any or all of the recommendations below.
If adding garlic, saute it first, then add other desired ingredients. Cook in a skillet over medium heat for 10 minutes, stirring frequently to avoid scorching.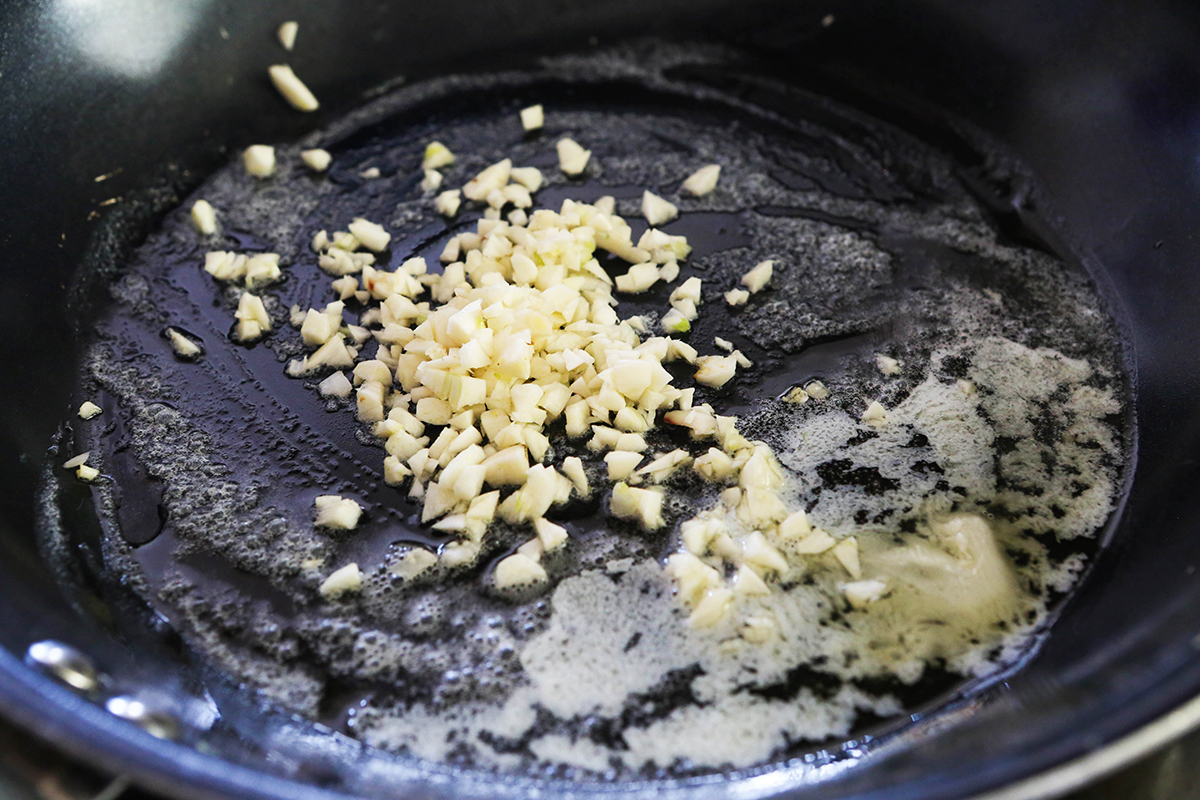 Garlic
Adding fresh garlic cloves is such an easy, quick and affordable way to add a huge burst of flavor to jarred sauce. Either saute fresh garlic for 3 minutes in olive oil or butter or add up to 1 teaspoon of garlic powder.
Butter
Melted butter adds a creamy texture and a deliciously bold flavor to alfredo sauce. Add up to 1/4 cup, stirring over medium-low heat until melted.
Double up on buttery garlic by sauteing minced garlic IN butter. Bam!
Cheese
Since this is a creamy sauce to begin with, cheese makes the perfect addition. Add up to 1/2 cup of any melty cheese such as cheddar, mozzarella, gouda or cream cheese. Or add up to 1/4 cup Parmesan cheese.
Tip: Avoid low-fat cream cheese to avoid a low-quality, grainy end result.
Vegetables
Toss in some chopped vegetables for not only extra flavor, but for a variety of textures as well. Great options include fresh broccoli, cauliflower, carrots, onions or Brussels sprouts.
Seasonings/Spices
Extra seasonings and spices will go a long way in adding flavor to a boring jar of sauce. Some of my personal favorites include salt, pepper, Italian seasoning, dried basil, oregano, onion powder or seasoned salt.
Start with small amounts (1/2 teaspoon at a time) and add as needed, in order to avoid over-spicing.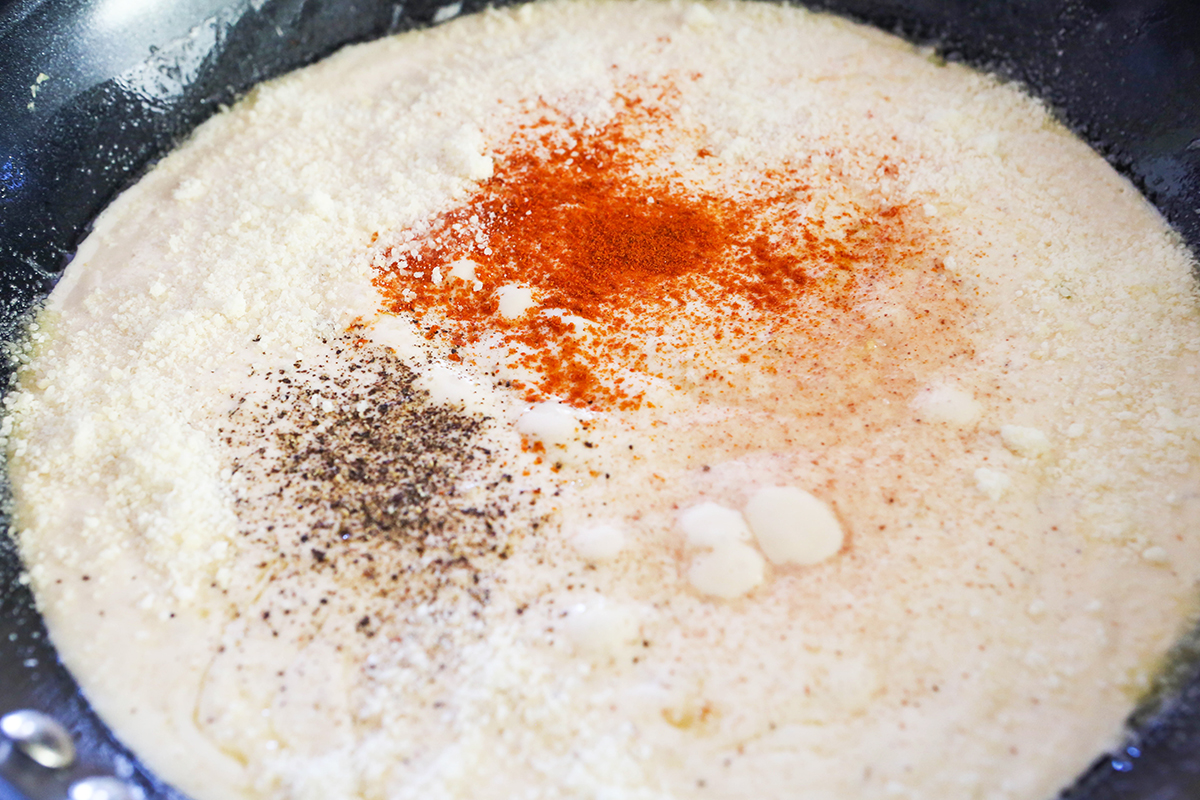 Go Spicy
Add a spicy flare for a fun and delicious zing! Yummy options include cayenne pepper (1/2 tsp), hot sauce (up to 1 Tbsp), red pepper flakes (up to 2 tsp), extra black pepper or white pepper.
Fresh Herbs
Fresh herbs are the perfect way to spruce up boring food. Finely chopped Italian parsley, chives, thyme and cilantro are great options.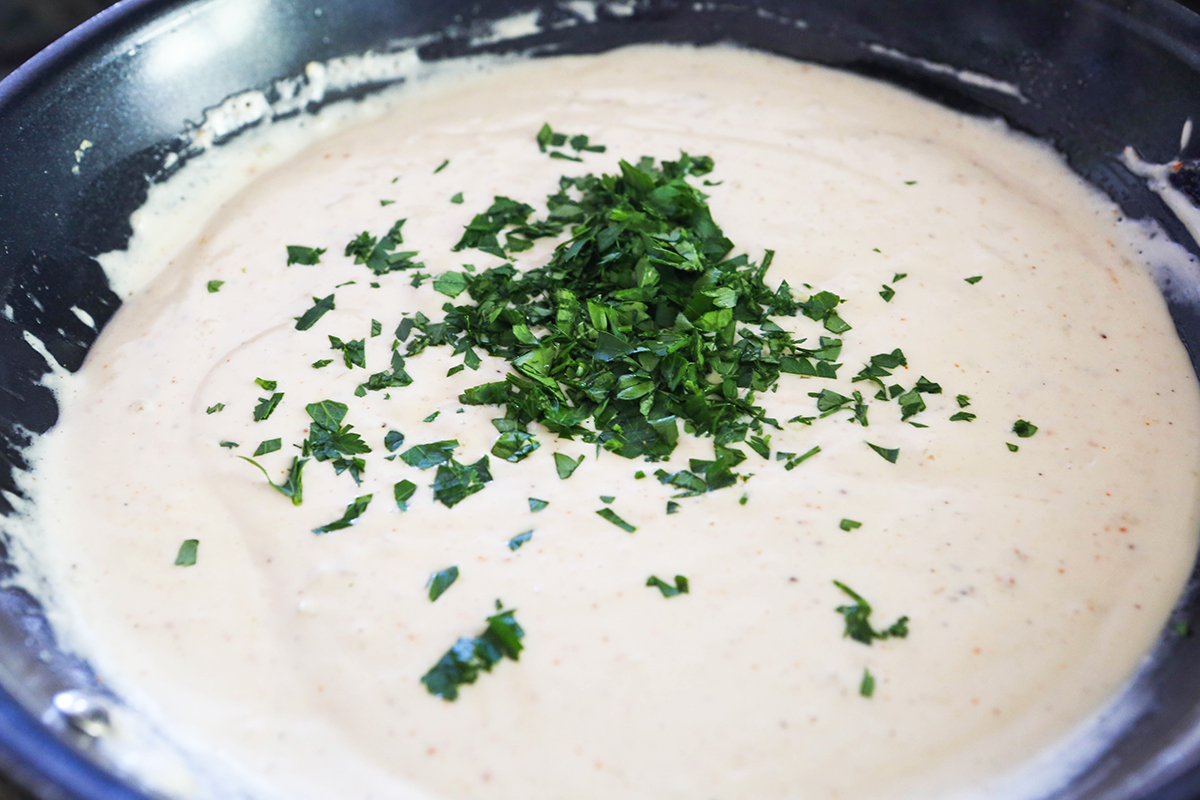 Milk, Heavy Cream or Sour Cream
Add a little bit of milk, heavy whipping cream or sour cream (up to 1/2 cup) toward the end of your cook time (until just heated through) for an extra creamy texture and bold flavor.
White Wine
Adding up to 1/2 cup of white wine will absolutely transform the flavor profile!
Broth
Pour in up to 1 cup of chicken broth or chicken stock for a little something extra.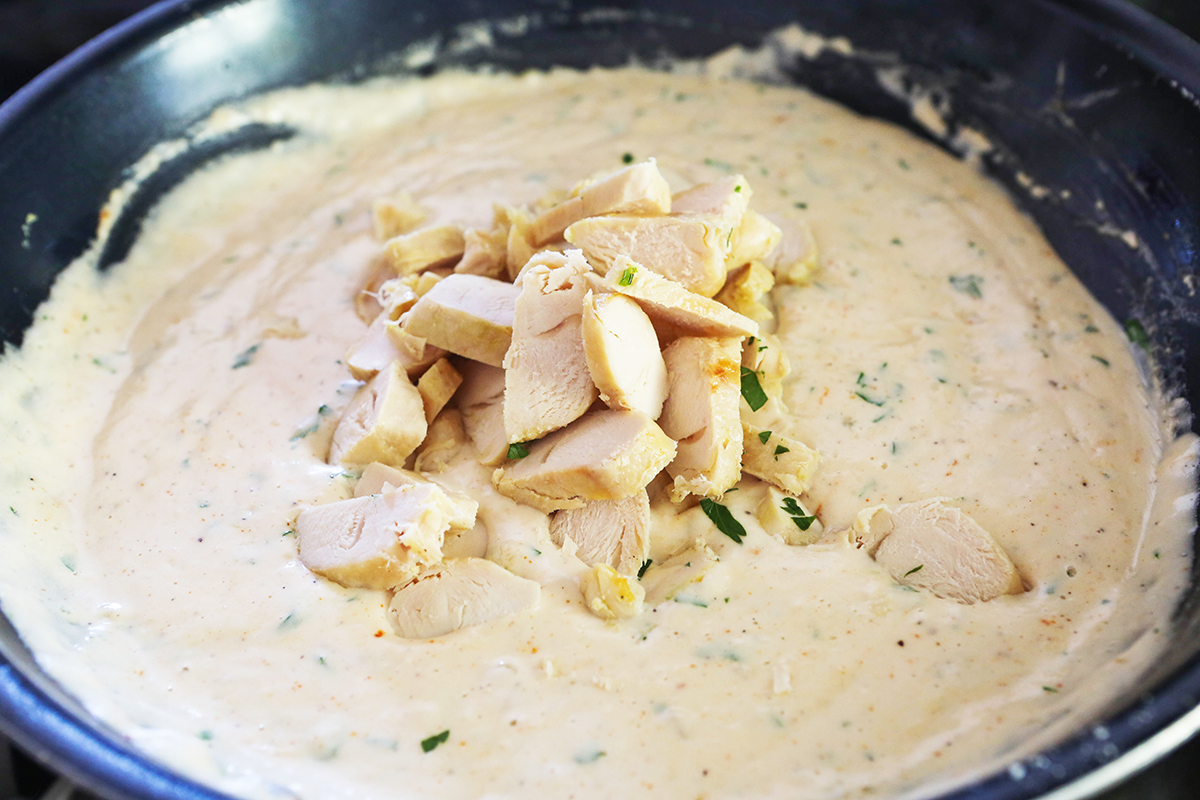 Meat
I love adding cooked, chopped chicken to alfredo to make it tastier. Cooked ground beef or ground turkey taste great, too. Add up to 2 cups!
FAQ About Alfredo Sauce
How to store alfredo sauce?
Store alfredo sauce in sealed containers in the fridge for up to 5 days. To extend the shelf life of this delicious sauce, freeze it!
Can alfredo sauce be frozen?
To freeze alfredo sauce, transfer to an airtight container or doubled up resealable freezer bags. Freeze for up to 4 months. When you are ready to use it, allow it to thaw completely and reheat on the stove top or in the microwave. Either way, whisk vigorously until warmed through and creamy.
Is alfredo sauce gluten free?
Alfredo sauce is typically made with butter, milk or cream and cheese. Some varieties of this sauce are thickened using flour, so be sure to check labels for ingredients containing wheat.
Is alfredo sauce cheese?
Although alfredo sauce is cheese-based, it is not technically cheese. It is a creamy white sauce containing butter, milk or heavy cream and one or two varieties of cheese.
Why is my alfredo sauce grainy?
Alfredo sauce becomes grainy when Parmesan added to it is not good quality and/or it doesn't fully melt. To avoid this issue, use a fresh block of Parmesan cheese and grate or shred it into the sauce. To fix this issue, run the sauce through a blender or food processor.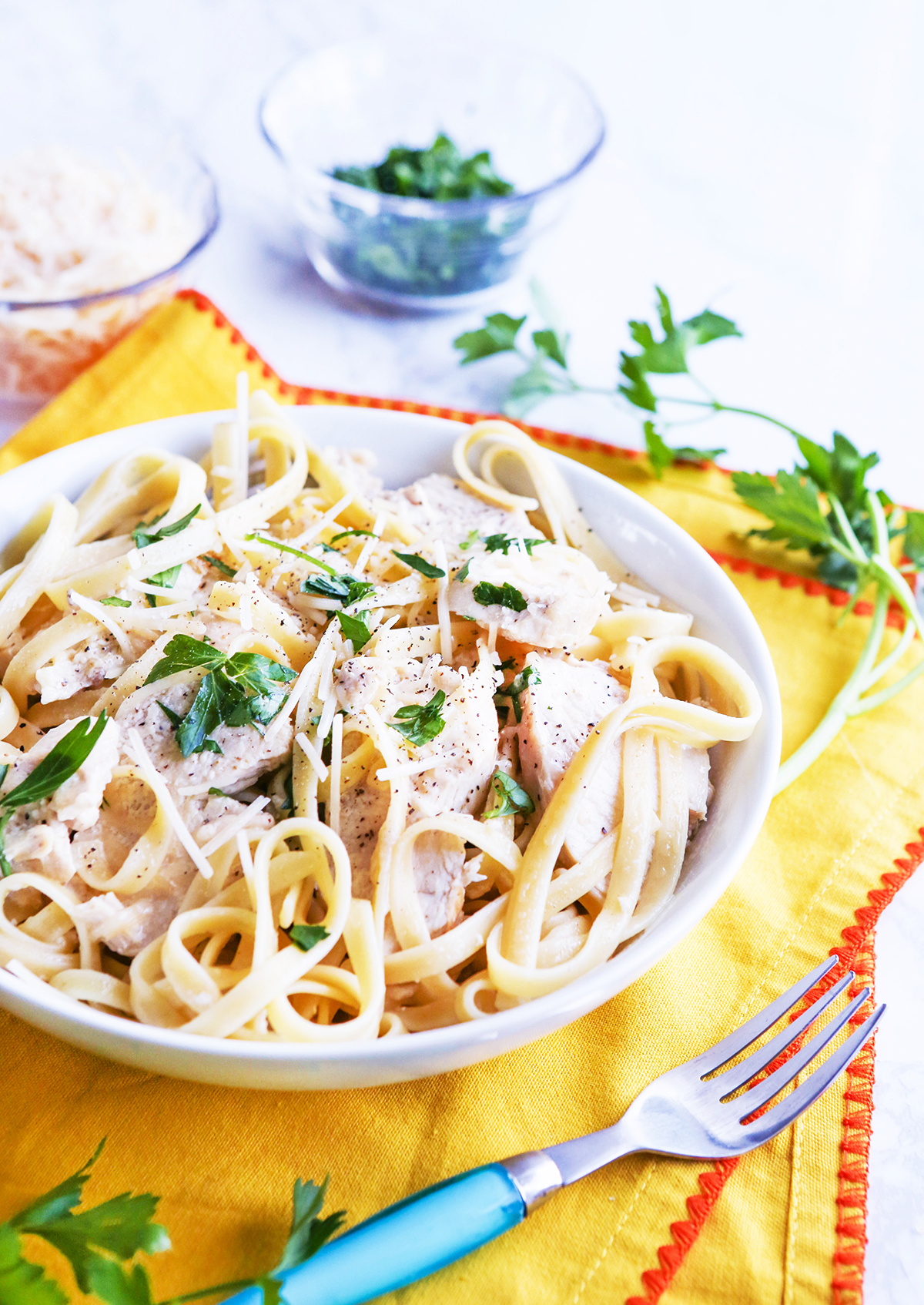 Ways To Use Alfredo Sauce
Replace pizza sauce with alfredo sauce on your next pizza!
Dip breadsticks or garlic bread into it. YUM!
Chicken Alfredo, of course. Top with fresh parsley and black pepper!
Create alfredo spaghetti or add creamy alfredo sauce to any pasta dish to create a comforting pasta alfredo.
Chicken Bacon Ranch Casserole (best. casserole. ever.)
Heat it up and pour it over hot fettuccine pasta noodles or your favorite pasta.
Turn traditional lasagna into a white lasagna by replacing spaghetti sauce with alfredo and beef with shredded chicken.
Add it to your next batch of scalloped potatoes.
Mix it with cooked spaghetti squash or zucchini noodles for a healthier version of fettuccine alfredo.
How To Reheat Fettuccine Alfredo – 3 Methods!
Fettuccine alfredo is an easy, comforting dinner to make any night of the week. If you find yourself with leftovers, you can reheat and enjoy them again the next day. Read on to learn how to reheat fettuccine alfredo so it can be enjoyed again later.
Homemade Sauce Recipes
Will you help add value to Pip and Ebby?
If you make this recipe and love it, stop back and give it a 5-star rating ⭐️⭐️⭐️⭐️⭐️ and leave a comment. THANK YOU!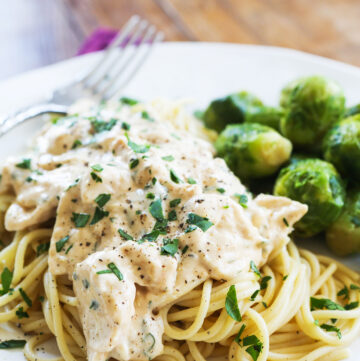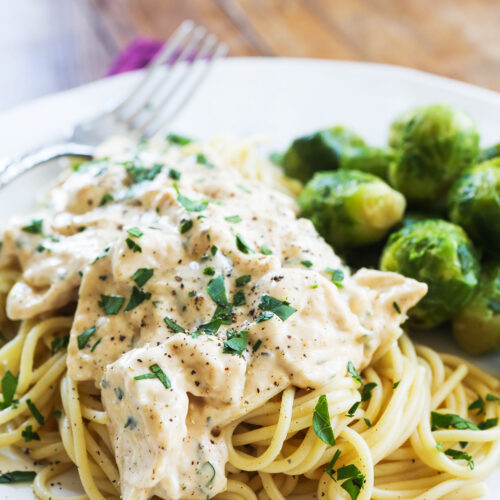 How To Make Jarred Alfredo Sauce Better
Planning to serve alfredo sauce but find the jar in your pantry bland? Read on for delicious ideas about how to make jarred alfredo sauce better!
Print
Pin
Rate
Ingredients
3

tbsp

butter

3

cloves

garlic

minced

16

oz

alfredo sauce

1

tsp

salt

1

tsp

pepper

1/2

tsp

cayenne pepper

optional

1/4

cup

Parmesan cheese

grated

1/4

cup

Italian parsley

finely chopped

2

cups

chicken

cooked and chopped
Instructions
Melt butter in a medium skillet over medium heat. Add garlic and saute until soft and fragrant, approximately 3 minutes.

Add the jar of alfredo sauce as well as the remaining ingredients, as desired, such as salt, pepper, cayenne pepper, Parmesan cheese, parsley and chicken.

Cook, stirring frequently, for 10 minutes. Adjust spices and flavors as needed until desired taste has been achieved.
Nutrition
Calories:
369
kcal
|
Carbohydrates:
5
g
|
Protein:
11
g
|
Fat:
33
g
|
Saturated Fat:
17
g
|
Polyunsaturated Fat:
6
g
|
Monounsaturated Fat:
9
g
|
Trans Fat:
1
g
|
Cholesterol:
122
mg
|
Sodium:
1540
mg
|
Potassium:
101
mg
|
Fiber:
1
g
|
Sugar:
2
g
|
Vitamin A:
772
IU
|
Vitamin C:
6
mg
|
Calcium:
92
mg
|
Iron:
1
mg
Did you make this recipe?
If you loved this recipe, please rate the recipe and leave a comment below!