Minestrone is a beloved and delicious soup made with bright colors and a variety of flavors. Whether serving it for family dinner or a big gathering, read on for ideas about what to serve with minestrone soup!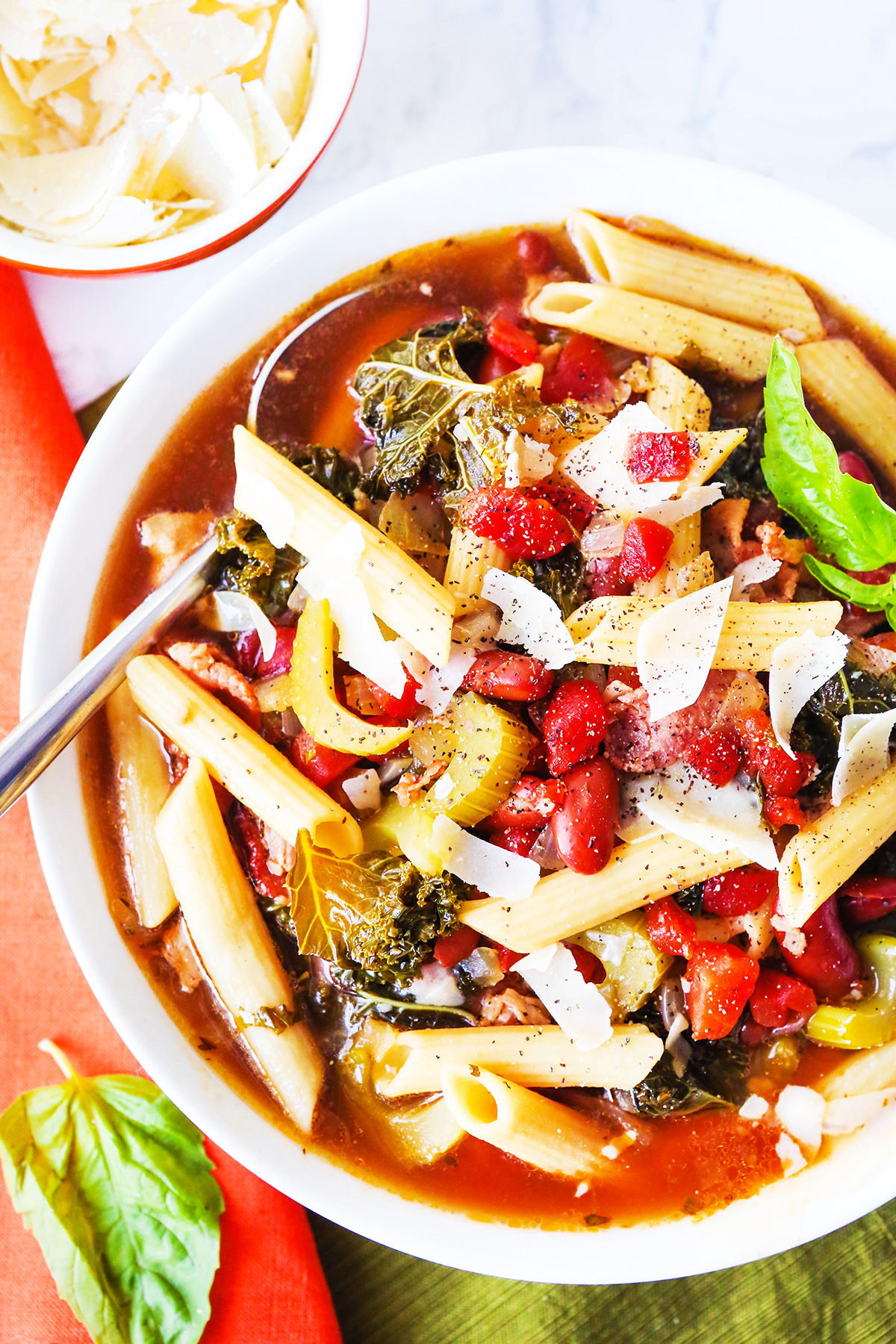 I've always felt like an apt alternate title for minestrone soup would be Kitchen Sink Soup. So many delicious textures and flavors go into this versatile recipe. We've got pasta, a variety of vegetables, kale or spinach, broth, meat, beans and seasonings. Yum!
Soup is especially difficult to find side dish pairings for because it such a perfect standalone meal. If you are hosting family for dinner or a holiday meal, you may want ideas beyond the bowl for what to serve with minestrone soup.
Read on for a nicely packaged, scrumptious list of ideas to choose from!
FAQ About Minestrone
Can minestrone soup be frozen?
Minestrone soup can be frozen when stored in an airtight container for up to 6 months for best results.
Is minestrone good for you?
Minestrone is known for being high in fiber and eliminating toxins from the body, making it a healthy meal.
How many calories in minestrone?
There are 356 calories in a bowl of minestrone.
How does minestrone taste?
Minestrone contains Italian flavors and is filled with beans, ground sausage, tomatoes, vegetables and pasta or rice.
Easy Homemade Minestrone Soup Recipe
This classic minestrone recipe is hearty and jam-packed with vegetables and pasta. Use the veggies you have on hand for this super easy dinner. Great as a weeknight meal and also perfect for larger gatherings!
How to Add Flavor to Soup
Flavor in any recipe is important, but what do you do if you find yourself with a bland dish that has already been cooked? Keep reading for some tips about how to enhance the flavor in any type of food or dish, including soup!
Why You Should Make Minestrone
With its hearty ingredients (pasta, meat, beans), it is an all-in-one meal and it is very filling.
It requires only 10 minutes of prep and everything is cooked in a single pot!
The ingredients in the recipe are easy to find.
It is a SUPER affordable recipe to purchase ingredients for.
THE FLAVOR! It can't be beat.
It is a great soup for leftovers and it also freezes well! Store in individual containers to use throughout the week or freeze for up to 6 months in an air-tight container.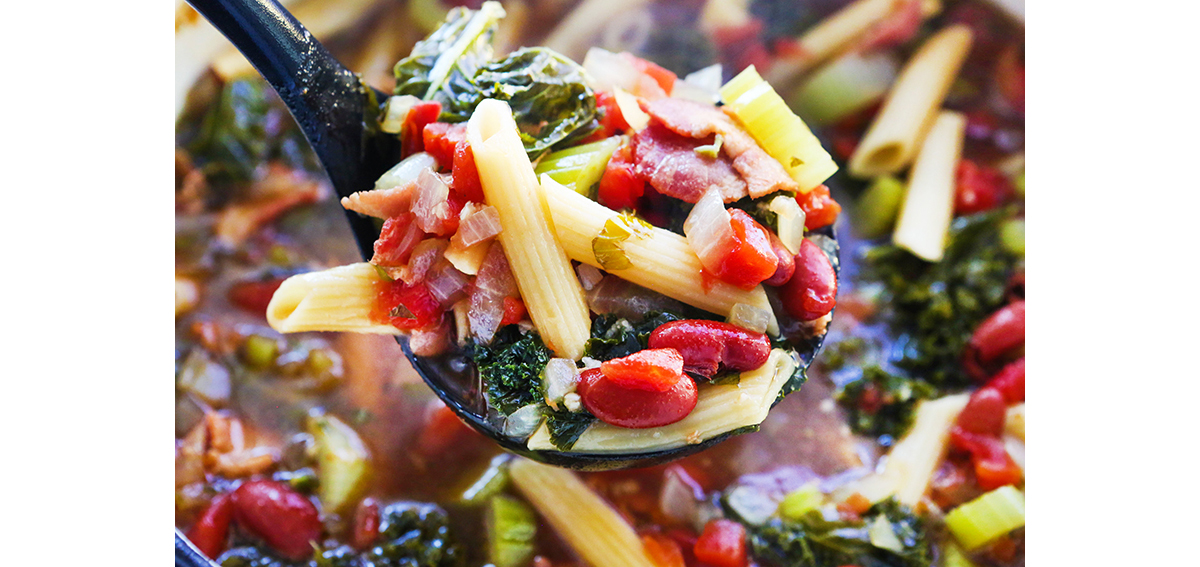 Recipe Notes – Easy Minestrone Soup
Use bacon, ground beef or sausage to create this recipe.
Any type of cooked pasta can be used to create this recipe, such as penne, elbow macaroni, rotini or any other small pasta.
Bean options to use in this hearty soup: red kidney beans, white beans, great northern beans or black beans.
For a vegetarian soup, omit meat from the recipe entirely and substitute the beef broth with vegetable broth or vegetable stock. Also, add and leftover vegetables to the Dutch oven when cooking for a super easy vegetarian meal packed with veggies!
The beef broth can also be substituted with chicken broth, chicken stock or water.
Swap out the Italian sausage with shredded chicken breasts to create a chicken soup.
Add red pepper flakes and/or cayenne pepper to the soup for a spicy kick!
If you have already cooked the pasta separately, throw it in at the very end and heat for 5 minutes until warmed through.
Use GF pasta for a gluten free soup or omit the pasta entirely!
A teaspoon or two of Italian seasoning would be a delicious addition to this meal!
Replace kidney beans with any bean of your choice, if desired.
Top with fresh herbs (such as parsley or fresh basil), shredded cheese, black pepper or sour cream.
What To Serve With Minestrone Soup
This is such a hearty and satisfying dish to enjoy any time of the year. Serve as a main course or a side. Either way, here are great side dishes to accompany this easy soup recipe.
Dinner rolls
Garlic bread
Baked potato or roasted sweet potatoes
Chopped or Caesar salad
Roasted vegetables such as carrots, green beans, butternut squash, bell peppers or any fresh seasonal vegetables
Grilled cheese sandwich
Pizza or calzone
Grilled chicken
Mozzarella sticks
Ham or bacon
Roast beef
Best Chopped Salad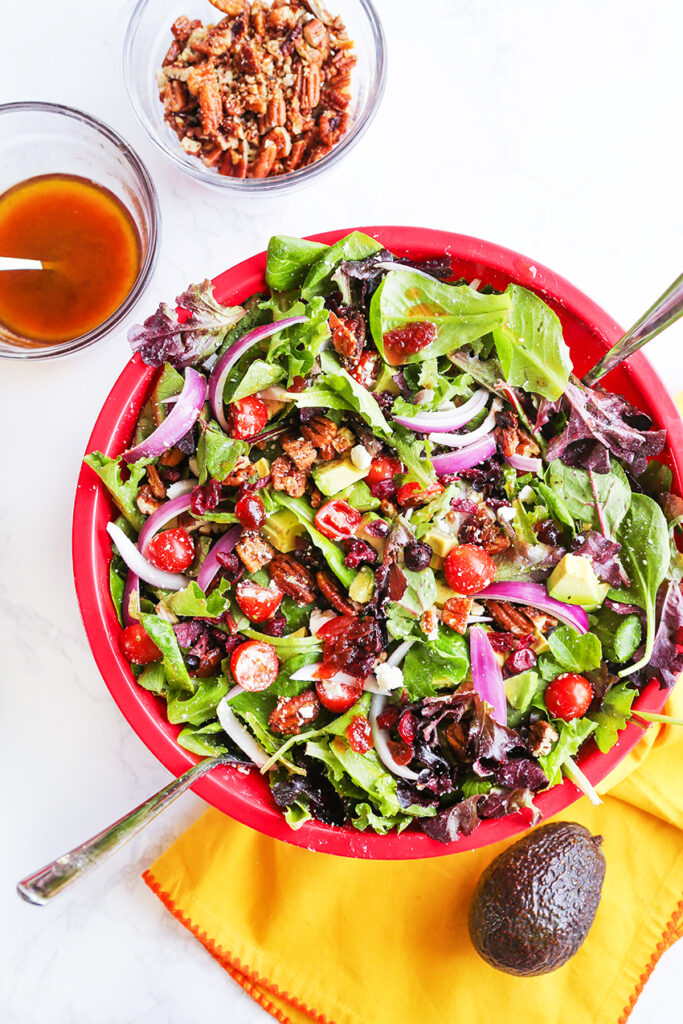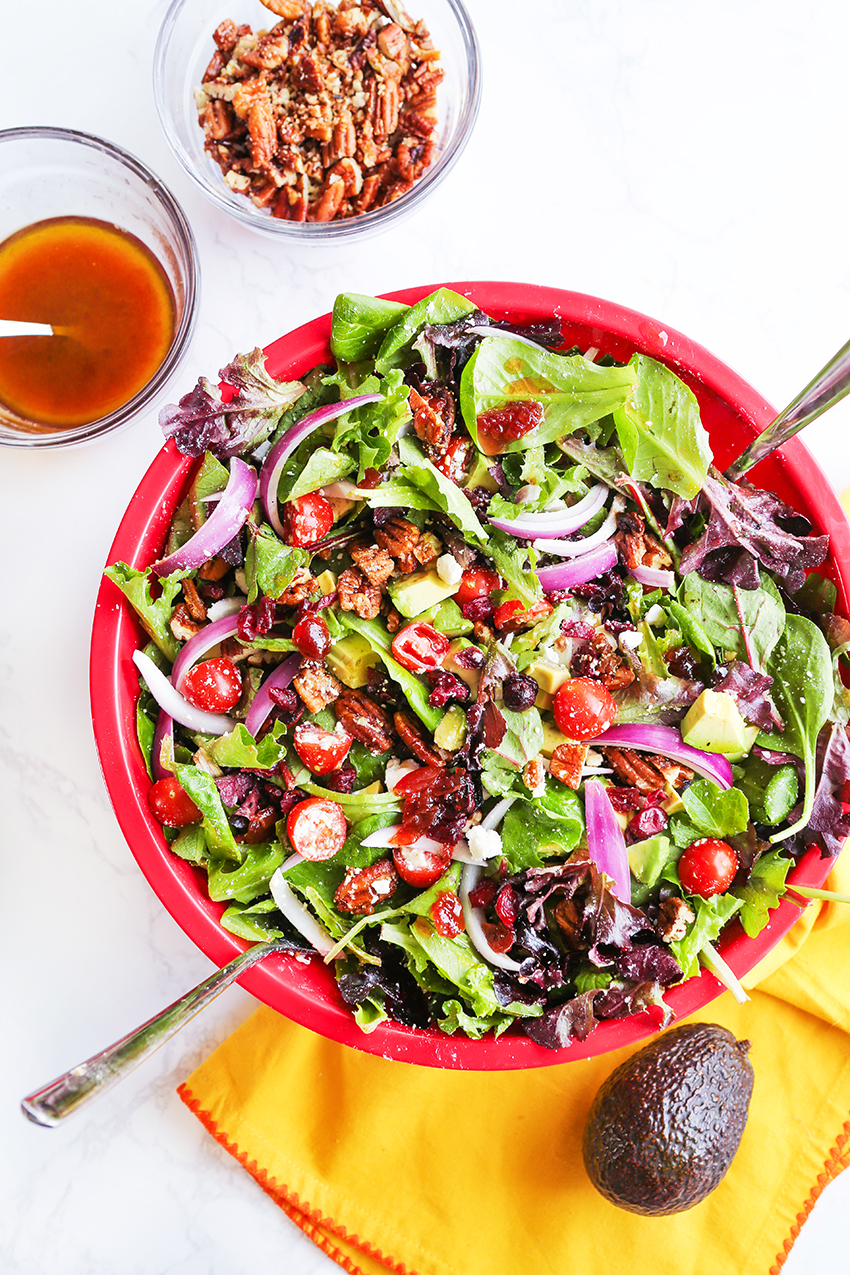 This is the best chopped salad recipe you'll find. It makes a large batch to enjoy for lunch throughout the week or serve at your next gathering.
Monte Cristo Panini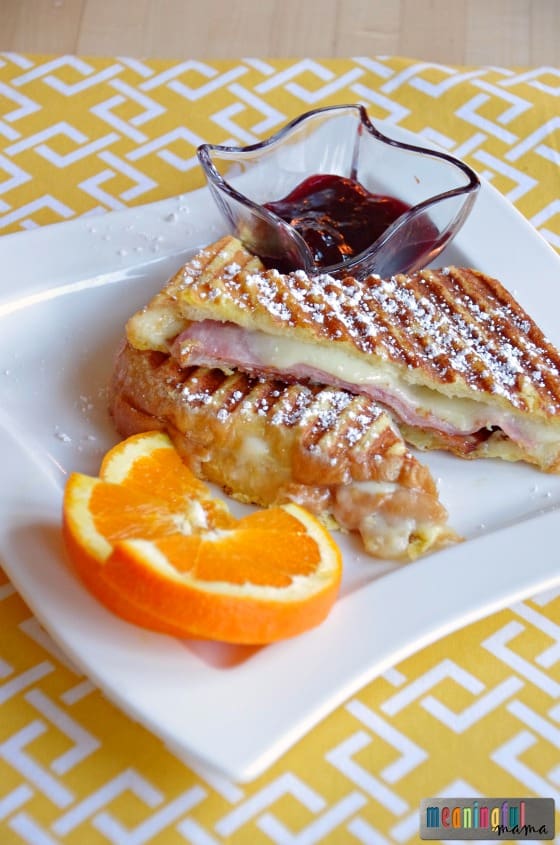 We love to eat breakfast for dinner. Do you too? This Monte Cristo Panini recipe (Meaningful Mama) is one of our favorites. Monte Cristo sandwiches are often sought out when exploring breakfast menus. I thought it would be a lot of fun to make my own version in a panini press.
Crockpot Ham with Pineapple Juice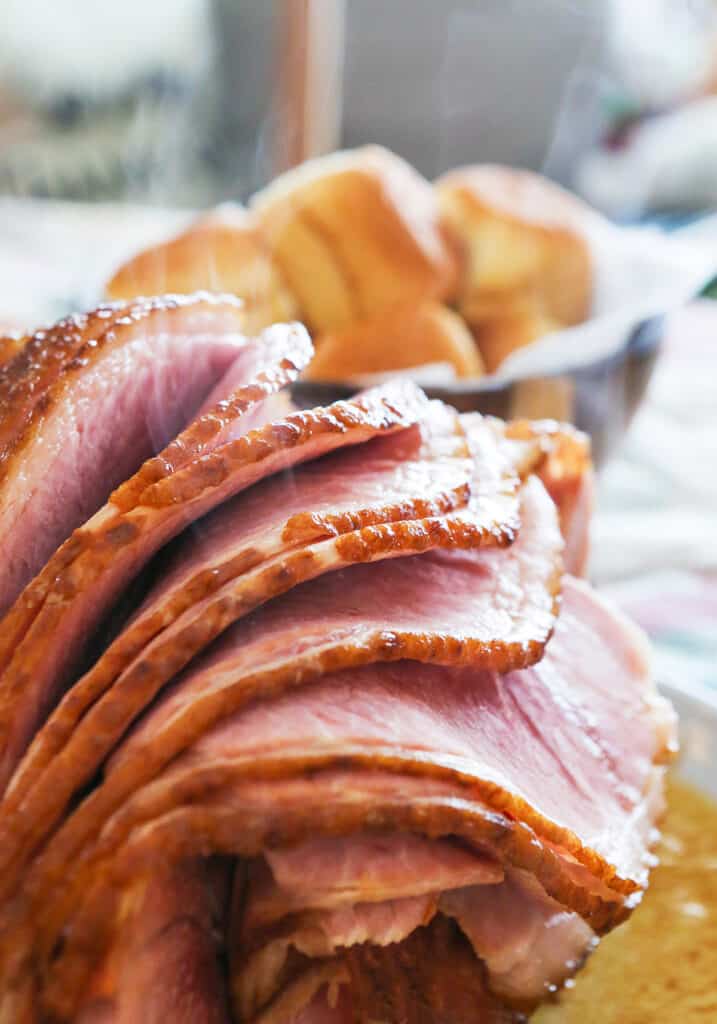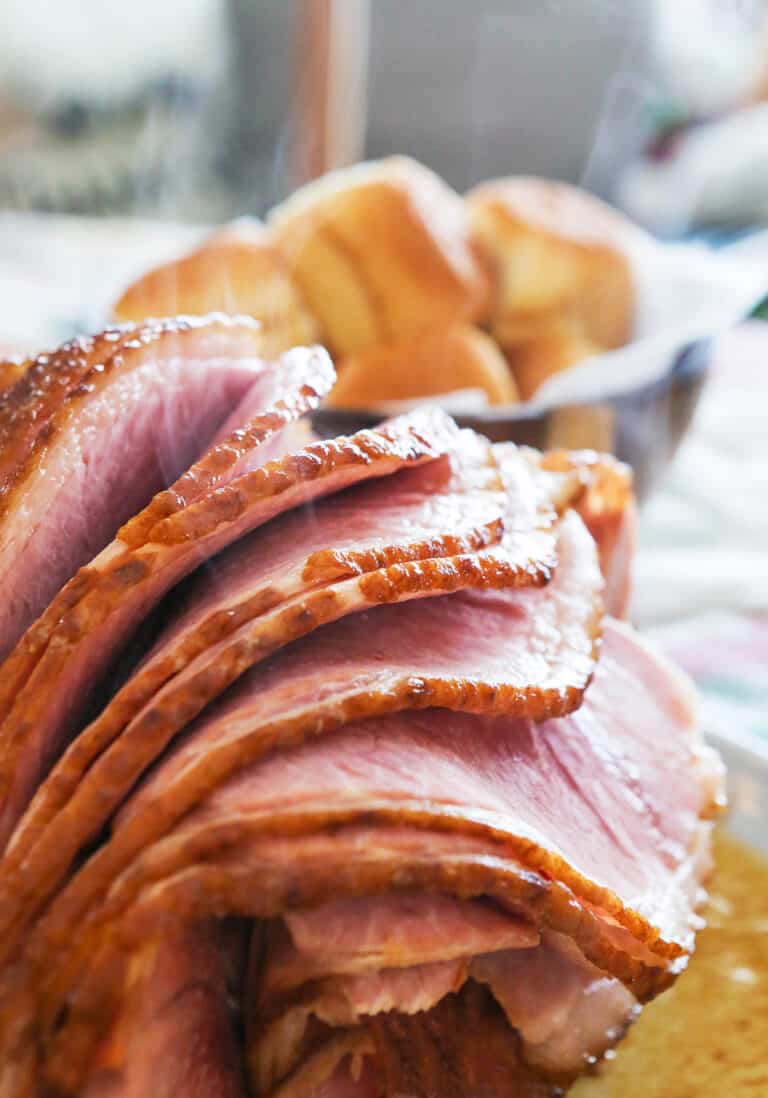 Crockpot ham with pineapple juice is an easy way to throw together a holiday dinner or easy any-time meal. This recipe requires almost no effort on your end and turns out wonderful for dinner with the perfect glaze and all!
My Favorite Caesar Salad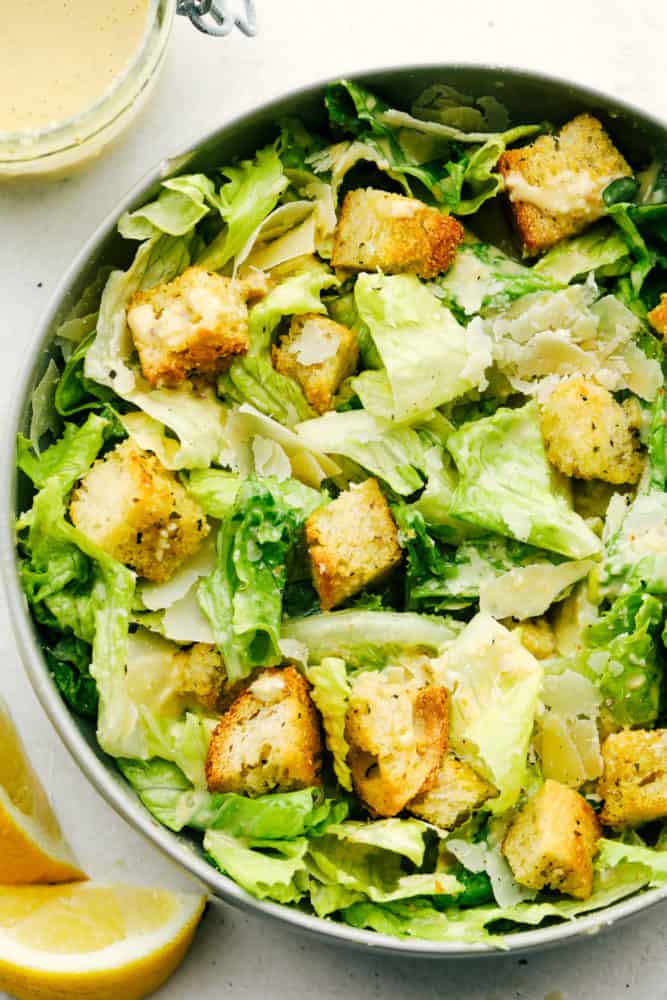 Fresh crisp romaine lettuce, large shaved parmesan cheese, crunchy croutons and a creamy dressing make this Caesar Salad (from The Recipe Critic) a MUST make. Caesar salad goes with so many things and it's always a family favorite.
Best Dinner Rolls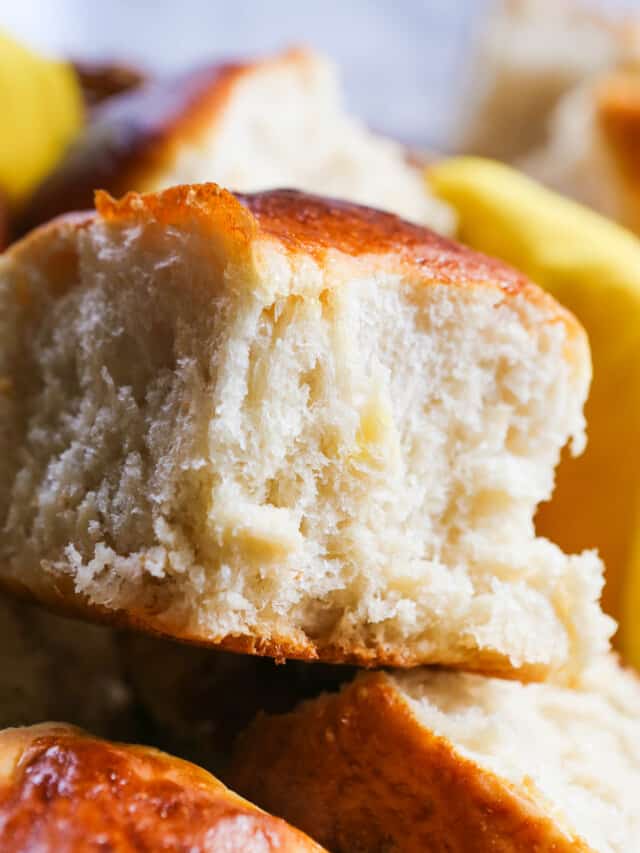 These are the BEST dinner rolls for Thanksgiving that you'll find! They are fluffy, slightly sweet and delicious and they go great with any meal, whether it is a large turkey dinner or a simple weeknight meal.
Super Crunchy Roasted Potatoes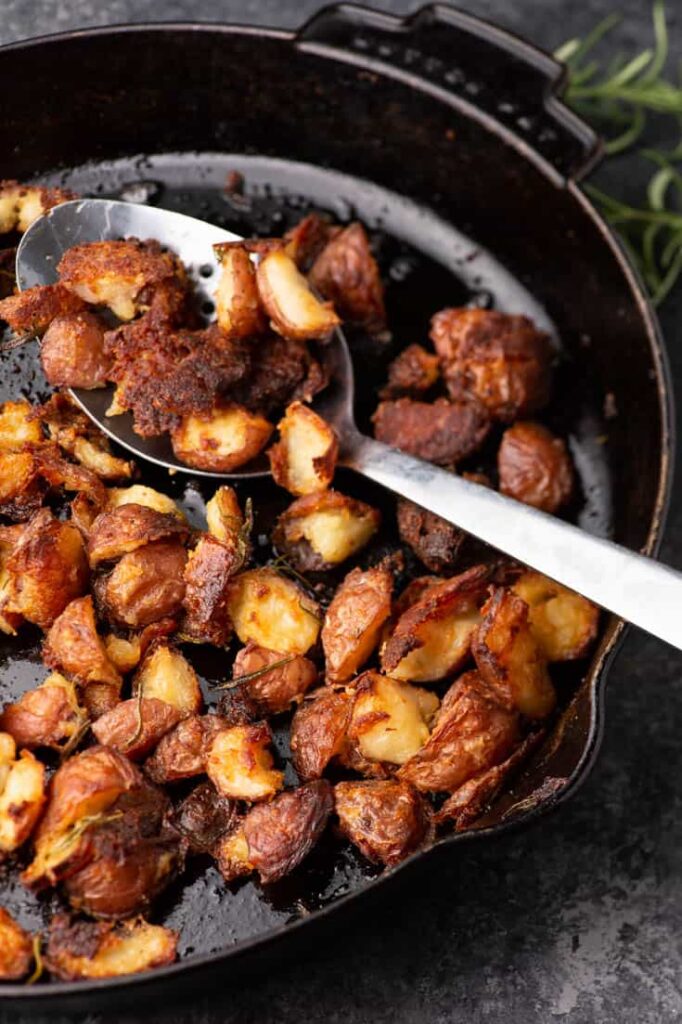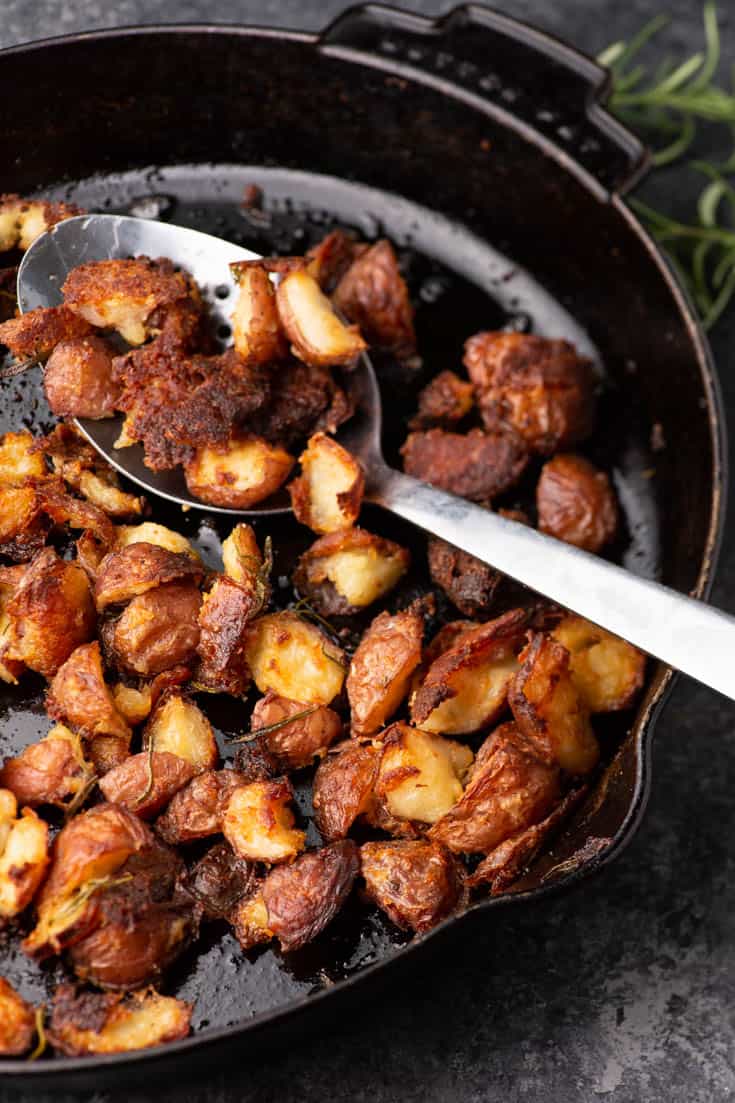 If you love your potatoes crispy, then you're going to love Super-Crunchy Roasted Potatoes (from Butter and Baggage). With just one added step you get the crispiest roasted potatoes.
Spinach Artichoke Flatbread Pizza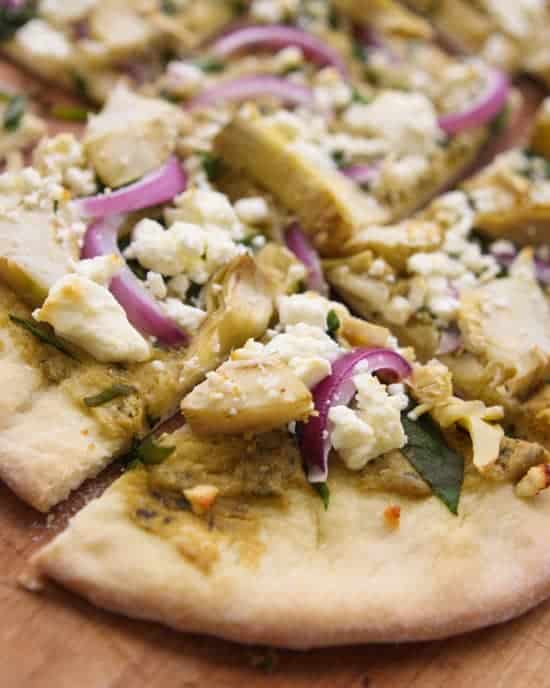 Not your average pizza! This Spinach Artichoke Flatbread Pizza is the perfect appetizer or dinner option. Nice to change up the pizza routine with this surprising twist that is supremely delicious!
Sautéed Bacon and Kale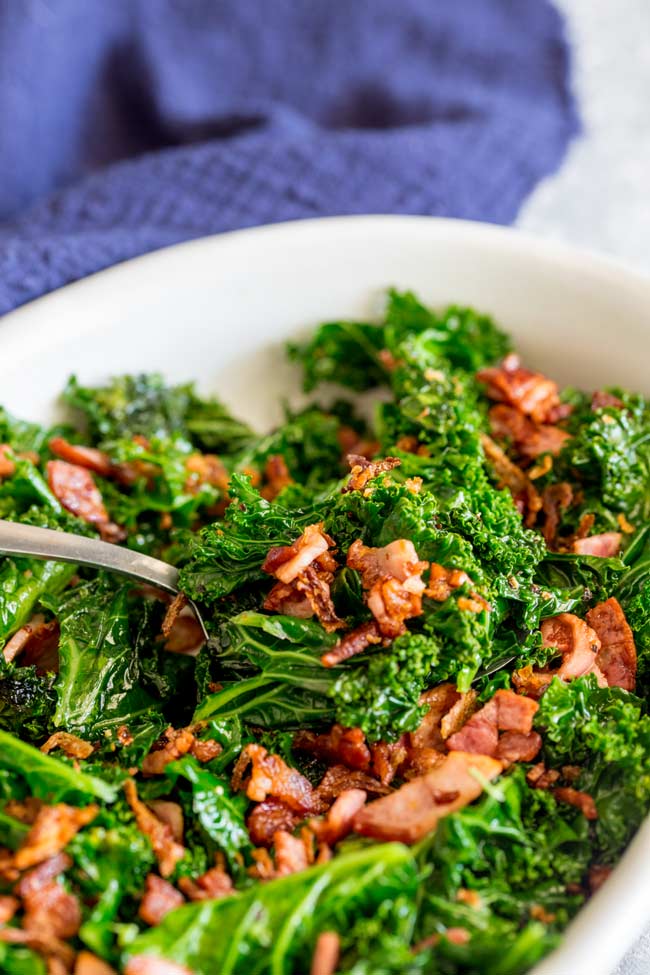 This Kale and Bacon side dish (from Sprinkles and Sprouts) is the perfect recipe for the holidays. With all the carbs and heavy sides on the table, you want an easy healthy option. That is where this quick sautéed kale with bacon comes in. Cooked on the stove with olive oil, it is super healthy and delicious, plus the crispy bacon adds flavor and stops it feeling too healthy.
Balsamic Bruschetta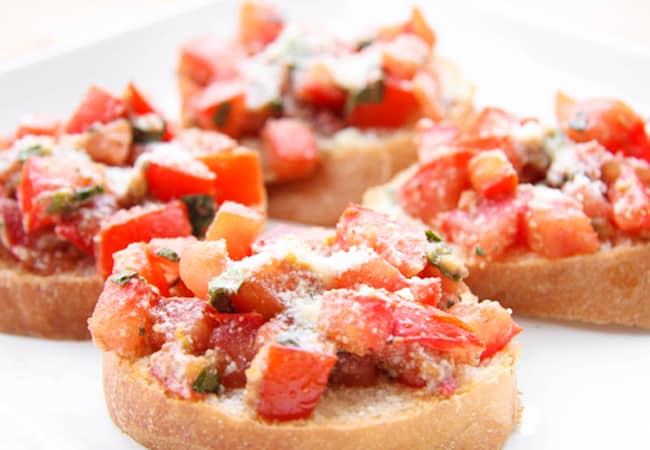 So much flavor in each small bite sized piece of french bread. Tomatoes marinated in basil, oil and balsamic vinegar with a little garlic is perfection. This bruschetta is the perfect little finger food for any gathering! Be ready to knock people's socks off!
Make Your Own Mini Pizzas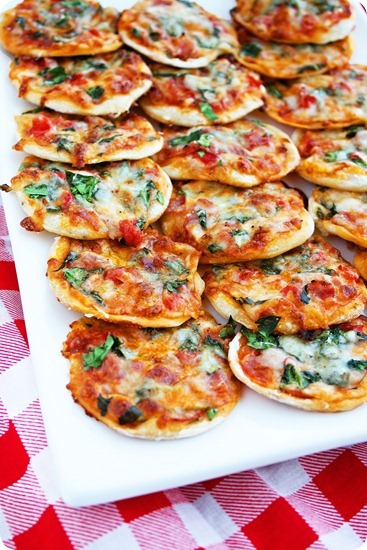 Mini pizzas on homemade thin crust dough (from The Comfort of Cooking) + tons of topping ideas! These little bites are perfect for parties and fun for weeknights!
Frozen Mozzarella Sticks in Air Fryer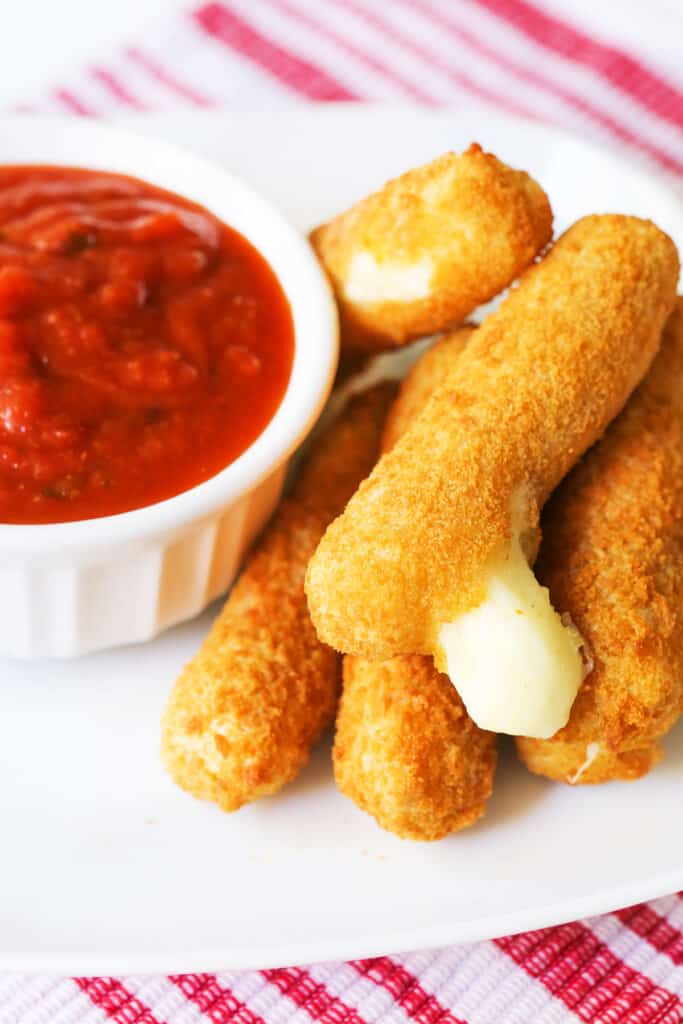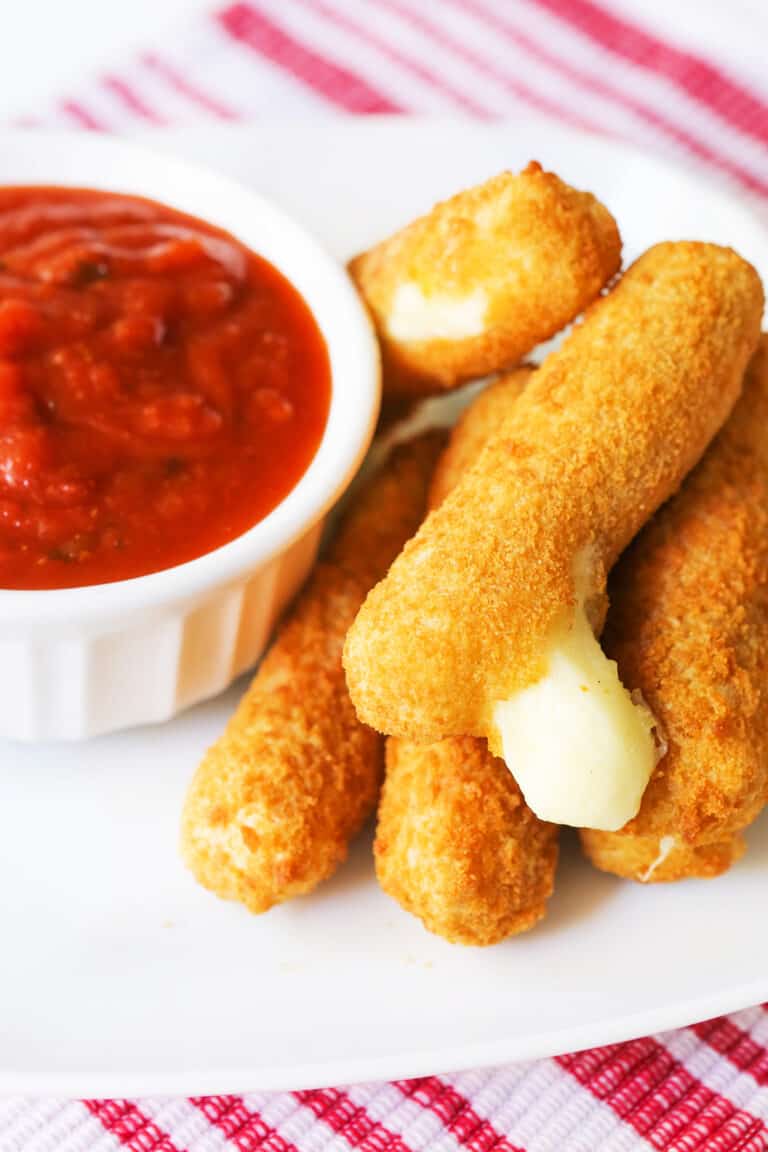 Learn how to make this frozen mozzarella sticks in air fryer recipe in just a few minutes! Straight from the freezer to your air fryer, this is the easiest way to get this cheesy easy snack into your tummy.
Garlic Bread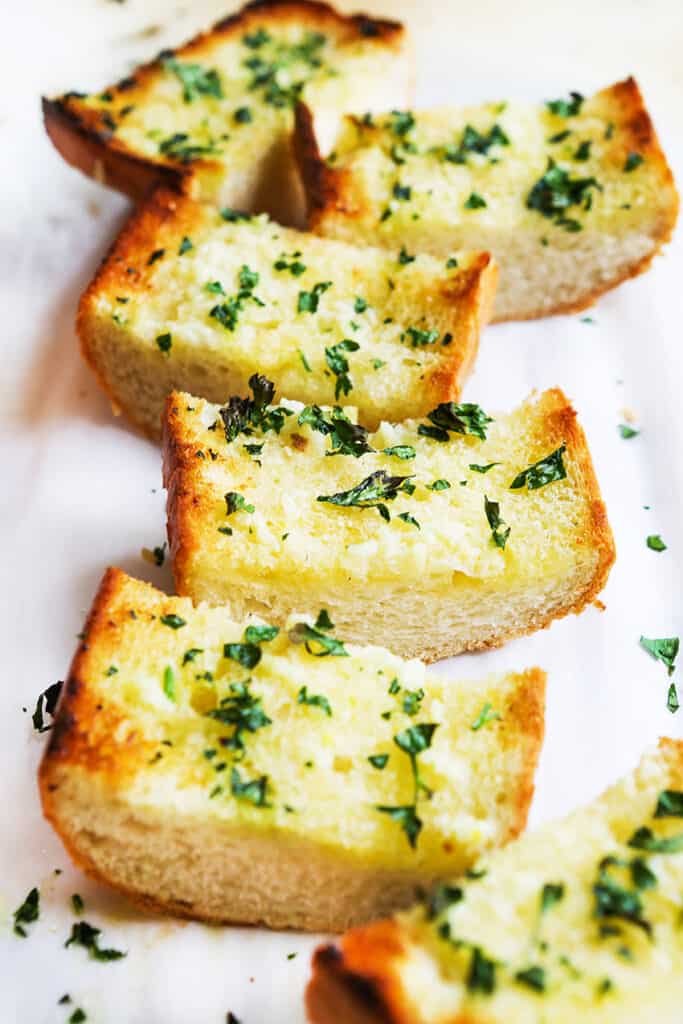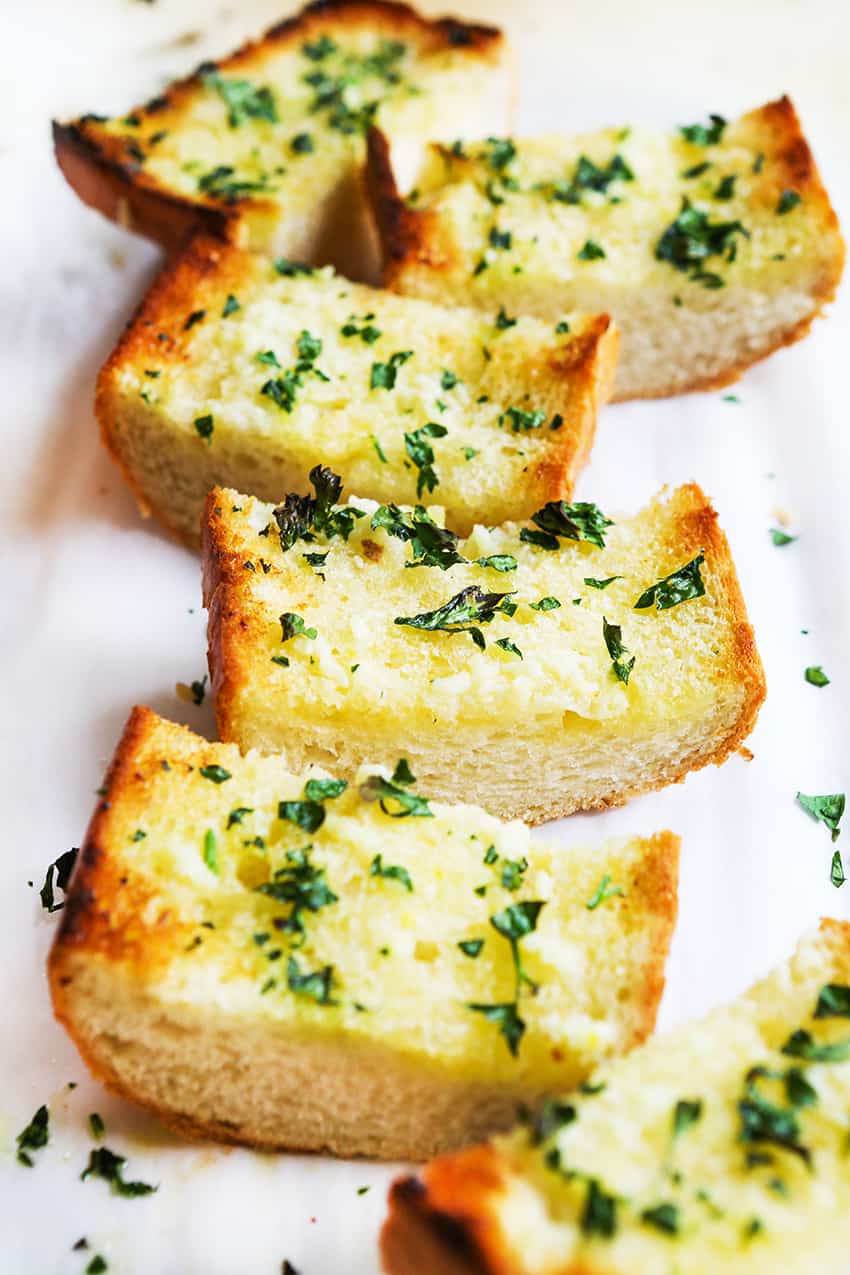 Garlic bread French bread is super easy to make, requiring only a few simple ingredients and 10 minutes of your time!