This easy recipe is the perfect creamy soup to enjoy any night of the week! But what pairs well with this main course? Read on for 19 delicious ideas about what to serve with chicken and dumplings!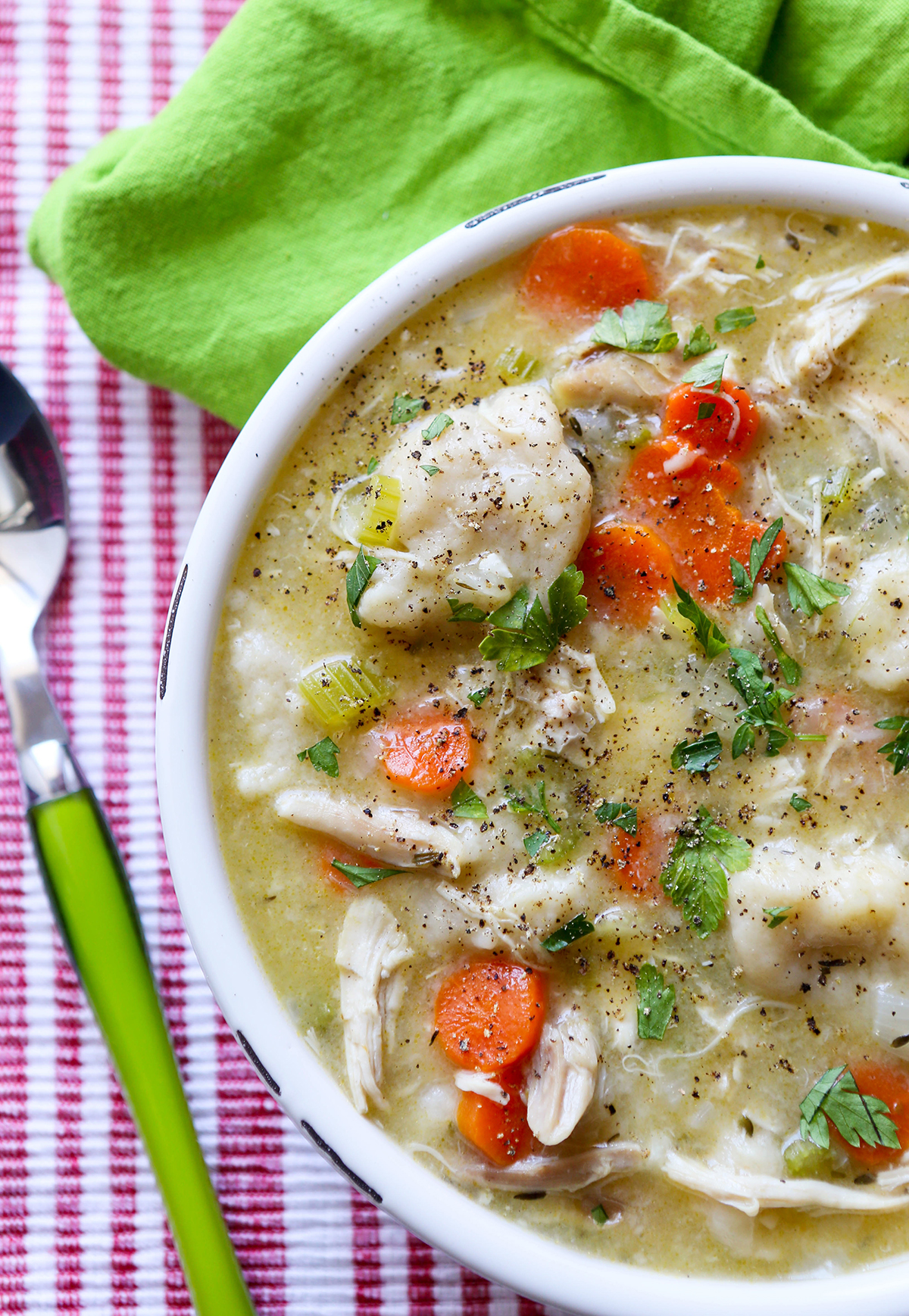 If you have been a reader for a while, you know that I thrive on easy recipes. I like to streamline every moment of time I have, so I tend to cut corners in the kitchen when at all possible. There's something so delicious about made-from-scratch recipes, but that is most definitely not my personal theme (the exception: dinner rolls).
There is an obvious corner to cut when it comes to making chicken and dumplings (refrigerated biscuits!) and it is a no-brainer for me to go this route. Which means dinner gets on the table quickly and super easily.
While the main dish is cooking, you might find yourself dreaming up possibilities for side dishes. If you need a little boost to get your wheels turning (which is likely why you are here!), then peruse my list of ideas about what to serve with chicken and dumplings.
Make sure you're serving a whole, delicious and complete meal to your loved ones!
FAQ About Chicken and Dumplings
Can you freeze chicken and dumplings?
You can definitely freeze chicken and dumplings. Store in airtight containers in the freezer for up to 6 months for best results. Allow it to thaw overnight in the fridge before reheating. When you're ready to eat it, cook over medium heat on the stove until heated through.
How to thicken chicken and dumplings?
The best way to thicken a chicken and dumpling mixture is to add a corn starch slurry to the mix. Combine up to 1 cup of cold water with 2 tbsp corn starch. Whisk or shake until smooth. Add the slurry to the soup and stir until thick.
Can you use flaky biscuits for chicken and dumplings?
Flaky biscuits can definitely be used to make chicken and dumplings. Any variety of refrigerated biscuit dough will work great.
Best Easy Chicken and Dumplings Recipe
Make homemade chicken and dumplings the easy way! This is my favorite recipe and the one I go back to, every time I want to enjoy this irresistible classic dish.
Recipe Notes
Chicken broth and chicken stock can be used interchangeably.
Either bake and shred chicken breasts for this recipe or pull chicken meat straight from a Rotisserie whole chicken.
Perfect topping options: black pepper, fresh herbs such as parsley or Parmesan cheese.
Add a bay leaf while cooking for a punch of added flavor.
Replace or supplement the cream of chicken soup with a bit of cream cheese or sour cream for an even creamier dish.
What To Serve With Chicken and Dumplings – Best Side Dishes
Cornbread or cornbread muffins are always a good option to serve with this ultimate comfort food.
Dinner rolls or bread sticks.
Garlic bread.
Green vegetables such as fresh green beans, broccoli, Brussels sprouts, green peas or asparagus.
Fresh green salad or chopped salad.
Coleslaw.
Green bean casserole.
Baked or fried apples add a yummy sweet taste to this meal.
Baked sweet potatoes or sweet potato casserole.
Sauteed spinach or collard greens.
Vegetable salad such as broccoli salad or rice and veggies.
Fried cabbage or cabbage steaks.
Roasted veggies such as carrots, onions and potatoes.
Crockpot Green Bean Casserole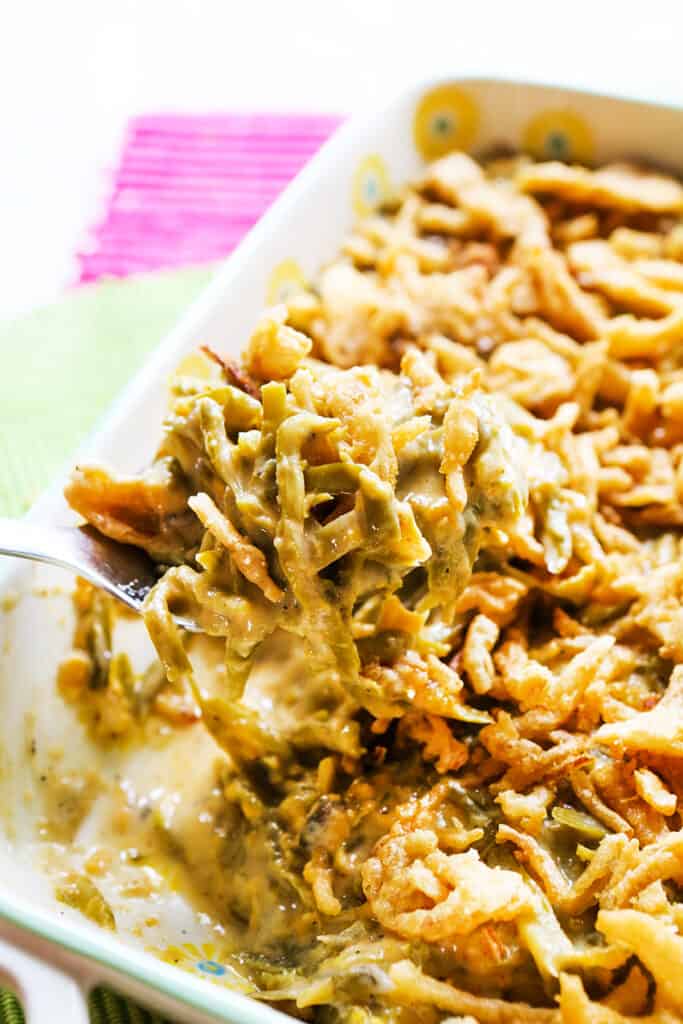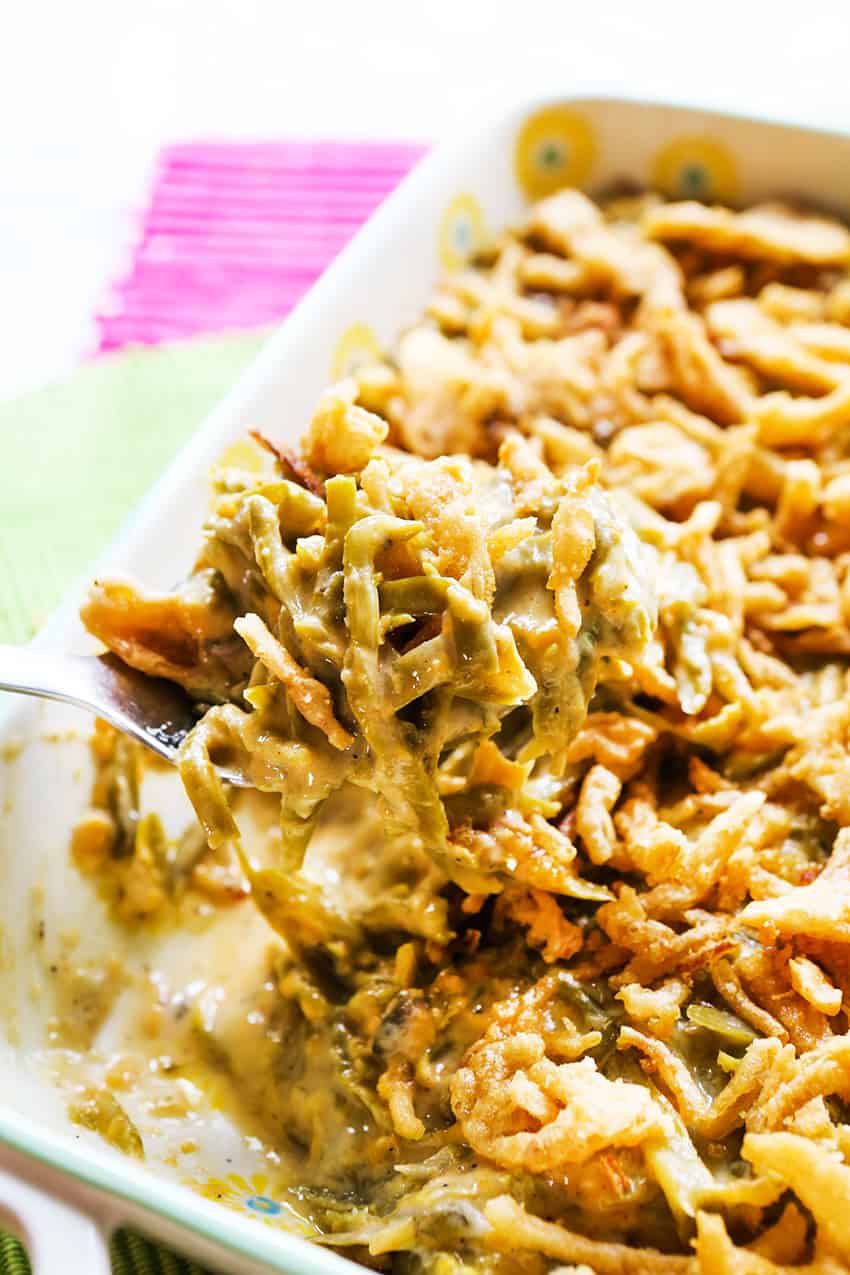 Throw just a few ingredients in your slow cooker to create crockpot green bean casserole recipe. Great Thanksgiving or any-time as a side dish!
Caprese Pasta Salad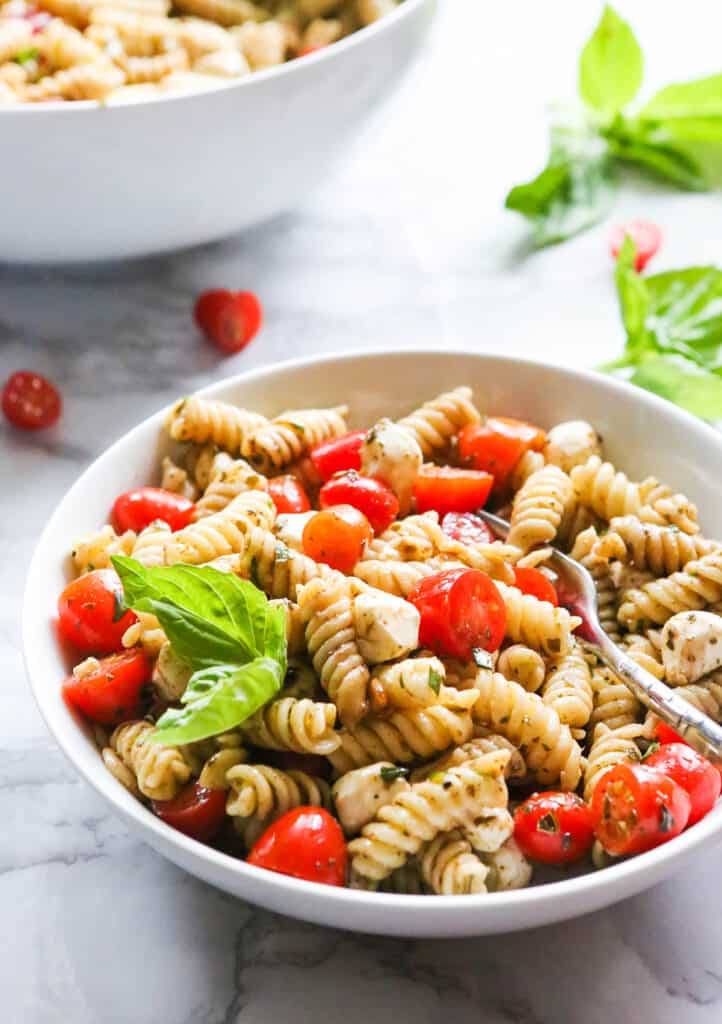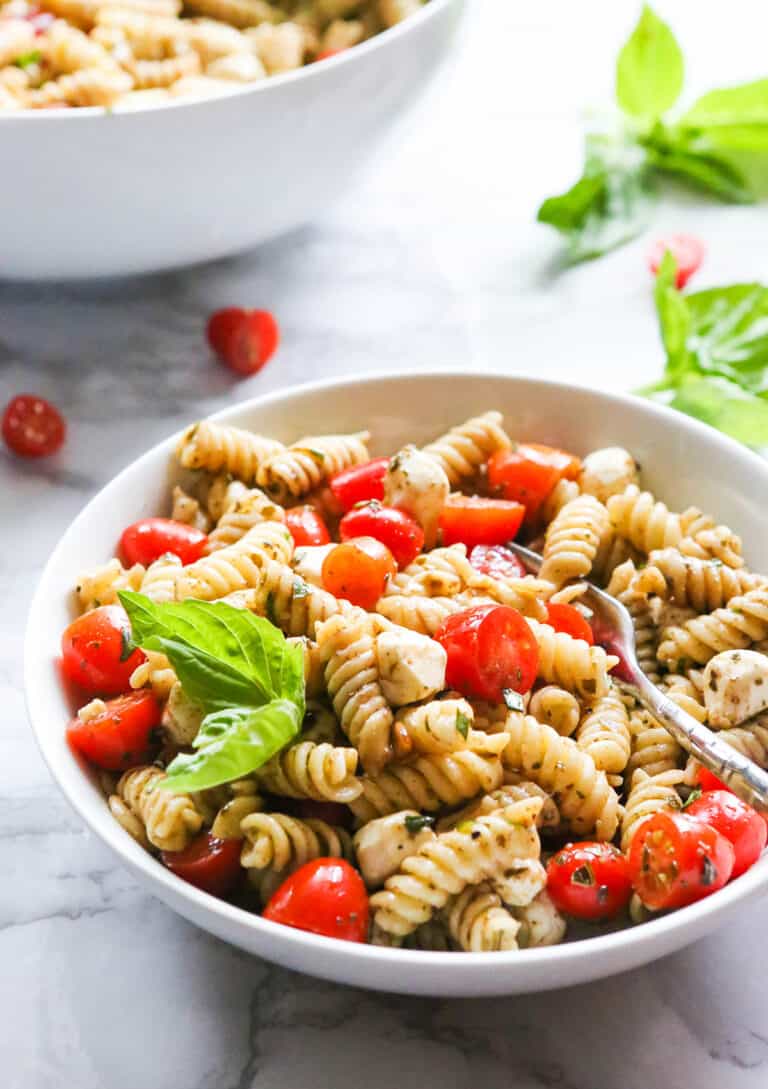 This Caprese Pasta Salad recipe is a huge hit at parties! Serve this delicious dish as a side, salad or appetizer. The combination of Mozzarella cheese, tomatoes and basil is absolute perfection!
Cornbread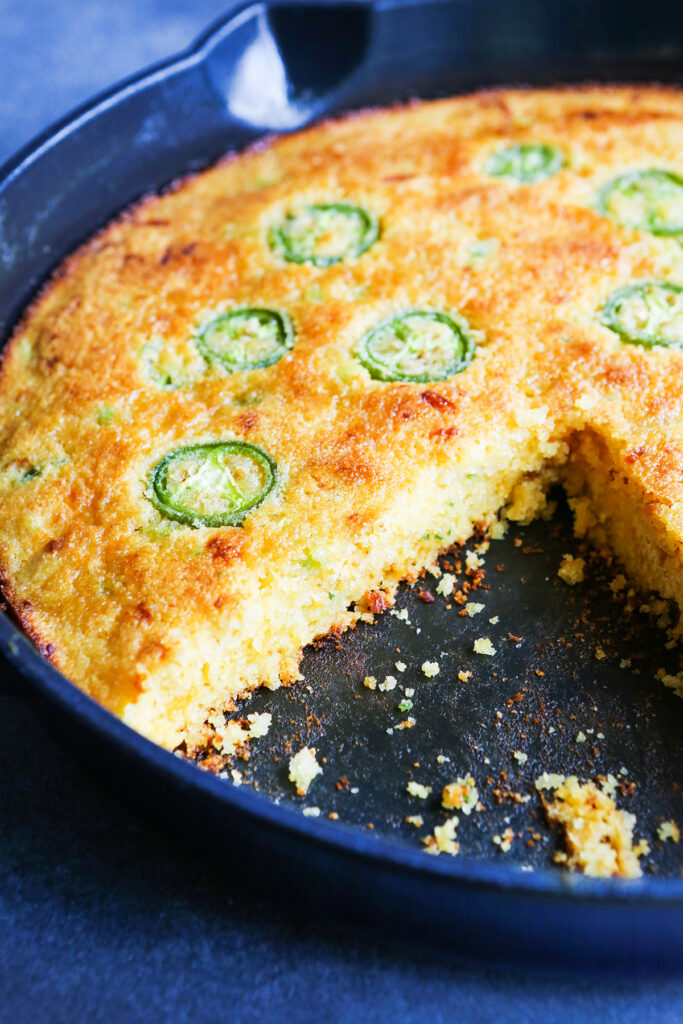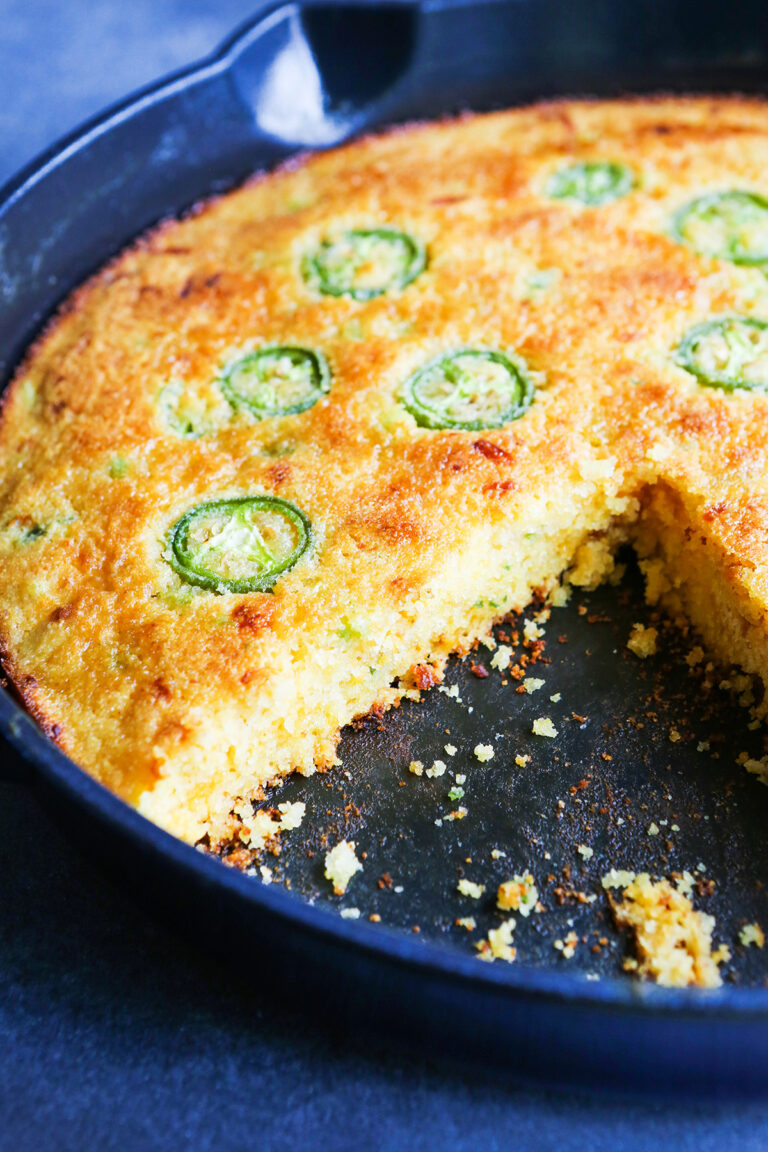 This cornbread recipe without buttermilk is the perfect side for any meal. Omit the jalapeño and cheese for a perfect go-to cornbread recipe.
Crock Pot Applesauce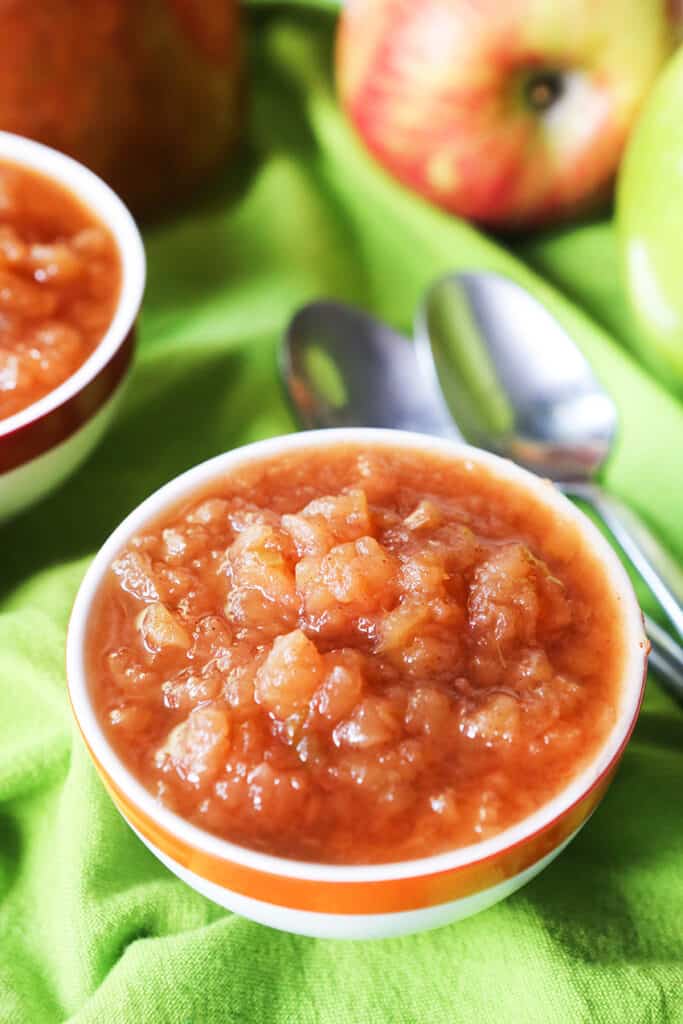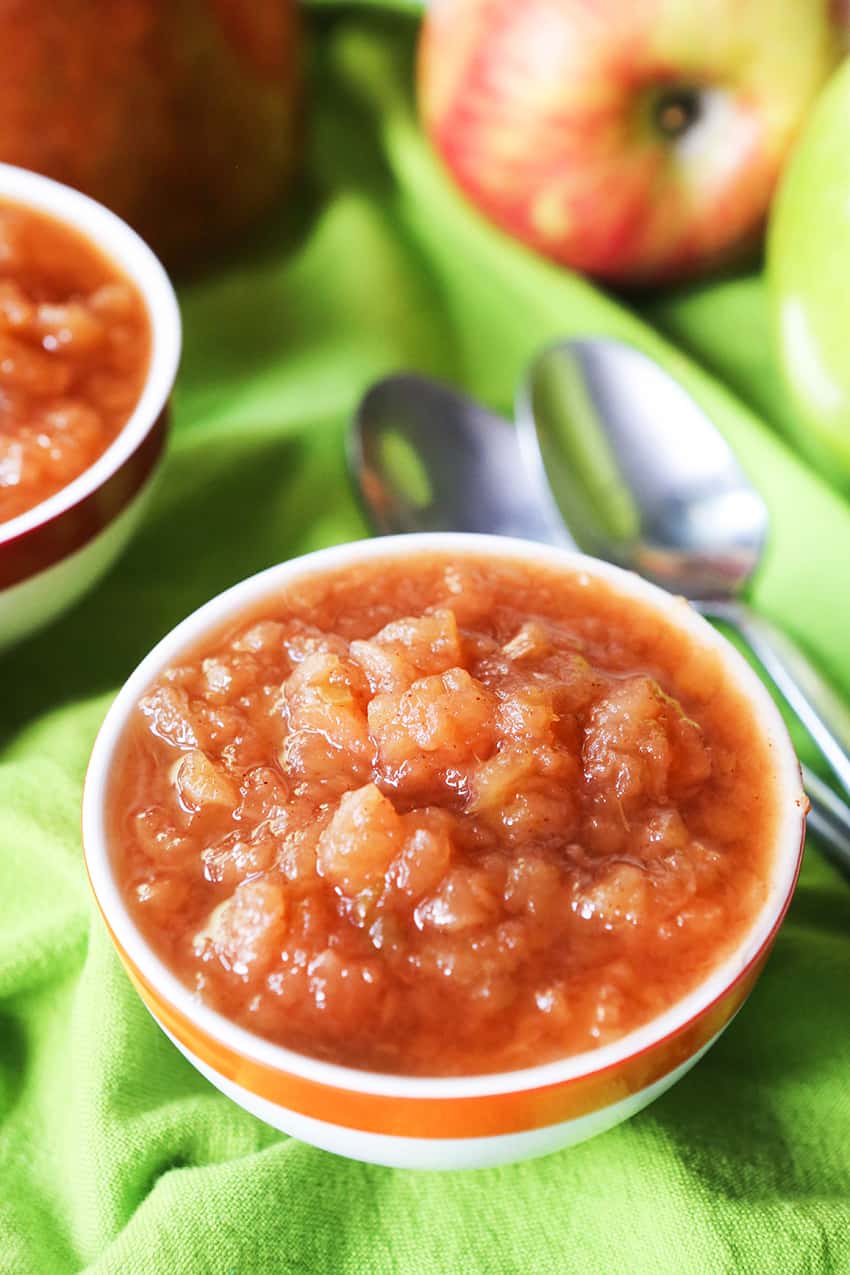 Crockpot Applesauce recipe is the perfect fall treat. Let your slow cooker do the work so kids and adults can enjoy a healthy snack!
Frozen Mozzarella Sticks in the Air Fryer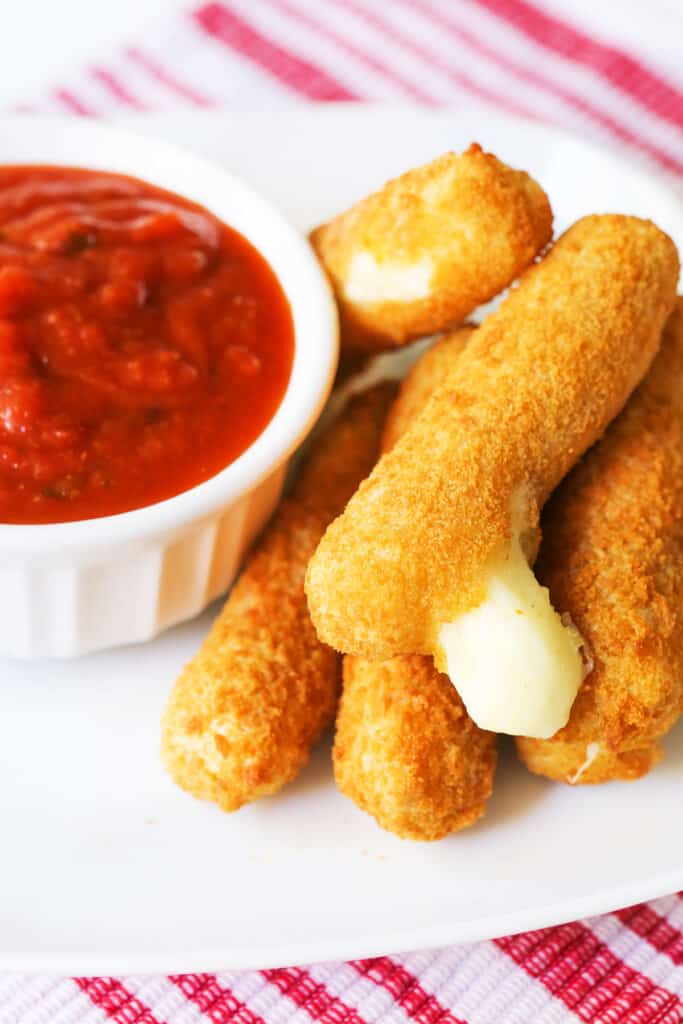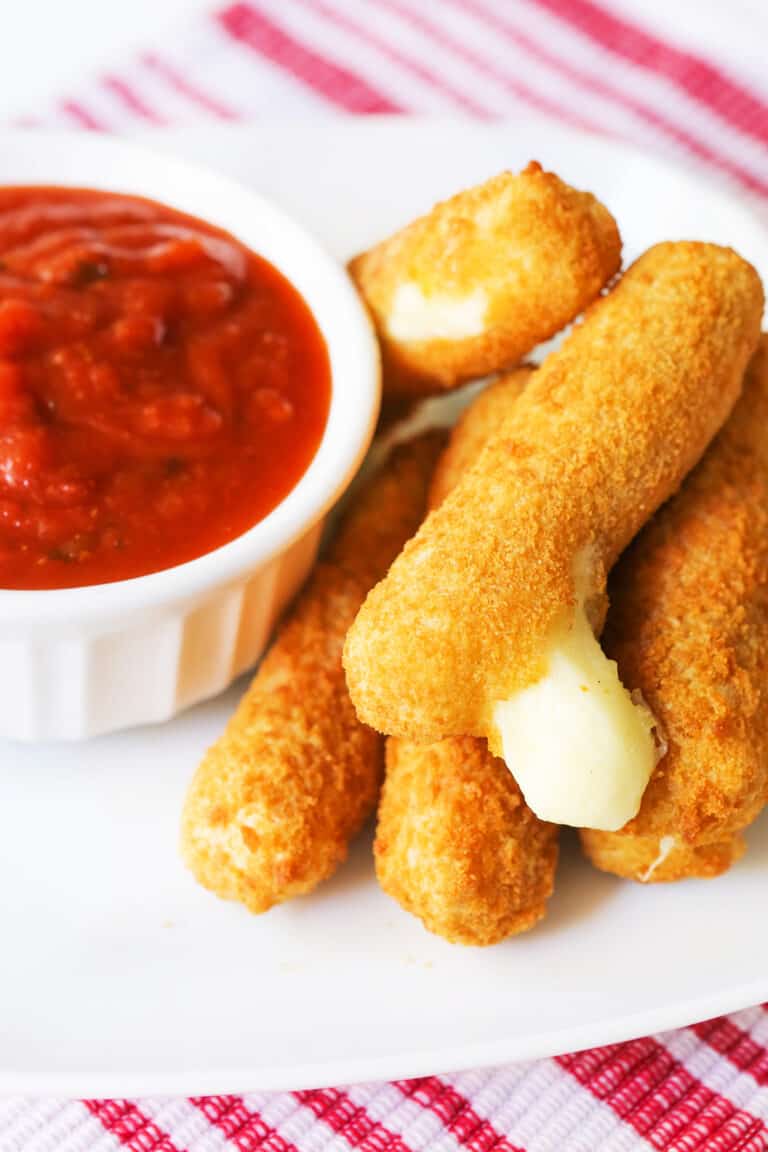 Learn how to make this frozen mozzarella sticks in air fryer recipe in just a few minutes! Straight from the freezer to your air fryer, this is the easiest way to get this cheesy easy snack into your tummy.
Instant Pot Creamed Corn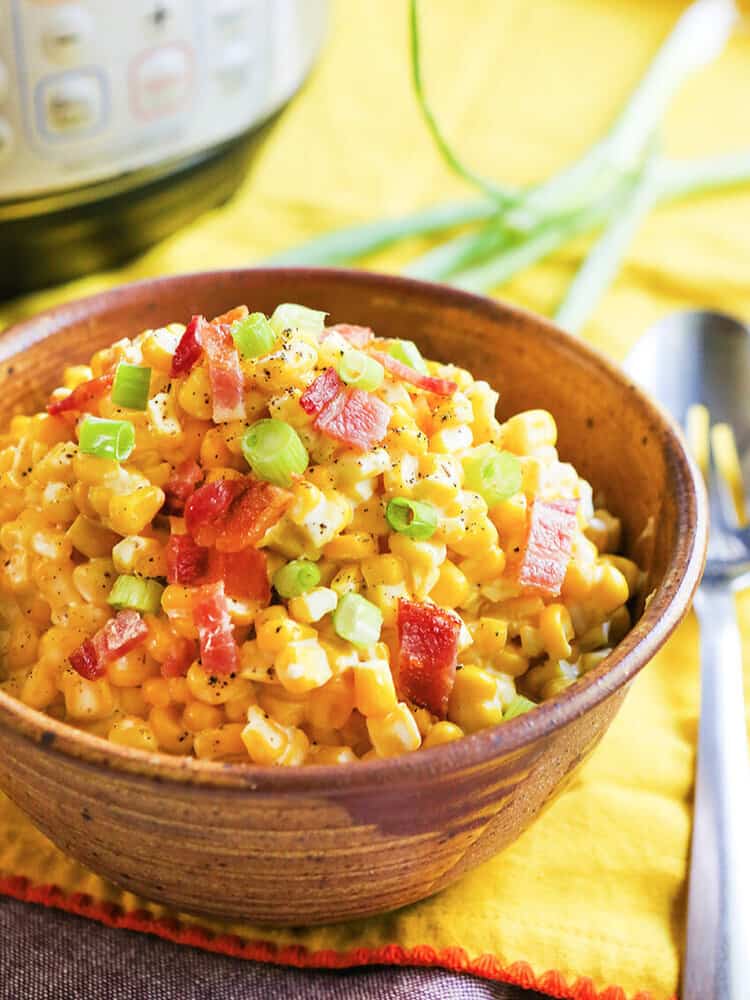 Instant Pot Creamed Corn is super easy to make and it is a classic side dish for any meal (including Thanksgiving!). Great when reheated later, too!
Broccoli Salad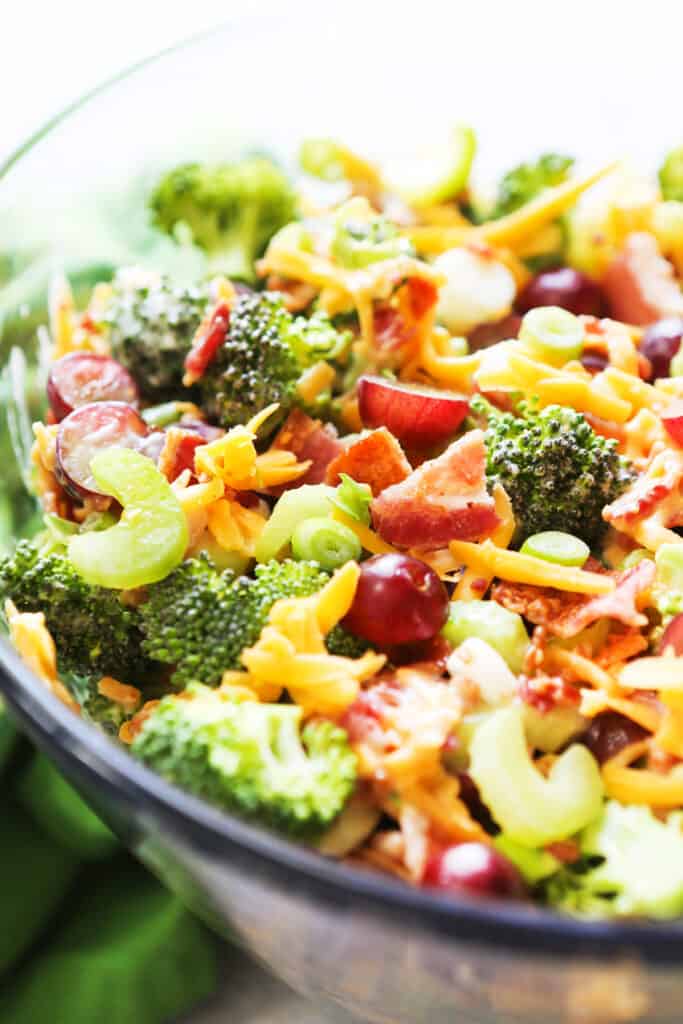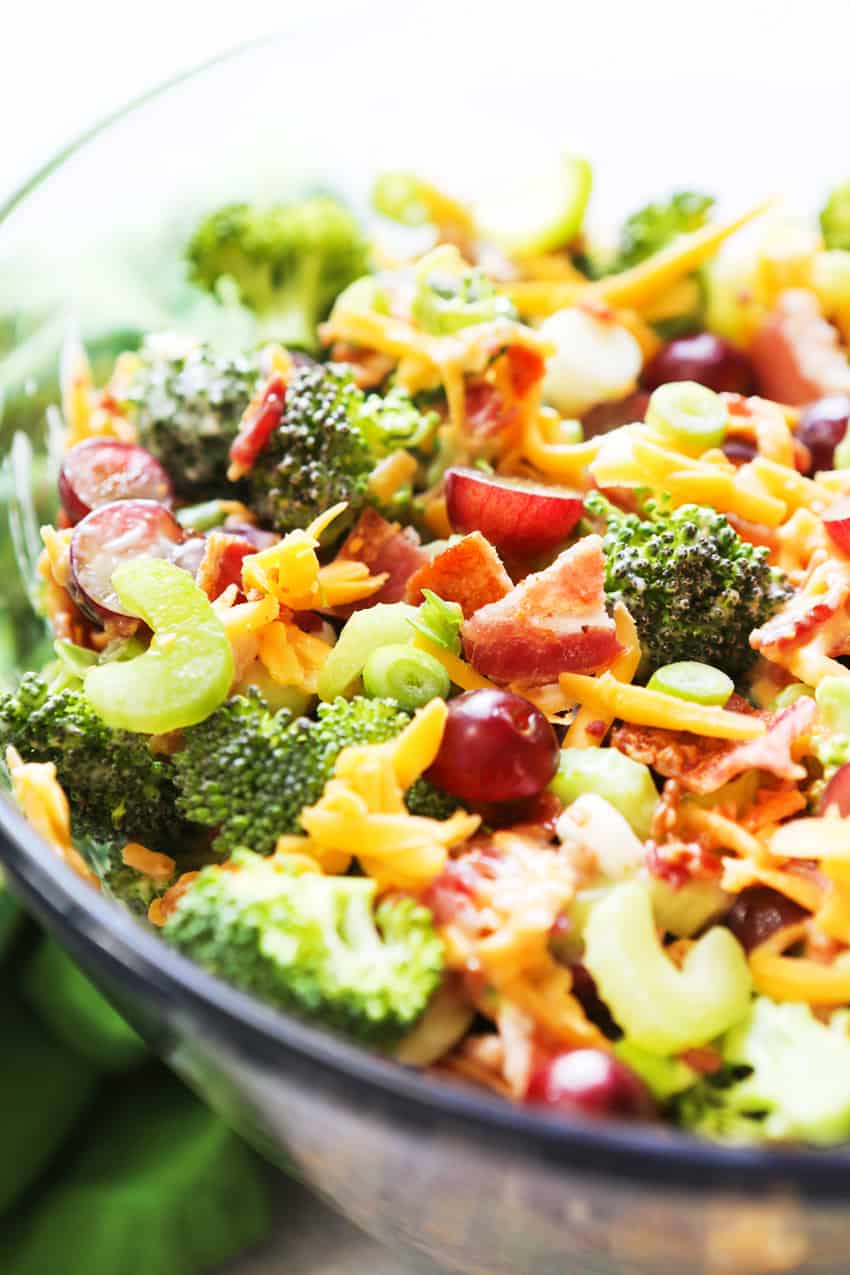 This simple salad is packed with crunchy, delicious ingredients and is not loaded heavily with mayo.
Deviled Eggs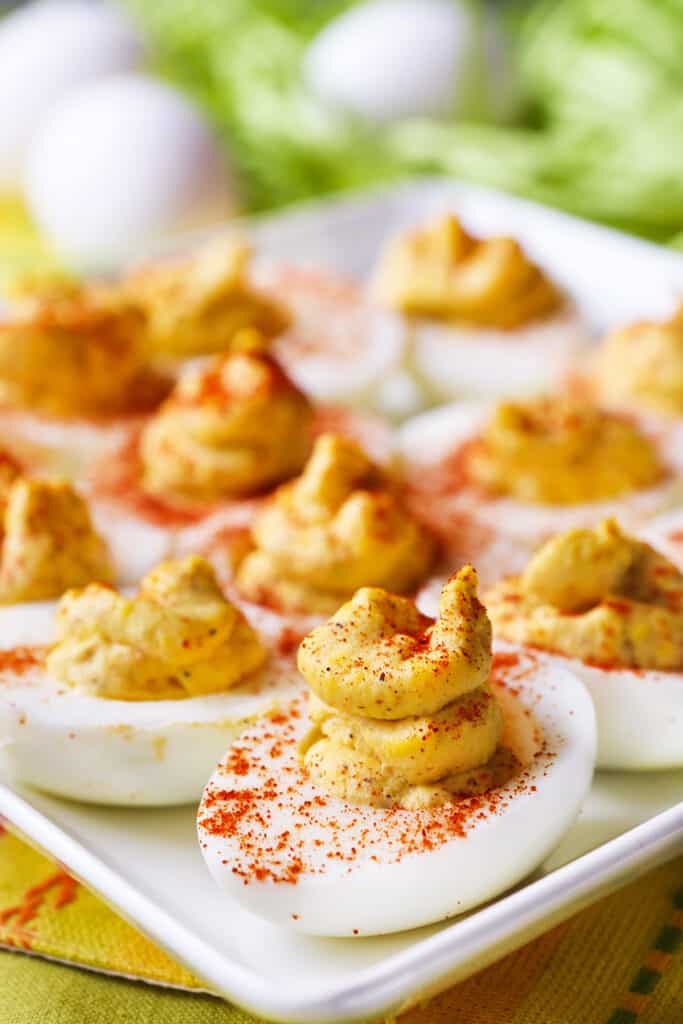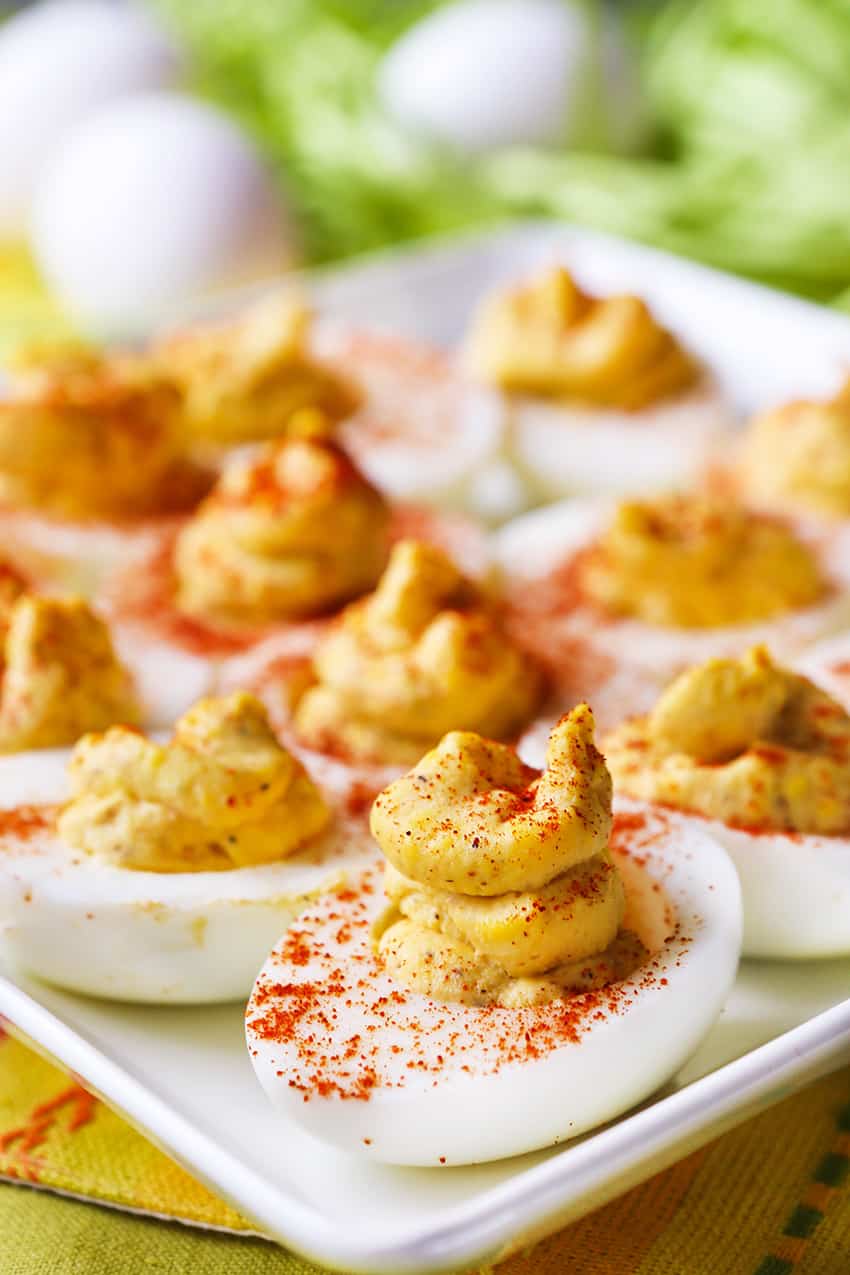 This recipe details the best deviled eggs ever. An American classic and ideal side dish for any meal.
Vegetables in the Crock Pot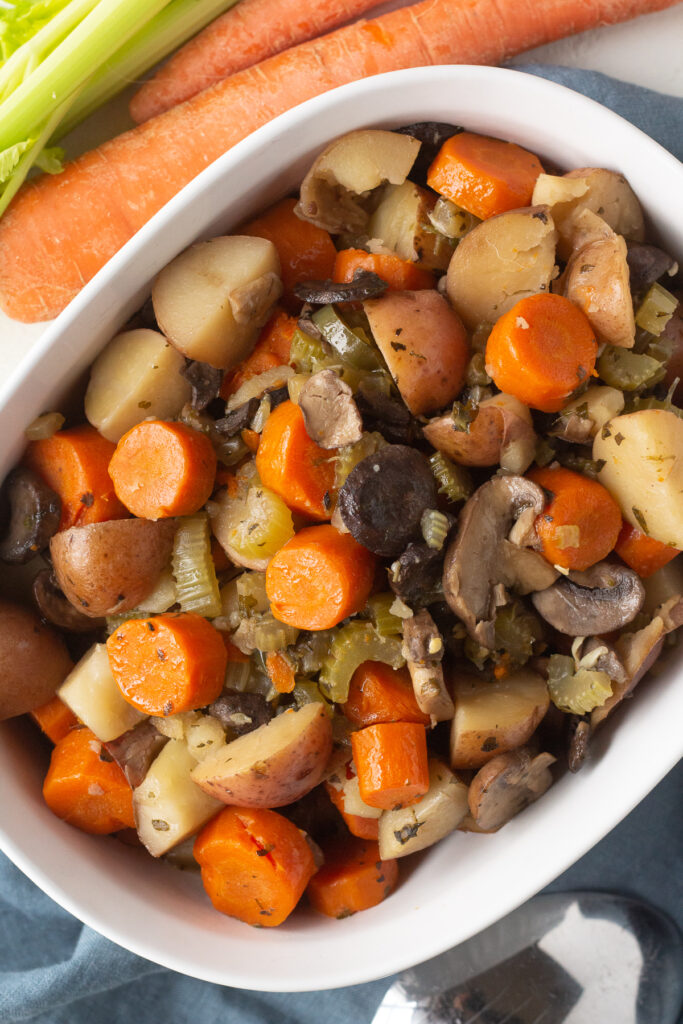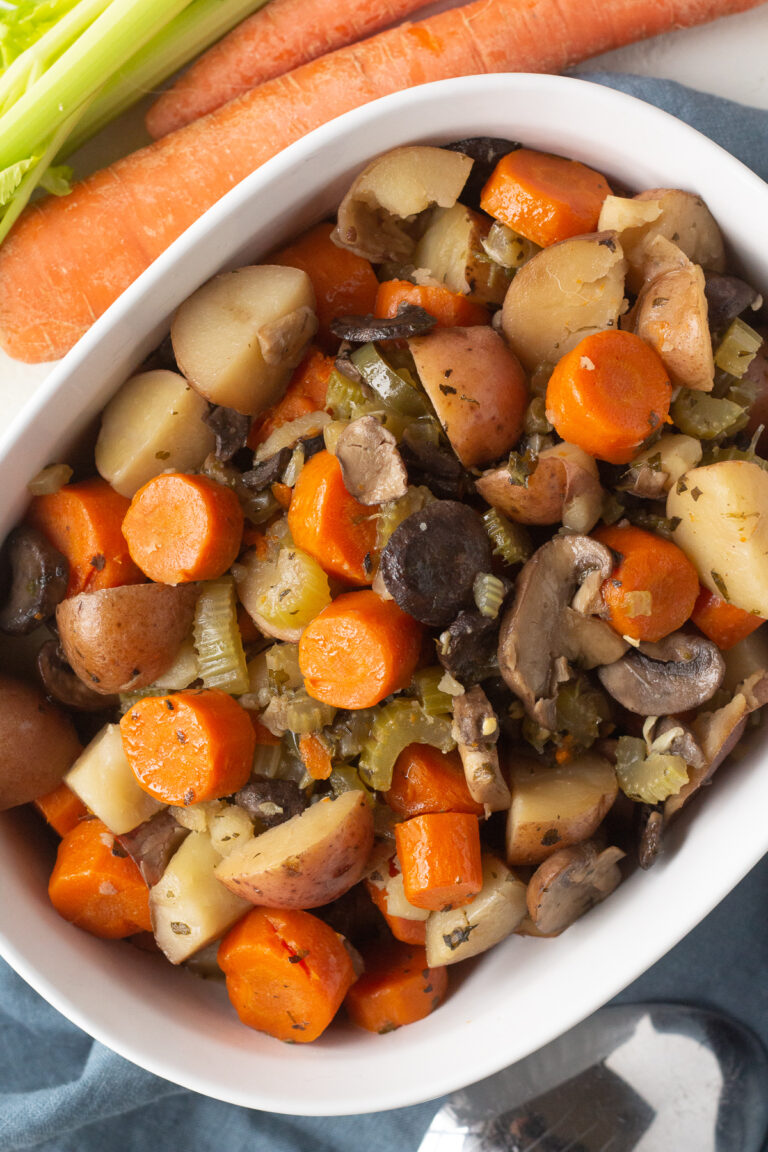 Making vegetables in the crock pot is a great way to use up extra veggies! Enjoy them now or freeze for another time. Feel free to swap out veggies from the recipe with whatever you have on hand.
Dinner Rolls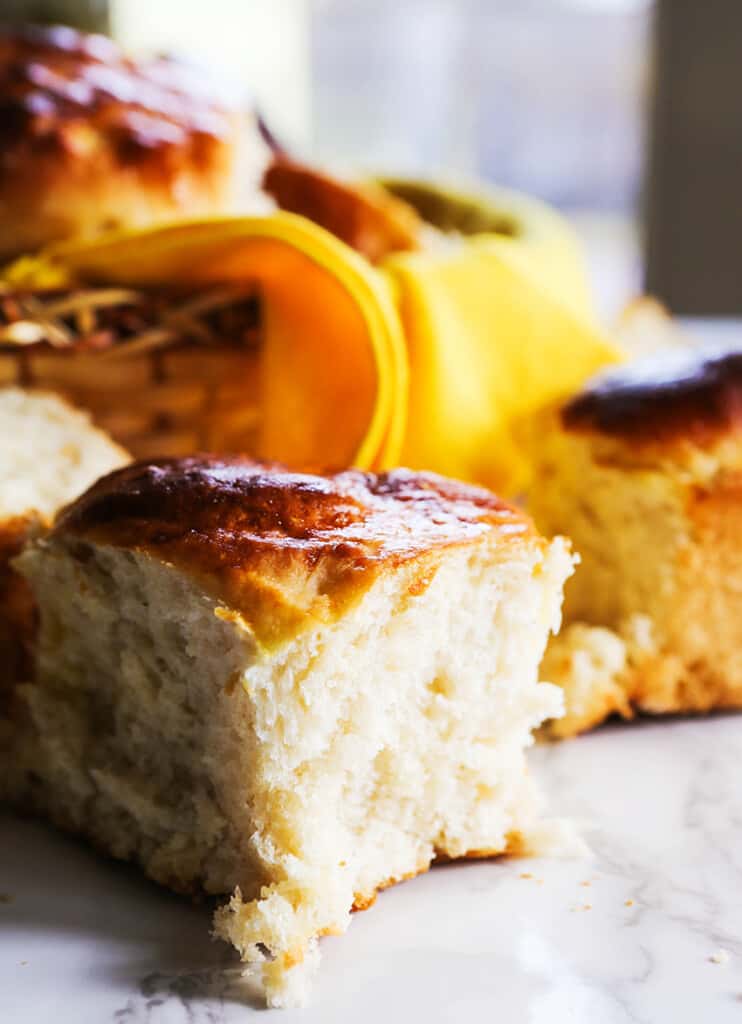 These rolls are fluffy, slightly sweet and delicious and they are an excellent choice for any meal, whether it is a large turkey dinner or a simple weeknight meal.
Baked Mac and Cheese Bites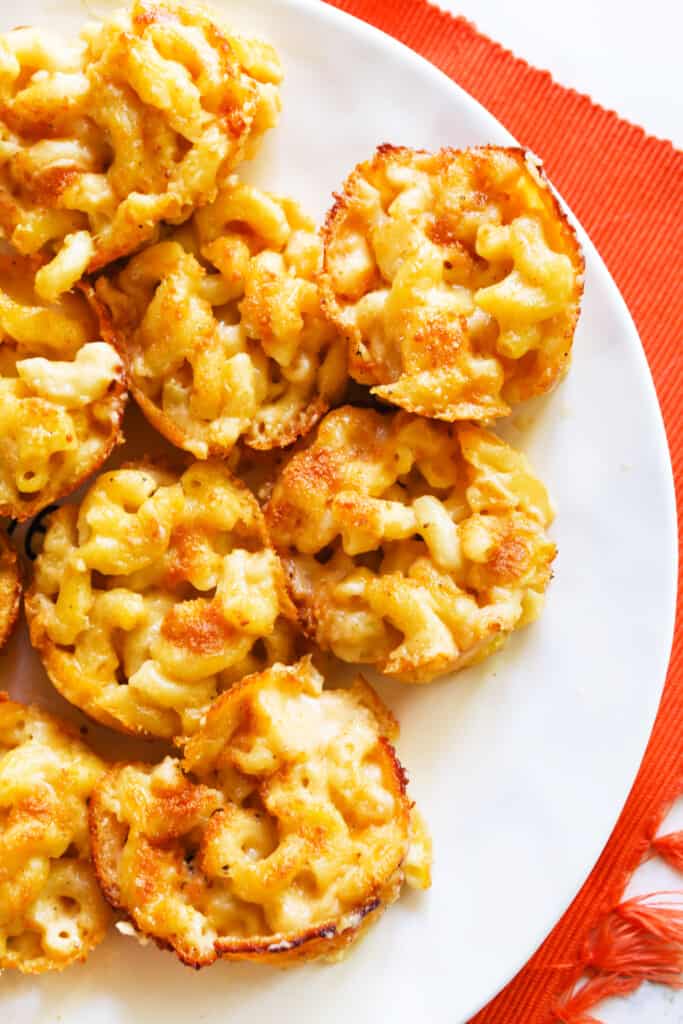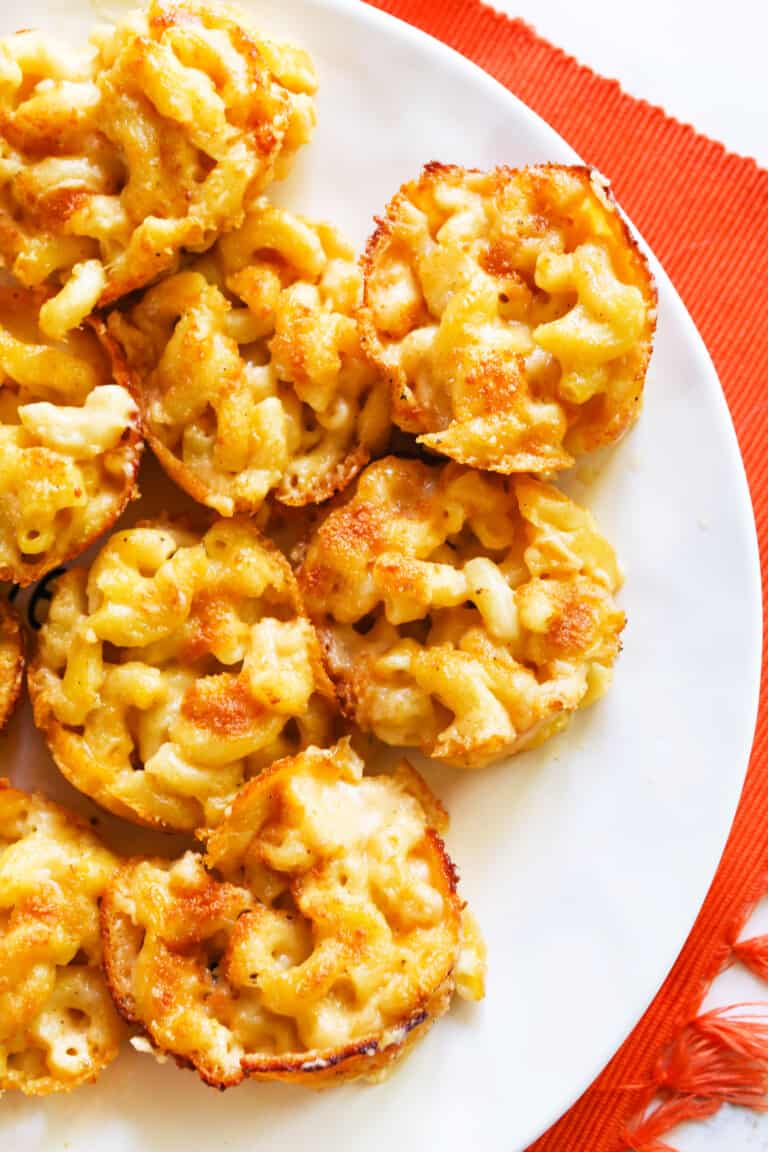 Looking for a new way to enjoy comforting mac and cheese? Make this baked mac and cheese bites recipe for a fun and perfect finger food to serve to kids and adults.
Coleslaw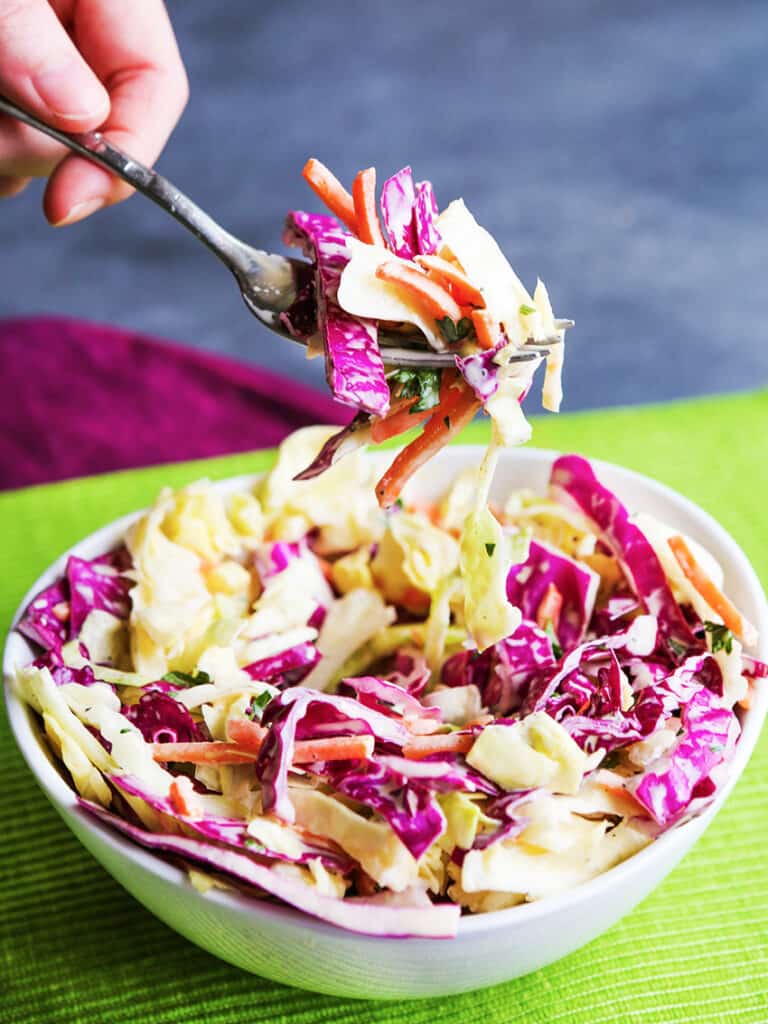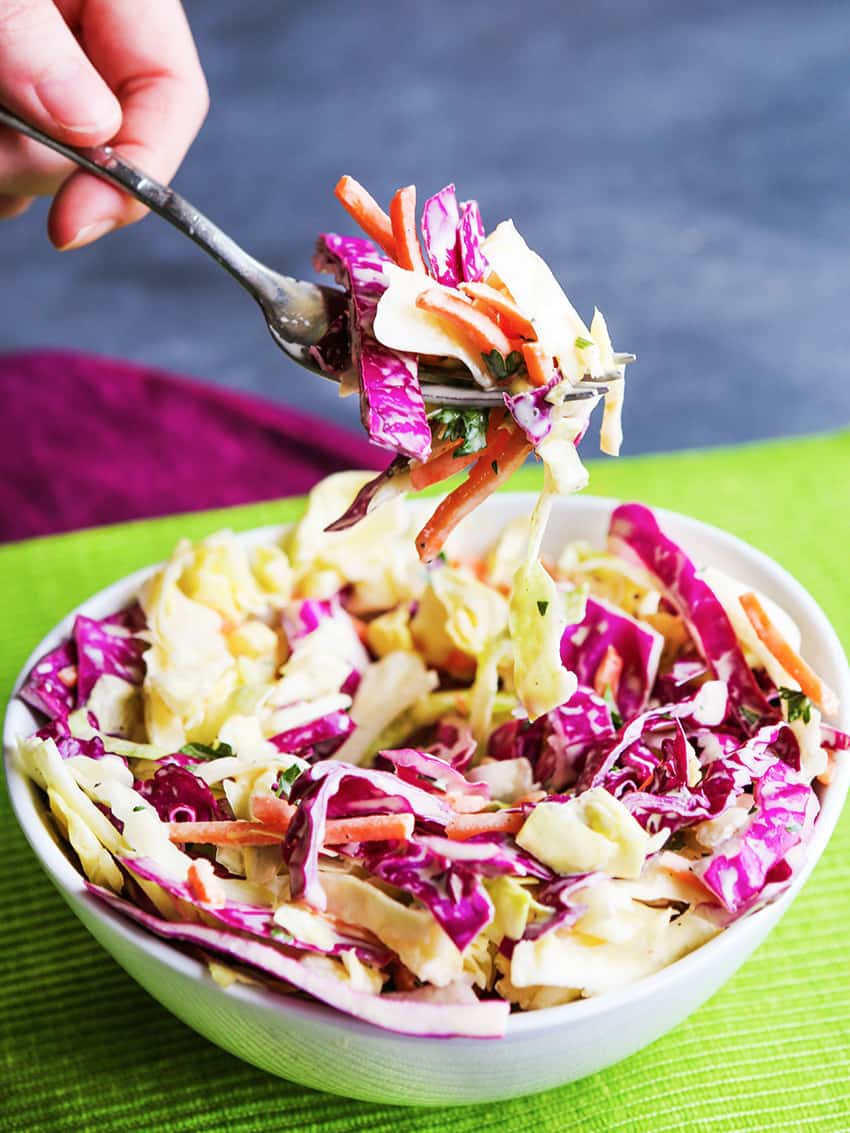 Throwing together a delicious coleslaw recipe should be easy and simple. This coleslaw with apple cider vinegar recipes contains shredded cabbage, creamy vinaigrette dressing and the best thing about it is that it is NOT loaded down with mayo!
Creamy Vegetable Dip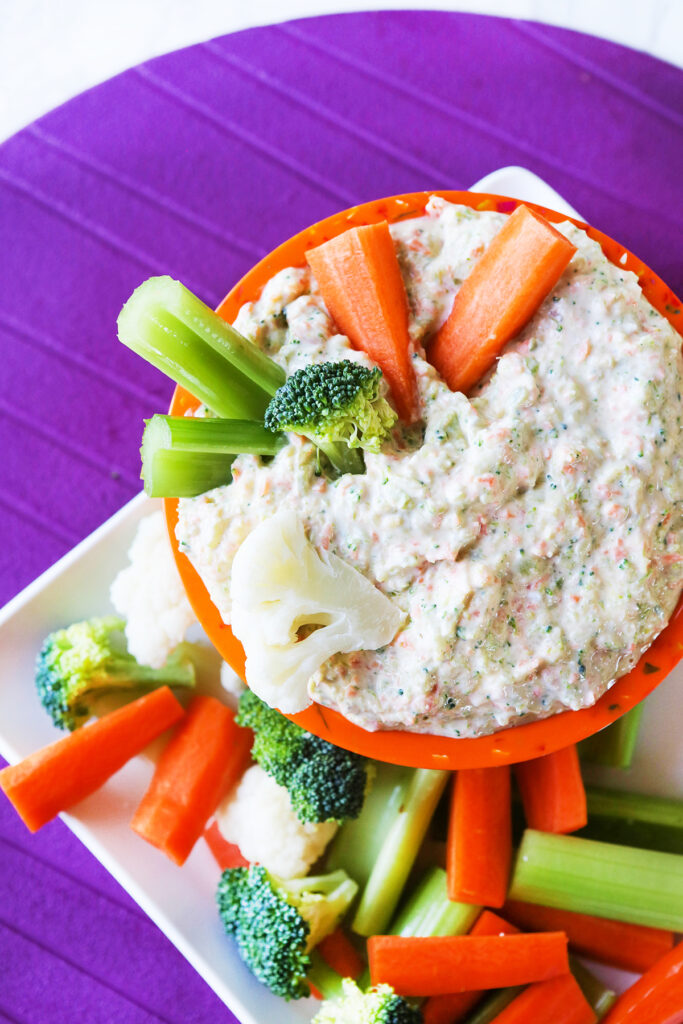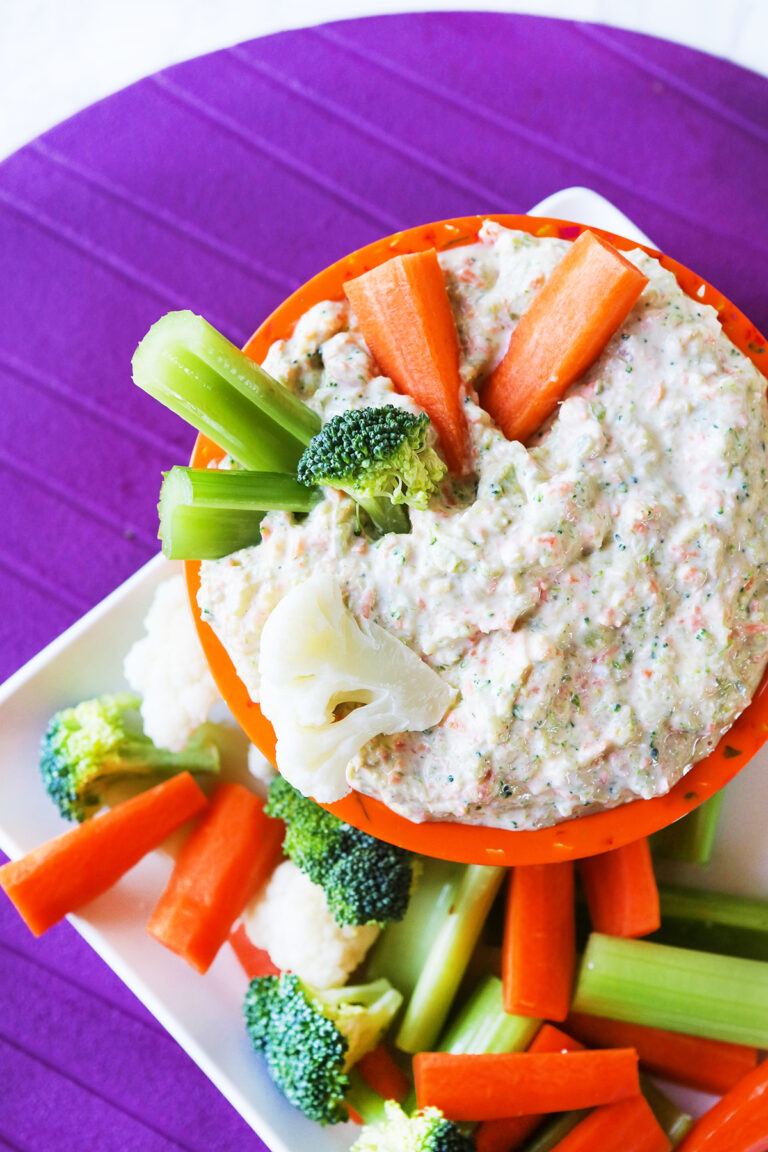 This Creamy Vegetable Dip is a great appetizer to share at any gathering, big or small. Pack as many veggies as you can inside and serve with crackers or more vegetables!
Brie Stuffed Mushrooms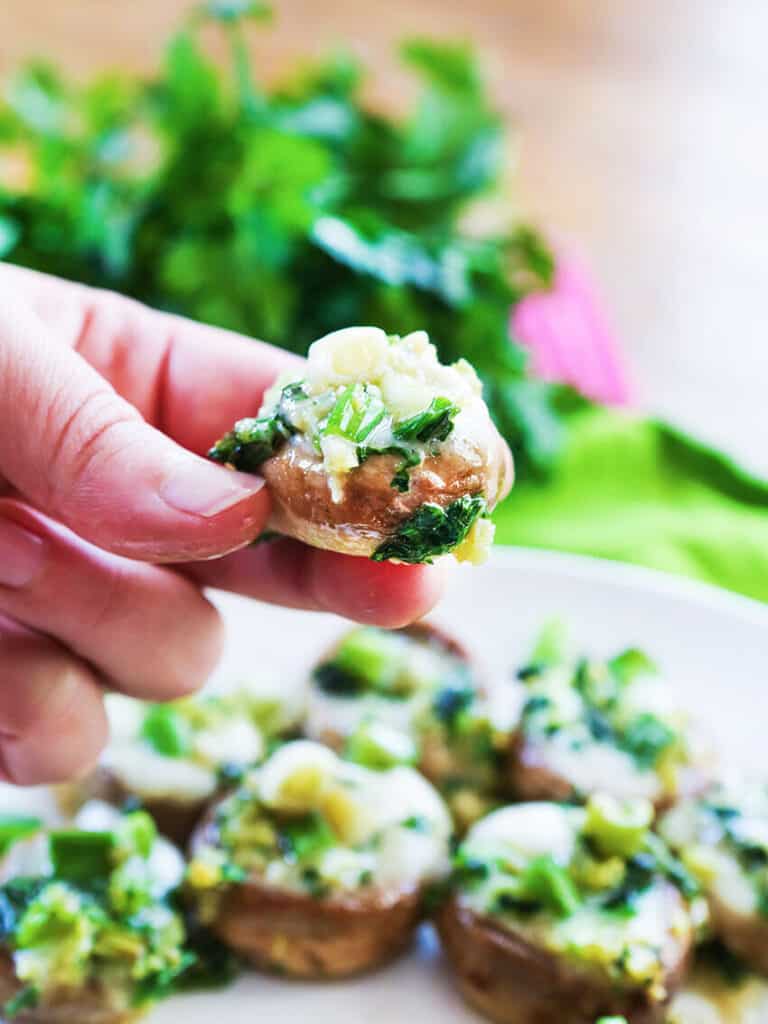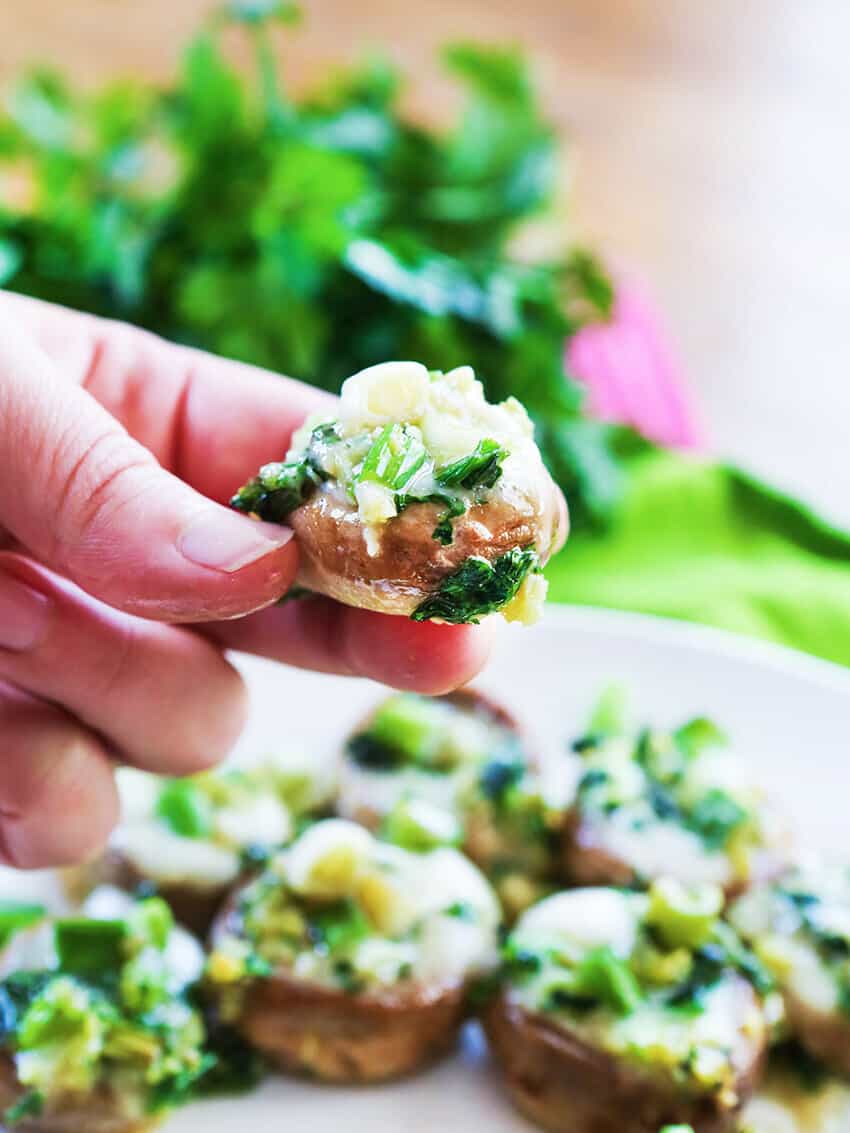 Sauteed mushrooms stuffed with Brie cheese and topped with a green onion and garlic mixture turn into cute and perfect little bites. Great for party tables of any variety! They'll go fast, so consider making a double batch!
Sauteed Asparagus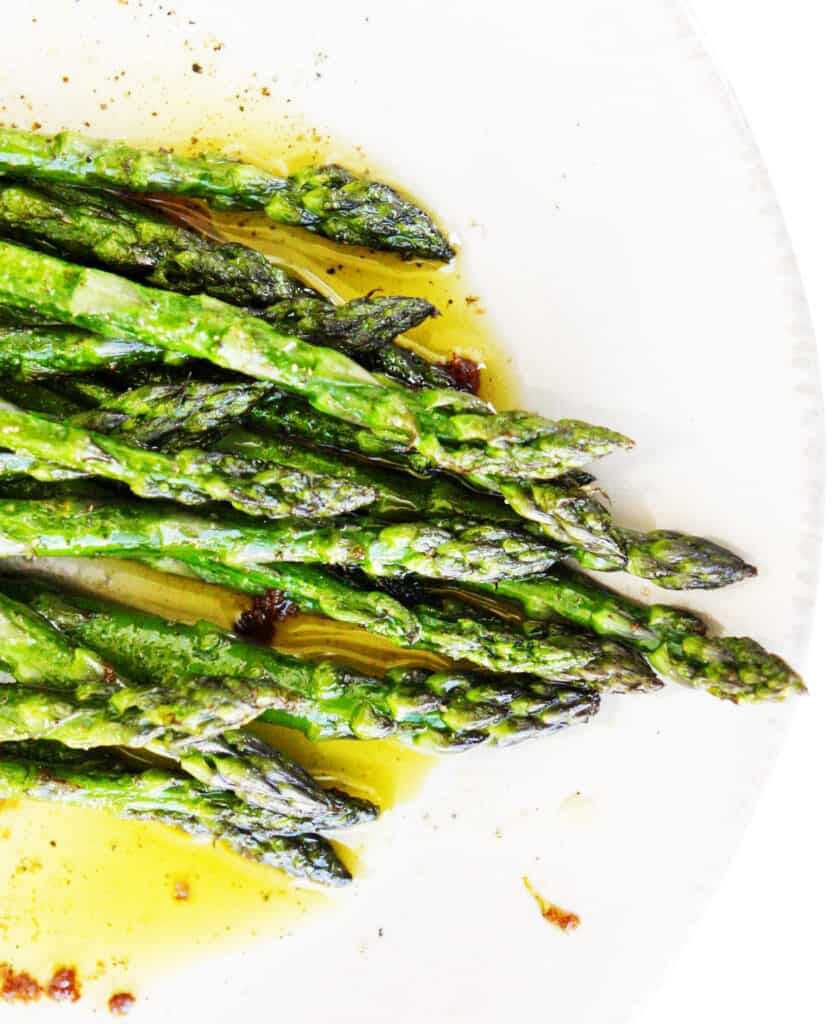 Asparagus is a super simple veggie to prepare. Make this delicious side dish to go along with any meal. You'll enjoy every bite of this sauteed asparagus!
Instant Pot Potato Salad with Eggs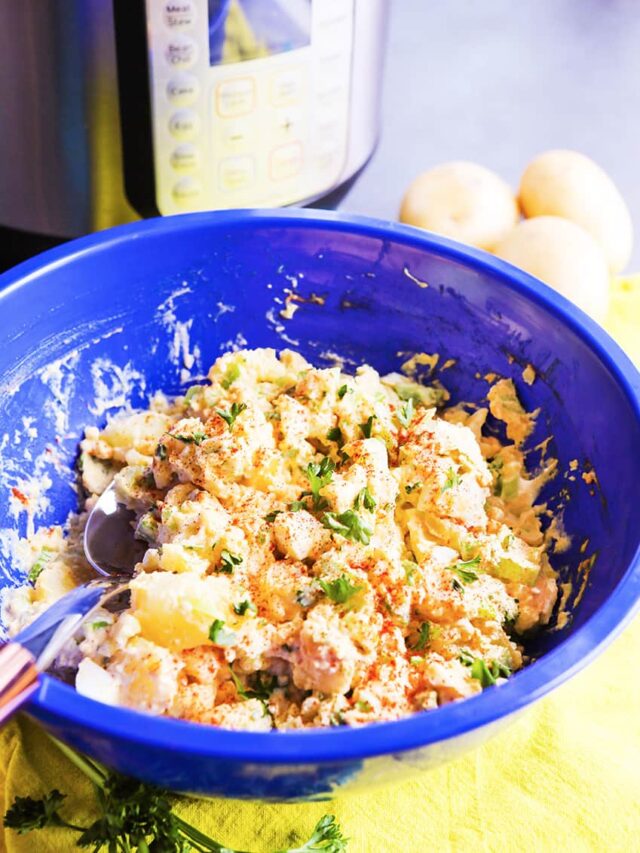 Cook potatoes and eggs together in a single pot to make Instant Pot Potato Salad with Eggs. Done in less than 30 minutes and requires minimal clean-up. This is the perfect party food or summer side dish!
Chopped Salad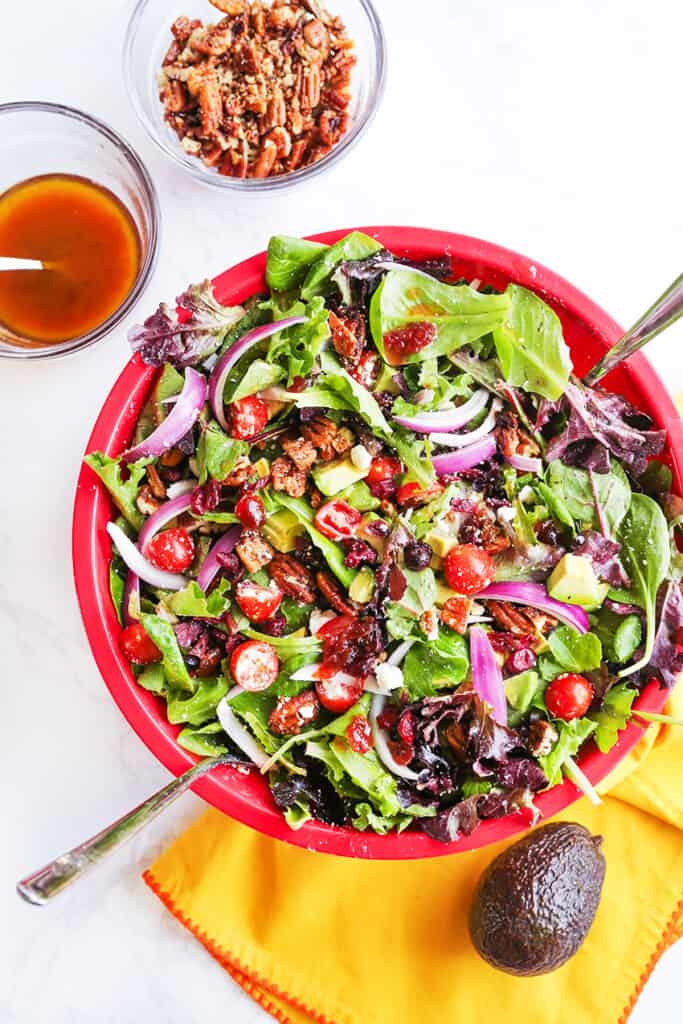 This is the best crisp green salad recipe you'll find. It makes a large batch to enjoy for lunch throughout the week or serve at your next gathering.
Air Fryer Frozen Brussels Sprouts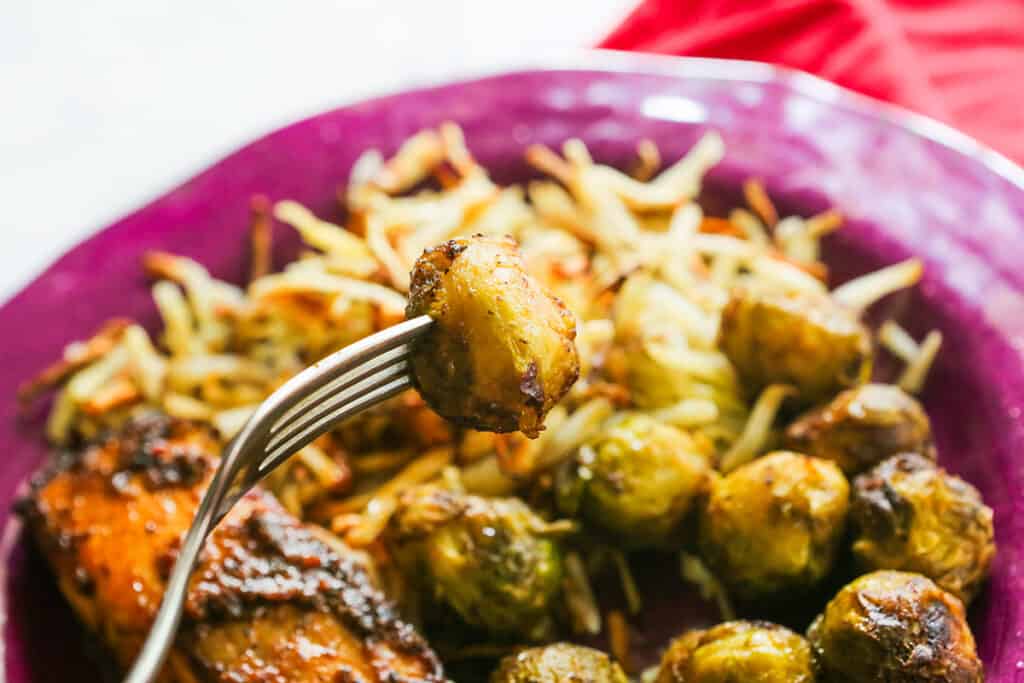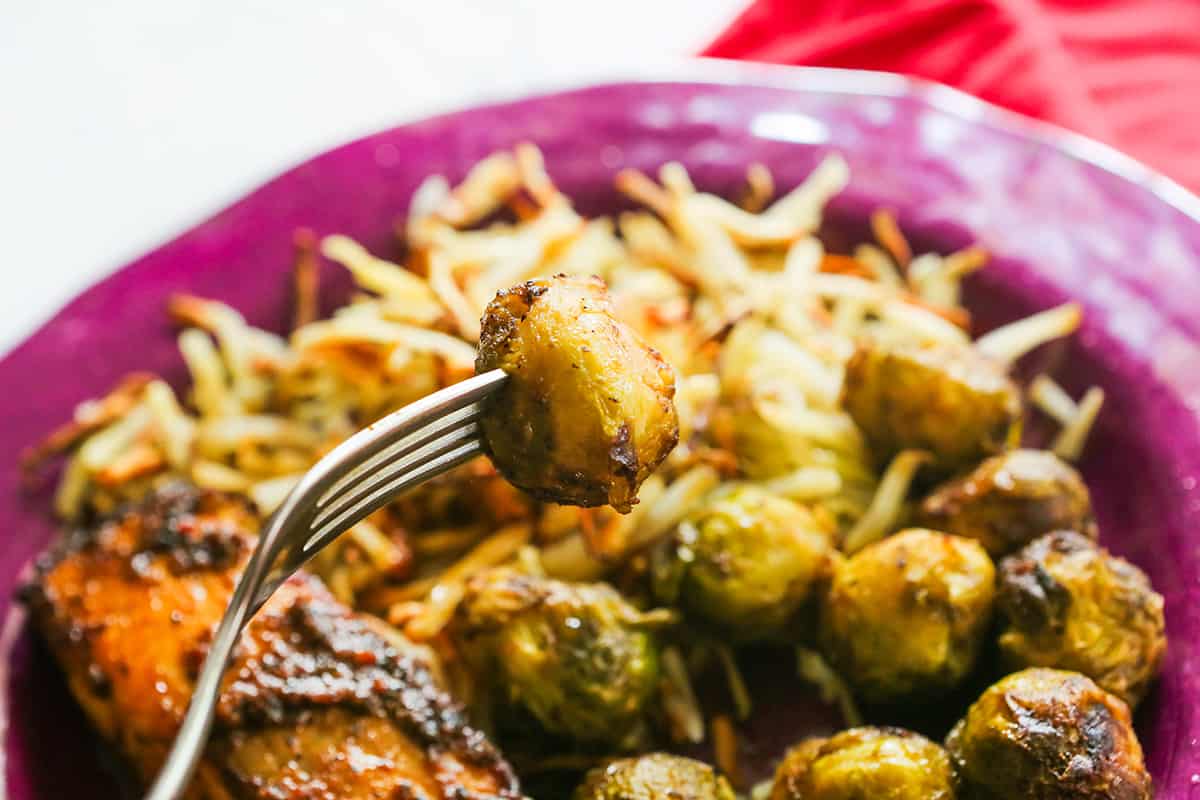 Air Fryer Frozen Brussels Sprouts will allow you to get a delicious, healthy side dish on the table quickly and easily. No prep, totally hands off, this is the easiest way to cook this green veggie.
Sweet Potato Casserole with Pecan Topping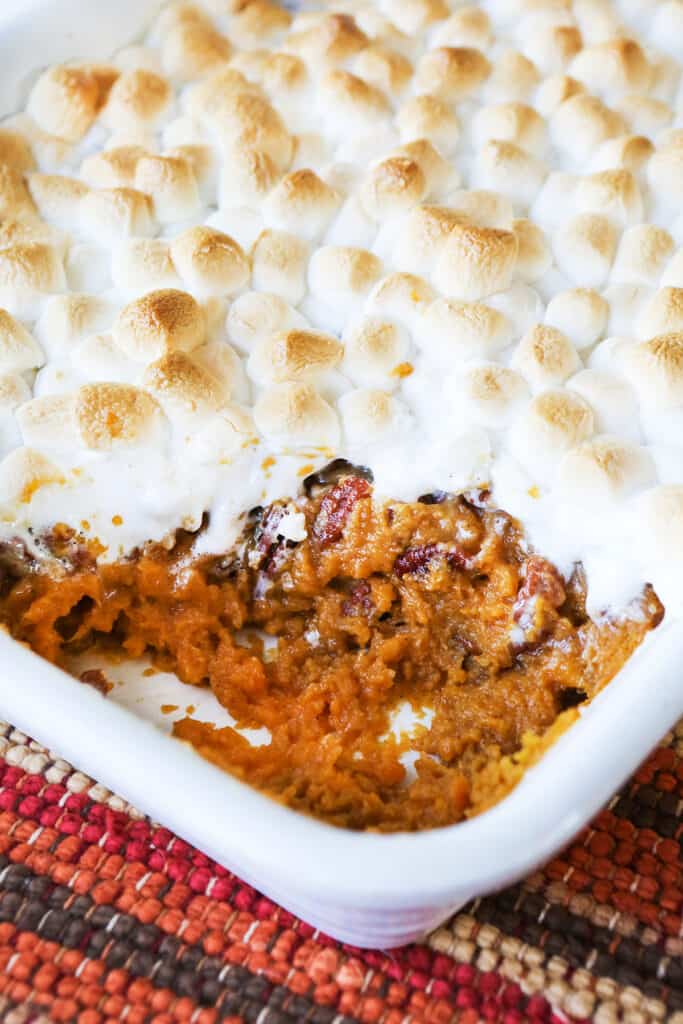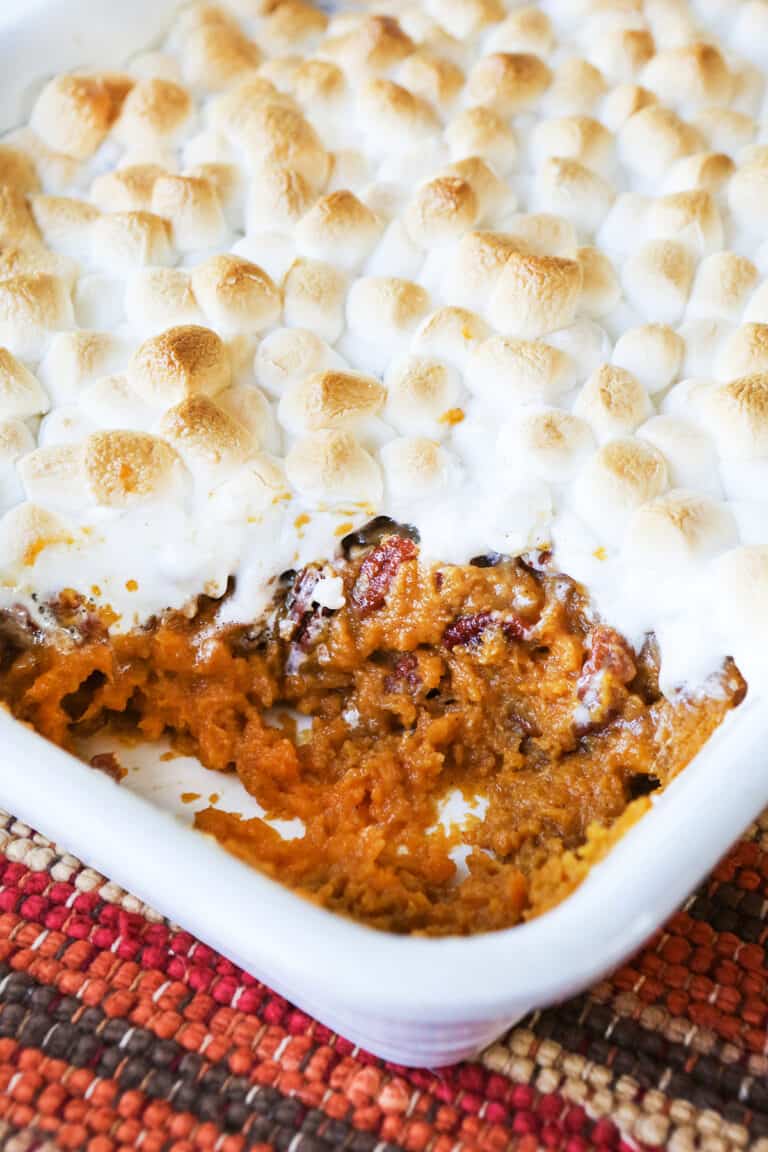 This Sweet Potato Casserole with Pecan Topping recipe will be a great addition to your Thanksgiving table! It is also the perfect side dish to any meal, any time of the year.